Let's sum up the results! We have great things to share. What's new in the micro-landing Designer, what updates are helpful to everyone who works with several social networks, and why it's worth checking Analytics.
What's new in the website builder
The Onlypult micro-landing page builder helps to design a simple website without a programmer and a team. It allows teams to test hypotheses and analyze the results of advertising campaigns faster.
Ready-made page templates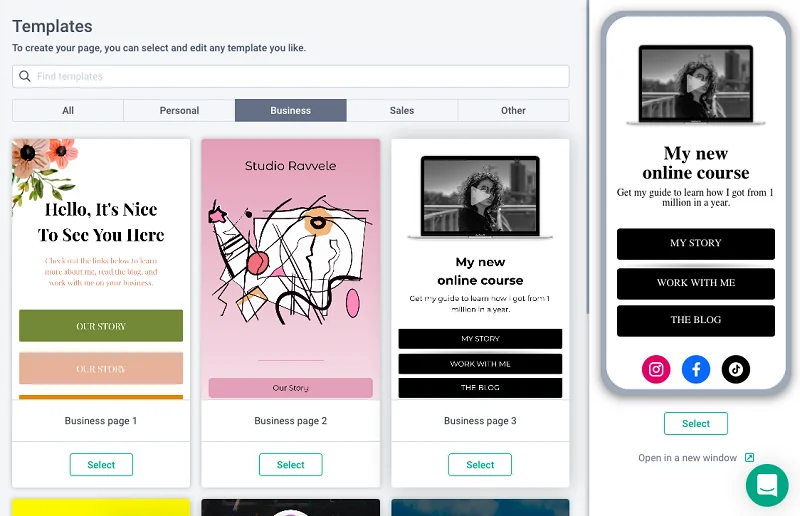 A variety of ideas for the visual design of a page allow you to publish a brand or service micro-page in the shortest possible time.
There are templates in different categories — Personal, Business, Sales, and Others. Select the suitable one and customize it using various internal functionality.
The Working hours block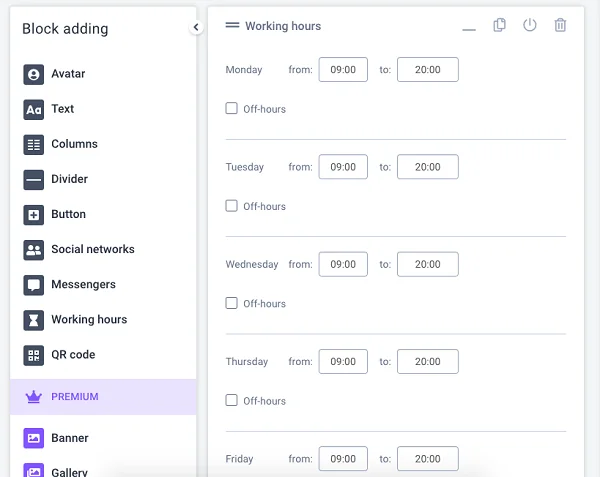 This block displays the opening hours of your store or the office hours of the support service, for instance.
First, select a template you like, go to the settings on the "Editor" page, to the Working hours section, and fill in this block — it pops up in the middle of the page.
The Timer block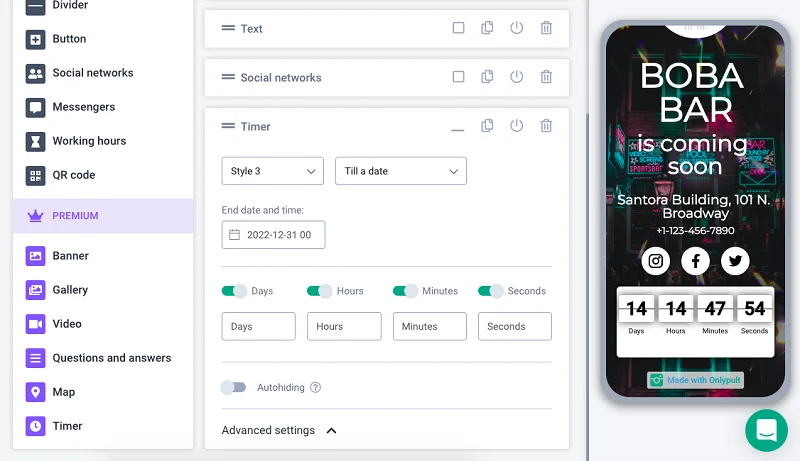 It places a countdown timer on the page, and you can design it in different styles and modes of operation: it is indispensable for promotions and sales.
After you have selected the desired template, please go to the Editor page settings, to the Timer section, and fill in this block — it pops up in the middle of the page.
The Columns block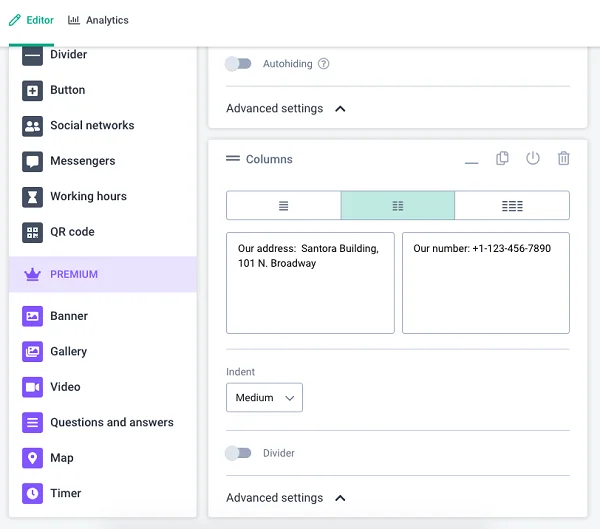 This functionality helps make necessary information more readable — to make the micro page as personalized as possible.
Now you can arrange text in one, two, or three columns and customize the background color of the entire block and the visual style of the column separators.
Variety of backgrounds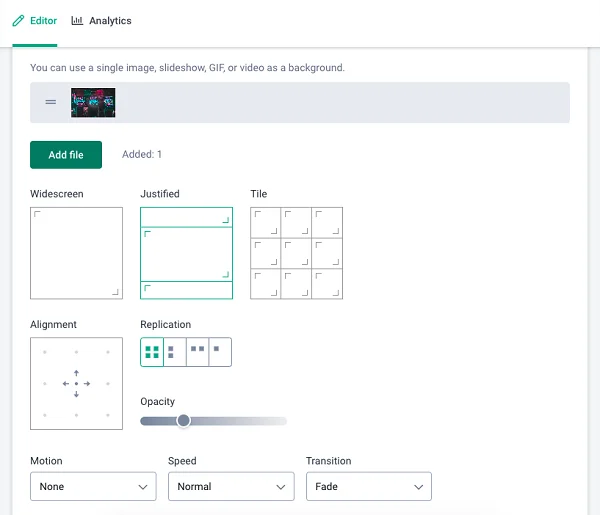 You can use JPEG and PNG images, videos, and GIFs as the page background. You can add up to 10 by selecting the desired mode for switching between slides.
Besides media files, animated textures are available — you can easily combine some of them with the selected color — solid and gradient.
Social networks — new tools
Scheduled posting to social networks is constantly being refined and improved. Schedule posts and publish them in real time — don't miss updates.
Direct posting on Pinterest
More convenience in posting pins — now it goes without a mobile app. The publication will get published automatically at the scheduled time.
You can choose a board for publishing a pin, schedule auto-deletion, or choose Pinterest, including cross-posting to all social networks.
Direct posting of galleries to business accounts
Instagram has enabled carousel posting for users directly through third-party services — it works now for business accounts.
It has become more convenient to publish photos or video galleries. Tagging other accounts or adding geotags is also available!
Direct posting to TikTok drafts
We make working with the platform more convenient — you can now send videos via our mobile app — using push notifications.
Videos get not into the Feed but land in TikTok Drafts. For now, you can publish only videos without text.
What other helpful updates are worth special attention?
One of Onlypult's goals is to make working with all media platforms convenient for bloggers and businesses. You can use just one service to manage your brand's social media.
Mobile app for IOS
The updated version of the mobile app for iOS provides new capabilities.
Preview posts for Facebook, convenient screens for creating posts and adding text, cloning posts, option menu (edit, duplicate, delete) on the list next to the post, and other helpful functionality.
Onlypult Analytics
It is almost impossible to evaluate the effectiveness of your efforts on social networks without analytics.
This tool helps you optimize your promotion strategy and understand the helpful and useless steps. Therefore, you will see which content formats are not worth wasting time on while others are to be in your content plan.
Depending on the specific goals and objectives, you can customize a dashboard with information about the audience and other important parameters.
For example, in the content statistics section, the most successful publications are ranked by the number of comments, video views, likes, and saves. Detailed information on a specific publication is available in just one click.