A social media marketer's job can get overwhelming with the number of tasks they have to accomplish on a daily basis – everything from posting content to analytics and reporting. It is especially complex if you are in charge of several accounts at once.
Fortunately, now you can find a great deal of social media management tools that will take over some tasks. They help in streamlining social media operations, saving time, and getting your content to your desired audiences exactly when you need it.
We've compared the most useful management apps and came up with our top recommendations. Also, you'll learn why it's important to approach this topic responsibly.
What Is Social Media Management?
Social media management is the activity of creating, scheduling, and analyzing content - as well as engaging with users on social media platforms. It contributes to the brand's online representation and helps convey the company message in a curated way.
It's important to apply a holistic approach to managing social media. So, it requires all facets of online marketing operations, special software, and trained staff to ensure the successful application of campaigns.
This process is also closely linked to digital marketing in general. Both domains coordinate how the brand positions itself online to generate more business. Also, both are based on strong factual information about the market and the audience the company is interested in.
Why Social Media Is Important
Almost three billion people around the world use social media. That large of an audience is hard to ignore, and business marketing specialists have long realized its potential. Here are the biggest reasons why getting into social media is a valuable move:
Cost – It is arguably the most cost-effective way to advertise your brand. Compared to print media, TV, and radio advertising, social media is significantly more budget-friendly. A greater return on investment means you can achieve more for little money.
Reach – With such an enormous user base, social media offers great platforms to expand your reach and boost your visibility. There is a high chance your customers and prospects are already using social media, and you just need to find them.
Users – Once you attract more followers to your business page, it's time to engage with users. You can set up two-way communication with your audience. As a result, you will learn more about what they need and lack from your service.
Performance – There is a lot of data you can get after promoting your products and services on social media over extended periods of time. You can take advantage of social media analytics to influence your future decisions and improve your business performance. By continuously adapting your strategies based on new information, you can positively contribute to the quality of your offers.
Key Elements of Social Media Management
Every aspect of this process makes a difference and should serve the marketing goals you set. What do you need to include in your social media strategy to make sure it works from day one? Here are five essentials you should consider.
Researching Your Audience
You want your marketing budget and ad expenditure to go towards content that will reach the right users. Even if it seems like the more people see it, the better, it doesn't necessarily affect converted leads.
Social media content should resonate strongly with a particular group of users that fit your brand's buying persona. The bottom line is to figure out as much as you can about your audience and learn where you can find them online.
Developing Social Media Strategy
In preparation for creating a strategy, consider the following crucial factors that will affect it:
Industry (leaders, content gaps, and user preferences);
Brand (message, tone, and past campaigns);
Goals (brand awareness and brand loyalty).
Once you have a clearer idea of your end-game, you can start thinking of ways to achieve it. Divide your strategy into smaller objectives that will allow you to scale your efforts both reasonably and affordably.
Creating a Social Media Schedule
A calendar indicating what posts need to go up or when you are supposed to hit certain goals is a great reference point. For example, you can schedule your content a month ahead with its captions, tags, and locations already taken care of.
Make the schedule as simple or complex as your brand needs it to be. It's better to keep coherent plans for content across channels and avoid rushed changes unless it's on trending topics.
Posting Content to Multiple Social Accounts
Some brands use cross-posting, which is sharing the exact same post across different social media platforms. However, you'll benefit from content that feels authentic to each platform. Even though it's more labor-intensive, the results are worth it.
Research each social media platform and determine what kind of content would feel the most natural there. You might need help from graphic designers, copywriters, and other specialists.
Responding to Subscribers
If you actively engage in online conversations with your audience, it shows that you care. A lot of people go to social media for technical support so you can provide real help.
It's essential to respond not only when someone praises your brand or asks genuine questions, but also to negative comments. This way, you get the chance to soften their reaction and convert their bad experience into a valuable lesson for your brand.
Social Media Management Tools: Top 13 Platforms
We present our list of the best platforms that are definitely worth your attention in 2021. Even though they seem to offer relatively similar functionality, some features make them stand out, and we'll look at them in detail.
Onlypult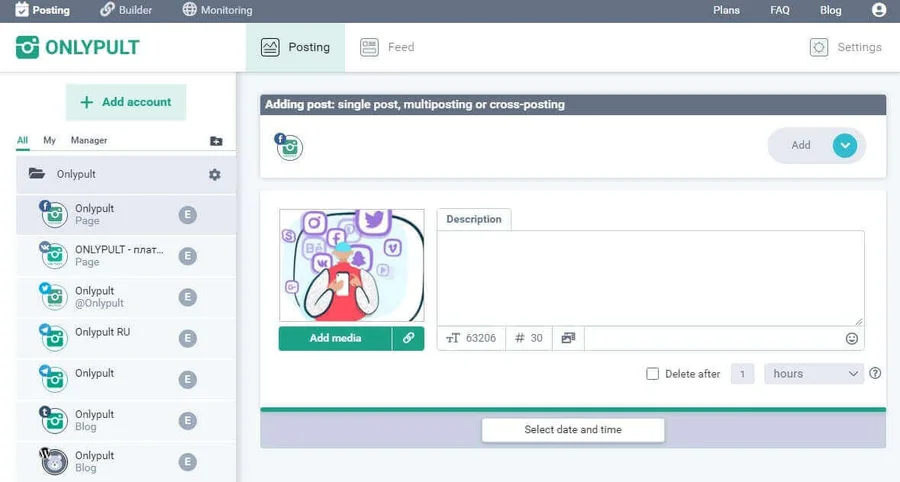 Description: Onlypult is an automation tool offering the functionality to plan and schedule Instagram posts. It helps social media managers to automate future content, receive followers, engagement, and optimization analytics, follow competitor and influencer behavior, and a lot more. The content is posted on a predetermined day and time. Also, Onlypult supports bulk upload, which is especially useful when the manager is engaged with other tasks or goes on vacation.
Pricing: With annual billing, plans start from $10.50/month (for 3 accounts, 1 manager and 10 tracked users) and gradually go up to $55.30/month (for 40 accounts, 5 managers, 30 tracked users)
Unique Features:
Storing hashtags on the dashboard. There is no need to copy and paste them every single time, and you can add commonly used hashtags with just a few clicks. In a similar vein, you can automate a variety of other tasks.
More than 10 filters. Onlypult offers a built-in photo editor eliminating the need for third-party services for editing and resizing.
Calendar view of upcoming as well as previous posts that were made with or without the tool. This helps with content planning and making sure the grid is consistent.
Buffer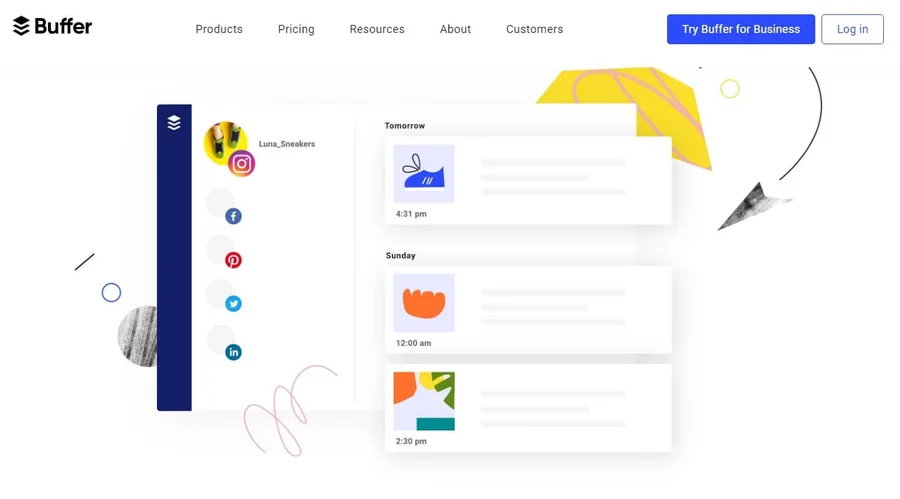 Description: Buffer is a platform for publishing, engagement, analytics, and team collaboration. The service gives you a broad perspective on engagement statistics across all supported social media accounts. It is integrated with SocialBro, Pocket, and many other popular apps.
Pricing: Tiers start from $12/month (for 8 social accounts, 100 scheduled posts, and 1 user) and reach $85/month (for 25 social accounts, 2,000 scheduled posts, and 6 users).
Unique Features:
Browser extension. Share content from Twitter, Facebook, Pinterest, LinkedIn, Reddit, and other services.
Tracking of top-performing content. See what users engage with and restructure it in fresh and exciting ways.
RSS feed. Buffer users can add an RSS feed directly from within Buffer, see the most viewed and recent posts, and add them to the content queue or direct to your library.
HootSuite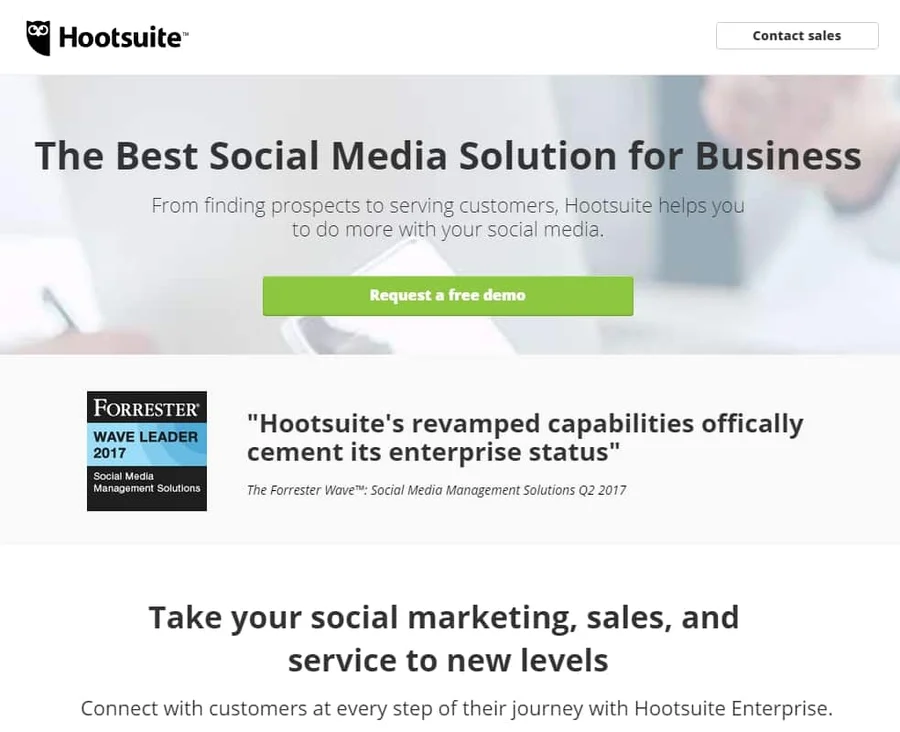 Description: Hootsuite can be integrated to view, schedule, and post messages, including Twitter, Facebook, Instagram, YouTube, and LinkedIn. You can access the service directly from the browser with no need to install it. Additionally, Hootsuite Podium offers online courses for improving your skills.
Pricing: Customers are charged $19/month (for 10 social profiles and 1 user), with upper plans being $599/month (for 35 social profiles and up to 10 users).
Unique Features:
Auto-boost of popular content. HootSuite lets you view "hot posts" with a higher engagement rate to maximize your content performance.
Reports with data sources and filters. You can read/navigate reporting dashboards to pinpoint exact information on engagement and traffic.
Integration with Google My Business. This allows you to manage your Google My Business brand presence alongside your other activity.
Sprout Social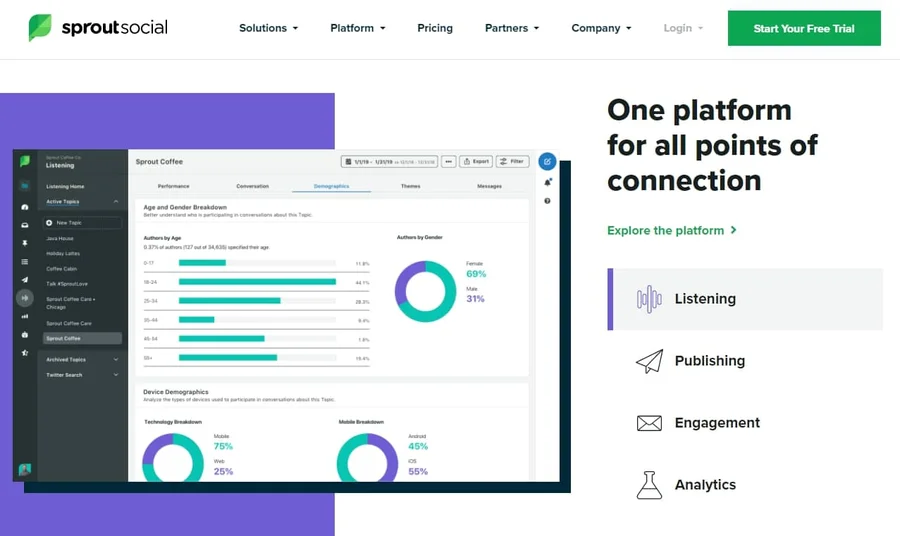 Description: Sprout Social is another all-in-one social management solution. It integrates with your CRM and offers desk features with reporting capabilities. A good balance of account management (like social listening and working with influencers) and analytics is considered a sweet spot for many businesses and their social media managers.
Pricing: A standard pricing plan is $99 per user/month (for 5 social profiles), and an advanced one is $249 per user/month (for 10 social profiles).
Unique Features:
Team & productivity reporting. Sprout Social has the functionality to efficiently track replies, reply time, and publishing activity.
Comment moderation. You can deal with spam comments on Facebook, Instagram, and LinkedIn and quickly respond to regular ones.
Notifications for failed messages and posts. If something is rejected by the native networks, it will not go unnoticed by you.
Agora Pulse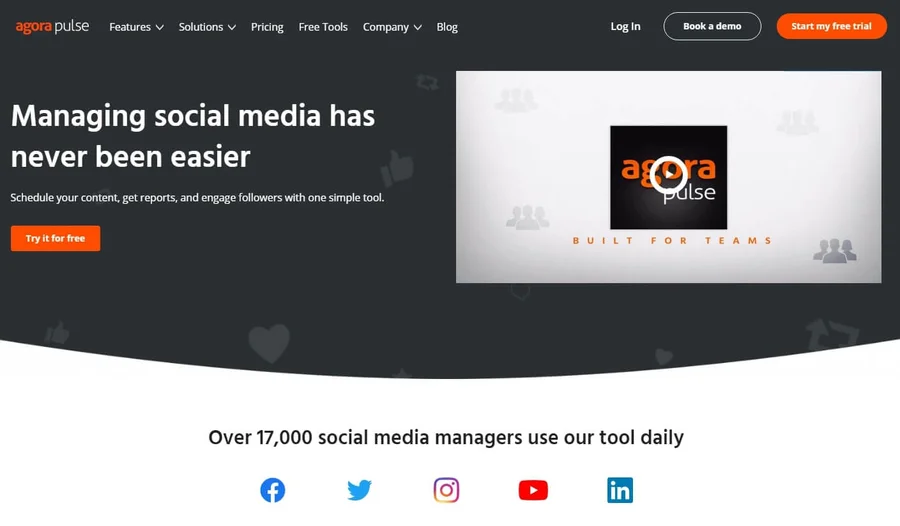 Description: Agora Pulse consolidates multiple social media accounts in one dashboard. The inbox system makes sure you never miss a tweet, comment, or message. This way, you can always react in a timely manner to all your online interactions.
Pricing: For small businesses, the service offers plans for around $89/month (for 10 profiles and 2 users), and for enterprises, they have plans for $449/month (60 profiles for 20 users).
Unique Features:
Data on most passionate followers. Receive insights on who's commenting on your posts, tweeting (or retweeting), or frequently talking about you on public accounts.
Team features. You can open multiple accounts on the same dashboard to ensure effective collaborations.
Keyword listening. This feature helps you respond to consumer demand and adjust content development based on high-ranking search results.
Sendible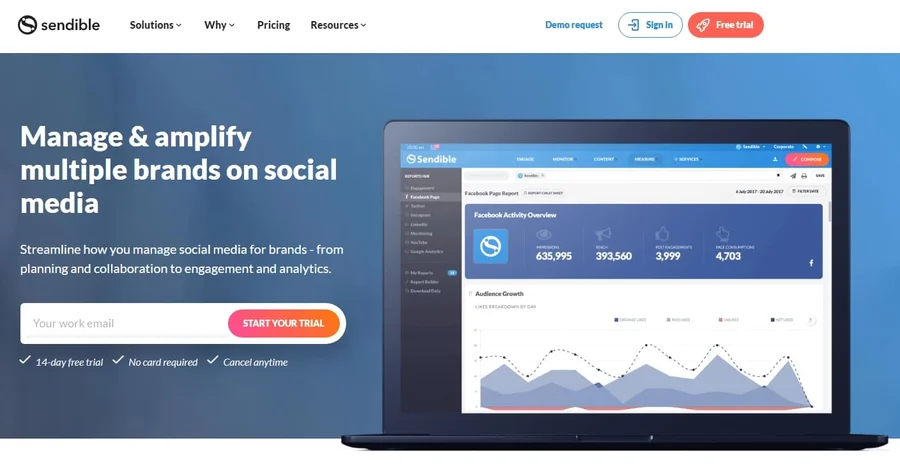 Description: Sendible is specifically designed for agency use. It supports most major websites as well as the ones that aren't normally offered (like WordPress, Delicious, or Foursquare). All posts are edited in the Compose Box, where you choose the social network (or several of them) and schedule them for the future.
Pricing: The service costs from $24/month (for 12 services, 8 reports, and 1 user) and goes up to $254/month (for 192 services, 60 reports, and 12 users).
Unique Features:
Content suggestions. Based on the most recent data, identify which posts are likely to do better in the future.
Canva, Dropbox, Google Analytics, and Slack integrations. Additional services within Sendible simplify the entire workflow of content management.
Team member assignment. For better task management, you can authorize workflows and assign tasks to specific specialists.
eClincher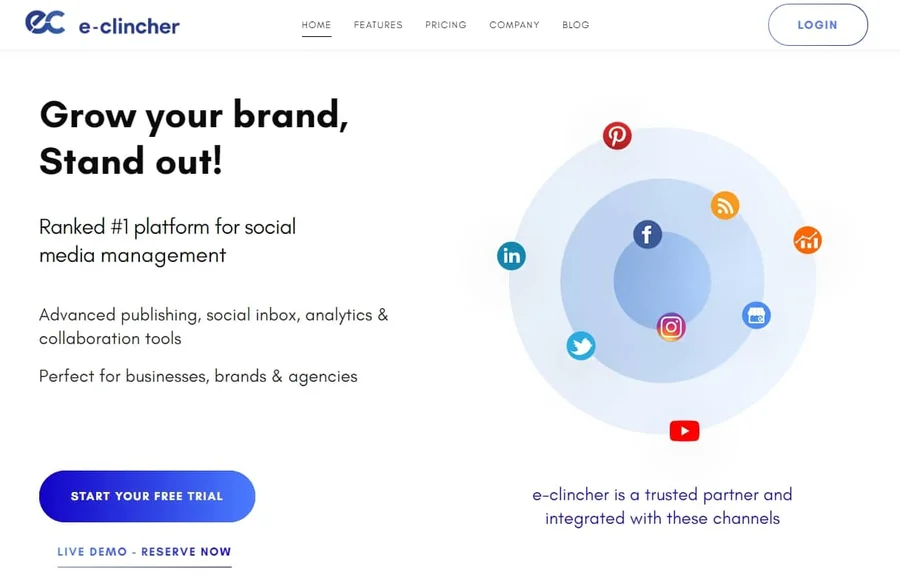 Description: eClincher offers similar functionalities inherent to the social media management tools described above. There are social media dashboards for Facebook (profiles, pages, and ads), Instagram (personal and business), Pinterest, YouTube, and some other services. It also provides competitive intelligence reports for Twitter, Facebook, and Instagram.
Pricing: The platform pricing starts from $59/month (for 10 profiles and 1 user) and reaches $219/month (for 40 profiles and 6 users).
Unique Features:
All-in-one social inbox. Different message types from different channels are merged into one space.
Real-time mention/sentiment analysis. This data helps managers make more informed decisions in the shortest amount of time.
Free media libraries. There is a selection of video, images, gifs, emoji if you've run out of ideas or want to switch things up.
Social Pilot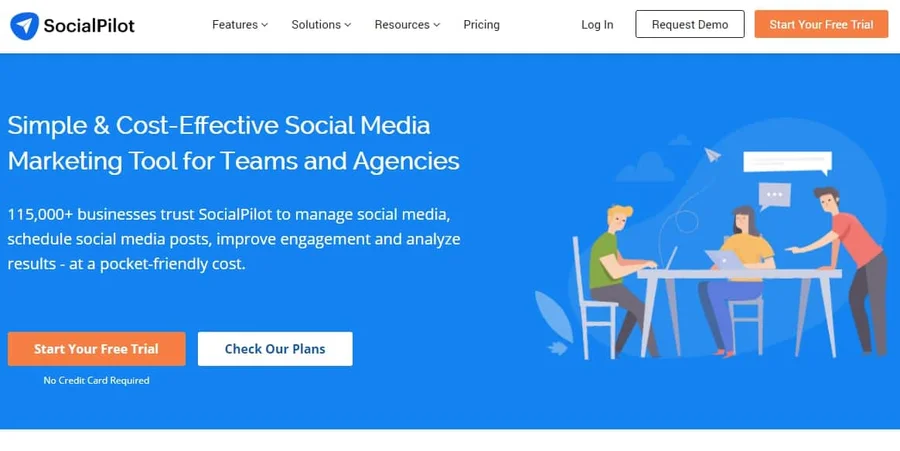 Description: Social Pilot helps you ensure a frequently-updated social presence with content scheduling, bulk uploads, and other client management tools. There is a visual support for marketing campaigns, where you can apply multiple features to incorporate images, videos, and GIFs. Plus, you can use their built-in analytics and reporting tools.
Pricing: Basic tier is $25/month (for 30 social media accounts), and a professional one costs $83.33/month (for 100 social media accounts).
Unique Features:
Native mobile app. You can download Android and iOS apps and accomplish the same tasks from a mobile device.
Tumblr and VK integration. Similar platforms don't normally support these services.
Customized invitations for clients. Social Pilot lets you make a great impression by customizing the tool with your own branding and logo.
CoSchedule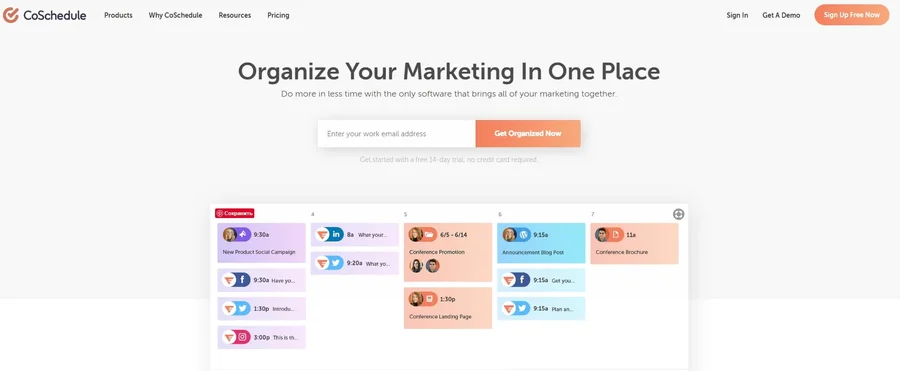 Description: This platform is a useful editorial tool. There are different to-do lists meant to create timelines and track various deadlines. It neatly organizes social media posts, articles, blog posts, email, marketing letters, podcasts, videos, white papers, and infographics.
Pricing: The starting package goes for $150/month (3 users and 10 social profiles), and the professional one is $650/month (5 users and 15 social profiles).
Unique Features:
Custom color labels. CoSchedule lets you coordinate different tasks and pieces of content.
Calendar sharing. There is a read-only view of your content calendar so you can share it without unwanted edits.
CoSchedule product training. Users can enroll in the program to learn best practices and tips for this type of work.
MavSocial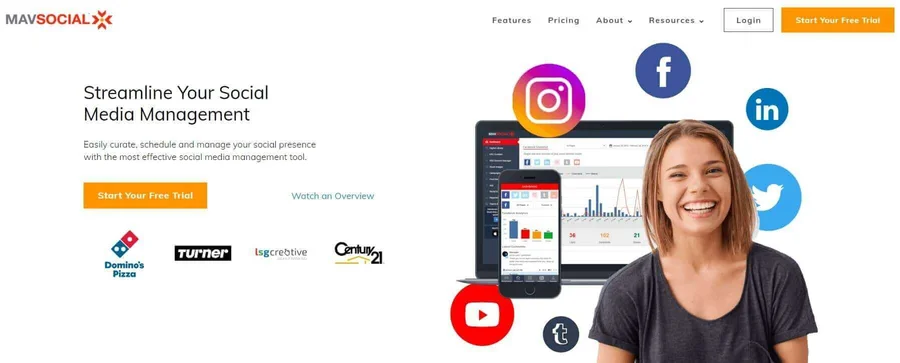 Description: MavSocial focuses on multiple aspects of social media management, such as publishing (schedule, automate, and boost), listening (track, filter, and act), engaging (view, sort, and respond), reporting (monitor, analyze, and export), collaborating (team management and audit), and curating (discover, manage, and edit).
Pricing: The cheapest tier is about $16/month (10 social profiles and 1 user), and the enterprise plan is approximately $416/month (70 social profiles and 20 users).
Unique Features:
Recurring campaign automation. You don't have to manually set up campaigns if they don't need a lot of tweaks.
Dedicated onboarding specialist. Users receive assistance when they first start working with this platform.
Management of digital rights and permissions. The service allows you to add metadata to control limits of who can use a given piece of content.
Social Report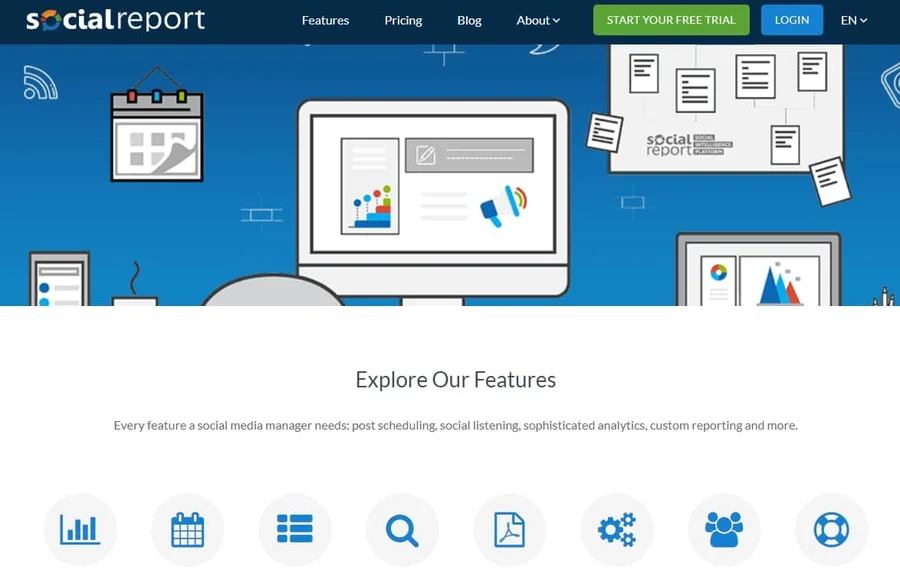 Description: Social Report automates tasks related to engagement, scheduling, analytics, and other valuable operations. The current functionality makes managing multiple channels and web tools (including Google Analytics and Active Campaign) much easier. New features are added based on user feedback.
Pricing: Clients will be charged $49/month for a standard package (5 users and 25 profiles) and $199/month for a pro plan (unlimited users and 200+ profiles).
Unique Features:
Multi-language support. Social Report supports German, Greek, Hungarian, Italian, Dutch, Portuguese, Spanish, Romanian, Russian, and Malay.
Social listening. Along with gathering customer feedback and direct mentions, you can keep track of all conversations within your industry.
Granular data from social media profiles. As long as you have data-driven insights, you can finetune your strategies.
HopperHQ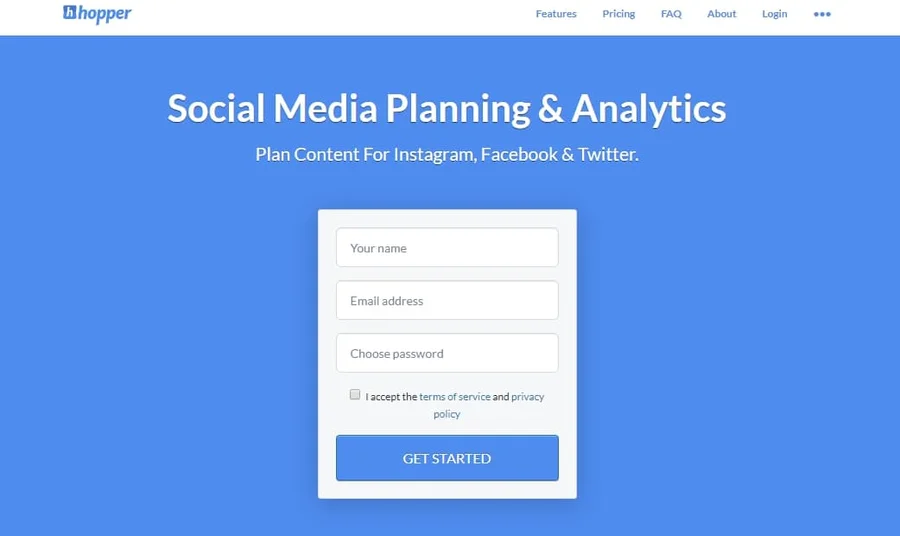 Description: Another big-time saver for social marketers is HopperHQ. It offers planning and editing features, like auto-publishing, multi-user collaboration, and social media analytics. It is compatible with desktop computers and mobile devices.
Pricing: A bundle of accounts for Instagram, Twitter, and Facebook is $16/month, and each bundle after 10 costs $10/month.
Unique Features:
Scheduled posts rearrangement. If something doesn't look right on your grid, you can shuffle it however you like before posting.
Upload from Dropbox and more. For bulk uploads, you can do it from Dropbox, Google Drive, Google Photos, Box, or even a URL.
Mobility for managers. Thanks to the ability to upload from the cloud and the iOS app, you aren't tied to your computer.
Meet Edgar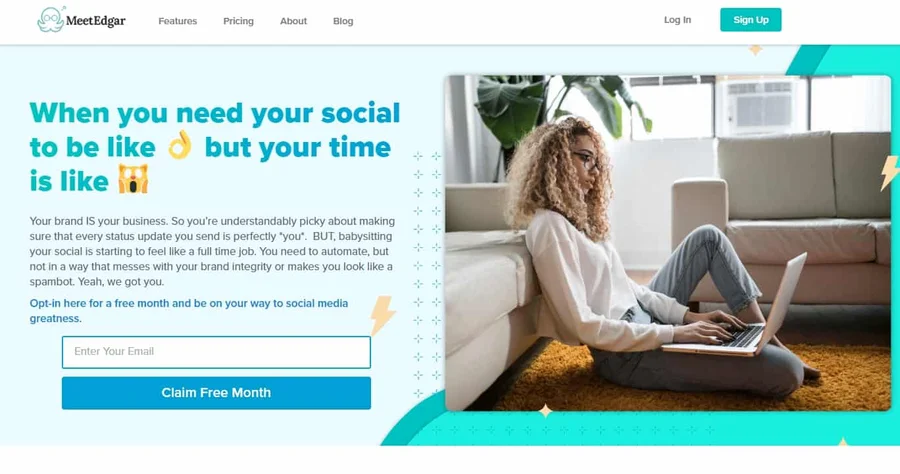 Description: Meet Edgar performs all the automation jobs that you expect from this kind of software. All you need to do is add your social media accounts, upload content, view your library, and create a schedule. This way, you won't fall behind on your posts.
Pricing: There is only one tier, for which you will be charged $29/month (25 accounts).
Unique Features:
Category-based scheduling. You can categorize your content in a group like "FAQ for Wednesdays" or "How-Tos for Fridays".
Continuous posting. If you want to reshare content, Meet Edgar can put them in a designated queue.
A/B test social messaging. See what messages resonate with your audience and drive traffic back to your site.