Do I need a proxy?
You don't really need one unless there are some special reasons for using one. Everything will be working just as it should without a proxy. We definitely recommend connecting to a proxy if you use some side services along with Onlypult, e.g. for mass-liking, mass-following etc. In this case it is necessary that all the activity on your account comes from the same IP-address – and that is exactly what proxies provide. But again, if you only use Onlypult and nothing else, there is no need to use a proxy server. The main condition is not to both schedule posts with Onlypult and post manually. Otherwise, Instagram will want you to confirm your postings, and it could cause the posts not being published.
How to connect a proxy
To connect a proxy, go to your Instagram account settings and add information into the Proxy settings fields, after which press the "Check the proxy server" button. If the check goes through successfully, you can save the settings, and then all your posts will be published from your individual IP-address. Of course to be able to add such an option, first you'd have to buy a proxy server. You can purchase a proxy server from trustworthy proxy providers in your country. If you need some additional advice about it, please write to us.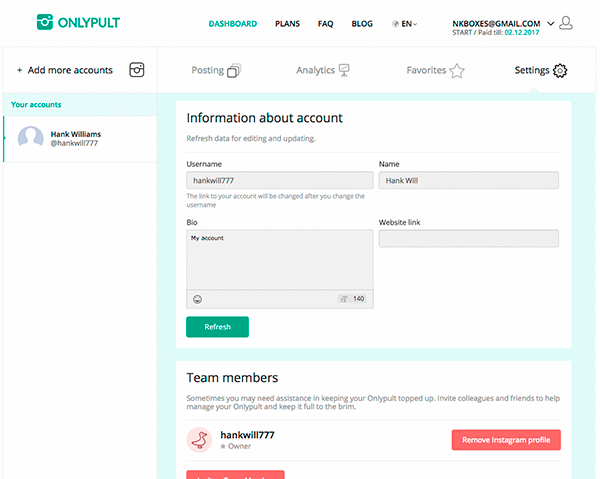 Important: The login and password that are required for proxy, are given to you by the proxy server provider and are not the same ones that you use for Instagram or Onlypult. Each of your Instagram accounts can have its own proxy server, or can use a proxy that is already set up for other Instagram accounts of yours without difficulty. Another important thing: It is necessary to use a dedicated proxy, others will not do. We strongly recommend not using services like 1000 proxies for 10$ or free ones. These kinds of proxy servers are used by many people at once and by using them you risk your account, because Instagram could simply ban it. Dedicated proxies are only used by you.
Technical specifications for your proxy: http/s, ipv4. Only login/password authorization.