Real winners prioritize the quality of content and reinforce the message with memorable visuals. Designers and illustrators can help here. If a company isn't ready to allocate a budget to using an expert, special services will help.
1. Сanva
This is a service that helps create designs for social networks, events, documents, and advertising teasers.
Canva saves you time. To create graphics for an event one needn't create new combinations of colors or spend time on choosing the font size. After registering all that, it is required to choose a template (for example, for a Facebook publication) and add text. Colors and illustrations have already been selected by designers.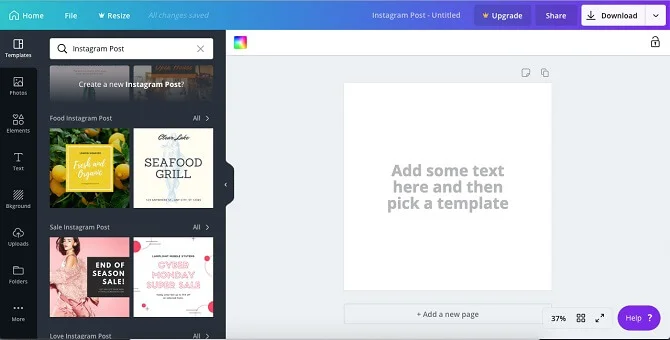 Canva's Benefits
The templates already meet requirements set for posts on Facebook, blog covers, pictures on Pinterest or advertising teasers on Instagram;
The functionality of downloading background illustrations from a personal archive or using paid ones;
Joint access for two or more project participants: create a schedule with colleagues;
integration with social networks: Facebook, Pinterest, Twitter, etc;
3 formats for downloading files: jpg, png, and pdf;
a free period for advanced functionality (a month);
a mobile app.
Disadvantages
It's hard to understand which element is to be paid for and which one is free: it's all in one pile.
It's not possible to change the template size: if you used a template for an Instagram post than you'll need to start a new one from scratch for stories.
Elements of one design cannot be used for another template.
The service is free. If you want to use all its advantages, switch to Canva Pro. The monthly cost is $12,95 per user.
Here is the link: https://www.canva.com
2. Crello
Crello is a service that enables users to create animation, blog pictures, and adverts.
The current trend in content creation is a focus on moving (dynamic) visuals. Videos, gifs, boomerangs are to be found more and more often in stories and posts on social networks like Instagram and Facebook. A distinguishing feature of Crello is free animated templates. Create an animated video and increase audience engagement!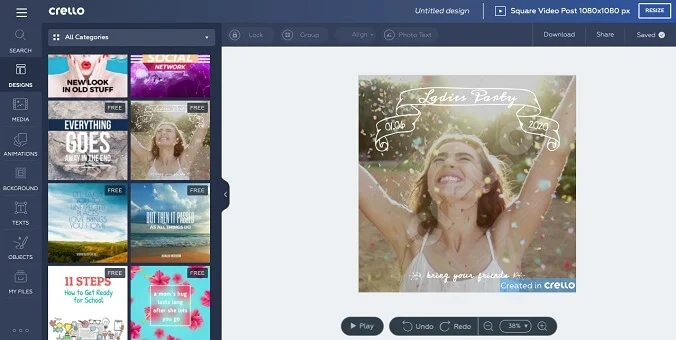 The advantages of Crello
A gallery of existing examples (for inspiration);
The functionality of creating dynamic images as well as static ones;
The functionality of working with own fonts which can be uploaded;
Folders for sorting the finished product.
The key disadvantage of Crello: animated images can only be created in 1080*1080 px format. When resized, a picture becomes static.
This is a free service. You can pay $79.99 and get advanced access to the elements of the service.
Service link: https://crello.com
3. PiktoChart
PiktoChart is a service that allows putting together an infographic in 3 clicks. PiktoChart saves time if you need to prepare a visual sales report, demonstrate the advantages that a product offers or create an illustration. What's more, there are presentations, posters, billboards, brochures.
The advantages of PiktoChart
Create beautiful infographics based on 20 rows from an Excel spreadsheet;
An intuitive interface which someone unfamiliar with the design business can easily understand.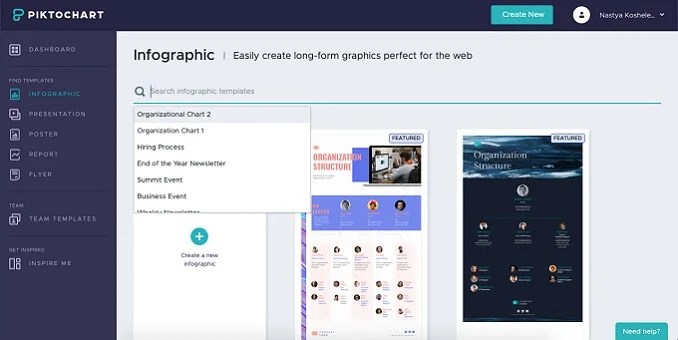 If difficulties still arise, the service provides educational "reminders": FAQ, tutorials on YouTube, lifehacks like "how to make graphics in 30 minutes".
Disadvantages of the service:
It's not possible to use watermarks
Low quality of images at the upload stage
Free access is limited to 7 templates.
There is a free plan but no trial period. Extended service costs from $15 to $29.
A link to the service: https://piktochart.com
4. Remove.bg
Remove.bg is a service that helps with removing background from photos in a couple of clicks. Previously, Photoshop helped, but skills and experience are required to work with Adobe and ergo the developers of Remove came up with a more convenient tool .
If you need to upload an image in Photoshop, select an area, highlight and carefully crop it. Remove.bg will save you from the pain of creativity. Thanks to the algorithm built using artificial intelligence, the service itself will determine the object that needs to be cut and remove all unnecessary content from the image.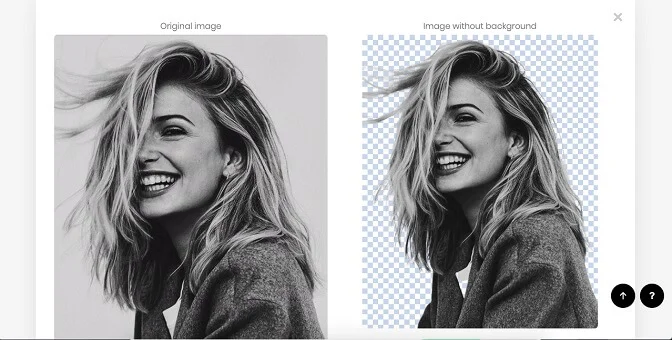 Advantages compared to Adobe Photoshop
A convenient interface that can be used in a browser
Efficient usage of time: to remove content you don't need to do much.
The key disadvantage of Remove lies in its advantage. Remove determines where the object is itself. That's why the contour of the object may interfere with what's in the background.
This is a free app but there are size restrictions: to download a larger image, you need to pay upwards of $0.18.
Service link: https://www.remove.bg
5. Adobe Spark
Spark simplifies the process of creating and editing graphics for Twitter, Pinterest, Facebook, and Instagram. You can also create simple and intuitively understandable web pages and videos.
After registration, 3 working environments are available: Post, Page, and Video.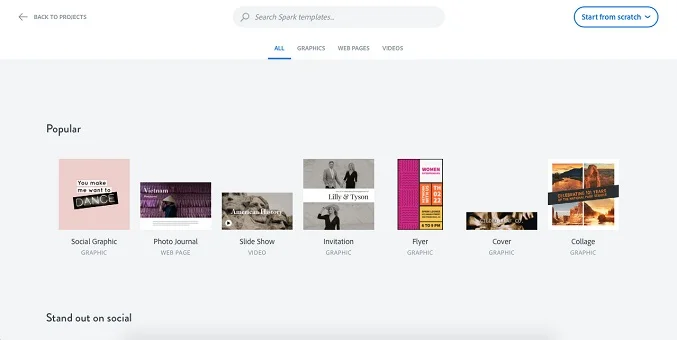 Adobe Spark features ready-made templates that are easy to work on. All that remains is selecting the desired one and following the tips provided by the service. You can add your images, choose a font and change the size of blocks.
The service allows you to use free images from your collection and a large font database.
The advantages of Adobe Spark
Templates are sorted social networks' designs. Choosing the right one is convenient.
The functionality of creating graphics for print: flyers, posters, calling cards.
The disadvantages
When you're using the free version ready products carry a semi-see-through logo. Adobe Spark is a part of Creative Cloud.
A link to the service: https://spark.adobe.com
6. Infogram
The Infogram service is similar to PiktoChart, but it includes more features: creating graphics for social networks, visuals for blogs, teasers for advertising and animation.
There is a free version in Infogram, but its functionality is limited.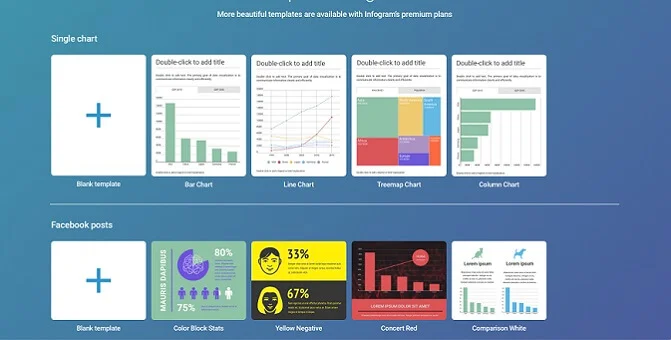 What the service allows you to do
Choose a template for social networks, company reports or infographics;
Add video to infographics (unlike with PiktoChart)
Practice teamwork: create projects with colleagues. Available in the paid version of the app;
Download data from other services: Google Drive and Dropbox;
Access to a project by invitation, as in Google Docs.
Service link: https://infogram.com/
Bonus: Picsart
Picsart is a designer's paradise, allowing creatives from all skill levels to create stunning graphics and images.
Its AI-powered tools give you the ability to enhance images, blur image backgrounds, and remove objects with one click. Picsart's features are truly never-ending and powerful, making it possible for you to design everything from social media banners to brand-focused marketing material, like posters and brochures.
The advantages of Picsart
Hundreds of templates and stock images;
AI-powered tools that help you create and edit images;
The editor allows for multi-layered designs.
One disadvantage of Picsart is that it can be slow when you're working on large files or complex projects and that the free version can be limiting.
However, you can access all of Picsart's tools for as low as $7.50/mo ($9.16/mo for teams), which is pretty reasonable considering the number of features you get.
To sum up
Try different services and choose one that suits you best.
To quickly and efficiently delete background use remove.bg.
PiktoChart and Infogram will suit you best when it comes to creating infographics.
Canva, Crello, and Adobe Spark are best for creating adverts in Stories or Instagram posts.