Many brands have already gathered that need to consistently create compelling content to grow their Instagram following. But the trick is to post photo and video content, as well as stories, at the right time. Otherwise, the majority of your audience will not be able to see it.
Before deciding when to post on Instagram, brands need to take into consideration multiple factors. Your unique audience may consist of followers in different time zones; there are peak engagement times for specific industries; days of the week vary significantly, etc. This article explores the essential considerations about when to post on Instagram.
Here are some insights we found for the best/worst times to post on Instagram in 2023:
Best times: 9 a.m. and 4 p.m. on Wednesday, 10 a.m. – 1 p.m. on Thursday, 9 a.m. – 12 p.m. on Friday
Best day: Wednesday
Consistent engagement peaks: 10 a.m. – 4 p.m. on weekdays except for Monday; plus, particularly active streaks at 10 a.m. – 5 p.m. on Wednesday and 9 a.m. – 4 p.m. on Friday
Least engagement: Every day at 11 p.m. – 3 a.m.
Key takeaways
You should consider that your audience's activity depends on the day of the week.
You need to know what time zones your most active followers are located in to determine the optimal time to release your Instagram posts.
If you're focused on quality and content rather than quantity, think carefully about the timing of your publications.
The most active days are the middle of the week.
Do not post at night or before 7 a.m.
Things to Consider when Looking for the Best Time to Post on Instagram
There is optimal posting time for every audience, specific region, and business segment. Therefore, SMM specialists need to determine this time and cater to a variety of factors to get the best results.
Days of the Week
If you look at Instagram engagement throughout the week, you will inevitably find significant differences. For example, there are the busiest days like Wednesday or Friday, and there are quieter days like Saturday and Sunday.
Most people work Monday through Friday, and there will be correlations in people's social media use. Mondays tend to be the days when people are engaged in their work more intensely and have less time for Instagram. As the week goes by, people finish handling tasks that piled up over the weekend and get more active. But the weekends themselves are far from the best times to post on Instagram since people are involved in activities other than social media.
You should prioritize your content and plan accordingly. For example, you should post your best, meticulously generated content on days when people check their phones the most. It doesn't necessarily mean that no one will see your posts on other days. But you aren't advised to schedule your top-notch content when there are few people online.
Breaks during the Work Day
Statistics show that a lot of people go on Instagram during their work breaks, especially during lunch. Some people can't afford to take social media breaks at work, so they patiently wait until lunchtime. So, if you post around midday, there will be more eyes to views it.
Additionally, analysts noticed that people often take more Instagram breaks in the late afternoon. Perhaps, it's because t of the work for the day is finished, and there is more time to unwind. If you have a general idea of when your audience might take breaks, target that time.
Frequency of Posting
Your choice of the best time and day to post on Instagram also depends on how many posts a day/week you have planned. As mentioned in the previous point, you can spread multiple posts across different segments of your audience. On the opposite end, if you are not about bulk quantities, you should be more deliberate about when to publish them. No matter what approach you take, share a mix of different post types, and make every post count.
Audience Type
Your specific audience may not follow conventional patterns of Instagram behavior. If it is different, then traditional posting times will not be as relevant. These unspoken rules are still important, but you need to be flexible to make the most out of your posts.
Instagram Insights offers a look into what kind of audience you have. The more information you can discover about your audience and when it is most active, the more accurately you will structure your posting practices. You may find that your audience type prefers an untraditional Instagram schedule, which proves to be effective for your goals.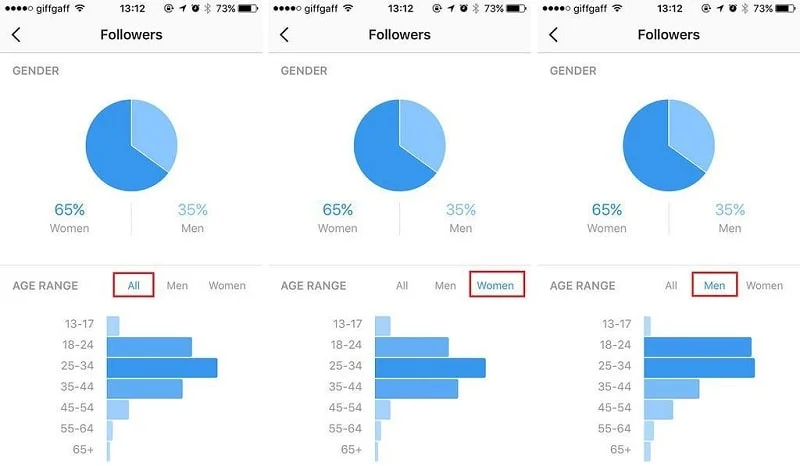 Time Zones
If you know the time zones for your most active or important audience, it will be beneficial in finding the best time to post on Instagram. Your social media marketing campaign can benefit from engaging with users at certain times, such as their wake-up time or after work. By finding out top locations, you will be able to adjust your schedule accordingly.
Let's say a brand has a large audience on the East coast but posts on Instagram based on the working days on the West coast. Then they will be losing a big chunk of potential customers. Accounts with a wide geographical spread, of their audience, can share several posts per day to reach every major time zone.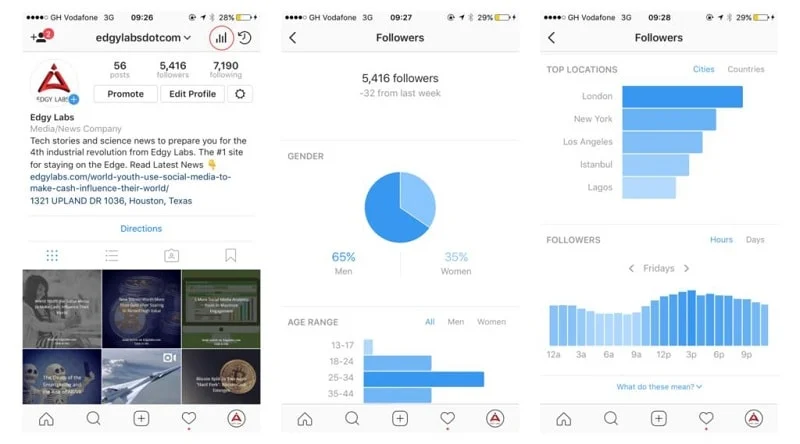 If you are unsure where your audience resides, use Instagram Insights for native analytics. Find an icon on your profile and browse whatever categories are of interest. Preferably, you should gather as much user data as you can, so explore all available categories.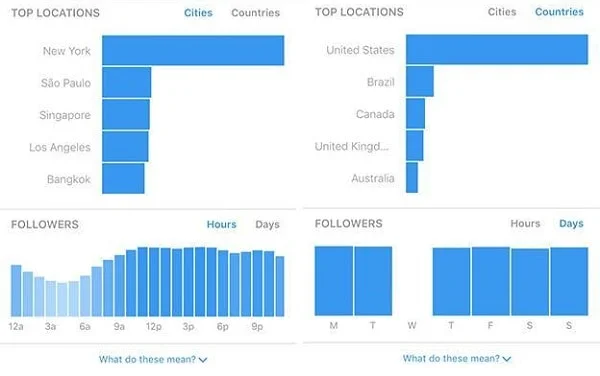 United States of America
According to a study published by mention.com, the best times to post on Instagram are:
West Coast of America: 9 a.m. to 1 p.m.
East Coast of America: 9 a.m. to 1 p.m., 3 p.m. and 5 p.m. to 7 p.m.
U.S. South: 7 a.m. to 12 p.m.
These are the hours that show the highest engagement rates. You won't go wrong with the timing of your post if you study your audience carefully and find out exactly when they go online.
Spain
The most active time for audiences in that country is 8-9 p.m.
Avoid publishing content between 12 a.m. and 8 a.m., as they have the lowest engagement rates.
Use a scheduler to schedule posts in the evening.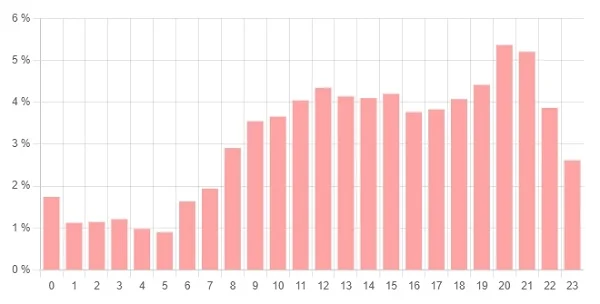 Source: https://mention.com/
Italy
Northern and central Italy is more active on social networks than other parts of the country. Let's take a look at a few areas:
Northern Italy: the most active times are from 12 a.m. to 2 p.m. and 6 to 8 p.m. You can safely publish posts until 10 p.m. and 11 p.m. Activity is lowest at night from 2 a.m. to 5 a.m.
North Adriatic coast: active time from 6 to 7 p.m. and at 9 p.m. Interestingly, activity drops slightly throughout the day, from 9 a.m. to 10 p.m. And at midnight, it grows again. Activity is lowest during the night, from 1 a.m. to 7 a.m.
Central Italy: you can confidently publish from 10 a.m. to 4 p.m. and from 5 p.m. to 9 p.m. Engagement rates fall insignificantly throughout the day.
Holidays
Remember that holidays heavily affect the engagement rate and you should always factor in what kind of holiday it is. For instance, people tend to be passive when it comes to social media during major holidays. They are traveling, hanging out with their friends and family at gatherings, or even just enjoying downtime at home. Scrolling Instagram is not one of their top priorities.
Interestingly, Instagram receives high traffic just before holidays so you may want to capitalize on that. If you have a compelling Christmas Eve post, you should publish it in the morning for better success. If you share it in the evening, most people are going to be too occupied with festive activities to see your Instagram post.
Best time to post on Instagram on Christmas day
It's best to post on Christmas morning to increase engagement. The day before, most of the audience will be busy with celebrations and family — so social media will be the last thing on their minds. Publish posts after 10 a.m.
When to schedule posts on Valentine's Day
Valentine's Day is celebrated almost all over the world on February 14. Instagram Business mentioned that the peak of activity this holiday is between 3 p.m. and 6 p.m.
Publications on Mother's Day
Mother's Day is held every second Sunday in May. In 2024, the holiday falls on May 12. It's best to rely on normal Sunday hours when posting to Instagram between 8 a.m. and 2 p.m.
Publications on Father's Day
In America, this day is celebrated on the third Sunday in June. In 2024, the holiday falls on June 16. We suggest you publish Instagram posts between 8 a.m. and 2 p.m. Keep in mind that the day of celebration may be different in other countries. Be sure to find out where your audience is located.
The best time to post on Halloween
Halloween is celebrated in many countries on October 31. It is not a day off, and in 2024, it falls on a Thursday. It is better to publish thematic posts in the first half of the day, from 9 a.m. to 1 p.m. Subscribers may not see your post in the evening.
Best time to post on Instagram on Thanksgiving day
Thanksgiving takes place on the fourth Thursday in November. In 2024, the holiday will be on November 28. In the U.S., it's a day off when families pay attention to each other and have holiday meals. It is better to publish posts in the morning — between 9 and 11 a.m.
The Best Time to Post on Instagram by Day of the Week
Many people have established routines and express consistent patterns in terms of when they check their social media. There are subtle changes here and there, but the average high-engagement times for individual days of the week remain quite consistent.
Below are the top times when people check their Instagram accounts and, by extension, the best times for brands to post:
Monday: 11 a.m., 2 p.m.
Tuesday: 10 a.m. – 3 p.m.
Wednesday: 11 a.m.
Thursday: 10 a.m., 12 p.m.
Friday: 9 a.m. – 2 p.m.
Saturday: 9-11 a.m.
Sunday: 8 a.m. – 12 p.m.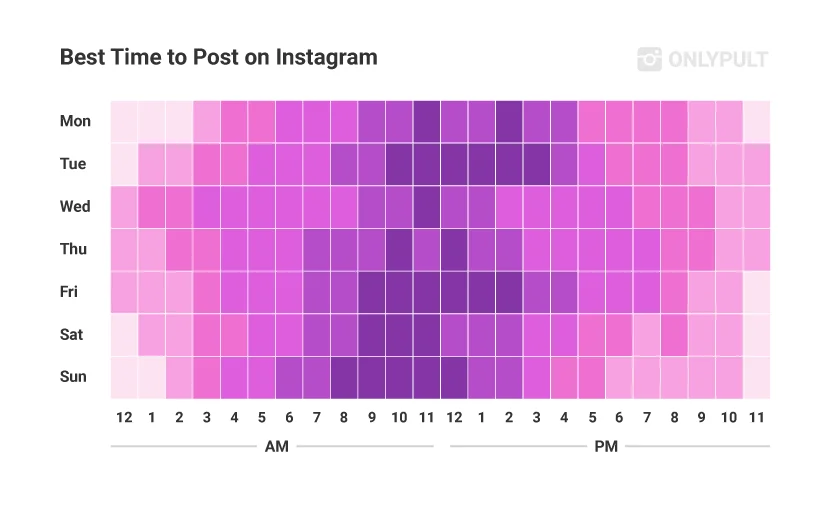 Monday
Monday morning is often a bit too hectic for many people to check Instagram. More users tend to check their feed between 11 a.m. and 3 p.m. That said, there is some moderate influx of users between 8 a.m. and 10 a.m. So, you have an opportunity to catch your audience's attention right at the start of the week.
Tuesday
Optimal posting time looks different on Tuesday – the engagement rate stays pretty consistent from 8 a.m. to 8 p.m. Statistics also show that users tend to be particularly active during lunch (the reason does not need explanation) and around 7 p.m. when most people get off work.
Wednesday
Wednesdays are one of the prime times for Instagram engagement and receive a dynamic inflow of users. This day is characterized by the most consistent high engagement of the entire week from 9 a.m. to 4 p.m. peaking at 11 a.m. There are some users left between 5 p.m. and 8 p.m., but you are recommended to plan your posts earlier.
Thursday
You can see great statistics on Thursday engagement as well. The pattern loosely resembles the one on Wednesday but without such a rush at midday. Try posting between 9 a.m. and 3 p.m., and you should see a great number of people interacting with your post.
Friday
Friday is another peak time and arguably the most crucial time for big announcements. 10-11 p.m. is the busiest time during the week. There is a solid user base between 8 a.m. and 4 p.m., after which people's Instagram involvement starts to fade. Friday night is not a great time to post since many people are enjoying their time off.
Saturday
On Saturday morning, people mostly check their phones between 9 a.m. and 11 a.m., so you want to focus on that bracket. There is some activity at 8 a.m. and 12 p.m. -1 p.m. But other than that, there is little engagement during the rest of the day.
Sunday
Sunday is the quietest day in terms of Instagram user activity. People are likely relaxing and spending their day in the real world, so brands won't have much luck engaging them. You can try posting between 8 a.m. and 2 p.m. but don't schedule the biggest posts on this day.
Best Time to Post on Instagram for Different Industries
Use general peak times as a starting point, but you can also go further and be more specific. Your social media content can do better if you consider patterns inherent to your particular industry. Different industries have different preferable posting times. If you want to reach your audience precisely, you need to explore the relevant data industry by industry.
Technology Companies
Peak engagement period: 11 a.m. to 6 p.m. EST on Wednesday to Friday
Best time: 11 a.m. EST on Wednesday
Tech Instagram accounts get the most engagement, on average, on Thursday, and it seems that most people in this industry do not check their social media on Sundays.
B2C Companies
Peak engagement period: Every day from 11 a.m. to 4 p.m. EST
Best time: 12 p.m. - 2 p.m. EST on Saturday
The top-performing day for B2C Companies is Wednesday, and the worst-performing one is Monday when people mostly concentrate on work.
Educational Organizations
Peak engagement period: Monday to Friday from 12 p.m. to 5 p.m. EST
Best time: 4 p.m. - 5 p.m. EST on Thursday
In general, the best day to post is Monday, and it seems people prefer consuming this content fresh out of the weekends. Most users tune out on Sundays.
Healthcare Companies
Peak engagement period: Tuesday to Friday from 10 a.m. to 5 p.m. EST
Best time: 2 p.m. EST on Tuesday
Tuesday is always a good day to post, and weekends are usually the worst-performing days for healthcare companies.
Non-Profit Organizations
Peak engagement period: Monday to Friday from 1 p.m. to 6 p.m. EST
Best time: 4 p.m. to 10 p.m. EST on Tuesday, 4 p.m. – 5 p.m. on Wednesday, 3 p.m. – 4 p.m. on Thursday
Your posts should receive more attention and engagement on Thursdays and, on the opposite, are likely to be missed on Saturdays.
Artists, Musicians & Photographers
Peak engagement period: 10 a.m. – 11 a.m. on Friday
Best time: Wednesday to Friday from 9 a.m. to 6 p.m.
Users seem to be more tuned to entertainment on Fridays and stay away from social media on Saturdays and Sundays.
Best Time to Post Different Instagram Content Types
Let's talk about the best times to post reels, posts, and stories on Instagram to attract an audience and get good engagement.
Best Time to Post Reels on Instagram
Reels are often watched in the morning when getting ready for work or taking public transportation; or in the evening when returning after work. At the same time, the greatest burst of activity is after 8 a.m. and 17.00.
In any case, if your reels are catchy and attention-grabbing, they'll gradually gain a lot of views and comments.
Don't forget about the new features on Instagram. CEO Adam Mosseri actively shares Instagram updates and shoots videos himself. He talks a lot about the features of videos and emphasizes the importance of this type of content.
Be sure to look at the stats in Instagram insights. You should publish when your users are online, which means you need to keep an eye on engagement metrics.
The top tip for timing your reels is to post regularly. If you post videos infrequently (on different days and times), the algorithm won't prioritize your account visibility.
What's the best time to post videos on Instagram
The best time to post videos on Instagram is between 6 and 9 p.m. when people get home from work and have time to watch videos.
Best Time to Post Instagram Stories
The best times to post Stories are in the morning from 8 a.m. to 10 a.m. and in the evening from 6 p.m. to 9 p.m. If you're in the B2B sector, it will be helpful to post Instagram Stories at lunchtime (11 a.m. to 1 p.m.), when business audiences can flip through Instagram. At the same time, on average, engagement peaks in the evening.
What's the best time to post an Instagram carousel
The best time to post carousels and Instagram photos is between 6 p.m. and 9 p.m.
Best Time to Go Live on Instagram
The evening is the best time for live streaming on Instagram. At this time, users have a rest from the day's worries, and they have an opportunity to watch a live broadcast. You can take a poll in Stories beforehand and find out when your broadcast would be most convenient for subscribers to watch. Perhaps the majority will point to a weekend day. Usually closer to evening, too.
Worst time to post on Instagram
According to our data, the worst time to post on Instagram is between 1 a.m. and 6:59 a.m. It's rare for people to go on social media at this time. It means engagement rates will drop. Also, don't post too early, such as between 7 a.m. and 9 a.m. Engagement rates will be higher, but it's better to read this article and choose the right time. This data is valid for the B2B and B2C segments.
The most unfavorable days are Monday and Tuesday.
By using a special platform for social media, you can publish at any time — even if social media managers finish their workday earlier than the time of the greatest audience engagement.
Instagram Peak Times: Different Studies Comparison
There is a lot of information to take in, and social media monitoring platforms don't always provide the same results from their research. Overall, they provide a good framework for choosing the best time to post on Instagram. We've compared the biggest studies and compiled a summary table:
| Source | Best Time | Best Day | Worst Day |
| --- | --- | --- | --- |
| Hubspot | 2 p.m. - 3 p.m. EST | Thursday | Sunday |
| Sproutsocial | 10 a.m. - 11 a.m. EST | Wednesday, Friday | Sunday |
| Later | 9 a.m. - 11 a.m. EST | Wednesday | Monday, Sunday |
Schedule Instagram Posts: Why It Is Important
As one of the most crucial steps in Instagram growth strategies, you need to post consistently. And you can use automation tools not to let it disrupt your daily workflow. It allows you to use the desktop version to post content, saves a great deal of time, and helps you manage your schedule and feed your aesthetic.
It's essential to keep in mind all recommendations described above to take advantage of Instagram peak times. Since you don't have to be at your computer when the post goes live, you can target specific time zones, times during holidays and weekends, and other times when you are unable to post them on your own.
How to Schedule Instagram Posts with Onlypult
Onlypult Publish is an example of an automation tool used for planning and scheduling your Instagram content. There are options to upload files as normal or carousel posts. You will only need to follow a few steps:
Open the Posting Tab and click Add Post;
Click Add Media or drag the photos onto a special field in the bottom or use media library with free photos;
Trim the video if it is not consistent with the video length guidelines;
Write the caption, and hashtags if you need;
Select the exact date and time when you want the post to be published and click Schedule.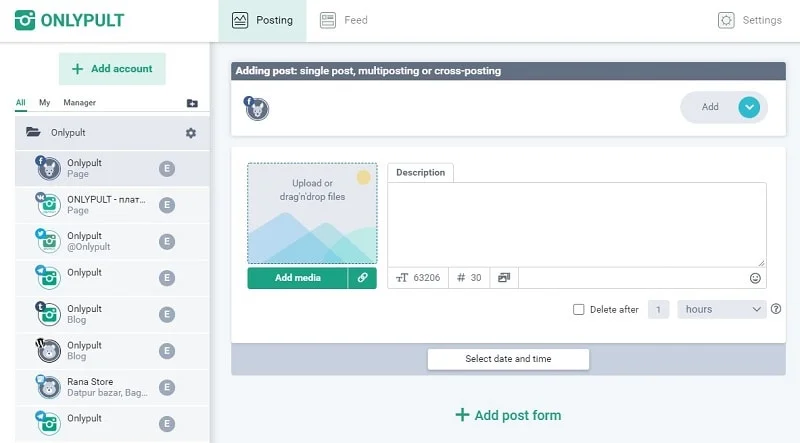 Conclusion: how to find the best time to post on Instagram for you
Track engagement metrics to create a publishing schedule that will benefit the business. There will always be natural downturns in activity, and your account strategy should bear them in mind. Use this article as a tip for your publishing calendar.
Also, keep the following points in mind:
Consider the specifics of your audience — location, time zone, age, profession, and so on;
Pay attention to the day of the week of the scheduled post. The audience engagement depends even on this. Whether it's a weekday, a weekend, or a holiday, all these indices will affect the time of publication and audience engagement.
It is also vital to understand whether your company is B2B- or B2C-oriented. You should also consider the field of companies that may become your clients: IT, education, healthcare, and so on.
Use post schedulers to simplify your work. Onlypult is great for teamwork. The platform also provides Instagram analytics to help with content strategy building.