When you have less than a thousand followers on Instagram, it is hard to get advertising contracts from middle-sized and big bloggers. It will be also much more difficult to agree on mutual advertising if you have less than 1000 followers. We are going to tell you how to attract your first audience on Instagram.
What factors determine the success of your account on Instagram?
Instagram Bio
The number of followers depends on your header, the way you style it, and the impression it gives to a person visiting your page for the first time.
It is too early to think about promotion if you still haven't arranged the header and if you don't have an overall concept of your blog. What should the header be like? It should be catchy. It can be funny and creative. But if it is confusing, the person who opens your profile for the first time is likely to leave it.
Visual identity of your feed
The content you create as well as the overall visual aspect of your feed plays an important role when it comes to deciding whether to follow your page or not.
Your content doesn't matter as much when people start following you. People are normally fast to decide whether to follow you or not. Later on, when the users interact with your content, they may decide to unfollow you if it is not their cup of tea.
Visual identity is the second most important element after a correctly styled header. You don't have to have mind-blowing photos in your account. If you are not a professional designer or a photographer and your personal brand is not directly linked to the visual aspect, there is no need to have professional photos taken with a reflex camera in your account.
There is a couple of rules that will improve your feed:
Consistent style. Decide on a filter, choose the color palette you are going to use, and stick to it.
Use high-resolution photos. Don't use compressed images from WhatsApp; they are low-quality and Instagram algorithms don't favor them. Adjust your phone settings to have the highest resolution possible for your pictures.
Use different formats interchangeably: selfies, close-ups, long-shot pictures, and landscapes. Be versatile.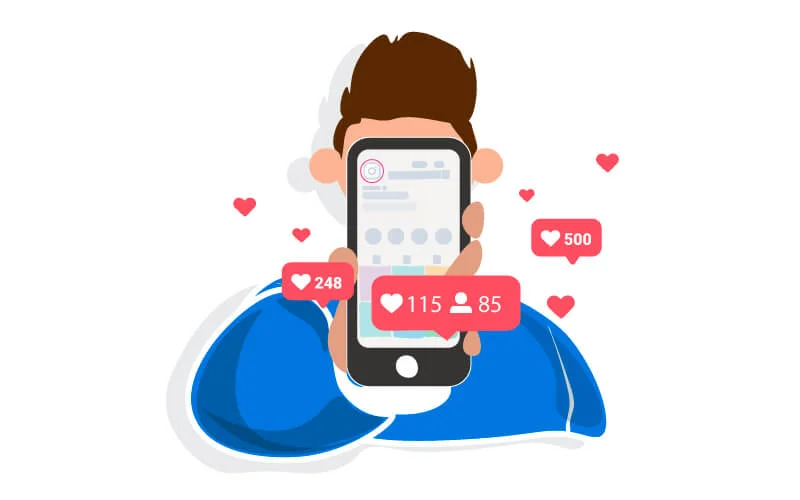 Promotion on Instagram
To become popular on Instagram, you need to collaborate with other accounts. Run joint Live streams. Arrange them with the bloggers who have similar numbers, announce a Live stream, run it, and don't forget to upload it in Stories as well as mention your partner there for promotional purposes.
Mutual promotion
How to find mutual promotion opportunities? Use your networking skills. Look around at the people you know personally or are familiar with.
Just sit down and think about the people who are active on Instagram. Who can you run a Live stream with? Ask your friends about the users they can recommend for mutual promotion on Instagram.
Advertising
The next step is advertising. Using keywords, find the bloggers who write about similar topics. Concentrate on the accounts with 1,000-5,000 followers. Bigger accounts are likely to reject you if you are at the beginning of your blogger career and only have 300-400 followers. Also, bear in mind that the percentage of rejections will be even higher if your account is not set up properly and lacks engaging content.
Once you have passed the 1000, 5000, and 10000 follower thresholds, it will be easier to purchase advertising. You will manage to close deals with medium-sized bloggers who will be happy to promote you if you already have your approach, agenda, advertising, and an extensive blog.