In 2019 Tumblr won the biggest International Internet award Webby Awards for Best Online Community. It is hardly the first time for the platform to claim a victory in this category. This clearly shows that, even with the rapid development of Instagram and other social media, it still remains very popular.
We are going to tell you about the service and its advantages for business.
What Tumblr is and what it is for
Tumblr positions itself as a service for microblogging. It provides tools for creating different content: from text to GIFs and from photos to chats. The main features of the social network are visual content and design.
Tip for brands: The platform users are mainly visual people. So, colorful content and original design play the main role in creating a successful account.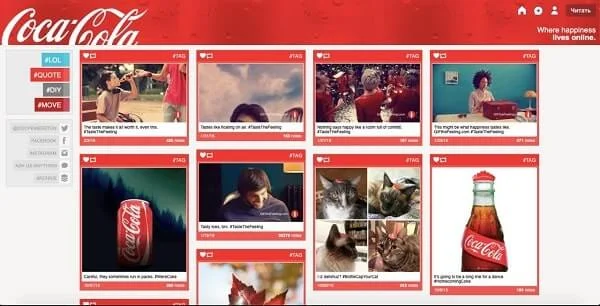 The account of the Coca-Cola brand on Tumblr
Tumblr users can follow other blogs, tag posts they gave likes to, and repost them to their pages (it is the most popular feature on the social network). In general, this platform is similar to Instagram or Pinterest, but its accounts are not only pages with feed and photos but a complete personal website that you create by yourself. The difference is that creating a blog on Tumblr is a lot easier than creating a website.
Tumblr's Statistics
Over the 12 years of its existence, Tumblr has gone through ups and downs but still remains one of the most popular social networks. Data correct as of 2019:
452+ million blogs;
166+ billion posts;
≈ 371 million visits a month;
≈ 7.2 million new blogs created a month;
18-34 y.o. is the users' average age (48%);
35% of the audience is people aged between 35 and 49 y.o.;
52% among them are men and 48% are women;
33.8% of users are citizens of the USA.
As you can see, the main audience of Tumblr is not teenagers but young adults and people above 30. They are very selective in choosing the blogs to follow and pay much attention to the content on their feed. The quality of the content and the nice design of the page are important for them.
Since Tumblr started developing quickly, many of the giant brands have created their blogs on it. Some of them are still actively updating their accounts. You should take into account the importance of the unique content, original design, and the united style of your blog.
Glamour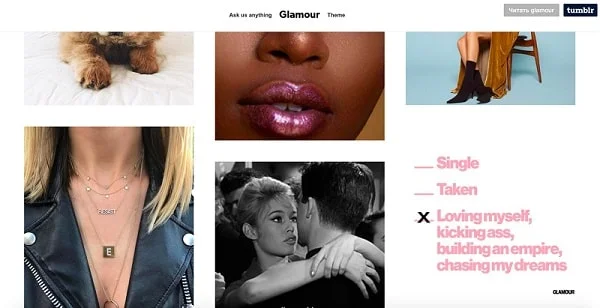 Vans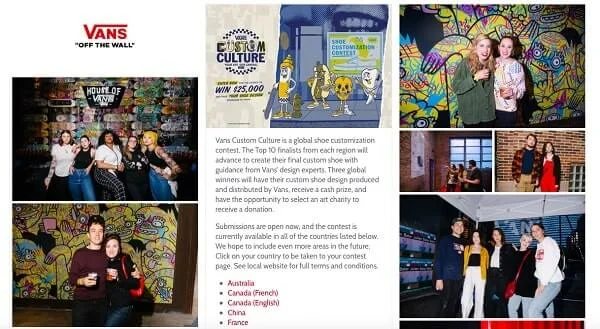 Life
Stussy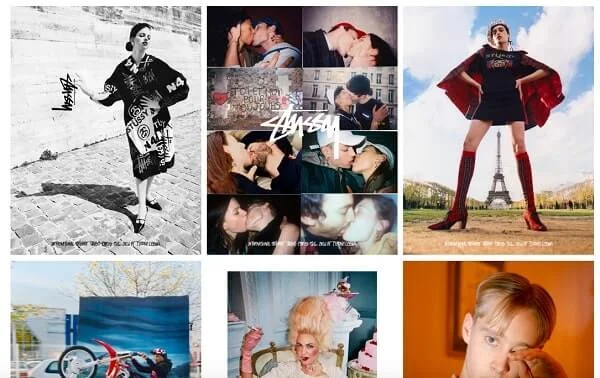 GQ
How to sign up
Signing up to Tumblr is a typical process of creating an account on social media:
Open the Tumblr website;
Press the Get Started button;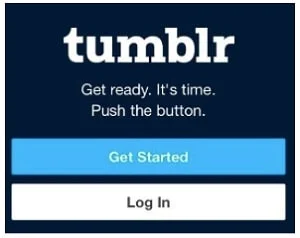 Enter your information: e-mail, password, and username;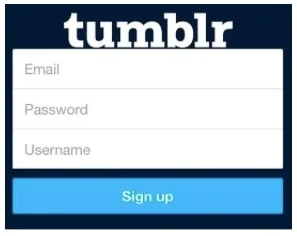 Enter your age, read the Terms of Use, and do not forget to tick the box "I have read…";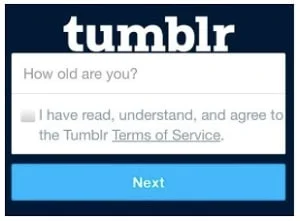 Confirm that you are not a robot.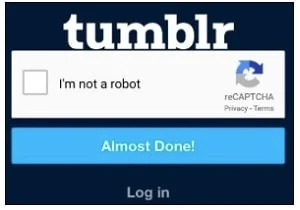 Important: don't forget to verify your email address –an email will be sent at the address you specified.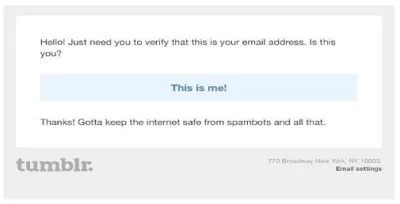 Brand Blog on Tumblr
You can create any kind of page on Tumblr. Usually, people use the platform for self-expression: they tell stories about their lives, publish photos, share life hacks.
A commercial blog, also a brand page, needs a special approach. A company should stick to its signature style and a well-elaborated concept, to attract the target audience. Bear these tips in mind when creating your page:
The audience's average age. Will people from 18 to 34 be interested in your brand? If yes, then think about the best ways to attract this audience by the visual content. Don't be afraid of experimenting with design and various posts.
Unique content. Making duplicate content is a bad idea because people use the platform to find some new material about the brand. Sometimes it is enough just to change the format for presenting your content: make a GIF instead of a video, post a piece of infographics instead of a long read, etc.
Tags. It works the same way as on Instagram, Twitter, or other social networks. If the user wants to find a company, they only need to enter the name in the search bar. Using theme hashtags attracts an audience that is more interested in the brand.
10 most popular hashtags
#tumblrgirl
#tumblrboy
#tumblrpost
#tumblraesthetic
#tumblrtextpost
#tumblrquotes
#tumblrfunny
#tumblrgirls
#tumblrphoto
#tumblrpic
Here are the most useful hashtags to attract new followers and increase the reach on Tumblr:
#LOL
#Fashion
#Art
#DIY
#Food
#Landscape
#Illustration
#Vintage
#Design
#Typography
Interaction with the audience. Repost users' posts, give likes, and participate in discussions. This will help attract the audience and make it trust you.
Activities. Ask the questions, communicate with users, run challenges, and start flash mobs. This way, you can attract more potential clients.
Personalizing your blog. Tumblr is a platform where even a commercial blog can become a vibrant and sincere blog, so keep the official information for other social networks. For example, in a café's blog, you can tell about the life of the team members, present them to potential clients, public funny stories, instead of posting the prices or the location with directions.
The blog of the White House is a good example. There are no more updates but it used to have lots of funny GIFs, ex-president Barack Obama's family pictures, heartwarming letters, and simple infographics designed the way it can target the right audience.
Tumblr gives lots of opportunities to create an ingenious brand blog. The main goal is to build a strategy and make a content plan, to study the main tools of this social network, and to discover its marketing opportunities. But, first of all, let's learn how to create posts on Tumblr.
How to Style Your Account on Tumblr
Basically, the design of your blog depends only on your imagination.
The difference between the design and theme of your blog
The design is how your blog looks on mobile devices, on feed, in pop-ups, and in search results.
The theme is how your website looks on a desktop or laptop.
So, when you start creating a page, you should choose a unified theme for your blog. And only after that, you change the design and description.
Using both tools you can create any kind of page you like. Tumblr has lots of free and paid themes available for every user.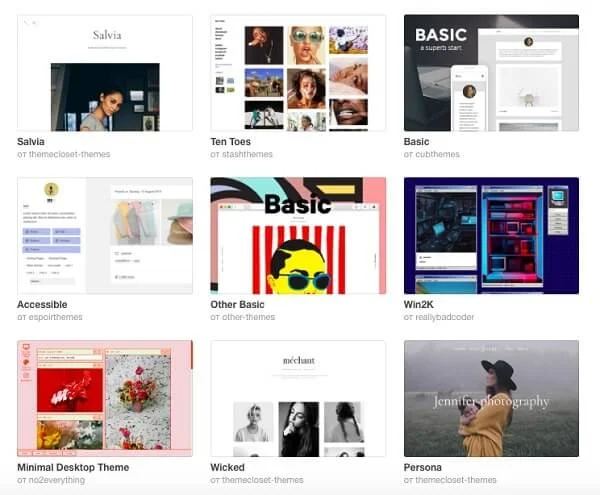 You can find the design options and theme setting tips in the Tumblr's Help Center..
How to make a post on Tumblr
Press the menu button in the left top corner of the page;
Press the Create post button;

You can choose a type of your publication on the menu (there are 8 of them: text, photo, quote, link, chat, audio, video, GIF);

Make up a title and create your post;
Press the Post button.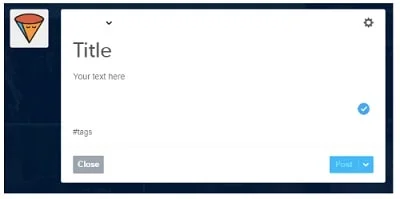 The main tool of the social network
Types of content available for posting on Tumbler, statistics, and editing posts that are already published.
Publication type bar
It is located at the top of your Tumblr feed and allows you uploading different types of content.

Text. A standard text box with a title.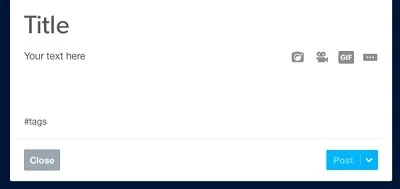 Enter your title in the Title field, then enter text for your post, and finally add hashtags that are relevant to the topic of your publication. You can also add photos and other media files to the text.
Photo. You can upload a photo and add a comment to it.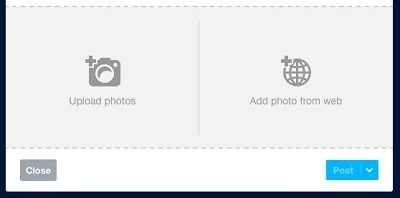 A photo can be uploaded not only from your device but also from a web source.
Quote. Here you can add a quote of your favorite philosopher with a reference to the source.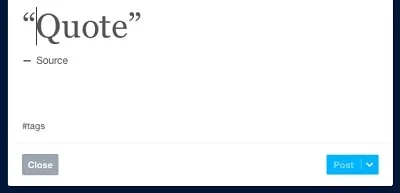 Link. You can put a link both to the brand official website and your account on Facebook.

Chat. Enter the user's nickname with a colon and start a conversation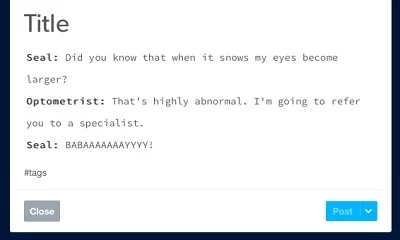 Audio. Add files from a favorite track to a personal podcast.

Video. You can upload your video or a video from YouTube.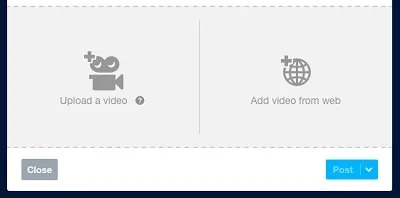 To publish a post, you should press the blue button in the bottom right corner. You can save it as a draft, post it privately, or schedule it for a specific time.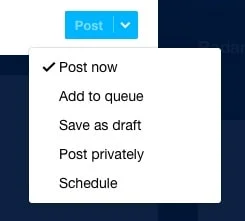 To close the field of creating a new post of any type, you should press the grey Close button in the bottom left corner.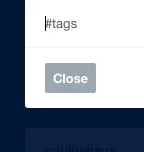 Settings, located in the upper right corner of each publication field help you custom the post URL, add the content source, post the publication date, and set the marking type (HTML, Markdown) if needed.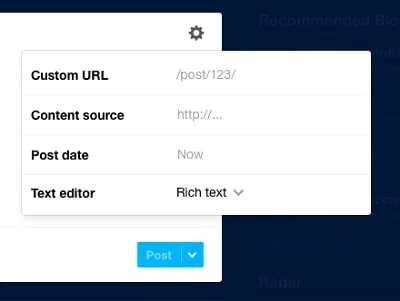 The mobile version of a Publication Type bar looks like this: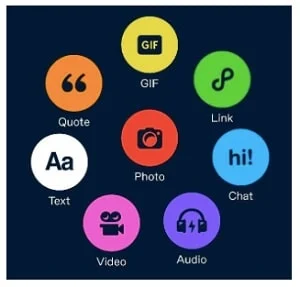 It has one more type of posts – GIF. Choose a video that you want to convert in GIF (it could also be your video) and create funny GIFs.
Analytics
Using the Tumblr activity page, you can check the number of likes given to your posts, comments, and reposts of your publications.

However, if you want to get more information about your audience, measure the activity on your page, general activity data is not enough. At this point, Google Analytics can help a lot. It is the best way of tracking such metrics as:
number of people who visit your blog;
page visiting frequency;
your most popular posts;
search requests that people use to find you;
where your visitors come from.
To create your account on Google Analytics, follow this link. Then, press the Sign up button, choose the metric you want to track, add the name of your account and the link to the blog. You should also specify your occupation and time zone. Click the Get tracking indicator button and add it to your blog.
Editor
If you see an error or typo in a post you have already published, it is not a problem. You can edit your texts at any time and also add or delete media content.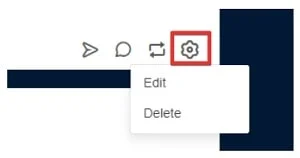 All you need is to click on the Edit button (looks like pencil icon in a mobile app), correct what you need, and save the edited text.

Tumblr and advertising
It's interesting that David Karp, the founder of Tumblr, used to stand up against any advertising on Tumblr and positioned its project as a platform for creativity.
In 2016, the platform stopped placing advertisements, though it was successful. The point was that the creators of Tumblr could not find an appropriate format that could be useful both for the community and advertisers.
Everyone who wants to create a blog on this platform should use native advertising. Use hashtags wisely, interact with popular bloggers on this social network, keep your blog up-to-date.
Though there is no advertising, Tumblr keeps growing. Unobtrusive promotion is enough for many brands. The quality of content still plays the main role. If it is really interesting, users will share it increasing the organic traffic.
Why you need to create a blog on Tumblr
1. Stay closer to your audience
Tumblr allows interacting with users efficiently. Focusing on the fact that the social network audience prefers visual content, you can build the right strategy and create the appropriate content plan. If you know the behavior and manner of communication of your potential clients, your brand can develop quickly and earn gain your audience's trust.
2. Tumblr account as a competitive advantage
Having an Instagram or Facebook account is a common thing nowadays. But not everybody has a unique blog on Tumblr. You can create a colorful page on the platform for your brand and, therefore, show your design skills as well as attract a new audience.
3. A chance to show the backstage to your clients
Do not only attract new clients but also improve your reputation and increase the loyalty of those who already know your brand. You can add a link to your Tumblr's blog to other social media accounts. And use the blog to show the backstage of your business, communicate, and publish live videos.
A Tumblr blog is a great tool for your business. You hardly need to make it the main platform for promotion. But if you want to make your brand more recognizable and you don't mind the absence of many advertising opportunities, then don't hesitate to create an account. But first of all, be patient and make a good content plan. Yes, it is important even for this platform! After all, if you don't have any draft strategy, you risk quitting this idea soon and, as a result, loose a new valuable audience.