Instagram videos have become a popular marketing tool, and they are not as complicated as you might think. In this guide, we cover everything you need to know about Instagram video posts and stories. We'll look into methods to optimize your video content, technical specifications, and how to operate this medium to achieve the best results.
Why You Should Create Videos on Instagram
Now more than ever, Instagram users prefer video content over text and photography. This statement is confirmed by the results of numerous Instagram engagement reports – videos receive more interactions, more comments and shares.
There's a unique opportunity for you and your business to stand out with video content. An image is a powerful tool for social media marketing, but a video gives you much more room for expression. You have more time to articulate your personality, team, and behind-the-scenes stories that show your audience who you are.
Our brains are programmed to retain moving visual content better than plain text or still images, which makes video such a great medium. And by winning over the hearts and minds of your audience, you get to improve your brand reputation and business performance.
Different Types of Instagram Videos Posts
The list of topics for Instagram videos is endless, so you can talk about anything that aligns with your business objectives and brand message. Here are some examples of successful video topics you can explore.
Inspirational: This type of content would not be as impactful if it were just a photo. A video catches your audience's attention and conveys emotion more effectively.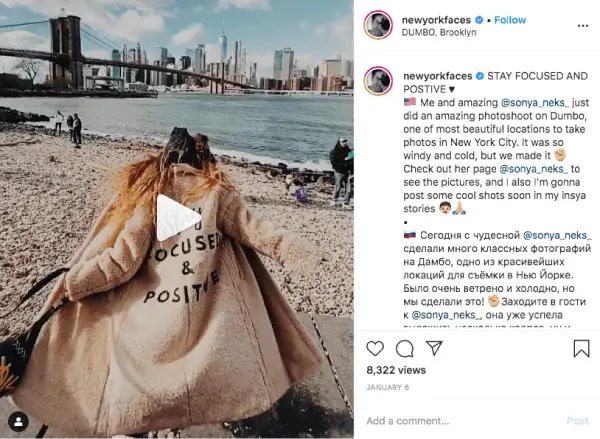 Interviews: A captivating interview, as seen in the example below, is sure to bring engagement to the upcoming episode. A short snippet from the show provides more context about what it is going to be about.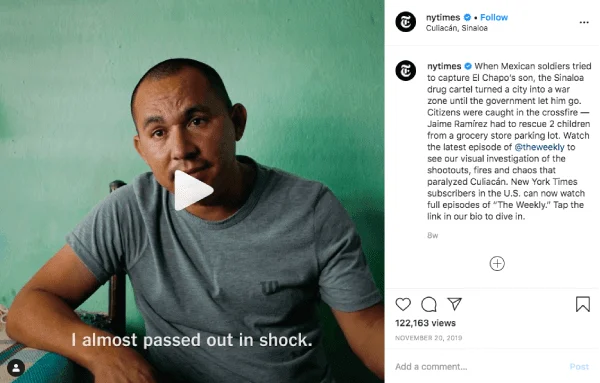 Memes: There is a huge benefit in bringing lightheartedness into your brand's Instagram feed. Plus, the shareability of such a post is going to bring more people to your account.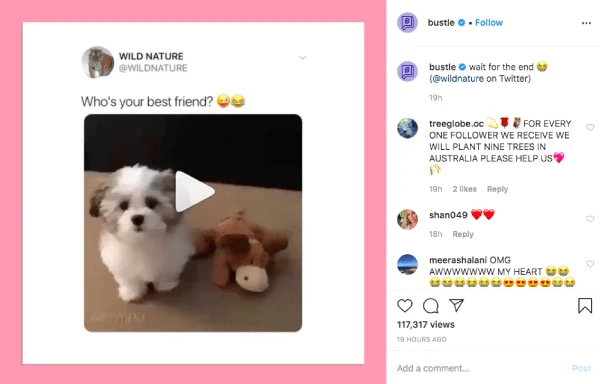 Tell a story: Every business has a unique story, and a video helps you express it. It can be a story about your company in general or the one behind a particular campaign. Below is an example from a string of videos with a unifying theme.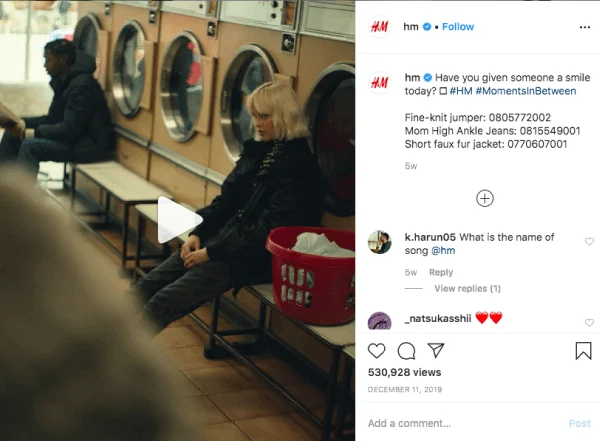 New launch: Before new products hit the market, you can tease your audience with a snippet of them. You don't have to showcase them in detail – but a visual representation is a powerful marketing tool.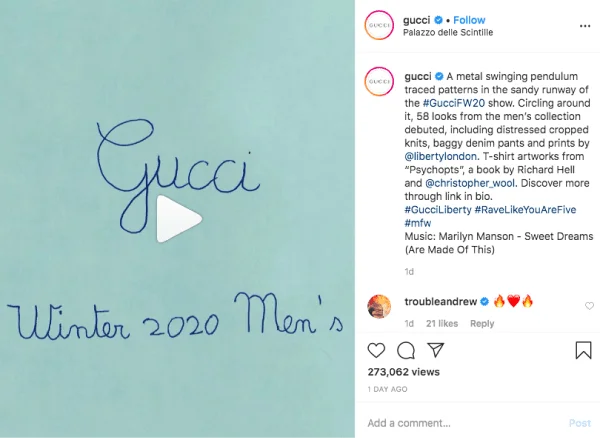 Sales promotion: Chances are your audience is eager to know about the upcoming sales. You can even hold an Instagram-exclusive sale to drive up your social media engagement.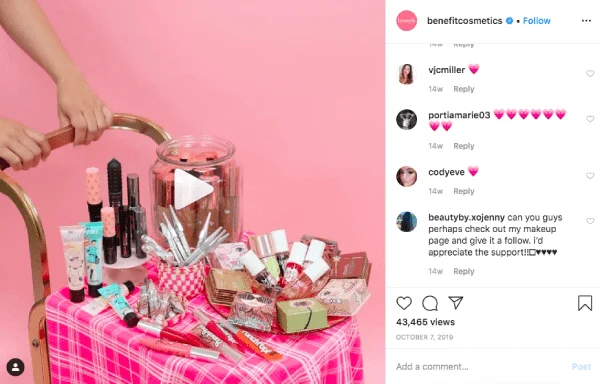 Existing products demonstration: Your regular products deserve special treatment as well. Show your audience how they look in real life and the right way to use/apply it.
How-To's: Instructional posts are also likely to be shared and reposted since they bring real value to the audience. People can learn something about your service, or products and stick around longer, to wait for other educational posts.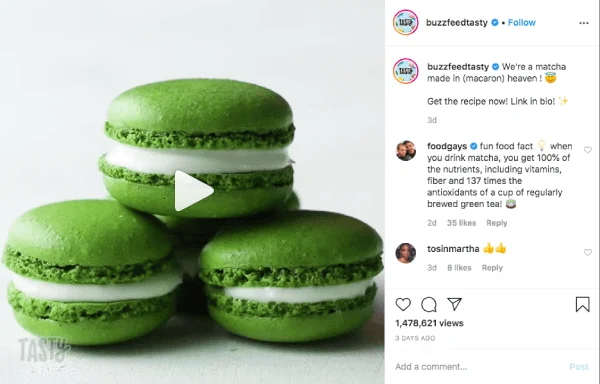 Instagram Video Specs
Instagram's original format is the square but it also supports vertical and horizontal videos. Depending on the type of video, you will have slightly different guidelines for the dimensions of Instagram in-feed videos:
Dimensions for square video: 600 x 600 or 1:1 aspect ratio
Dimensions for vertical video: 600 x 750 or 4:5 aspect ratio
Dimensions for horizontal video: 600 x 315 or 16:9 aspect ratio
Length: 3 to 60 seconds
Max file size: 4 GB
Recommended formats: .mp4 and .mov
Video max frames: 30fps
Instagram stories are predominantly viewed on mobile devices, so they made taller to fit more of the display. Video guidelines for Instagram stories are as follows:
Minimum dimensions: 600 x 1067 or 9:16 aspect ratio;
Recommended dimensions: 1080 x 1920;
Length: up to 15 seconds;
Max file size: 4 GB;
Recommended formats: .mp4 and .mov.
Tips for Making the Perfect Instagram Video
It's becoming increasingly more challenging to catch people's attention online. How do you make Instagram videos that are both concise and impactful? Here are our recommendations.
Pick an Eye-Catching Cover Photo for Your Video
Just a random frame from your video is not enough for a cover photo. A cover is arguably the most crucial element of the post – it can either entice your viewer enough to make them click or cause them to scroll past it.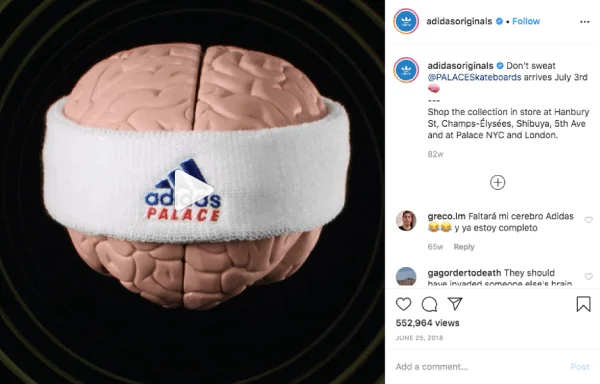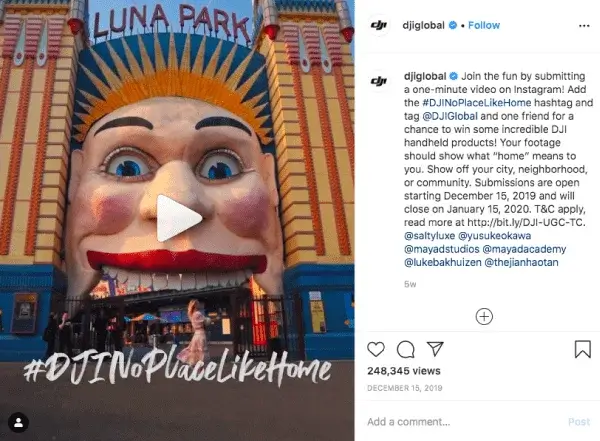 Focus on the First 3 Seconds of Your Videos
Once you catch people's attention with a cover, your next challenge is to make them stay. If you don't interest the audience right from the start, you're going to lose them. Make sure the first couple of seconds are so engaging that the person will watch till the end.
Don't Rely on Sound
Focus on the visuals, especially in the beginning. The auto-play feature starts videos on mute, and not all users tap on the video straight away or at all. You want the video to convey your message even without sound.
Find Optimal Video Length for Your Video
As you post more video content, you will get more data points to determine which posts perform better and how long the videos should be. Get to know your audience by experimenting. Try different formats and approaches and analyze the views, engagement rate, and other indicators.
How Long Can Videos Be on Instagram?
Instagram has specific length guidelines for different formats. Before you upload the video, make sure it fits the requirements. If you don't, an essential part of your video can be automatically trimmed.
Instagram feed video: 3 seconds min, 1 minute, max
Instagram story video: 15 seconds max per story card
How to Post Longer Videos
If you want to upload videos longer than 60 seconds on your feed, you can select 60-second portions of it and combine multiple parts into a carousel post. Otherwise, you will not be able to beat this limitation.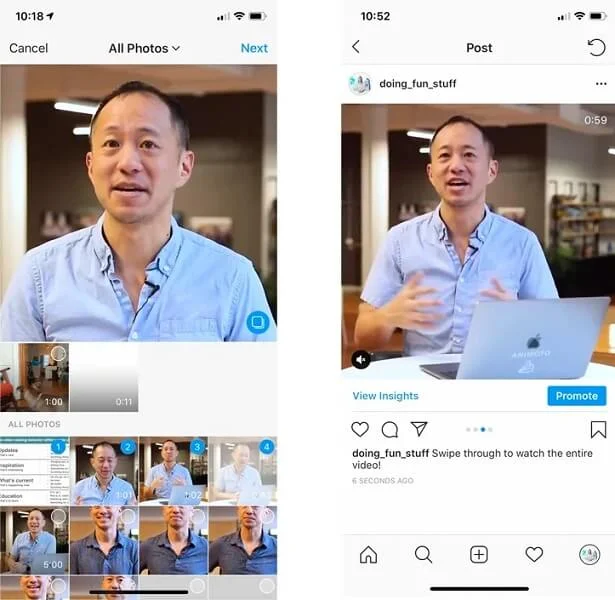 As for stories, Instagram rolled out a feature where it automatically splits up long clips into separate segments. And all of them are uploaded at once in the right order. So, you can confidently record videos longer than the regular 15 seconds.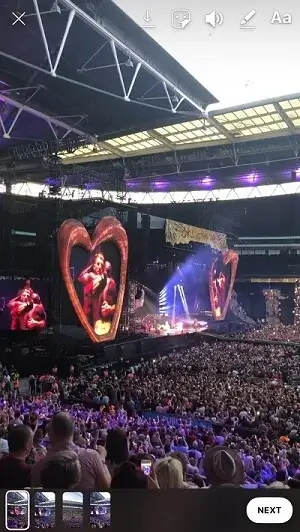 How to Combine Videos on Instagram
If you want to upload a long video to your Instagram, you can do it by merging multiple clips into one:
Tap the 'Plus' icon at the bottom of your feed
Choose library and pick any video you want to combine. Then select next
Trim the chosen videos
If you want to add any other videos, tap Plus and select another clip
Bear in mind that by combining videos into one post, you will automatically make them square
When you're done, tap Next
Fill in the description with all the usual details and tap Share.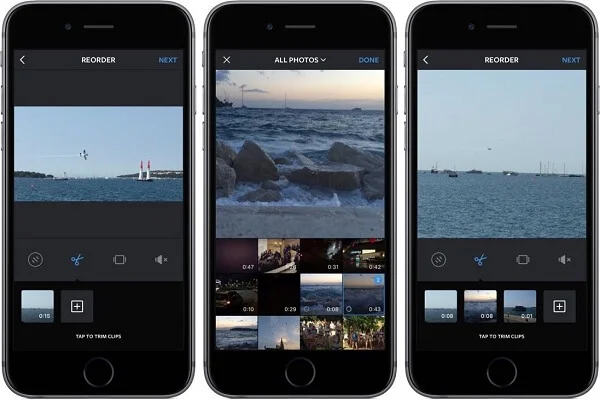 How to Post Videos with Music on Instagram
You spent hours creating a great Instagram video, and the last thing you want is for the post to be taken down. The Instagram team takes issues related to ethical behaviors in social media very seriously, and you can follow their rules without compromising your video's quality.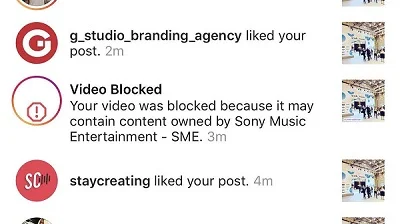 There are a few ways to avoid infringing the copyrights of other people when posting videos to Instagram. Copyright laws vary from country to country, but here are the general recommendations that should help wherever you live.
1. Always give credits to the owners of the content
When you incorporate someone else's music into your video, it's legally and ethically necessary to share who the music belongs to. To avoid copyright infringement, ask for permission first, and then add the owner's name or Instagram account. This rule applies to reposted content as well. Even the official Instagram account always gives proper credit to content owners.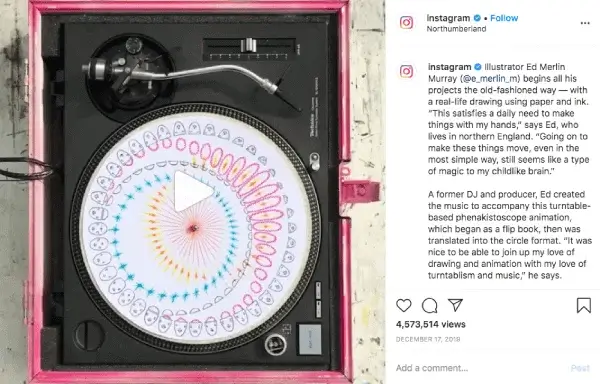 2. Appeal if you want to use the music
If you have failed to receive permission and include credits in the caption, your post can be taken down. But you can always submit an appeal, and you will receive further instructions about this process. For the future, try to give credit from the start, or your account will be disabled under Instagram's repeat infringer policy.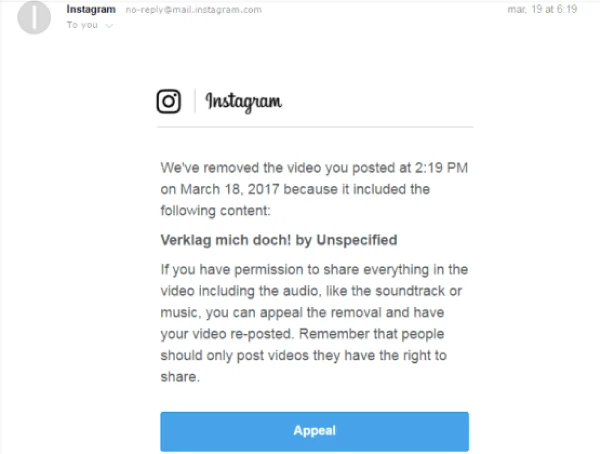 3. Make slight changes to the music
You can bypass automatic detection by Instagram, by using video editors to alter the sound. You can move the pitch up or down, make it faster or slower, etc. However, there are some risks: your audience might not necessarily enjoy the new sound, or the owner can still make a claim to the video.
4. Use copyright-free music for your videos
Even a quick online search will generate tons of websites with royalty-free music. It will help you skip the red tape associated with legally acquiring permission for copyrighted music. And it is considered the easiest way to source music on an ongoing basis.
How to See Who Views Your Videos on Instagram 
Instagram has in-app features that allow users to see who exactly has viewed their video posts as well as stories. Conveniently, it shows not only the number of viewers but also individuals and their accounts.
You need to:
Open the app
Scroll down to your post or open it on your profile
Tap on the view count right below the video
Here you can see views and likes for the post
If there is no such option, check if there are updates you have yet to download. This feature is available for Instagram version 7.17.1 and above for all platforms.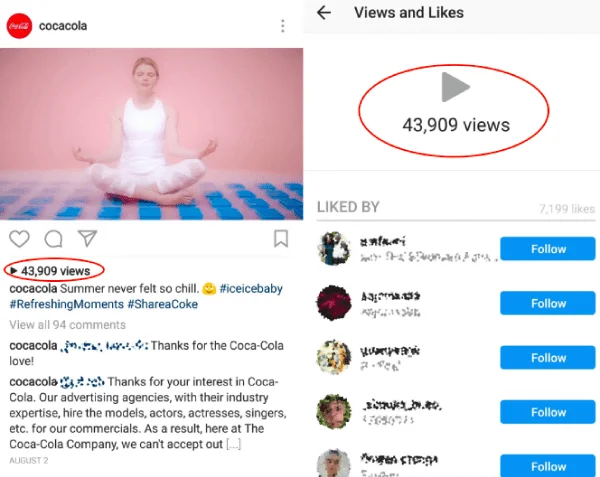 As for who views your stories, you need to open the video you want to get information about and swipe up on the screen. You will see the total number of viewers and their accounts. Also, here you can limit access to viewing your stories.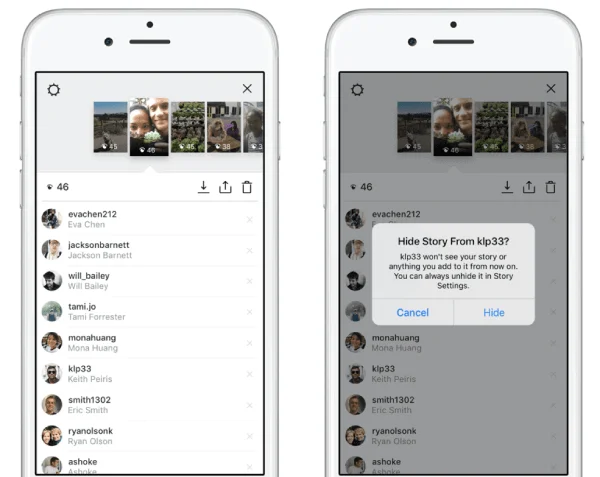 Reasons Why Instagram Videos Won't Play
Some users report that Instagram videos play for a few seconds and then stop playing or fail to load at all. Sometimes only the audio works, but the screen turns white. Regardless of how the issue manifests, there are common reasons why it happens. For iOS users, it can be:
Old Instagram versions; for example, the ones below 124.0.0.17.473
Outdated versions of iOS, like 7.1.2 or below
iOS below 11.0 for some advanced video features
Issues with videos for Android users can stem from:
Glitchy mobile devices like Samsung Galaxy S8/7/7 Edge, Note 3, HTC 10, etc.
Instagram versions 34.0.0.0.66 or below for Android.
In addition to the reasons above, there are common explanations that are relevant to any kind of mobile device. Some other culprits that may cause problems with Instagram videos not working include:
Poor network connection – The very first thing you need to check is whether you have unreliable Internet or if has been disconnected 
Invalid video – The account owner might delete the video before you get the chance to play it
Insufficient storage space – Very low storage memory does not allow Instagram to cache and play videos
Power-saving mode – This mode disables all connections and prevents new data from loading
Corrupted app data – There could be a possibility that a cyberattack or malware harmed your app data. 
How to Fix Instagram Videos that Do Not Play/Load
Sometimes, Instagram doesn't work because of issues on the server's side. But often, you can troubleshoot on your own and fix most of the issues listed above. Try these methods if an Instagram video doesn't play/load:
Refresh the Wi-Fi router or turn your mobile data on and off. Then, reconnect to the Internet.
Update your operating system in your settings and the Instagram app in the AppStore/Android market.
Refresh the post and the account. The owner may have re-uploaded the video.
Clear application data and your device storage.
Disable the power-saving mode or the data-saving mode.
How to Upload Videos on Instagram
Luckily for Instagram users, you have the option to upload videos from whatever device is more convenient. The process is straightforward and should not take you a lot of time. Below are step-by-step instructions on how to post a video using a mobile app and a desktop version.
How to Shoot Videos Directly in the Instagram App
Both iOS and Android Instagram apps have the functionality to record videos inside the app. The steps are:
Tap the 'Camera' icon in the lower bar of your Instagram feed.
Out of three options – Library, Photo, Video – choose the third.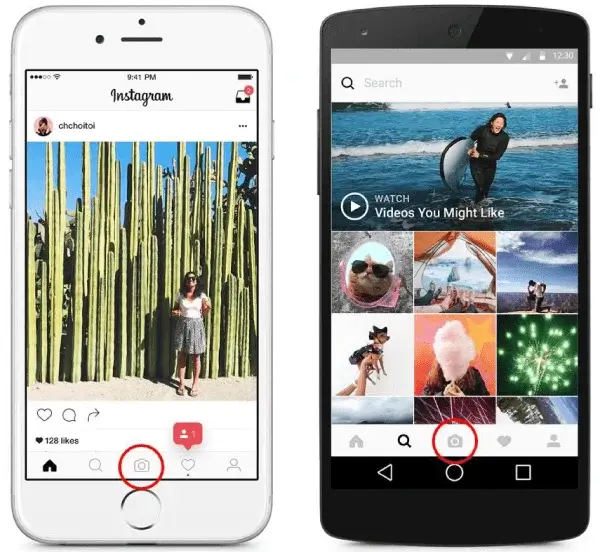 Press and hold the red button to start recording.
To stop recording, lift your finger off the screen.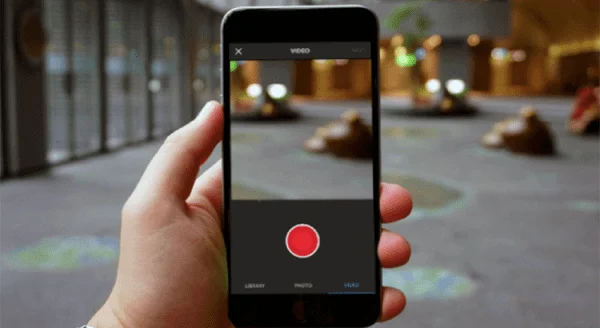 Here is how you can shoot Instagram Stories through the app:
Open the Instagram Stories camera located at the top left corner on your feed.
Long-press the record button in the bottom row, and it will start shooting straight away.
If you want, pick another camera mode: Boomerang, Superzoom, Rewind, and Hands-Free.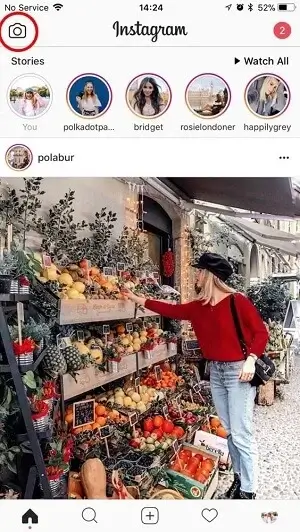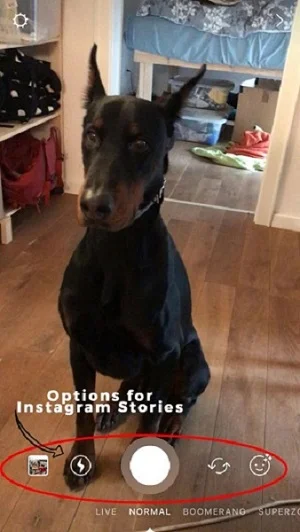 When you're finished, you can add text, location, GIFs, stickers, and other things to your story before publishing.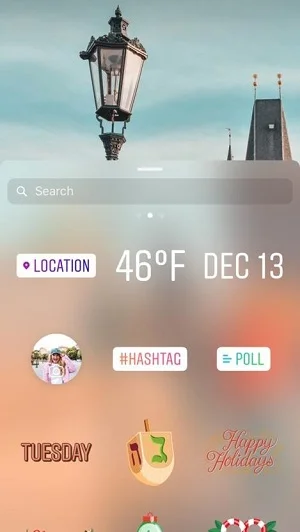 How to Post Videos from Mobile
If you want to upload a video to Instagram in-feed from a mobile device, the steps you need to take are as follows:
Step 1. Open Instagram and tap on the '+' icon in the middle of the navigation bar below.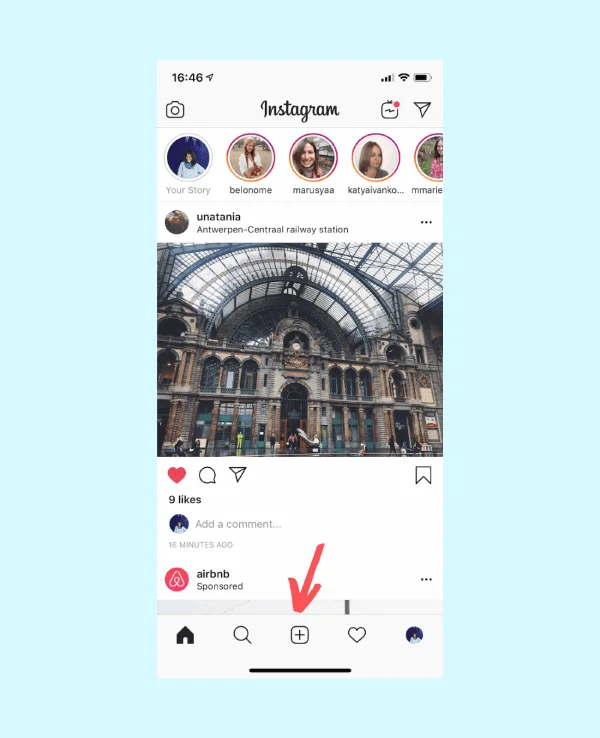 Step 2. Tap on 'All Photos' in the drop-down menu, choose the 'Videos' folder and find the video you need.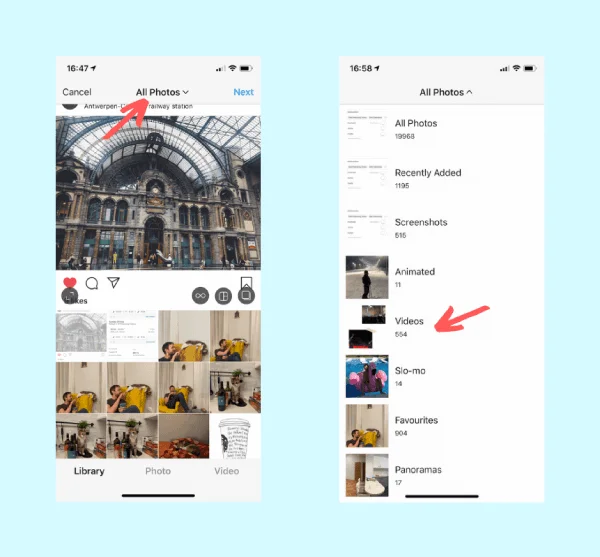 Step 3. Tap on the video you need. If you don't want it to be automatically cropped to a square, tap in the icon on the bottom left.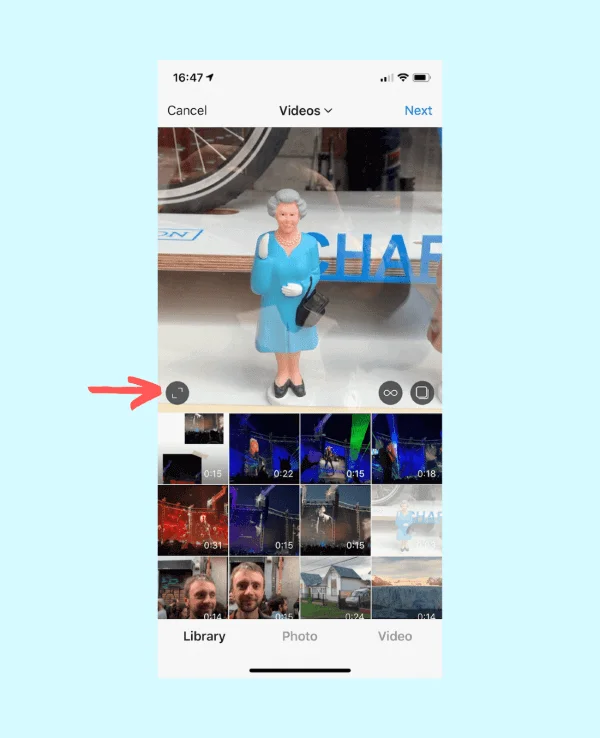 Step 4. Choose filters you want to apply or trim the video – both actions are optional. Pick a cover photo on the bottom right by dragging along the video in search of the right screenshot.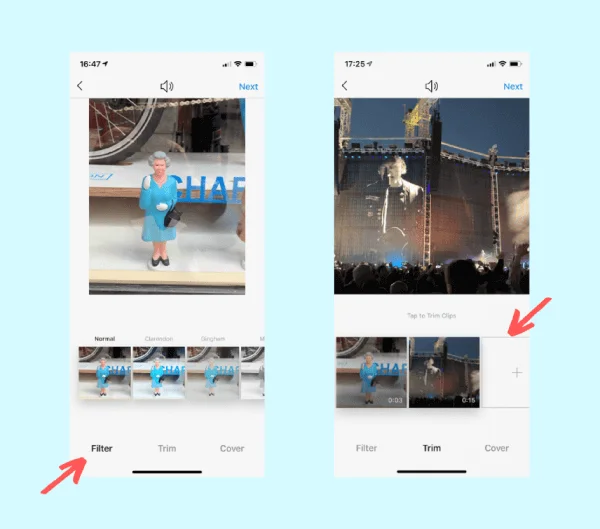 Step 5. Write a caption and tap 'Share'. You can also tag other accounts, add hashtags, or the location, if you want, as well as post the video on other platforms simultaneously. All additions can be changed using the 'Edit' feature.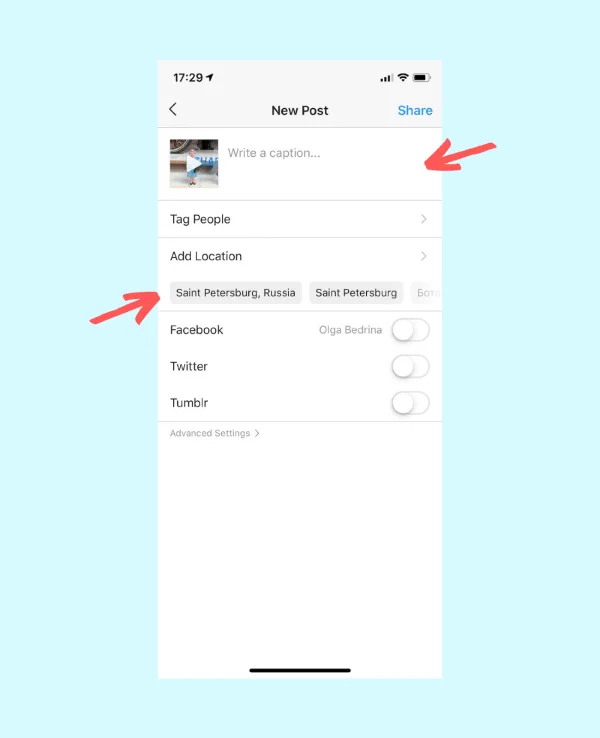 How to Post Videos from a PC
Until not so long ago, users were unable to upload videos from a desktop computer. However, now you can link your Facebook Business account with Instagram and use many features available there. To post a video, you need to:
Step 1. Open the Creator Studio from your Facebook Page.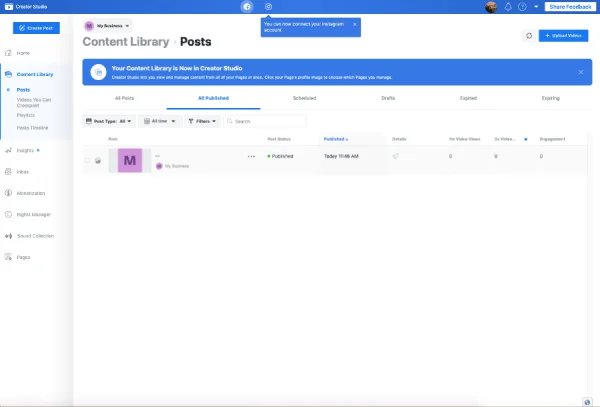 Step 2. Click on the Instagram logo at the very top.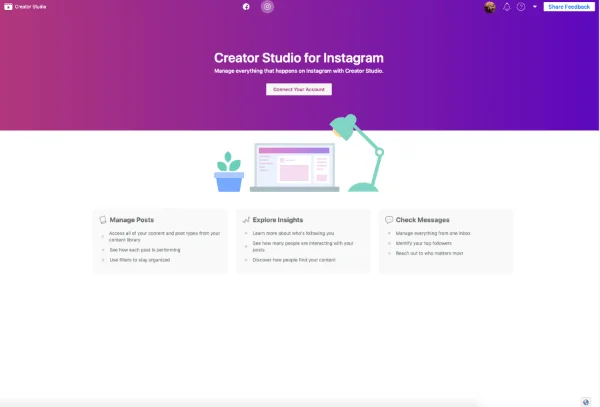 Step 3. Connect your Instagram account by logging-in and giving Facebook Page Members shared access to the IG page.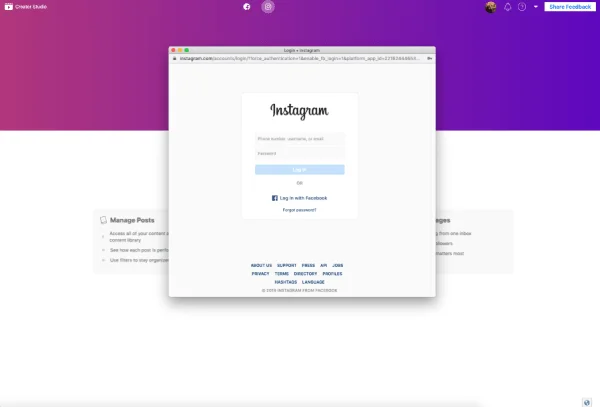 Step 4. Click on the 'Create Post' button in the upper left-hand corner and choose whether you want to post an in-feed video or an IGTV.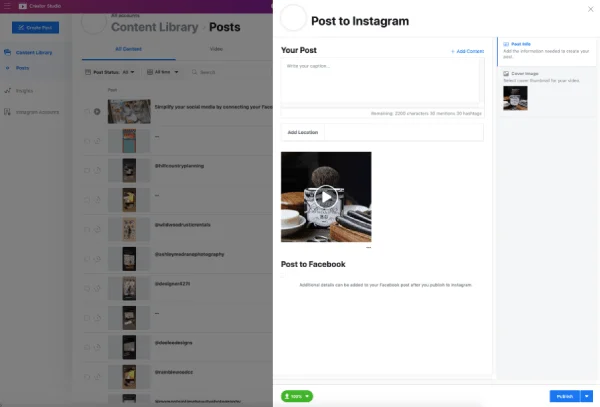 Step 5. Pick the video you need and, just like with mobile apps, write a caption and include whatever additions you prefer. Click 'Publish' once you're done.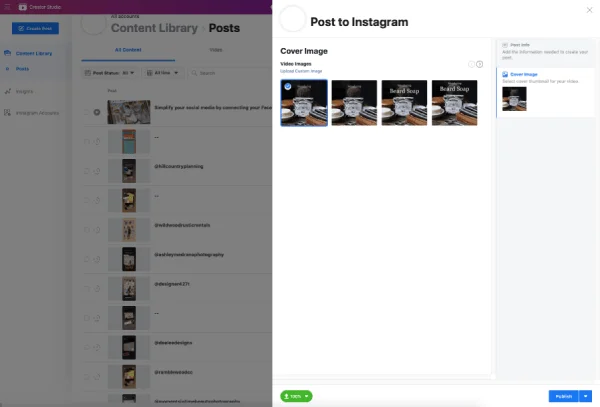 How to Post High Quality (HD) Videos on Instagram
The Instagram algorithms are notorious for making video quality worse after the upload. But if you don't want to see your video destroyed by the automatic compression, try using these techniques:
Downscale your video on your own in advance. For example, if you are aiming for 1080p, don't upload 4K
Similarly, adjust the frame data in your editing program rather than let the algorithm do it. Cut 60fps to 30fps on your own
For Mac to iOS file transfer, use Airdrop. For other cases, use Dropbox, USB cable or Drive
When possible, edit your videos on the same device that you will upload from to avoid a file transfer
How to Post Old Videos on Instagram Story
Before the end of 2017, Instagram users had to face a 24-hour limitation for stories, meaning they could not post photos/videos that were more than 24 hours old. However, this rule has been removed.
Just like you would typically do, tap the stories icon and swipe up on the screen to bring out your camera roll photos and videos.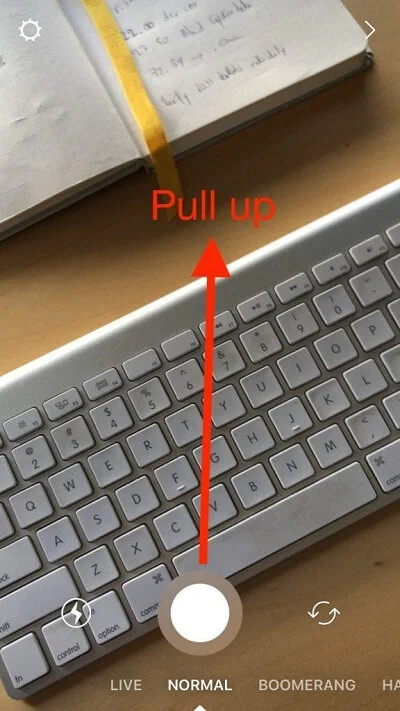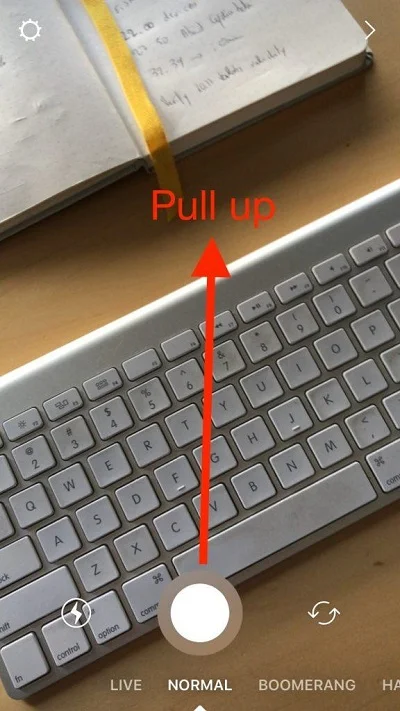 Select the video you are about to post, add text, hashtags, GIFs, and anything else available to you. Old videos will automatically have a sticker showing the date it was recorded.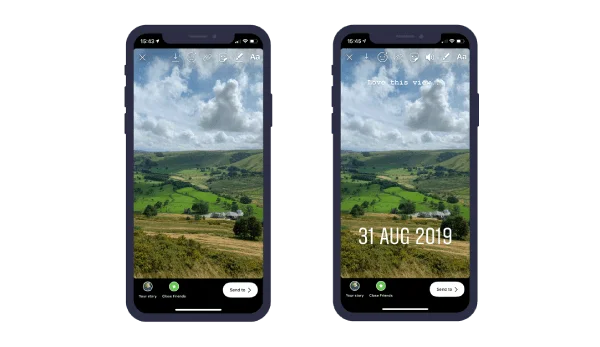 If you want to remove it, drag the date down into the 'Trash Can' symbol. Then it will look like any other video on Insta Stories.
How to Post YouTube Videos on Instagram
Instagram doesn't allow you to post direct links to YouTube videos. Plus, you can't download YouTube videos unless you have a premium account. But there are a couple of ways to overcome these limitations.
Method 1. Download the video to your computer/phone
Copy the URL link to the YouTube page you need.
Open an online YouTube downloader on your browser, such as GramKeep.
Paste the link into the bar and press download.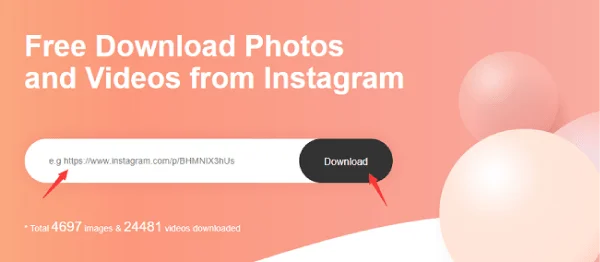 Depending on what device you are using, it will be saved into different folders.
Go on Instagram and share the video as usual.
Method 2. Screen record the YouTube video
Open the video in the browser or on the YouTube app and get ready to play it.
Download the screen recorder app available to you, for example, FonePaw.
Open the app, start recording, and quickly go back to the video.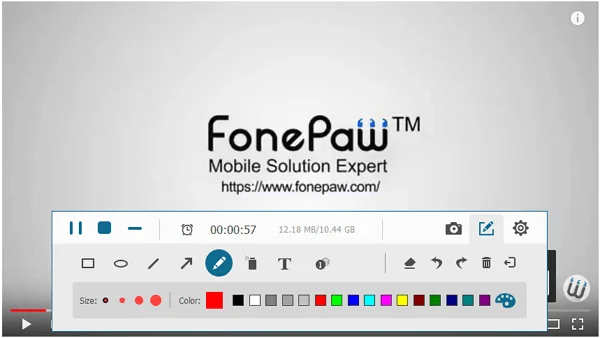 Once you're done recording, save it to your device.
Cut the video to the optimal length and upload it on Instagram.
How to Repost & Share Instagram Videos
You will need to download a third-party app on the AppStore or Play Market, where you have plenty of options. For this example, we will take a basic Download Repost for Instagram:
Open Instagram and find the needed post.
Tap on the three dots in the upper right corner.
Copy the post's URL.
Open the repost app and paste the URL.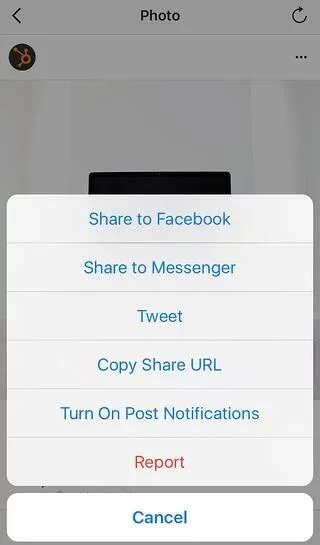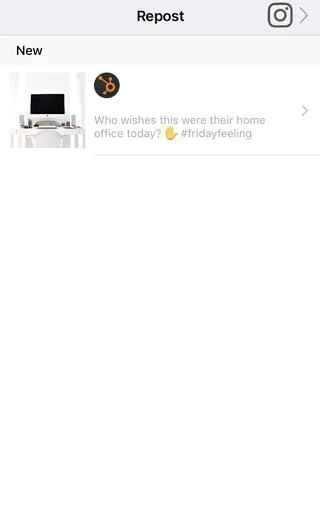 Your post will be displayed with a repost sticker. You can choose where it will be located.
Press 'Repost' and then 'Copy to Instagram'.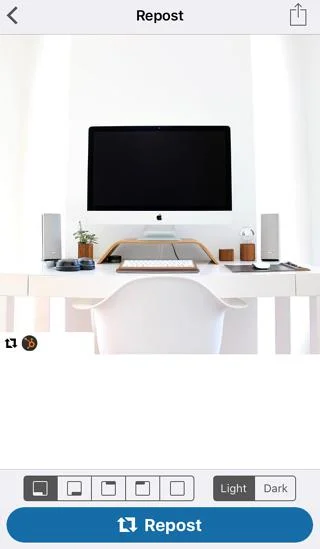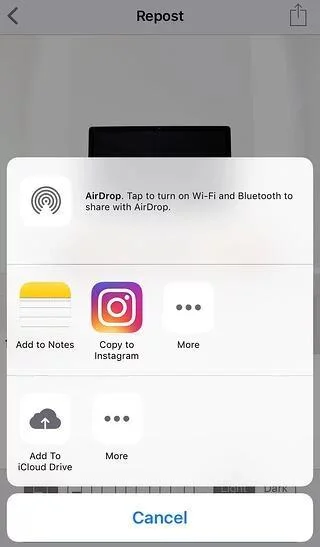 Write your own caption just like you normally do and share the repost. It will be on your timeline like any other post.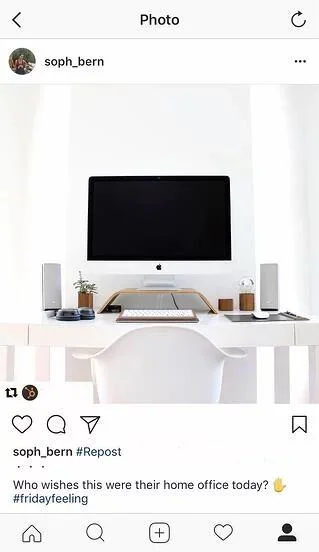 How to Download Instagram Videos
Currently, Instagram does not give you the option to download videos due to copyright and issues relevant to digital preservation. At least, there is no special feature and button to do it directly. However, there are a few tricks to save them.
How to Download Instagram Videos on PC/Mac
The first method involves inspecting the source code for a link:
Step 1. Open the video you want to save to your computer.
Step 2. Right-click (or Command+click for Mac) on the post, and depending on the browser you're using, select 'Inspect element' or 'View page source'.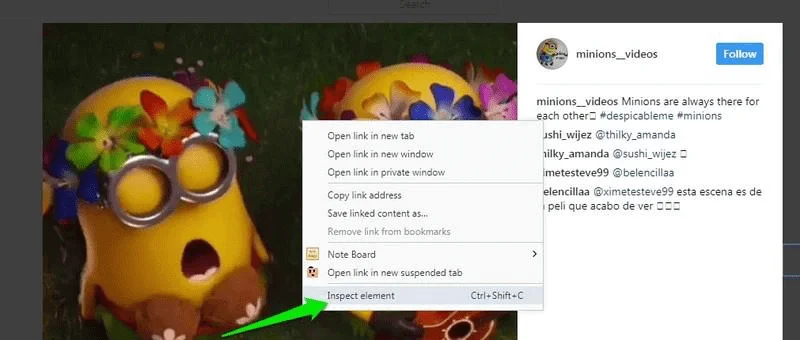 Step 3. Press Ctrl+F (or Command+F for Mac) to make the search bar appear.
Step 4. Type .mp4 into the bar. Find a query string starting with 'src=' and .mp4.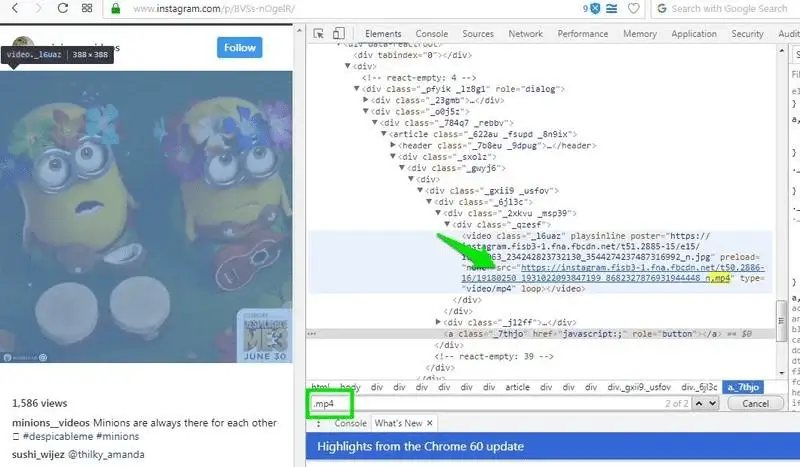 Step 5. Copy this link and paste it into a new window on your browser.
Step 6. It will open the video you need. Right-click (or Command+click for Mac), choose 'Save video as', find the right folder, and you're done.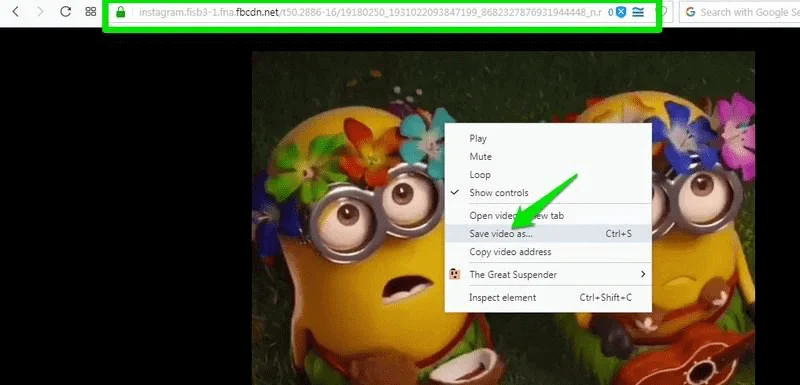 Another method involves downloading a special extension to your browser. For this, you will need to use Google Chrome.
Go to the Google Chrome web store.
Type in some variation of 'Instagram Downloader' and explore what extensions are available. Pick the one with the best ratings and highest number of downloads.
Click 'Add to Chrome' on the right side of the offer and wait for it to download and install.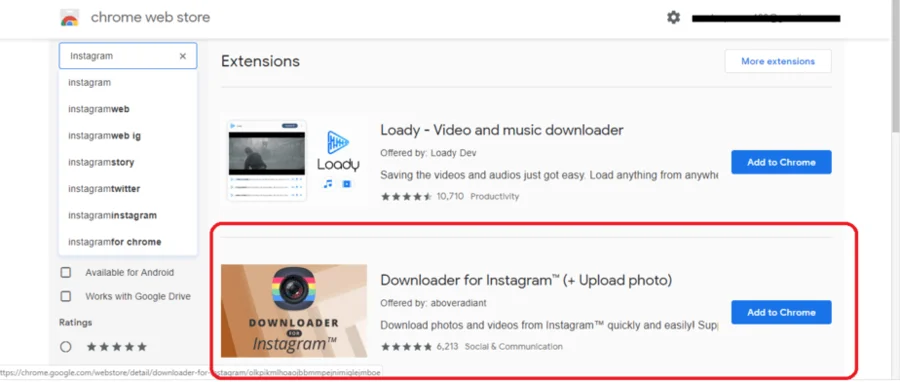 Restart the browser.
Go to the Instagram video you want to download.
There will be different steps depending on the type of extension you have. Most often, there will be a download icon displayed on the post, which you will need to click.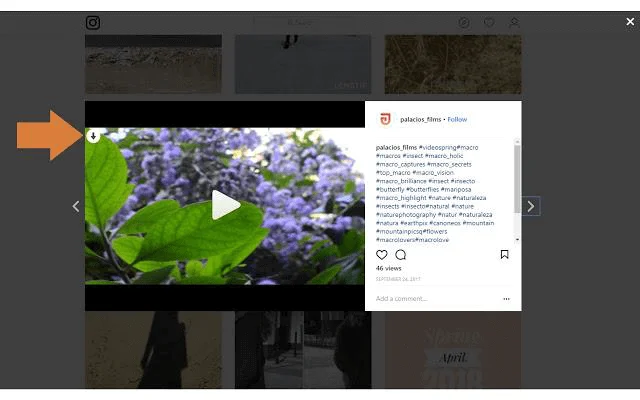 Save Instagram Videos on iPhone
The most common and effective method to download an Instagram video is to use third-party apps. There are free apps as well as paid ones, and it's up to you to decide which one to use. The AppStore constantly gets an influx of new apps so type in Instagram Video Saver and see what's available.
For this example, we will use an app called InstaSaver. Other similar apps should work by the same principle.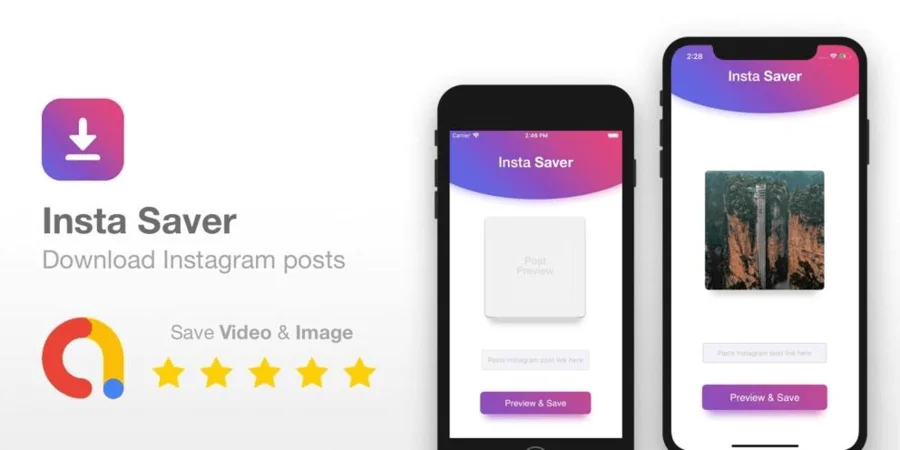 Download the app and open it.
Paste a link to the Instagram video you are planning to save.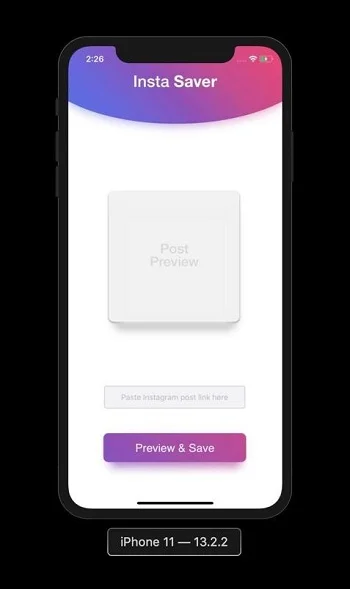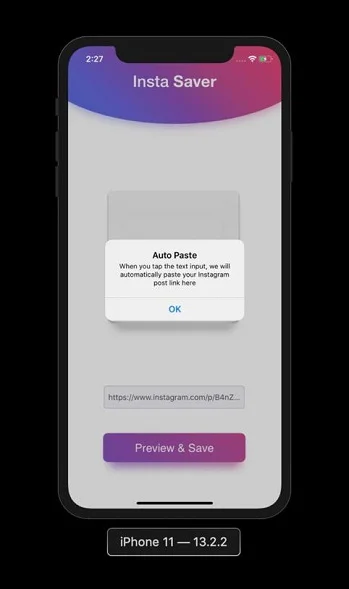 The app will display the preview of the post. Tap on the 'Save' button.
The video will appear on your Camera Roll.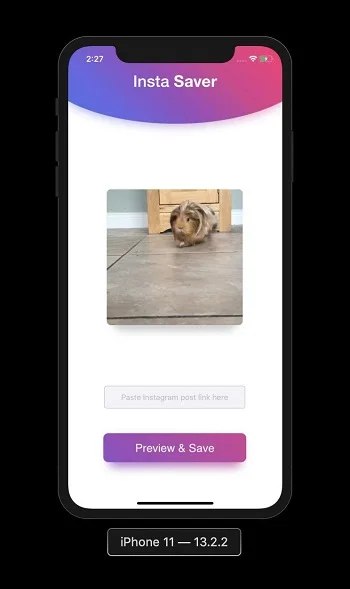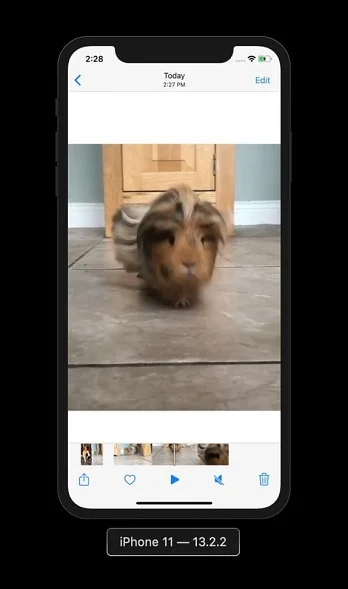 Save Instagram Videos on Android
The Google Play market on Android also has a vast selection of third-party apps. Follow the instructions above since there are practically no differences in how these apps work. There is another method to save Instagram videos on Android devices using a File Manager.
Watch a selected video on the Instagram app to get this video into the cache memory.
Open the file manager and tap on the Android folder.
Open .com.Instagram.Android.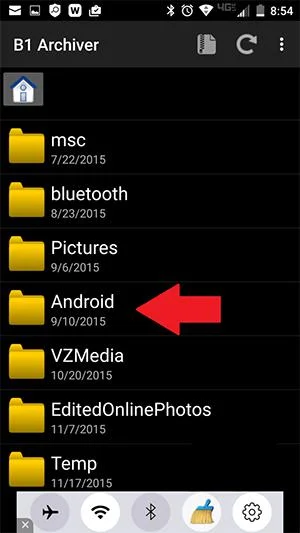 Open the cache folder and go to Video.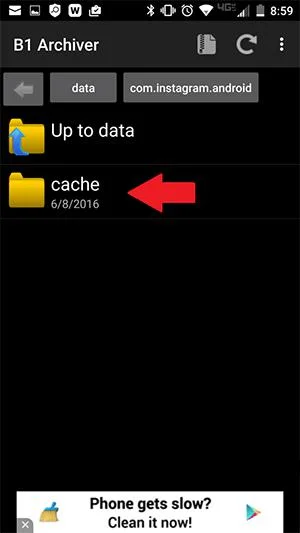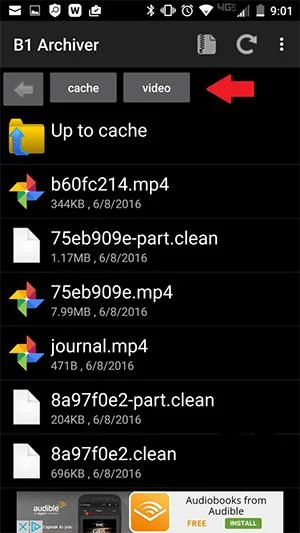 Open the settings and choose Sort by – Last modified.
Long-press the newest video file and choose the 'Rename' feature.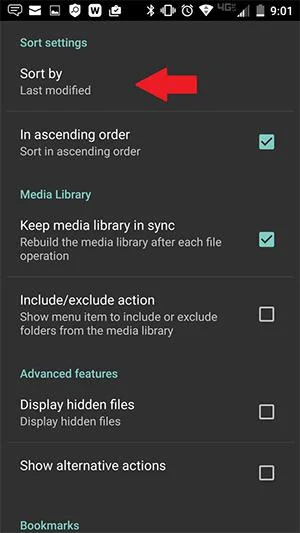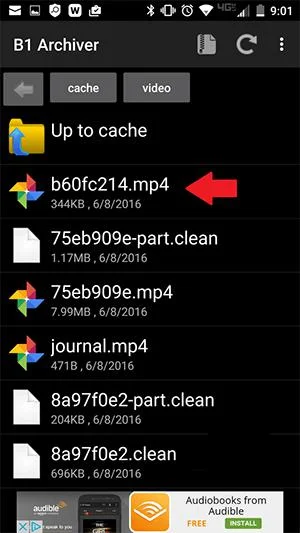 Type .mp4 to the end of the file name and press OK.
Now, if you tap on this file, it will search for an appropriate player.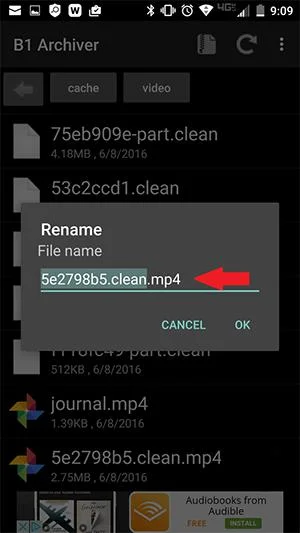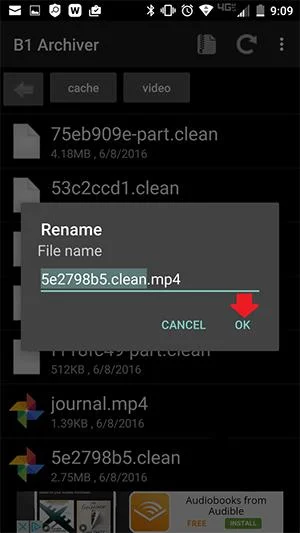 How to Find Live Videos on Instagram
If an account that you are following is doing a live video or has posted a recorded live video, it will be shown on the Stories bar. If a user's avatar has the word 'Live' at the bottom, you can watch their live video by tapping on it. This works for both desktop and mobile devices.
If you want to see popular live videos by users you are not following, go to the explore page. Similarly, you will see a stories bar with top creators and those accounts you are likely to be interested in. Browse the top live videos and simply tap on those you want to watch.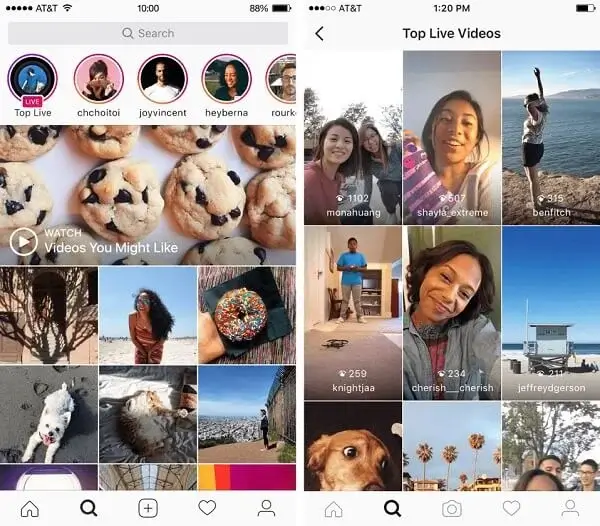 Instagram's top live videos are a great way to find new accounts to follow. If you are just browsing, you can tap in and out of the live or fast-forward to another part if it's an already recorded one. If you don't want to see comments and likes, tap on the screen to hide them.
How to Stop Videos from Automatically Playing on Instagram
The method for disabling the autoplay feature is the same for iOS and Android and is extremely simple. Take these steps:
Go to your profile page on the app
Open the settings menu
Go to Account > Cellular Data Use
Check the Use Less Data feature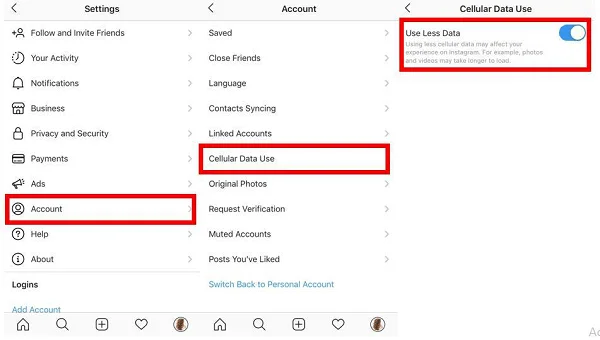 The only difference between different platforms is that newer Android versions might have the settings under the drop-down menu on the top left corner. Other than that, follow the steps described above.