After years of allowing only one orientation for photos and videos, Instagram introduced multiple other formats and orientations. These new features represent exciting opportunities for new content; however, navigating IGTV, stories, videos, and other posts can get tricky.
This guide will help you understand the optimal Instagram sizes and dimensions for different formats. Hopefully, it will make things easier. Once you learn the basics, you will be able to generate content of the ultimate quality and grow your social media page more effectively.
Instagram Images Basics: Size & Aspect Ratio
Before we head over to technical specifications on Instagram, there are a couple of terms you need to understand – size and aspect ratio. While they seem to be describing the same concept, you should know the difference, especially in the measurement units they use.
Size
Size, otherwise known as resolution, means how many pixels comprise the width and height of an image. It is expressed by two numbers; for example: 320 px by 1080 px. The width is indicated by the first number, and the second is for height.
Resolution is important when shooting and uploading high-quality images and graphics. If the resolution is high, it implies that it contains more pixels- in other words, more data. Therefore, the higher the resolution, the higher is the quality of the image. A fixed-pixel display or platform changes the source material to fit its own size.
Aspect Ratio
Aspect ratio is how the width of an image relates to its height. This measurement is signified as x:y. For example, it can be 9:16, where 9 expresses how wide the picture is, and 6 expresses how tall the picture is.
The importance of an aspect ratio comes down to resizing images while avoiding distortion. Some users make the mistake of reshaping their images while neglecting the recommended aspect ratio. As a result, they get weird-looking photos which could be easily prevented.
Instagram Image Size: Best Practices in 2021
Even if you have sharp photos you want to post, uploading high-resolution images, like 5400 px by 5400 px, it will not make a positive impact. On the contrary, it will affect image quality negatively. Therefore, take your time to learn the recommended sizes and stick to them.
The table below will give you a quick rundown of the accepted ratios and dimensions for different Instagram images.
| | | |
| --- | --- | --- |
| Instagram Image Format | Aspect Ratio | Size |
| Profile Photo | 1:1 | 180 x 180 px |
| Square Photo | 1:1 | 1080 x 1080 px |
| Landscape Photo | 1.91:1 | 1080 x 566 px (608 px) |
| Portrait & Vertical Photo | 4:5 | 1080 x 1350 px |
| Carousel Posts | 1:1 | 1080 x 1080 px |
| Stories | 9:16 | 1080 x 1920 px |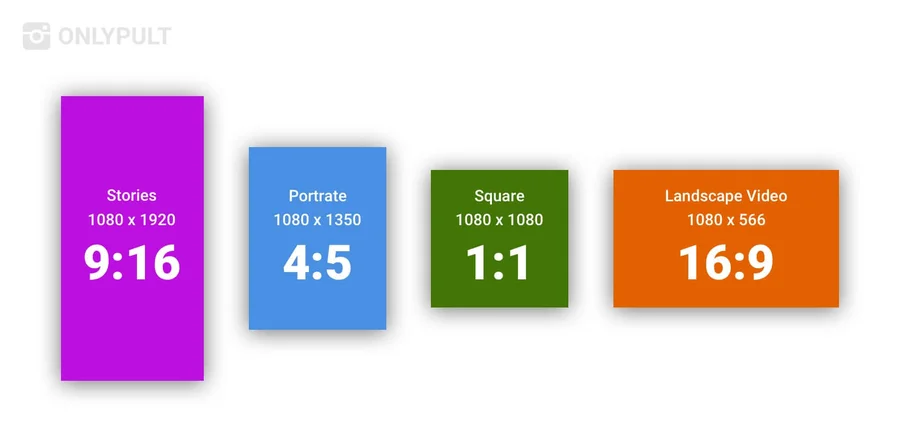 Instagram Profile Photo Size
The profile picture is located close to the username and bio, so you want to take it seriously. Requirements for Instagram profile pictures are slightly different for mobile and desktop versions, so it's better to choose bigger image sizes to accommodate the web browser.
Aspect Ratio: 1:1
Optimal Size: Between 110 x 110 px and 180 x 180 px
Max Resolution: 180 x 180 px
Tip: The rules don't necessarily mean that your profile photo has to be precisely 180 x 180 pixels when you upload. In theory, you can upload images much larger than that. Most importantly, they need to be square in order to be displayed properly.
Before you upload the image, crop it to a square to see which elements are cut out and what stays in the visible area. The final profile picture will be a circle, so make sure there are no meaningful elements in the four corners. Also, remember that the photo will be tiny, so you might need to zoom in quite a bit.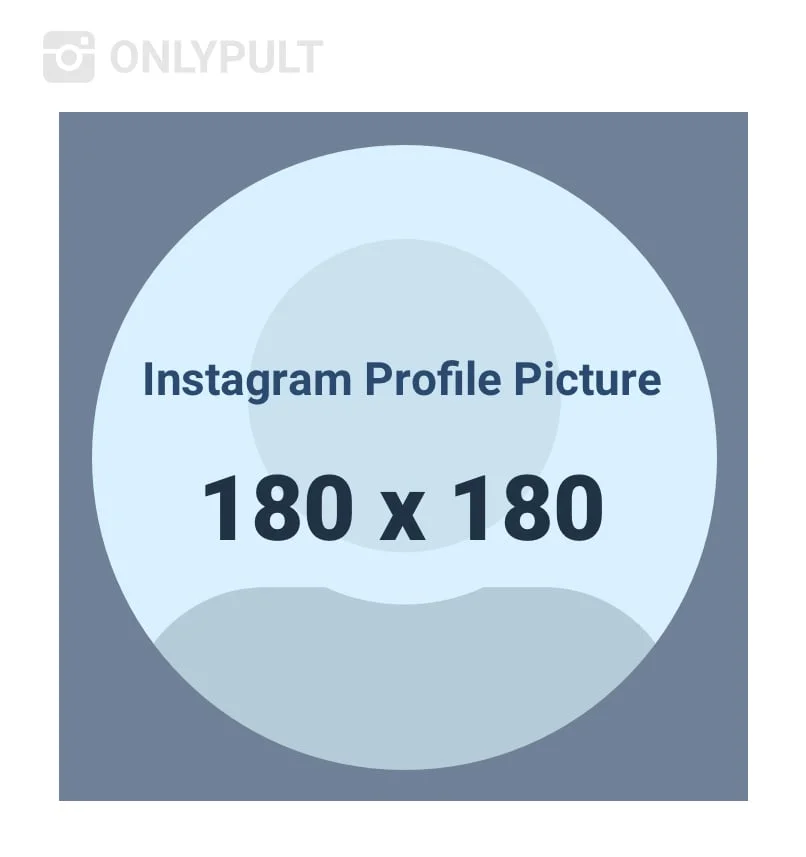 Instagram Square Photo Size
Square is the original format, which is well-known among all Instagram users. It still remains a popular choice for many, especially considering the profile grid displays posts in this ratio.
Aspect Ratio: 1:1
Optimal Size: Between 600 x 600 px and 1080 x 1080 px
Max Resolution: 1080 x 1080 px
Tip: When you think about the composition of a square photo, placing your subject in the center is a great option. Since you don't have much space on the sides to work with, crop your photo and place emphasis on the middle.
Also, a go-to technique is a symmetrical composition. Even though it breaks the rule of thirds that everyone in the photography world raves about, it works perfectly well for Instagram. It can create harmony and a sense of aesthetically pleasing balance and proportion. Play around with lines, mirroring, and patterns.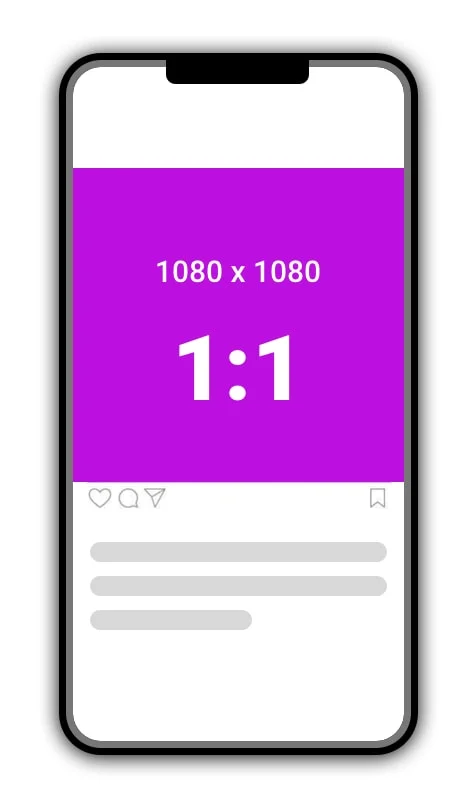 Instagram Horizontal - Landscape Photo Size
Landscape is not the top pick for most profiles, but some use it to preserve the look of a professional photo. The default will still be square, but you can easily change it through the edit button.
Aspect Ratio: 1.91:1
Optimal Size: Between 600 x 315 px and 1080 x 608 px
Max Resolution: 1080 x 608 px
Tip: Most cameras shoot in the 16:9 aspect ratio as opposed to 1.91:1. If you don't resize the photos, they will either be uploaded with black borders around them, or you'll lose the sides of the picture. Black borders aren't particularly desirable as they change the whole look and make the feed look inconsistent.
There are several advantages to taking horizontal photographs or cropping them to this format. This ratio feels natural to the human eye and conveys a sense of space or panoramic perception. Landscape size works best when the subject is horizontal or moving horizontally. And lastly, it is the preferred option for most desktop devices.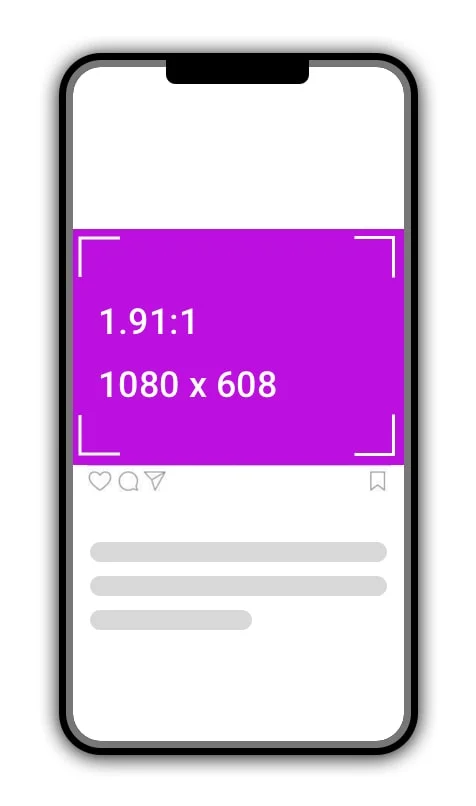 Instagram Portrait & Vertical Photo Size
Portrait is a marketer's favorite dimension since this content occupies more space on users' screens whenever they open the app. Even though Instagram allows users to be creative with the introduction of non-square images, there are some limitations.
Aspect Ratio: 4:5
Optimal Size: Between 480 x 600 px and 1080 x 1350 px
Max Resolution: 1080 x 1350 px
Tip: As we've mentioned, the reason why portrait photos do better isn't particularly scientific: they fill the majority of the user display. A bigger surface is eye-catching, and there is a higher chance to be noticed. Plus, it's literally more physical space for your brand to take up.
Here is when the rule of thirds comes into play. Verticals can be broken down into foreground, midground, and background. Ideally, you'd have something of interest in all three of these visual zones. At the very least, there should be one central point of focus.
Instagram Carousel Posts Size
Carousel allows users to showcase up to 10 images that should be of the same ratio. While it can be tricky to match all the photos, it's convenient for sharing more pics, close-ups, and variations with your audience.
Aspect Ratio: 1:1
Optimal Size: Between 600 x 600 px and 1080 x 1080 px
Max Resolution: 1080 x 1080 px
Tip: If you have very high-resolution pictures of your product, consider putting them into a carousel while gradually increasing the zoom-in with every photo. Thus, you will showcase the product in greater detail but also give an overall perspective.
You can also try posting inventory items that are a part of a matching set. This way, you will not clutter the feed with multiple posts, which some followers find annoying. You can even imitate a panoramic effect by posting a carousel with a continued layout.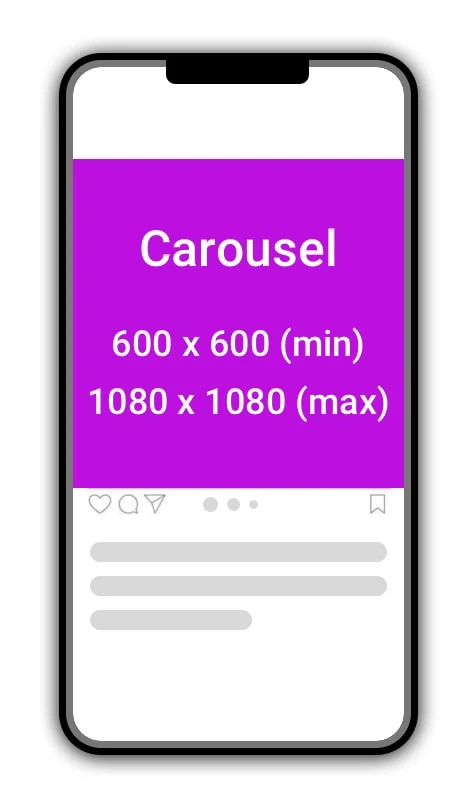 Instagram Stories Size
Instagram Stories are entertaining, accessible, and easily digestible. Because Stories are an effective way to boost reach, engagement, and conversions, you can't afford to upload weird-looking content.
Aspect Ratio: 9:16
Optimal Size: Between 600 x 1067 px and 1080 x 1920 px
Max Resolution: 1080 x 1920 px
Tip: Instagram offers some options for various ratios. Photos that don't meet the recommended ratio aren't stretched out; instead, the app adds borders that color-match the contents of the photo. This method even lets you upload horizontal photos (however, they will be much smaller than vertical ones).
However, you're still better off sticking to the vertical format for Stories. People use their smartphones vertically, so don't make them rotate the phone to view the full picture. If you avoid using borders to fill the entire display and orient the photo vertically, you will get the ultimate results.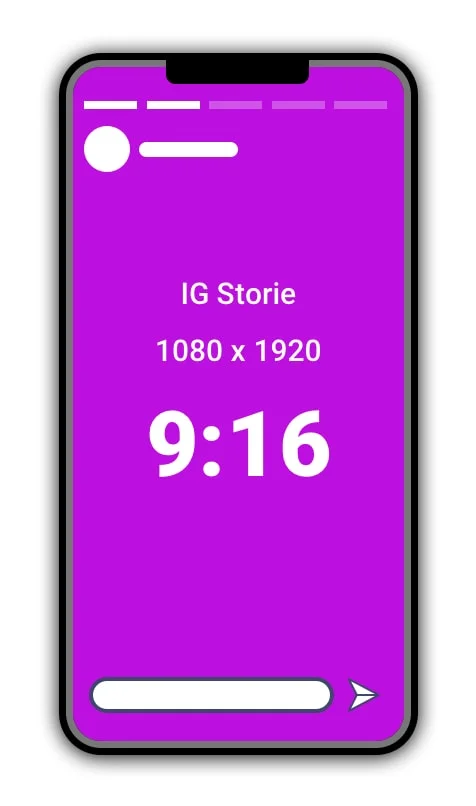 Instagram Videos Size
If you want to create a perfect Instagram video, you need to follow the platform's specifications. When you get that figured out, use our guide on How to Post Videos in Instagram and start playing with different formats. There is a lot to learn when it comes to posting videos. Try to get as much information as possible to maximize your results.
Here is a brief table for available video formats and their specifications.
| | | |
| --- | --- | --- |
| Instagram Video Format | Aspect Ratio | Size |
| Square Video | 1:1 | 1080 x 1080 px |
| Landscape Video | 16:9 | 1080 x 608 px |
| Portrait Video | 4:5 | 1080 x 1350 px |
| IGTV | 9:16 | 1080 x 1350 px |
| Stories | 9:16 | 1080 x 1920 px |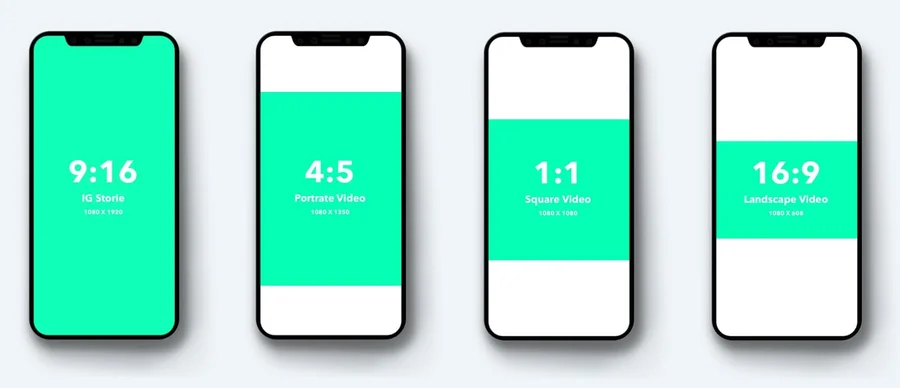 Just like with photos, Instagram remains a perfect playground for square videos. It is the default setting and looks universal on all devices. The technical requirements for square videos are not so different from the photo requirements.
Aspect ratio for square videos: 1:1
Minimum and max resolution: 600 x 600 px and 1080 x 1080 px
Length: Up to 60 seconds
File size: Up to 4GB
Our recommendations for landscape videos are slightly different than what we mentioned for photos. The reason we suggest using another aspect ratio is because it will be too much effort to re-edit videos for 1.9:1. Plus, most people are used to watching videos in 16:9.
Aspect ratio for landscape videos: 16:9
Minimum and max resolution: 600 x 315 px and 1080 x 608 px
Length: Up to 60 seconds
File size: Up to 4GB
Portrait videos aren't typically full-screen. If you film a video clip on your phone or record a TikTok or a Snap, you will need to resize the video before posting it on your feed.
Aspect ratio for portrait videos: 4:5
Minimum and max resolution: 600 x 750 px and 1080 x 1350 px
Length: Up to 60 seconds
File size: Up to 4GB
IGTV is Instagram's first attempt at long-form videos. So far, it has proven to be a convenient format to cover topics more in-depth without being restricted to 60 seconds.
Aspect ratio for IGTV: 9:16
Minimum and max resolution: 600 x 750 px and 1080 x 1350 px
Length: 15 seconds - 60 minutes
File size: Up to 5.4GB
Tip: The recommended size for cover photos is 420 by 654 px, which is a 1:1.55 ratio. Make sure to size the cover photo correctly straightaway because you will not be able to edit it.
Video Stories are a medium for short vertical videos. Whether you record the video straight from the app or upload it from your camera roll, the requirements stay the same. If the video doesn't fit the specified dimensions, it will be automatically cropped.
Aspect ratio for video Stories: 9:16
Minimum and max resolution: 600 x 1067 px and 1080 x 1920 px
Length: Up to 15 seconds
File size: Up to 4GB