People share their opinions online about everything – including brands they interact with. Rather than make assumptions about what customers think about your company, head on to social media to know exactly.
If you want to know more about your audience, what they are passionate about, how they feel about your industry, how to make a deeper connection with them, then social listening is what you need.
What Is Social Listening?
Before diving into specifics, let's look at the definition of social listening:
Social listening is the process of collecting and analyzing data from digital conversations. The goal is to evaluate what customers are saying about a brand on social platforms. However, you can also look at trends happening around your industry as a whole.
Marketers use this technique for community management, in other words, to focus on relationships and interactions with your audience in public online spaces. It helps them differentiate the brand from the competition and make better marketing decisions.
What's the Difference Between Social Listening and Social Monitoring?
Social media monitoring is a narrower concept, which focuses on direct mentions about your brand and responding to these interactions. Monitoring is the entry point for understanding how the audience sees your brand. Social media listening takes it to the next level. It encompasses a broader spectrum of conversation, covering all relevant topics, not just your brand.
Both concepts are important for crafting social media strategies and exist not as separate entities but as a spectrum for analyzing data.
How Does Social Media Listening Work?
Social media listening aims your attention at discussions regarding specific keywords, topics, competitors, or industries. It might include brand names, slogans, key people, hashtags, industry buzzwords, etc. Over time, you can refine the list to gain the right insights.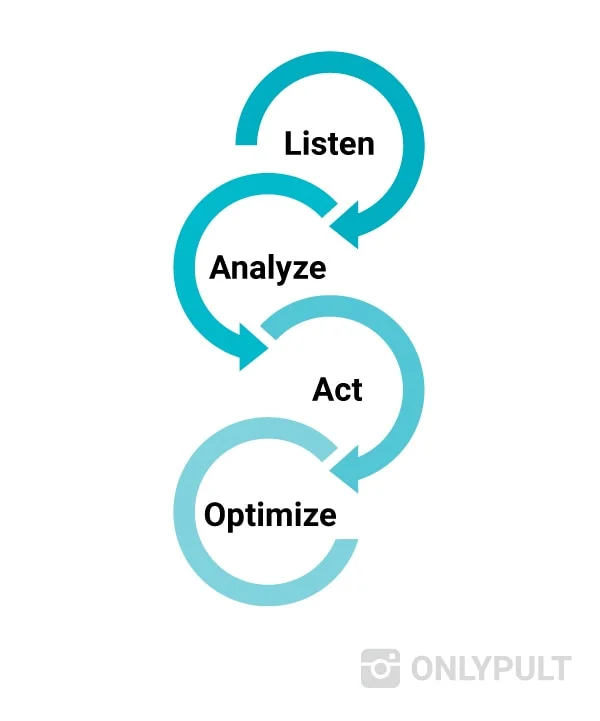 Then, you follow it up by analyzing this data and putting these insights into use. Once you learn what does/doesn't currently work for customers, where their interests lie, and what frustrations they have, you can make the appropriate changes. When you address these concerns, you can then see how it affects customers and make adjustments if necessary.
Social Media Listening Importance
Social media listening ensures a consistent, proactive approach to your online presence. Instead of looking at individual tweets and posts, you get a wider perspective. It highlights trends and themes that appeal to your audience as well as ongoing issues.
Social listening is not just about just solving problems. It gives you data that you can apply to various aspects of your business:
Improve customer engagement – People appreciate when brands react to what they've said and respond to questions. Social listening helps you generate thoughtful, valuable responses. These kinds of interactions engage users the most.
Implement fast updates to your strategy – Assess the current sentiment around your product and service, and act practically in real-time. If you have positive engagement, find out why and apply it to future campaigns. If it is poor, social media feedback will help you get back on track.
Find users' pain points – Do users express frustrations about your product? Do they have concerns about services and features within your industry in general? Optimize your products or fuel future releases bearing in mind what users don't like.
Find influencers and brand advocates – Before you start working with content creators, find out who users can connect with in your industry. Along with finding important influencers, you will naturally find people that are already promoting you on social media.
Learn what people think about your brand – Social media listening gives you insights on how people see you vs your competitors. Also, keep an eye on what people say "behind the scenes" when they don't even tag your account.
Provide better customer service – Not all people go through official channels to contact you (like submitting a ticket on your website). However, even if they complain about something on social media, you can catch it and resolve issues quickly.
Social Media Listening Example
The findings gathered through social listening helped Samsung tailor its marketing strategies. For example, they found that people who are interested in QLED TVs are more environmentally-friendly. Based on these affinities, they knew what kind of audience they would target with their eco-conscious posts. Thus, listening insights helped them tap into a specific market sector.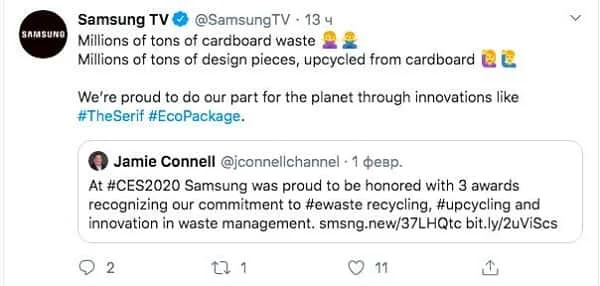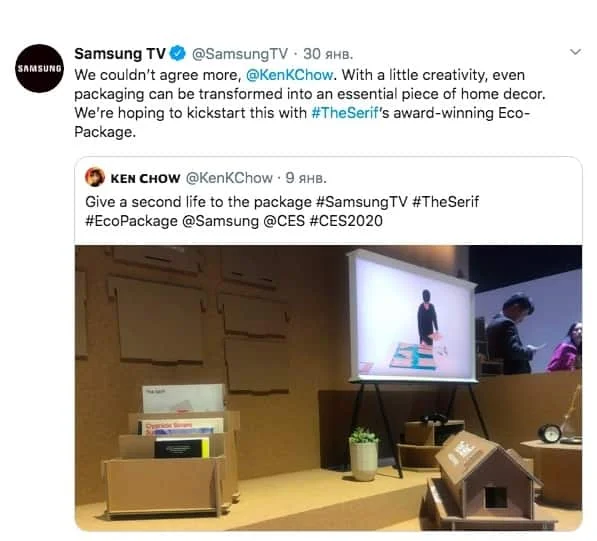 Another example from L'Oreal uses social listening to illustrate how social media data fueled a product launch. They researched user-generated content and discovered that their audience was interested in the ombre (two-toned hair color effect) trend. They also identified key influencers and worked with them to push their new product, at the time, called L'Oreal Feria Wild Ombre. It became a huge hit, and the trend is still around to this day.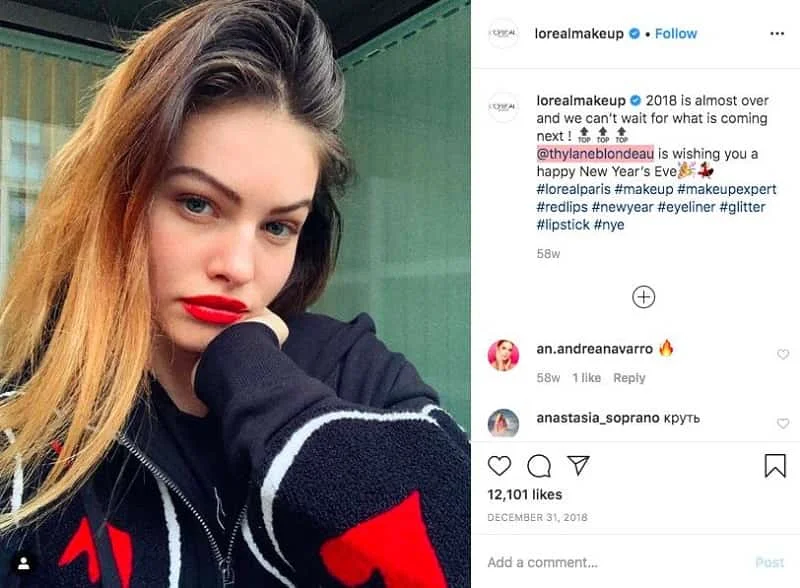 Netflix knows that their target audience is millennials. Therefore, they modify their online content to appeal to them: relatable humor, self-irony, and sarcasm. As part of the promotion of their show The Umbrella Academy, they used this generation's appreciation of Gerard Way. They based nostalgia for the My Chemical Romance lead vocalist to push the TV adaptation of his comic book series.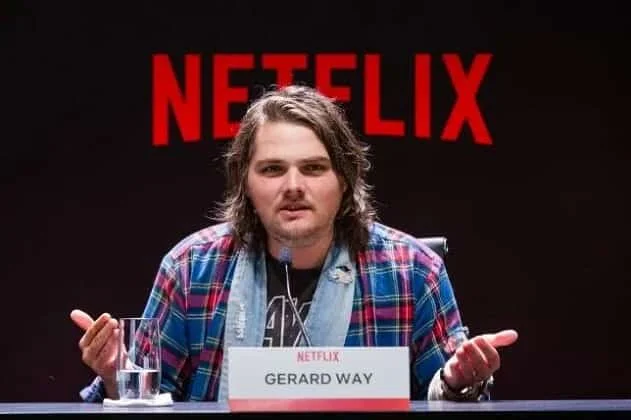 Through social listening, Netflix also found out that users tend to fall asleep while watching shows. They developed Netflix Socks – smart socks that read your body to understand when you fall asleep and pause the show. The product got wild online coverage and even became a Shorty Award winner in Creative use of Technology.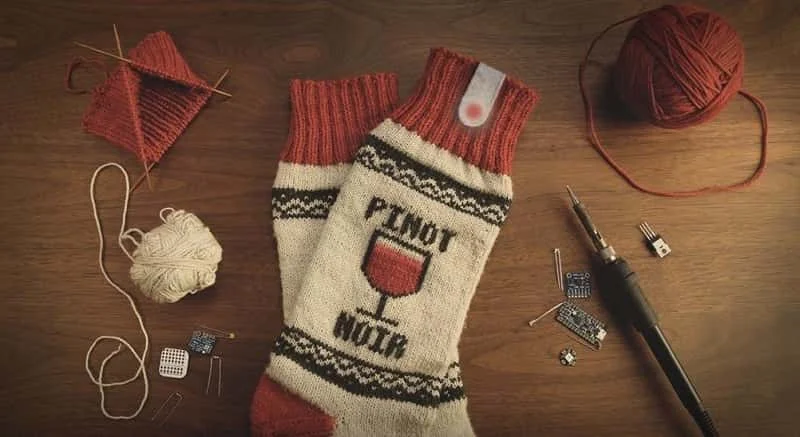 Social Listening Strategies
Social listening needs to be actionable. There are multiple strategies you can incorporate to grow your business, and there are specific things you can get from it. For example, here are key pieces of information you can focus on.
Brand Health
The term brand health means how it is perceived by the public. Look into positive or negative opinions that people share, what specific traits and features are being talked about, how many people are mentioning your brand, etc.
For more targeted marketing, listen to common questions, comments, compliments, and complaints. This valuable piece of data can be acted upon. For example, if users frequently share their frustrations about your shipping, share those criticisms with the rest of your team, and figure out the logistics.
Industry Insights
Get a sense of where the market is heading and figure out where your brand fits into it. As trends develop, you can reposition your brand to be right in the middle of it. You can analyze trending discussions and hashtags to shift your content and general messaging towards that.
Also, keep track of relevant political and social conversations as they can affect customers' buying decisions. If you find a gap in the industry, it can prompt you to release something that people on social media clearly want.
Competitive Analysis
Especially in well-established industries, you need to learn from big players and take advantage of their shortcomings. If your audiences overlap, knowing what they like and don't like about other brands can help you grow.
Look at how much engagement your competitors get and correlate it with the data on your brand. Figure out why their content could be outperforming yours and apply their strategies (if suitable). Or the other hand, learn why people are sharing their dissatisfaction with another brand and offer them a better alternative.
Campaign Analysis
When you launch a new campaign, you need the tools to evaluate whether it succeeded or if you need to improve it. Social media listening can shed light on impressions and engagements, draw general sentiment, identify audience demographics, etc.
As much as you can assess countable metrics with other methods, listening also takes into account factors that you can't simply measure. You gather general sentiment even without direct mentions or tags.
Event Monitoring
When you arrange an event or a conference, you normally can only keep track of a limited number of factors, like hashtags or shares. However, this way, you won't miss out on key terms like session titles, speakers, and themes.
Even before the event takes place, you can maximize the business opportunities by finding leads that are not easy to spot using other techniques. Since you get a larger picture of your online audience, you can outreach to a bigger number of potential leads.
Social Media Listening Strategy: Step by Step Guide
Cover the most important aspects with these seven steps:
Determine your goals – Prioritize in what ways you want to improve your performance. Your strategy can be built around market research, lead generation customer service & reputation management, SEO, etc. Being specific about what you want to achieve leads to better results.
Determine the best social media listening tool – Not every tool can adequately process so much data from all over social media. You can build your own tool, or you can get a subscription-based one. It might be a better idea to go for specialized services for more advanced functionality.
Align your actions with strategy – Considering the limitless possibilities of social media listening, you can easily get distracted. Stick to the game plan that you've outlined in advance.
Choose your data sources – You don't necessarily need all of the data. For example, you might get a better result by pulling information just from Twitter and Instagram. The choice depends on what audience you find the most valuable.
Define your topics & themes – This step determines what kind of queries you will be looking at. You can get data using keywords or phrases, hashtags, handles, mentions of/from users, etc. As you go, you can add or eliminate certain parameters.
Measure results – Your social listening tool should provide you with reports illustrating how your key metrics are performing. See whether your current results match your goals.
Optimize your topics – Once you analyze your reports, you may discover variations of your themes that you didn't expect. Engage in conversations as they're happening, and don't be afraid to tweak some parameters if it will have a positive effect.
10 Social Listening Tools & Software: Best in 2022
These days, there is a myriad of services offering social listening functionality, so you have to approach your choice with careful consideration. Bear in mind that all of them have strong and weak aspects.
Onlypult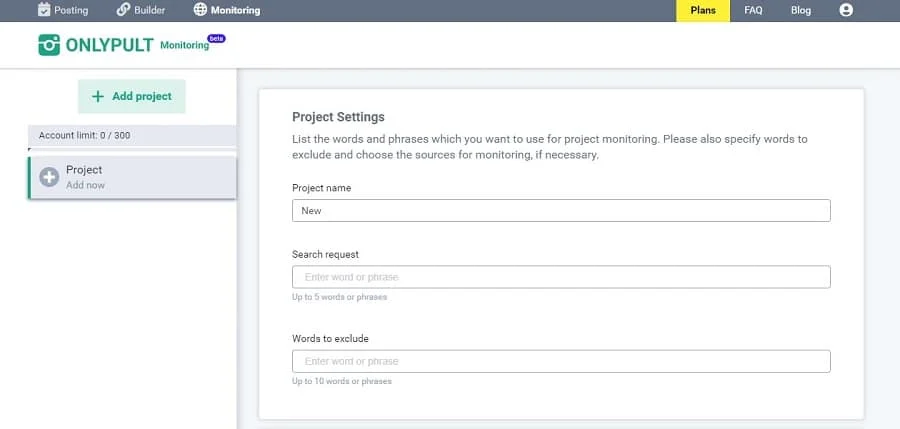 Onlypult offers many metrics related to engagement on Twitter and Instagram, including search requests, mentions by sources and periods, accounts, etc. The service allows you to exclude words or phrases that are unrelated to your theme so as to not overwhelm you with information. Data is presented by easy-to-comprehend graphs, with the first results being available in only 10 minutes.
Hootsuite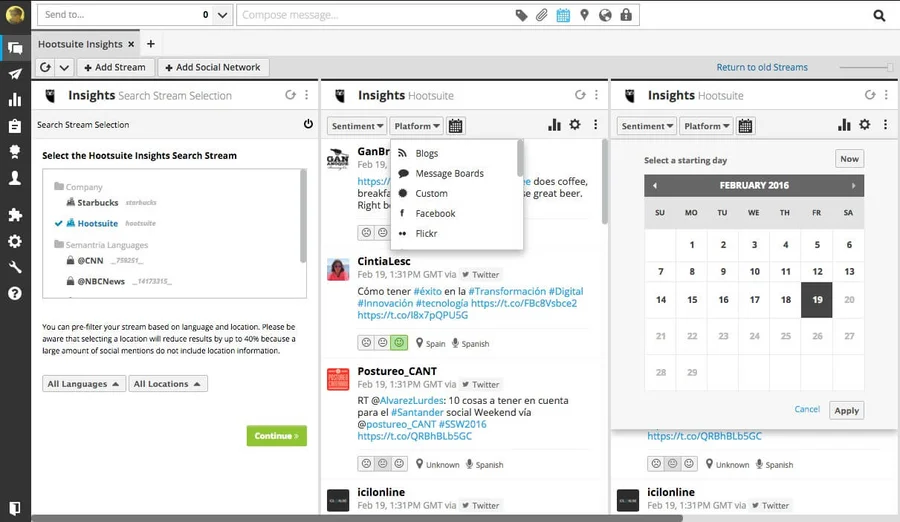 Hootsuite can track keywords, hashtags, locations, and specific users. It provides an analysis of demographics, which includes information like professions and education levels of posters. Most powerful features are reserved for enterprise plans, but there is still a sufficient number of data sources.
Sproutsocial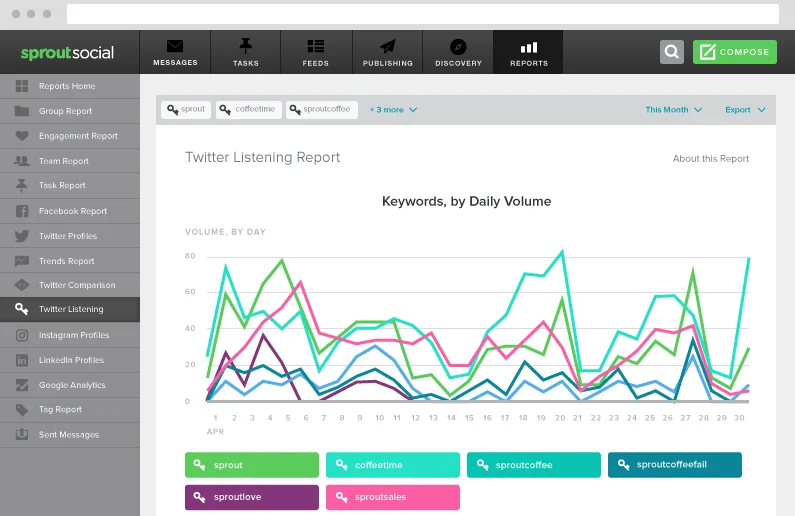 With Sproutsocial, you can set up multiple Twitter searches for different hashtags and keywords and mark content as spam. Along with standards features, this tool allows you to create complex queries. However, you will need advanced add-ons (for an extra charge) to listen to other social platforms.
Talkwalker
Talkwalker integrates several social networks for sentiment analysis. You need a little practice and patience to understand how to set up the topics. But once you do, you will get comprehensive data on social content as well as websites and newsgroups.
Brandwatch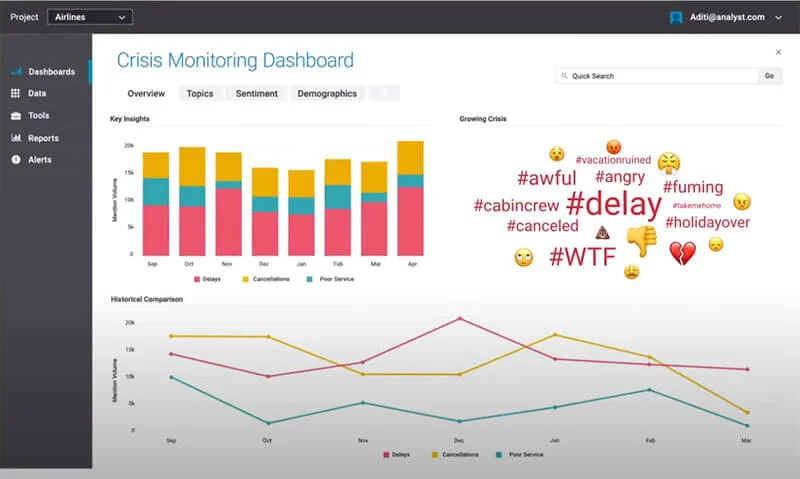 Brandwatch focuses on Facebook, Instagram, and Twitter tracking. It allows you to track your brand as well as competitors, specific products and associated hashtags and mentions, etc. It also offers a logo and emoji analysis. Bear in mind that it also has a query building learning curve.
Hubspot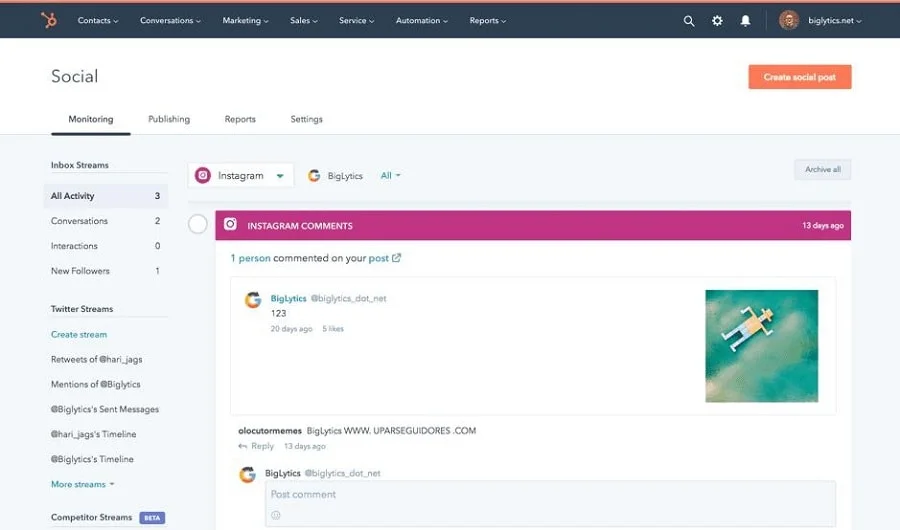 Like any other good reporting tool, Hubspot can track posts, interactions, clicks, audiences, and other metrics. All reports are automatically transferred to the HubSpot CRM account for easy management, and the data is delivered graphically. Not all performance trends can be gauged at a glance, so you'll need to tweak some parameters.
Buffer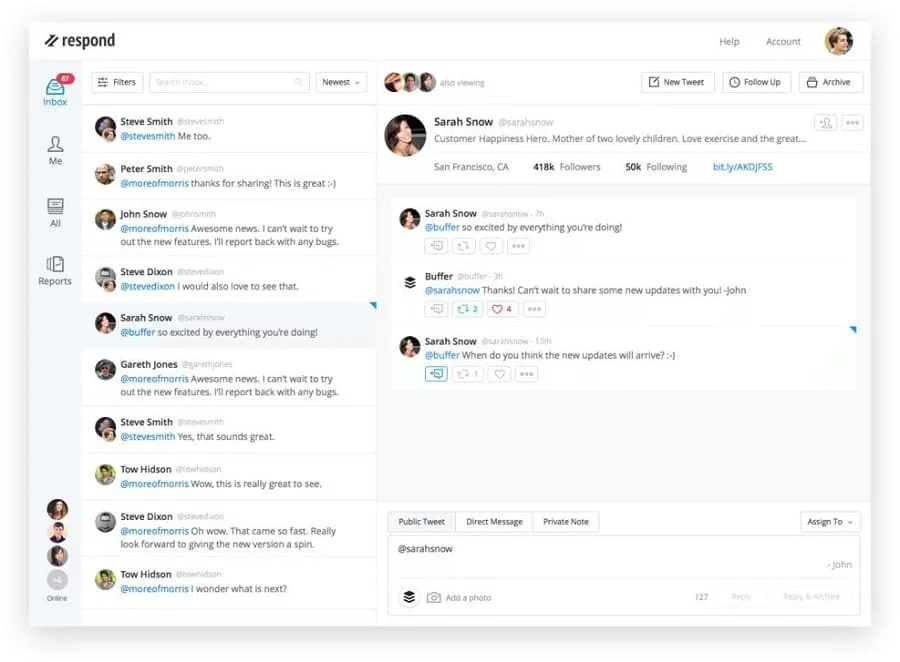 In addition to platforms that most of these tools can cover, Buffer can also track LinkedIn and Pinterest accounts, which is not common. It offers several useful features for measuring engagement and audience behavior. Different social media channels are centralized into one, organized interface.
Buzzsumo

Buzzsumo tracks words and point patterns on Facebook, Twitter, Instagram, and, interestingly, Reddit. The features presented make it easy for us to see what is being said online through articles and forums. The platform identifies true influencers in your industry and tracks your own relative influence with your audience.
Mention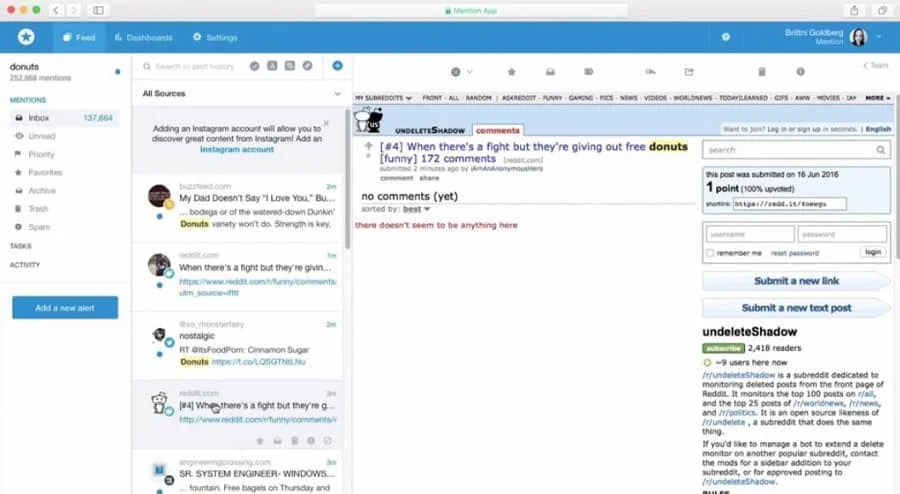 Mention is compatible with Facebook, Instagram, Twitter, and Reddit, which gives it a good range of sources. You can pay attention to trends that are relevant to you while tuning out those that are not. You can also compare your brand with multiple competitors at a time, which is quite unique.
Awario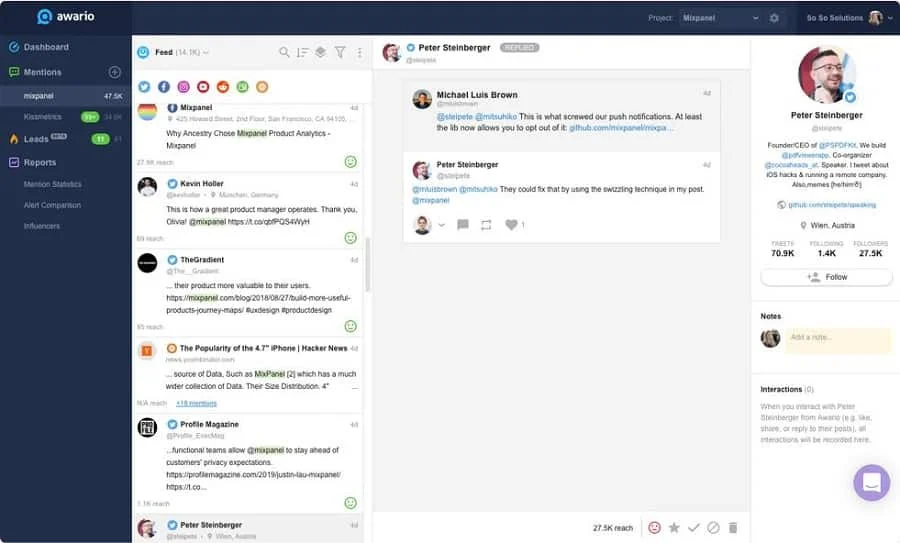 Along with tracking major social media platforms, Awario also connects with blogs, forums, and external websites using an API. This feature gives a full perspective on what users are sharing online. However, it can be a bit tricky to set up if you want to make it precise.