Today we are going to review 5 tips on how to run an Instagram page of your product or a company account.
1. Run a product blog or a company blog on behalf of a person
It can be a company's owner or an SMM-manager's, but in any case, it should be a person who knows the product inside out. That person should write with loving care – the audience will feel it 100%.
You can write about your product with loving care but on your behalf, and it will work way better than running a no-name blog or write some particular article.
2. Post useful content
What works great on product pages? Your useful content does.
Say, you sell healthy food delivery sets. What can you write about? You can write about how cool it is to eat healthily and be healthy. A part of those posts shouldn't refer to your product. But those will be the same content posts that used to be website articles like "5 ways of doing it", "10 methods to get something" and so forth.
It works very well if you promote a product blog.
3. Promotion through bloggers
You need 2 ways of promotion:
targeted advertising that redirects users to your page. And that page should have a link to your product order page;
advertising through bloggers. It means you will need to find a model when the advertisement covers its costs. If you try to develop a product or personal brand without advertising it will take you a long time.
When you buy an advert from bloggers, make sure that they are relevant for your topic to avoid sharp dissonance with what your audience expects from that blogger and your topic.
You will need to look through the ads that the blogger has made. If you order ads and spend money, make sure to look through the content of the blogger and find adverts. It is very important what ads the blogger makes.
Dresslily.com uses advertising by bloggers and gives discount promocodes.
4. Find an influencer
I visited a conference on online-marketing, traffic, and social networks in Barcelona, where this topic was discussed.
Find bloggers and suggest a partnership instead of traditional barter or reciprocal advertising.

Join our referral program to get 15% from ALL complete payments of your referrals in the first year and 10% after the first year.
It is a broad topic that many people underestimate.
It is worth approaching this when you already have a business model that sells. You understand that you have 100 redirections to the website, and out of this one hundred from 1 to 5 product items are sold.
The next step is to find a blogger. They might not be top or popular, but they might have a similar topic to your blog. Suggest commission on sales that you make together.
You can start easy:
add a link to the header of this blogger if you have just started working with him;
start posting Stories in a week;
then make a post and keep tracking the results and sales for one month;
It is often way more beneficial to work not for advertising, but sales. This way you may earn more. But you obviously should go this way only if you already have a tested model that sells, and you understand that your product is in demand.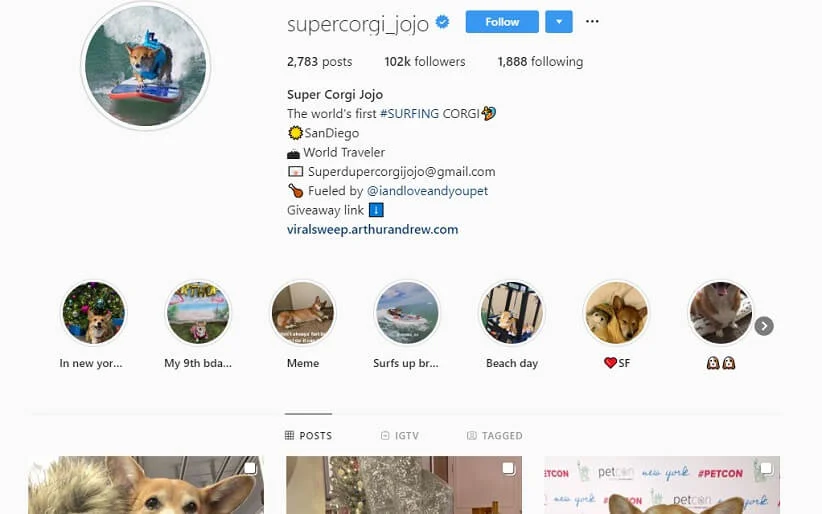 "I and love and you", a furry probiotics influence
5. Develop your brand
As cliché as it may sound, develop your brand. Develop your brand and draw the audience to this brand.
Why developing Instagram products or Instagram companies is of particular importance? In general, customers tend to be more loyal to people than to products.
It is important that people not only come and go but also become loyal to your brand. There should be a story behind the brand so that you have a customer base that wants to continue buying from you.
When you launch a new product or a new line of the same product, you won't have to spend money on advertising again. You may draw the same people whom you have already drawn to your product page on Instagram.