Instagram feed planners are vital for everyone working with multiple social networks and media or running two or more projects simultaneously. They facilitate regular posting and help analyze published content.
In this article, we will explore the functionality of modern scheduling apps that can become genuine marketing department 'SMM interns'.
SocialBee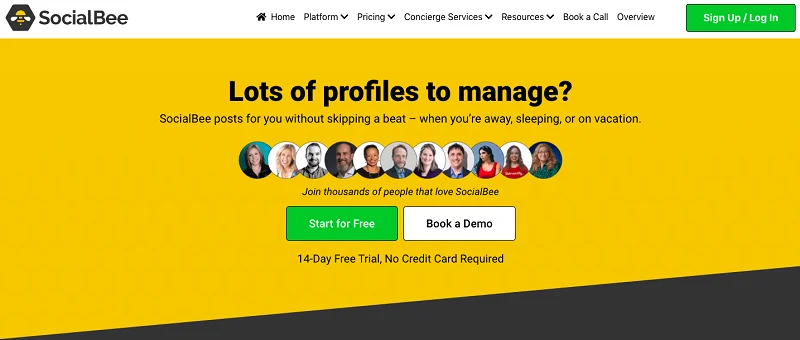 SocialBee helps you atomize the posting of visual and text content for Instagram, TikTok, YouTube, Twitter, Facebook, Pinterest, LinkedIn, and Google My Business. Posts may include images, videos, stories, and carousels. It depends on the specific network you post to.
Thanks to the intuitive interface, any team member can use the app without special technical skills. Besides, you can use the artificial intelligence feature and integration with Canva to create visuals in the application.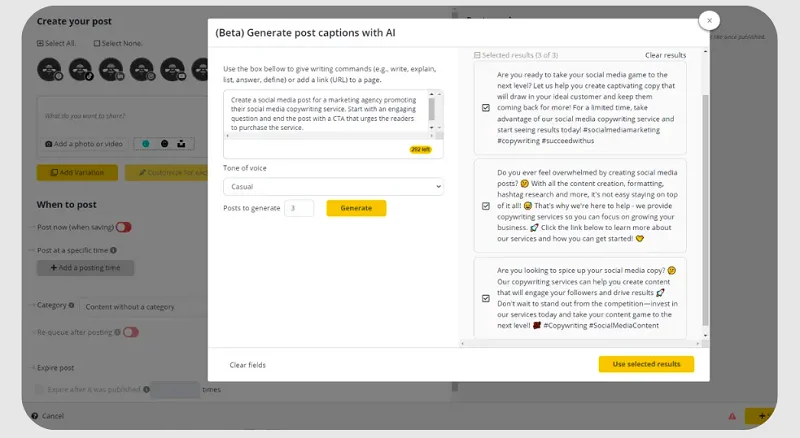 Advantages:
Automatic re-posting with a set time interval or on a specific date. It allows you to save the resources of the marketing department.
Dashboard of any social network to track comments and mentions. It allows you to communicate with customers swifter and turn them into loyal subscribers.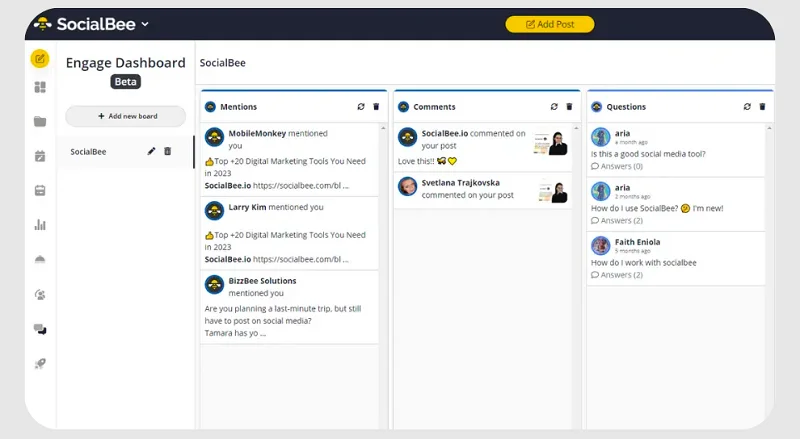 There is no difference in functionality between the tariffs. Both bloggers and brands can use all the tools to the full extent required for their specific tasks. The plans differ in the ability to connect 5+ profiles, select more scheduled posts, and so on.
Price:
SocialBee does not have a free version with limited functionality, but a 14-day trial period is available on all tariff plans. The price of the baseline tariff is $19 per month.
Onlypult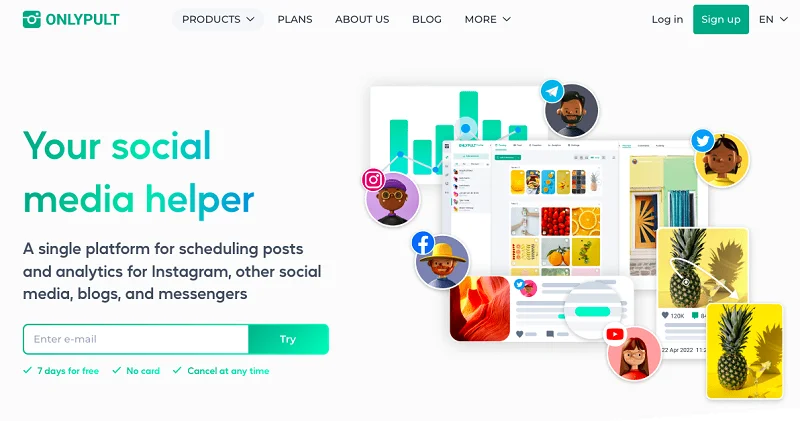 Onlypult is a social media assistant. It makes working on all media platforms convenient for bloggers and businesses. You control all your brand social media accounts by working with just one service.
One advantage of Onlypult is various post-view types: dashboard, calendar, feed, list, and tile. Each type of display has its editing advantages. For example, you can view the publication feed and adjust the visual component.
Advantages:
Convenient Planner interface. Last year, Instagram made the direct posting of carousels, stories, and reels via third-party services available for users. Add any content to Onlypult in just two clicks: select the desired format and fill in the form. Tag other accounts or add geotags.

Mini-landing Onlypult builder. It helps to build a page without a programmer. Micro-landing pages help bloggers and businesses test and analyze advertising campaign results faster.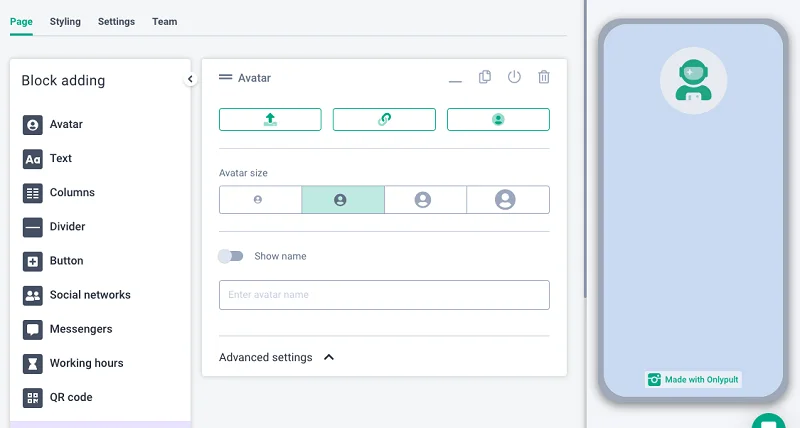 Detailed information on a specific post. There is a feature to set up a dashboard with information about the audience and other important parameters. For example, the content statistics section displays the most successful posts by the number of comments, video views, likes, and saves.
Price:
All Onlypult tariffs have a 7-day trial. The price of the baseline tariff is $25 per month.
Sendible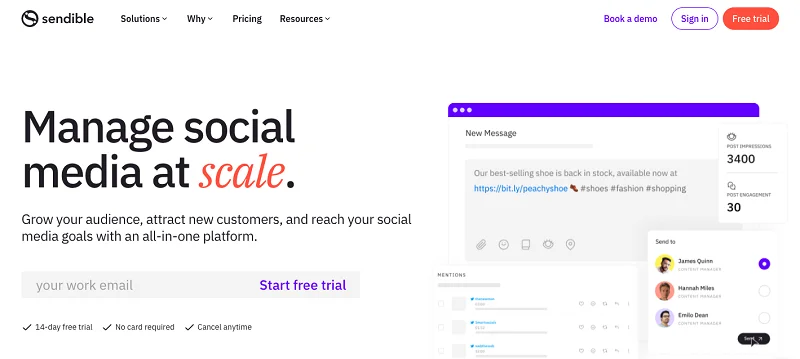 Sendible is a tool to manage client profiles more efficiently if you work with multiple brands and their accounts. It is the most convenient service to create and approve content published on social networks: your customer will see all the materials in one place.
The Sendible team spends much time on development: it runs a blog, makes a podcast, shares free guides, and updates its social media calendar.
Advantages:
Preview messages before publishing them. This helpful feature shows you text length limits, makes it easier to double-check hashtags, and checks images are displayed correctly.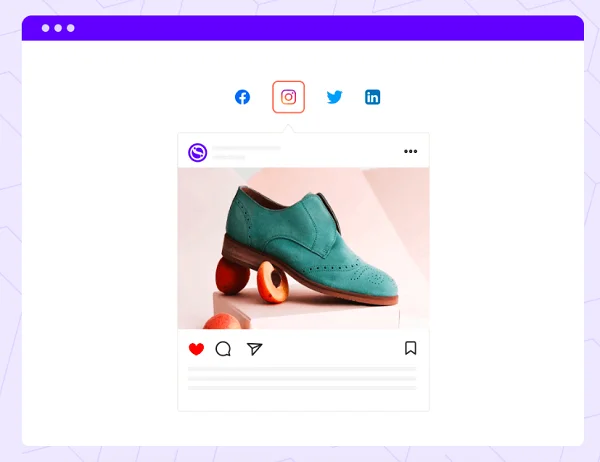 Sendible has integrations with various services. For example, Instagram users can create graphics with Canva and schedule posts without leaving the planner.
Priority Inbox for incoming messages. By configuring the Inbox folder, you can view all important messages and notifications and filter them for each company.
Price:
A 14-day trial period is available on all tariff plans (for freelancers, small agencies and brands, and medium and large businesses). The price of the baseline tariff is $29 per month. When paying for a year, you save 15%.
Later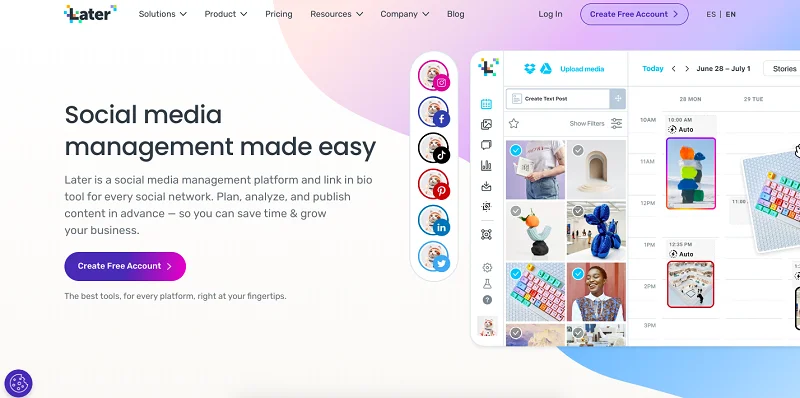 Later can post on Instagram, Twitter, TikTok, Facebook, LinkedIn, and Pinterest — the focus is on Instagram, though. The Later toolkit focuses mainly on the visual component.
You need an Instagram business profile account to enjoy Later features — this is a limitation of the Instagram API rules.
Advantages:
Linkin.bio — mini web page. A customer link on Instagram and TikTok profiles will help subscribers learn more about products and the brand. It is helpful for new users visiting the page for the first time.
Analysis of the best posting time. The Later functionality lets you find out which published post gets more traffic and the follower conversion on the page.
Caption Writer tool. The Captions generator reduces the time spent working on text content. You provide the post topic — write a hint — and click the Generate Captions button.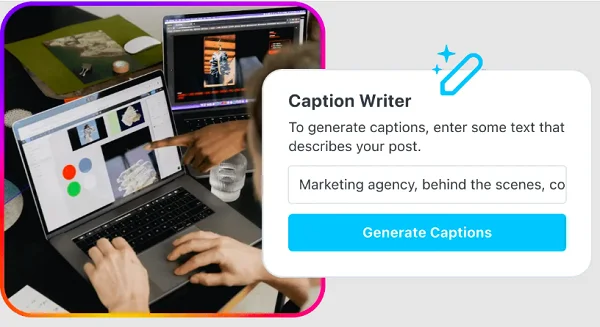 Price:
All tariffs have a 14-day trial period. The cost of the baseline tariff is $18 per month.
Buffer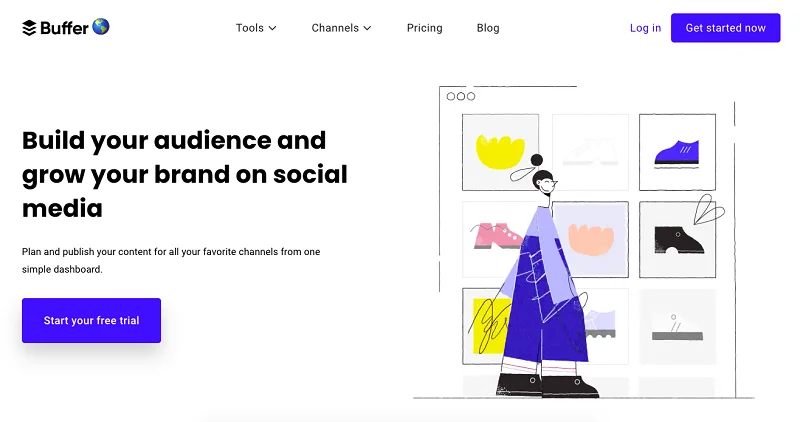 'We are a value-driven company that provides affordable, intuitive marketing tools for ambitious people and teams.' reads the slogan on the main page.
Buffer really makes publishing content extremely simple, thanks to the most diverse functionality in the tariff grid. And the minimum tariff is free.
Advantages:
Transparency and predictability. Buffer tells you when and what to publish to make your content stand out. It offers hashtags that will make you grow. It helps resize — for example, to adapt a LinkedIn message to the Twitter format.
Buffer AI Assistant. Do you want to take your posts to a new level? With the Buffer AI Assistant, you can generate ideas with a click, repurpose your existing content, rewrite the text in any style, and even translate your content.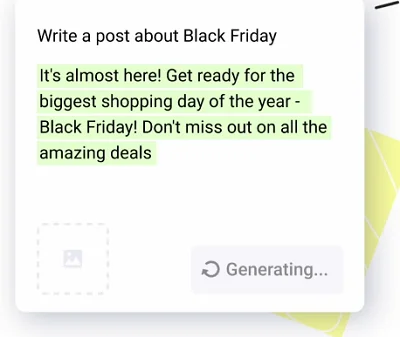 Publication planning. You can set a publication schedule for each account so as not to think about publication dates and times when creating posts. Buffer automatically moves new posts to the right place in the queue in the content plan.
Price:
The service has a 14-day trial period and a Free tariff plan for small accounts. The price of the baseline tariff is $6 per month per channel.
Meet Edgar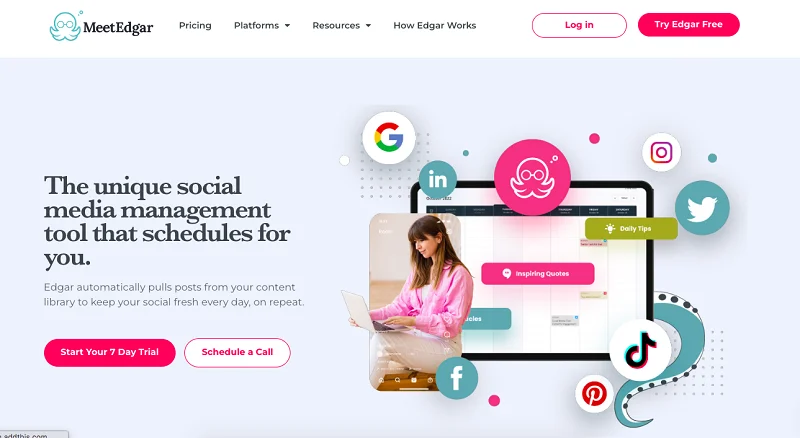 It is a social media management tool that helps run and develop a social media feed and analyze what resonates best with the audience.
With its help, you can also create a weekly recurring schedule for each account. Select the category of posts you want to share in a particular slot or make the posts to be selected randomly.
Advantages:
You can arrange posts in categories — to develop the best marketing content strategy. There are default categories: amend or adapt them according to the selected content plan.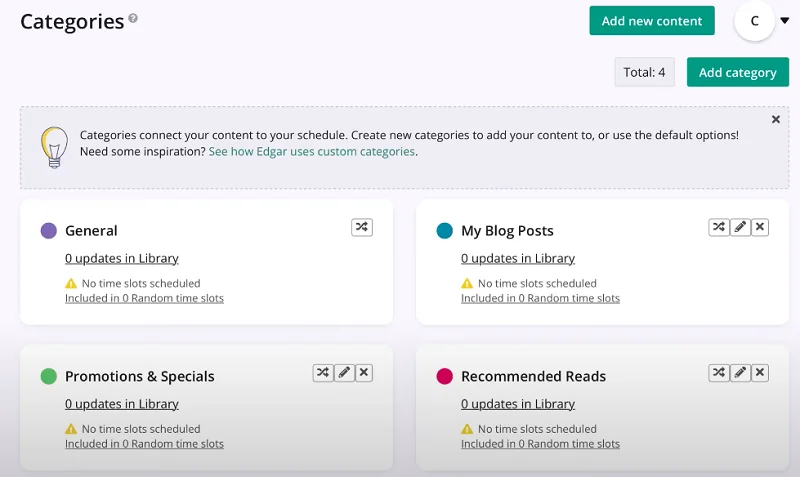 Import of external content. Edgar imports posts from any RSS feed-generating website or app automatically. It includes WordPress, YouTube, Medium, Vimeo, Pinterest, etc. For example, you can import a CSV table containing several posts.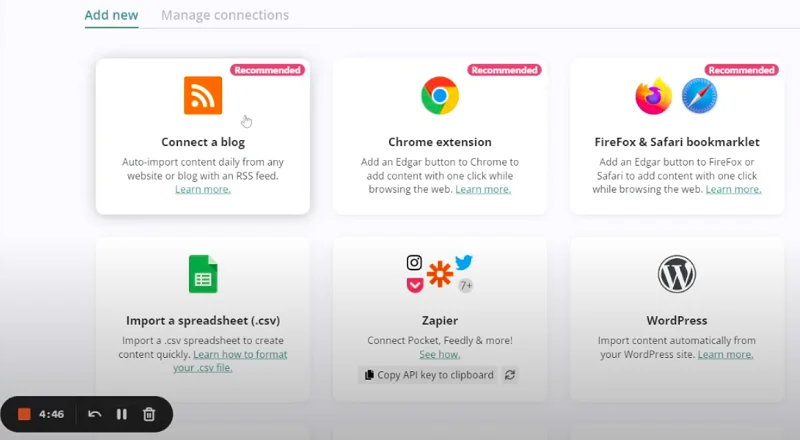 Content library. Every time Edgar runs out of content to publish, it can repurpose the old content — not to worry about staying without ideas.
Price:
There are two tariffs: one for those who start working on social networks ($29.99 per month) — and an extended one ($49.99 per month) — for entrepreneurs and small businesses. Meet Edgar also offers a 7-day trial.


* Деятельность организации запрещена в Российской Федерации