If you're someone who knows a thing or two about creating and posting content for social media, you know that rising above the noise can be challenging. In such a highly saturated market, you need to find a way to drive as much organic reach as possible.
We've already covered how to make your posts more visible in our guide Best Time to Post on Instagram. Now, we'll be talking about the best strategies for posting on Facebook – best times to post, run ads, go live, and a lot more.
Overall Best Time to Post on Facebook
At first glance, it seems that certain posts perform better by chance. However, many companies have studied Facebook timing trends, using the built-in analytics tool, as well as specialized services.
Many companies, especially online businesses, are getting into the global market, which means that your content will be reaching people in different time zones. Specialists in the field have noticed that there are patterns which describe user behaviors regardless of where they are based.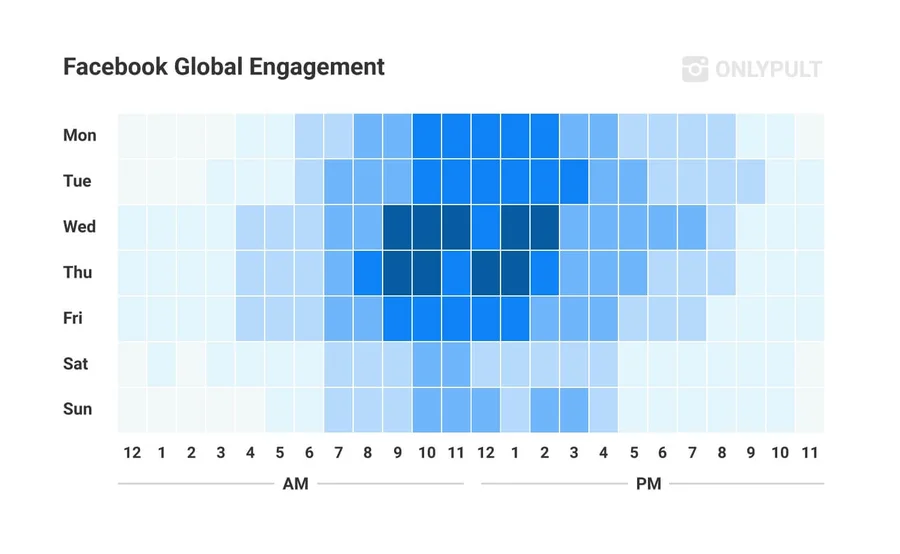 So, the general guidelines state that the biggest reach on Facebook occurs during the following periods:
Best times: 9-11 a.m. and 1-2 p.m.
Best day: Wednesday, Thursday
Worst day: Saturday, Sunday
Best Time to Post on Facebook by Days of the Week
There is a tough competition for businesses to get users' attention, especially considering that the Facebook algorithms favor posts from family and friends. That said, we can calculate peak times for user activity and increase the chances of your posts being noticed.
Naturally, people's activities vary throughout the week in every area. Some days people are more likely to browse their timelines, and then there are days when Facebook is the last thing on their mind. Here are the best times for posting for every day of the week.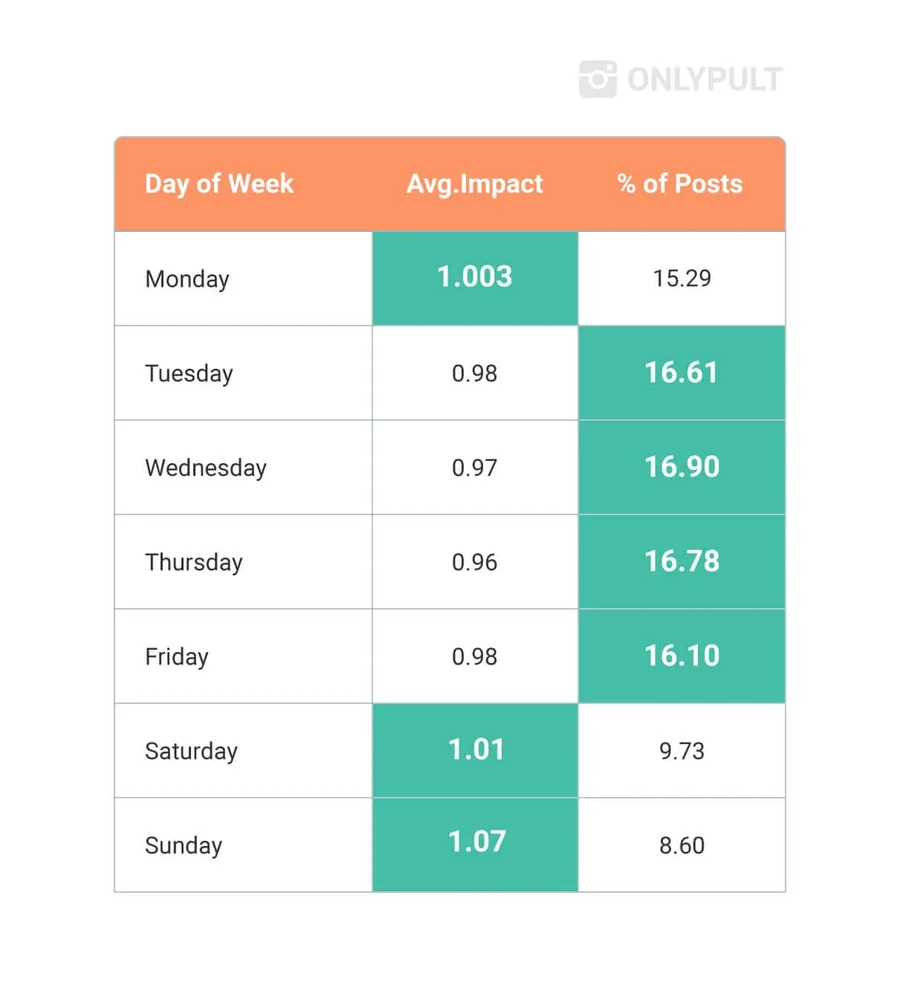 Best Time to Post on Facebook on Monday
It doesn't take people a lot of time to recover from the weekend, and they head to social media pretty much at the beginning of the work day.
There are more users between 10 a.m. and 2 p.m., so you can potentially drive more eyes to your post. The numbers drop significantly after 4 p.m.
Best Time to Post on Facebook on Tuesday
Tuesday isn't very different from Monday in terms of user engagement. Similarly, you should schedule your posts for the earlier part of the day, namely for 10 a.m.-3 p.m.
Best Time to Post on Facebook on Wednesday
Wednesdays are social media marketers' dream. Not only do you see more engagement earlier on (from 9 a.m.), but it also extends to evenings (up to 7 p.m.).
The best times to post are 12 p.m. and 3 p.m. These periods signify some of the busiest times the platform experiences in the course of the entire week. Between 9 a.m. and 2 p.m., there is consistently high activity.
Best Time to Post on Facebook on Thursday
Thursday is another day full of user activity. Your posts should perform really well if posted between 7-8 a.m. and 5 p.m. (although there are even greater peak times).
1 p.m. and 2 p.m. are the second-best times for Facebook activity throughout the week. Schedule your most valuable content for these periods.
Best Time to Post on Facebook on Friday
Friday displays vaguely the same pattern as Thursday, except there aren't such big spikes in activity during lunchtime. Between 9 a.m. and 1 a.m., the platform receives steady traffic so you can catch the last periods of high activity before the weekend comes around.
Best Time to Post on Facebook on Saturday
For better or worse, weekends aren't the most desirable times to post. Even if it seems that people are more likely to browse social media during their time off, statistics show that Saturday is associated with the least amount of Facebook activity.
If you still want to post on Saturdays, go for the slot between 10 a.m. and 11 a.m. for better results.
Best Time to Post on Facebook on Sunday
Sundays are slightly busier than Saturday but not to an extreme degree. User activity goes up at 11 a.m.-12 p.m. and 2 p.m.-3 p.m., so you should receive at least some traffic. Otherwise, postpone your posting until Monday.
Best Time to Post on Facebook by Industry
As much as it would make everything easier for marketers, there is no universal time to post on Facebook. Every industry has its own unique audience that behaves according to slightly different patterns.
So, in addition to knowing general posting times for days of the week, consider what industry your business fits in. Obviously, we won't be able to cover every single one. We've compiled data for the biggest ones and provided our recommendations for Facebook timing based on several major industries.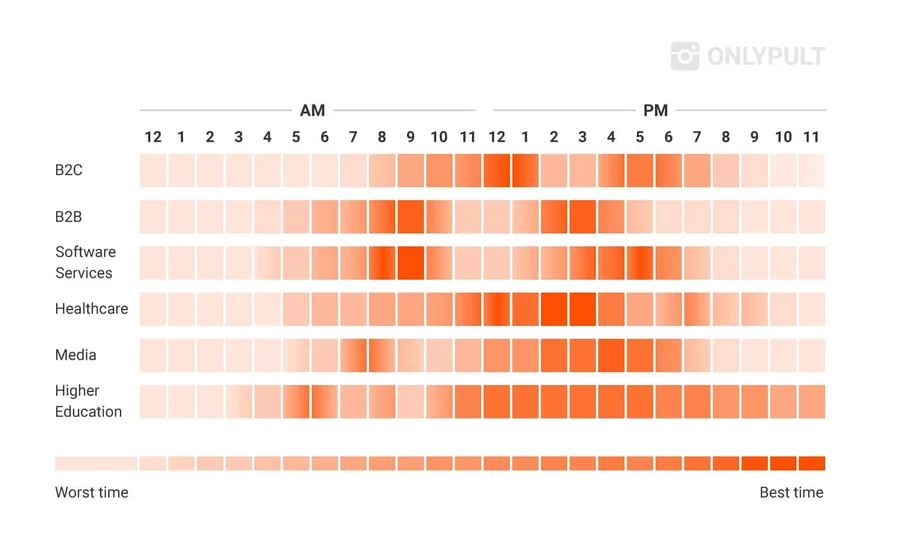 Best Times to Post on Facebook for Consumer Goods
Online consumer goods companies are known to perform well during weekdays, especially on Wednesdays to Fridays. Similar to other platforms, people scroll through the Facebook feed when they have breaks in their day. However, there are several other peak times that retail companies should take advantage of.
Consumer goods are a broad term, so you will highly benefit from looking at your specific niche. People's buying behaviors vary depending on the type of product they are offered. For simplicity reasons, we can still pinpoint certain patterns.
Best Times: 9 a.m. to 10 a.m., 12 p.m.-1 pm, 4 p.m. to 5 p.m.
Best Day: Wednesday, Thursday, Friday
Worst Day: Sunday
Best Times to Post on Facebook for Media
Media companies can aim their content at people that are looking for something to do before work, on their lunch break, commuting, or when they are relaxing after work. Morning and lunchtime hours are particularly beneficial for news. Overall, the engagement is high during the entire week, but Wednesday to Friday are the most active.
Even though weekends are still one of the worst periods to post, media businesses perform significantly better than other industries. It's not surprising that people tend to appreciate media posts during the weekend, in comparison to financial or healthcare advice.
Best Times: 7 a.m., 11 a.m., 6 p.m.
Best Day: Wednesday, Friday
Worst Day: Sunday
Best Times to Post on Facebook for Education
People are more responsive to the idea of advancing their education or making a career switch in the early afternoon and around midday. There is consistent activity Monday to Friday, but, unsurprisingly, Wednesday should be given the highest priority from social media marketers.
One of the unique features of the educational sector of business is that there is an interesting window at 5 p.m. on Saturday. During this time, there are as many users as there are on weekdays in the early afternoon. This fact is something that you don't come across in any other industry.
Best Times: 8 a.m., 12 p.m., 3 p.m.
Best Day: Wednesday, Saturday
Worst Day: Sunday
Best Times to Post on Facebook for Non-Profits
Facebook heavily encourages activity from non-profit organizations – there are donating buttons, pledge match donations, fundraising tools, etc. If you want to maximize these benefits, set your timing for mornings, especially on Wednesdays and Fridays.
Overall, there is steady engagement throughout the earlier part of the day (up to 3 p.m.) in the middle of the week (Wednesdays through Fridays). If you're sharing multiple posts a week, dedicate some of them for these periods.
Best Times: 8-9 a.m.
Best Day: Wednesday, Friday
Worst Day: Sunday
Best Times to Post on Facebook for Tech
Tech companies don't experience drastic differences compared to general sentiment on the platform. Just as in many other industries, Wednesdays are the most welcoming days in terms of likes, comments, shares, etc.
The best time to post is around noon. Bear in mind that a lot of activity also means that it will be a competitive space, so make sure the content is genuinely good.
Best Times: 9 a.m. to 1 p.m.
Best Day: Wednesday
Worst Day: Sunday
Best Times to Post on Facebook for Healthcare
Healthcare businesses seem to do best in early to mid-morning. This occurrence makes sense because if a person has a health problem, they will want to sort it out first thing in the morning. Before they have the time to look for entertainment, they will be looking for healthcare solutions.
Healthcare practices have some of the most reliable engagement activities – from Monday to Friday. But specialists still notice peak hours at certain days of the week.
Best Times: 6 a.m.-7 a.m., 9 a.m., 11 a.m.-12 p.m.
Best Day: Wednesday, Friday
Worst Day: Saturday, Sunday
Best Times to Post on Facebook for Finance
The financial segment is not the most active user base on Facebook. However, there are still some surges in user activity. Generally, early afternoon posts (between 9 a.m. and 12 p.m.) receive better engagement.
If you're posting content on topics like social security, taxes in retirement, rolling over vs. cashing out your 401k, or something like that, it will be better received during working hours. The reason is that people are less inclined to think about serious issues before or after work.
Best Times: 12 p.m.
Best Day: Wednesday
Worst Day: Saturday, Sunday
Best Times to Post on Facebook for Recreation
We apply the term "recreation" for businesses like travel agencies, amusement parks, golf courses, gaming, fishing, etc. Naturally, people are browsing recreational activities when they're not occupied by work. But they don't do it before or after work – instead, they go on Facebook when they're eating their lunch.
When the weekend rolls around, people have already made their choices for recreation, and they're not likely to go on social media at this time.
Best Times: 11 a.m., 1 p.m., 2 p.m.
Best Day: Tuesday, Wednesday, Thursday
Worst Day: Sunday
Best Time to Go Live on Facebook
If you have to go live during work hours, arrange them during lunch timeslots – between 1 p.m. and 3 p.m. This is when people are more likely to tune in for longer content. Otherwise, you can aim for 6 p.m.-9 p.m. on weekdays when people are winding down after work.
Although big industry events happen rarely, you can still get a lot of traction by broadcasting live events and make it almost a news segment like in the example below: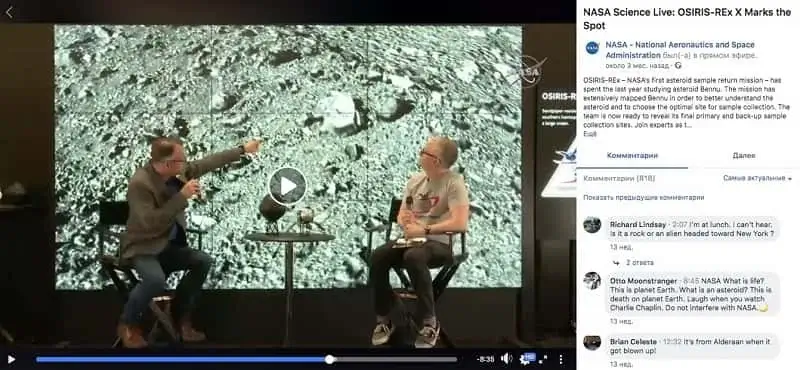 Best Time to Run Ads on Facebook
There is a fundamental difference between figuring out the best time to post for organic traffic and running a paid advertisement. There is no value in pinpointing the exact times if you're not taking into account your particular audience and their social media activity.
Look at your statistics and see:
When do you get the most sales?
What are your email signup benchmarks, and when do you generate them the most?
Which time zones does your most active audience live in?
Use these periods as a baseline for your ad sets:
Monday and Tuesday at 9 a.m.-12 p.m.
Wednesday and Thursday at 12 p.m.-3 p.m.
Friday and Saturday at 3 p.m.-6 p.m.
Sunday at 6 p.m.-9 p.m.
Best Time to Change Your Facebook Profile Picture
Changes to your profile photo appear in the News Feed, so you want to have as many users on the platform as possible when you do it. As we've said, there are significantly more active users during weekdays. In terms of specific timing, aim for the middle of the working day – between 10 a.m. to 2 p.m.
Make sure not to change your profile picture, too frequently, as users will soon get tired of it and stop liking and commenting.
How to Schedule Facebook Posts with Onlypult Planner
The Onlypult Planner tool allows you to draft, curate, and share your Facebook posts exactly when you need to. Now, your media plan can be created months ahead, based on your individual statistics and general patterns we described above.
Here are simple steps to schedule Facebook content with Onlypult:
Go to your dashboard and add your Facebook Business account.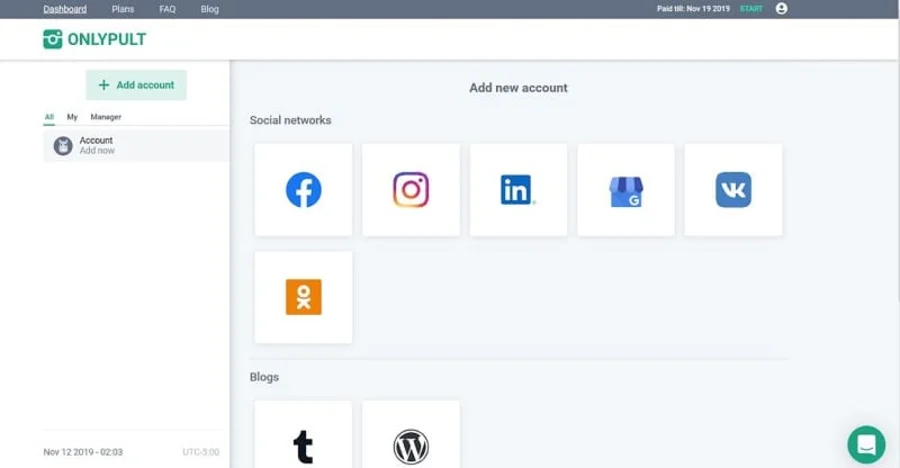 Click Posting and create your post with the description, hashtags, location, and everything else you need.
Select Planner at the bottom bar to see available time slots and choose the time and day when you need this content posted.
Click Schedule, and you will be directed to all of your planned posts.
You can shuffle them around if that will create a better, more cohesive layout, change posting times, etc.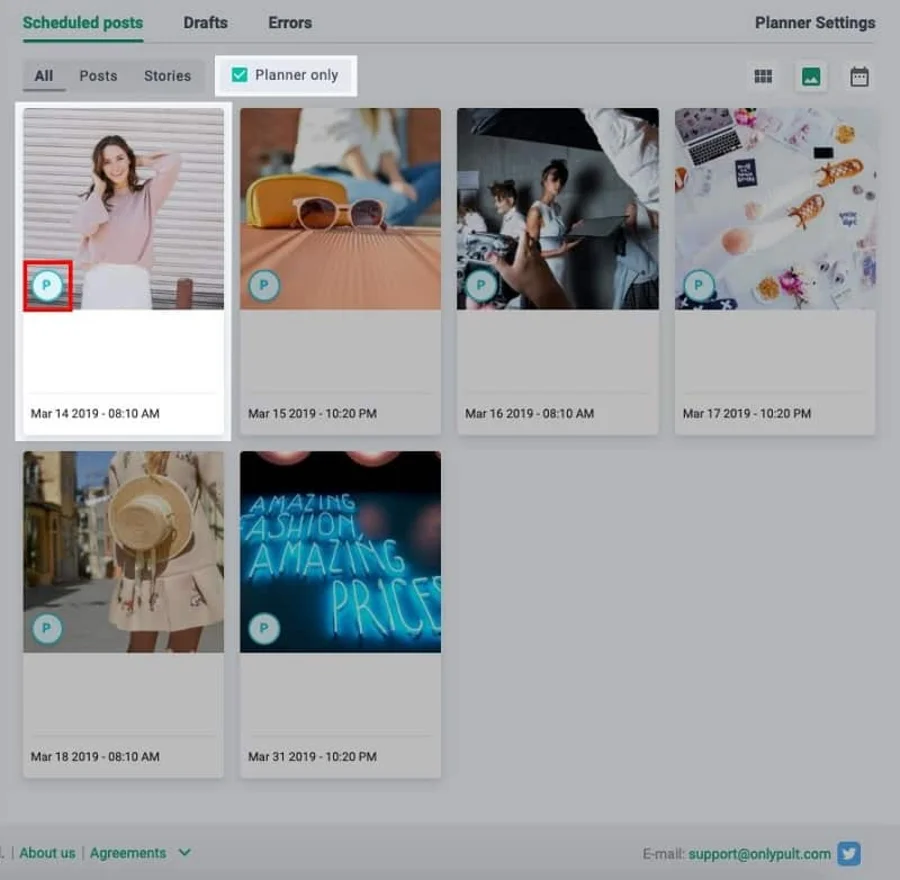 If you want to edit your post, click a corresponding icon, and change the details in the description or even change the photo/video/link attached to the post.
The post is successfully scheduled!