Have you analyzed your competitors properly? Are you sure that you outperform them in all respects? Insufficient attention to competing brands does not allow your product to develop and does not let you rationally adjust the promotion strategy. Besides, it can lead to your brand being damaged if a more active rival appears in the market.
In this article, we'll show you how to keep your competitors in the spotlight and stay ahead in your industry.
What is Competitive Analysis
Competitive analysis is the study of open and closed sources of a competitor's product, corporate structure, the marketing strategies, tactics, and tools used. The analysis is not just data collection, but the ability to process it and apply it to benefit your product.
An initial analysis is carried out before starting a marketing campaign. If such an analysis has not been conducted, you can do it at any time. Ignoring competitors is worse for a business than a sudden change in certain aspects of a promotion strategy.
Competitor analysis objectives
The main goal is to obtain information about the competitor's activities on the market. The information should be sufficient to understand brand capabilities, strengths and weaknesses, planned and implemented campaigns. Studying the competitors' promotion will allow you to include more profitable tools into your strategy and exclude those that do not work.
Competitor analysis benefits
Carefully processing the collected data will allow you to transform the opponent's weaknesses into your strengths. For example, it might be useful for a pizza delivery service to find out which areas of the city are not covered by competing companies. This way, these areas can be included in the delivery area. Next, a separate advertising campaign can be launched for the residents of "forgotten" areas, resulting in a sales increase. This would not have been possible without competitive analysis.
How to conduct competitor analysis
Working with competitors contains several basic points, with specific adjustments that should be considered depending on the industry:
Choice of competitors. This includes direct competitors selling a similar product, as well as indirect competitors operating in a similar niche and covering the needs of your target audience. For pizza delivery, other pizza services are their direct competitors. Indirectly, ready-made food deliveries, grocery deliveries, and shops should be taken into account. Besides, a cafe near the house can be a competitor too, if deliveries are too expensive or too long for the clients. The more competitors you can identify, the better the analysis will be.
Analysis of different business aspects. It is convenient to start by analyzing social media networks. In this case, the standard KPIs used to analyze your SMM will help: social media activity, reaction to certain categories. The quantity and quality of reviews from competitors and independent sources are important.
Researching the results, looking for insights, making adjustments to your strategy.
It is important to understand that the brand's activities on social media are assessed separately from website activities and offline promotion. For each industry, one of the areas will be leading, and the rest, if any, developing.
How to choose competitors
The competing business must:
Meet the same need from a potential buyer. For pizza, direct competitors will cover the need for rapid delivery and taste. Indirect ones – to satisfy one's hunger while providing a proper level of comfort;
Aim at the same target audience. If you position your pizza as youth food and your rival as gourmet food for clients aged 50, you are not direct competitors.
You can add metrics such as the same type of cuisine, price range, and any other factors that bring your business closer to your competitors.
How to select competitors:
Enter regular queries used by potential clients into Google search. For example, "pizza delivery", "buy pizza", and so on. The more options, the more competitors you can identify. It is easier to weed out than to constantly miss something important.
Ask your employees. The call center communicates with consumers who have probably mentioned some competing companies. It's great if managers write down the reasons for refusing your company's services.
Target audience polls. Conduct them on social media, when ordering, in case of refusal.
Search queries like "the best pizzerias in the USA", "TOP-5 restaurants with delivery", and so on.
Websites like Serpstat, Yandex.Wordstat shows the most frequent user requests for certain keywords. It will allow you to make the website/social media account suitable for SERPs and find your competitors.
Reviewing an impressive list of competitors, we recommend creating the so-called TOP-10, TOP-5. Choose the strongest companies and don't spend money and time on insignificant ones.
The resulting competitors need to be analyzed at the soonest.
Porter Method
This is an in-depth method requiring certain efforts. Each opponent is analyzed separately. We recommend conducting such an analysis every 3 years, with annual adjustments. It should be carried out in 5 stages:
SWOT competitor analysis (a method of strategic analysis in the following categories: Strengths, Weaknesses, Opportunities, Threats);
Future goals of your opponents (their intentions and motivation);
Promotion strategy, including the search for alternative promotion options;
Promotion plans of the rivals: "By 2022 we are planning to …";
A realistic forecast of the company's actions for the nearest future (up to 5 years).
This analysis allows you to understand your competitors, see their goals and capabilities. Professional analysts and field specialists working directly for a competitor may need to be involved.
Industry-specific analysis
It is useful to do it once a year. The following questions should be answered:
Where is the industry heading?
What may the current competitors' strategies lead to?
Who are our competitors (direct, indirect, replacement competitors)?
What are the target audience segments? How are our segments different from theirs?
What are the similarities and differences between the main competing products?
What is the difference in pricing?
What is the difference in distribution?
Are the overall customer experience of brands different? Who is trusted more, why?
Are the promotion methods the same, why do they differ?
What are the competitive advantages of our product? Their product?
Other required comparison categories;
SWOT analysis.
It is useful to analyze your company using this method as well as to conduct a competitive analysis related to your rivals. Getting answers to such questions may be inconvenient, but it will help to assess the brand positioning in the market and adjust the development strategy.
Social Media Competition Analysis
Social networks are an active promotion channel, where you can best analyze the opinion of the target audience about the product. Moreover, some companies and entrepreneurs do not create their websites but focus only on social media activities.
Let's talk about the specifics of competitor analysis on Facebook, Instagram, and Twitter.
Facebook Competitor Analysis
We evaluate the content, promotion, and client communication.
Content:
Which headings and topics are used;
Publications frequency;
The way followers are addressed: respectfully or casually;
The general style of communication with followers: respectful, cocky, familiar, flirting, etc. ;
Image analysis of photographs: style, strategy, quality;
How often the contests are held and posts requiring user activity are published.
Promotion strategy and channels:
Targeted advertising is planned based on certain user profiles (geographical location, consumer behavior, having children and animals;
Crops, publications in groups attracting the target audience of the brand;
Advertising from bloggers whose audience is also the target audience of the brand;
Other promotion methods, for example, using email newsletters or bots.
How does the client feel? Pretend to be a client and find out:
Does the administration respond to private messages?
Are there responses to comments?
How polite is the communication is?
Is it easy to make a purchase?
Is it easy to customize the product (for example, remove or add ingredients when ordering a pizza)?
How are payments and deliveries carried out?
How does the cancellation policy work?
You can view all launched targeted ads without using additional tools on any Facebook business page. In the main section, find the "Transparency" window and click on the "See more" button.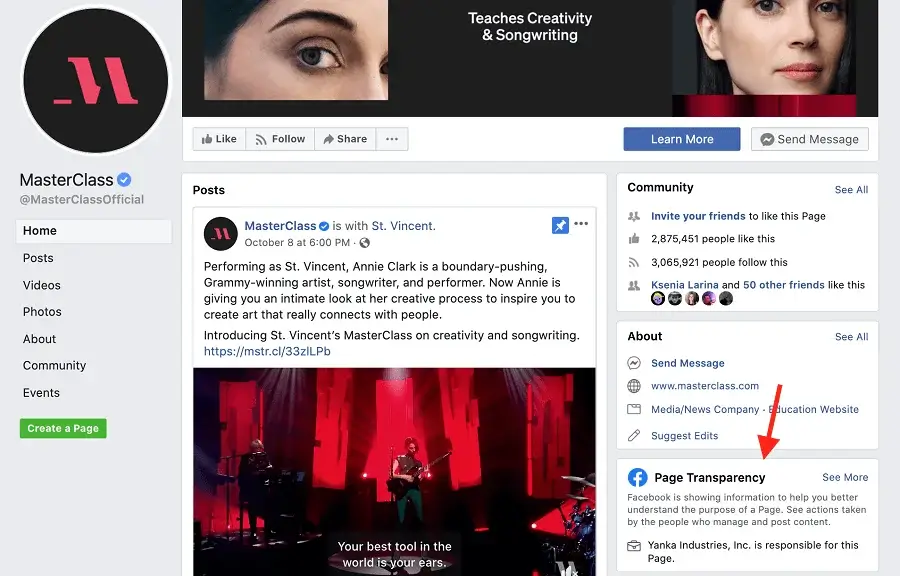 Next, go to the advertising section.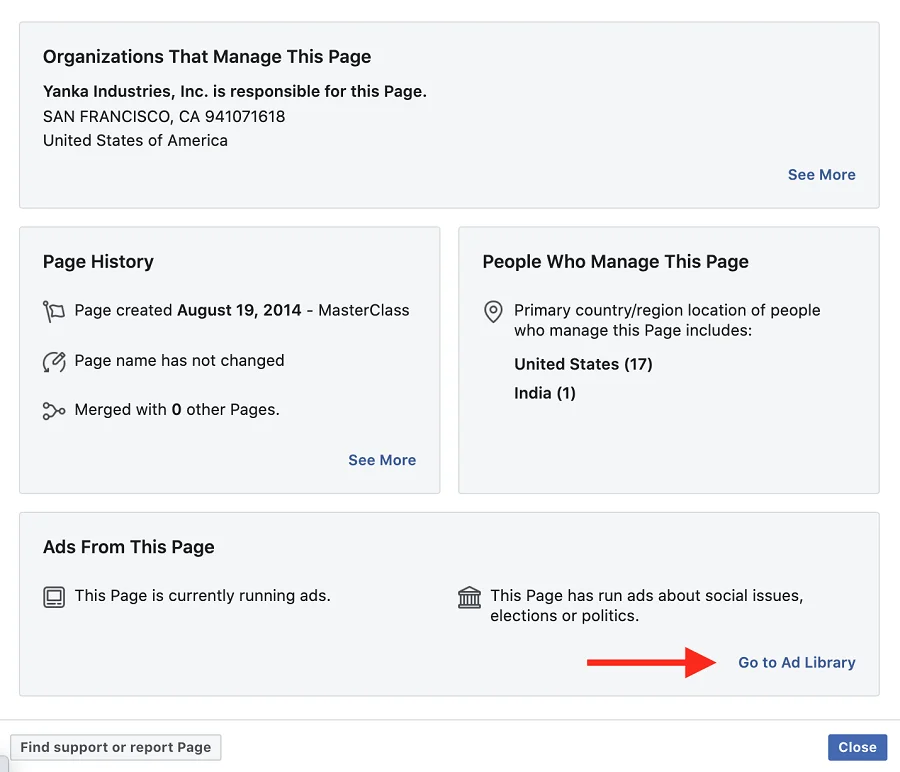 You will see all the active advertisements. They are filtered by geolocation, platform, and time of the last show.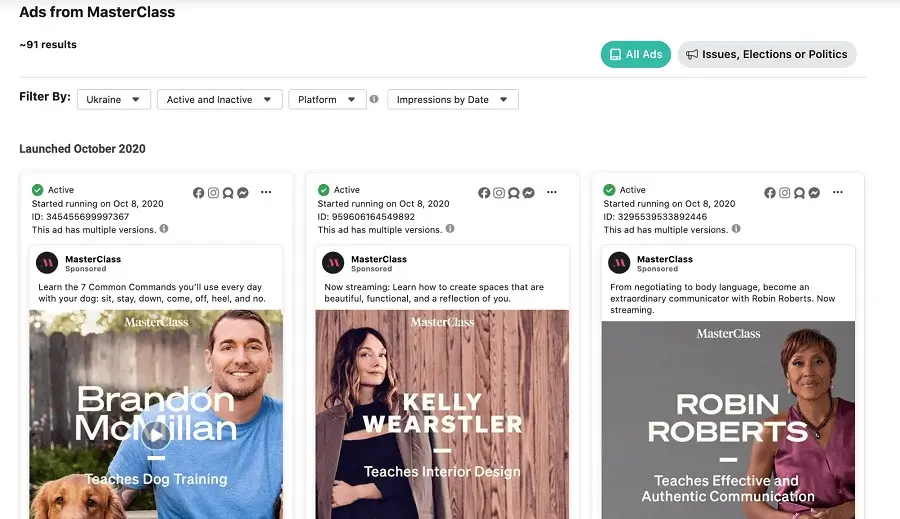 Another way would be to catch the targeted ads in your feed. When you see an ad, select the "Why am I seeing this ad?" option.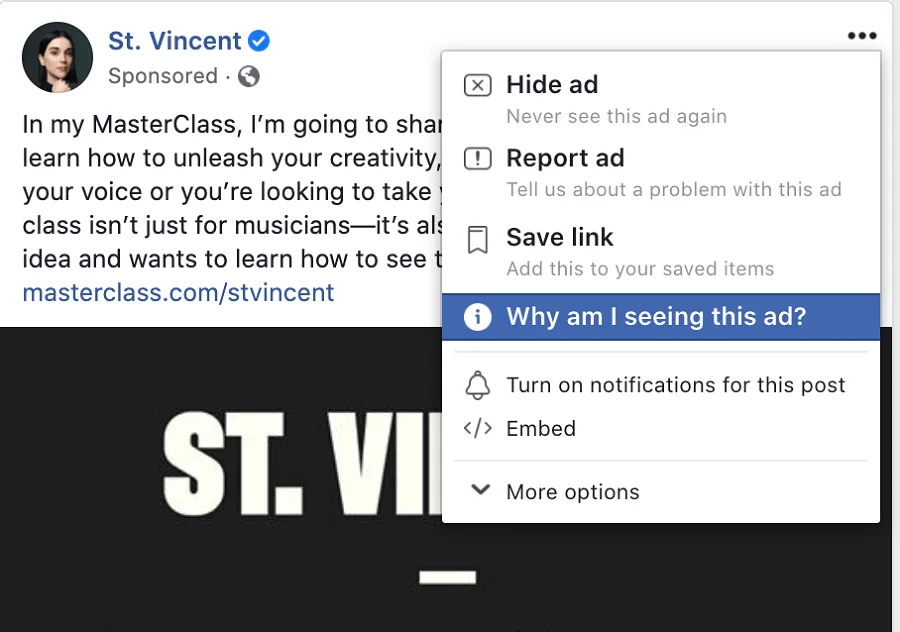 This is how you can see almost all the settings for this ad.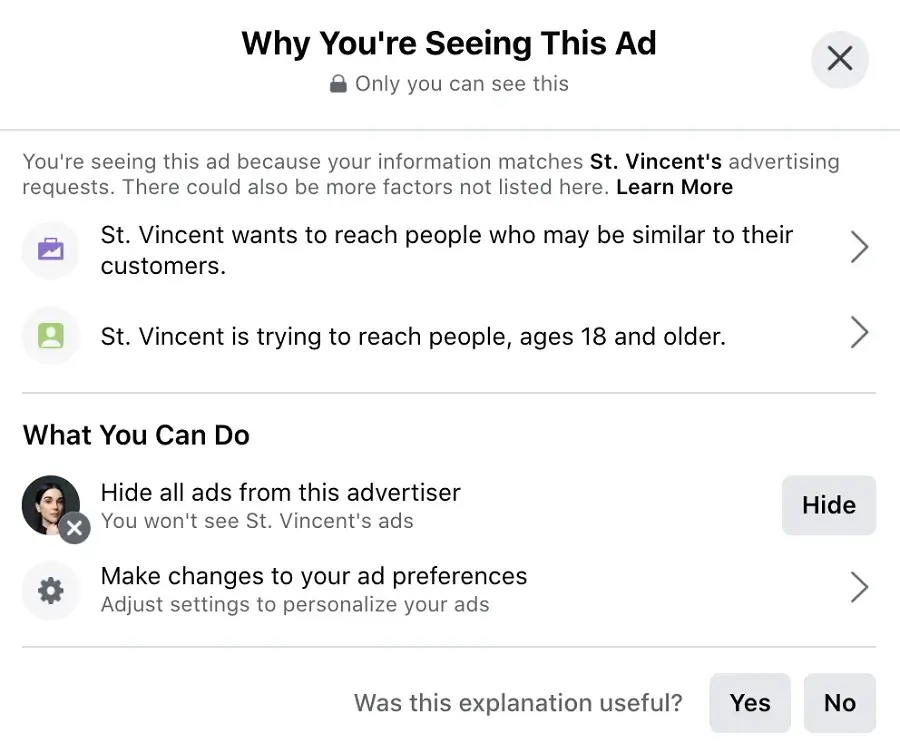 For advertising to appear in your feed, you need to get into the target audience for this advertisement. You may need to join a competitor's group and be active there.
Both methods are free and straightforward but involve manual monitoring of each ad group at every required moment.
Instagram Competitor Analysis
Instagram and Facebook are owned by the same company, meaning that many tools are the same.
Content:
Pay special attention to the choice and design of the posts in the feed and the overall page style;
Headings, topics of the posts;
Publication frequency;
Text style and appeal to the readers;
Conducting contests and posts for activity.
Advertising:
Interaction with followers, customers, and random page guests:
Replies to comments;
Direct replies;
Purchasing process;
Payment and delivery process;
Purchase cancellation procedures.
Instagram ads can be viewed via a Facebook business page. In the Instagram app, you can see active ads for business accounts. To do this, you need to click on the three points in the menu and select "Active ads". If there is no such button, either the account is personal, or it does not advertise anything now.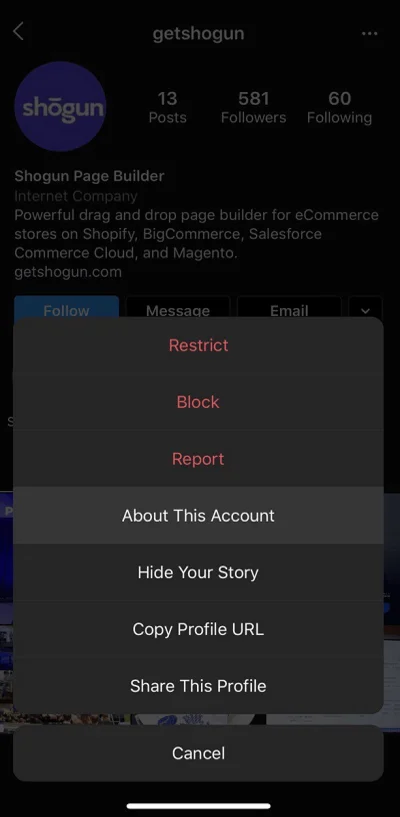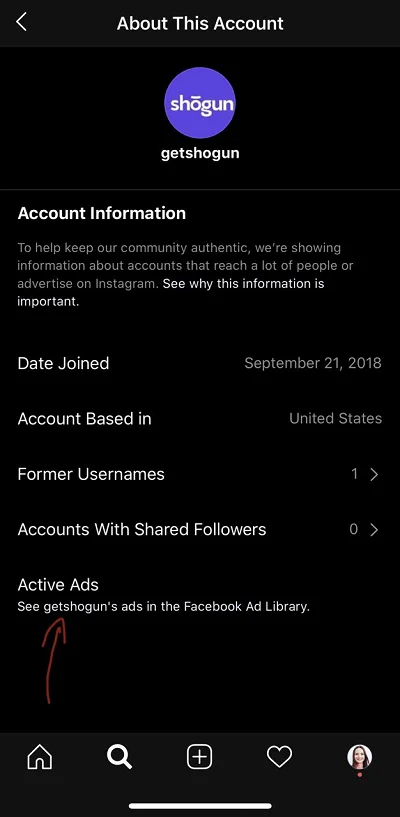 The information here does not include advertising in the Stories format. You can watch ads in Stories on Facebook, but it does not allow you to sort them out.
Twitter Competitor Analysis
Twitter does not provide any original descriptive statistics. To study the activity on this platform, you need to use third-party services.
TweetStats provides the statistics on tweets: how often the posting is carried out, to whom the account most often responds, what interface is used for posting, and who reposts most often.
Popsters will show the total number of tweets, the number of non-unique impressions, mentions, and demographic indicators of your audience. Besides, the service tracks the most trending events.
Competitor Analysis Tools
The manual analysis takes too long and can give false, inaccurate results. It is much more convenient to use the services designed specifically for analytics. Saving time is also important when working with multiple accounts.
A couple of services for analyzing site traffic and checking website efficiency are mentioned below:
SEO services: analyzing SEO strategies of websites and social media accounts
Content of all types and content customization:
In addition to those already mentioned above, here are some more services:
These are the main services for analyzing competitors online. Of course, many others may suit your specific needs. Each service provides an opportunity to test the functions on a trial basis before purchasing.