There are 4 questions on QUIZ now
April 24, 2019
Instagram added the test sticker to Stories. The sticker allows creating tests of 4 questions, not just 2 as before.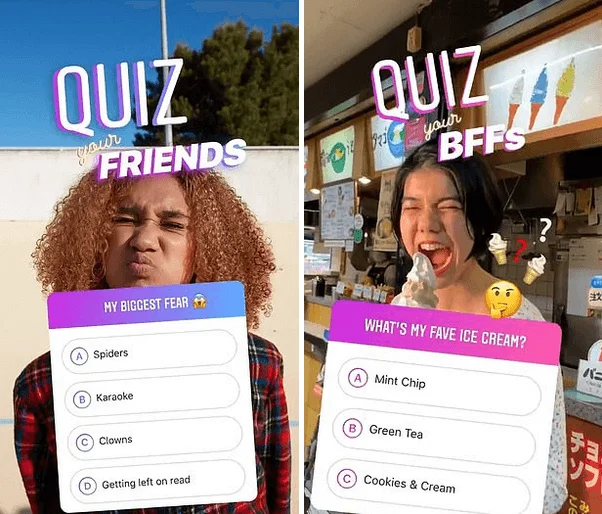 The Instagram team thinks that such changes will help understand many users your friends know. You can find the new feature in the sticker section: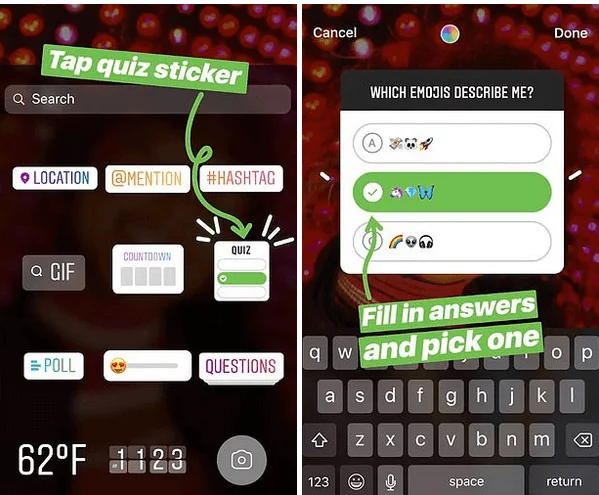 Responders will be able to share their surveys on stories. There is also a possibility to get the statistics of replies and the list of those who viewed the story.
Source: https://www.dailymail.co.uk/sciencetech/article-6952437/Instagram-adds-new-quiz-sticker-Stories-lets-users-poll-friends.html
F8
April 30, 2019
On April 30 the developer F8 conference of Facebook started. The main topics are the changes in the Facebook product "family", VR, artificial intelligence and chatbots.

By the way, we have already written about the results of the conference in detail here: https://onlypult.com/en/blog/facebook-f8-a-short-summary-for-those-who-have-missed-it
Facebook has decided to "play with" colors
May 1, 2019
The new interfaces of the desktop version and mobile app were presented at the F8 conference. They promised to create a dark theme for the website (a useful feature for those who is online late at night — it will not ruin someone else's sleep). They even announced that the new website version would be intuitive, and to this end, the main focus will be moved from the news feed to Stories.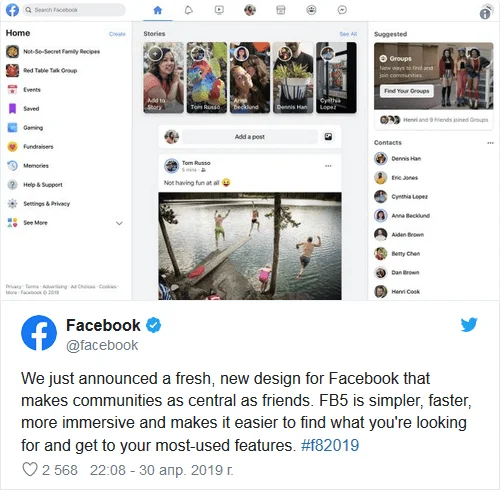 Besides, the correlation between Facebook colors will also change. There will be less blue that we are all used to, it will give way to white.
Firstly the updates will be available only for iOS and Android apps, then they will be also available for the web version.
In the Watch section of the mobile version, the dark theme was also announced for the Watch section of the mobile version. The reasons seem to be the same — users are online before going to bed very often.
Direct purchases on Instagram via purchase tags
May 6, 2019
Instagram will give an opportunity to only to tag goods on posts, but also redirect the user to the Instagram page where the goods are sold without leaving the app.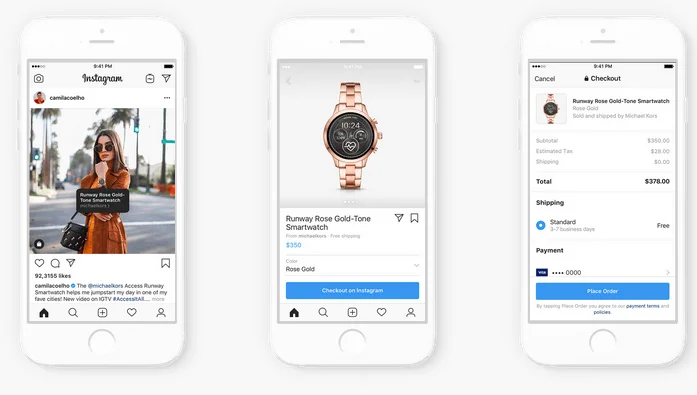 )
The new feature will let reduce steps from the presentation to the purchase. To enable the feature, the user needs to:
1. Apply for it here: https://www.facebook.com/business/instagram/shopping/checkout-interest-form
2. Join the Checkout Instagram (new shopping feature)

Since May 6 the feature will be available for testing for a small group of business accounts. Also will Instagram the statistics tools for tag efficiency monitoring.
Source: https://business.instagram.com/blog/shop-looks-from-creators
ThruPlay is now used by default
May 6, 2019
The Facebook ThruPlay is now used by default for advertising billing and optimization.
ThruPlay is a technology which allows advertisers to optimize and pay only for advertising videos which are not less than 15 seconds.
Since July 31 all advertising campaigns configured according to the previous parameters will be suspended.
Source: https://marketingland.com/facebook-makes-thruplay-default-for-video-campaigns-begins-phasing-out-10-second-view-optimization-260351
Facebook used people instead of AI
May 7, 2019
Within a year 260 Facebook employees studied all content published by users since 2014. For a thorough analysis not only public but also private posts were used. Users could not hide their posts from the company. Facebook explained that the research was aimed at helping reveal trends and use them for developing new functionality.
Source: https://www.reuters.com/article/us-facebook-ai-focus/facebook-labels-posts-by-hand-posing-privacy-questions-idUSKCN1SC01T
Facebook will be sharing their video advertising income with users
May 7, 2019
The Wall Street Journal refers to their sources that Facebook has decided to reward users for viewing video advertising refers. Supposedly, payments will be made in the own cryptocurrency of the social network.
As it is rumored, Facebook has been developing the project of introducing the Project Libra cryptocurrency about a year already . Курс будет привязан к курсу обычной валюты. Представители соцсети, отвечающие за блокчейн-направление, отказались комментировать информацию WSJ.
Source: https://www.wsj.com/articles/facebook-building-cryptocurrency-based-payments-system-11556837547
Facebook has renewed the video ranking algorithm
May 7, 2019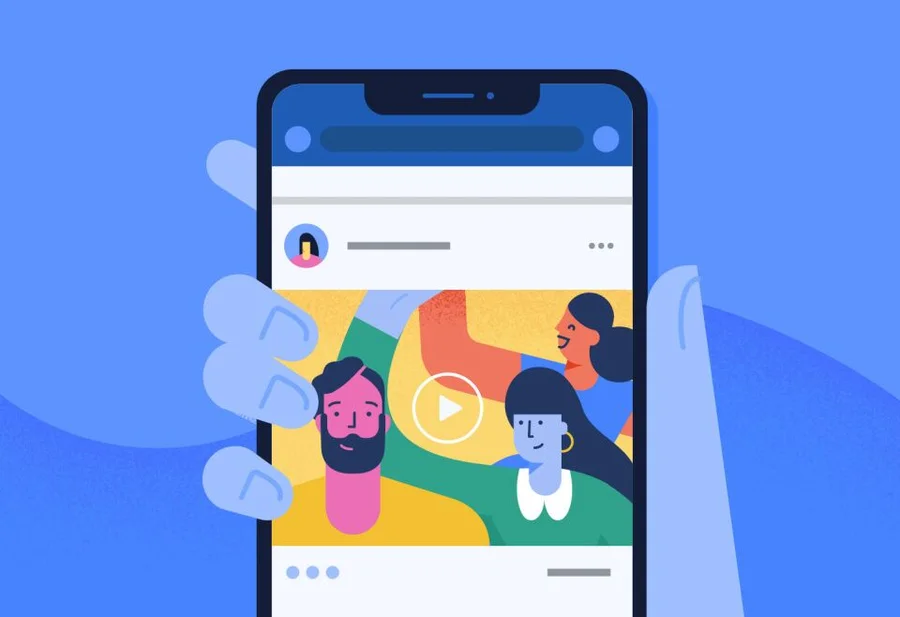 According to 3 aspects:
Loyalty and intentions. At the top of the feed, there are videos viewed by the users for several times.
Video length and view duration. Facebook will start preferring videos that are more than 3 minutes.
Originality. The social network will strengthen measures on struggling against the stolen content. The struggle for unique content is going on.
Source: https://newsroom.fb.com/news/2019/05/updates-to-video-ranking/
Fact-checking from Instagram
8 мая 2019 года
Instagram has started testing the fact-checking feature. Shady posts which did not pass the test will be available only for direct followers and will not be shown in the Recommended section and hashtag search results.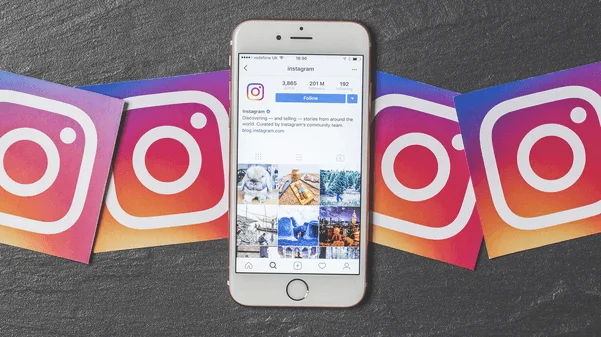 The test will be carried out by Factcheck.org and Associated Press, Facebook partner information agencies.
Source: https://www.theverge.com/2019/5/7/18535116/instagram-fact-checking-facebook-dashboard-misinformation
New Facebook features to help small businesses
May 8, 2019
New promotion features will be added for small and middle-sized businesses which have Facebook accounts.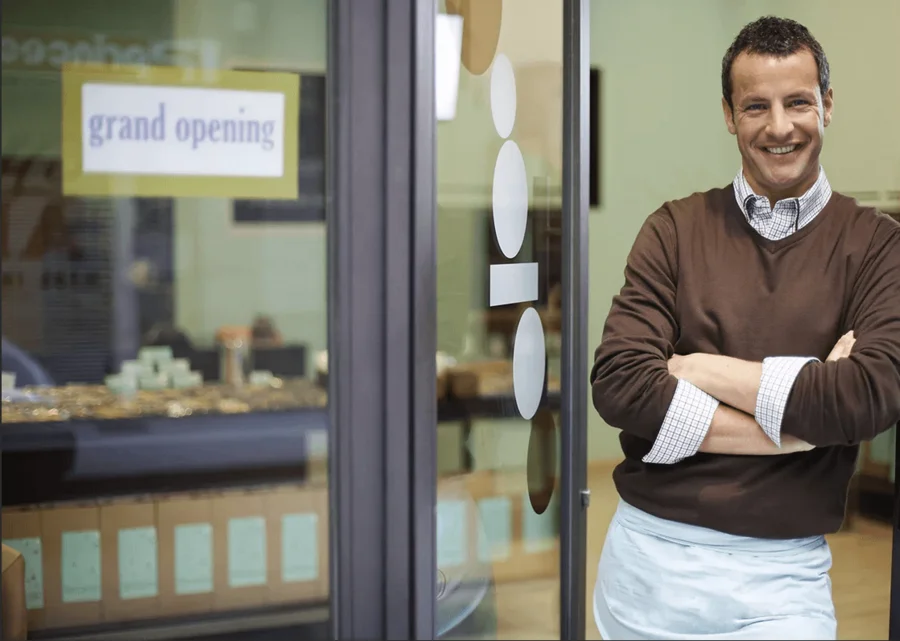 Automated advertising creation. Advertising messages can be created for Facebook, Instagram, Messenger, and Audience Network. Before launching an advertising campaign, you need to write a short brief about your business and goals. On its basis, they will offer you a promotion plan.
Setting up appointments. A free tool to set up appointments via Facebook and Instagram will appear. Besides, it will let customers get the service they need.
Three new tools to edit videos:
Automatic crop
Manual video crop
Image and text superimposition
You can find these tools on Ads Manager. Developers hope that the use of the tools will reduce the cost of video content production.
Instagram has launched the @shop official trade account
8 мая 2019 года
Instagram has launched the official account, where screenshots of the goods of the selected sellers — https://www.instagram.com/shop/.
@shop is a new account created by the Instagram team for those who like shopping. The content of the account reflects the latest trends of top categories — fashion, beauty, house decorating and so on, as the blog of the social network says.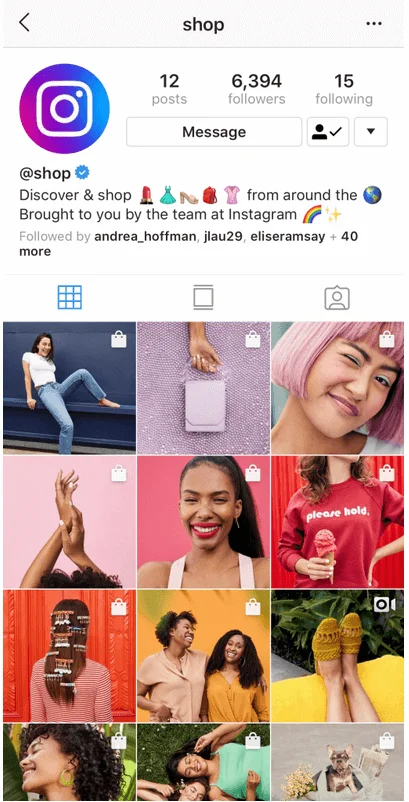 The Instagram team selects images for the account. Each image has a trade tag to let users purchase the goods at once.
The account is aimed at inspiring small and middle-sized business owners to use the social network functionality for self-promotion and selling goods. Moreover, @shop is meant to be a source of inspiration for content creators. Now it is more convenient to copy ideas.
Facebook has allowed publishing blockchain advertising without getting their permission
May 13, 2019
Facebook has updated its advertising policy and has allowed publishing advertisements related to blockchain technology as well as news on this topic without getting their permission.
But you still need to get permission to publish advertising related to cryptocurrency and cannot advertise ICO and binary options at all.
Source: https://www.facebook.com/business/news/updating-our-ad-policies-for-financial-services-and-products/
Customized happy birthday messages on Facebook
May 15, 2019
Besides Facebook automatic congratulations, the own Facebook stories feature is available now — Birthday Stories.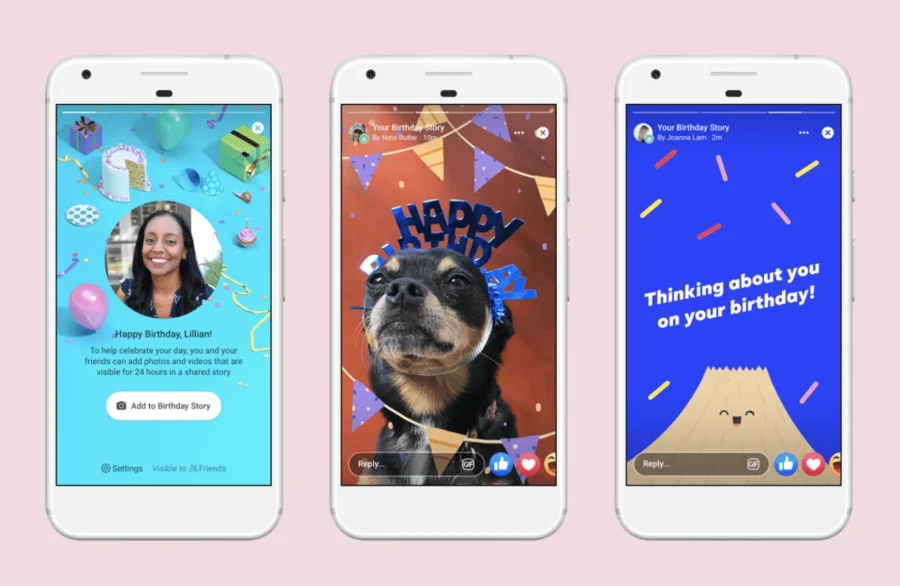 To use the feature, just click on the birthday reminder and select an image, video or card.
Source: https://newsroom.fb.com/news/2019/05/birthday-stories/
Facebook will help become invisible outside the network
15 мая 2019 года
In the second half of 2019, Facebook will launch the tool which will help users monitor their activity outside the social network. The tool will allow learning what apps and websites get information about the user profile via Facebook.
The new tool may affect targeted advertising settings if a person hides the data on their locations outside the network.
Source: https://www.facebook.com/business/news/what-businesses-should-know-about-the-upcoming-tool-for-managing-off-facebook-activity
Instagram deactivates Direct app
May 16 2019
The app will be deactivated in June.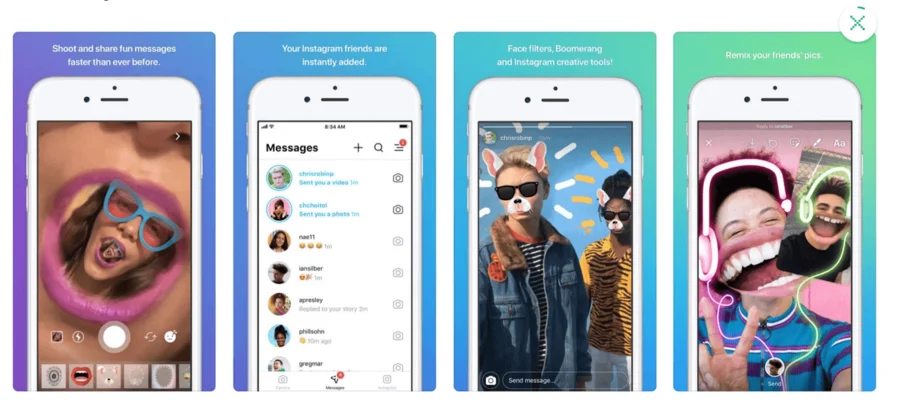 Instagram has not disclosed the reasons for deactivating. According to TechCrunch specialists, such a decision may be connected with the intention of the Facebook parent company to launch the joint messaging system of FB, WhatsApp, and Instagram.
The testing of the Direct separate app started in December 2017. It was available to some users in Chile, Israel, Italy, Portugal, Turkey, and Uruguay. Instagram did not disclose the number of people who took part in the testing.
Source: https://techcrunch.com/2019/05/16/rip-instagram-direct-app/
Facebook has updated its news feed post ranking algorithm
May 16, 2019
Facebook has updated its news feed algorithm. Now you can see more posts of those your friends whose pages are most interesting to users.
The network used to ask users to tell who of their friend list are their closest friends. The new feed algorithm will be based on this data and the user behavior in general.
It does not mean that only posts of your closest friends and those whose posts are liked and commented on by users. The number of posts on the feed will not change, but the priority will be given to those posts which most likely will be interesting to the user.
Also, the network continues working on the forecasting principle — the algorithm will understand if you lose interest in a person.
Source: https://newsroom.fb.com/news/2019/05/more-personalized-experiences/
Instagram will add Stories to the Explore tab
May 17, 2019
Instagram will start showing Stories on the Explore tab. The social network representatives have reported about it.
They promise that Stories as the rest of the content will be selected according to the user's interests.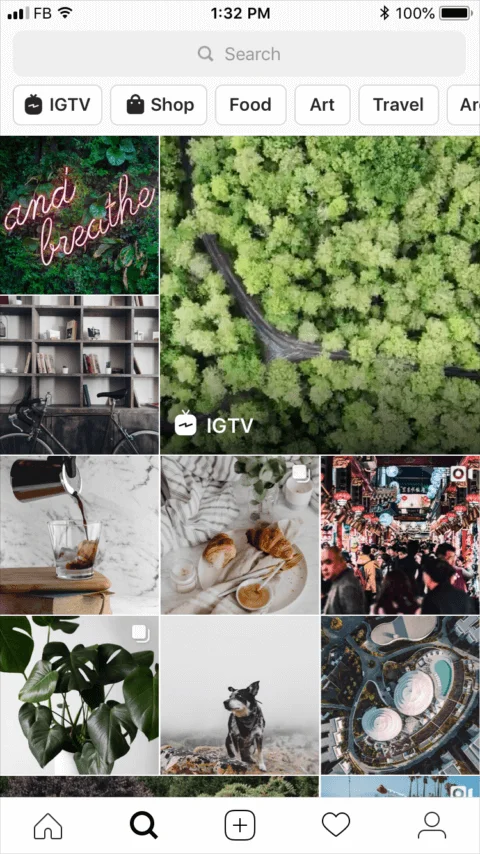 Besides, they have also added the Explore section the following new tabs: Store, IGTV videos, Style, Art, Beauty and so on. They contain posts selected according to the topic, and in the Store section, you can buy different goods.
According to social network representatives, 50% of Instagram users utilize the Explore section.
The majority of the new features are already available to users, and Stories will appear in the Explore section within next weeks.
Source: https://www.searchenginejournal.com/instagrams-explore-page-now-includes-stories/308203/
Facebook: 4 main criteria for ranking videos
May 17, 2019
Facebook has published a list of recommendations to improve video ranking on the network. The Facebook algorithm is formed according to the following criteria:
Originality
User behavior and video characteristics
Loyalty and intentions
Engagement
Originality The uniqueness of the content. The perfect video is a video made from scratch.
User behavior and video characteristics Behavior features and different video characteristics also affect video ranking. A video viewed to the end by the user is ranked higher. Interactions with video (reposts, comments, and likes) even more serious reason for the algorithm to rank it higher.
Meanwhile, clickbait and slideshow videos are ranked lower.
Loyalty and intentions Facebook ranks higher pages which have videos that people view again and again. If someone searches videos from a particular page on the social network, those videos will be ranked higher.
The content optimization for Facebook search and posting other content between long videos (Live streams, photos, texts) also affects ranking positively.
Engagement Videos which users repost to their pages and share with their friends also have a good chance to get on top of search results.
Source: https://www.facebook.com/facebookmedia/blog/understanding-video-distribution-on-facebook