Fall aesthetics is in rainy days, pumpkin-spiced lattes, warm sweaters, and autumn-colored Instagram feeds. While this social media platform may seem like an image-heavy medium with little regard for captions, it is not entirely true. They have the power to add context and shape to your photos, make them relatable, evoke emotions, and fuel engagement. For inspiration and references, we've put together 255 fall caption ideas, from cute and cozy to funny and holiday-themed.
Why Are Good Instagram Captions So Important?
The caption can prompt account followers to leave comments, boosting your engagement rates. It is a good space for hashtags, which serve as a reliable organic traffic source for profile promotion. As the common practice is to hide the heavy-looking list of hash signs underneath the main line of text, you will need at least a sentence or two to go with your post.
Cute Fall Instagram Captions
When you are not in the mood for long posts and want to add a compelling image to your feed, a simple caption will be a good finishing touch, highlighting the beauty of the photo and not taking attention away from it. Explore these cute captions:
Oh fall, it's nice to see you again.
Sweater weather ft. rainy day.
Happiness is coffee on a fall day.
I can smell the autumn dancing in the breeze.
Fall: chilly but beautiful.
Lost in the magic.
The joy of fall.
A for Autumn.
I think I love fall most of all.
Fallscape.
Golden hour.
Autumn: the greatest show of all time.
Some fall foliage to brighten up your feed.
Serenity.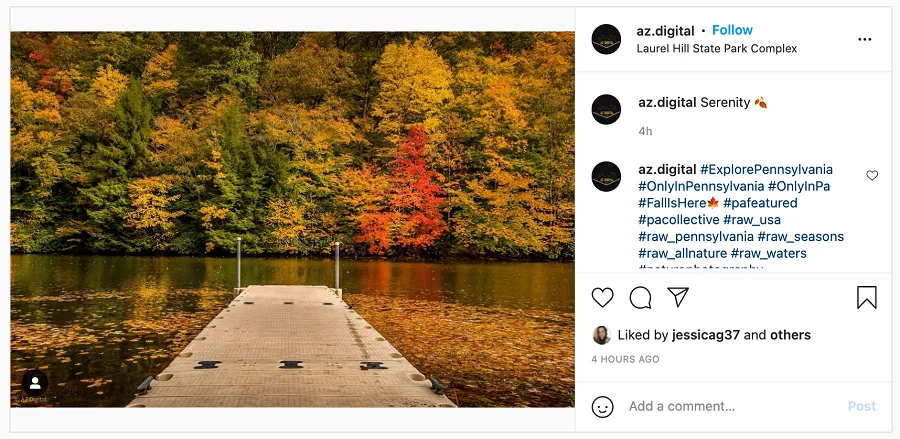 Source: @az.digital
Insatiable for autumn colors.
From where I'm standing, it's looking a lot like autumn.
Autumn vibes are very welcome.
Funny Fall Instagram Captions
Funny captions bring out your personality and help brighten up the mood in your followers' feed. Social media has often been cited as contributing to feelings of anxiety and mental health issues, so a caption that is going to make at least one person smile is a mindful choice:
Stop scrolling - go out and enjoy this wonderful autumn day!
My favorite color is… Autumn!
Autumn is great for decorating: I'll focus on my space and let nature do the outside.
It's fall, y'all!
Autumn: loading…
Mood: buying new sweaters.
Fifty shades of autumn.
Autumn moments are pure gold.
Just here to drop a little fall in your timeline.
Grab life by the apples!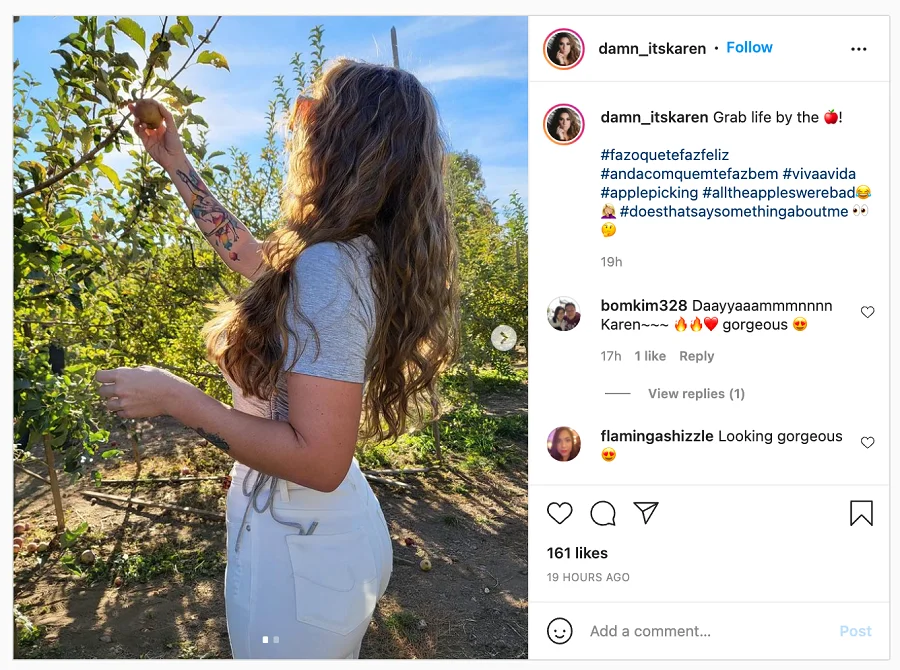 Source: @damn_itskaren
Just because Halloween is over it doesn't mean that Christmas is next week.
Not giving up on Halloween just yet!
Autumn: the one season of the year that was created just for the beauty of it.
Cozy Instagram Captions
Cozy captions focus on the aesthetics of autumn, setting the mood and immersing the reader into the fall atmosphere. Even a single sentence can make your followers feel warm inside, so take these examples and make them your own to fit your feed and blog theme:
As much as we love the sun, we can learn to appreciate these rainy days.
A cool fall day with hot apple cider and pumpkin pie.
Light a candle, make peppermint tea, and cozy up looking at the rain.
There are just so many reasons to love autumn. What are yours?
This cold weather got me craving lattes.
What are your autumn self-care rituals? Mine are holiday baking and scarf shopping.
This dreary weather has us reaching for mugs to keep our hands warm.
Big sweaters, cinnamon rolls, plaid blankets, candles, and a good book.
Give me a quiet spot on a crisp fall day, and I will be in all my glory.
Foggy mornings are best for staying in.
Fall inspiration gives us cozy vibes.
About time to get a new sweater.
Every autumn is like the first one.
Cherished autumn moments.
Rainy days are cozy days.
Autumn freedom.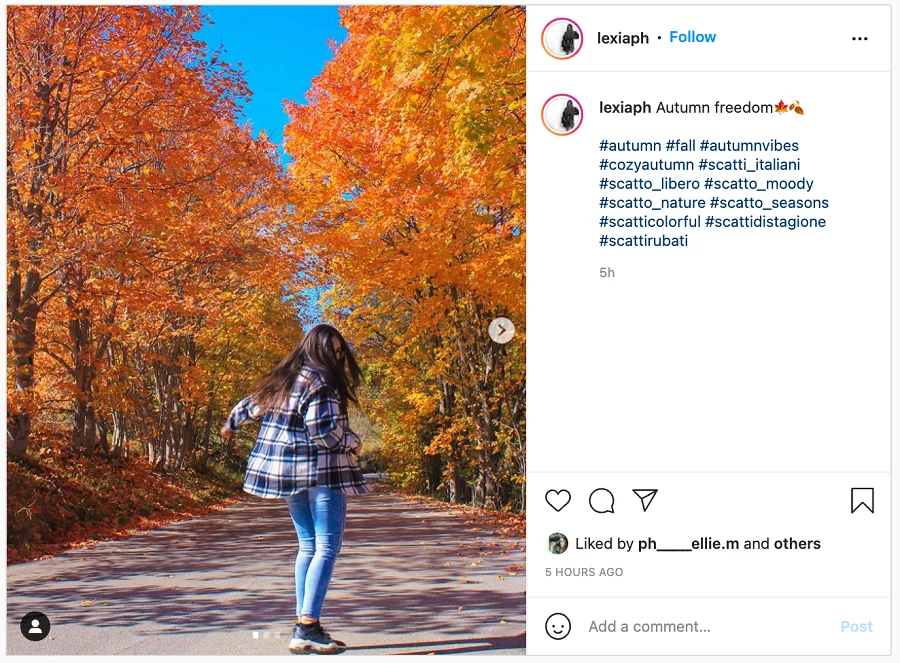 Source: @lexiaph
Autumn is not just a season, it is a state of mind.
Fall Jokes & Riddles as Instagram Captions
If there is one thing all dad jokes have in common, beyond their universal ability to elicit eye-rolls, it is the presence of puns. Make your pick from these fall-themed jokes or post a riddle without the answer to prompt engagement in the comments:
Falling for fall.
FALL in love.
Don't leaf me waiting…
Beauty is in the pie of the beholder. And you're gourdgeous!
Fall is the best time to kick out any unused skeletons before winter sets in!
They say autumn-colored food is better for you… I say, what time do we eat?
If fall was a man, I would fall in love with him.
Don't trip, it's fall!
FALLing hard.
The only thing getting lit this weekend are my fall-scented candles.
It's autumn, Birch.
Fall-ing in love with myself.
What do you use to mend a jack-o-lantern? A pumpkin patch.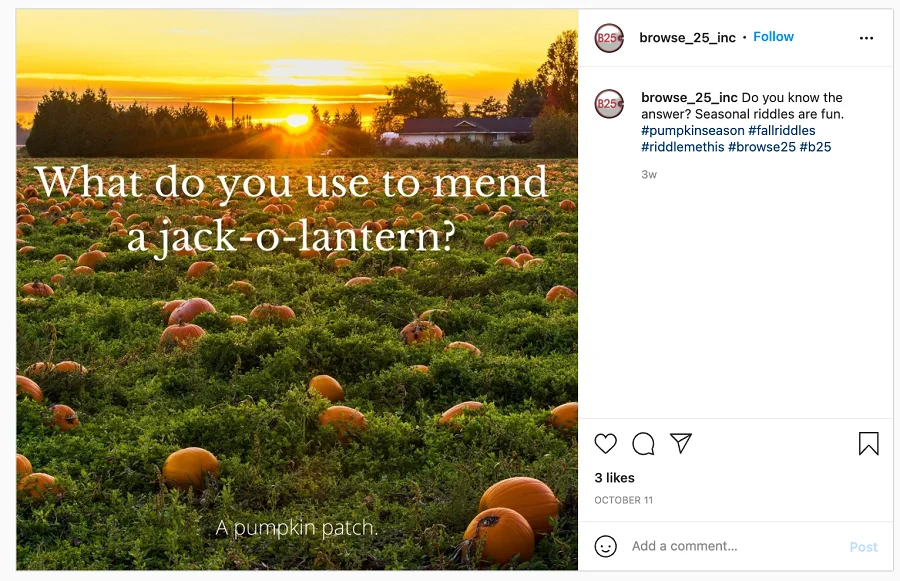 Source: @browse_25_inc
Who won the skeleton beauty contest? No body.
If money really did grow on trees, what would be everyone's favorite season? Fall.
What did the hat say to the scarf? You go around while I go ahead.
Why do birds fly south in the fall? Because it's too far to walk.
I appear once in summer and twice in autumn, but never in winter. What am I? The letter U.
What is the cutest season? Awwtumn.
Fall Emoji Instagram Captions
You can't go wrong with emojis! A short sentence supported by them won't take up too much feed space but can still translate your mood. You can try these symbol combinations with or without the proposed captions, or mix some of them together:
Stay cozy ???
Autumn is art ?✨?
Cold hands, warm heart ????
Autumn vibes ????
I think I love fall most of all ????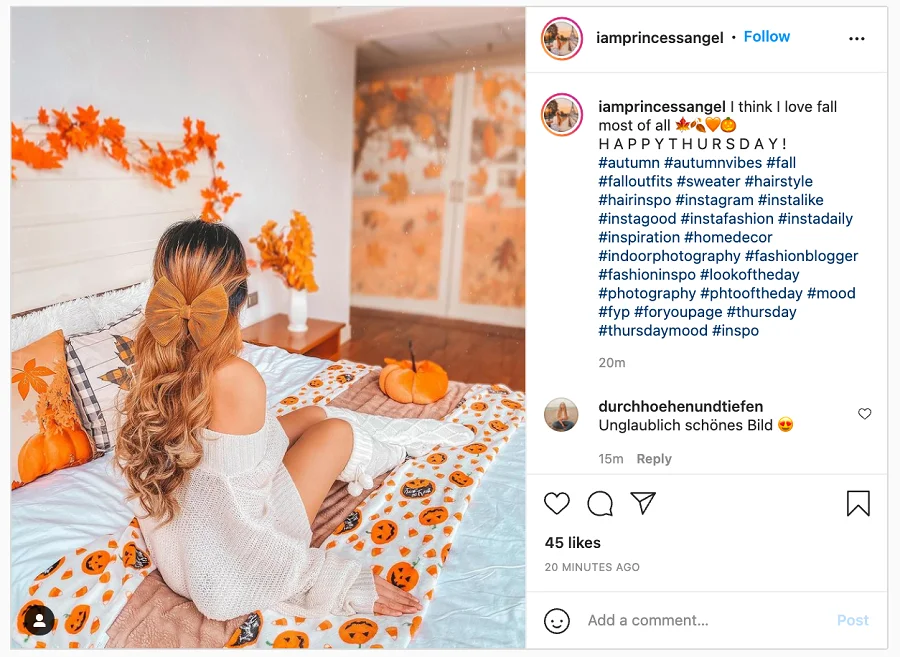 Source: @iamprincessangel
Forest walks ???
I only have ?s for you.
What's not to love about autumn? ???
Autumn postcard ✨??
Aesthetics ??✨
Autumn walks ???
Boo and stuff ???
You are the ? to my ?.
Met someone special at the park today ???
Coffee and magic ✨?☕
My autumn plan: ???
Listen to the song of the fall ???
Fall Instagram Quotes
Using quotes from your favorite authors or finding inspiration in the words of previously unknown writers is always exciting. The depth and beauty of their sayings can be used to compliment a beautiful nature shot. Here are some options to contemplate:
"Autumn is the season to find contentment at home by paying attention to what we already have." — Unknown.
"It was a beautiful bright autumn day, with air like cider and a sky so blue you could drown in it." — Diana Gabaldon.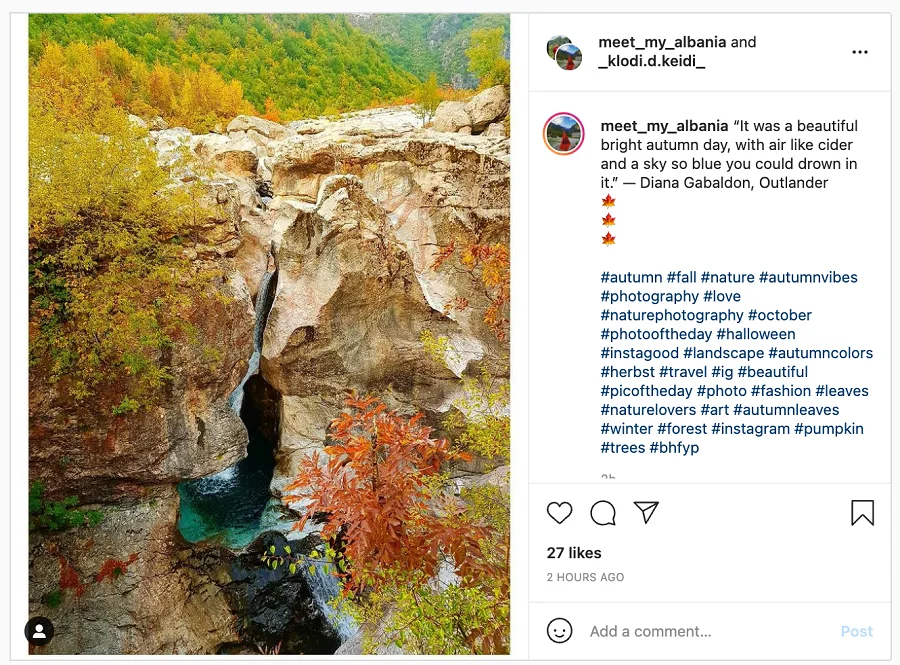 Source: @meet_my_albania
"Two sounds of autumn are unmistakable. The hurrying rustle of crisp leaves blown along the street by a gusty wind, and the gabble of a flock of migrating geese." — Hal Borland.
"And all the lives we ever lived and all the lives to be are full of trees and changing leaves." — Virginia Woolf.
"I'm so glad I live in a world where there are Octobers." — L. M. Montgomery.
"Autumn shows us how beautiful it is to let things go." — Unknown.
"Autumn is a second spring when every leaf is a flower." — Albert Camus.
"Autumn carries more gold in its pocket than all the other seasons." — Jim Bishop.
"Ah, September! You are the doorway to the season that awakens my soul… but I must confess that I love you only because you are a prelude to my beloved October." ― Peggy Toney Horton.
"I hope I can be the autumn leaf, who looked at the sky and lived. And when it was time to leave, gracefully it knew life was a gift." — Dodinsky.
"Autumn leaves don't fall, they fly. They take their time and wander on this their only chance to soar." — Delia Owens.
"Life starts all over again when it gets crisp in the fall." — F. Scott Fitzgerald.
"Autumn seemed to arrive suddenly that year. The morning of the first September was crisp and golden as an apple." ― J.K. Rowling.
Leaf Captions for Instagram
A picture with leaves is a timeless fall classic. Some think of it as too common and unoriginal, but we say your autumn feed isn't complete without it. You can hold up a single leaf among a blurred background, or create a boomerang while kicking leaves, and caption the post with these:
You are never too old to play in the leaves.
Can you ever have enough leaf pictures?
There is nothing quite like the rustling leaves.
Every year, I fall for pumpkins, bonfires, smores, and autumn leaves.
Leaves are falling, autumn is calling.
Dark evenings, frosts, clear skies, and fallen leaves.
Childhood memories where you collect leaves and immerse yourself in autumn are my favorite.
A typical autumn picture.
I'm trying to hide in the leaves, can you find me?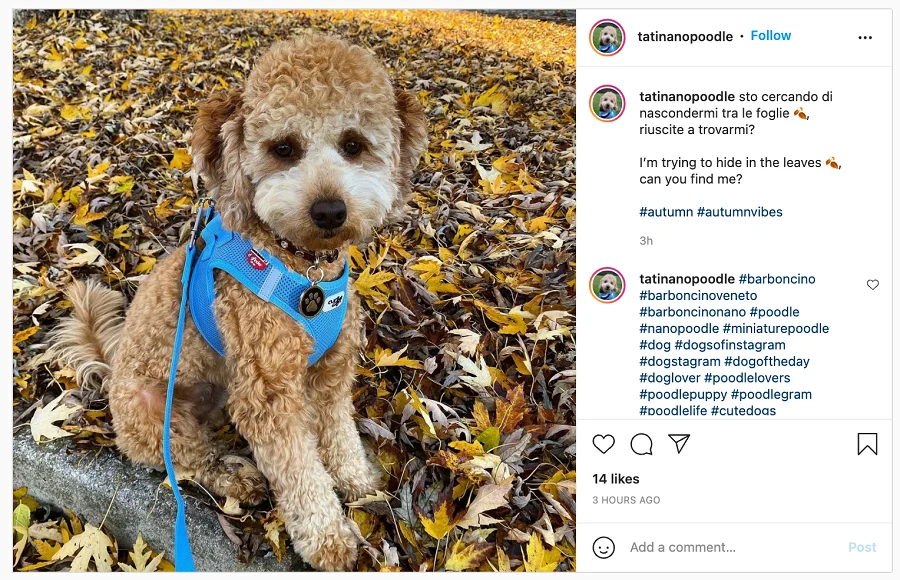 Source: @tatinanopoodle
Watching fallen leaves dance on a windy day.
Looking up at the trees in autumn has its rewards!
Fall Instagram Captions from Song Lyrics
Songs are a powerful tool to evoke emotions, and reading lyrics from a tune we once heard can easily make us start singing. You can leverage that for your fall photo captions, or get inspired to listen to a new song you've missed before. The same goes for your subscribers, who will appreciate the nostalgia of some of these famous lyrics:
Wake me up when September ends. — Greenday.
In a crooked little town, they were lost and never found. Fallen leaves, fallen leaves, fallen leaves on the ground. — Billy Talent.
He was like frozen sky in October night. — The Rasmus.
Pale September, I wore the time like a dress that year. The autumn days swung soft around me, like cotton on my skin. — Fiona Apple.
We could slip away. Wouldn't that be better? Me with nothing to say and you in your autumn sweater. — Yo La Tengo.
You tell my girl I'll be gone till November. — Wyclef Jean.
It's my autumn almanac. — The Kinks.
Leaves that are green turn to brown. — Simon & Garfunkel.
Nothin' lasts forever, even cold November rain. — Guns N' Roses.
So when you hear this Autumn song, remember the best times are yet to come. — Manic Street Preachers.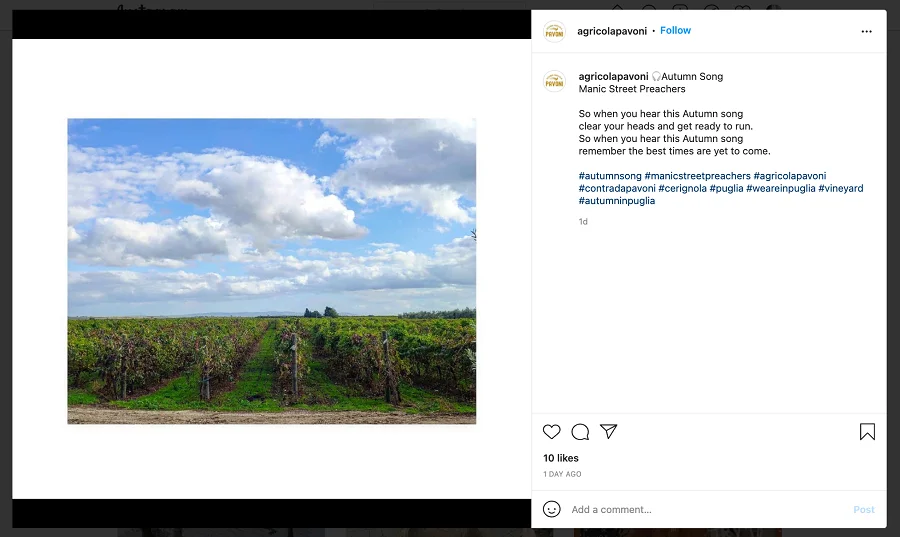 Source: @agricolapavoni
My life will be forever autumn. — Lake of Tears.
Fall Captions with Friends
Autumn is a great time to get together with friends, go for long walks or picnics while it is not too cold, get the same fall-themed drinks at cozy cafes, binge-watch horror movies, and gather for home parties or rainy days. Group photos with heart-warming captions will be a nice digital keepsake:
Let's get lost in a world made of books, coffee, hugs, and rainy days.
Enjoying the autumn days together.
Catching the sun while it is still here.
Get out and enjoy it while it lasts!
Fireside chats and connection.
An autumn get-together.
Here's to evenings al fresco this autumn!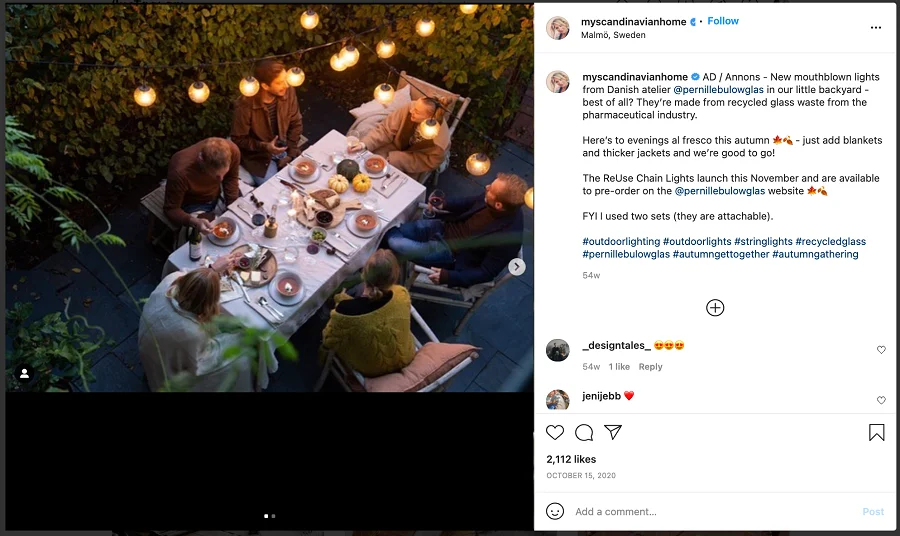 Source: @myscandinavianhome
Chats, laughter, stories, pumpkin pancakes, and beautiful connections.
Plans: a Gilmore Girls & Harry Potter Binge marathon.
Are you ready to host our party or still having cold feet?
Picture-perfect autumn day with good company.
If you need me, I'll be kicking around leaves with my friends.
Fall Couple Captions
Autumn is a cherished time for photographers, as shooting on overcast days can emphasize the earth tones and the depth of color of trees and leaves. The fall bounty serves as the perfect backdrop for couple photoshoots. Pair the images with these romantic captions:
Fall is officially snuggle season!
The magic of fall is upon us.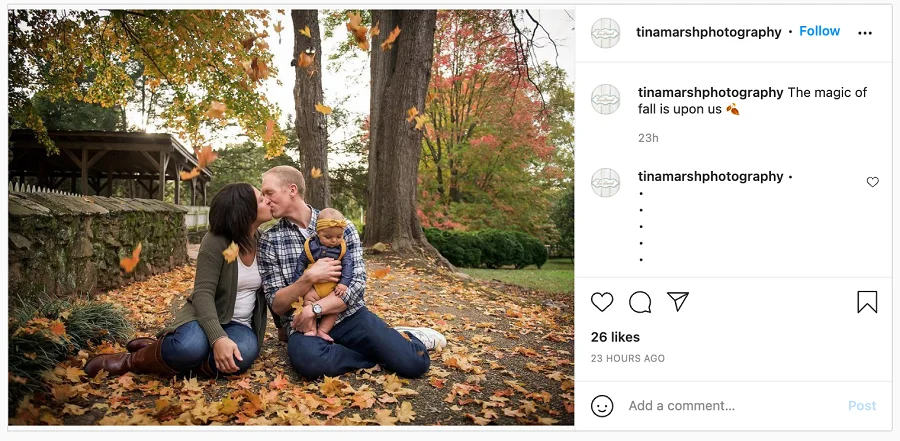 Source: @tinamarshphotography
I miss you most when autumn leaves start to fall.
Nothing better than being together on a cold autumn day.
This is our autumn.
Kissed by the golden morning sun.
Soaking up the autumn colors with my favorite person.
An afternoon that we spent sitting on a sunny spot in the woods.
Autumn is our happy place.
Autumn killed summer with the softest kiss.
Cozy fall afternoons are great for quality time.
Enjoy the season with your loved ones.
Fall Selfie Captions
Selfies deserve a special place in our Instagram feeds. You can channel famous artists and the self-portraits they created for an original masterpiece glorifying you and the beauty of autumn. Share a recent thought in the caption or use one of the following ideas:
Taking a selfie was on my fall bucket list! What's on yours?
I am definitely an autumn person.
If my heart was a season, it would be autumn.
My favorite season! Love layering up.
Looking very fall today.
In an ideal world, I would sit on the couch and wear this sweater all day.
Autumn clicks.
Sweet like pumpkin pie.
Autumn is definitely my favorite time of the year.
Current mood: autumn.
Who found the biggest leaf ever? I did!
Some selfies with the season of colors.
Seasons change and so do we.
I love autumn because it reminds us that change is cool.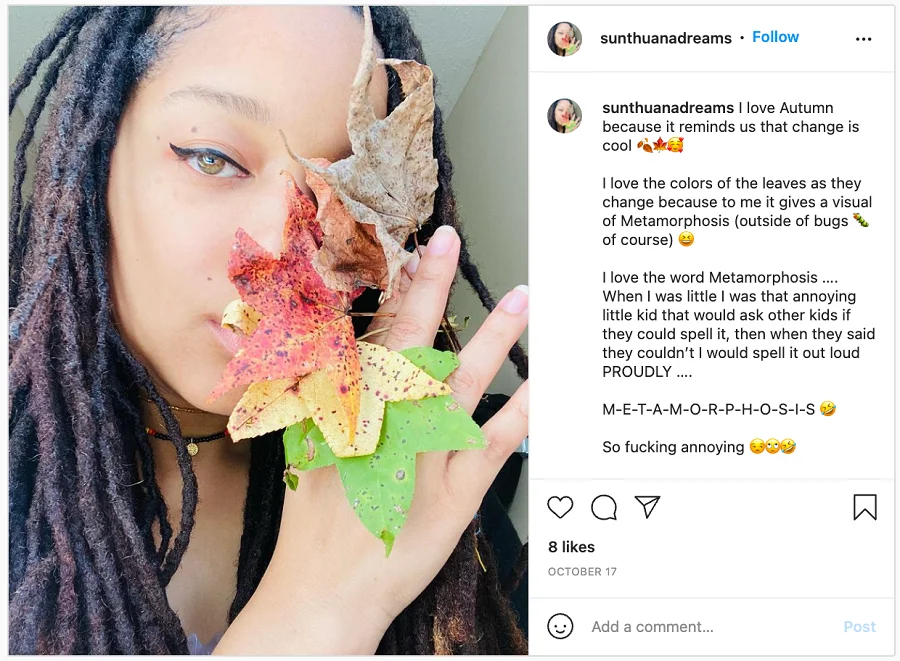 Source: @sunthuanadreams
September Instagram Captions
The first autumn month is when we can say our summer goodbyes, make plans for the upcoming fall, celebrate the equinox, and create colorful pictures of the changing nature. Some fresh captions for your posts:
September: chapter 9 of 12.
Saying goodbye to summer is bittersweet.
Hot tea on a cold morning.
Autumn for us, spring for the other half of the world.
What a beautiful day to welcome in the longer nights.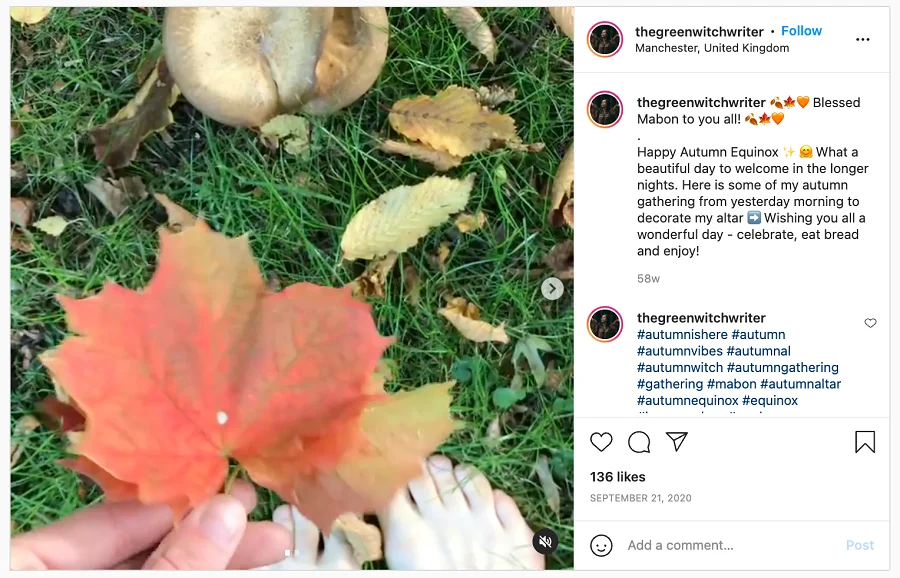 Source: @thegreenwitchwriter
Pretty rude that it's not summer anymore, but okay…
Freshly-baked autumn photos.
Autumn diaries, day 1.
Finally, I can crawl under a blanket and no one will judge me!
Which side are you on: longing for summer or excited about autumn?
Feeling the fall vibes already.
Jump into a new season: autumn.
October Instagram Captions
In October, autumn comes into full swing. Shortly after the September equinox, foliage season officially begins, meaning even more fall pictures are due in your feed. For Halloween caption ideas, scroll down a bit, we've prepared a separate list.
October: chapter 10 of 12.
Guess the movie: "On October 3rd, he asked me what day it was".
October, please be good!
How about an "eat an apple every day" challenge?
October: featuring cold beaches, warm outfits, and coffee mugs.
Have you already decided on a Halloween costume?
October skies are picture-perfect.
What's left on your fall bucket list?
Autumn skies and pumpkin pies.
Team pumpkin spice latte or team hot chocolate?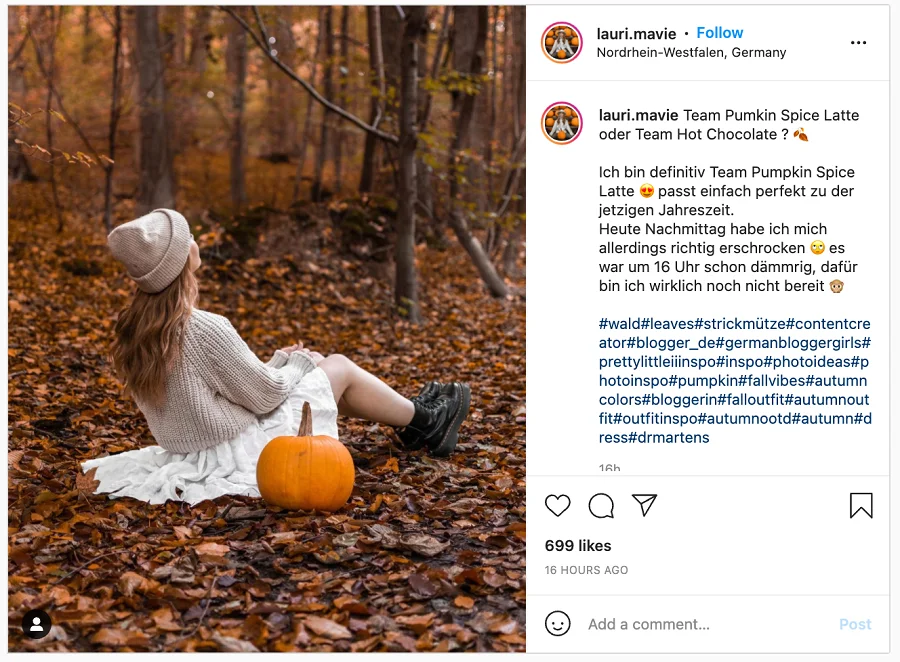 Source: @lauri.mavie
I feel poetry in the air.
November Instagram Captions
The last autumn month is suitable for Christmas references, getting ready for the winter, commemorating Halloween, and getting ready for Thanksgiving. Business accounts can make Black Friday posts.
November: chapter 11 of 12.
Already counting days till Halloween 2022.
The last gasp of fall, like the early light on a frosty morning.
It's officially November which means no one can judge me for Christmas music.
Goodbye Halloween, welcome Thanksgiving!
Hope you had a great Halloween! Comment below who you dressed as.
Halloween may have come and gone, but it's always Halloween in our hearts.
Getting ready for Black Friday.
Happy Scorpio season.
So is it too early if I went and got a Christmas tree today? Asking for a friend.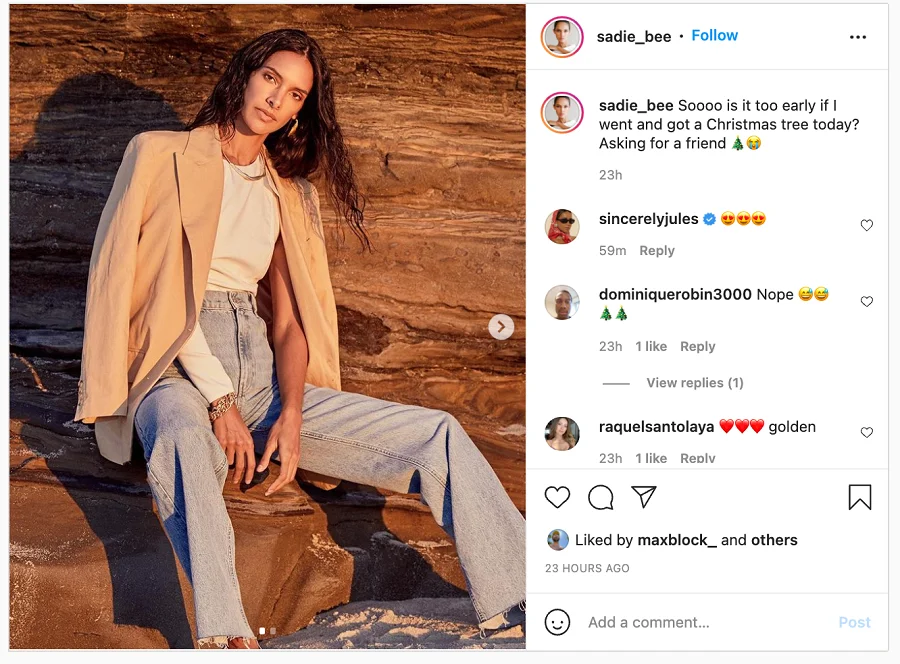 Source: @sadie_bee
Time to start planning how you're going to dress your table and your turkey.
Halloween is over but it remains my favorite season!
November is here! That calls for some warm and cozy vibes.
November is the month to remind us to be thankful.
Fall is not over yet! Sorry, Christmas fans.
Autumn's last embrace.
Are you team Christmas in November or team Christmas in December?
Halloween Instagram Captions
Halloween is often the highlight of October, presenting many opportunities for content creators: from costume parties and horror movie marathons to traditional trick-or-treating and pumpkin carving. We have a dedicated article with 150 Halloween Instagram captions, and here is a glimpse at a few of them:
Pumpkin spice and everything nice!
Can you feel that sweet candy smell?
Cornfusion. Calling all maze runners!
Costumes - check, candy - check, horror movies - check.
Was that the boogeyman?
No tricks, just treats!
Only a vampire can love you forever.
Happy Halloween from my pumpkin to yours!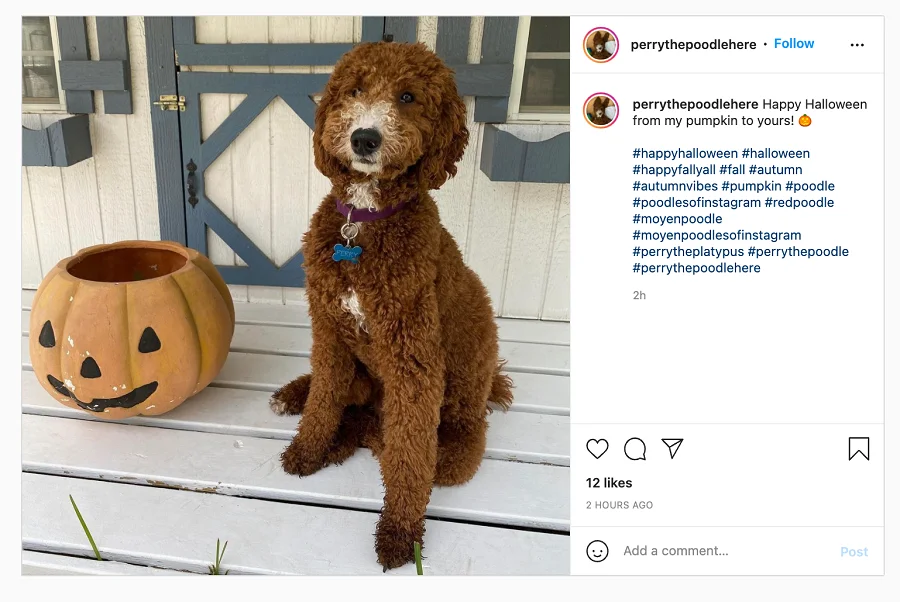 Source: @perrythepoodlehere
Thanksgiving Instagram Captions
Once the pumpkins are out, you can already start preparing for Thanksgiving, and on your Instagram too. Local businesses and brands usually hold holiday-themed campaigns in advance. Bloggers and influencers can participate in the November gratitude challenge, where you make a post each day stating the things you are thankful for.
What are you grateful for this season?
Take care of yourself and your family.
What did the turkey say to the computer? Google, google.
Gratitude changes your perception of life.
Who's down to feast?
I'm grateful for the people who stay with me, new opportunities, time spent in nature, and good books.
Each day is a blessing.
Are you hosting Thanksgiving this year or going out? Share in the comments!
Friendsgiving.
What's Thanksgiving without pie?
How come turkey didn't eat dinner? He was already stuffed.
Thanksgiving vibes.
Flowers, peppers, pumpkins, and turkeys.
I love how the season of gratitude and Thanksgiving overflows into the season of giving.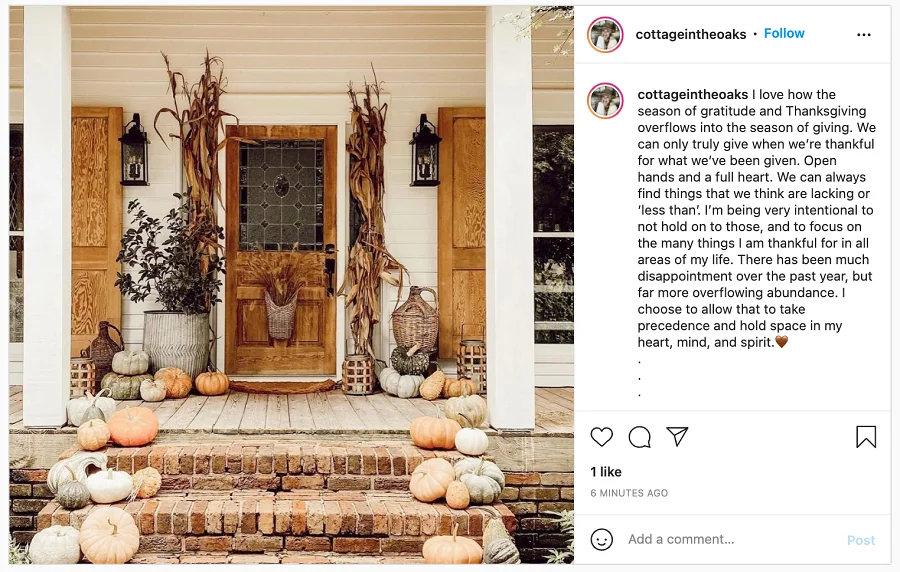 Source: @cottageintheoaks
Pumpkin Instagram Captions
Closer to Halloween, content can revolve around carving designs, pumpkin patches, pie and soup recipes, or colorful still life shots. Here are some captions that would go well with anything pumpkin-related:
Misty mornings, cozy nights, crunchy leaves, and pumpkin spice.
Picking them pumpkins.
Pumpkin soup recipe, anyone?
Oh my gourd.
You can't celebrate fall without pumpkins.
Nothing to see here, just an obligatory fall post.
Let's give them pumpkin to talk about.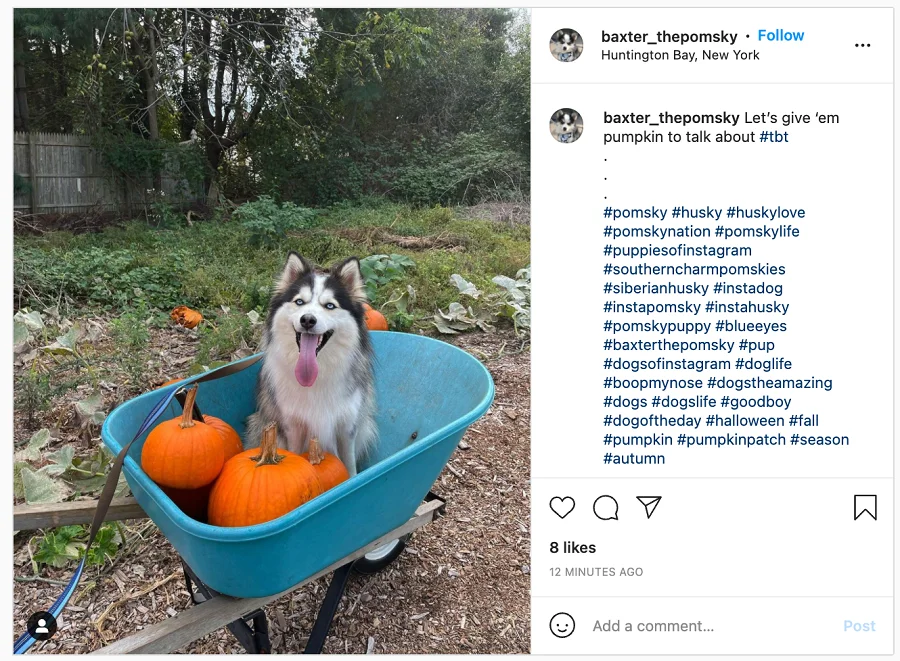 Source: @baxter_thepomsky
This look is a pumpkin match.
There is magic in the night when pumpkins glow by the moonlight.
Pumpkin o'clock.
Autumn is in pumpkin-colored things.
My gourd, you are gorgeous.
This year's jack-o-lantern.
Pumpkin spice and all things nice!⁠
What are you doing with pumpkins? Any recipe ideas?
Pumpkin soup will warm me up on autumn nights.
Each pumpkin is unique, like a snowflake.
Pumpkin hunting.
Autumn essentials.
Orange is the new black!
Apple Picking Captions and Apple Puns
A popular fall activity, apple-picking more or less defines the season. Many farms provide access to their apple orchards and offer entertainment like live music, festivals, corn mazes, and hayrides. For the resulting photographs, you can go with sweet or funny captions:
I want to live apple-ly ever after with you.
You be Adam & I'm Eve.
An apple a day keeps the wrinkles away.
One bite and all your dreams will come true — Snow White.
We had an apple-mazing time at the orchard.
The best part about apple picking is the unlimited amount of free apples you get to eat while doing it.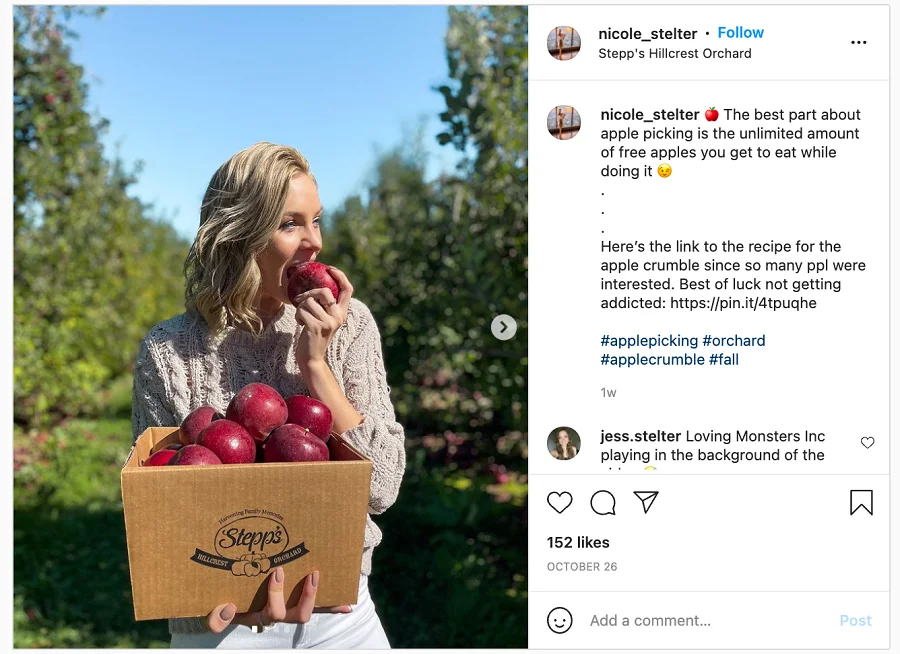 Source: @nicole_shelter
Apples are in season!
The most apple-aeling activity.
A day trip to the apple hill.
Let's bake some apple pie.
How 'bout them apples?
You are the apple of my eye.
Pumpkin-picking vs. apple-picking: which side are you on?
What's your favorite apple recipe? Asking for a friend.
Things I'd like to do with you: go apple-picking.
This is the apple-iest day of my life!
I do pick favorites.
Summary
Instagram captions is a powerful tool that you can use to your advantage, whether you run a personal account, advocate on behalf of a brand, or looking to build your blog audience. Even short captions have the ability to add more context to the post, encourage engagement, and tell a story. Cover all your bases with great photos and strong captions, and refer to the examples above in search of inspiration.