Instagram is not only a social media network with pretty photos. It is a marketing channel which is aimed at attracting new customers.
It is important to determine the efficiency of the marketing channel. That is how you understand whether your Instagram is organized correctly and what adjustments should be made.
We are going to review the major marketing metrics for Instagram.
1. Engagement
Engagement shows the bond the followers have built with your account, to what extent they like it and whether they share its values. Engagement shows followers' fondness for you. The more engagement you have, the better.
On Facebook and other social media networks, engagement can be easily determined by just looking at the number. On Instagram, indications are not as obvious: the more interaction with the post you have (comments, likes, video views), the better.
If you are using Instagram for commercial purposes increasing engagement can be a good idea. The more your followers love you, the more eager they are to buy your products and services. High engagement of followers positively influences your other followers. They see that the account is active, which increases brand confidence.
A post by Nike has been commented more than 7,000 times.
There are several simple ways to increase engagement:
Make posts regularly
Use Onlypult for post scheduling in order not to miss the right time to publish.
Choose relevant content
In winter it is better to write about winter, in spring when there is an overall increase in activity it is relevant to write about health, change of wardrobe, summer preparation. Pet accessory shop should post pictures of pets and not wild animals. The dearer the posts are to your target audience, the better. To get a clear understanding of what is relevant, keep experimenting and get rid of the options with low engagement.
A Calendar of fun holidays and national days can be a useful tool when looking for a subject to write about.
Run giveaways and promotions
Also, give little presents and promo codes to your followers for performing giveaway entry criteria, for example, for commenting or sharing your post.
Tell your followers about other followers
Regularly run a column "our followers". Post photos of your active followers with a short comment. Instagram users like it when others write about them - it will entice them to take part and their participation in its turn will increase engagement.
Canon often posts its followers' photos in its accounts. There are already more than 300,000 posts under their popular hashtag #MyCanonStory
Ask your followers' opinion
Ask a question like "And what about you?" or "What do you think about it?" in your new post. The followers will start answering, thus the number of comments will increase. If you give likes and write comments in reply, your followers will get used to the fact that your profile is active.
2. Reach
Reach is an overall number of your followers. One might say that reach is like the number of soldiers in your army. With a bigger army, it is easier to win.
Apart from the reach, the motivation of your soldiers also matters. Some of them has joined the army by accident and now are no more than just "dead weight". That is why in addition to the reach the number of reactions is also taken into account. On Instagram likes and the number of views in Stories count as reactions.
If a profile has one million followers, but only a couple of thousand likes under each post, it is an indication of low engagement (or bots). In this case, the content policy should be reviewed.
The "Cronvers" brand has 9,4 million followers, but this post has only 88 comments and less than 1% of likes, which shows low engagement.
We don't recommend making reach your highest priority. Obviously, it feels good to have many followers, but don't try to get them by any means possible. It is better to focus on engagement.
3. Traffic
Let's presume you have an e-shop selling organic care products. You advertise on Facebook, VKontakte, and Instagram. However, you don't sell anything on Instagram but redirect followers to the website where they can buy your products.
In this case, it is important to measure the traffic you get from Instagram. The best way to do it is by using Google Analytics and its section "Social media". The more traffic you have, the better.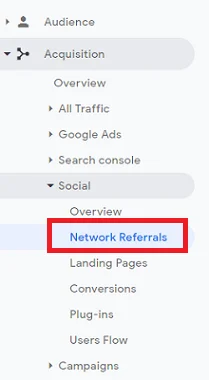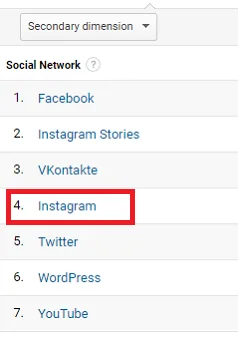 On Instagram, there are only a few methods to redirect your followers to your website.
Link in bio
You can't leave an active link in comments to a post, you can only add it to your bio. Nevertheless, you can always write in your comments "Find the link in my bio". Do it under each post with a picture of the product.
Link to a photo
Post a promotional picture instead of photos. Write about the offer and add a link to it. It won't be an active link and won't redirect your followers to the website, the address will have to be typed manually, but it is better than nothing. The link can also be added to comments that make it possible to copy it.
Link in Instagram Direct
Leave a comment like "To get a link to the product with a personal discount, send me a direct message". As a response, send a link so that the user can follow it.
Link in Stories
By switching to Business Account and getting 10,000 followers, you can get the ability to add a link to your Stories. The link is clearly visible and clickable.
4. Mentions
The more Instagram users mention you in their posts, the better.
Mentions can significantly improve your reach. Now reach has its effect not only on your followers but also on the followers of the person who has mentioned you. These people view your profile, follow, give likes and leave comments. If the mentions are systematic, the number of your followers will constantly increase.
Moreover, by mentions, you can get quality content for your account. Just ask the author for permission to repost a picture and don't forget to mention them. It saves you the effort and increases engagement.
The official account of action camera manufacturer GoPro skillfully uses this tactic. Tens of thousands of people dream to see their photos on their feed and publish their masterpieces under the hashtag #gopro.
Summary
It is important to have engaged followers who actively give likes, write comments, watch videos in Stories and write messages in Direct.
Post relevant content and post it regularly to increase engagement. Try things out and use Onlypult.
Add links to your bio and remind about it in comments, to increase traffic from Instagram. Also, you can add a link to a photo or in Stories.
Create your hashtag and post the best photos with it in your feed.