Today we are going to talk about an essential type of Instagram content - guides. A guide (also called tips) is a long-read format that was added to Instagram.
A long-read format is a large text with graphic content similar to a classical media format with text blocks and images. In recent years, this trend became very popular — all social networks have added long-reads. For example, there is the Articles section on VKontakte, Instant Articles on Facebook, Telegraph in Telegram, etc. The most famous platforms have long-reads.
Instagram launched its long-reads format (guides) — and this is the most original and catchy long-read format of all the existing ones.
What an Instagram guide looks like
"Guides" is the section on your account where you can publish your articles.
There is a large cover photo that has a small preview. There is also a headline — for example, "Twenty-three Essential SMM Articles." There is a general clue — what we want to say in the introduction. In this case, it can be: "Modern SMM Guide."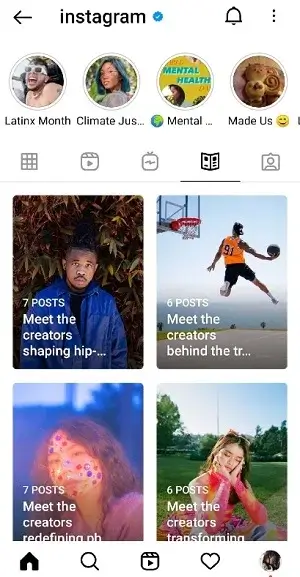 Three collection formats
That can be a collection of your posts - you can select any posts from your blog and publish them in this collection. You can save your favorite articles from other bloggers and publish them in your guide. For example, this opens up an opportunity to review the top fashion blogger posts of the week - you can host such weekly selections. You can make a selection of your articles.
The second collection format that you can create is about specific locations. In this case, it is a guidebook. It may be a guide to Dostoevsky's St. Petersburg covering particular sights, or maybe something more commercial — for example, the best shopping centers in the city, places for families with children to visit if you have a channel dedicated to kids.
The third format is about goods. You can also combine products into guides. You can add to collections not only your products but also ones from other stores.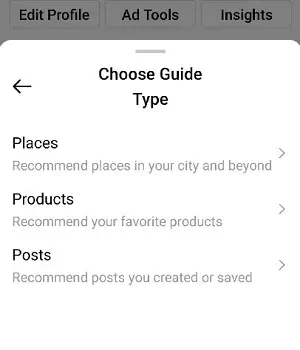 As you can see, the guide is a compilation of one of these three elements. What else? You can make a lead to each of these elements. It is possible to put a link in a title, post description, and picture.
The purpose of creating guides
Reminding about old posts
A good channel guide gives your old posts a second chance. The problem with Instagram and many other social networks is that no one will see your post again after publishing. Using the guide, you can remind users about those posts that you think are important.
Strengthening the promotion
A travel guide is an excellent booster for your promotion. For example, you are promoting using targeting or bloggers' ads. If a blogger does not only recommend like this: "Follow this wonderful channel" but asks people to check your guides. For example, they say: "Follow the channel and do not forget to check the fullest guide," and recommend the most effective informative element — the conversion increases, and the cost of one follower will be lower. At the same time, the target follower portrait will remain the same because people who are not interested in this topic will not spend a lot of time reading such materials.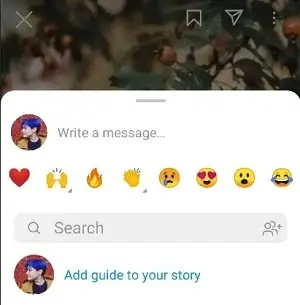 Guided tour for the audience
It is also one of the ways to create a unique tour for your audience, share information about places that are important to you or significant from a cultural point of view.
How to create a guide
Creating guides is very simple - you just need to click the plus icon in the Instagram interface. Then, you should choose: create a post, Stories, and one of the items will be "Guide". Until you create at least one guide, this section will not appear in your account.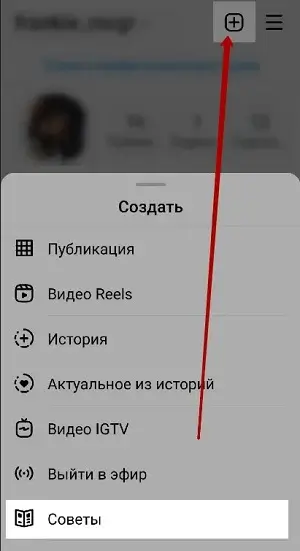 Choose "Create a guide" — and then select specific posts, places, or products.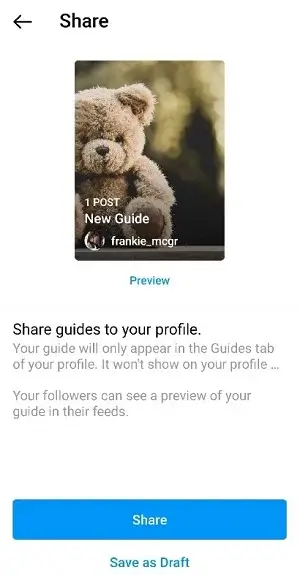 After posting, you have unlimited chances to edit, change, delete, or add elements to your guide. You can choose up to 30 ones.
Promoting guides
Another vital point: guides do not have separate coverage. When you publish it, your followers do not see any news or notifications about it — nothing appears on the Feed or the Recommendations section. Guides are either meant to be found by people on their own or, more often, you can share them in Stories. There is even a dedicated airplane icon that you and your readers can use to share guides. That, by the way, is one of the crucial promoting ways — when your followers leave a link to your guides.
Currently, the format is not as popular as other ones, but it has a great future because Instagram has finally embarked on the long-reads path. Later, new specific options will appear, the format of the top recommendations will be implemented, or information about it will pass through users' feeds. Anyways, it is a good start.