The highlight of October, Halloween provides endless opportunities for content creators to make dedicated Instagram posts: share costume ideas, quote favorite movies and songs, introduce limited-edition products, and encourage follower engagement. To complement and reinforce the visual aspect of your posts, you will require captions.
Captions give images more context and can prompt subscribers to leave comments. They do not necessarily need to be detailed or complex as long as they are appropriate to the theme. This guide has references for 150 Halloween captions, and for more autumn inspiration, you can check out Fall Instagram Captions as well.
Funny Halloween Instagram Captions
Halloween can be considered a laid-back holiday: you don't have to stress too much about preparations and presents, and all the festivities are pretty much geared towards having fun. Therefore, silly captions and puns will fit the mood of the day.
Only a vampire can love you forever.
I have the perfect body… In my freezer.
Halloween is not a season, it's a lifestyle.
The scariest part about Halloween is that rent is due the next day.
I ain't afraid of no ghost, but I am afraid of one or two ghosts.
Say boo and scary on.
Cornfusion. Calling all maze runners!
Happy Halloween, ghouls and gals.
Did you know there are enough bones in the human body to make an entire skeleton?
What is one room a ghost never goes into ain a haunted house? The living room!
I have a skeleton joke, but I'm not sure if it's humoroushumerus.
For Halloween, I'm going as karma. Some of you should be very afraid.
If you need me, I will be in my coffin.
Do you believe in humans?
Why do skeletons never go trick or treating? Because they have no body to go with.
If one door closes and another door opens, your house must be haunted.
All these ghosts and I still can't find a boo.
My favorite Halloween tradition is eating all the candy I bought for trick-or-treaters.
The fact it's already 31st October is scary enough.
Don't forget to buy Halloween candy early so you have time to buy more after you eat it all.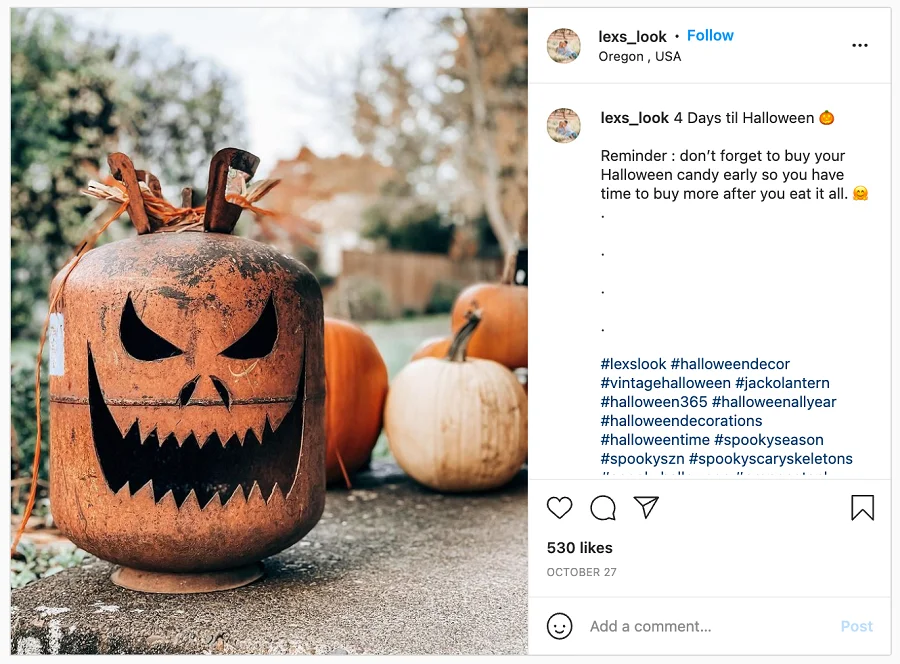 Cute Halloween Instagram Captions
Cute captions can be used for photos with decorations, costume pictures of kids or pets, trick-or-treating footage, and pretty much anything not too spooky or serious. Take your pick from the following ideas:
Happy Halloween from my pumpkin to yours.
Pumpkin spice and everything nice.
Can you feel that sweet candy smell?
May your holiday be spooked and haunted in the best way possible.
Halloween is about fun, jokes, joy, and treats.
Wishing you a spooktacular time.
Cozy fall with Halloween movies.
Too cute to spook.
What a boo-tiful day.
Nothing is scarier than the fact that Halloween is only once a year.
Halloween is a heart-warming celebration that brings people together.
Have a fangtastic day.
Peek-a-boo.
Spooky season.
May your night be fun and trouble-free.
The simple Halloween look I was going for.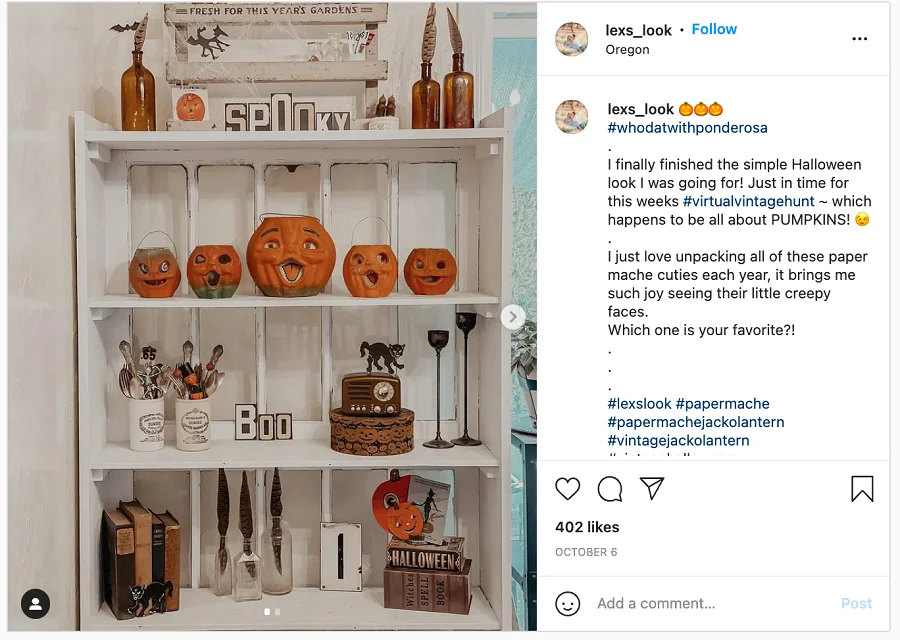 Pumpkin pie, anyone?
Missing Halloween already.
As much as I love the Halloween decor, I can't wait to start changing it for Christmas.
Never let the jack-o-lantern flame inside your heart die.
Halloween Instagram Captions Inspired by Movies
Halloween is perfect for a horror movie marathon with friends and family. You can ask your followers to share their favorite haunted films in the comment section, and here are some quotes for your captions:
Tonight, we'll see the good and evil in everyone. — The Purge (2013).
Tasty, tasty, beautiful fear. — It (2017).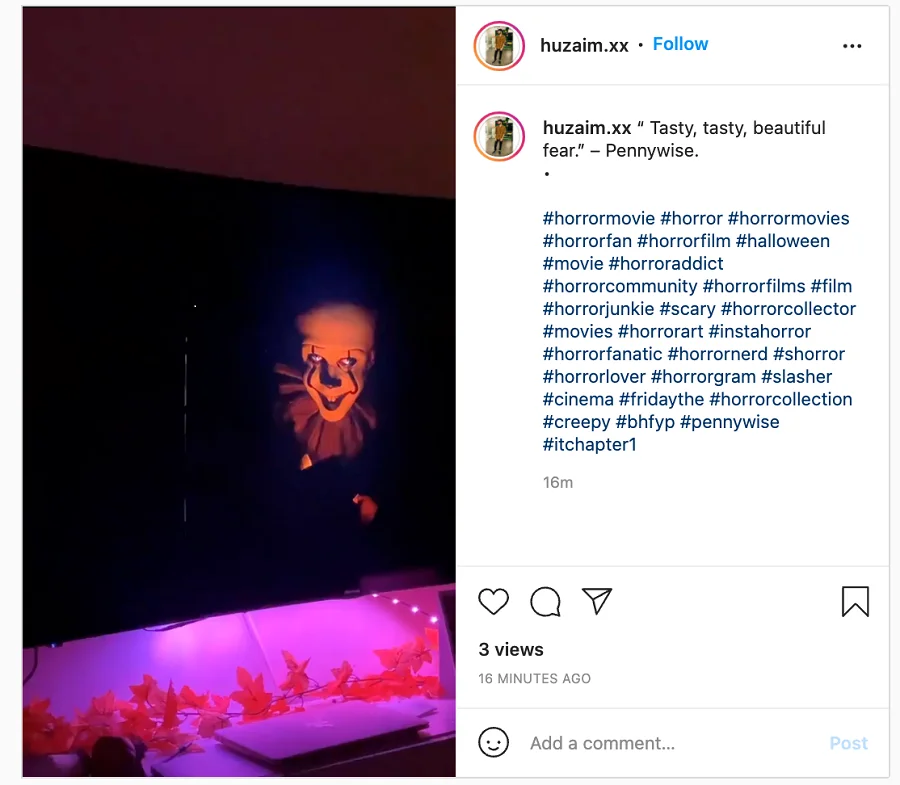 When we are together, darling, every night is Halloween. — The Addams Family (1991).
I'm every nightmare you've ever had. I am your worst dream come true. — It (2017).
What you are about to watch is a nightmare. — The Twilight Zone (1961).
Vampires pretending to be humans pretending to be vampires. — Interview with the Vampire (1994).
Life's no fun without a good scare. — The Nightmare Before Christmas (1993).
You know it's Halloween. I guess everyone's entitled to one good scare, huh? — Halloween (1978).
Be afraid… Be very afraid. — The Fly (1986).
Whatever you do, don't fall asleep. — A Nightmare on Elm Street (1994).
The Horseman comes. And tonight he comes for you. — Sleepy Hollow (1999).
It's all just a bunch of hocus pocus. — Hocus Pocus (1993).
Halloween Instagram Captions Inspired by Songs
Halloween playlists are available on all major music services, with iconic songs that have been associated with All Hallows Eve for years as well as modern tracks. The spooky sound effects that are a common hallmark of this kind of music can be hard to transcribe, but here are some lyrics to set the right mood:
Boys and girls of every age, wouldn't you like to see something strange? — Marilyn Manson.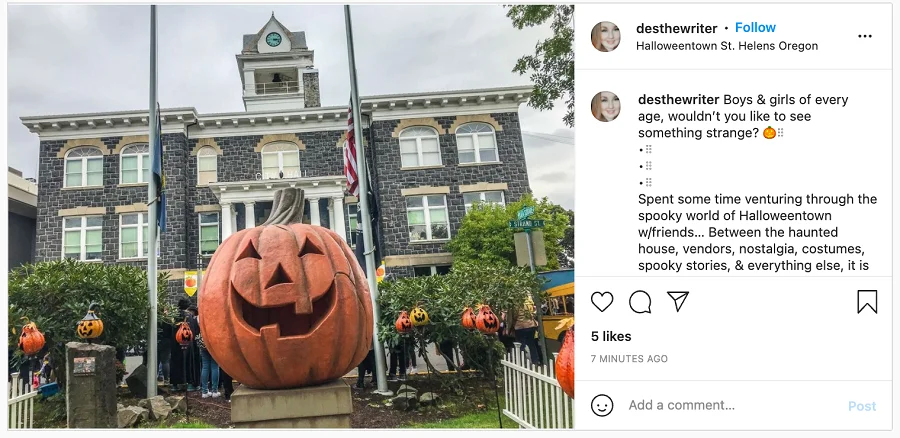 Ding-Dong! The Witch Is Dead. — Ella Fitzgerald.
The freaks come out at night. — Whodini.
I know if I'm haunting you, you must be haunting me. — Beyonce.
Molars and fangs, the clicking of bones, spirits moaning among the tombstones. — Ramones.
What's that coming over the hill. Is it a monster? Is it a monster? — The Automatic.
Twinkle twinkle little star, who's the scariest of them all?
I always feel like somebody's watchin' me. — Rockwell.
What's your favorite creepy, Halloween-ish line from a song?
For the perfect Halloween party hit, who ya gonna call?
Don't fear the reaper. — Blue Oyster Cult.
That crazy Witchcraft. — Frank Sinatra.
There's a bad moon on the rise. — Creedence Clearwater Revival.
Watch out or Freddy will bust your heart. — The Fat Boys.
The Sandman, he comes. — Metallica.
Halloween Instagram Captions Inspired by Literature
Most of the Halloween movies were actually inspired by books: Stephen King's terrifying novels, Edgar Allan Poe's ghost stories, and other iconic supernatural or horror pieces. You can leverage that for nightmarish captions:
Every morning, Dr. Jekyll has to review last night's social media activity.
Where there is no imagination, there is no horror. — Sir Arthur Conan Doyle.
Something wicked this way comes. — Macbeth, Shakespeare.
Blood is really warm, it's like drinking hot chocolate but with more screaming. — Ryan Mecum.
Demons are like obedient dogs; they come when they are called. ― Remy de Gourmont.
To escape fear you have to go through it, not around it. ― Richie Norton.
Perfect reading for the season.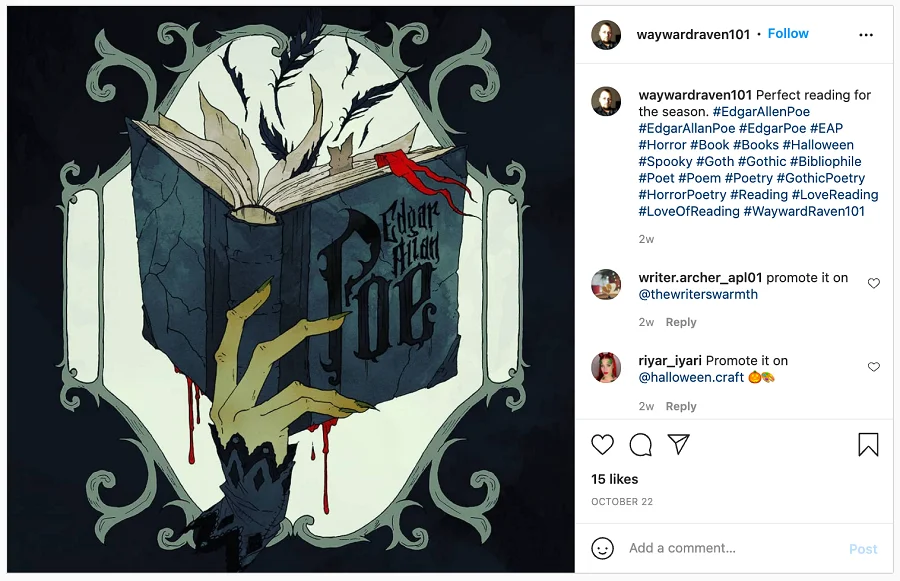 What's the creepy book you've been meaning to read but still haven't gotten around to?
What looked like morning was the beginning of an endless night. ― The Exorcist, William Peter Blatty.
Don't worry. There's nothing down there. Your biggest enemy is your imagination. ― Ring, Kōji Suzuki.
We all float down here. ― It, Stephen King.
Halloween Emoji Instagram Captions
Emojis can sometimes speak louder than words, especially when you are not in the mood to write anything too complex and just need a line of text to cover up the hashtags underneath. Here are some spooky combinations that you can mix and match for Halloween emoji captions:
Addicted to ?.
Comment ? for tricks, ?? for treats.
b??????????? ??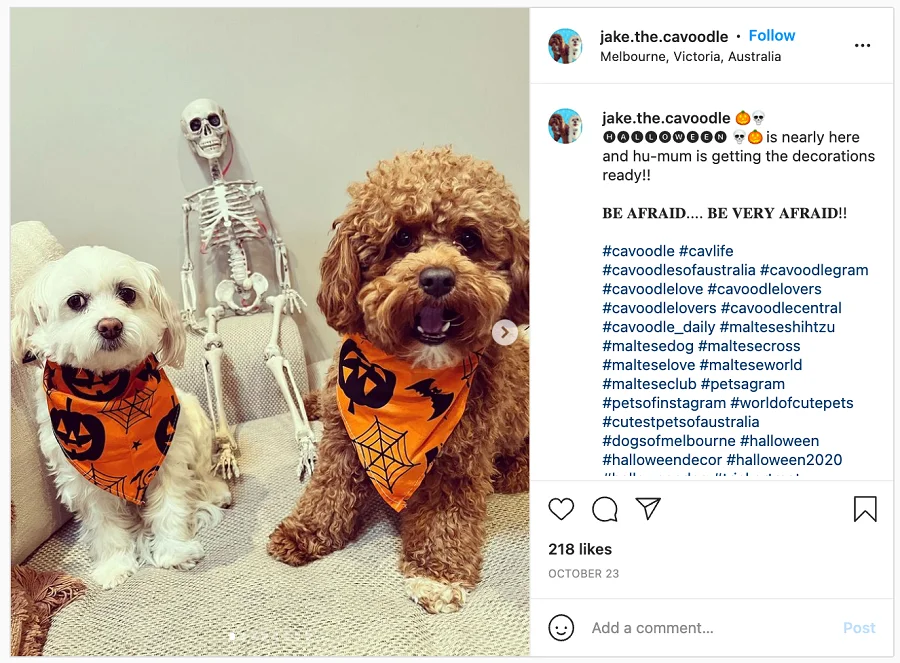 Halloween vibes ??☠️?
Days till Halloween: ???
Happy Halloween 2?22.
? or ? ?
Cozy ???
Guess the horror movie: ??‍♂️✂️??
Spooky ??️?⚰️??️?
Comment Halloween emojis ???
Halloween time ???
Costume-Oriented Instagram Captions
Costumes are an essential part of Halloween fun, and they are definitely not just for kids. The same creativity and passion that you approach your outfit with can be translated into your feed with the help of these captions:
Do you like my costume? If not, I'm going to eat you.
Is it okay if I keep wearing this in November?
When other little girls wanted to be ballet dancers I kind of wanted to be a vampire. — Angelina Jolie.
Sorry, I thought your outfit was a Halloween costume.
You say witch like it's a bad thing.
If looks could kill.
If you ever want people to stop off the sidewalk for you, dress as Michael Myers.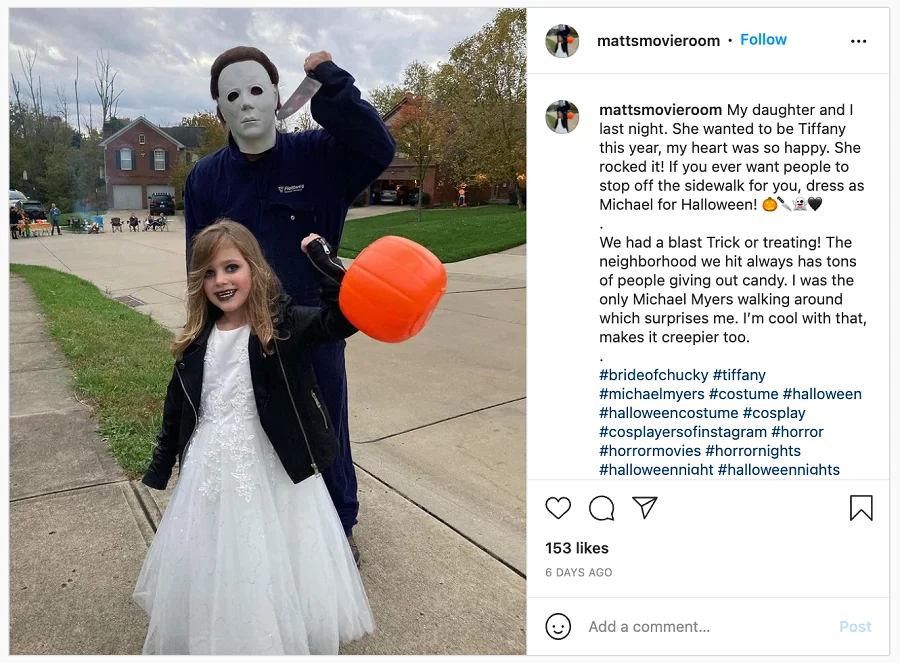 Did anyone else get costumes for your pets?
More clowning, less frowning.
Spooky Instagram Captions
The spooky atmosphere surrounding Halloween stems from the history of the night itself, with the line between our world and the afterlife being especially thin. Embrace the ghostly spirit with these chilling ideas:
What's that behind you right now?
The creepier, the better.
Creepier than a cemetery on a foggy night.
In the end, you will die and become a ghost.
A night to dismember.
Let's make up horrors to cope with the real ones.
We're in the shadows, watching everywhere you go.
Are you afraid of the dark?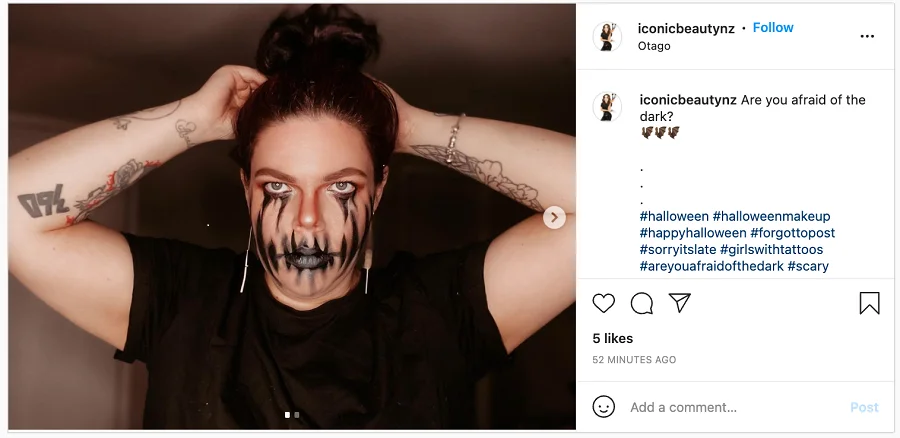 I know what you did last Halloween.
Tonight, he comes for you.
I am the one hiding under your bed…
Remember, they're watching.
You should be on guard when you turn off the light.
Now comes the waking. You will be found.
Oh, how I hope my premonition is wrong.
Halloween Instagram Captions for Selfies
Halloween selfies can show off your makeup and costume, which are harder to come up with than a photo caption since we've lined up some suggestions for you to consider. Anything from spooky to funny, depending on your look:
Any guesses as to who am I?
Who wants to clown around with me?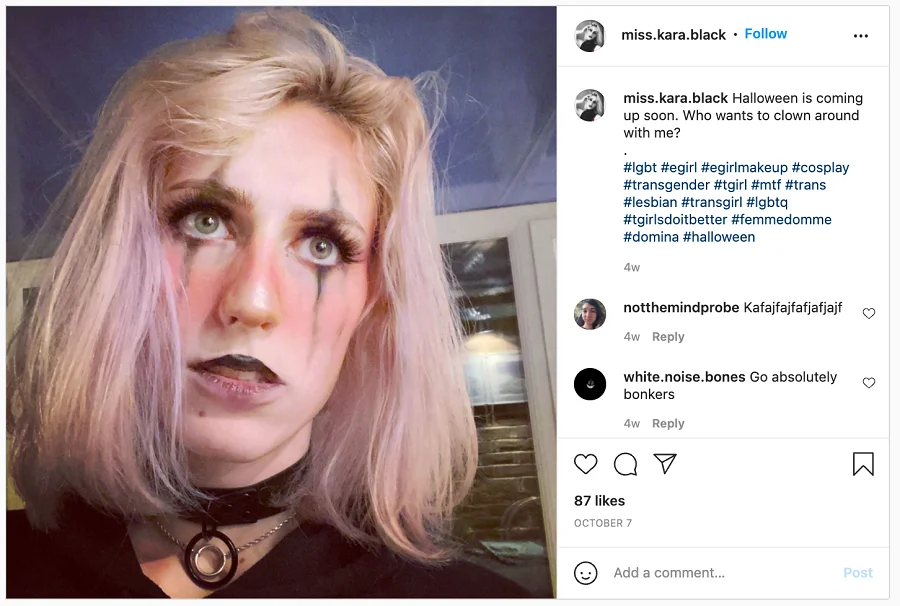 If I lose my temper, you lose your head.
Cute but psycho.
I've been ready for Halloween since last Halloween.
Will trick for treats.
I'm a witch every day, not just for Halloween.
Cutest pumpkin on the patch.
I'm the Hallow-queen.
I can never remember if I'm the good witch or the evil one.
Bewitching beauty.
Halloween Instagram Captions for Photos with Friends
Whether you decide to go on a ghost hunt, throw a murder mystery party or a movie night at home, or stick to the tradition of trick-or-treating, don't forget to capture your costumes and mischief on film. Caption ideas:
Costumes - check, candy - check, horror movies - check.
My haunt crew.
Pumpkins. Friends. Fall leaves. Scary movies.
My friend is uglier than yours.
Ghoulishly awesome people.
Happy Halloween, witches.
We're here to haunt your Halloween.
Ghouls just want to have fun.
Creepin' it real.
May the tricks be few and the treats be plentiful.
Memories made together last forever.
It's so much fun dressing up and getting friends together.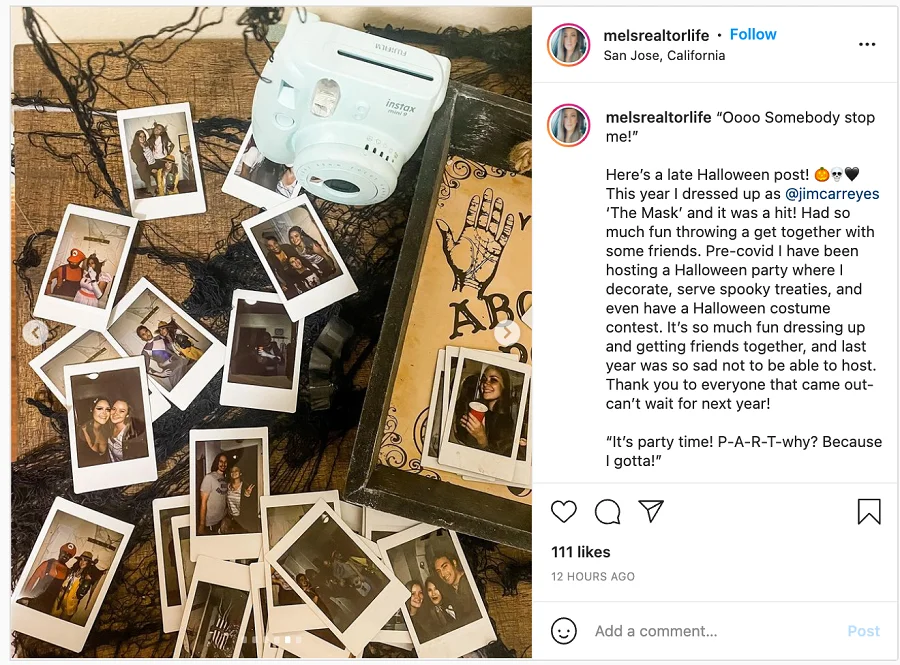 Having a hell of a good time.
Mischief managed.
Halloween Instagram Captions for Couples
Dressing up with your partner to portray iconic on-screen duos or some clever DIY outfits can end up being the most exciting part of Halloween preparations. In the post caption, you can provide more context to your styling decision or use these universal options:
No tricks, just treats!
Our horror story.
Mr. and Mrs. Halloween.
A tale of horror and love.
Partners in crime.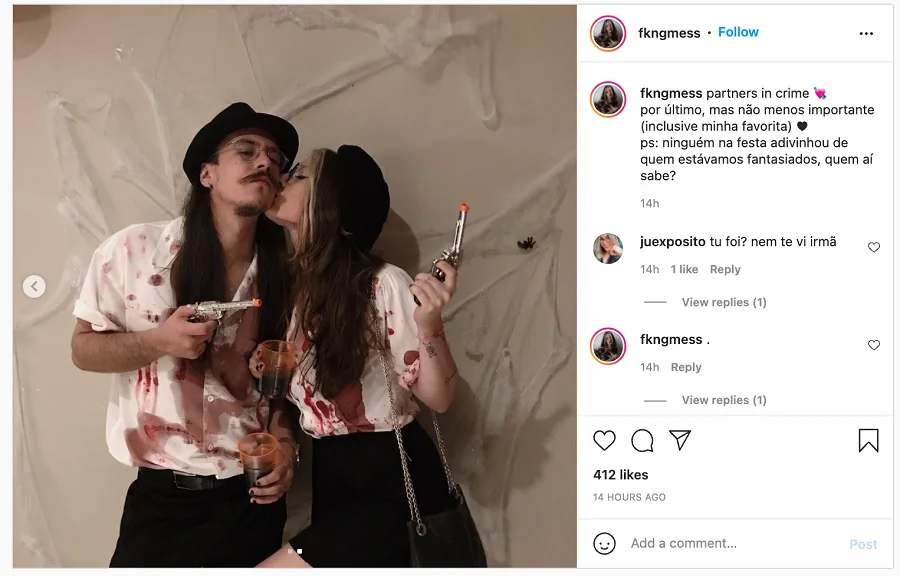 Halloween romance.
Boo'd up.
Our first Halloween together.
We costume-coordinated, as always.
Our dynamic duo.
You are my boo.
Summary
Instagram captions have more power than they get credit for, especially for accounts that are looking to build their audience and cannot miss depicting one of the key autumn festivities. Halloween is a widely celebrated holiday, and its traditions make for great content that can help attract a new international audience via hashtags or recommendations.
To make the most of this opportunity for organic account promotion, make an emphasis on the captions you use for Halloween posts this year, as they can strengthen your message. And if you run a personal blog and are not keen on gaining more followers, you can use the caption examples above for inspiration to add flavor and spice to your feed.