A Facebook profile can be deleted either through a smartphone or PC. Let's consider both methods.
Deleting an account using a smartphone
Simply removing the Facebook app from the smartphone will not affect your profile in the social network. To make your page and all information on it disappear, you need to do the following:
Enter your account name on the Facebook app;
Press on the main menu icon;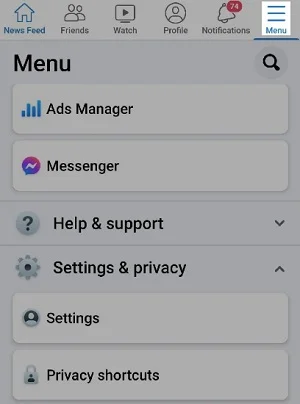 Select Privacy Settings;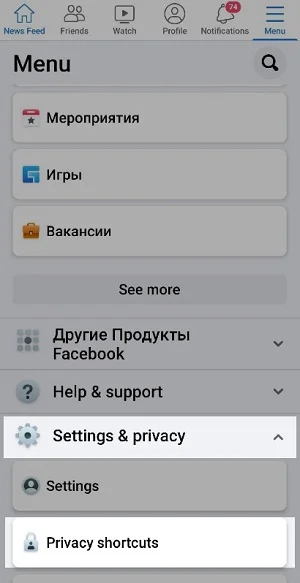 Scroll down to «Your Facebook Information» and press that;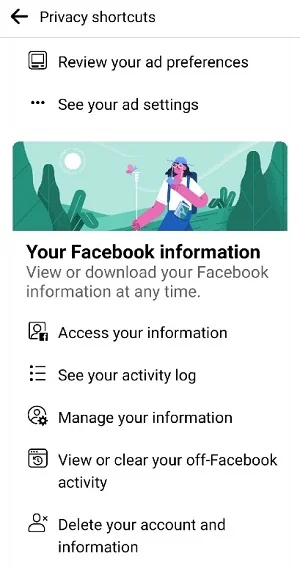 Choose Inactivation and Deletion, then Permanently Delete Account;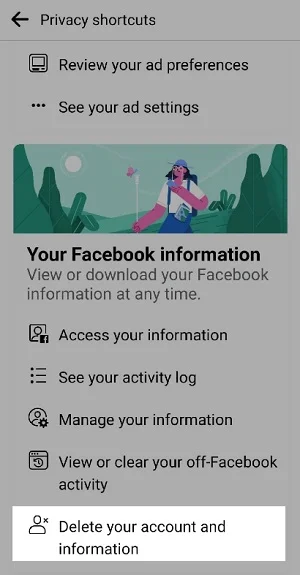 Proceed to Continue to Account Deletion.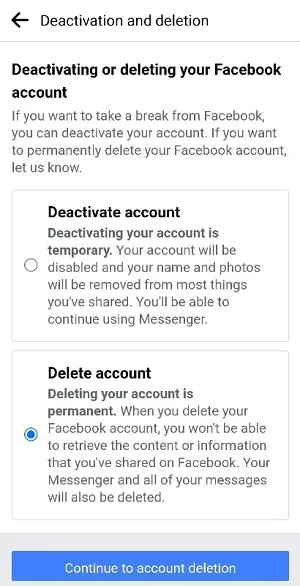 Like other social networks, Facebook does not want to lose users — so you may get redirected to the main page at this point. If this happens, enter the deletion menu again.
Now you can choose between the Deactivate Account (temporarily) and Delete Account options;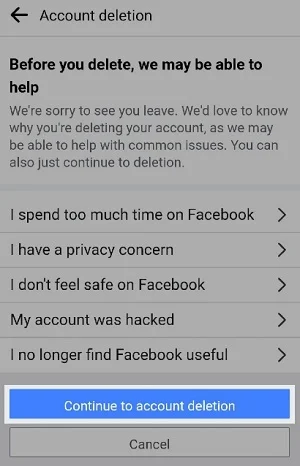 While a page is deactivated, it is off-limits to others, but you can still use Facebook's instant messaging.
Enter the account's password to confirm the deletion;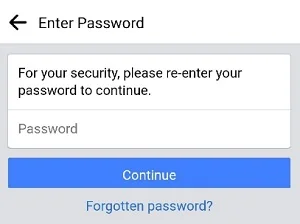 But there is more. Facebook will again flash a deletion warning on your smartphone screen and remind you that you will have 30 days to reconsider, return and restore the account and information. Go ahead and press Delete Account on the bottom.
All done! Unless you change your mind in 30 days, your account will disappear.
Deleting an account on PC
Option 1
On your profile page press the inverted triangle icon on the upper right;

In the menu that opens, select Settings and Privacy;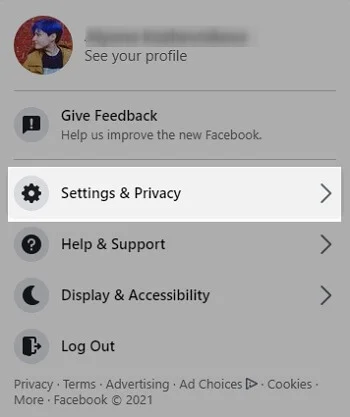 Go to Settings;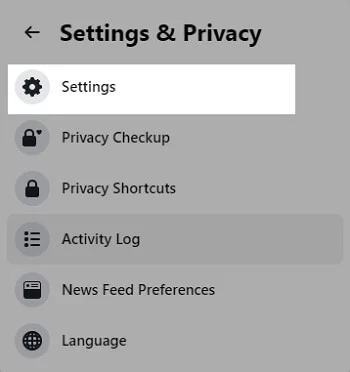 Click on Your Facebook Information on the left.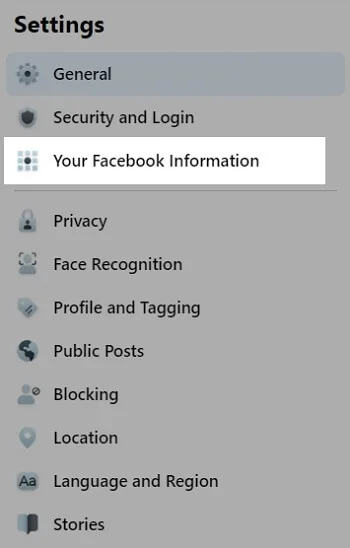 From the menu that appears choose Deactivation and Deletion;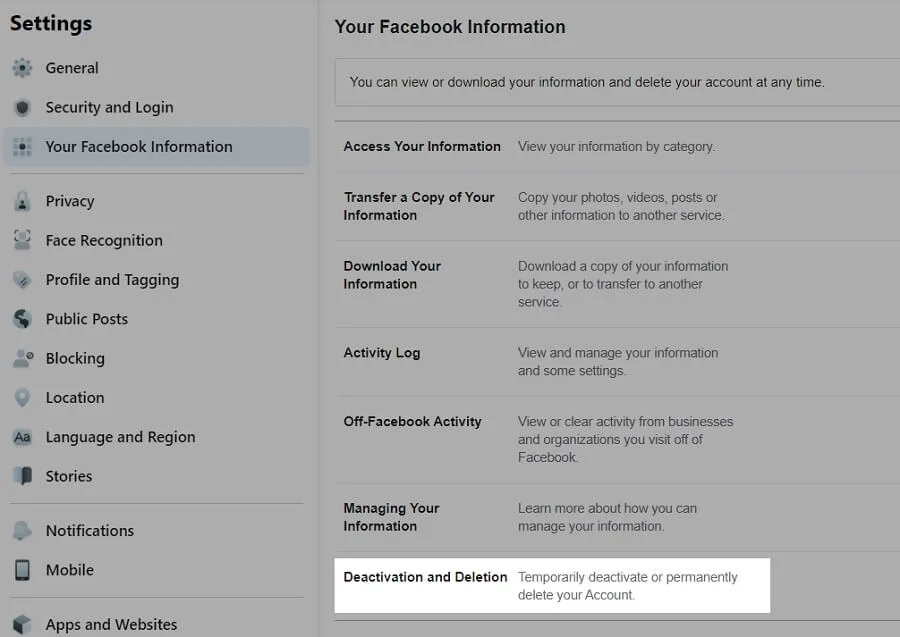 Choose the Delete account option;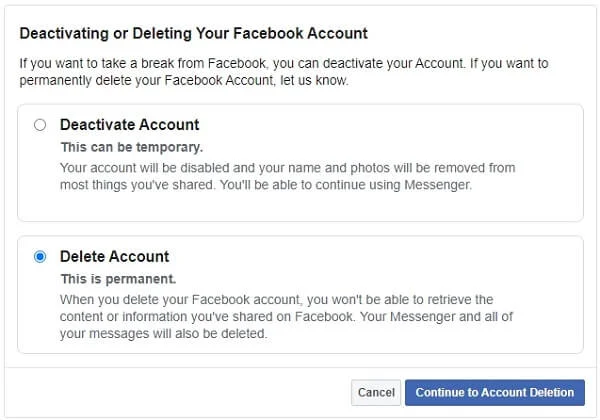 Then proceed as with the smartphone – click on Continue to Account Deletion;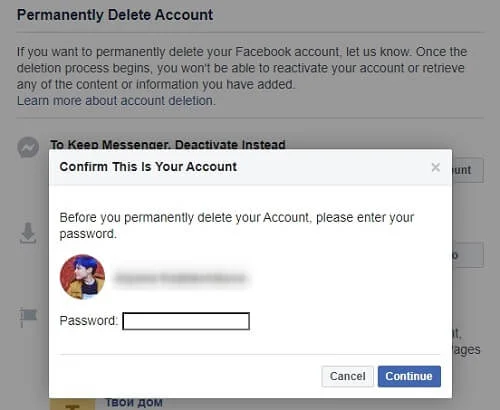 Enter the password and confirm with "Continue."
Your account has been deleted!
Option 2
Start by going to your profile: hover over the avatar picture first, then click on the three-dots button;

In the menu that appears, choose Profile and Tagging Settings;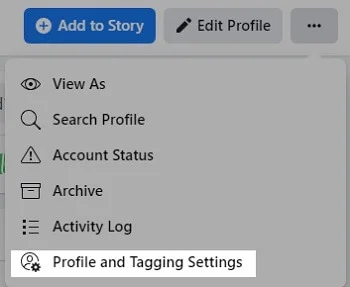 On the left, a new menu will appear, where you should click on Your Facebook Information;

Now you can either delete the profile without delay or take the time to offload all necessary information from the account first.
Keeping Facebook page information
If you decided to keep your page information, choose that option in the menu;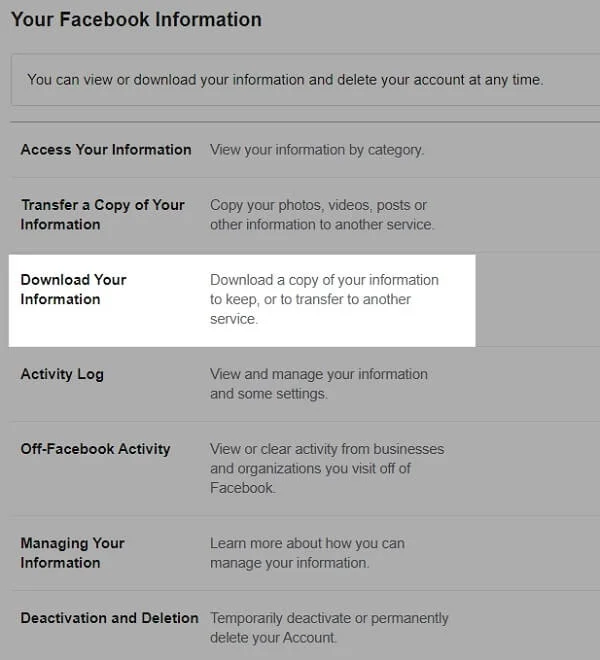 The network will offer you to export all of your data, but you can choose what you want only (for example, only your photos, videos, messages, or posts);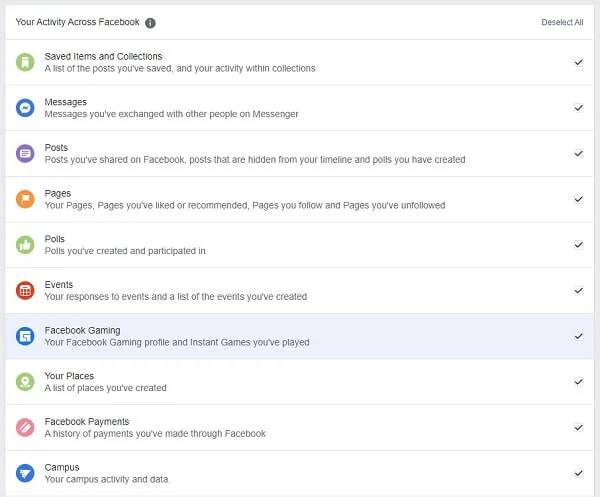 After choosing what to save, press Create File.

After a while a pop-up window will inform you that your information has been archived.
You can click on Available Files to download the archive;

In the Your Facebook Information section, you can export your profile media content to outside services by pressing Transfer a Copy of Your Photos and Videos.
With the important information downloaded or exported, you can return to account deletion.
Deleting or deactivating a profile
Go to Your Facebook Information again, click on Deactivation and Deletion.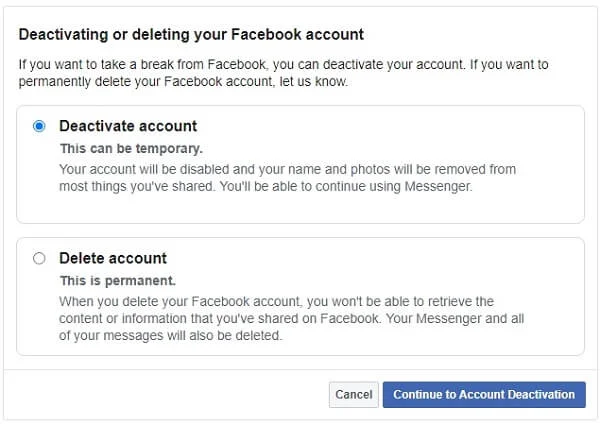 As with the smartphone, you can deactivate the account for a while or delete it for good;

Deactivation blocks page views by others, but the Facebook messenger will still be available to you. If this is what you prefer, click on the button, enter the password and give a reason for deactivation, and press Deactivate in the bottom-left corner. Facebook will resist and send you another warning. Close the pop-up and press the deactivation button again. You did it: the profile will no longer be available;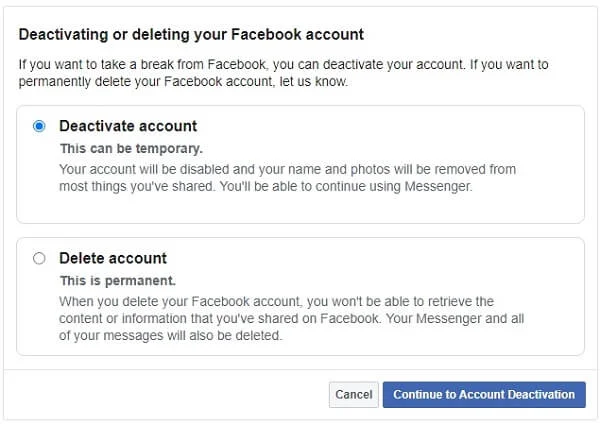 If you want to go all the way, choose Account Deletion instead;
Now Continue to Account Deletion;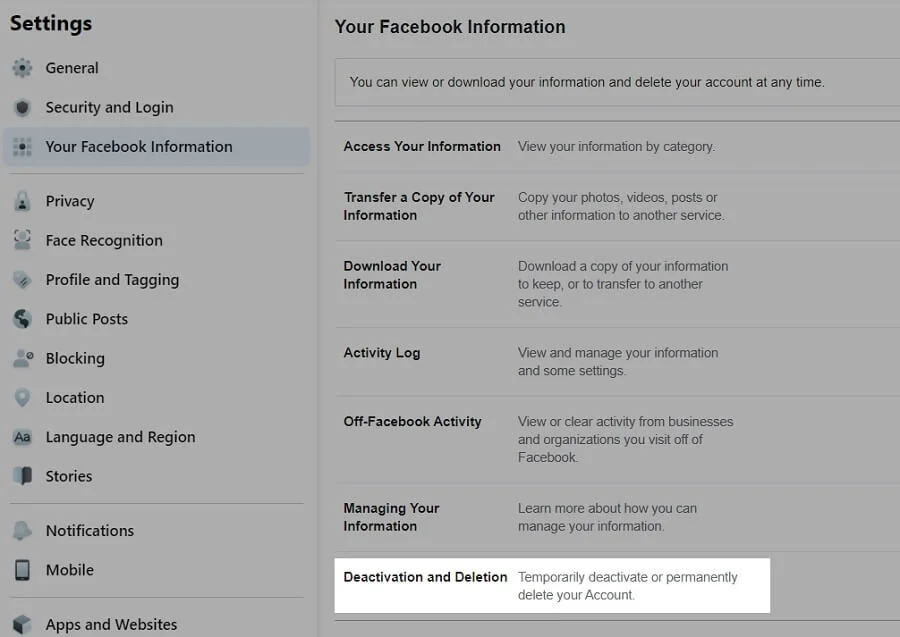 A pop-up will warn about the consequences: all your information will be gone, and the messenger will become unavailable;
Ignore this and press the deletion button. Work complete!
But, of course, Facebook will allow you 30 days to change your mind and return. To reactivate your "deleted" account, you only need to enter the login and password and press Cancel Deletion. Apart from this, the company policy allows Facebook to keep data indefinitely for legal purposes.