TikTok Live is a live stream video of a TikTok user. You cannot save it on the page — that is why you can only watch it once when someone is broadcasting.
Please note that TikTok Live is only available for users that have more than 1000 followers. If people decide to unfollow you for some reason and the overall number of followers gets below 1000, the live streams will become unavailable.
How to start your live session on TikTok
Open TikTok.
Tap the plus button at the bottom of the screen. This button allows you to add videos. If you have more than 1000 followers, that is also where you find TikTok Live.

At the bottom, scroll left to find the Live button.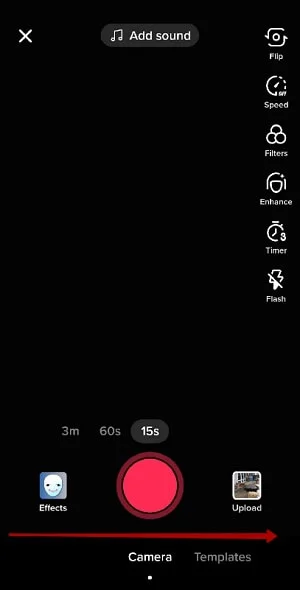 You will see a text field where you need to write the name of your live stream (the title). Then tap the red button "Go live." Your followers will get a notification that you've started a live stream on your page.
Here you go! You are now live!
There is no time limit for live streams on TikTok. You can stop the session by pressing the cross button in the top right corner of the screen.
What are live streams for?
Live streams are an excellent method of communicating with your audience. When you go Live, you can tell users about yourself, show something about your life, announce a significant event or occasion, and share information about promotions and discounts. If you work in sales, advertise something, and even get some donations from your followers.
Another essential part of live streams is to answer the followers' questions. You can collect questions in advance or answer those you receive via live chat when broadcasting. Such live streams improve the engagement of your audience and spark interest in your account and your personality.
How to run a mutual live stream on TikTok
There is no particular feature for running a mutual live stream. It means you cannot run a live stream from two accounts, which is possible, for example, on Instagram. But there is a similar feature on TikTok.
What you need to do to run a live stream with another blogger:
You need to have more than 1000 followers.
Go to the page of the person you want to run a live stream with. Start a video of this blogger.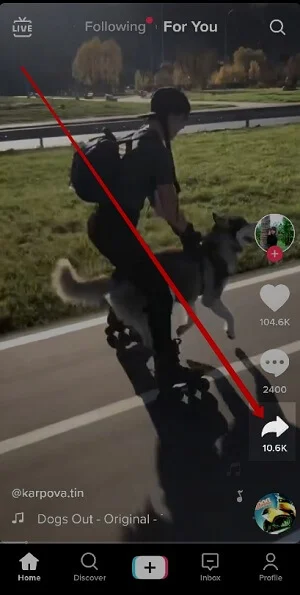 Click the arrow icon and choose "Duet".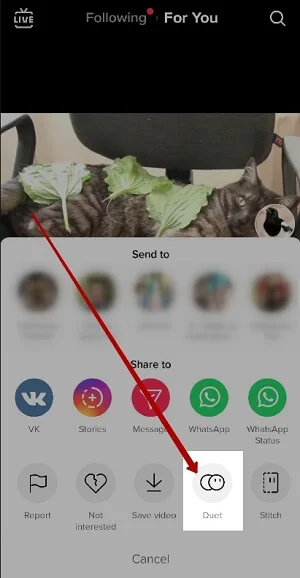 Start making a video.
Another way would be to invite someone personally to run a live stream with them from one account. It can be your account or of another blogger. To start your live stream, just follow the instructions from the previous section.
Why do mutual live streams?
One of the main reasons for running a mutual live stream is to increase the audience by getting new followers. You introduce yourself and your account to those who follow the blogger with who you run the live stream. You will have an opportunity to be shown on the For You page if the TikTok user you ran the live stream with has a large audience or the audience from a different segment.
To make your live stream even more effective, do not forget to announce the date and time for your followers. Then your audience will have time to prepare questions and allocate time for joining the session.