The number of Instagram users has sustained growth over the years and has already surpassed the 1 billion mark. Can you leverage this immense user base into a real, sustainable income? Yes, absolutely. But there are a few tricks to learn first.
Your main asset is your photo and video content. Since its inception, this small app has evolved a platform for people habitually taking photos of food to a full-on new media service.
Some might be surprised to learn that making a living on social media can take different forms, it's not just straightforward "billboard-like" advertising. With a third of Instagram's audience being the age of 25 and 34 and another third being between 18 and 24, these young people break the norms and shape a new era where money-making is nothing like it was for previous generations.
Influencer marketing has gained immense respect and become a go-to tactic for newer as well as for established companies. Today, Insta influencers can earn from $250 to $250,000 with one single post. And even this information is too general since there are so many factors affecting the rate and so many other ways to earn money beyond sponsored posts.
Even if you don't consider yourself an influencer, you too can find lucrative opportunities. In this article, we'll be exploring how to make money on Instagram and taking a look at all the different methods that exist out there to succeed at it. Tune in for real-life examples and ideas that have worked wonders for many influencers.
3 Basic Ways to Get Paid on Instagram
As mentioned, there are numerous paths to making money on Instagram. But if you boil them down, there are three distinct methods that people use most commonly - selling products or services, affiliate links, and sponsored posts.
Here is why we chose to stick to three for the time being. Even if you take social media giants like Kim Kardashian, whose massive following guarantees a profit, she essentially uses these three methods. You can scroll down any influencer's feed or open their stories and accurately pinpoint which of the three methods they used each time.
But this section is not about the numbers. We'll cover methods that work for everyone. Even if you think if you have too small a following, pay attention - in most cases, it's not the number of subscribers that matters, it's how effectively you can use each method.
Sell Your Own Products or Services
The easiest way to announce your products or services is by posting about them on your regular page and also creating a separate page specifically for them. Optimize the page for conversions - include a beautifully designed and consistent aesthetic as well as an eye-catching bio and branded profile photo. Also, give as much information as you can about what you're selling through posts and stories.
In fact, you only get one clickable link - the link in your bio. But even this can be useful since you can attach a link to the website you're selling from. Alternatively, you can keep it simple and sell through direct messages.
Here are some trending digital product ideas:
Photography, printables (digital art, patterns, invitations), animation
Video (lessons, stock footage, cinemagraphs)
Audio (music, podcasts, audiobooks)
E-books (recipes, guides, how-to's)
Color and editing presets
Typefaces and fonts
Trending physical products are as follow:
Apparel
Accessories (stickers, phone cases, jewelry)
Beauty products (skincare and makeup)
Home goods and decor
Outdoor and sporting goods
Food and cooking
Just a few examples of services you can sell:
Online courses and workshops
Fitness programs
Personal coaching
Therapy
Financial advice
With the Shopping feature, making money through product selling is easier than ever. One of the more recent updates even carved out a separate tab for the Shop.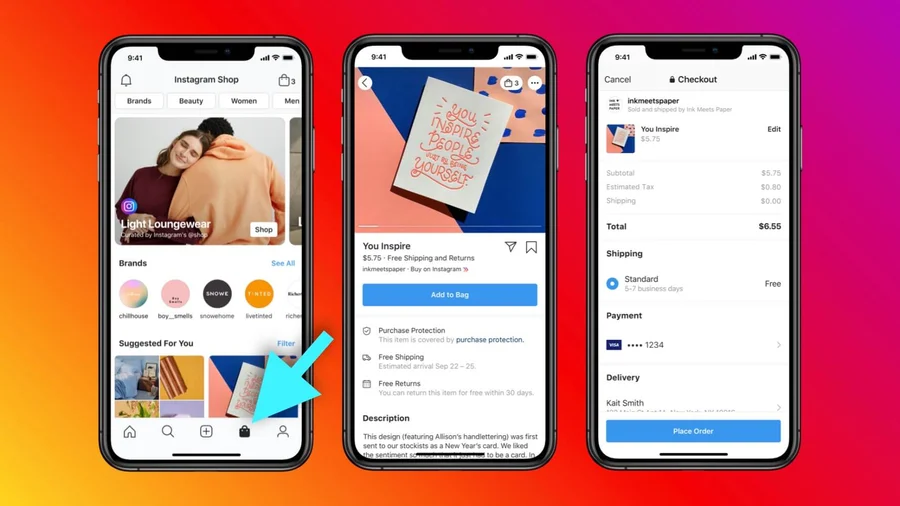 All users will have access to your products, which can be featured alongside big-name retailers such as Asos and Zara. Here's a bit more you should know about the Shopping feature:
Customers can tap "Shop now" to visit your website.
You can tag up to 5 products.
Posts are shareable.
The shop features the Insights tab, where you can view performance.
To set up the shop, you need to:
Set up a Business Account and connect it to your Facebook Page.
Create an online store to sell physical goods or get listed on an aggregator platform.
Connect your account to the Catalog Manager.
Send a request for the Shopping feature in your profile's settings and wait for a review.
Make Money on Instagram Through Affiliates
You can work as an affiliate to promote a company's goods and services through affiliate links. For every new client and purchase made with the link, you are paid a commission. You don't need to do anything other than encourage people to click and buy. But the question you might be more interested in is how you can obtain these links.
Thankfully, there are thousands of affiliate marketing programs that you can sign up for. There are affiliate networks like Shareasale, Clickbank, Awin, Impact, etc. Specific instructions for entering are listed for each program.
Read the terms and conditions carefully. Sometimes, your referral needs to complete a purchase within a certain period in order for you to get paid.
You can also join individual affiliate programs right from a company's website. If you know which company you would like to set up affiliate links with, just google "[brand name] + affiliate program". Then follow the instructions and send your request. Not many people know that literally everyone can send a request and they are almost always approved. You don't have to be a celebrity for that. From the perspective of a company, any link counts. But then it's your responsibility to attract people to click it (consider using the power of CTAs).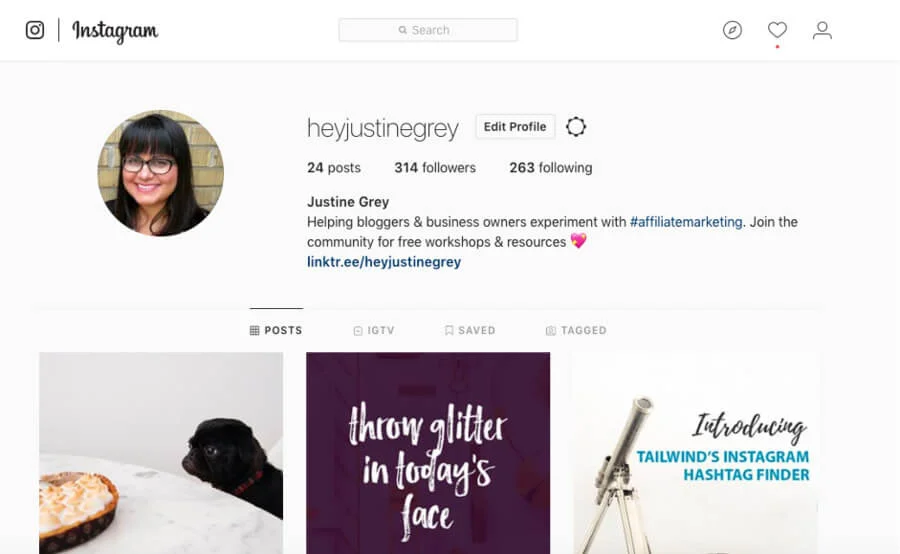 There is one catch - a proper affiliate disclosure. In the affiliate game, transparency is required by law. Thus, you need to declare any affiliate links not only for moral reasons but also for the Federal Trade Commission.
Several years ago, the FTC introduced requirements for online advertising that included affiliate links:
Frequent: Every post or other form of content with a link attached should have #Affiliate or something along those lines.
Clear: Disclose that you may receive compensation from purchases made through them.
Accessible: The disclosure must be visible with no extra action required from the user (like scrolling, tapping, etc.).
Publish Sponsored Posts
This is by far the most popular way to make money on social media. At the same time, it's more complicated since you need to foster a good relationship with a brand and negotiate a good deal for yourself.
Here are a few tips to get noticed:
Reach out directly. Don't be afraid to speak out and communicate your value (just be sure you have a good engagement to back it up). In DMs or email, explain who your audience is and why it can benefit this brand specifically.
Tag them in posts. Delicately feature the brand you're interested in and see how your audience reacts.
Help them reach out to you. Include your contact information and be responsive.
As for actually sharing the post, here is how the process goes. When you create the content and write your caption, be sure to follow the business' guidelines that you agreed on. But they usually ask users to send them for approval anyway.
The brand needs to add you as a partner that can tag them in posts. Then, start uploading the post as you normally would, go to "Advanced Settings," and select "Tag Business Partner." Publish the post, and the tag will appear above it. For Stories, you should do the exact same thing but add the link through the icon toolbar.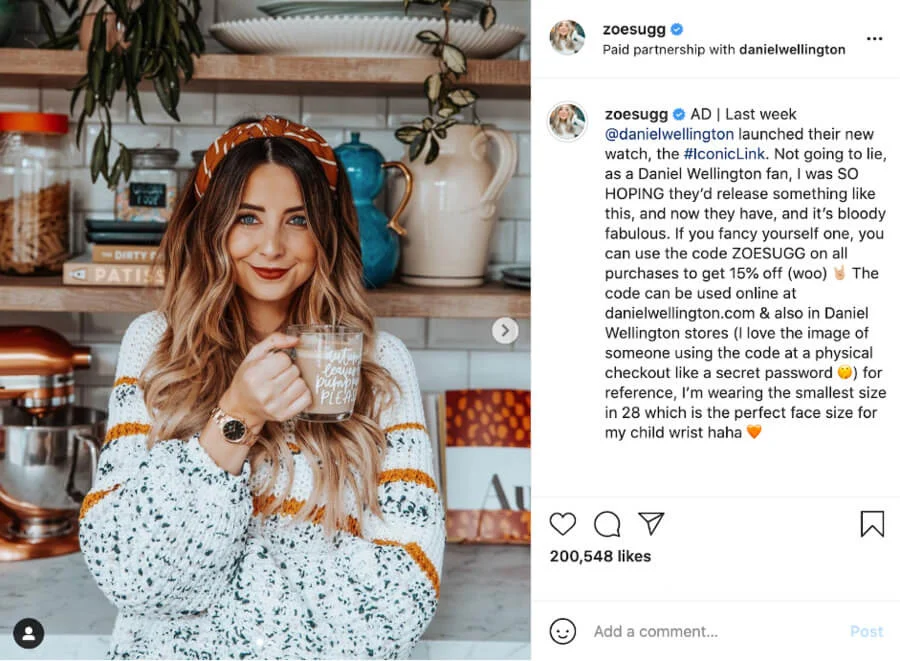 The FTC disclosure guidelines work here as well. To simplify our lives, Instagram added a feature that allows you to flag a post with a "paid partnership with [brand name]" tag that appears immediately under the user name. This ensures the sponsorship is clickable and highly visible.
Alternatively, you can add #Ad, #SponsoredPost, or something similar. There is no significant difference between a sponsored tag and a hashtag, so choose what works for you. Some people prefer the tag feature because it simply looks better - the post isn't burdened with extra hashtags, and you can focus on crafting that perfect description.
Reliable Ways to Make Money for Those With Under 5,000 Followers
Having mentioned the three pillars, we will now provide more details on what small-to-medium accounts can do. The methods below are described with smaller accounts in mind and illustrated with relevant examples.
Before we go on, let's clarify one thing. When it comes to smaller influencers, the requirements for quality are higher. It might be discouraging to see massive influencers doing low-quality sponsorships for brands outside of their niche. But you need to understand your value. Consumers trust smaller influencers because of their authenticity and transparency, so be mindful of the credibility you must uphold.
Use Instagram Shoutouts
For a shoutout, you need to create a post or story that contains a specific product with @username of the brand you're working with. The brand might have specific requests or give you full creative authority.
To find a shoutout opportunity, you can communicate with the brand directly or through a marketplace. Research the best marketplace, get listed there, and provide your rates. Marketplaces are very effective in getting the word out in a short period of time without having to do a lot of heavy lifting.
Here is an example of a shoutout for the new McDonald's meal.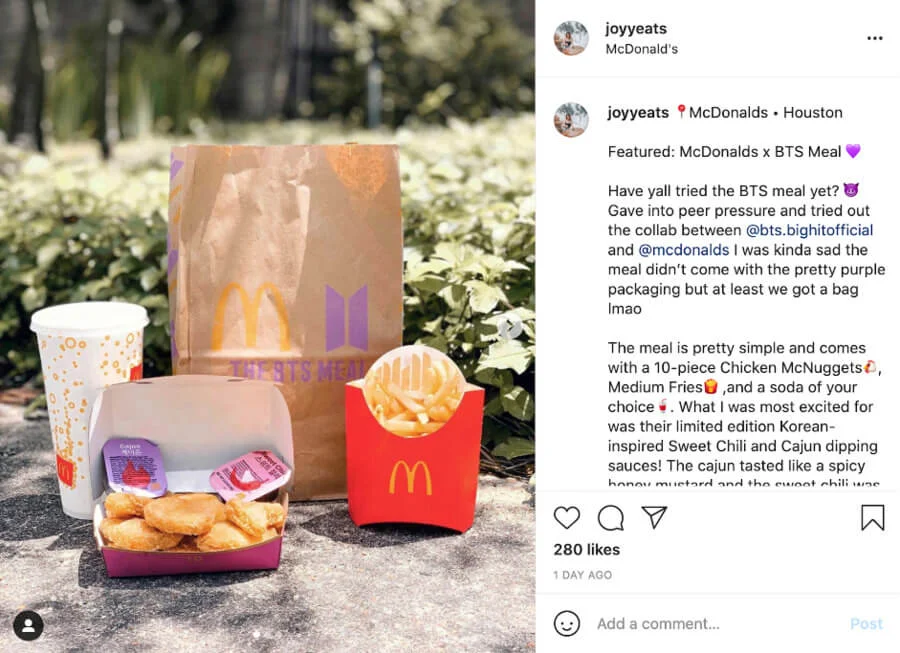 In the screenshot below, you can see that this account only has 2,200+ followers.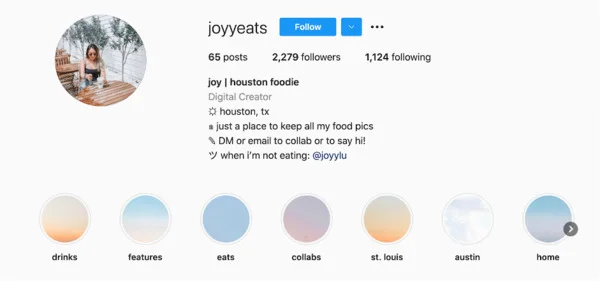 Make Stories, Masks, and Filters
Businesses accounts are always looking for new ways to ensure their Insta stories are more interesting and increase their shareability. You can help them out and develop masks and filters for them.
First, work on a few masks and filters for your own account, these will later be used as your portfolio. If a brand notices that you are good at graphic design and content creation, they will reach out. Or you can take charge and pitch a few ideas yourself. Once again, the level of creativity you can put in depends on the brand.
Here is an example of what it can look like.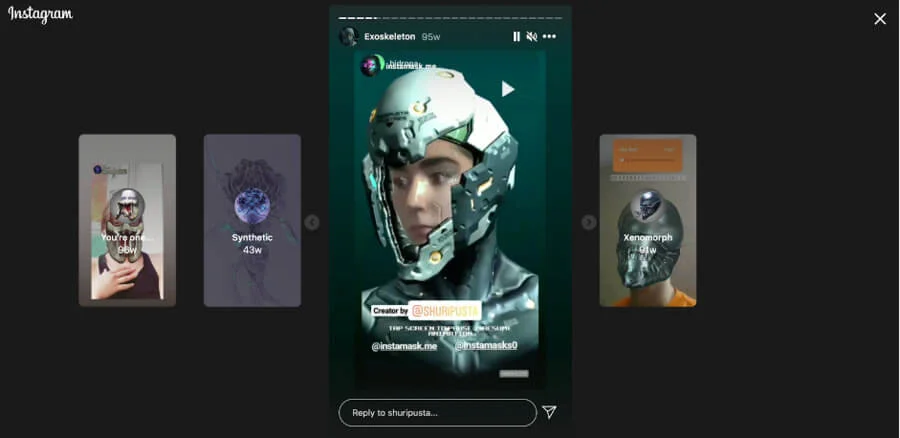 This creator has under 2k followers but has already successfully released several masks for their own account as well as commissioned masks for other accounts.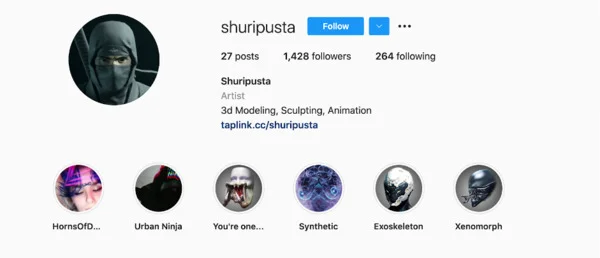 Working With Brands
If you don't have a paid partnership lined up already, you can suggest a time to chat with the company and brainstorm with them. Simply write and say: "I could post an unboxing of your new collection to my story and share a post to describe the products in detail. I'd love this to be a collaborative process, so if you'd like to chat, let's schedule a Zoom call".
This is your chance to recommend a posting strategy and an idea of the kind of content you'd focus on. One of the reasons why brands like working with smaller influencers is because they often insert a lot of personality into their content. Brands are looking for those unique points of contact with prospects.
Here is a sponsored post for a company called Winc, which features the sponsored partnership tag we talked about earlier.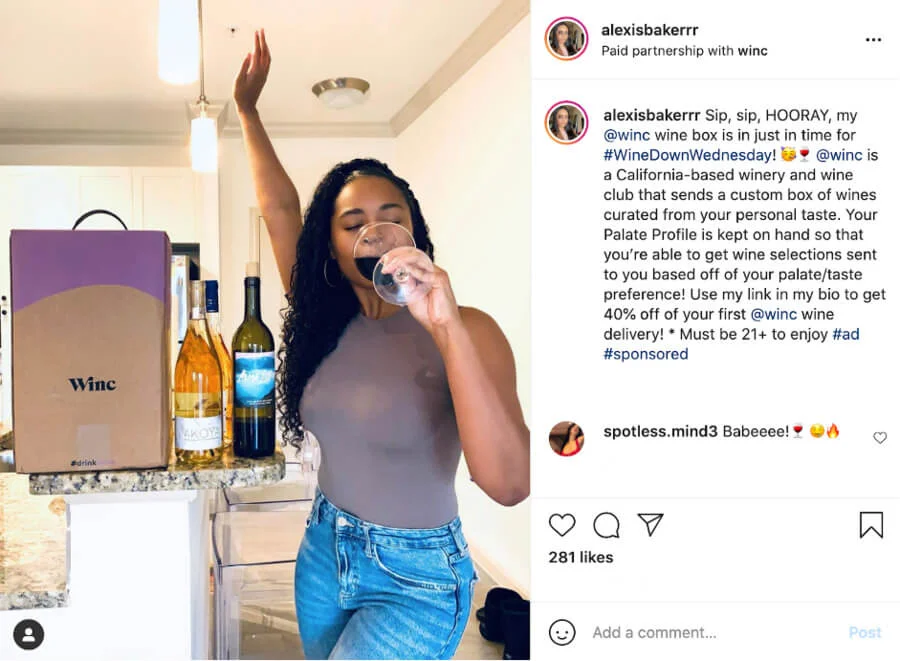 The creator, Alexis Baker, has under 4k followers and proudly calls herself a nano-influencer.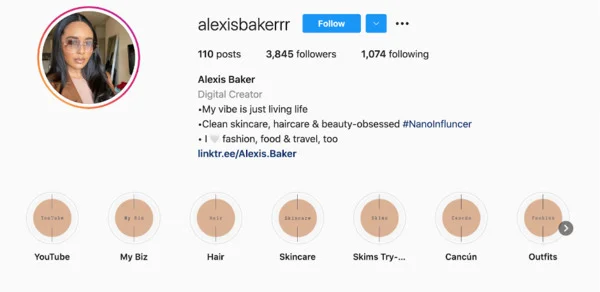 Find Profitable Affiliate Links
We've already explained how you can make money on Instagram through links and where you can find opportunities. But let's talk about affiliate programs in the form of codes.
Here, you recommend a product or service to your followers through your post or story and provide your unique code for checkout. It is usually something simple like your name capitalized and the percentage of your discount. The commission for each use is discussed on a case-by-case basis.
The main benefit of affiliate codes over links is that they can be embedded in the text. This way, you're not limited to the one link slot you have in bio.
Below is a post with a version of an iconic "use code to get % off your purchase".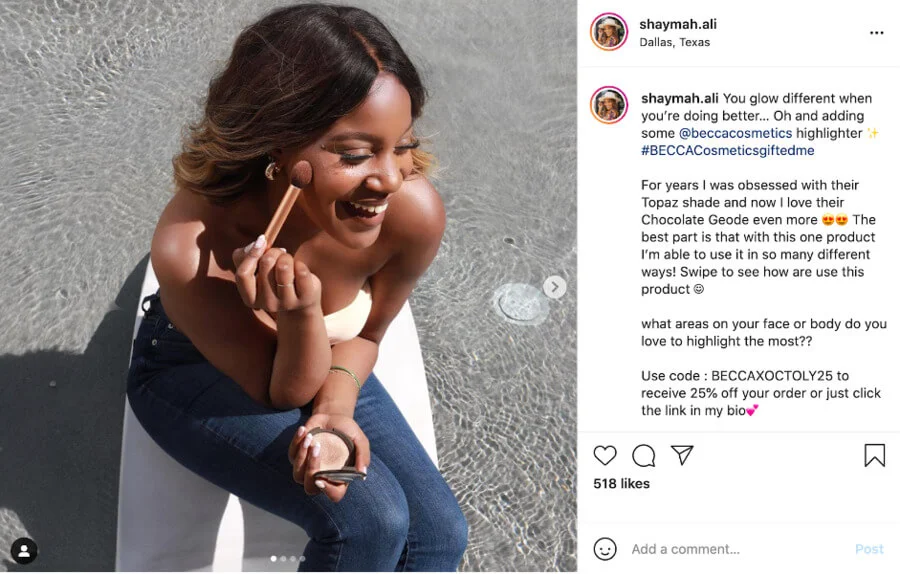 This content creator had less than 5k at the time they entered the affiliate program, and now, Shaymah has a little over 5k.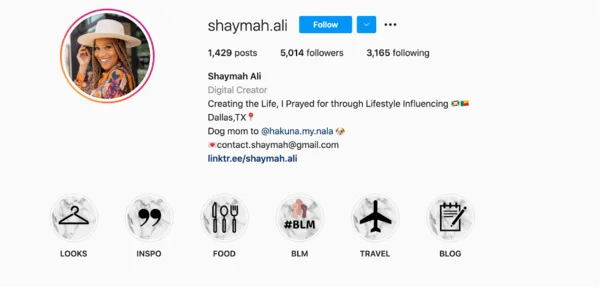 Aggregate All You Followers
It never hurts to grow your audience. If you're active on other social media platforms, it might be time to direct your entire following to your profile. For example, your Twitter audience can be vastly different from the type of people you interact with on Instagram and vice versa.
Cross-promotion is free, simple, and only takes a few minutes to do. You just need to include links to your Instagram and other social media profiles. For example, the creators below used their YouTube video description and even furnished them with an emoji.

There is another neat trick you can use for your account - post scheduling. Let's say you're working with a brand that wants you to post at a specific time. If you're worried you won't post it in time, upload photos and videos directly from your PC to the Onlypult platform. Thus, you'll meet your contract requirements with minimal effort.
And Yet, How Many Followers Do You Need to Make Money on Instagram?
While having a large following helps with sales, it's not the number of followers that directly dictates your income. The most crucial metric, when it comes to making money on Instagram, is the rate of engagement.
Engagement rate by reach is the most common way to calculate engagement with content. Use the first formula for a single post:
ERR = total engagements per post / reach per post * 100
Then, you can determine the average:
Average ERR = Total ERR / Total posts
For example: Post 1 (3.4%) + Post 2 (3.5%) / 2 = 3.45%
A rate of engagement of 2-3% is considered good, 4-6% is high with a possibility of going viral. Brands are looking for high engagement as an indication that your audience will take a paid recommendation seriously. So, this is what you should focus on above everything else.
Your niche/area of specialization also matters. You need to carve out a niche where you are valued and emerge as a domain expert. Below are the most popular niches that have higher barriers to entry:
Traveling
Beauty
Fashion
Health and Fitness
Lifestyle
Parenting
Business
Music
Now, let's see which opportunities you have as a small creator.
Сan You Make Money on Instagram With 100 Followers?
Late Bloomer Art is a small account dedicated to advertising the product they sell - custom art. Even with under 100 followers, they tick all the boxes when it comes to selling anything:
They state what they specialize in.
They have an active link to their Etsy shop so that users know where they can complete the purchase.
They added a call to action in bio.

Of course, it's hard to gauge the success of this shop, but we can still learn a few lessons just by looking at their posts. They use Instagram as their portfolio and display the exact technique they work in. Lots of relevant hashtags also help others discover this account and might even get picked up by Etsy's official account.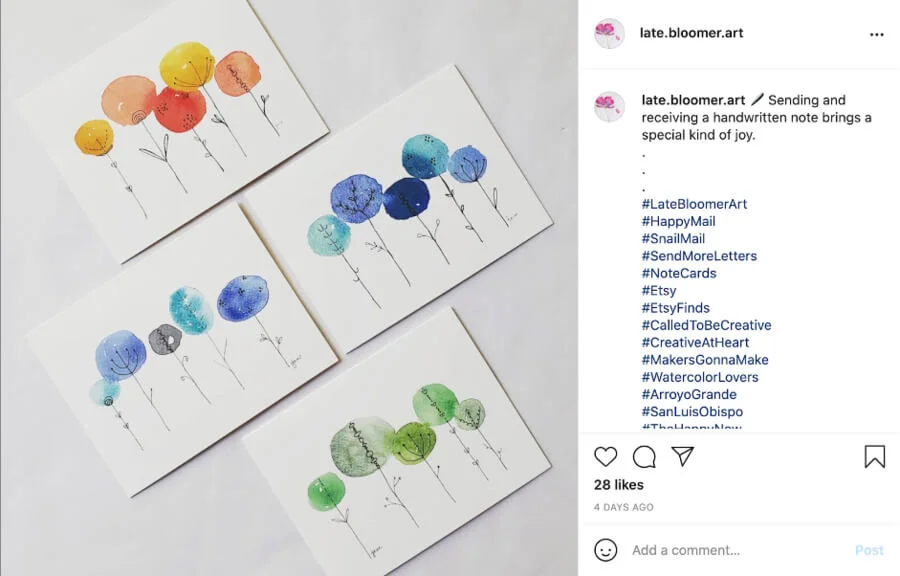 Below is a great example of showcasing customer testimonials. It's not easy to share reviews on Instagram but dedicating a separate post to a happy customer increases the chance of further purchases.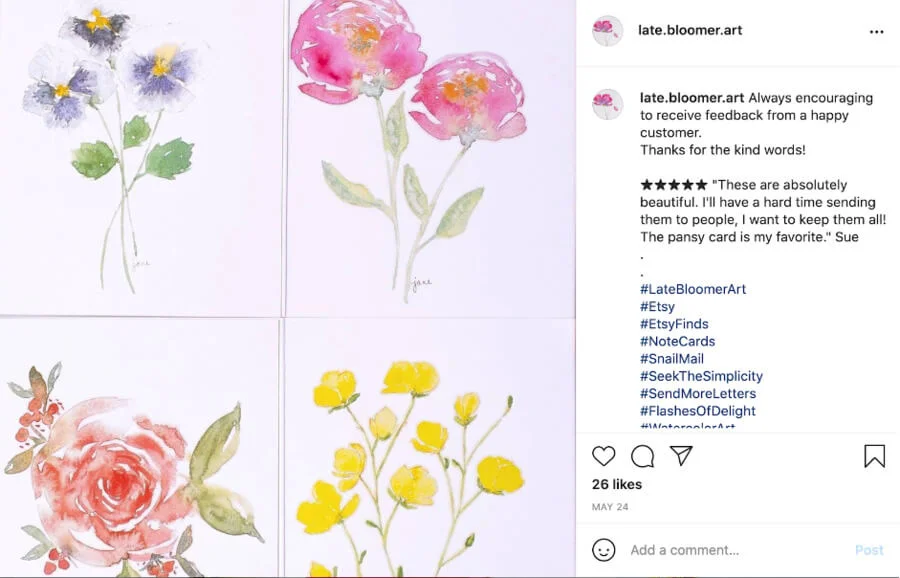 Where You Can Make Money on Instagram With 500 Followers
Here is a fun example of a small account that earns money by teaching other people how to make money. The niche of financial advice is lucrative and targets millennials' pain points precisely. The great news is that with sources, you don't need to have as many sales as with products. The margin is much higher, hence, the profit from one client is higher.
The Financial Blueprint 101 positions itself as an expert in three categories:
Financial Management and Education
Financial Wellness Coach
Debt Eliminator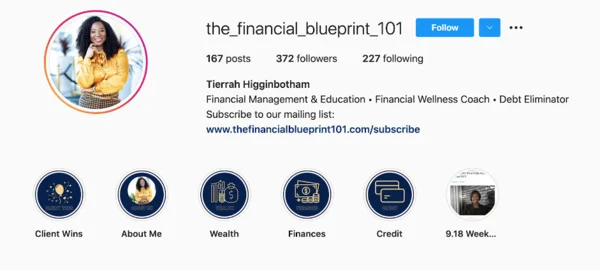 When you open their feed, one of the first things you see is the invitation to a free 2-day Masterclass and an explanation of what to expect. Even though this particular offer is free, it's just a stepping stone for a paid class that The Financial Blueprint 101 will advertise during the Masterclass.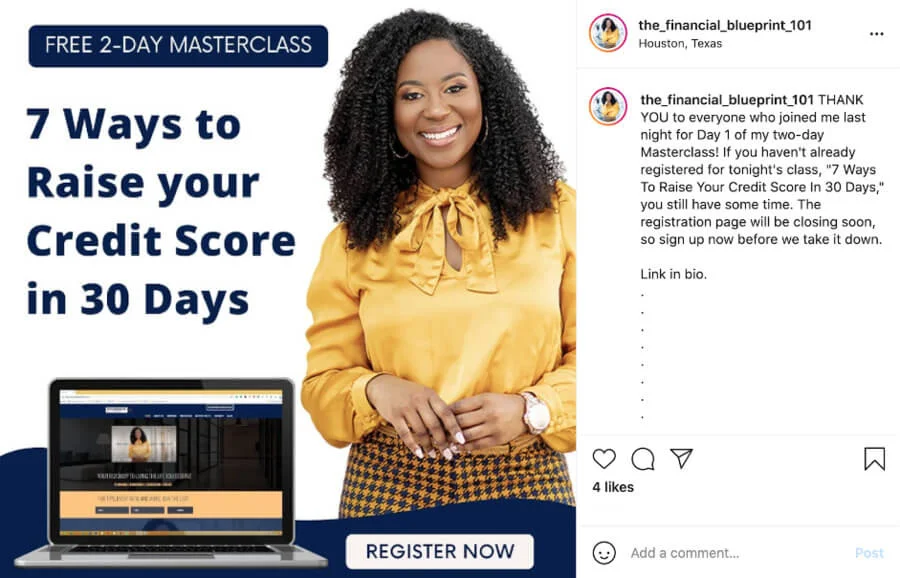 Obviously, you can't just advertise your services with every single post. To change things up but still stay on topic, this account shares quizzes, tips, remarkable stories, etc.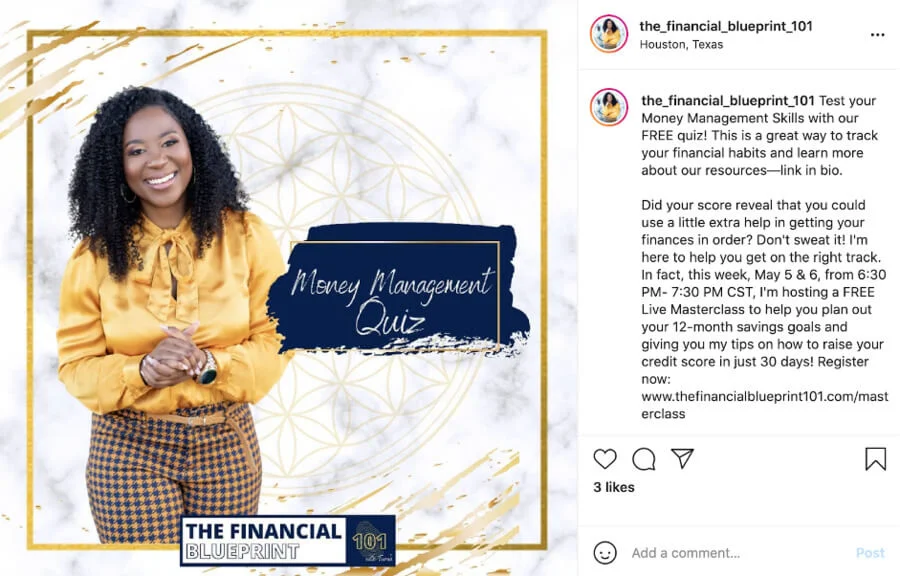 Ideas for Making Money on Instagram With 3,000 Followers
For an account with under 3k followers, we're going to analyze indirect product/service offers. Paige is a Chicago-based photographer. At first glance, it may seem that this is too broad a niche, but she managed to narrow it down.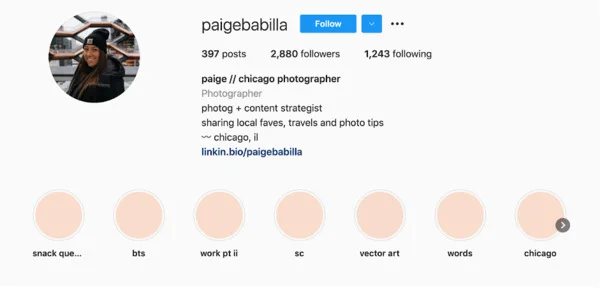 Most of her content focuses on local coffee shops. So, if a Chicago-based photographer doesn't catch much attention, an account with coffee recommendations sounds more enticing. In the previous sections, we've talked about Instagram shoutouts. Here, Paige uses organic shoutouts and builds relationships with local brands.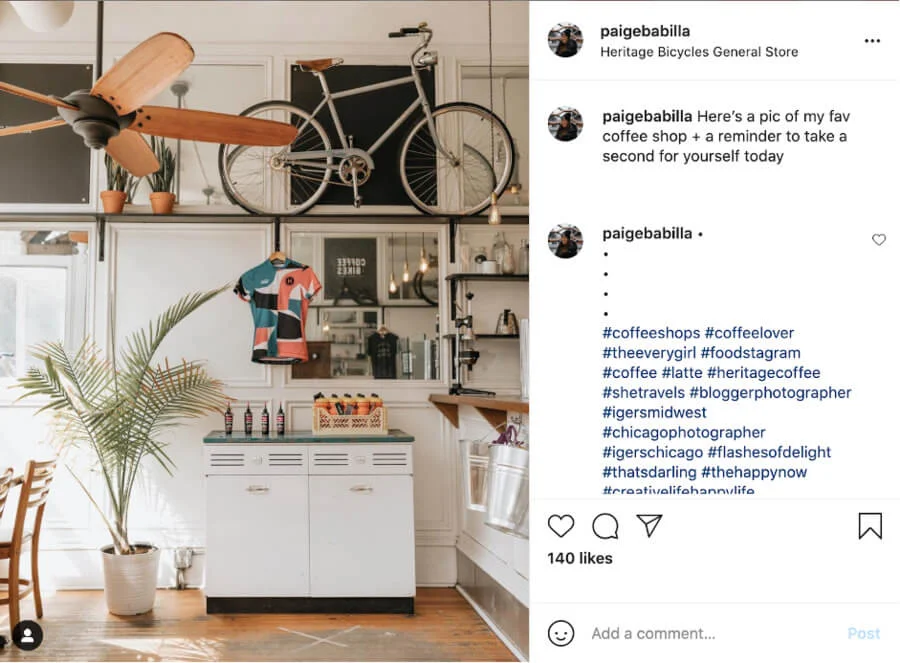 But these recommendations aren't the ultimate goal. The goal is to show off her photography skills, which most of her followers take notice of. If another local sees her aesthetically pleasing Instagram content, they will be more likely to book her for a paid event. Once again, we see the successful use of social media as a portfolio platform.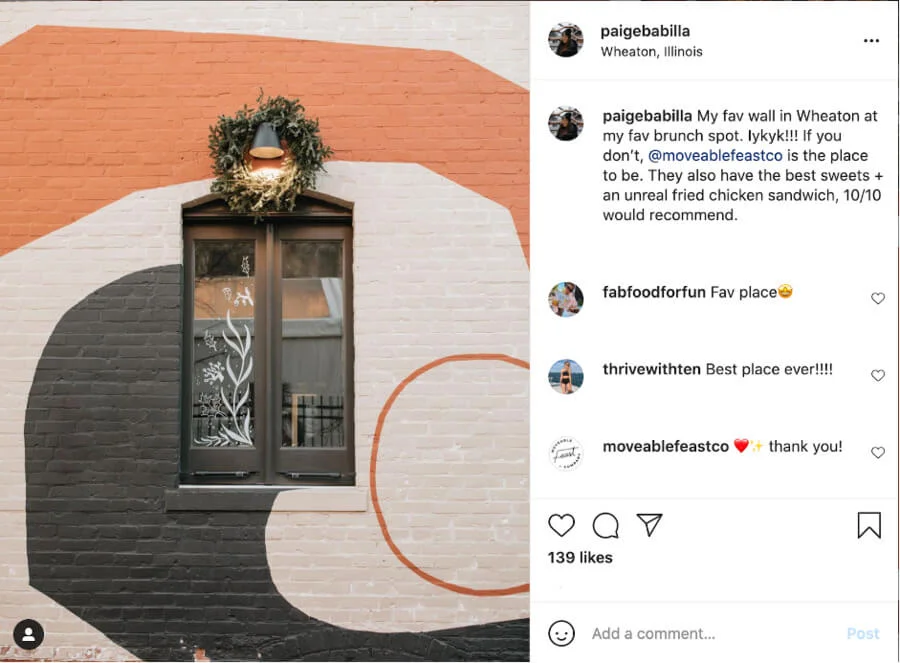 5 Hot Nano Niches to Make Money With on Instagram
During the pandemic, we've seen certain trends come and go and noticed a few niches that tend to be more profitable. Based on our research and experience, we've selected five niches that we believe are the most worthwhile right now.
Here is how you can make money on Instagram in the post-pandemic environment.
1. Outdoor Workouts
The year 2020 was all about home workouts. Even though some gyms are opening in 2021, some people are still hesitant, and some countries didn't lift lockdown restrictions. So, we see an emerging new trend for people who are tired of home workouts - outdoor workouts.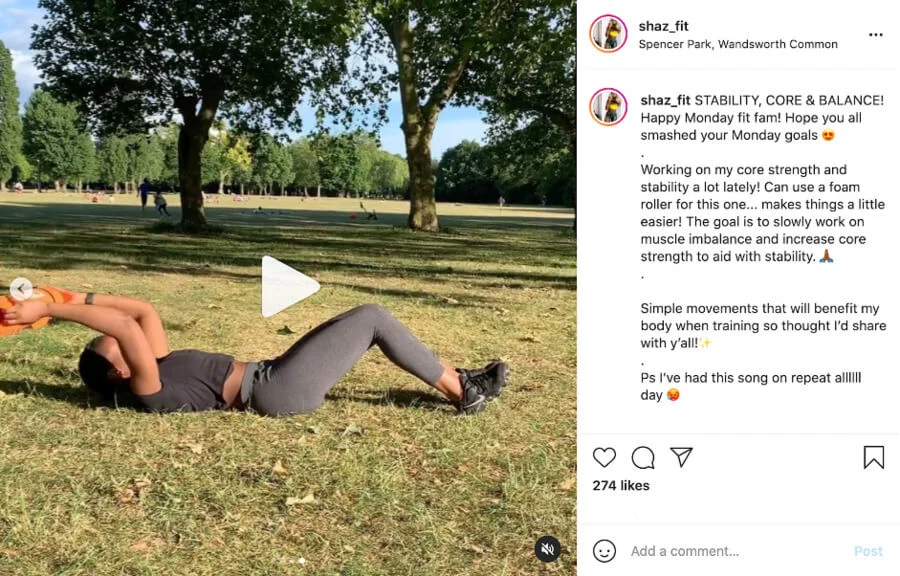 Building a fitness account in these uncertain times leads to multiple hidden business opportunities. For example, a nano influencer can build a following with purchasing power for equipment, training clothes, and fitness guides.
Fitness has always been a great niche for influencers. But now, there is an even greater need for it. After being confined to their homes for weeks and months on end, people have gained weight. And if you manage to find the sweet spot where you can motivate your audience without body shaming, you can easily work with fitness-oriented brands and offer your own product.
2. Local Traveling
There is still generalized anxiety around international travel, so domestic travelers or those from a neighboring country are the new hit. It's now less trendy to jump on a long-haul, first-class flight. And microcations, or shorter trips, are becoming increasingly more attractive.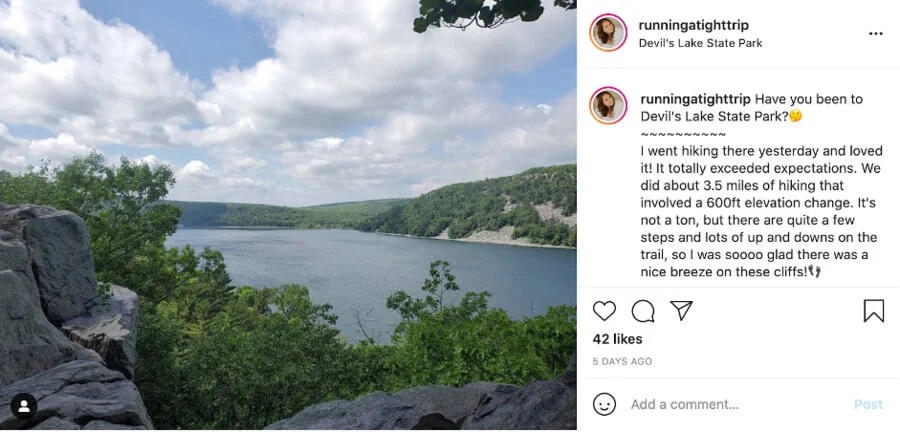 Travelers are turning their attention to places closer to home because they now realize that it's easy to fit a domestic trip into an otherwise crowded schedule. At the same time, most people have no idea where they can go and what they need to know. You can be an educator for them!
You can get paid to promote local "staycations" or trip organizers. Or you can become one yourself and organize domestic trips for small groups of travelers.
3. Recipes and Healthy Lifestyle
Last year, many people stockpiled water flasks for hydration and yeast for bread making. Marketers expect the health trend to continue. The simplest way to enter the trend is to share a picture of your creation, add a hashtag, and post a story with a poll sticker where the viewers can vote yes (if they like it) or a no (if they don't).
After you work on your engagement metric, how then can you capitalize on it?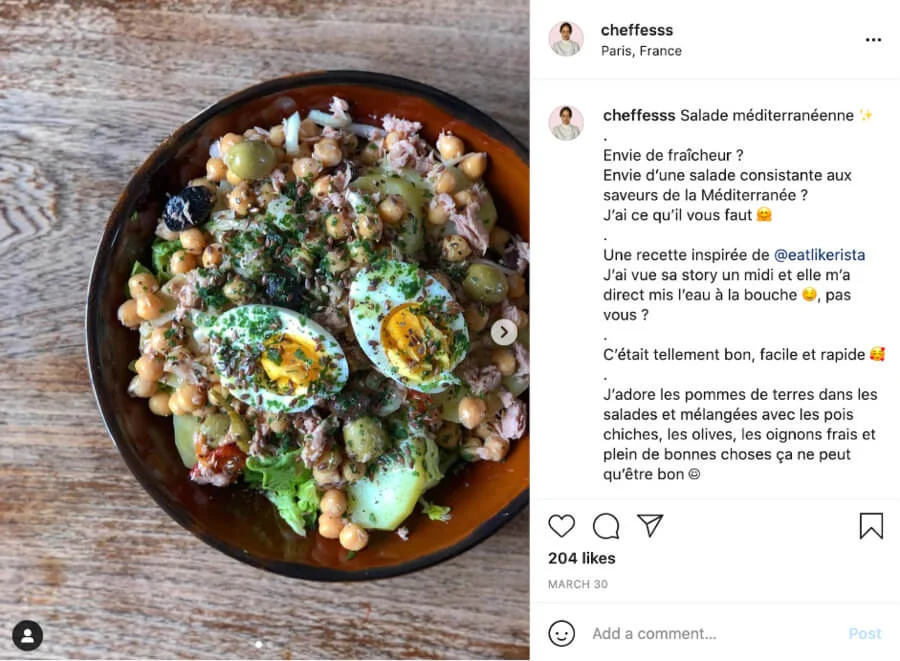 Content creator Cheffesss - Marie first started posting a bunch of free recipes on Instagram and cookbooks on her blog, and brands started taking notice. She recently collaborated with an online food magazine (for a commission, of course) and a cookware brand. For her audience, it was a perfectly organic collaboration.
4. Sustainable Clothes and House Products
More than ever, people are motivated to support brands that are doing good for people, the planet, and animals. Multiple-use products and a thrifting culture are particularly booming. Analysts expect even bigger growth in the resale market.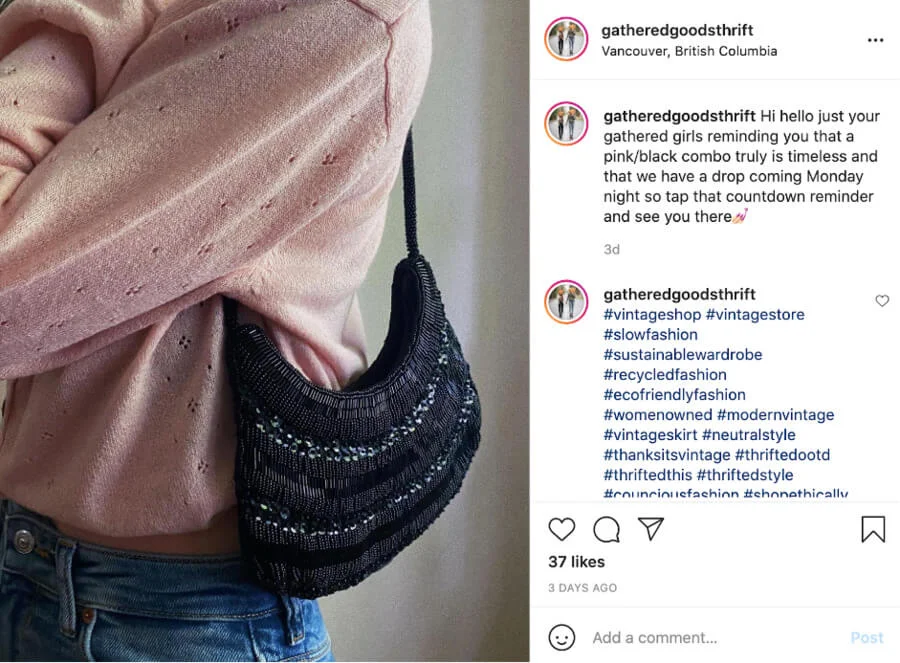 The user from the screenshot above used the platform to set up a store right in their feed. Every day, the two sisters behind this account post new additions to their thrifted clothes and accessory collection. All that is left for potential buyers is to contact them through DMs. As the shop grows, they can also upgrade to get access to Instagram shopping functionality.
Since they target millennials and Gen Z, it helps to have a consistent, good-looking feed. At the same time, they successfully showcase each product they offer.
5. Entrepreneurship
Some of the most talked-about trends in the labor market have concerned the growth of 'non-standard' or 'alternative' forms of work. People simply choose not to rely on their employers after recent events. With more people wanting to become independent contractors and 'gig-economy' workers, there is a niche for teaching them how to do it.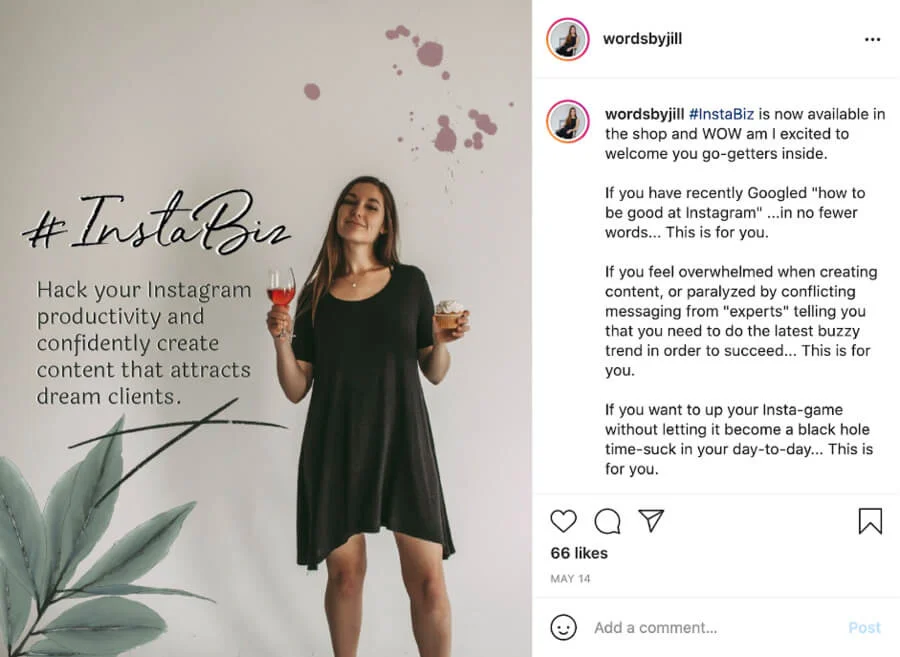 In our last example, we're using Jill Wise and her entrepreneurship course. The self-described business coach and brand strategist has a full-on program that teaches people how to succeed on Instagram. But it's not only about being an influencer - the focus is on building revenue streams online that work in current changing environments.