Instagram is a very popular platform on the Internet. It has been pleasing its users for more than 10 years. The developers are Americans Kevin Systrom and Mike Krieger. It is thanks to them that Instagram helps not only to get acquainted, communicate and promote your profile, but also to organize a business.
Before you start explaining how to add a link to Instagram, you need to clarify that it can be both active and inactive.
The first type (active) link indicates that it is clickable.
The second one (inactive) is used to fill in personal data. For example, biographies, so such a link is not clickable and only the account user will see it.
What is the link in bio?
A link in the Instagram bio is a separate URL, by clicking on which a user can get from your profile to another landing page. They often direct the viewer to the user's official business website, to the page of secondary social networks, promotions, financial platforms and other external sources on the Internet.
Since a bio is the first thing visitors see when they touch a profile, it's very important to include your most important social link to increase reach and traffic.
How to put a link in your Instagram bio
The link in the Instagram profile is extremely important not only for the audience, but also for the marketing strategy. The links that we add to the bio section are like a portal. That is, they can be used to attract traffic to the site and landing pages. Also, links in the profile can help potential customers learn more about your product or service.
The most popular brands and celebrities use the Instagram bio section, adding links to other pages. This helps them earn millions on products, raise money for important purposes and develop their business.
Let's see how you can add clickable link to the bio:
Open your Instagram page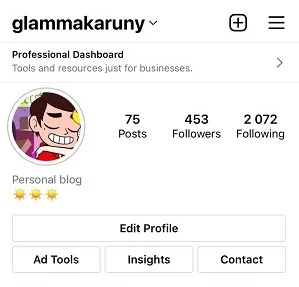 Go to the "Edit Profile" section.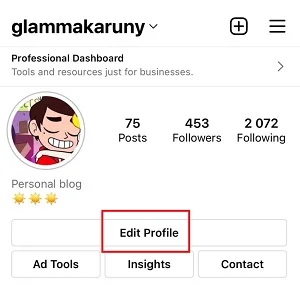 Find the "Website" field and click on it.
Add clickable link and click the check mark in the upper right corner.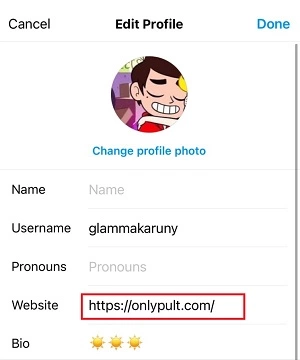 Check your profile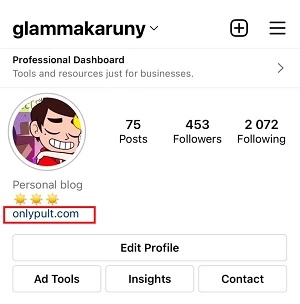 How to share links to multiple pages? - Link in Bio Tools
You can specify only one link in the Instagram account header. This is a strong limitation, because I want to tell users about other social networks, landing pages, and useful materials. A multilink is a page with important information about a company / specialist / product, buttons on social networks and messengers, and arbitrary links. In some multilink services, you can even create an online store and accept payment in it.
As before, you specify one link in the Instagram header, but it opens a business card page with many others. This expands your ability to communicate with users. Let's analyze the services that allow to share links to multiple pages
Onlypult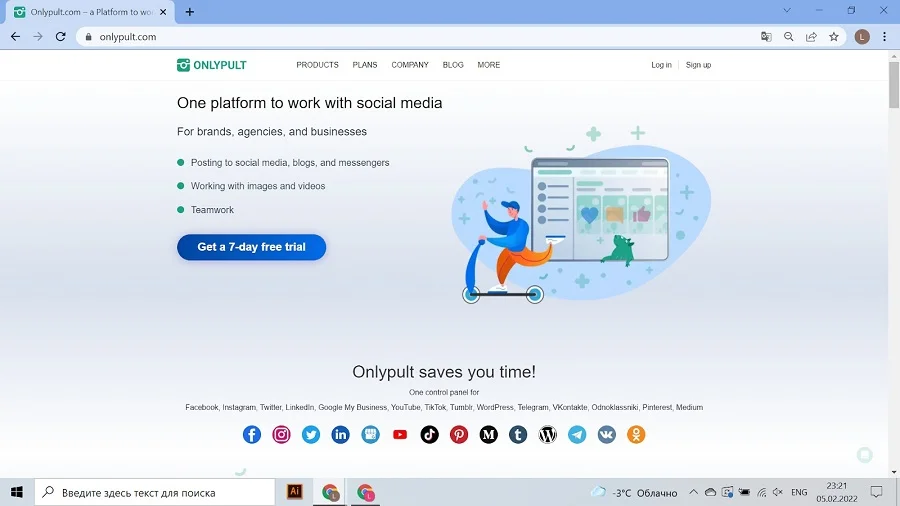 Onlypult is a cloud-based platform with scheduled posting service. It is an absolute must-have among SMM platforms, which offers to simplify working with social network profiles on Instagram and other social media accounts. The functionality of the site does not have unnecessary details. All the buttons are in front of the webmaster. You can plan the posting page as quickly as possible by setting the exact system settings.
Benefits:
Setting up a landing page in your account with a catalog of goods and services, promotions and special offers, links to accounts in social networks and messengers.
A wide variety of blocks in the free version.
The ability to create multiple pages on a paid plan.
Built-in analytics with extensive data on link traffic sources, geography, device and browsers.
Inserting blocks Banner, Gallery, Video, FAQ, Map, Timer, Working Time
Ability to set your own page URL.
Advanced analytics on clicks and page visitors.
24/7 support on all tariffs, including free.
The advantages of Onlypult were appreciated by many SMM specialists and large companies. The site has a trial period. A week is enough to check how Onlypult works for your project.
The Onlypult blog is useful for beginners and social media marketing specialists: articles on how to create content, what principles to follow, tips on promoting your accounts and interacting with the audience, as well as social media news that will help you stay on trend and quickly introduce new products into your strategy.
LinkTree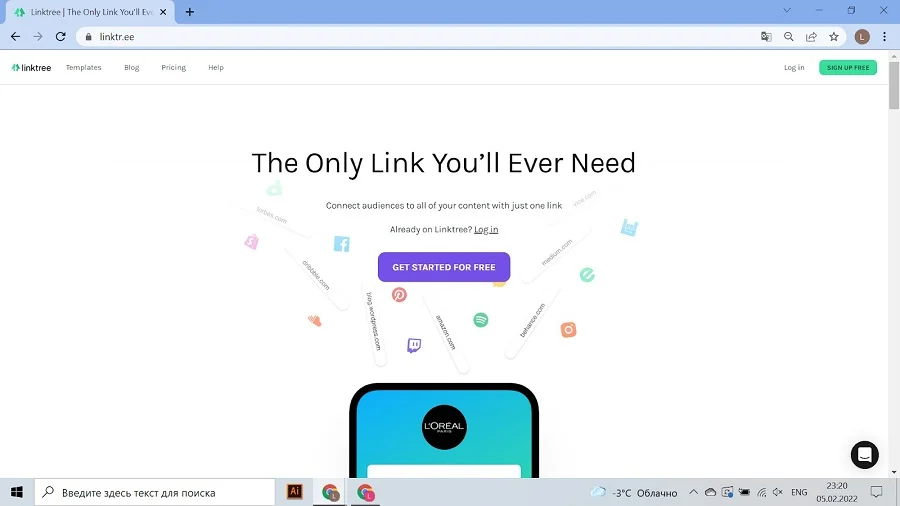 Linktree makes updating Instagram bio links as easy as possible while simultaneously attracting traffic to important content. The platform is extremely simple. The concise user interface is easily perceived by subscribers.
The basic version has the tools a small business needs to make a link to bio as effective as possible. At the same time, you do not need to pay for using the service with the free version.
The free version is for people or companies who are trying Instagram as a marketing channel, but are not ready to go all-in yet.
Benefits:
See how much traffic your Linktree page receives during its existence.
The total number of views clicks on links. Keep track of how many clicks on links were made during the entire duration of the page.
Design themes. Change the appearance of a Linktree page with eight pre-designed themes.
The support team. Get help at any time, by email or through the Linktree help.
Warnings about confidential content. Check that the content meets the requirements of privacy, security and age restrictions.
ContactInBio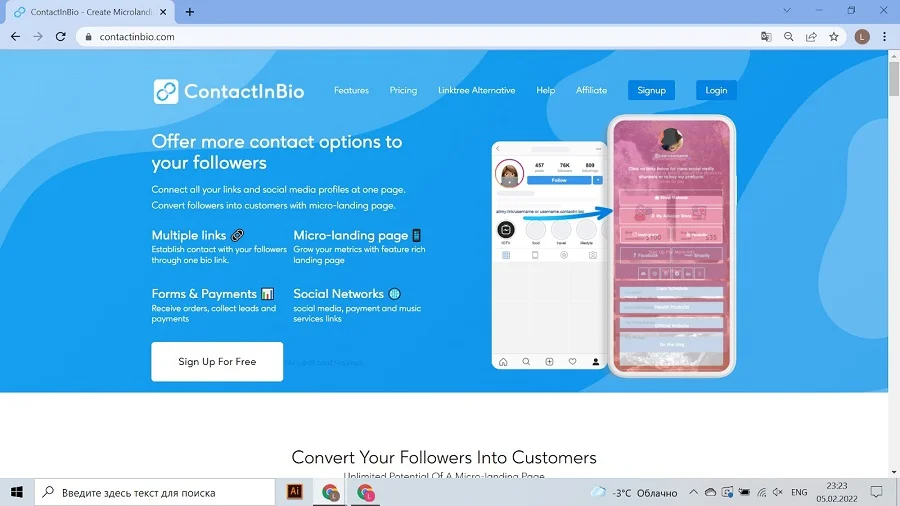 ContactInBio will help you create a multifunctional mini-landing. The page builder includes a large collection of content blocks. These are image galleries, media players, storefronts and blocks with comments.
ContactInBio helps to create pages at a professional level, attracting visitors. This is almost a full-fledged page builder adapted for links in Instagram bio.
This is a fairly new tool. The company regularly releases updates, following the needs and feedback of customers. The free version of Contact INBio contains configuration and analytics functions.
Benefits:
Domain links. Choose one of the four domains for your link.
The appearance of links. Change the style of your links using thumbnails, buttons or interactive elements.
Buttons of social networks and payment systems. Choose from 43+ types of payment links, 105+ links to social networks, 10+ links to music services.
There is support for links to WhatsApp, Skype, Telegram, Facebook Messenger and Viber.
Contact form. Let your visitors contact you via email.
Design themes. Change the appearance of the page with 12 themes. The free version requires the use of the ContactInBio logo.
Tracking clicks on links. See the daily breakdown of clicks on links.
Curalate tool - Like2Buy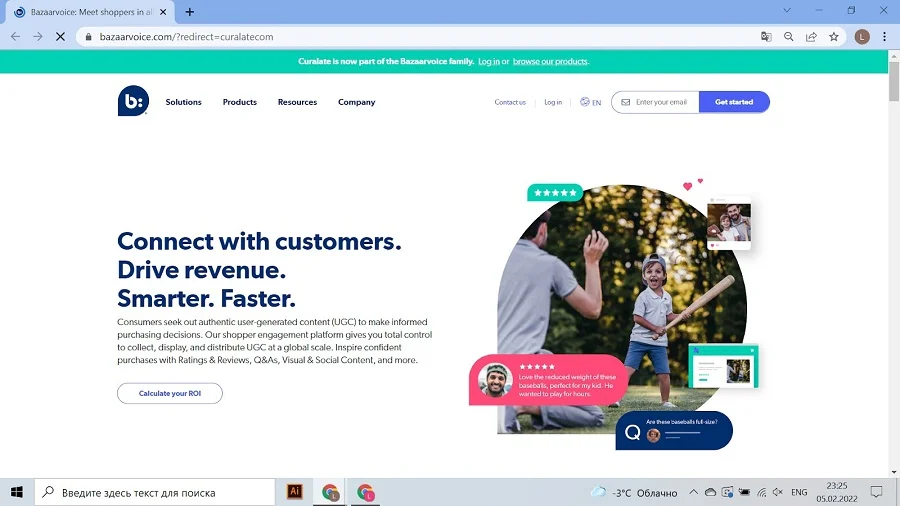 Curalate, an enterprise digital commerce platform, was one of the first companies to make Instagram available for purchases. In 2016, they launched Like2Buy. This is an auto-generated URL that takes subscribers to the gallery to buy products, read stories, and more.
Like2buy capabilities were appreciated by managers of social media pages of major brands such as Forever 21, Sephora and IKEA. Like2Buy is a link to Instagram bio within the Curalate social media e-commerce platform.
Benefits:
Email capture. Collect the email addresses of Instagram page visitors.
Expand your mailing list.
Internationalization. Determine the country where visitors can click on the Like2Buy link. If the user's IP address does not belong to the specified country, it will be redirected to the regional site of your brand.
The "I like" tab. Storing product pages that users previously liked.
Purchase page. Purchase on your brand's page.
Tap.link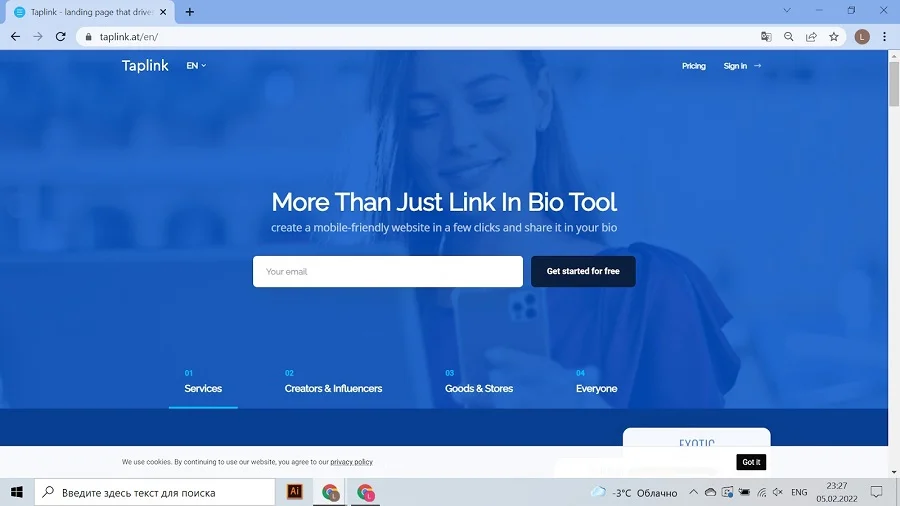 Tap.link is a new multilink for Instagram, which allows you to combine all links from social networks.networks and messengers into one beautiful website. Links, messenger buttons, photos, videos, a point on the map and all music services can be combined into one.
Benefits:
14 days of the trial period of the Premium tariff for all new users;
Ready-made design templates
The ability to create a website with your own 100% unique design or edit a template to suit your design;
Connecting popular social networks and messengers;
SEO Settings;
24/7 support from the tap.link team.
Different Ways To Use Links in Bio
The link in the "biography" section has one main goal: to attract traffic from Instagram to the product or page you are promoting. But there are other great advantages of using a link in bio:
Traffic to pages in other social networks. Expand your communities on social networks - Facebook, Twitter, or LinkedIn.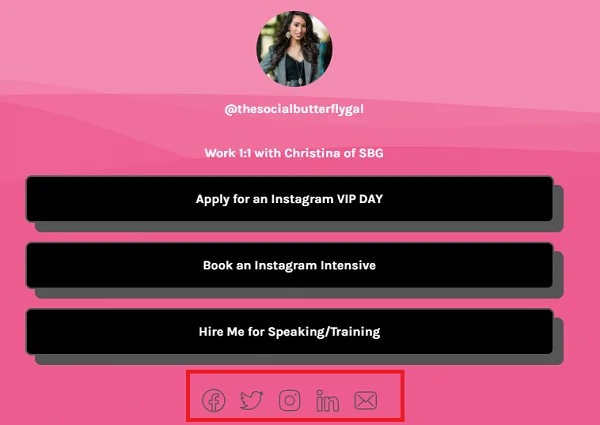 A constant reminder about a product or service. Your recent posts are not always shown to subscribers in their feeds or by hashtags. All because of the constantly changing Instagram algorithm. The link in bio ensures that users will see information about the product or event. And it doesn't matter how long ago the post was published.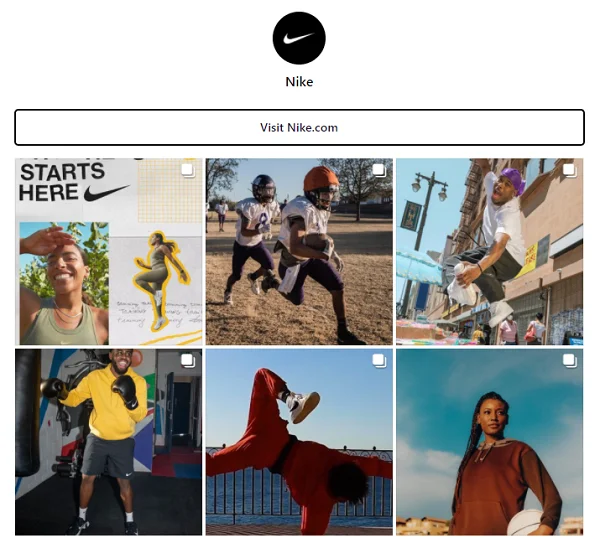 Improving traffic quality and increasing engagement. A link to a separate landing page is an easy way to segment the audience. Instead of directing all traffic to the site, send users to different pages. This way you will be able to analyze target traffic more effectively. People are more likely to stay on the page longer if they see the content they are looking for.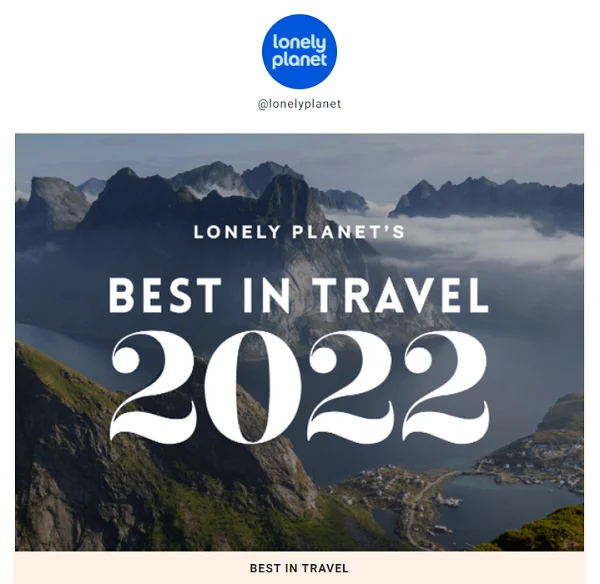 Optimization of the publishing process. The link in the bio section eliminates the need to add different links to separate posts. This also reduces the likelihood of complaints and inconveniences for subscribers who clicked on outdated links from the post. Are you striving to implement an effective marketing strategy and promote your brand on Instagram? Use the link in bio. This tool offers you advanced data management and analysis capabilities.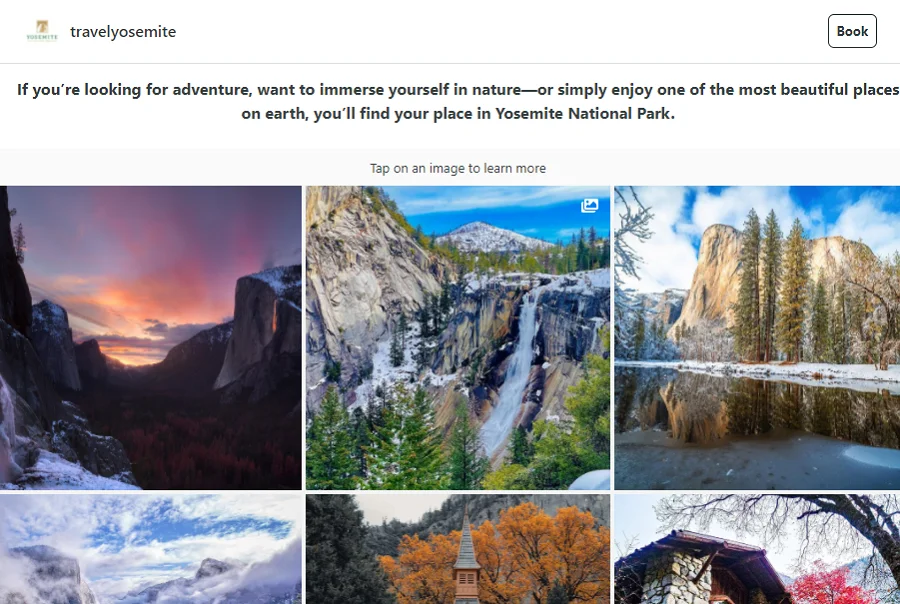 Conduct more advanced marketing campaigns. You are trying to attract traffic to your website, improve SEO, or get people to subscribe to a newsletter. Having a link in the bio tool allows you to better configure your campaign and better control where users go.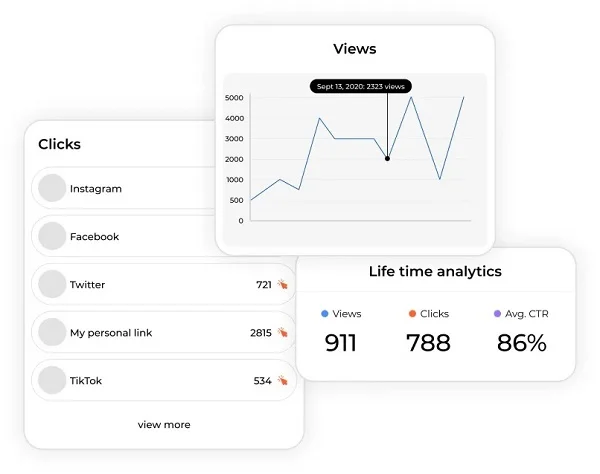 Summary
The owners of Instagram accounts, especially those designed for business development, know how difficult it is to fill out a bio profile. The service has set a limit on the description of accounts, which is literally a few phrases. The real skill is the ability to clearly formulate your thoughts, and to contain as much information as possible in a couple of lines.
Please note that the specified data should be useful, relevant and interesting for the target audience, for consumers, and not for you. Even the style of the written text can tell a lot. Therefore, the text component should be concise, informative and informative.
Instagram today is the most powerful tool for brand promotion. However, marketers of large and small companies are struggling to link this promotion with business goals and return on investment. A link in an Instagram profile is the best way to ensure business growth through content. Use the services and tips described above to effectively post links in the Instagram bio.