Why is it important to style your Instagram profile properly? One of the main goals of your profile is to retain the new traffic and to increase the number of followers. Potential followers should be interested in your Instagram account, they not doubt its usefulness, and follow it.
How to style your Instagram bio
Step 1. Define the legacy and relevance
Legacy is the facts from your past that you are proud of. They may relate to work, studies, or hobby. These can also be facts, publications, and brands you cooperated with.
Personal branding relevance consists of your participation in thematic conferences, public performances, accounts on social media, interviews mass-media interviews.
Step 2. Define the positioning
Positioning is a couple of sentences about yourself, that will explain what you are doing, what you are an expert on.
Positioning consists of two things:
legacy and relevance;
what you are aiming at.
Step 3. Fill in your Instagram profile
Your goal is to define the legacy, relevance, and positioning of your Instagram account bio. Your goal is to define the legacy, relevance, and positioning of your Instagram account bio. You should choose those phrases that will characterize you most precisely, which will help you capture the audience's attention.

How to choose a nickname for your Instagram account?
Here are several rules:
If your nickname has been already used somewhere else, for example, on your YouTube channel or in mass-media, or if you cannot change it anymore, then keep the one you have.
If you are just getting started, then think of renaming your account. Most nicknames containing first and second names are taken, but if yours are not, then use them. You can also use your second name and one additional word which reflects the field of your activity.
Your nickname should be readable and easy to memorize. Short nicknames are better in this respect.
What to choose: a dot or an underscore? The underscore is a better choice because the majority of bloggers use it.
To make it easier for people to find you leave, your first and second names in the bio of your account.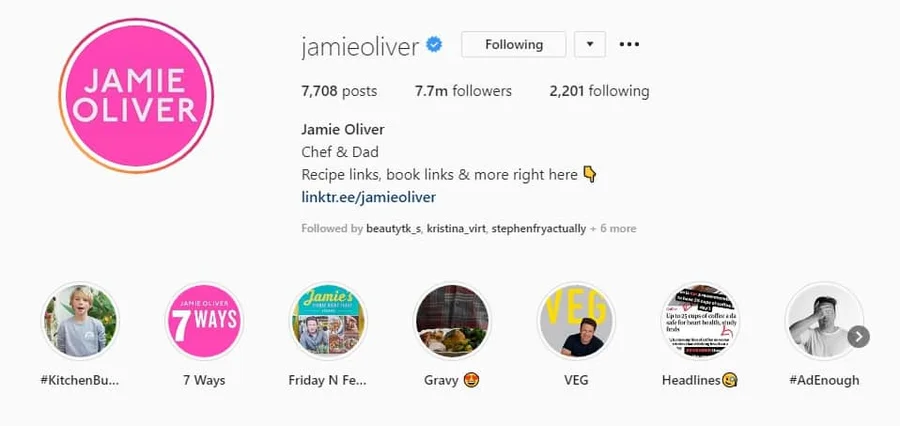 What type of account to choose?
A personal blog is the most neutral type. Don't write "public person" when you have only 300 followers, because it looks weird and funny.
How to select a profile picture?
A close-up of your face is the best choice. If you opt for your full-body portrait, e.g. in the background of the Eiffel Tower, unfortunately, people won't be able to see either you either the Eiffel Tower.
Lifehack: you can increase the contrast of your face in the photo more than usual, then your profile picture will look brighter and your facial features will look more defined.
Your profile picture should be the same as on your other social media accounts: on Facebook, VKontakte, Twitter.
The profile picture should be a visual element that people can recognize easily on all of your social media accounts.

Why do you need Highlights?
Highlights are Stories you save and add to your profile bio.
People who are new to your profile are interested in what you are doing and who you are. They view Highlights to find it out.
You can add stories to Highlights to:
convince the audience that you are an interesting person;
present yourself as an expert;
tell about your hobby;
show your family and your children.
Why use your own hashtags?
It is helpful if your profile has its own unique hashtags.
Your own hashtags help segment your account and make it easier to find your posts.
How to style a post on your account?
An important key to arrange your profile is the visual part. It affects how your posts look most of all other things.
The profile should not discourage or repel people, when they see it for the first time. It is important to style your posts in a similar unified way.
Here are some applications that are perfect for this goal:
InShot
In this app, you can do any kind of cropping and apply any aspect ratio. You can expand your photo, change color and contrast settings.
VSCO
In this app, you can create your own preset or template, and then use it to edit almost all of your photos. VSCO has lots of free templates, so you don't have to purchase the full version.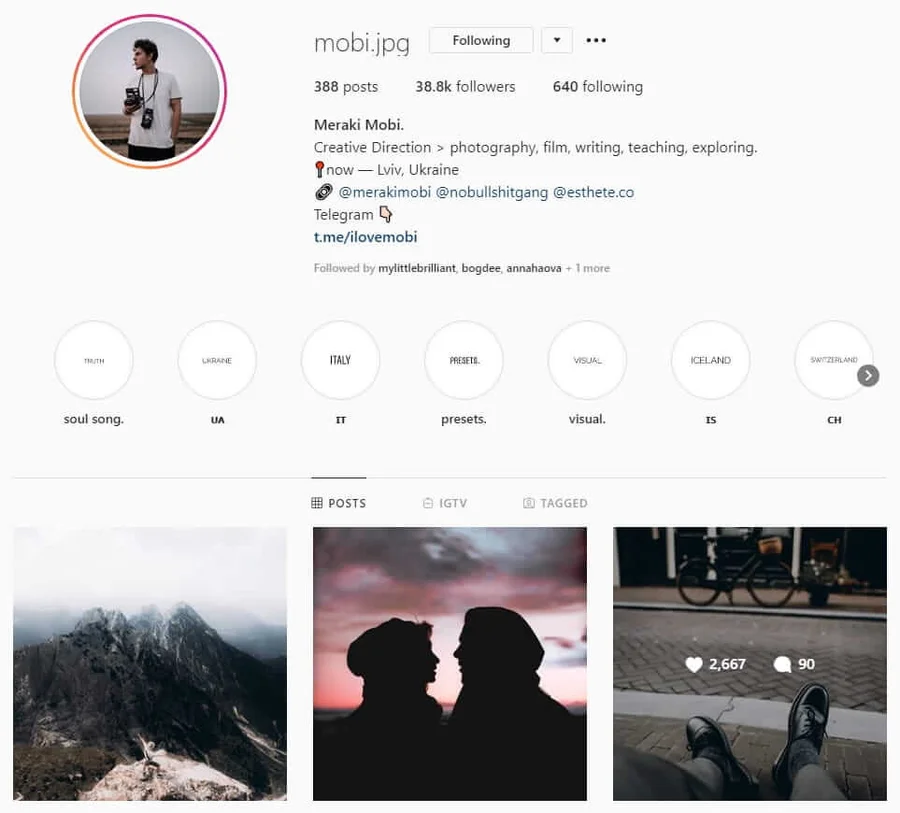 Rules for styling your posts
To make your posts look more attractive, pay attention to your 9 latest posts. New followers who found you through advertisements or recommendations will see your profile bio, profile picture, Highlights, and 9 latest posts.

Use different angles, for every 5-6 posts use a photo of something else but yourself. You should let people not see you for a while. Combine IGTV videos, selfies, and long text posts.

If you will follow all the recommendations given above, you will get an amazing and good-looking profile 90%. It is the great basis for your further promotion, for promoting your Instagram account. Your next goal is to keep creating interesting content and promoting your profile.