Decide on your Instagram strategy
It's crucial, but somehow, many people forget or even don't know about it. Before taking photos and planning your feed, you should understand for what purpose you need Instagram and answer three basic questions:
What will your Instagram page be about?
Who will your Instagram page be intended for?
What's the aim of your Instagram page?
Naturally, if you answer that your Instagram is just for you, and you just want to keep track of some pleasant events of your life, then everything is really simple. Post photos that you like and do it the way you like. And let it be an album featuring your memories.
But if you want Instagram to be a part of your brand, if you want to attract customers from Instagram, monetize your feed, then you need a strategy.
And only after answering these three basic questions, you can start planning your feed. That will determine what kind of photos you should take and how you should arrange them.
Use different angles
So, you have understood what you want from Instagram, and now you know what kind of photos you need.
When you take photos for Instagram, the most important thing is their variety. Don't post in your feed only selfies taken from one perspective.
For a beautiful feed on Instagram, you should have photos with different backgrounds, various angles, locations, and clothes.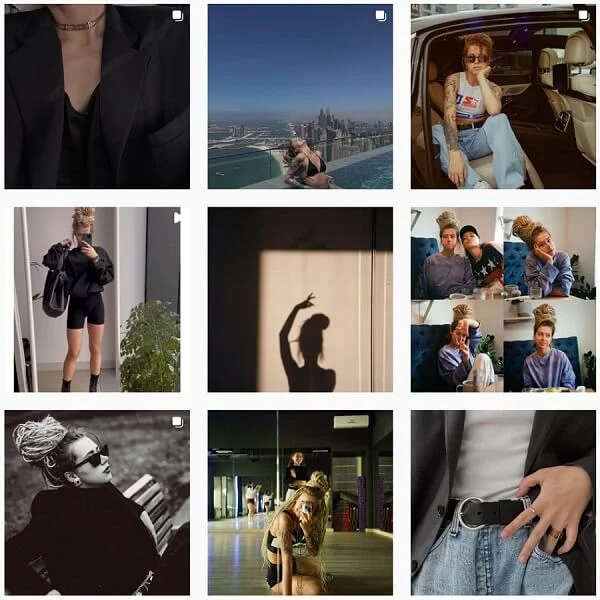 Alternate backgrounds and places
Try to make sure that photos on your feed mutually complement each other, and the feed is filled with a little bit of everything. Do not post three selfies in a row, then three photos without you, and then four photos of nature.
Use applications for planning your feed
We strongly recommend using Instagram feed scheduling applications. They are all designed to do the same thing. You can schedule and organize your feed from PC.
Instagram is not only about visual feed
If you regard Instagram as a tool for promoting yourself and your services, 30 percent of your success will depend on the visual feed. Another thirty percent — on your ability to write texts. And other thirty percent will come from self-promotion skills: where you buy ads and how you place them. And the remaining 10 % is perhaps, luck, success, and a favorable combination of circumstances.