Online gaming has changed our gaming experience over the years so far, and this is all made possible by remarkable broadband internet. Although, playing online with a good connection can sometimes be a problem for some, since the slowest broadband connections could get by with relatively low pings. So, preparing for the next game, you probably would like to know, what internet speed do you need to stream games the best way possible?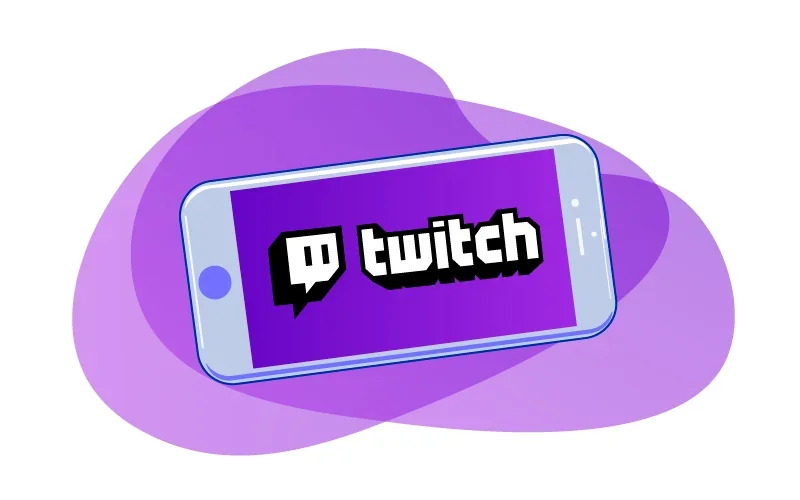 Understanding download/upload speeds
First of all, to download streaming video to the Internet, you need to examine your network bandwidth. Examples of such outbound downloads would be sending a file by email, storing data in the cloud, or posting a live broadcast on the air.
Bandwidth usually has certain speed parameters, which depend on your ISP. The incoming access speed (which is called download rate) is usually higher than the outgoing one (which is called upload rate). For example, 15 Mbps can be incoming and 5 Mbps is an outgoing one.
IT'S UPLOAD SPEED THAT MATTERS It is important to know exactly the upload rate of your network, because it is this speed that affects the quality of the transmitted audio / video signal.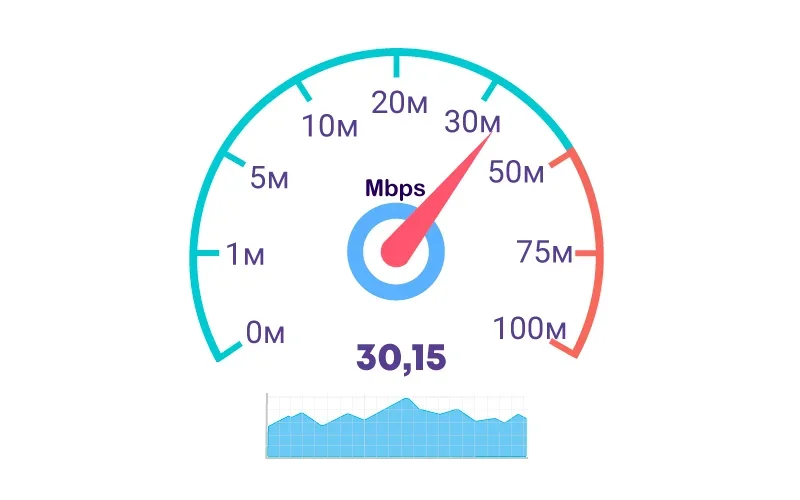 A stream of audio / video data processed per unit of time is called a bit rate (or bitrate, Mbps: megabits per second). The higher the bit rate, the better the audio / video signal quality. But if your bitrate is too high in relation to the upload speed, then your broadcast will not be available to viewers.
For example, a 6 Mbps video stream will not work with an upstream access speed of 5 Mbps. It is also important to choose a bit rate that will correspond to the resolution (SD, HD, Full HD, etc.) of the video planned for placement on the network. If the software bitrate does not match the frame size, the video signal quality decreases until these parameters match, which as well affects the broadcast quality and the video.
The many variables affecting upload speed requirements
It is simple to calculate that having an outgoing access speed of 5 Mbits, the bit rate should also not exceed 5 Mbits. But still, what exactly should it be? Bandwidth limits aren't the main characters in the story. There are also some additional factors you need to consider to ensure the quality of your stream on Twitch.
1. Always keep a little in stock
Make sure you have some room up to your network bandwidth limits. This margin will act as a buffer for your broadcast in case of possible changes in the parameters of your connection. However, the download speed can be affected by any form of activity on the network, such as ongoing downloads, VOiP communication or ongoing gameplay.
Use a simple formula to calculate the required bandwidth for your network: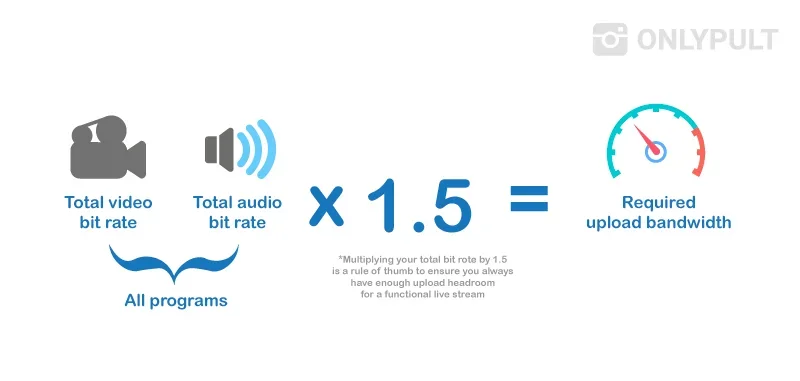 That is, we recommend that you always have about 1.5 times the speed of your bitrate in stock in order to avoid possible fluctuations in the connection. For example, if the bitrate of your broadcast is 5 Mbps, make sure your bandwidth is at least 7.5 Mbps to maintain a stable and high-quality video stream.
2. Take into account your network type
There are many different types of Internet connections like DSL, cable, satellite, cellular, and so on. Each type of connection has its own parameters of download and upload speed and indicators of connection reliability. Consider this information when planning a live broadcast.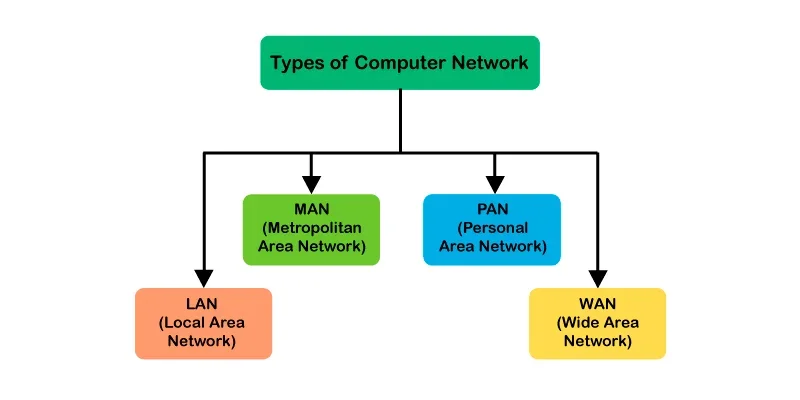 For example, DSL tends to have a lower download speed, which can limit the outgoing video stream and broadcast quality. What if you live in a rural area and use satellite communications? In this case, you should pay attention to the weather conditions — they can determine how successful your broadcast will be.
3. What the provider really offers
Many ISPs use maximum upload and download speeds to advertise their service packages.
For example, an advertisement can sound like 'Upload speed is up to 10 Mbits, download one is up to 30 Mbits', but it's important to remember that internet speeds can vary within even a day. When using a cable connection, for example, you share the Internet with other users of the local network and the bandwidth per day will change in direct proportion to the activity of users.
Also, some providers may charge you for maximum bandwidth, so make sure that hosting live broadcasts does not incur additional Internet charges.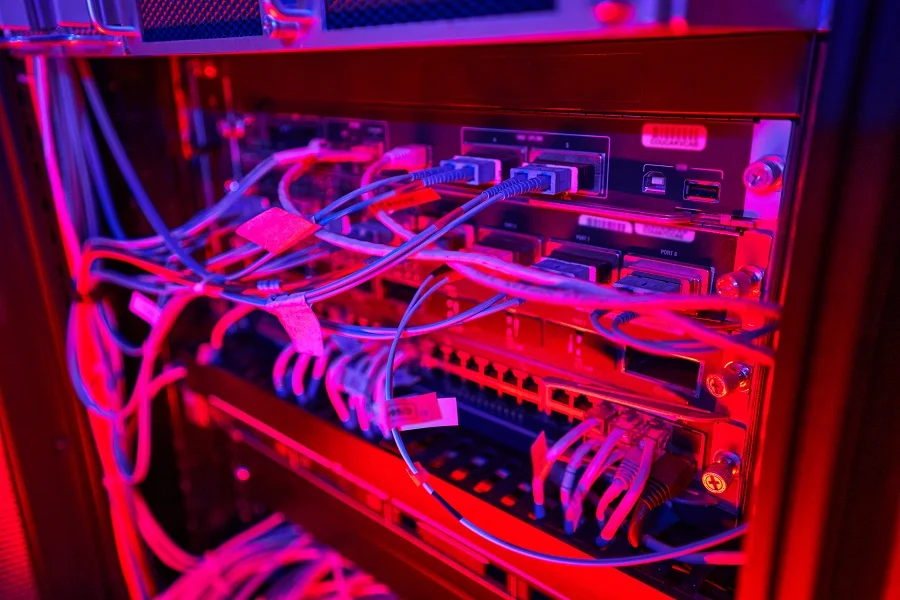 4. Ensuring sufficient speed for multistreaming
Multistreaming, which means broadcasting to several platforms at the same time, is gaining popularity among users. Multi-encoding, on the other hand, is a similar technology that allows simultaneous broadcasting at different bit rates.
Multistreaming allows you to reach more viewers, and multi-coding allows you to make your broadcast available to users with different bandwidth limits. But when using these technologies, it is important to take into account that any additional program running will affect the outgoing bit rate and will require more network bandwidth.
What Is the Minimum Internet Speed for Streaming Twitch?
Here you can see the bitrate relation to the resolution and FPS. Also, it's essential to be aware of the potential issues that you can face during a broadcast.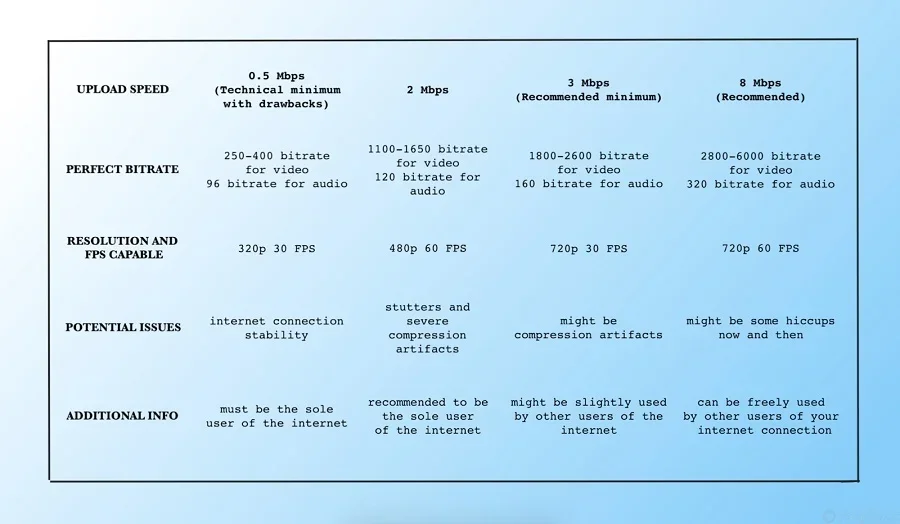 Can You Live Stream Using 3G?
The speed for twitch streaming can be different while being connected to mobile internet. Here is a list of different mobile internet connection types and their abilities in relation to live streaming through them.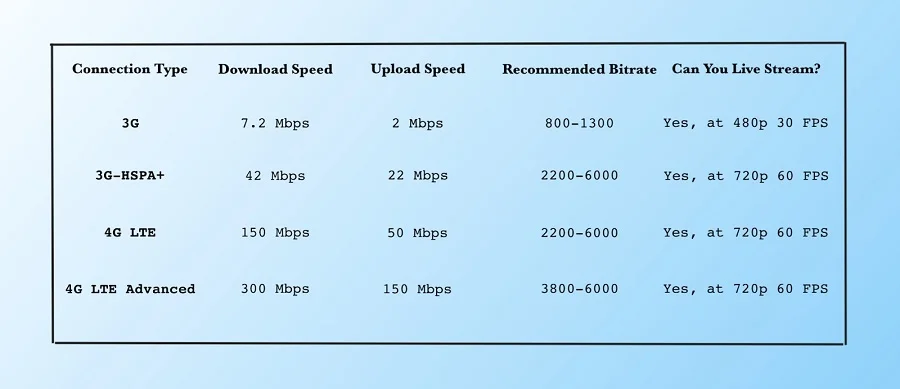 Can You Live Stream Using a WI-FI Connection?
When talking about the methods of communication between your computer and the router, that is, a wired or wireless connection. A wired connection is usually more reliable and faster. During the usage of a Wi-Fi router, depending on your internet provider and the distance between your streaming device and the router, you are unlikely to encounter OR you can encounter some problems.
How to Test the Capabilities of Your Internet Speed
There are many resources on the Internet that allow you to fairly accurately measure the connection speed. In contrast to the DIY methods or manual checks, online services always use the equipment of large network providers as reference points, which guarantees high bandwidth and reduces the effect of channel congestion.
They show all the necessary parameters at once: ping, download and upload speed, server / provider to which the request goes. Also, online services are platform independent. You can work either on Windows, MacOS or on Linux.
As an example, here are some of the most famous ones.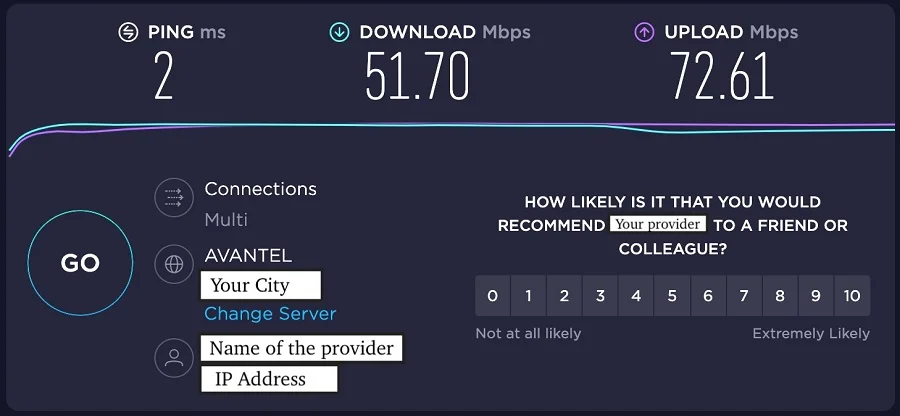 Speedtest.net is the most popular online service for checking the speed of an Internet connection in the world. The site has an intuitive interface, allowing you to select settings before testing: date format, speed units and server, which will be used for tests.
After clicking the GO button, connection and measurement of indicators will appear. A minute later, you get the ping value in milliseconds and the download / upload speed. This is a great way to check that the rates specified by the provider match the real rates.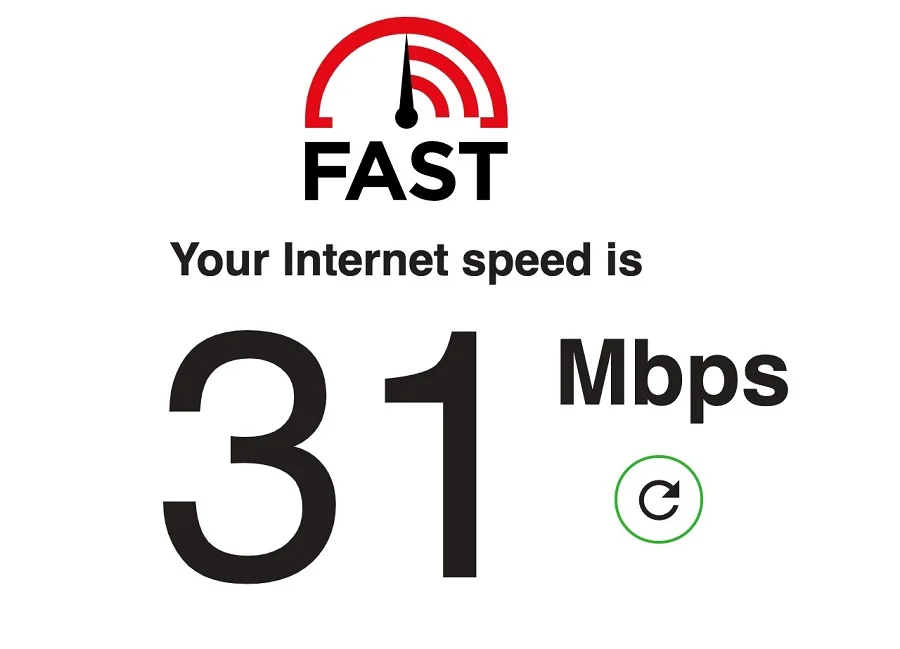 Fast.com is a super minimalistic service that shows only the download speed of the Internet connection. The main feature is the complete absence of advertising. Measurements can be carried out both from a desktop and a mobile device.
Moreover, there is an application for smartphones and tablets under Android / iOS. Fast.com works in any country, it is completely free for everyone.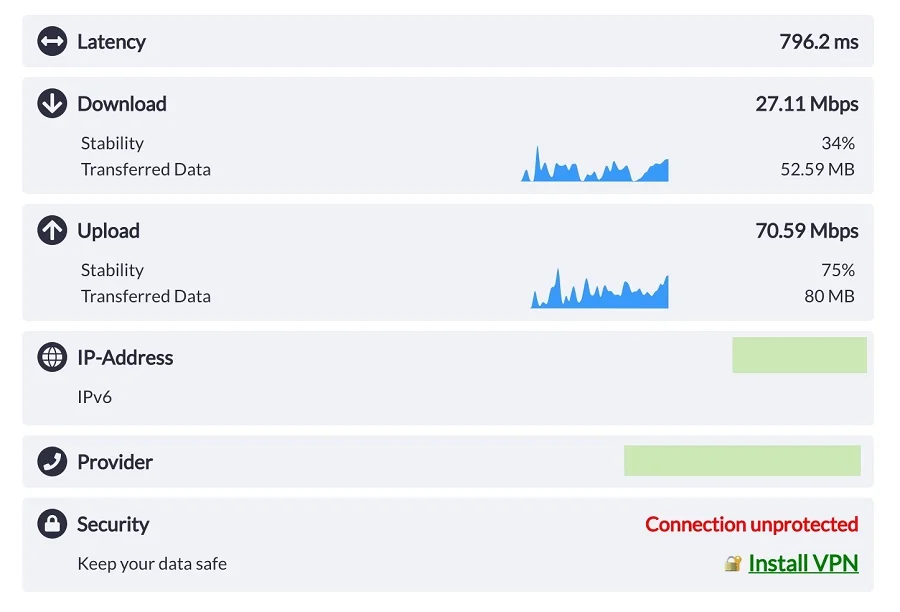 Another cross-platform service that is rapidly gaining popularity, Speedcheck displays ping, download and upload speeds. You cannot select a server for testing, but there is a measurement history that is synchronized between devices.
The app is more functional than the web version. The program evaluates the suitability of the current wireless connection for various tasks: games, streaming, video communication, and so on. Grades are given on a five-point scale. In addition, you can select the units of measure for speed, just like in Speedtest.
How to Test run a Test Stream on Twitch
Every streamer needs a test broadcast on Twitch, and if you still aren't sure why, there are some solid reasons for that. This is a great opportunity to check the settings for sound and image, because your subscribers will not receive notifications about the broadcast: everything will remain visible only to you. Also, the test is often used to check the stability of the stream after packet loss earlier.
Login to your Twitch account
In a new tab, go to and click the RUN A STREAM TEST button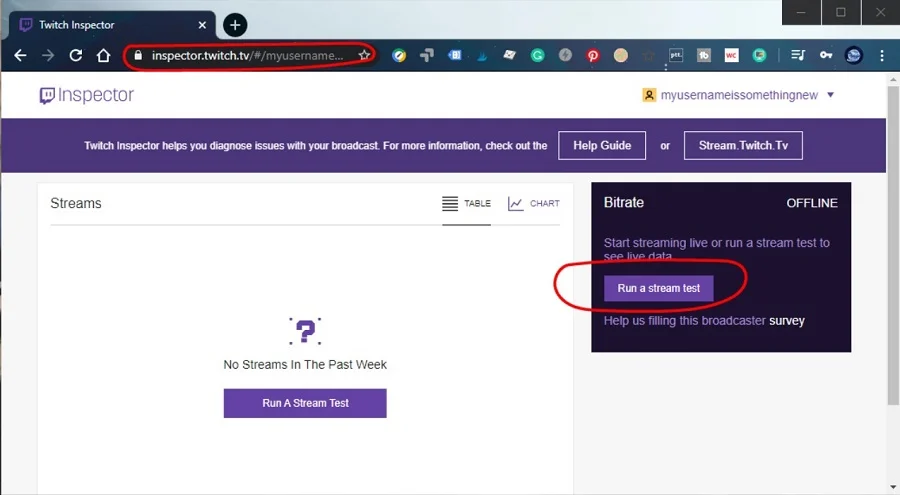 Go to your Twitch dashboard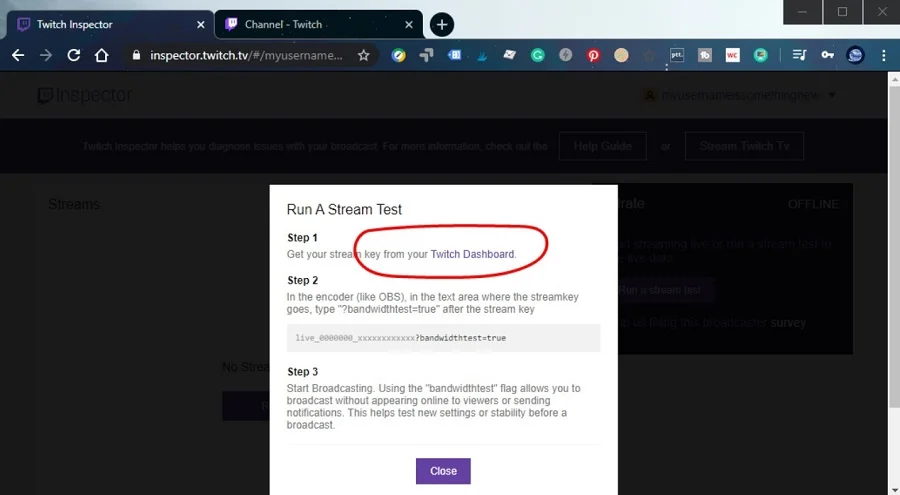 Copy your PRIMARY STREAM KEY
Open the streaming software you have (in most cases it is OBS studio) and open up the settings
Click the stream tab located on the left and then from there click the USE STREAM KEY button
Paste your stream key and add the code: ?bandwidthtest=true to the end of it. Hit the APPLY then the OK button in the bottom right
Now go and click the START STREAMING button in OBS and the live green box will appear showing you are live
Go back over to and make sure everything looks good. It takes about a minute or two to make sure everything is loaded properly. If it looks good, you're ready to go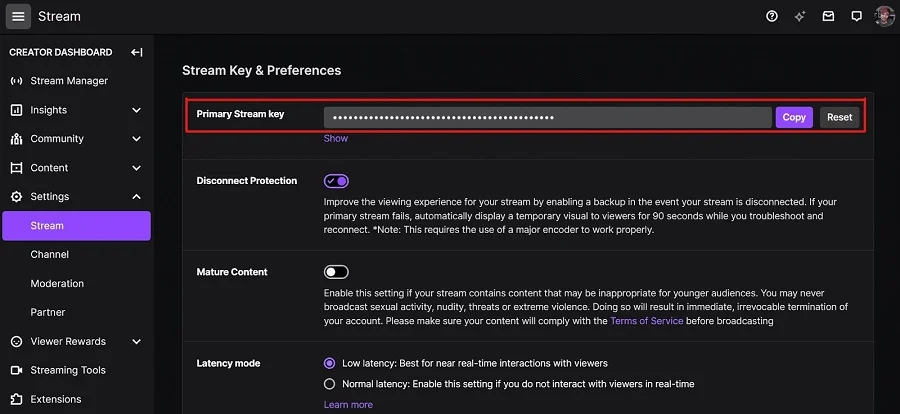 Now you know how to make a test broadcast on Twitch that no one else can see! The video will be displayed in the Inspector, Dashboard and the OBS program itself. But viewers will remain in the dark and will not receive appropriate notification.
How to get a good upload speed for streaming
Let's have a look at some ways to improve the streaming speed:
- Set a password for the connection Modern routers use a security protocol known as WPA2. This means that your internet connection is password protected. Having a password-protected Wi-Fi network will not only protect you, but also prevent anyone in your Wi-Fi range from connecting to it. Failure to create a password can lead to misuse of internet speed. Changing it now and then is also a good decision if you aren't sure about the security;
- Move the router closer (seriously, try this) Modems and routers are not very attractive devices on the surface, so it's only natural that people want to hide them. Hiding them behind bookshelves or in closets can dramatically decrease your connection speed. The perfect location is the center of your home, as the router transmits WiFi signals in all directions.
- Get a wired connection If possible, try connecting an internet cable from your modem / router directly to your device. Though they aren't aesthetic by the look, wired connections are always faster and more reliable than wireless ones. WiFi signals must pass through obstacles such as walls and doors, which will negatively affect the speed and reliability of the connection. It may not always be convenient to connect everything in your home or workplace, but even connecting multiple devices to a wired connection can result in faster speeds.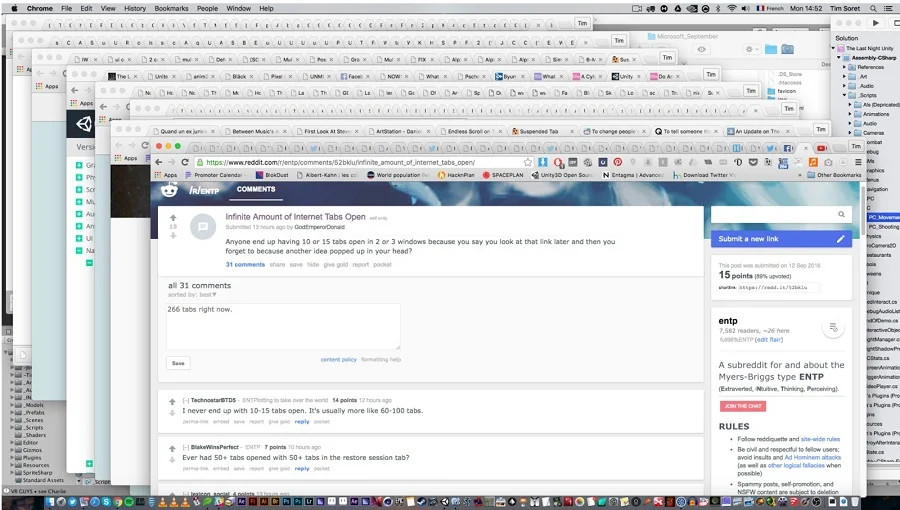 - Reduce heavy network usage (close apps, programs, tabs and windows) Downloading and uploading large amounts of data can seriously hinder your internet speed. For example, downloading a large torrent file and using Skype at the same time can result in slow download speeds for torrenting and poor video quality on Skype. It is better to schedule complex, high-bandwidth tasks when you are not actively using the Internet, such as when you are sleeping or working.
- Check with your provider Take a look and compare what speed your internet provider offers and what you really get. If your speed is significantly slower than your ISP advertises, it might be the right time to contact them.
Your ISP can advise you on how to improve your connection speed or explain why it is so slow. If this does not suit you, you can always consider offers from other providers.
Why am I still getting dropped frames?
If you have done everything, but the quality of the video still could be better, the picture looks choppy and frames drop, the thing can also be about the capture card. If it can't record your video fast enough, or the encoding process takes too much time, the picture can be really odd.
The capture card can be of low quality, so you may consider buying a better one, but before this, you should check your connection and speed, making sure you are plugged into your router (not WiFi).
After these actions, you may adjust the settings in your streaming software by lowering the bitrate. It can be a good idea to update the devices' network drivers.
Summary
It is very important for any gamer that the quality of live streaming is at a high level, and nowadays even freshmen in the industry are trying to meet the quality that viewers demand.
It should be understood that the speed of downloading and uploading depends on many factors and if you would like to have a better experience while using your device for game streaming, we are here for you to give a good piece of advice. We wish you good streaming!