To remain competitive, it is not enough just to manufacture a product or offer a service. The buyer searches for the emotional connection with the brand or the influencer. Customers need something more than just a product: it is vital to share values, to see the people who created the company.
One of the most powerful tools to help achieve this goal is video streaming. It also can be called just "streaming." Such a format of interaction with the active and new audiences brings them closer to you or your company: helps to develop loyalty and trust.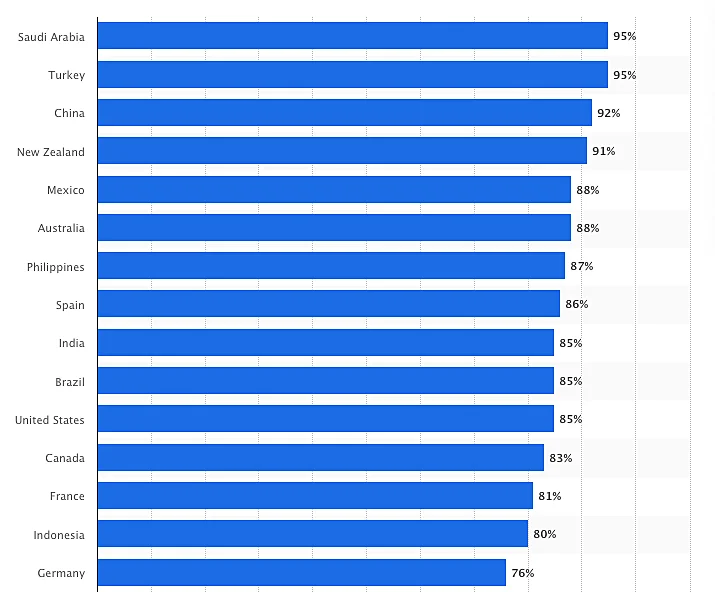 For those who love numbers: According to Statista, more than 85% of Internet users in the United States watch monthly online videos. By 2028, the industry is projected to reach $ 184.3 billion.
In the last 3-4 years, big brands in America and Western Europe have been investing in live advertising — i.e., promoting goods and services through streaming. Thus, they increase sales and build customer loyalty.
Millions of people choose streaming videos. They want to get knowledge or entertainment "here and now" — and, besides, — to cover the need for communication.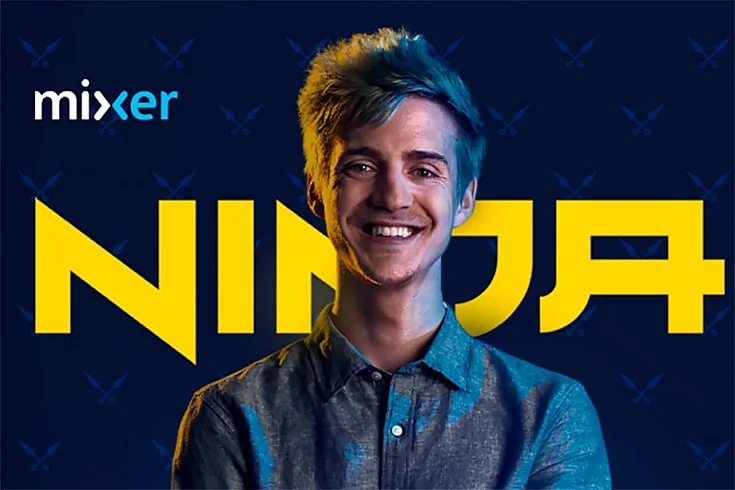 Streamer Ninja, photo source
The income of game streamers is growing. According to open data, the blogger Ninja makes $ 500 thousand a month. This field is developing, which further popularizes streaming as a traditional format for content consumption.
Understanding how to incorporate live streaming into your content plan and marketing strategy can be core to brand growth in the future. We will tell you what challenges bloggers and brands can address with the help of streaming and what platforms you should pay attention to.
How brands and bloggers get the advantages of streaming
Streaming is the media of the future, the photo source
№1. Product or service presentation
Formats: presentation, Q&A with an expert or support team, conversation with market leaders about industry problems and how the product solves them.
When to use it: the launch of a new product line and rebranding (any significant events for the company).
Why go for streaming? Such live broadcasts increase loyalty: the audience sees real employees in real-time. It helps sell, educate, and entertain at the same time.
Who can be an example? One of the most anticipated events for fans of Apple products is the annual presentation of new products from the company. Users from all over the world follow the live broadcasts. This tool works not only for giant companies.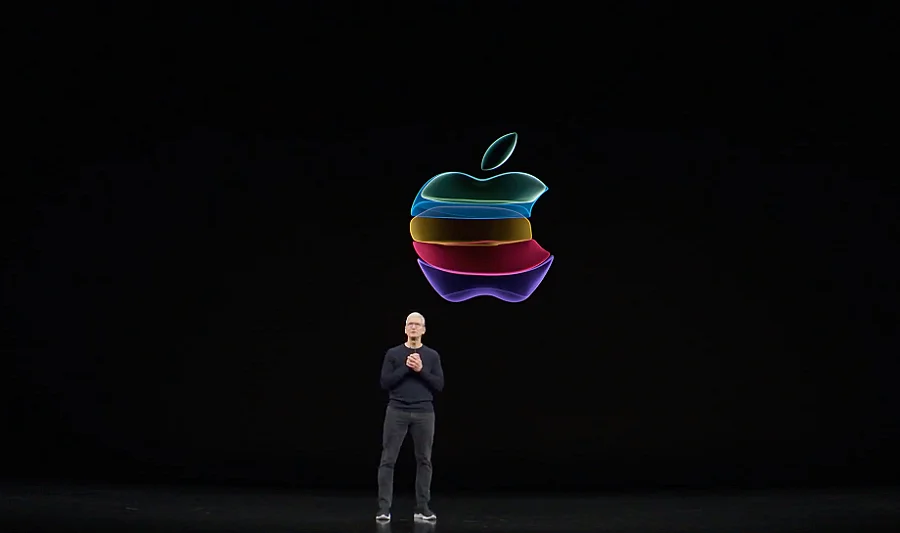 Apple presentation, photo source
№2. Product demo
Formats: tutorial, instructions for use, unpacking, customer cases, adjustment of current products and services.
When to use it: at the time of seasonal marketing campaigns — exclusive promotions and special offers.
Why go for streaming? Pre-recorded product demo can be undoubtedly used multiple times. You can post it on social networks to push users to look forward to the next broadcast and subscribe.
Who can be an example? Chef and restaurateur Jamie Oliver streams his secrets and introduces new products. For example, he announced the release of his cookbook.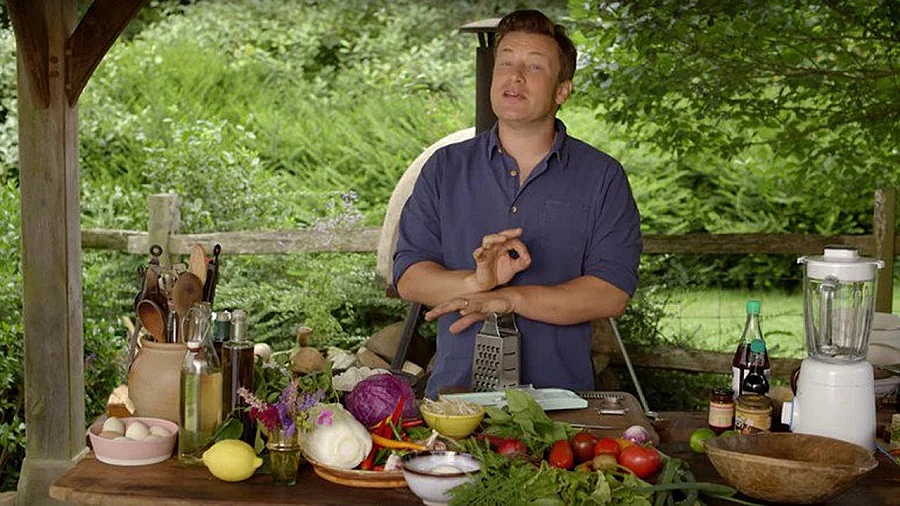 Chef and restaurateur Jamie Oliver, photo source
№3. Online product/service launch
Formats: Real-time streaming of product or service launches with prior exciting announcements.
When to use: if the product is limited or difficult to use.
Why go for streaming? This method not only draws attention to an event, company, or product but can also become a sales driver. Google, Apple, Honda are the brands that often use these types of launches.
Who can be an example? Exhibition of the computer games industry Electronic Entertainment Expo. It is held annually. The exhibition presents new computer and video games, game consoles, accessories.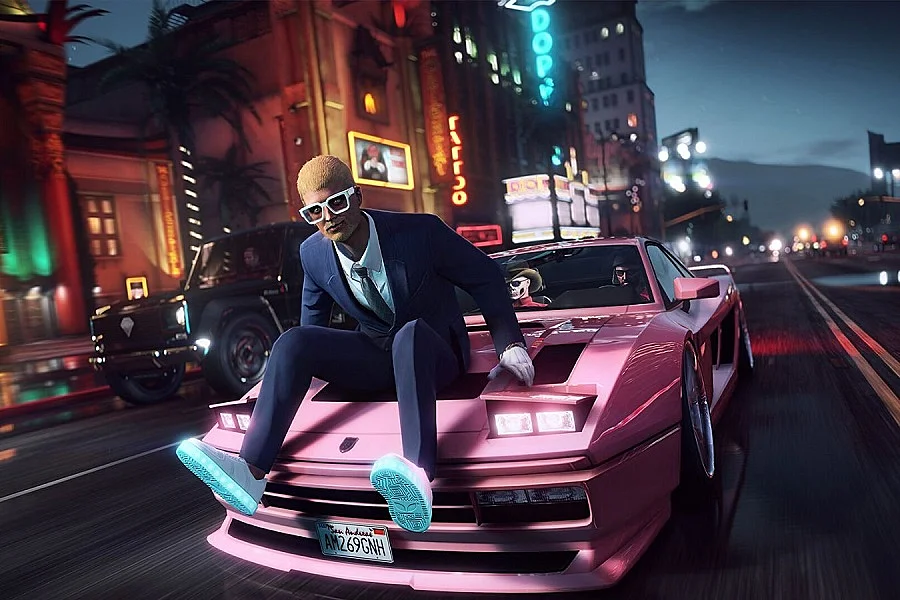 Electronic Entertainment Expo, photo source
№4. Backstage
Formats: preparation for live broadcast, webinar, master class, show, concert, demo day, fashion show.
When to use it: if you need to increase traffic and build buzz around the main event.
Why go for streaming? This type of video content will provide a deeper level of engagement and showcase the lives of real people behind the brand and logo.
Who can be an example? The American cosmetics brand Fenty Beauty founded by Rihanna, brightly announced the opening of the online store Fenty — there was a live broadcast with makeup workshops and interviews.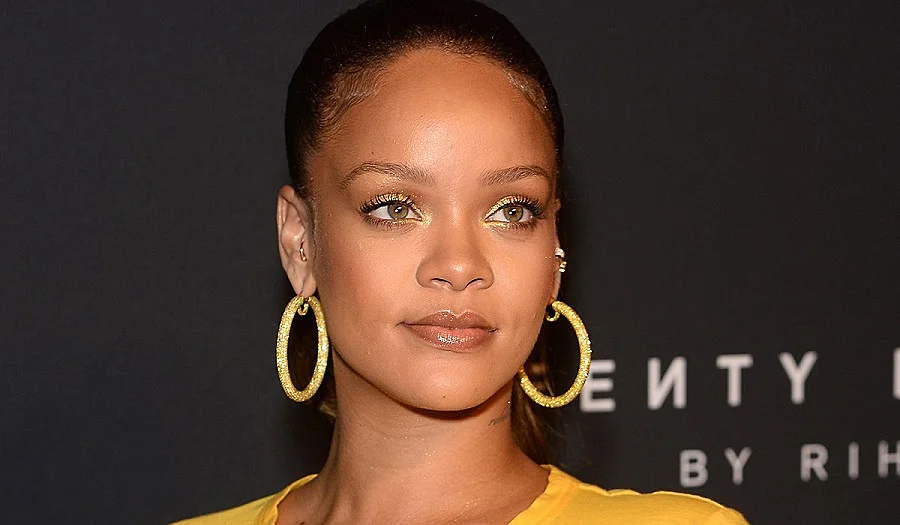 Rihanna, photo source
№5. Educational activities
Formats: lecture, master class, public talk, webinar, conference, series of educational materials.
When to use it: if the company has strong experts ready to become speakers.
Why go for streaming? Strengthen trust by demonstrating good competencies within the company. Develop an HR brand: train company employees and find new brilliant professionals.
Who can be an example? Digital agencies often have interviews with world-famous market stars. That allows people to get knowledge first-hand, no matter where the user is.

Online lecture by ANSELMO RAMOS, founder and creative director of the GUT agency, photo source
№6. LIVE interview
Formats: live on Instagram, Facebook-live, and YouTube — in the social network where the project is most represented.
When to use it: Attract a new audience by interviewing a big name in your industry.
Why go for streaming? Raise brand awareness or pumping a personal brand for a blogger: attract as many viewers as possible, engage current subscribers, generate discussion in the comments, appear in blogs and media.
Who can be an example? Actor and musician Jared Leto on Instagram live during quarantine invited different subscribers. So, the Russian TV presenter Anastasia Ivleeva joined his streaming.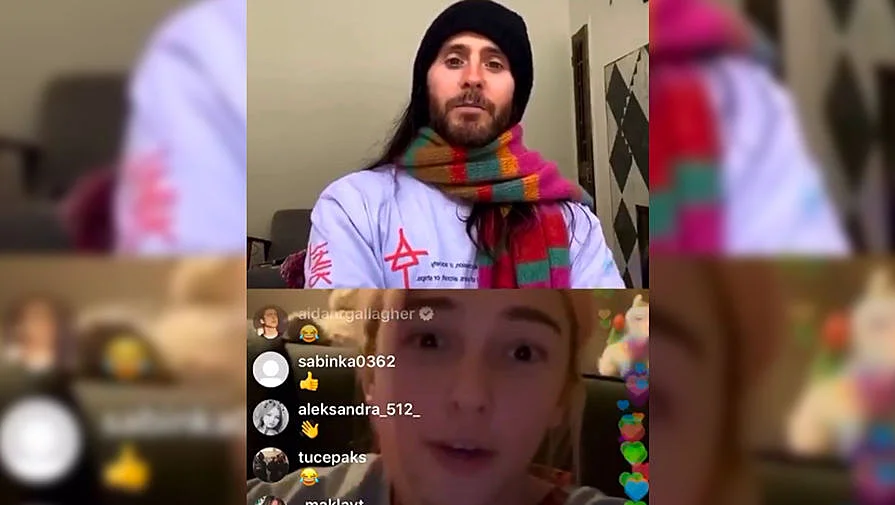 Screenshot of the live broadcast of musician Jared Leto, photo source
№7. Product placement / blogger collaboration
Formats: live broadcast, video broadcast, game playthrough, Q&A - any video formats.
When to use it: bloggers can apply it for their advertising campaigns or when collaborating with brands.
Why go for streaming? Native ad integration. It can be not only a product but also a recommendation. For example, a blogger will focus on the brand they are the ambassador of, answering a question about favorites in cosmetics.
Who can be an example? Gaming is ahead of the curve and continues to gain momentum. In 2021, Fortnite premiered Ariana Grande's first concert.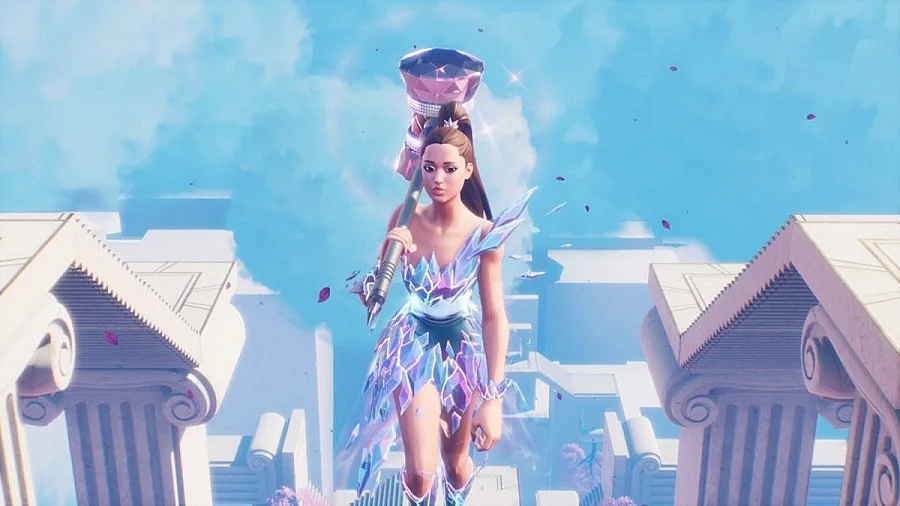 Ariana Grande concert in Fortnite, photo source
5 versatile streaming platforms
Onlypult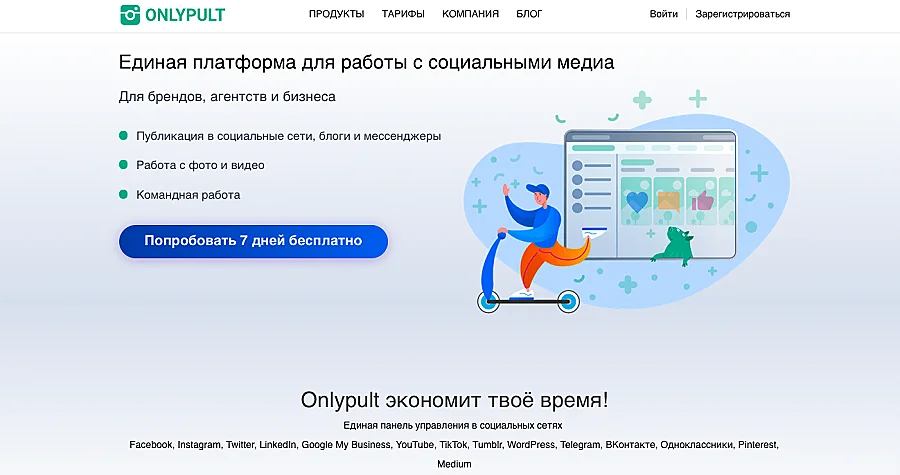 Capabilities: A multi-streaming service, as part of the universal Social Media platform Onlypult, allows online streaming to all required platforms (more than 30 platforms): absolutely in all tariffs, including free access.
Add additional channels of one platform (for example, 3 Facebook pages) to one broadcast. Connect streaming software you already use, such as OBS Studio.
Some other helpful features:
Stream status monitoring: bitrate tracking, FPS, etc.;
Onlypult studio to broadcast directly from the browser without additional programs;
a builder that helps you arrange the stream.
Price. All basic functionality is available for free. Paid tariffs (Pro - $ 19 / month, Premium — $ 49 / month, Business - $ 99 / month) are distinguished by support for high-definition video, the number of simultaneous streams per platform (for example, two Facebook pages), and the ability to brand the stream, etc.
Restream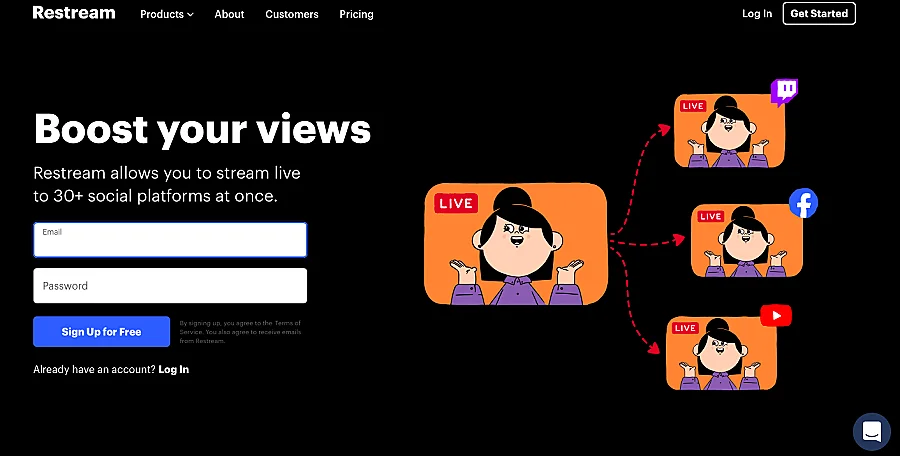 Capabilities: Video streaming transmission. Restream Chat is a program that incorporates chats from all platforms into one interface. Convenient analytics overall sites on one screen.
You can invite guests to stream to share their experiences with your subscribers. In paid tariffs, recording of streams is available, it is possible to customize the live broadcast.
Price. The minimum functions are free. Paid plans include two packages — Standard ($ 16 / month) and Professional ($ 41 / month) and allow using additional functionality.
Castr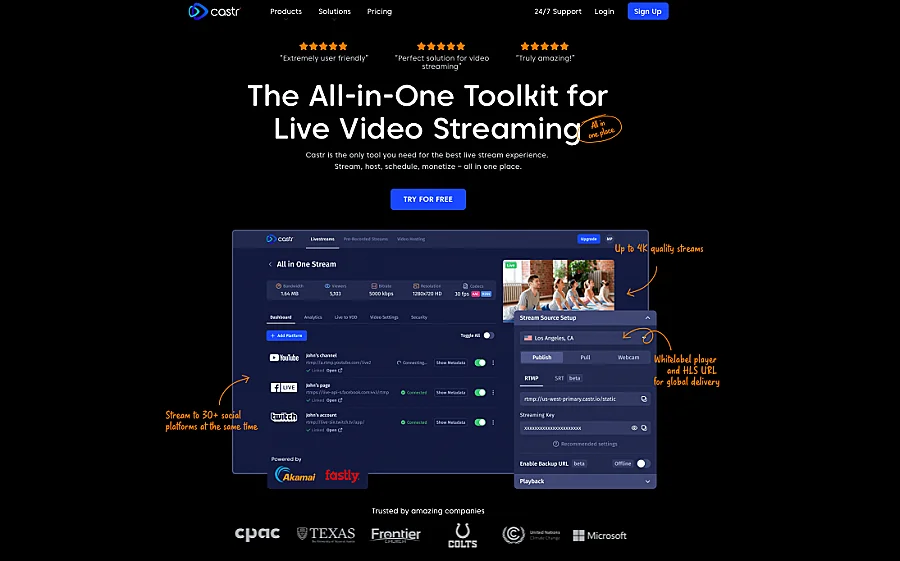 Capabilities: Multistreaming, monetization, broadcasting video to your website or any other platform, converting live broadcasts and branding.
The functionality varies depending on a tariff: choose the most suitable depending on the challenges you face at the moment.
Price. Several tariff scales: for bloggers ($ 38- $ 105 / month) and for companies (from $ 250 / month).
Melonapp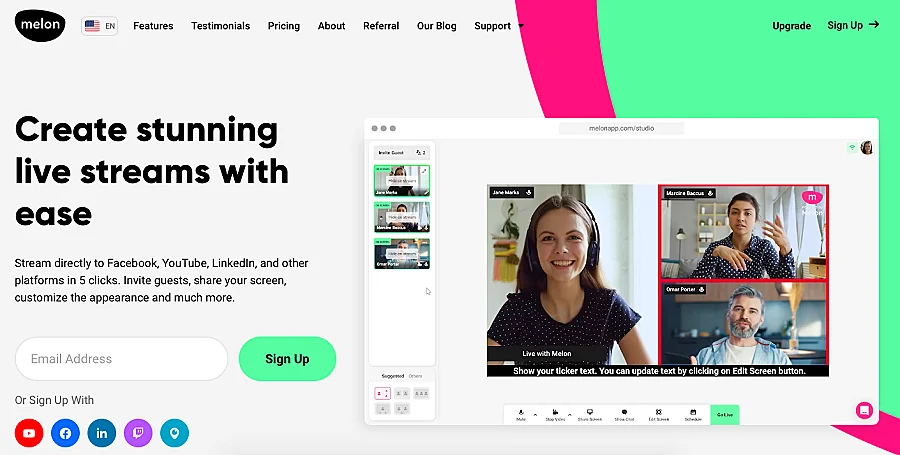 Capabilities: No complicated settings. Guests do not need to create an account — the minimum delay of the picture and sound. Processes are done in the cloud. You can personalize the broadcast.
Communicate with your audience and guests in real-time View live chat from all your platforms.
Price. Some features are available within a free plan. There are also two packages — Standard ($ 15 / month) and Pro ($ 49 / month) for the additional functionality.
Loola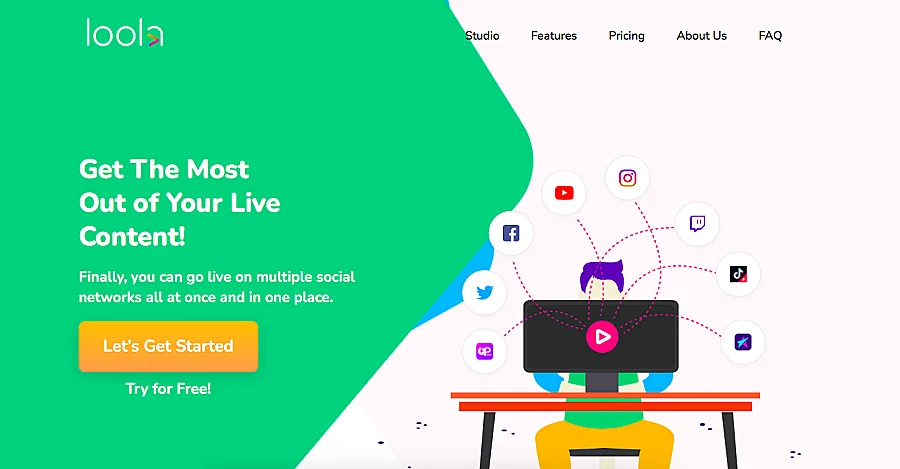 Capabilities: Simple settings to start streaming. View analytics to track the efficiency of streams your company is running.
There is also an opportunity to add branding, any effects and thus make your broadcasts more attractive for the viewer.
Price. Some features are available within a free plan. There are also two packages — Premium ($ 19 / month) and Pro ($ 39 / month) for the additional functionality.
Why bloggers and brands use streaming:
1. Multipurposeness
Use the footage in other formats. The audio track is almost a ready podcast. You can use video parts as materials for reals and stories. Valuable tips and tricks are a content plan for text posts or guides.
2. Outreach
Attracting influencers and collaborating with them gives you a huge reach. You get an absolutely new audience, some of which may not have heard of you and your company.
3. Community around the brand
With live video, you increase the engagement of viewers in a product or service. By building trustful relationships (streaming is a live dialogue), you can create a loyal community.
4. "Human face" of the brand on the screen
Empathy and emotional attachment arise thanks to the effect of "live" communication. The user has the feeling that this is a meeting with a friend, especially if an expert or celebrity answered exactly their question.
5. Attracting media attention
If there are large-scale events or charitable projects, there is every chance of getting into the media. Prepare short press releases and invite journalists to join the stream and ask the experts their questions.
Streaming as a digital tool is a must-try for both bloggers and brands. The benefits of live broadcasts are quite weighty — so do not forego this type of content.
You can transform any content into a live broadcast. You can even broadcast giveaways live if there is an element of the show: a charismatic host or unusual developments.
Start introducing streaming into your content plan — and Onlypult will help you get started without downloading special software and paying expensive tariffs: all the necessary functionality is available even within a free plan.