Online store on Instagram: 600,000 followers without targeted ads Let us analyze the example of the Kuvalda.ru online store — the right way of running an Instagram account. Kuvalda.ru has six hundred thousand subscribers on Instagram and almost three million followers on TikTok. Remember, this is a tool ware online store. It is not an attractive and unusual product. It is a traditional tool shop: hammers, nails, drills.
How did this online store succeed online?
There are two social media concepts for online stores:
You just create a showcase and launch targeted ads. But will 600,000 people subscribe to such content? Will it be that popular? Probably not.
Interesting, funny, and engaging content building a community around a brand or online store.
The Kuvalda.ru store followed the second path. They started filming video content. It always works better than photos. They not only start showing and talking about tools but to shoot funny videos: jokes, catchy guides, life hacks, homemade things.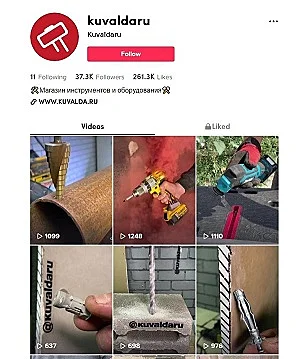 The content is easy enough to read. It is not a boring fifteen-minute video, where some kinds of drills are studied and compared. It is something always funny and humorous. Content that amuses and entertains us. And that is how they get the attention of their audience.
Such content does not need deep production, preparation, complex filming and editing, and expensive equipment. The trick is that such content can be filmed quickly and in large volume. And people like it — it is catchy. All this fits the modern concept of in-demand content — this is a kind of TikTok format — fast, light, which you can get stuck in for a long time.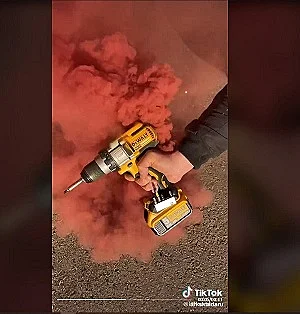 Sometimes thousands of people a day subscribe to this account. But it is the organic reach that helps them. It comprises TikTok traffic, recommendations, and hashtags — such content is shared by communities and users in the building field. Kuvalda.ru is tagged as the content author. Therefore, they do not need to spend money on target.
Here is an example of an excellent, unique, and simple approach to building up an online store audience, which you can develop through content, not through complex business schemes. It is also an image — you build up loyalty to the online store and brand.
Consider ways to adapt this option to manage your account on a social network and to create TikTok format content in your niche that people will love. Of course, it will be a success. Because if you do something, not for the sake of making money, but primarily because you want to do it and you like the results.
Think about how to build a community. It is necessary to unite people who will be in touch with you and constantly consume your content.