We pay remuneration for every new user on our platform. With the help of our referral program, you get 15% of all completed payments.
Terms
The referral program is available for all the registered Onlypult users. Follow the link, to open the page of the referral program.
What do you get?
In the first year, you get 15% of all the completed payments made by your referrals. After the first year, you get 10% of every payment by your referrals.
A referral is always attached to the user who has invited him.
What does a referral get?
A referral (a person, who has received a referral link, followed it, and registered on the Onlypult platform) will also get a bonus – a 10%-discount for the first payment.
Thus, the referral program is beneficial both for you and for your referral.
How much you can earn (example)
Say, you have attracted 10 users and they have purchased a plan.
7 out of 10 have bought a START plan,
2 — an SMM plan,
and 1 — an AGENCY plan.

All your referrals will pay only 90% of the price during the first purchase instead of paying the whole price of the plan.
If your referrals keep monthly paying for tariff plans, your profit will be:
In the 1st year: $364.14
In the 2nd and all the following years: $244.80
The 1st year (the first payments and the following 11 monthly payments): $364.14
15%*(7*$13.5+2*$22.5+$44.1+11*(7*$15+2*$25+$49))
The 2nd and the following years of using the product: $244.80
10%*(12*(7*$15+2*$25+$49))
Withdrawal of funds
You can use the money you received through the referral program for paying your tariff on Onlypult, or you can withdraw it.
To withdraw the money, you just need to press the button on your referral program menu of the user account.

Attention! You can withdraw money only in 60 days after the referral made the payment. The money withdrawal request takes up to 7 days.
How do you join the referral program?
It is quite easy to join our referral program. You just need to follow several simple steps:
Open your referral program menu on the user account by clicking the menu item in the Onlypult main menu.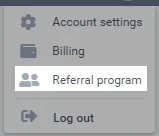 Or follow the link to the referral program page.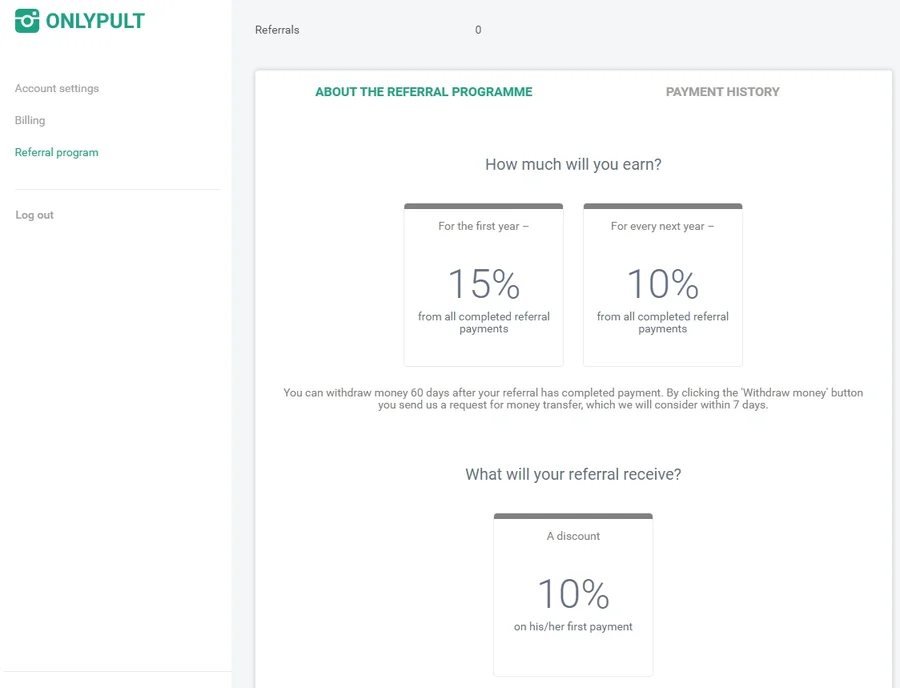 Create a link and save it.

From now on you are our official partner! Share your referral link and start earning money. The information on the number of referrals and the accumulated sum will be displayed on your referral program menu.
How do you attract new referrals?
Share your referral link in any available and ethical way and tell about the advantages of using the Onlypult platform for social media.
Means of sharing the referral link
Personal invitation to your friends, colleagues, and people you are acquainted with through messengers and emails.
Through social networks, chats in groups, posts on your private account, or through communities.
Through thematic forums, useful messages in topics, and links added to your post captions.
Posts and comments on blogs.
Through banners and links on your personal website.
Bear in mind that spam is prohibited and doesn't produce good results. You also shouldn't replace cookies.
Some advice on how to attract new referrals
Bear in mind that those who follow your link can take advantage of it. Describe the advantages of Onlypult. A link without comments or a publication in a caption of a post on a different topic won't give any results and will cause negative feedback.

Choose platforms that involve people who are interested in finding information about Onlypult and your personal experience of using the service. Your referrals can be:

Social network users;
SMM-specialists;
Start-up managers, who promote their product via social networks;
Companies that have accounts on social networks;
Bloggers;
People who already promote a personal brand or are planning to do so;
Group admins on social networks.