Instagram opened the official API to third-party services, allowing fully automatic posting, but not for all formats and types of accounts.
We will tell you who has access to new opportunities and how to implement them.
How to schedule and automatically post on Instagram
What can be published directly?
Direct posting is available for single images and videos, where you can add the first comment, tag the user, and use geotags. Gallery (carousel) of media files and Stories can be published only via push reminders in the app.
Who can access new features?
Publishing via the official API is available only to business account holders. If you have not switched to a business account yet, it is time to do it. Besides direct posting, you will be able to see detailed profile statistics and add the contacts of your organization.
Instructions on how to switch to a business profile.
How to schedule and publish Instagram posts with Onlypult
Posting a single photo or video on an Instagram business account using a computer
Start by adding your Instagram account to Onlypult:

Select the Business Account option: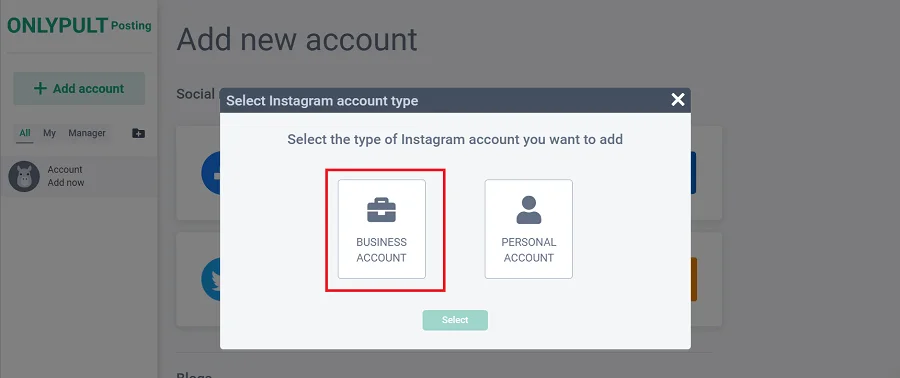 You will be redirected to the Facebook page to confirm access to the Onlypult application.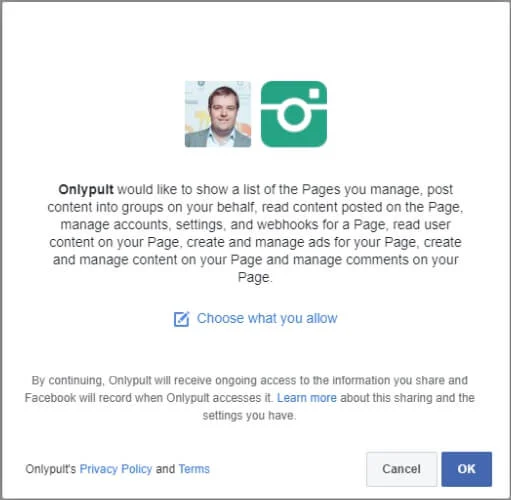 Select an account from the list:

You will see a panel for managing publications. Click on the 'Add Post' button in the Posting section.

A form for adding a publication will open. Add media from your computer or via a link. Besides, you can immediately add the first comment to the post: they usually "hide" hashtags or the second part of the text if the volume of 2200 characters is exceeded. You can also attach a geotag to the post.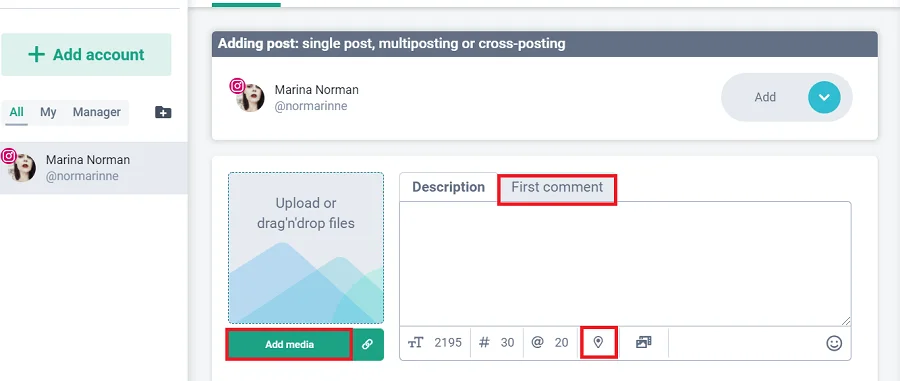 After the post content is complete, click on "Publish now" if you want to share the post with your followers immediately. Otherwise, click on "Select date and time", choose a posting time, and click on "Schedule".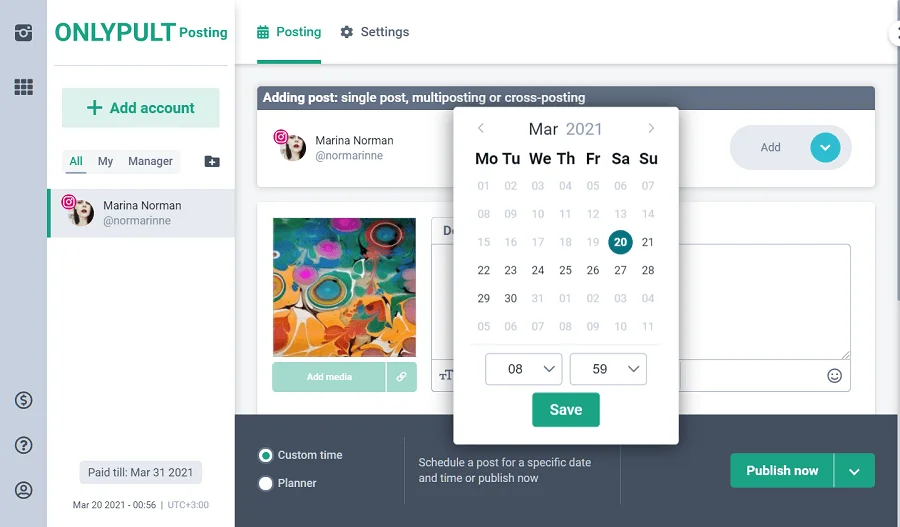 A post with one photo will be automatically published on Instagram.
If you plan a gallery (carousel), you will need to publish the post following a push notification (how to do this, is described below).
Publishing a gallery (carousel) and Stories on an Instagram business account
If you want to schedule a carousel of images or a Story, you will need to continue publishing through the mobile app:
When it's time to publish your post, you will receive a push notification:

When you click on the notification, the scheduled post will open.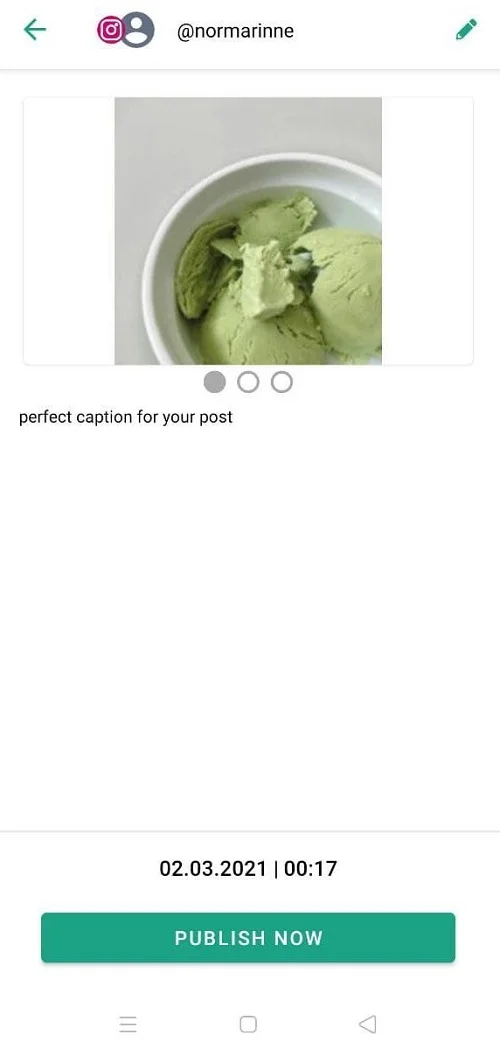 To ensure the current account choice, the application will ask you to check if you have selected the corresponding account.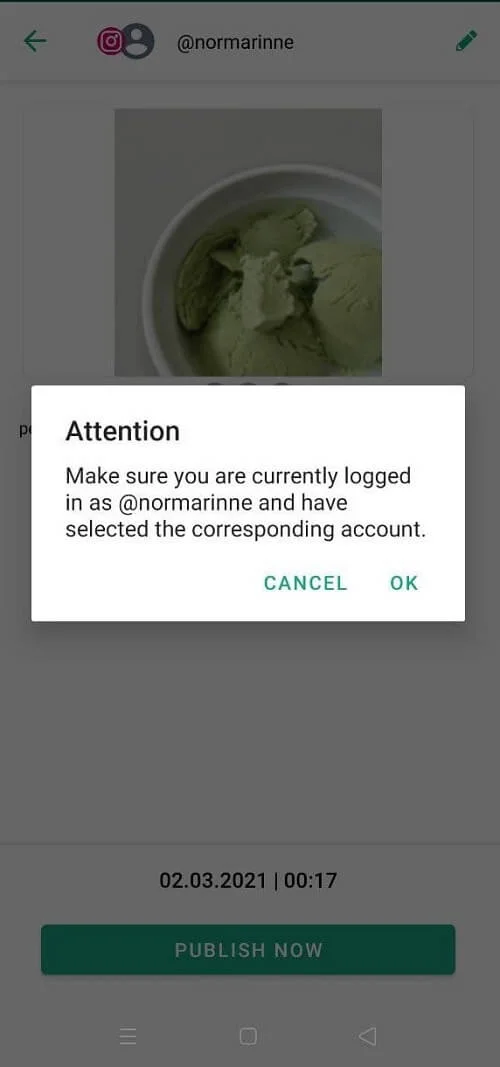 If everything is correct, click "OK". After that, you will see a hint: the media files for publication have already been uploaded in the gallery, you just need to select them for the post.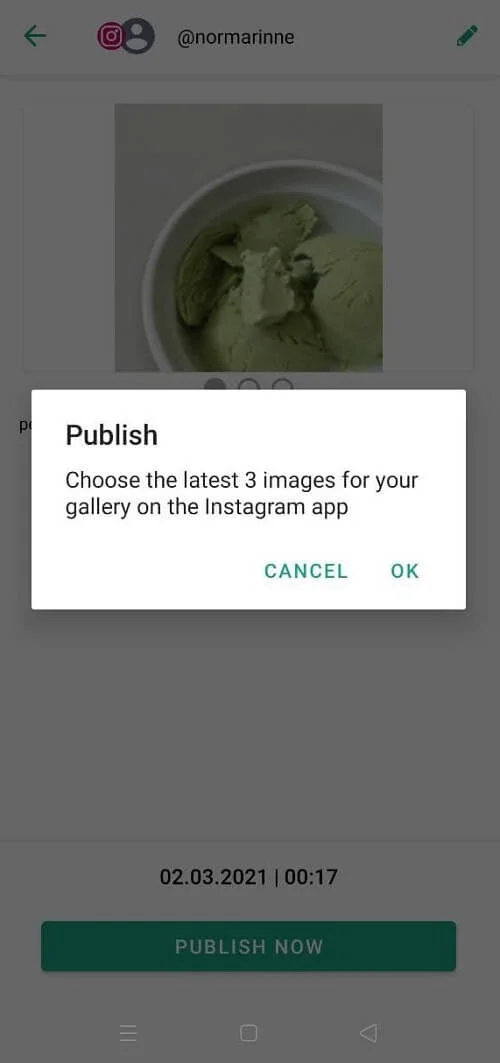 Once the Instagram interface opens automatically, mark the files for the carousel.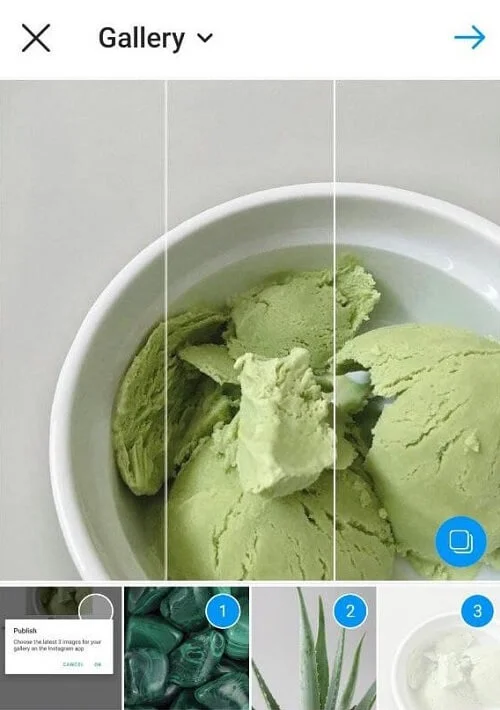 The post text has already been copied to the clipboard. Paste it to the description field of the post.
When everything is done, click on a tick to publish your post.
How to switch to a business account on Instagram
There are two types of accounts on Instagram: personal and professional. The second one includes the accounts of authors and businesses. The difference between a business account and a personal one is as follows:
You can access statistics;
You can use official promotion options;
You can reach the company directly via the contact buttons in the profile.
The authors can use the same opportunities, besides, there are tools for managing sponsored posts. Unfortunately, automatic posting via API is not yet available on author accounts.
How to switch from a personal account to a business account
Open the Instagram application, go to "Settings" and select "Account", then select "Switch to professional account".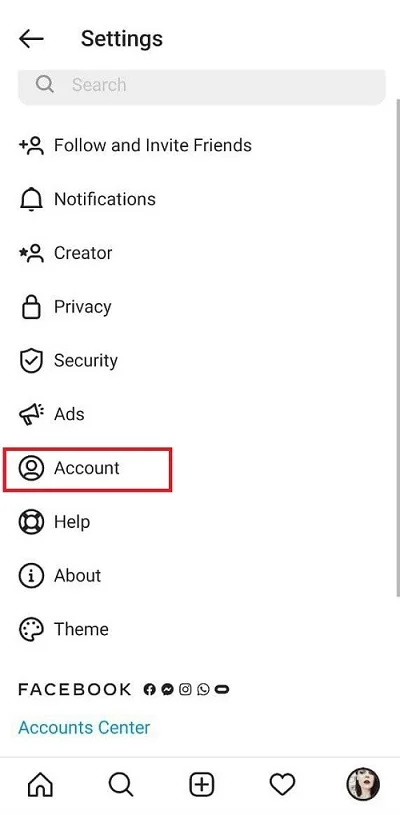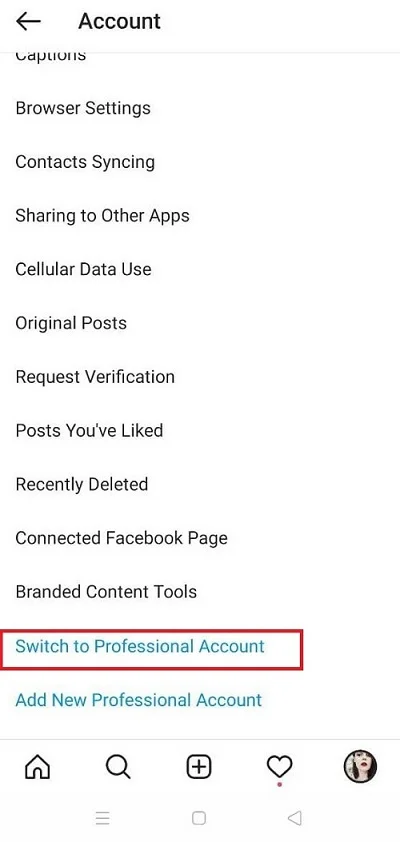 Next, Instagram will briefly present the benefits of the transition, ask you to indicate the category of your activity. Select the "Business" account type.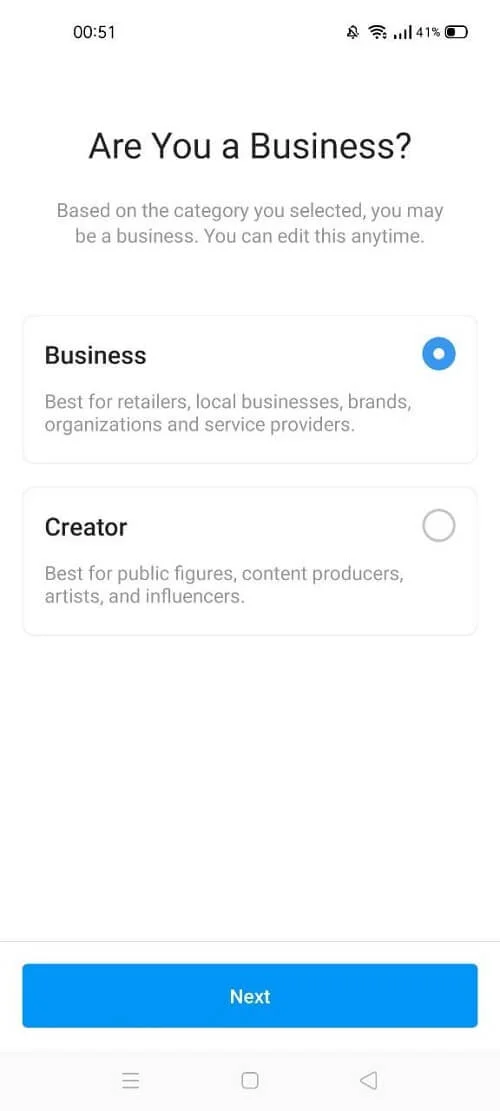 Also, a business account should be connected to a public Facebook page to unlock additional opportunities.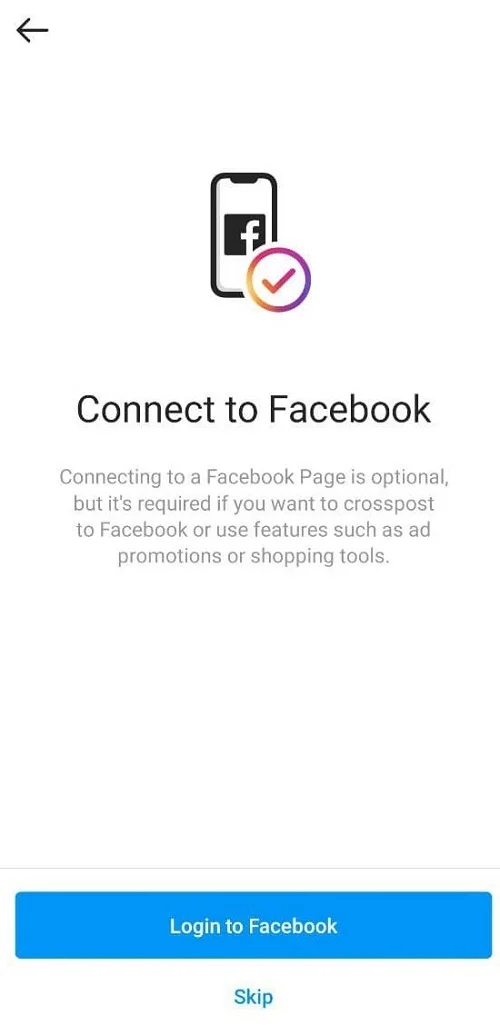 Read more about linking an account in the official Facebook instructions.
How to switch from an author account to a business account
If you already had an author account, it's even easier to switch to a business account:
Go to the application settings and select the "Account" section: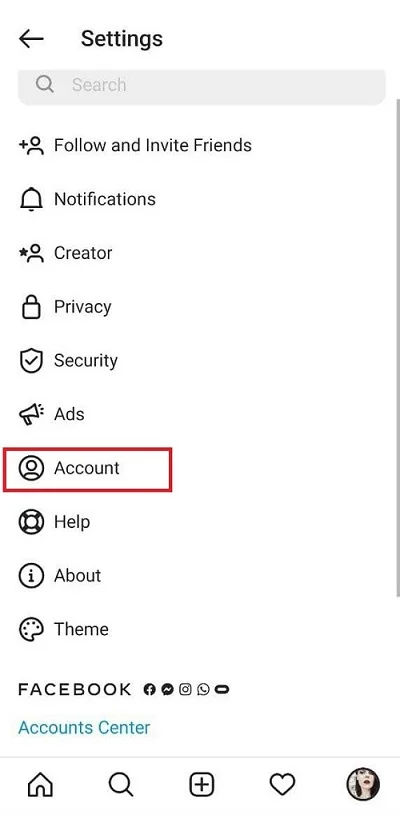 Click "Switch account type":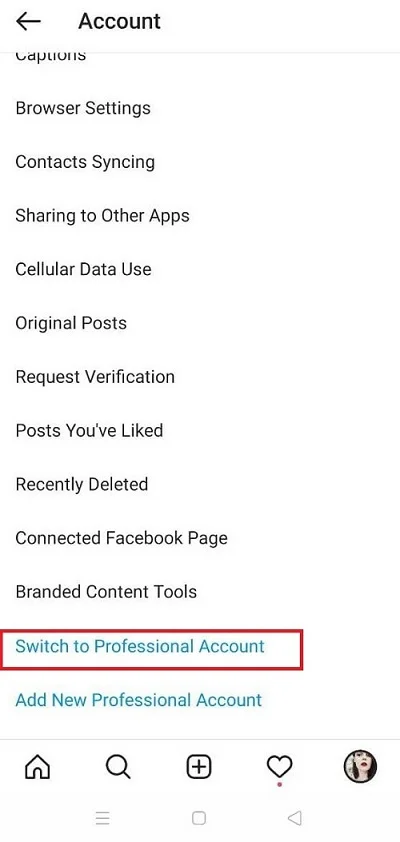 Select "Switch to business account":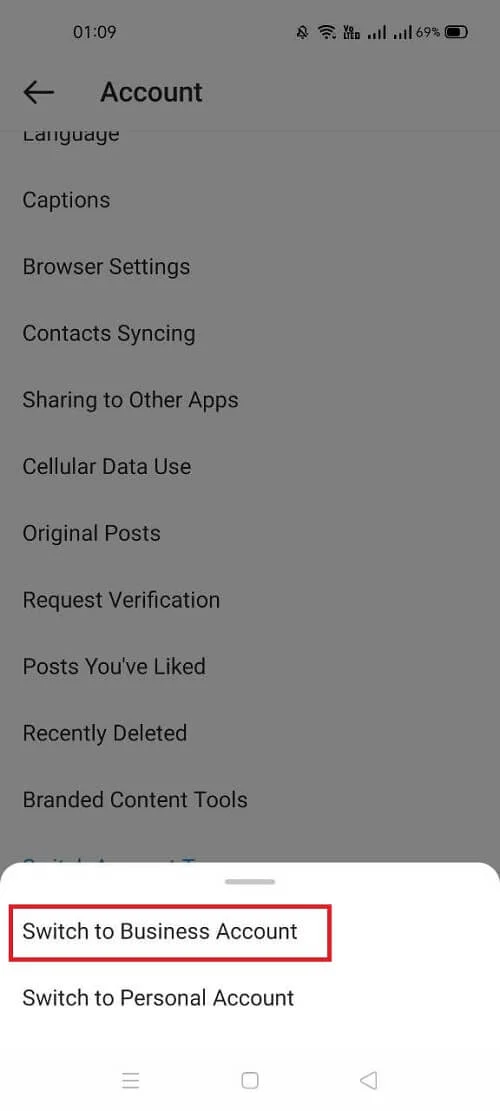 Next, you will see a short message from Instagram. Confirm your decision again by choosing "Switch to Business Account":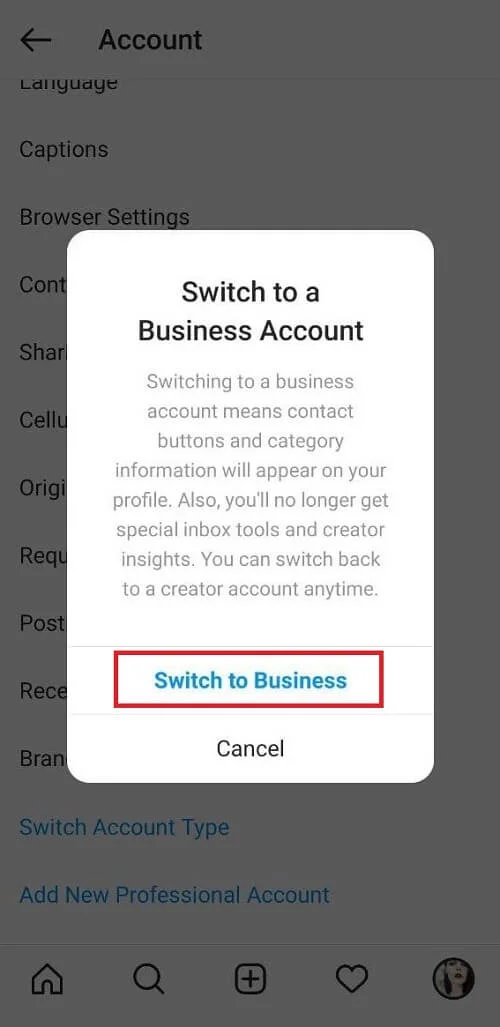 You can test these new features right now. Scheduling and direct post publishing on an Instagram business account are available to Onlypult users.