Customers expect brands to always be active online, which can become labor-intensive. If you want to significantly cut down the amount of time for content posting, a social media scheduling tool is just for you.
In this post, we'll describe the best tools for automated posting. During our review, we considered the main features, pros and cons, prices, and many other criteria for each tool. And you can use our comparison table to find the most useful and convenient platform for your needs.
What Is Social Scheduling?
Social media scheduling is the process of uploading your posts ahead of time into a special platform so that it will be automatically posted at a specified time. Normally, scheduling software supports major social networks, such as Facebook, Instagram, Twitter, LinkedIn, etc.
Scheduling tools vary in functionality, which is why you need to determine your goals and priorities in terms of online content. For example, some businesses direct their resources toward massive uploads, while others are more focused on the collaborative aspect.
Reasons Why You Definitely Need a Social Media Scheduler
You can be occupied with many other tasks while your scheduled posts are being uploaded on their respective social media platforms. Does this sound like something you would like to introduce to your work? Then here are other benefits that you would enjoy after using a social media scheduler:
You'll get more free time – This is probably the most significant improvement that a scheduling tool will bring. Instead of going through all social media channels multiple times a day, you'll have all of them prepared ahead of time. It gives you the freedom to go about your day, knowing that the content will be uploaded without your involvement.
You'll maintain consistency in your uploads – You will become more organized and the chances of missing an upload time are almost non-existent.
You'll post content at the time when your audience is online – Your audience might be scattered all over the world. Just because 1 p.m. is a good posting time for your time zone, it doesn't mean it's optimal for your audience. You can schedule posts based on your social media analytics, even if it's the middle of the night for you.
You'll have content prepared in advance – When everything is ready to go, you don't need to rush into creating posts at the last minute. This gives you time to improve your quality rather than fixating on the urgency.
You'll have a clear view of all your feeds – Platforms like Instagram are very aesthetics-based. So, it's important to have your posts match each other in color and style. When you have a bird's eye view on your future content, you can easily make changes.
You'll recycle your best content in new ways – Not everyone is going to see your content the first time it's posted. To keep up with a demanding posting schedule, reimagine your existing posts, and give them a new life.
Top Social Media Scheduling Tools
We've looked at dozens of offerings all over the Internet, and now you can find your tool of choice to deliver posts at the best times. Here are our recommendations with no sugar-coating – you'll learn the drawbacks as well.
Onlypult
Onlypult is a service for scheduled posting on social media. Over time, the developers added several other functionalities making it an all-around account management tool. The interface is straightforward and doesn't have a steep learning curve for beginners.
The biggest benefit of the service is that it follows the process of content creation and posting from start to finish. Meaning, you can use social monitoring and come up with new content ideas, upload posts into the scheduler, edit them, and track analytics after they are shared online.
Check out Onlypult's Social Media Scheduling tool and take advantage of not only its scheduler but many other features as well.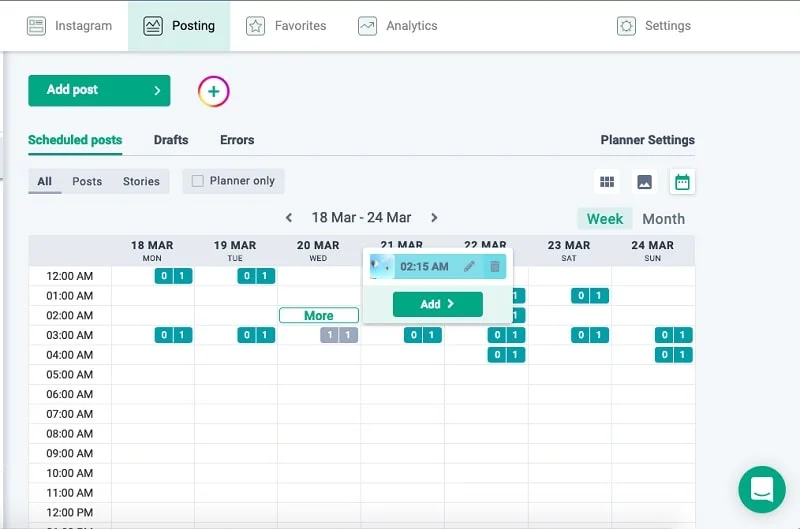 Ideal for: Brands with one or several social media accounts, marketing agencies, freelance social media specialists, mass media outlets.
Features:
Scheduling and monitoring dashboards
Draft edits
Automatic post deletion
Working with several accounts (up to 40)
Useful analytics
Supported social media: Instagram, Twitter, Tumblr, LinkedIn
Free trial: For 7 days, you can explore the full range of possibilities that Onlypult provides.
Prices: The starting plan is $10.50/month (3 accounts, 1 manager, 10 tracked users, unlimited posting), SMM – $17.50/month, Agency – $34.30/month, and Pro – $55.30/month.
Below is a quick guide for scheduling and editing posts on Onlypult:
Click Add post on your main dashboard, and you'll see a form for all kinds of posting, not just scheduling.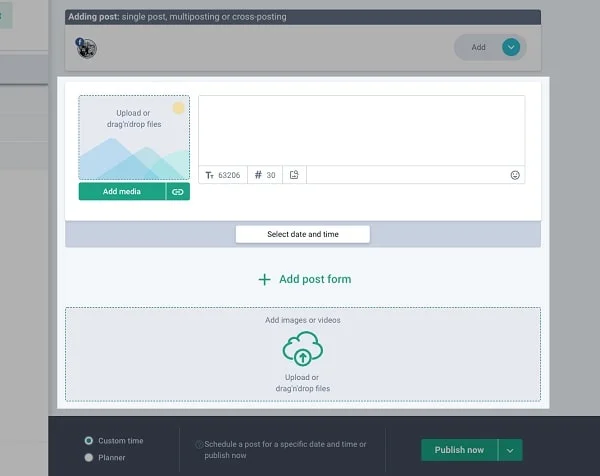 Click Add media or drag your file to the workspace.
Write your description, include tags, geotags, hashtags – basically anything that'll make your post great.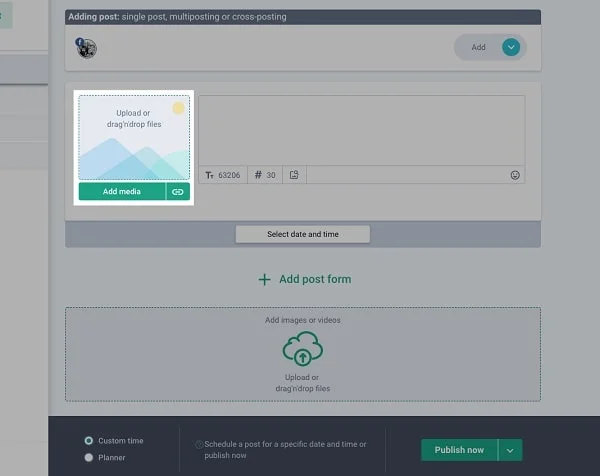 Below the main form, you will see the Select date and time button.
Click on the tab and specify when this post will be automatically posted.
Click Schedule.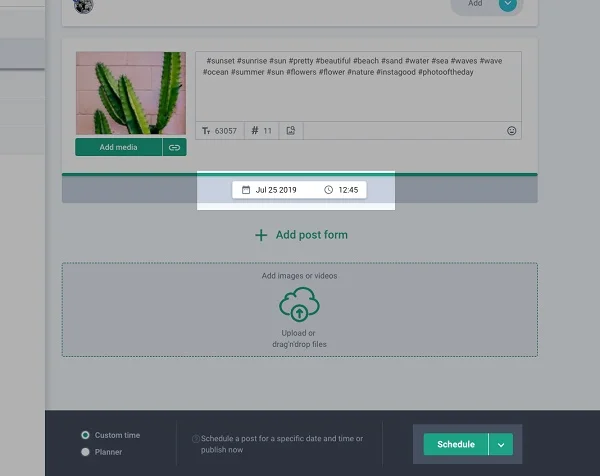 If you need to make changes before posting, go to all your scheduled posts and click on the Edit button.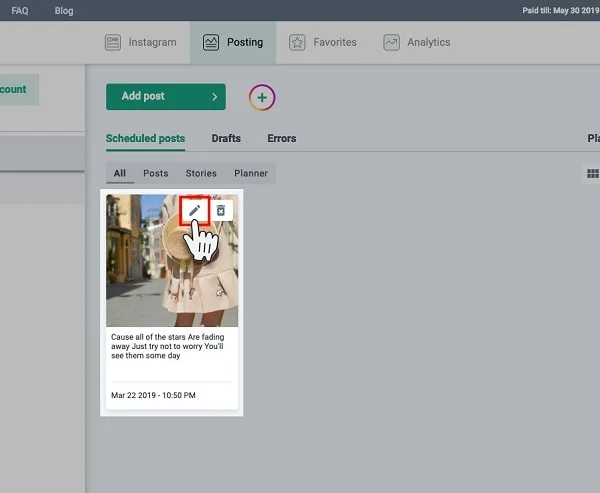 Agorapulse
Agorapulse is predominantly a social media monitoring tool with an added perk of content scheduling. Despite having some flaws, the service meets expectations. For example, it offers multiple content workflow tools, a final check before scheduling the post, and analytics and reporting functions.
Also, it works as a customer relationship management software. If your focus is driving engagement and building a relationship with your audience, you can find some useful features here.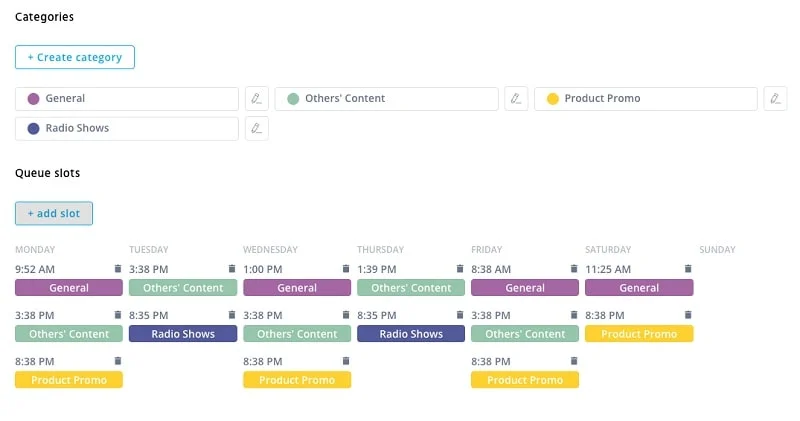 Ideal for: Management of business social media accounts
Features:
Schedule once or regularly
Shareable calendar
Color-coded segments
Built-in CRM
Supported social media: Twitter, Facebook
Free trial: The period lasts 15 days, during which you can test the scheduling tool to see if it suits your needs.
Prices: The medium plan, which is best for small businesses, costs $79/month. The prices go up for agencies ($159/month), larger organizations ($239/month), and large teams with many profiles ($399/month).
Advantages
Disadvantages

Browser extension
Great mobile app
Official Instagram and Facebook partners
24/7 custom management

Limited functions and networks
Inflexibility across multiple platforms
No multiple uploads
Sprout Social
Sprout Social is a social media management and optimization software. It's advertised as a single hub for publishing, analytics, and engagement, which is a good substitute for manual work. As for its scheduling capabilities, it supports drag-and-drop uploads and draft edits.
If you have many members and contributors on a project, there is good segmentation of tasks, and there are shareable features to keep everyone on the same page.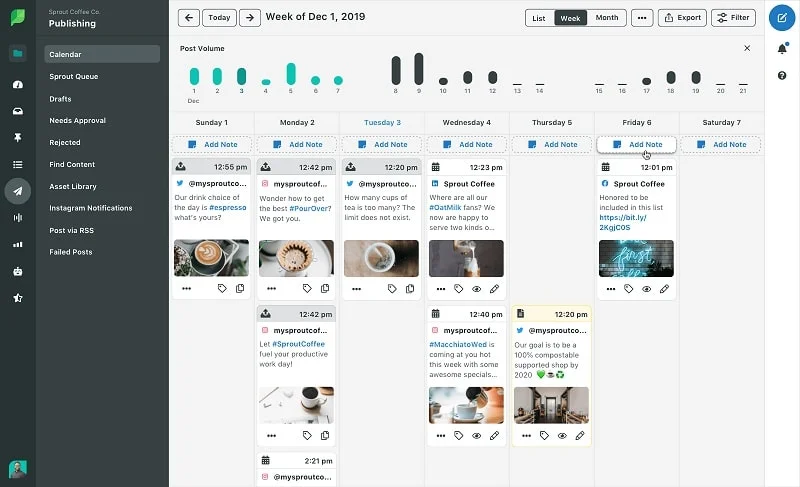 Ideal for: Team collaboration for social media management
Features:
Identifies best posting times
Support for teams (drafts, calendar, task)
Analytics & reports
Helpdesk facility for customers
Supported social media: Facebook, Twitter, Instagram
Free trial: First-time users can enjoy the platform for free for 30 days.
Prices: The software is a bit pricey – $99/month for the standard plan (5 social profiles and all-in-one social inbox), $149/month for the professional plan (10 profiles), and $249/month for the advanced one.
Advantages
Disadvantages

Easy-to-use app
Easy-to-use app Encourages team connectivity
Permission levels and roles
RSS feed integration

No group publishing
Only 10 posts per day
No multiple image support
CoSchedule
CoSchedule is a marketing calendar used to organize regular processes associated with content posting. It's especially useful for social media managers as there is a drag-and-drop digital editorial calendar built specifically for social platforms.
For easy navigation, users can draft posts and pick the category where it will be stored. CoSchedule also offers many integrations useful for digital marketing, such as with WordPress, Google Docs, and Evernote.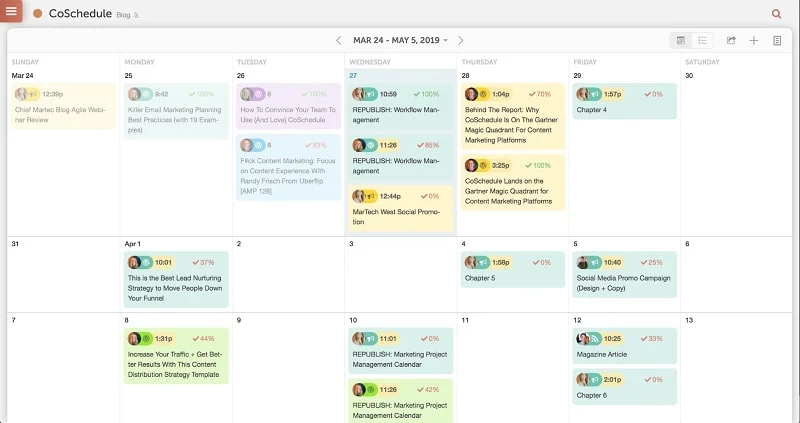 Ideal for: Specialists who are responsible for headline analysis and the planning process
Features:
Real-time blog & social calendar
Bulk scheduling
Integrated with WordPress
Shared read-only calendars
Supported social media: Facebook, Twitter, LinkedIn, Instagram, Pinterest, Tumblr
Free trial: You'll receive a free trial of CoSchedule for 14 days to get a feeling of what it's like.
Prices: The blog calendar costs $19 per user/month, and the marketing calendar is $39 per user/month. If you want to access the marketing suite to get 5 agile marketing products, you'll need to contact the service for the quote.
Advantages
Disadvantages

Creates entire media campaigns
Seamless integrations
Thought-out UX
Supports multi-user collaboration

Unclear pricing models
Extra fees for analytics
Promotion of scheduled posts could be better
Loomly
Loomly is a straightforward social media calendar tool for composing and publishing posts on many social platforms. At the post drafting stage, you can browse in-app post ideas and recommendations and create separate calendars for different ones.
Before the scheduled posts are uploaded, you can use post mockups and approval workflows. This will ensure consistent brand messaging.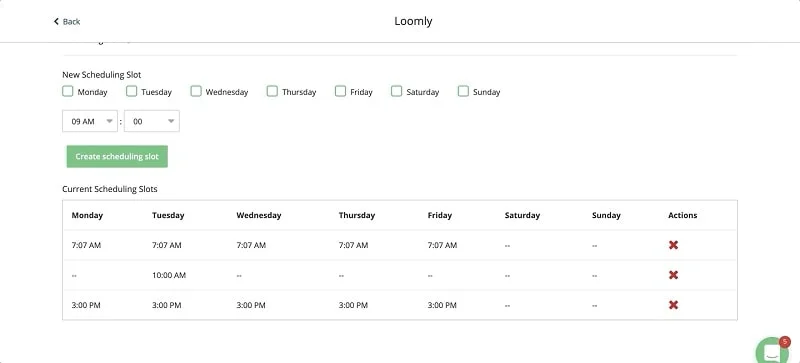 Ideal for: Community managers, content managers, and collaborators
Features:
Schedule, target and boost functionality
Template post content across channels
Content management
Performance calculator
Supported social media: Facebook, Instagram, Twitter, Pinterest, Google+, and LinkedIn
Free trial: You can use Loomly for 14 days without being charged or entering your credit card information.
Prices: The cheapest plan is $25/month (2 users, 10 social accounts, and $500 ad cap). Then, the prices increase to $57/month, $119/month, and $249/month. There is also an enterprise plan that is priced on a case-by-case basis.
Advantages
Disadvantages

Imaginative post mockups
Great customer service
Easy for low tech users
Clear calendar view and labels

Needs more integrations
Limited analytics
Requires manual work
Post Planner
Post Planner is a data-driven tool with the main goal of getting more engagement and reach on social media. The platform was reportedly created by social media managers. This signifies that it has a nice share of features that only professionals can truly appreciate.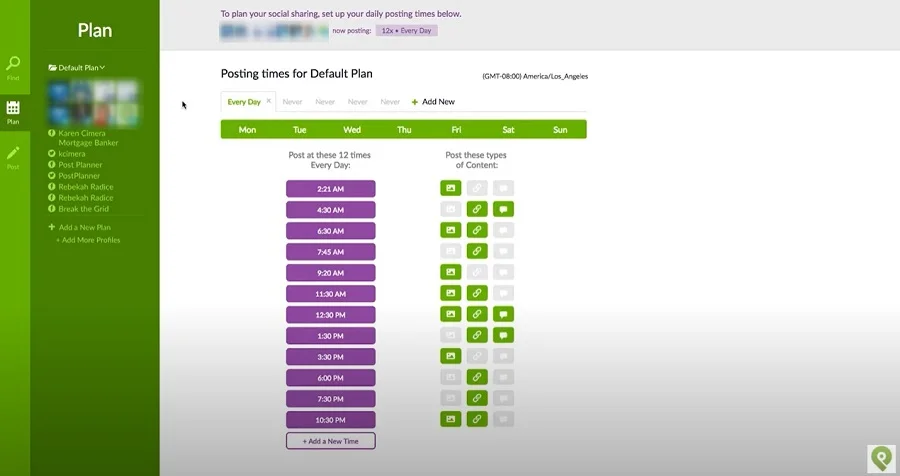 Ideal for: Social media managers and freelancers of personal/business pages on a budget
Features:
Searches for top-performing content
Topic and theme suggestions
Repeat post and recycle
Performance prediction
Supported social media: Facebook, Twitter
Free trial: Post Planner has no free trials on their paid plans.
Prices: The price points are very friendly – $3/month (3 social accounts, 30 posts per day, 300 posts planned), $9/month (10 social accounts, 100 posts per day, 1000 posts planned), $19/month (25 social accounts, 500 posts per day, unlimited posting).
Advantages
Disadvantages

Very affordable
Convenient software and app
Decent feature of content curation
Niche-specific

Not the best customer service
Functionality is limited
No mobile app
Sked Social
Sked Social is a management tool that is great for those who deal with massive volumes of uploads. While it may not be the best in terms of seamless software operation, it still does the job. It's good for coordinating creative campaigns, especially if your focus is on improving performance.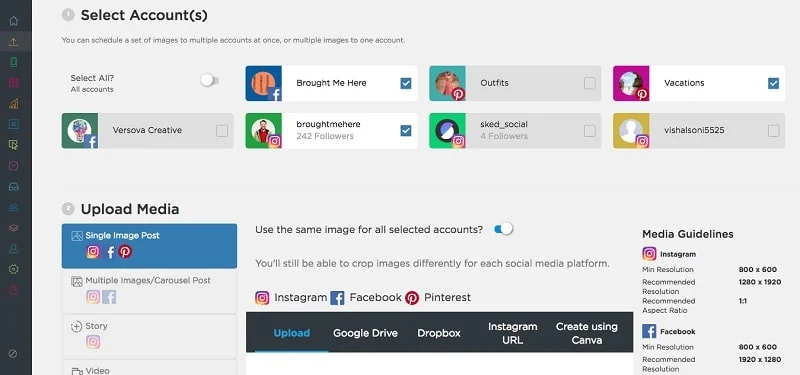 Ideal for: The plans are varied so they can cover basic management as well as franchises and global brands.
Features:
Bulk uploading
Queue function
Singular and carousel posts with auto-posting
Library for asset management
Supported social media: Instagram, Twitter, LinkedIn, Facebook
Free trial: The service offers a free 7-day no-obligation trial.
Prices: The pricing tiers are set up as follows: $25/month (up to 3 accounts), $75/month (up to 5 accounts), $135/month (up to 10 accounts), $260/month (10 or more accounts). All of them offer unlimited post scheduling.
Advantages
Disadvantages

Easy-to-use templates
A wide variety of features
Loyalty and performance analysis
Robust security

Uploading can be buggy
Requires a lot of manual activity
No custom reports
Planable
Planable is a cloud-based social media collaboration and approval solution. This platform is well suited in an environment that handles multiple accounts. The reason is that the interface is segmented according to the project and team members involved in it. Therefore, everyone will be aware of their responsibilities.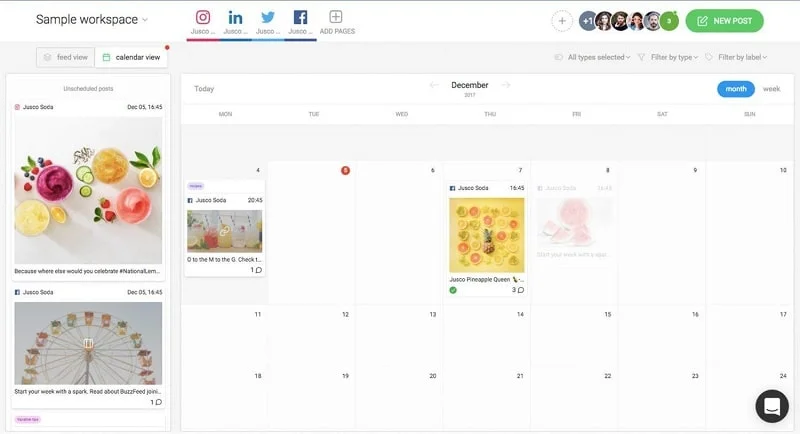 Ideal for: Specialists managing multiple brands
Features:
Social media post previews
Direct posting
Social listening and influencer tracking
Ability to invite contributors
Supported social media: Facebook, Twitter, Instagram, and LinkedIn
Free trial: The trial period lasts 14 days with full functionality available to a new user.
Prices: For $32.5/month, you get access to 1 workspace, 3 users, and self-service; for $82.5/month, you get 5 workspaces and 7 users. You can't view the price for the most expensive plan as it's calculated individually.
Advantages
Disadvantages

Multiple workplace-based dashboards
Great for collaborative work
Unlimited uploads and posts
Helpful mobile mode

No real-time customer support
Lacks analytics
No sentiment tracking
Meet Edgar
Meet Edgar is an automation tool for optimizing social media content. The biggest selling point is that it frees up a lot of time for managers, allowing them to concentrate on other matters. Plus, a categorized library helps to see scheduled posts in a calendar view.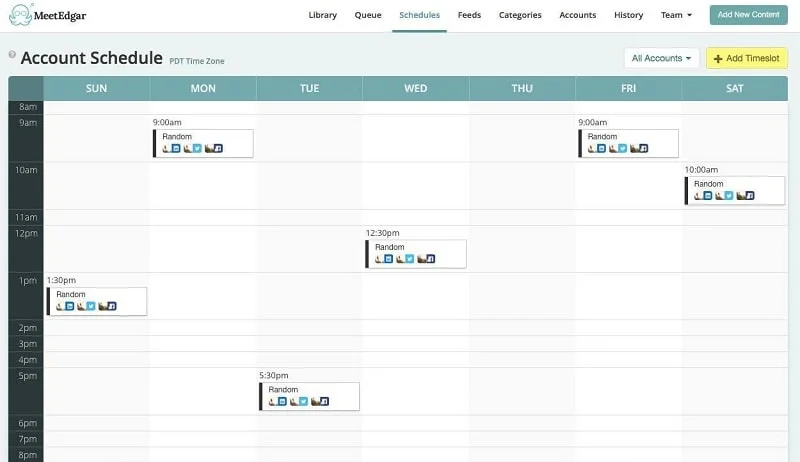 Ideal for: Managers that require easy automation of posts and bulk uploads
Features:
Custom schedules
Smart composer for composer
Unlimited library for content
Content organization
Supported social media: Instagram, Facebook, LinkedIn, Twitter
Free trial: There is no free version of Meet Edgar.
Prices: Interestingly, there is only one pricing plan for all features and up to 25 social accounts. The plan costs $29/month.
Advantages
Disadvantages

Acts as a virtual assistant
A variety of features
Informative social media courses
30-day money-back guarantee

One price only
Limited number of available posts
Single person account
Feedly
It's important to mention that Feedly isn't known for impeccable scheduling features. However, it makes up for it in other features, such as automatically curating content to fill up your social media calendar. It also offers useful integrations to extend its functionality further.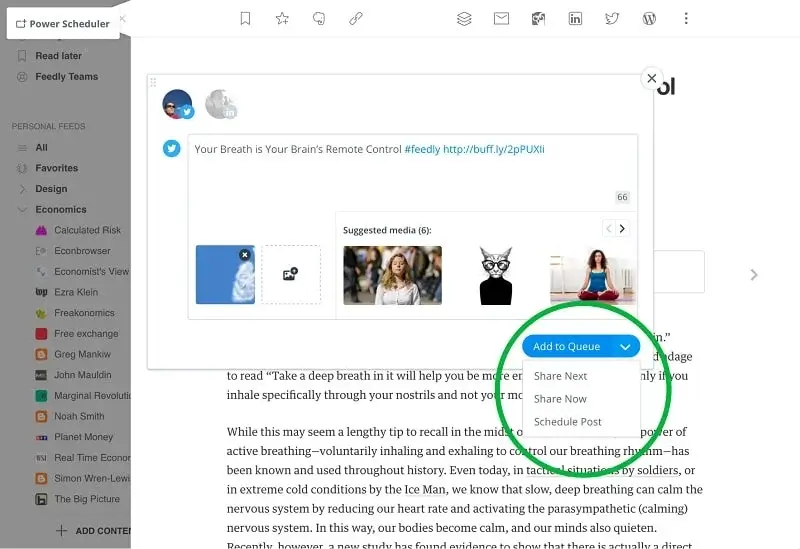 Ideal for: Small social management teams looking for insight into their social media data
Features:
Data collection
All-in-one dashboard
Organization by subject type
Social monitoring
Supported social media: Twitter, YouTube
Free trial: Feedly has a basic plan that is offered for free on an unlimited basis.
Prices: The pricing for the platform is based on the following subscription plans: Basic (which is free), Pro ($5.41/month), and Teams ($18/user/month).
Advantages
Disadvantages

Fully free version available
Easy-to-navigate RSS reader
Syncs to Android and iOS mobile apps
Multiple tutorials

Limited scheduling capabilities
Requires a Google account
No browser bookmarklet
Later
The last on our list of schedulers and social media platforms is Later. It's great for Instagrammers but less so for those who prefer to focus on other social platforms. If you're managing other social networks, you might need to either find a perfect combination of tools or simply use another one.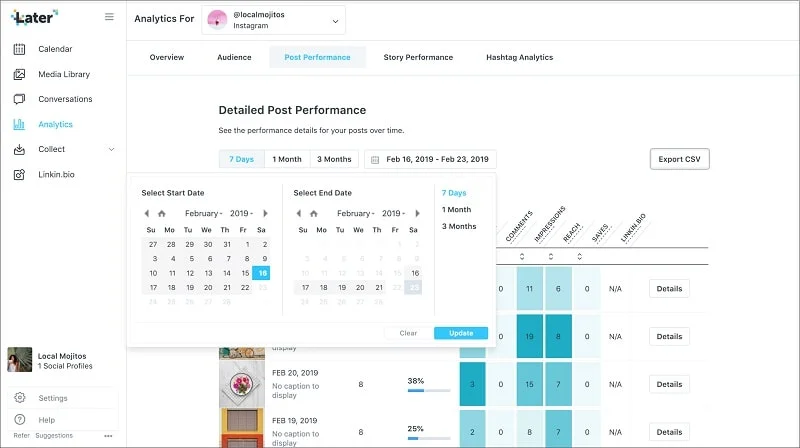 Ideal for: Brands and companies with a strong Instagram presence
Features:
Visual planner
Stories scheduling
Saved captions and drafts
Share calendar and notes
Supported social media: Instagram, Facebook, Pinterest
Free trial: There is a plan that is free forever, giving you access to 1 profile per social platform and 30 posts per social platform.
Prices: There are four pricing tiers, which include Plus for $7.5/month (1 profile per platform and 100 posts per platform), Premium for $16/month (2 profiles and 250 posts), Starter for $24/month (3 profiles and unlimited posts), and Brand for $41/month (5 profiles and unlimited posts).
Advantages
Disadvantages

Graphical focus
Nice social publishing capabilities
Helps articles

Limited functionality in lower tiers
No real-time support
Poor reporting
Best Social Media Scheduling Platform: Ultimate Rating
So, it's time for the final comparison table. Below are the best platforms stacked against each other.