Streamers in today's gaming and cyberspace occupy one of the key positions. Their shows gather millions of subscribers and fans. This helps professional players make money on what they love, as well as beginners in the industry gain knowledge through streaming broadcasting.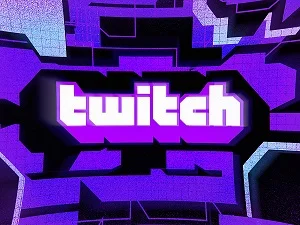 Naturally, the main thing for a streamer is his experience, knowledge and skills; a good advantage is their charisma, but also the choice of the right streaming platform is taking a very important place in this whole process. The better the platform a streamer uses, the more attention and money they get.
To receive the title of the best streaming platform, a service must meet the following requirements: stable operation, usability and popularity.
What is a Live Streaming Platform?
Stream is real-time audio or video streaming. Initially, streams were associated with video games and esports, but the attractiveness of the format made it a real trend among all kinds of content makers. Now you can record a stream on any topic: reviews of goods and services, broadcasts from the scene, travel, cooking, etc.
According to average statistics, 33% of Internet users regularly watch streams on topics of their interest, 7% of the audience watch and create streams themselves, 5% do the streaming only.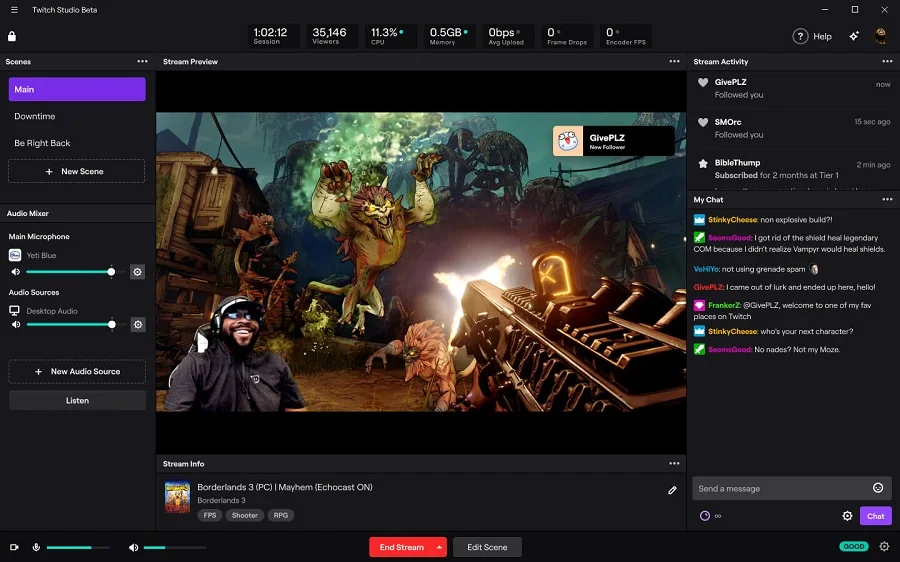 Men most often watch gaming, political and training streams, women mostly fond of culinary, educational, streams of beauty bloggers and broadcasts of the daily life of stars.
The streamer's audience, like any community, is loyal to the brands that their idol approves and supports. If a popular streamer advertises a product during the broadcast, it will definitely be noticed.
How much do streamers earn?
Stream authors can monetize their channel in several ways:
Affiliate program with streaming platform, which allows platform developers offer streamers to show third-party ads. For example, Twitch pays $2-3.5 for every 1,000 video views.
Subscription bonuses for viewers: the platform takes part of the money earned, and gives the other part to the creator.
Donations from viewers: nowadays almost any platform offers such a kind of monetization for a content maker, because it is so natural, when your fan wants to show their love through the money they can give you on a free basis.
Money from sponsor advertising, which makes the basis of a streamer's earnings. For example, American streamer Ninja broadcasts Fortnite on Twitch and earns between $200,000 and $500,000 a month.
Advertising integration on the streamer's channel, which is made automatically by a service. Taking into account how many viewers and views a creator has, they can get an interest of a product's advert.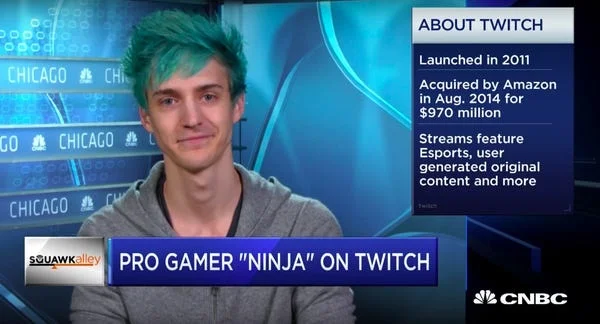 Streaming platforms are a source of a solvent audience, which open up wide opportunities for earning both for streamers and for businesses, that's why the industry has already got the long way of building up and, who knows, probably never will see the end of the road.
Though Twitch is one of the ancestors in the streaming business (not even only the gaming one), there are some other alternative platforms that are very ready to compete with the most experienced ones. Let's have a look at the best 15 of them, see what they offer and maybe give them a try?
Streaming Platforms, Sites, and Apps Like Twitch
Facebook Gaming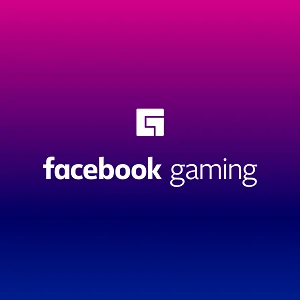 There are some advantages of streaming by Facebook Gaming:
Usability: the interface is intuitive and incredibly easy to understand.
Easy to join the Level Up program: a couple of clicks.
Creator Studio availability, where you can manage all your streams and have the statistics shown.
Games are organized by categories, so you can find any content by any word or hashtag, and also (for sure) you will be given recommendations based on what you watch most.
As well as there are the following disadvantages:
Big competition: game streaming sites like Twitch, YouTube Gaming try to conquer the world of game streaming experience, and they do their best about it, so it can be a little hard to take a good place here. However, Facebook Gaming is anyway called to be one of the top live stream gaming sites.
Confusing broadcast editing: you can not easily edit anything during streaming.
Poor video quality without Level Up, which literally makes a creator buy it, because it is not that good without it.
To stream video games, you need to have recording software such as XSplit, Elgato Game Capture, or Open Broadcast Software (OBS) installed on your computer.
When OBS is integrated into the software, it provides quick access to media queries, chat moderation, and stream information. Facebook Gaming connects to the app using the broadcast key.
Monetization. After joining the Level Up program, you receive support from your viewers who give you stars. The cost of a star is 1 cent each. Once you've reached Affiliate Tier, you can sell your channel subscription for $4.99 per month. There is no specific method of becoming an affiliate, accepting a Facebook representative.
YouTube Gaming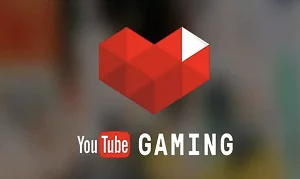 Speaking about 'pros' of YouTube we can see the following:
Video downloads automatically, you don't need to click it: it is made to make an experience of a viewer more efficient and to find interesting content easier and faster, and also for creators: because you can get views starting from the first seconds of watching.
Monetization is available immediately: YouTube, having years and years improving their video content and live content, knows it really best.
Can be streamed at 1080p, which is not so often to be offered by other streaming sites.
However, it's a huge 'cons' that live broadcasts are mixed with previously made ones.
When playing games on PCs and consoles, you need a recording application. Without such an application, you can only go on air from your smartphone, which is not very comfortable sometimes, though great for promoting mobile games.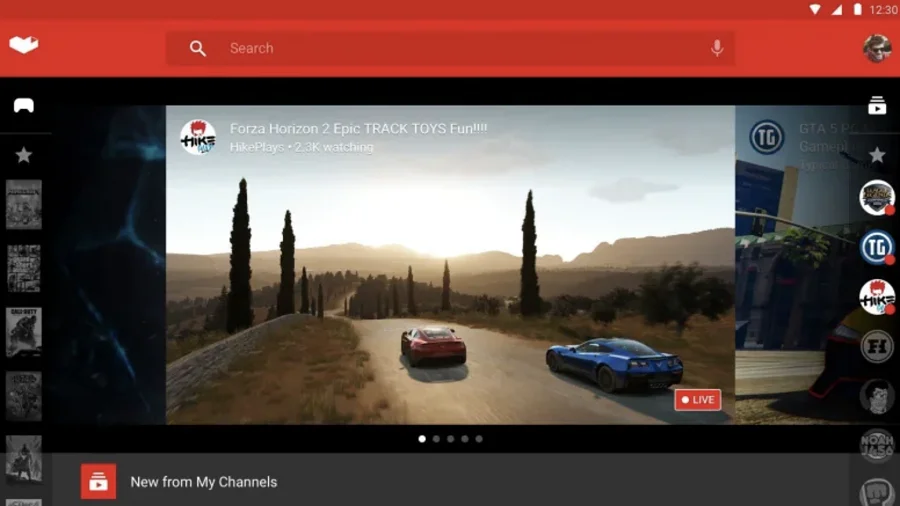 Monetization. New streamers can earn money from their broadcasts by adding the Google Adsense ad network. There is a YouTube affiliate program that offers the best monetization, but you need at least 1000 subscribers and 4000 views. To be honest, they are not such big numbers for a creator, because they anyway need to start with something, and 1000 followers are just a beginning for good money as an influencer and blogger in the gaming industry.
Caffeine.tv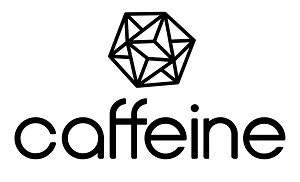 Caffeine.tv is the easiest platform to use. Check yourself:
Easy to find,
Easy setup,
Easy to earn,
Has got a user community.
But there are some bigger disadvantages, such as:
Unreliable Caster program, and some users' comments say that Support is either not very helpful or ready-to-help at the moment.
You can only stream PC games from the approved list if you do not use a video capture card, which can be a challenge if you like a not so popular game, right?
You can not create clips and watch streams, and it also does not save recordings without using a third-party application.
To use a separate broadcast system, the program must be running in full screen mode.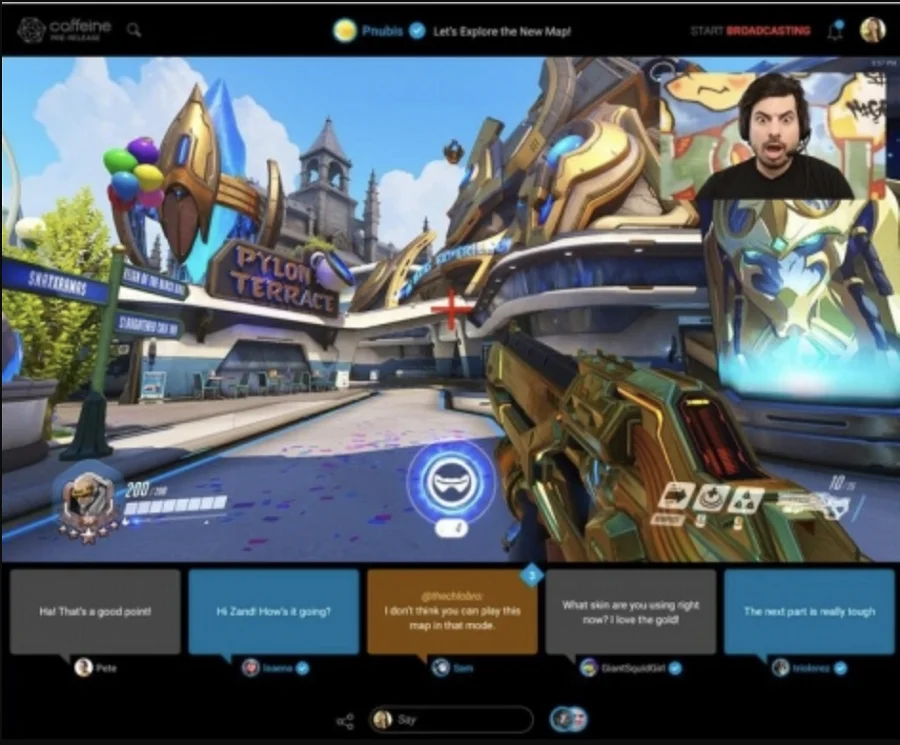 In this streamer program, you can show performance on the main prizes and earn monthly on the main program.
The next level is Caffeine Partner. These streamers have the best live chat messages. If you blink, you can skip them.
Monetization. The platform has got its inside 'stickers' currency. Spectators pay for the stickers with 'gold'. If a member of the Caster Program generates $200 worth of gold, they can withdraw money into cash.
Smashcast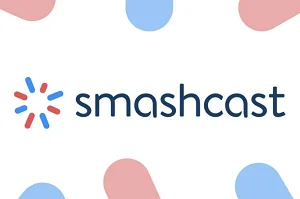 The project started in May 2017 and was a novelty that was born thanks to the merger of two other streaming platforms: Hitbox.tv and Azubu, that had already got their fanbase and achieved something in the gaming industry. The platform could seriously compete with Twitch in the beginning, and still opens their potential in the world of games.
The advantages that can make a difference from competitors are:
The use of advanced technologies, including support for 4K resolution and providing a panorama of virtual reality, which is really something new and makes the experience of content makers and viewers extraordinary and unique.
High quality of broadcast materials.
The provision of various technological solutions at an affordable price.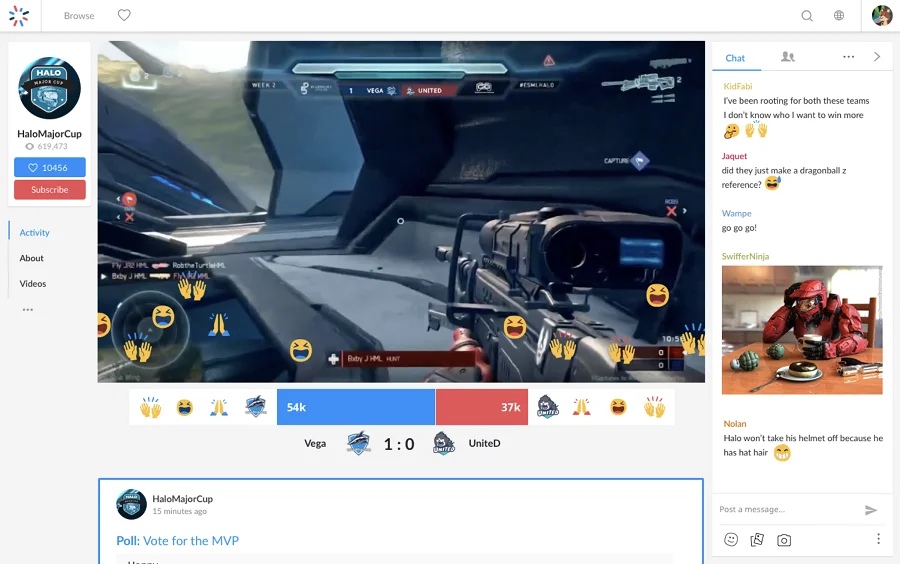 Monetization. There are two ways if you want to have money from your streams: a partnership program and a premium partnership. Everybody may sign up for the partnership program, so they can make money by the number of subscribers and the number of ads they run on the streams, which is usually done by other streaming sites like Twitch, YouTube Gaming, Facebook Gaming and so on. The maximum is 6 ads per hour for each stream.
For the premium, you need at least 100 viewers and stream three days per week. For that you must sign a contract with Smashcast, according to which you will not be able to monetize a stream on another platform.
StreamCraft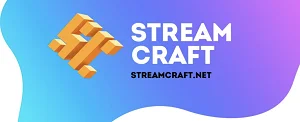 StreamCraft calls itself 'the most rewarding game streaming platform', one of the best game streaming sites, where every gamer can make money. They promise to reward streamers for great content and acceptance of challenges, as well as reward viewers for participating in contests and chatting.
StreamCraft is a handy mobile application, you can stream your video games there, chat with other gamers or watch esports.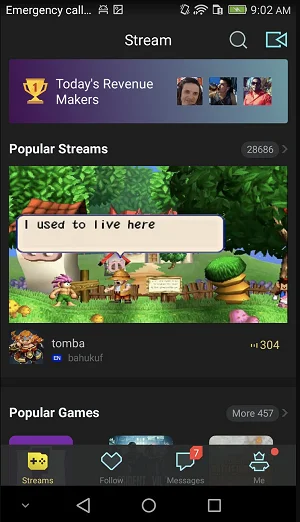 Monetization. They have an affiliate program which helps streamers earn and empowers them to focus on growing their channel. The app also has interactive giveaways of in-platform currency. Inside of the app there are numerous contests and challenges with cash prizes.
Having only a mobile app makes their experience as a gaming streaming platform quite not so complete, according to users' feedback, because the statistics says that gamers mostly spend more time in front of computers, and there are not so many content makers, who do their job only using phones. Even Instagram has their web and desktop version, so there is some way for StreamCraft to go.
Nonolive Gaming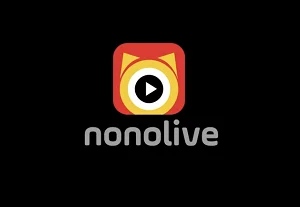 Nonolive describes itself as a 'funny Live Video Entertainment Platform' where you can find the best funny videos and live streaming from millions of talents all around the world. So, it's not only about games, but also live chats and challenges with other participants.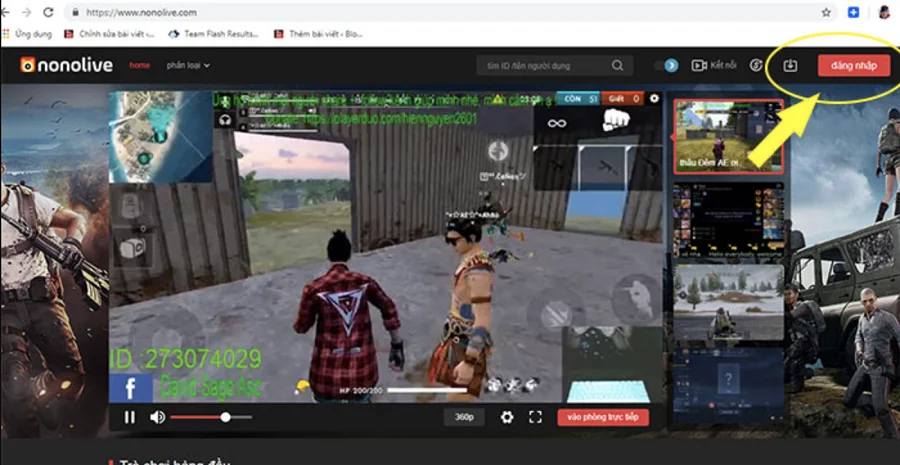 Monetization. No matter how many viewers you have, all streamers are paid the same sums, you can even stream without a microphone or game sound.
For 5 hours of broadcasting on their service, Nonolive pays $5 per day. For 15 days of streams within a month, they also give $15 (additionally to the main earnings) as a bonus and you can get $140 for using the platform, so it can be quite comfortable to have this as a stable part time job, especially if you really like the game you play and could do it even if you weren't paid for that. Moreover, the platform provides some bonuses for the webcam turned on, so a streamer can grow their brand, have money for streaming gaming experience with a camera on, get money from advertising and also get some stable money as well.
Gosu Gamers

This gaming platform is widely used by young people to share their gaming experience. It works with so many advanced tools and makes it easy for newbies. This is mostly related to esports, but the interesting thing is, broadcasters of all age groups can be found on this platform.
The greatest advantages of the site are:
It offers better user experience and can help your streaming business grow with ease.
It supports all popular file formats with excellent video content quality.
Monetization. Their site says: 'Players can earn money competing in tournaments, hosting their own events, the leaderboards and from the upcoming weekly Quest system.' But basically, there is not so much open info about how a streamer can earn. So if you need to know details, you should sign up first and read all the rules inside or hear about it from a friend.
This is a questionable marketing system, because if a potential player doesn't easily find the information on how they can earn there, they will immediately choose the streaming platform which gives them a very clear and transparent explanation.
DLive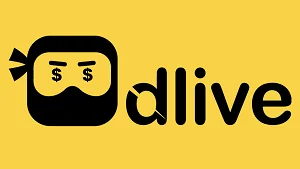 Dlive launched in September 2018 and it is said to have 3 million monthly active users and 35,000 active users.
The key features are:
Both the streamer of the game and the viewer can earn money on this website: this is not a widespread thing to do, which makes DLIve quite unique.
Allows streamers to deliver high quality content on this platform.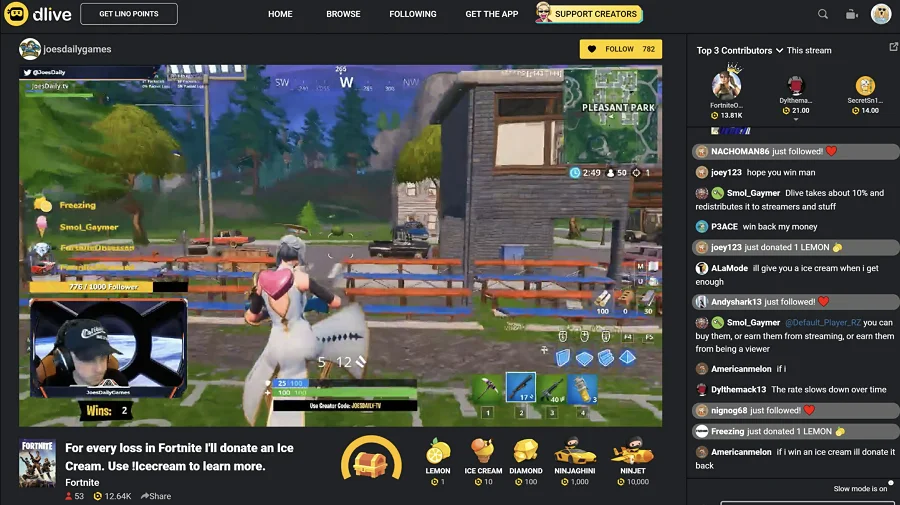 Monetization. The best thing about this site is that you can make money by streaming your live streams and watching videos on that website. There is a Lemon: it is a virtual currency that can be transacted within DLive at $0.012 US Dollars unit price. The rare thing is, DLive gives 100% of its revenue to its creators.
Trovo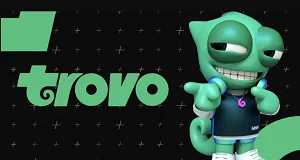 Trovo is a Chinese made platform, which Tencent keeps investing in, but the popularity of the platform still remains very low. Now and then users have some problems with sign ups, having broadcasts and so on. But the rewarding system can not leave anyone unconcerned.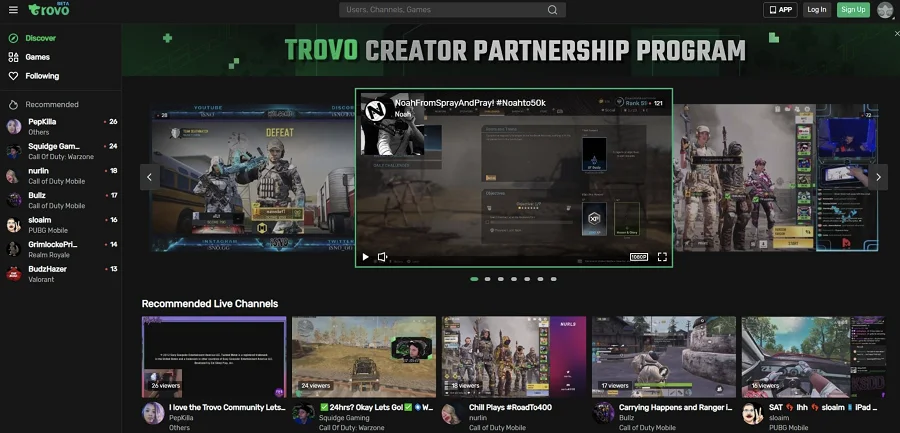 Monetization. Streamers can apply to the Trovo 500 program (it was raised up to Trovo 750) if they meet a minimum viewership requirement, have more than 50 followers and run high-quality broadcasts. There is a number of creators who earn more than $5,000 a month through the program, but if you don't try to achieve the heights in the industry, you can earn around $600.
TikTok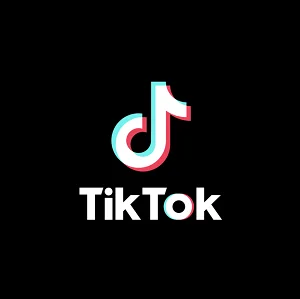 TikTok, the leading platform for viewing and creating short videos, continues to improve its functionality:
The platform launched 8 new functions for conducting live broadcasts at once.
Creators will be able to schedule the launch of broadcasts, appoint their own proxy for moderation of broadcasts, organize joint streams with other authors and manage comments.
Viewers of the broadcasts have access to a convenient section for sending questions to the author and the ability to view streams in the "Picture in Picture" mode.
Live broadcasts will appear in the recommendations feed along with short videos.
Joint live broadcasts: ability to share live streams with other TikTok contributors around the world.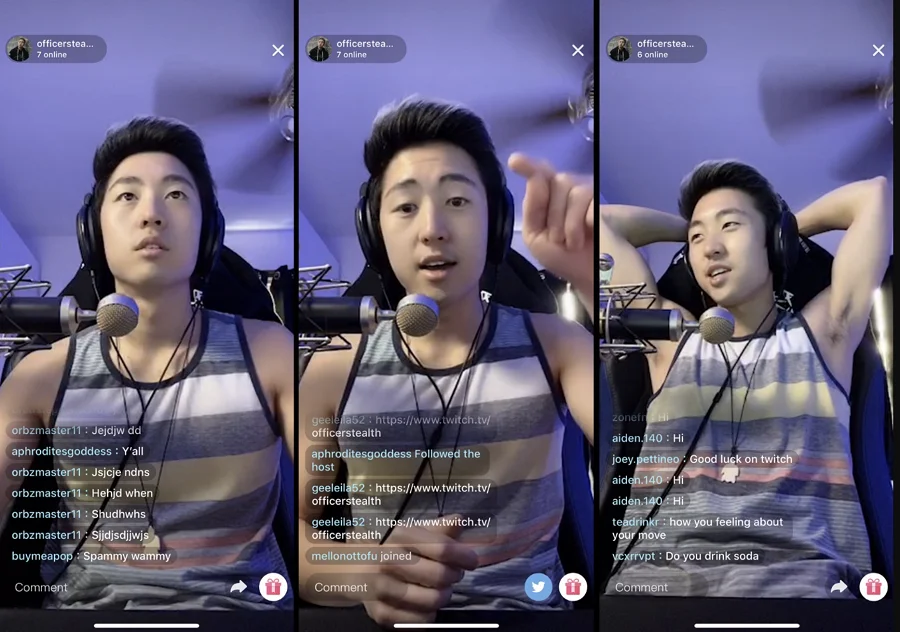 The good thing is, TikTok doesn't stop being popular with short music video content and continues to create an amazing place for gamers, who also want to stream and to improve among a great number of viewers, which TikTok is able to offer.
Monetization. You should have at least 10,000 followers to make money, so you can get donations from your fans within the TikTok app. Huge bloggers have money from advertising.
Instagram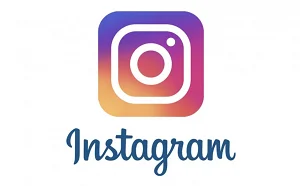 Instagram is the only platform on the list which does not allow live streaming of games. The platform relies on vertical video format and lifestyle content: the authors broadcast messages to subscribers, various events, travels and other life events. This is what people watch on Instagram.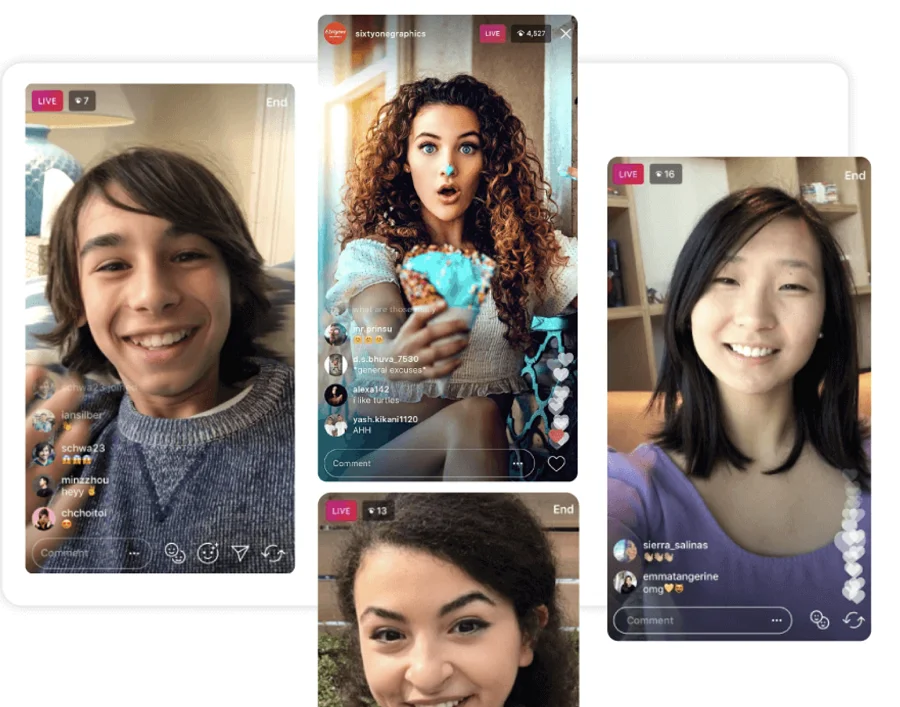 Broadcasts can only be conducted from mobile devices. Immediately after the end of the stream, the video can be downloaded and shared in the story.
Monetization. Though Instagram is incredibly popular now, people are very disappointed that there are no built-in monetization tools available. Bloggers can earn money only if they make their brand themselves. Ads are most often way.
Livestream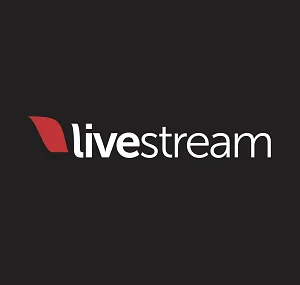 Livestream customers include Spotify, Gannett, the World Economic Forum, Tesla, SpaceX, NBA, RISD, the Clinton Global Initiative, etc.
This is a video streaming platform that allows customers to stream live video with a camera and computer over the Internet, and viewers to play content over the Internet, iOS, Android, Roku, and Apple TV.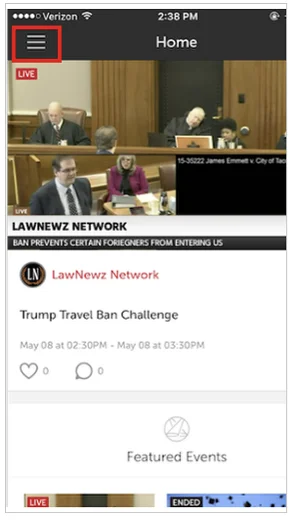 &nbsp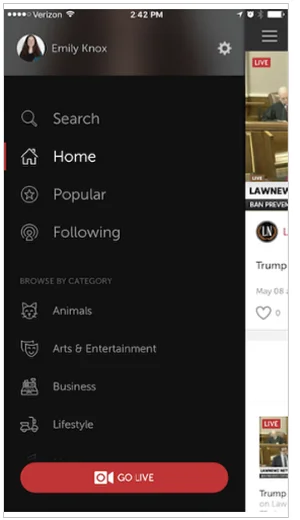 The Livestream cloud platform supports all media players, adapts to the highest possible quality, integrates into any website, contains branding capabilities and many other benefits.
Monetization. You can get donations, have revenues from ads and create and sell your own merch. The ways are quite widespread over all sites that make live streaming possible.
Play2Live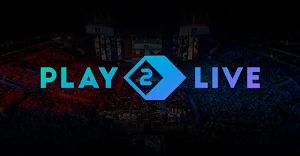 Based on blockchain technology, the Play2Live platform is a unique blend of interactive features and monetization tools. This service of video broadcasts of gaming and esports content allows each participant to earn money: both a streamer and an ordinary viewer.
The project uses a model for creating a decentralized autonomous organization — a blockchain ecosystem for streaming and gaming projects with the Level UpCoin token for mutual settlements within the system.
The obvious advantages of Level UpCoin are the speed of transactions and their low cost.
Monetization. The platform's content crowdfunding system — the platform has a system of voting with project tokens for a particular type and composition of content that users want to see. There are also streamer challenges, as a way of earning money. Players will be able to complete various tasks from viewers and receive rewards.
Right now it has paused all their activity on the Internet, but let's hope they will come back in the industry with updates.
Periscope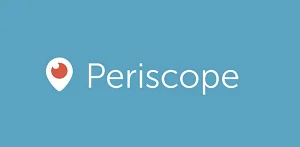 Periscope live video streaming app for iOS and Android. It is a mobile broadcasting service where users (users) can broadcast messages using a handheld device or professional video mixer. Videos on Periscope can be viewed publicly or only viewed by certain users.
Users can stream from their mobiles and stream to Twitter for maximum audience engagement.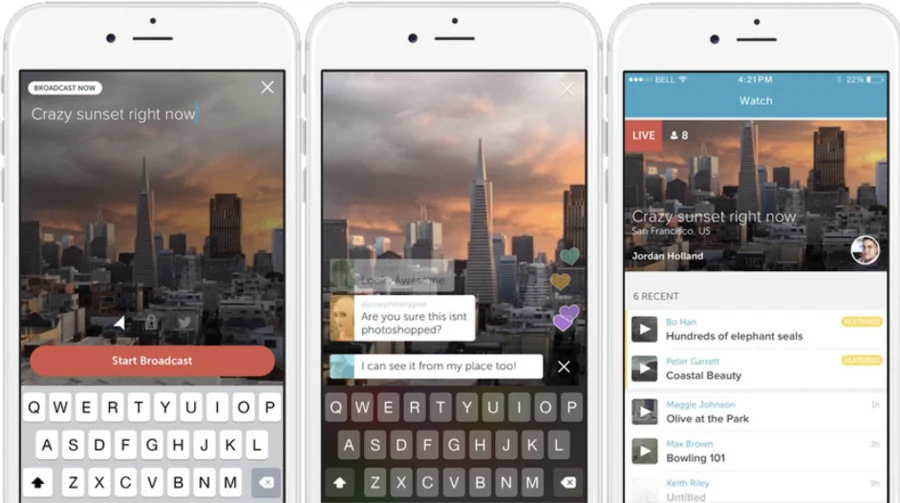 Unlike other live streaming sites such as Twitch, Periscope users can interact with live streams through comments. This is what makes the app different.
Monetization. It's very hard to speak about monetization in Periscope, because it works very similar to Instagram, so if you have a personal brand on Twitter, you can earn money through ad integrations and donations, as usual.
Periscope was integrated with Twitter, but very recently Twitter paused Periscope activity.
Bigo Live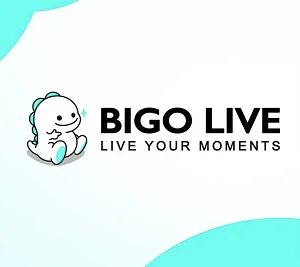 Bigo Live is one of the fastest growing social media video streaming apps. In its recent update, support for all the rich features has been expanded to make it easy to meet your streaming needs.
The key features are:
Can be found easily on Mac, Google Play and Android APK.
It helps users to stream to popular social networks easily and quickly.
It offers various options for streaming games, which makes a difference among other similar platforms such as Likee or LiveChat.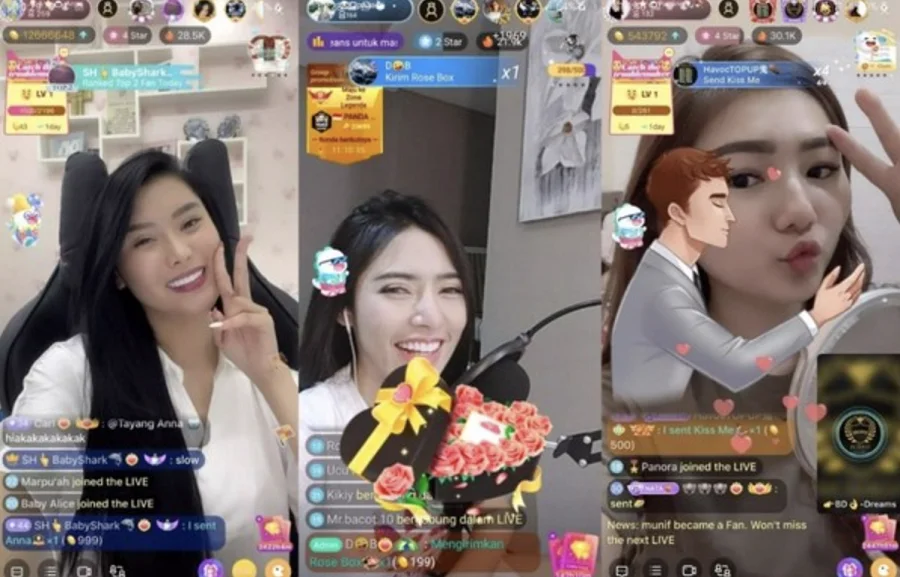 Monetization. There is a currency called Bigo Beans, which is equal to USD $1. You can make money by encashing virtual gifts, having fans, going live more often, so your fans could support you with presents and so on.
Summary
Live streaming has become not only another way of entertainment, but a unique phenomenon around which a business has emerged.
There is a huge variety of platforms and it's very important for a creator to be always effective, so offering a high level of service such as high quality video, possibility to earn a lot of money, as well as possibility to grow your brand name by doing something that they really adore — these are the the key points for any streamer.
Above we looked through the most famous platforms which are used for streaming worldwide, they all have their own advantages and weak points, so what can you say, which one is the best?