We will hardly surprise anyone by saying that at the moment Instagram is one of the most popular social networks in the World. 400 million active users post about 80 million photos and place 3,5 billion likes on a daily basis. The numbers are impressive, aren't they? We suppose that they are one of the reasons why you are reading this article.
So, let's not beat around the bush – we will tell you the most important information right away that you just have to know if you work with Instagram, or for some strange reason are just about to start working with Instagram (hello, everyone is here already!).
What is the maximum size of photos in Instagram?
The maximum size of photos in Instagram - 1080 x 1080 px.
In addition to hardcore square photos, you can add vertical and horizontal image on Instagram. The acceptable ratio of rectangular photos for uploading: vertical photos 4:5 (4 width 5 height), horizontal photos - no more than 1:1.9 (1 height, width 1.9).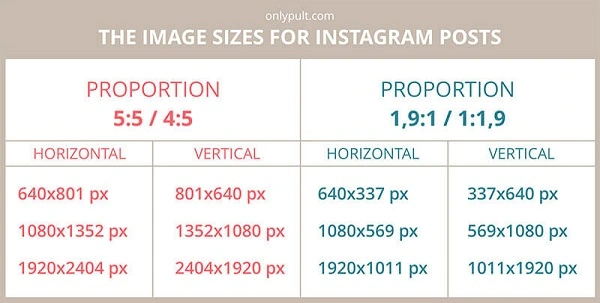 What is the maximum number of symbols in a post?
The maximum number of symbols in the comments under the publication on Instagram – 2000. If you added more symbols, the photo is posted without the text. In general text posts on Instagram is a special feature, which is becoming more popular. Instagram "Joices" often write on philosophical topics, and choose photos only to attract attention.
What is the maximum number of hashtags?
You can leave a maximum of 30 hashtags under the photo on Instagram, however, to avoid the feeling of clutter, experts recommend to add no more than 5-7. You need to consider the hashtag as a code which combines photos into a single category. They say that another mastery is to get your unique hashtag in the tops to be used by thousands of users in social networks.
What is the maximum video length on Instagram?
The maximum video length on Instagram is 15 seconds. Interestingly, according to statistics, 15-second commercials are the most popular format of TV advertising. And given the fact that not so long ago Instagram launched advertising, many brands will take another look at planning their budget.
What are the most popular services for working with Instagram?
Onlypult.com - service of scheduled posts on Instagram
iconosquare.com - the tool for gathering analytics for Instagram accounts
minter.io - service for gathering statistics
repostapp.com - a tool to help you make reposts of photos on Instagram.
clarifai.com - automatic selection of hashtags. Clarifai reads the images and selects objects. Based on the analysis the service picks tags that would fit to the picture when posting to Instagram.