Currently, in business, making up teams working outside the office has long become standard. Sometimes freelancers are involved in projects for specific works. Sometimes projects have teams constantly operating on an outsourcing basis. Until 2020, the job when activities do not unite employees working in one building was traditional for small companies and large international corporations. With the onset of the pandemic, most companies allowed home offices for their employees as far as they could.
In a new business environment, those companies that have never tried remote work faced a new task. How to organize the activities of all employees and effectively manage projects? It turned out that most companies were not sufficiently prepared for such changes. As before, as in their traditional everyday office life, employees used Google Drive shared folders and sent documents to each other via messengers.
Such business management is ineffective and forces employees to spend a lot of time searching for the necessary files and looking through messenger archives to find the data they need. In addition, the use of shared folders in Google Drive is often not organized and leads to the doubling of data.
There are communication and project management services, which help put an end to such disorders. Here are ten widely-used team apps.
1. Asana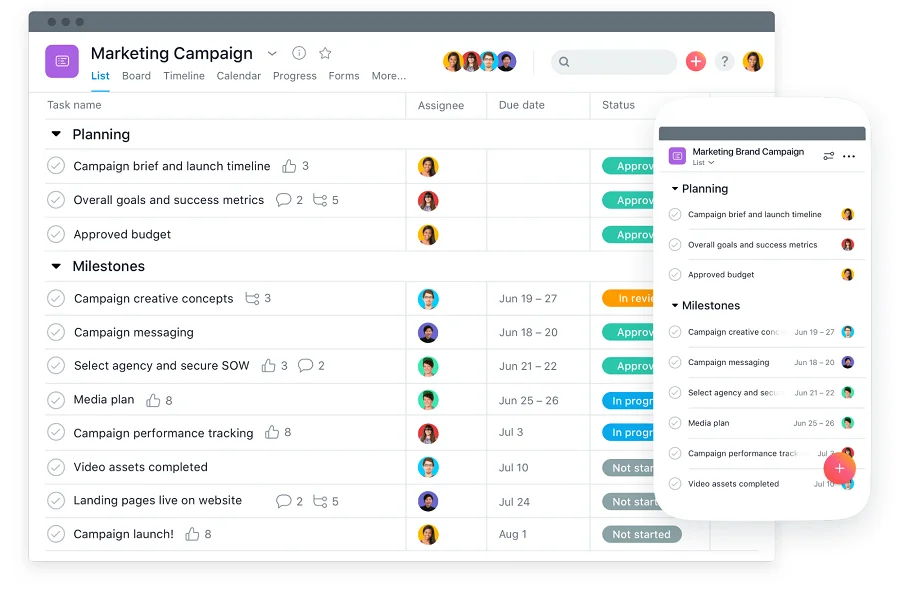 Established in: 2008
Asana is one of the oldest project management services and, accordingly, one of the most popular. Asana is developed for marketing and sales departments, for any development projects, and, of course, for the general coordination of business in the company. The service supports automatic integration with many popular web applications, incl. Slack, Google Drive, Dropbox. You can also configure data export from Asana to third-party applications via the API.
The service has default templates for displaying tasks. The company offers an optimal visualization of the process, depending on the type of project, for example, software deployment or candidate tracking.
According to official data, world-leading corporations use Asana, such as Amazon, P&G, Spotify, PayPal, Under Armor. A huge advantage for small businesses is the free version for up to 15 employees.
Key features:
Displaying tasks on kanban boards, calendars, and as a list;
Optional ability to display tasks on the timeline;
Unlimited cloud storing for files;
Optional ability to customize fields in the task manager;
Mobile apps for iOS and Android.
The completely free version of Asana offers a variety of features. Companies with up to 15 employees can use the free subscription.
Price per month for one employee: US $ 13.49 (Premium), US $ 30.49 (Business)
Price per month for 1 employee billed annually: $ 10.99 (Premium), US $ 24.99 (Business).
2. Slack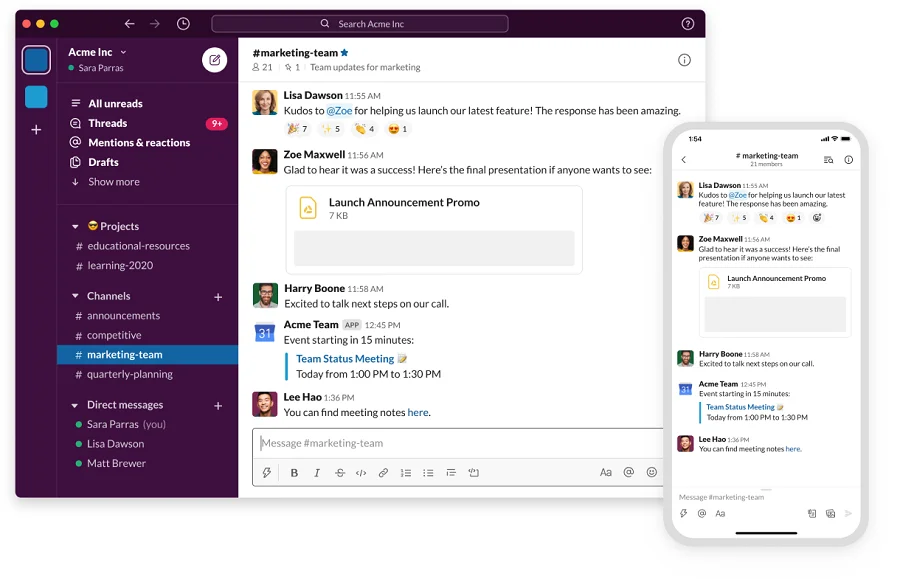 Established in: 2013
Slack is one of the most popular corporate messaging services. Companies worldwide choose Slack not only because the service provides convenient 1-on-1 communication and the company messenger but also because it is possible to store the necessary corporate files inside the system, for example, instructions and materials for onboarding.
An essential advantage of Slack is integration with 2400 services, both for processing various types of documents and for Internet marketing services.
Many well-known brands use Slack. The company shares its success stories on the blog. Various cases are analyzed compared to integrating Slack into the workflow of Target, Lyft, BBC, HelloFresh, and Shopify. Last but not least, this popularity is due to the reliability of communication, which security certificates confirm.
Key features:
Access to the last 10,000 or all messages in history;
Optional integration with dozens of applications like Google Drive and Office 365;
1-to-1 phone and video calls;
Optional video conferencing for 15 participants;
Mobile apps for iOS and Android.
The free version of Slack provides access to most of the features, though with limits.
Price per month for one employee: US $8 (Pro), $15 (Business)
Price per month for one employee billed annually: $6.67 (Pro), US $ 12.50 (Business).
3. Drag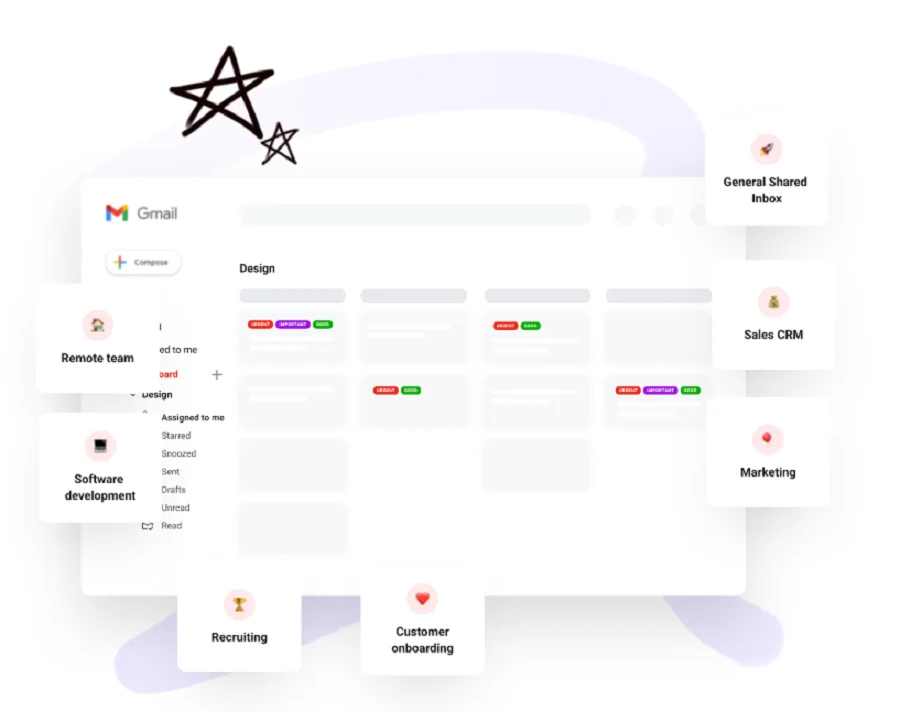 Drag serves as an example of how a small team can make an outstanding product. Only nine people from Brazil have created a service that transfers correspondence from Gmail to a convenient and understandable task manager.
The service solves several problems. First of all, the list of letters is displayed on the Kanban board, where you can add colored markers if necessary. Thus, all emails are on a timeline, and it is visually easy to understand which ones are important and urgent. You do not have to add new letters to the calendar not to forget about them.
Even better, Drag provides an option to manage collective mail accounts conveniently, such as @support or @marketing. Better yet, Drag is a convenient way to share draft emails to get team members' approval before sending.
Key features:
Convenient Shared Inbox for a department or the whole team;
Arrangement of mails through Kanban boards with the ability to share;
Group chat for a quick discussion of the received email, for example, in the customer service;
Mobile apps for iOS and Android.
The free version of Drag provides access to most of the features, with some limitations and only for an individual employee.
Price per month for one employee: $10 (Plus), $15 (Pro)
Price per month for one employee billed annually: $8 (Plus), US $ 12 (Pro).
4. WeBex by Cisco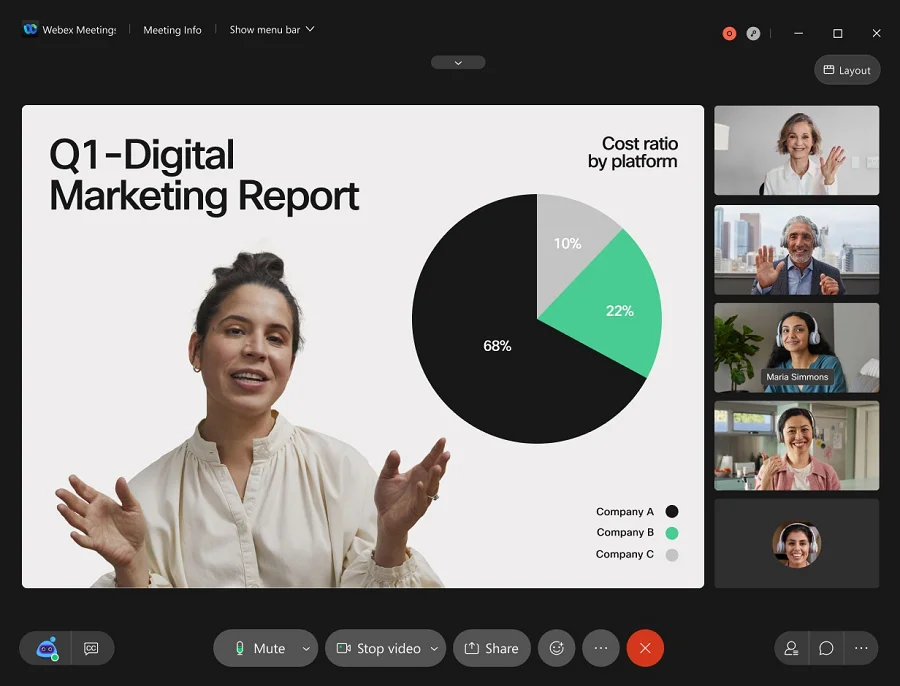 WebEx differs from many apps for video calls so much not in functionality as in the quality of implementation. Your employees may experience difficulties caused by signal quality or reconnection problems during online conferences in other applications — it may be time to try WebEx.
The first thing that grabs attention is an easy, user-friendly interface with a chat and quick emoji reactions. But the operation shows its main advantages. WebEx allows you to instantly switch between devices, for example, when your smartphone runs out of battery. The noise reduction level for voice transmission is one of the best among similar applications. Various visualizations — such as presentations — can be integrated into a video without screen sharing. The speaker looks the same as during an offline presentation.
Key features:
Up to 100 users per subscription;
Up to 200 conference participants;
Videoconference duration – up to 24 hours;
Translation of speech into other languages in real-time;
Up to 10 GB of cloud storage space for saving conference recordings.
The free version of WebEx is possible if there is only one speaker. The maximum number of conference participants is 100.
Price per month for one employee: US $ 14.95 (Starter), $29.95 (Business)
Price per month per employee billed annually: $13.50 (Starter), US $ 26.95 (Business)
5. Troop Messenger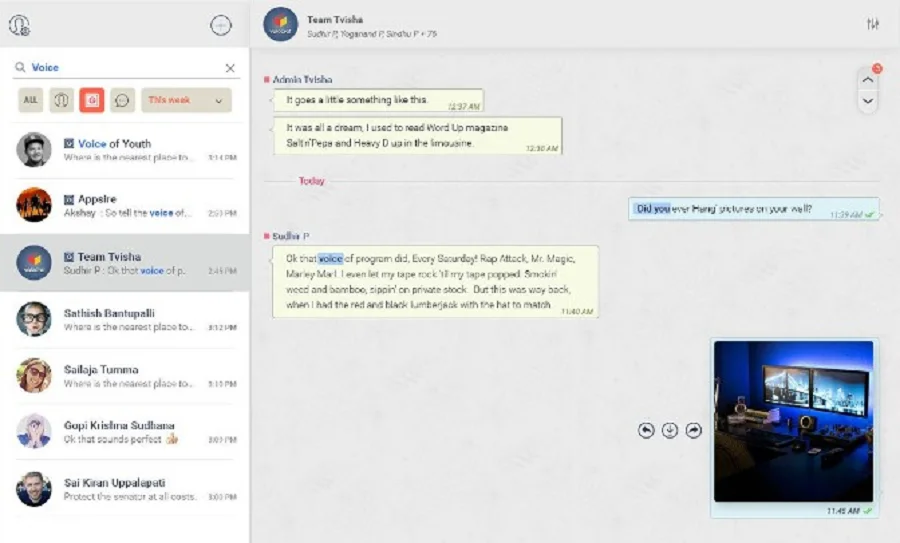 Established in: 2018
Troop Messenger is an alternative to regular messengers and professional solutions like Slack. On the one hand, Troop Messenger supports all types of communication. Messaging, group chats, audio or video calls, and audio messages — all this is available in the service. Important received messages can be tagged with flags and marked as "Reply later." It also supports various files that can be viewed directly in Troop Messenger without downloading to a local drive.
The app is designed for business customers, so there is no free version. However, there is the possibility of using a one-month trial in the Enterprise plan. There are no discounts for annual billing.
Key features:
Optional group calls;
Optional video conferencing with an unlimited number of participants;
Optional editing of the sent message;
Optional integration with Dropbox / Google Drive;
Optional connection of the chat on the website via the API.
Price per month for one employee: $2.5 (Premium), $5 (Enterprise), $9 (Superior)
6. Zoom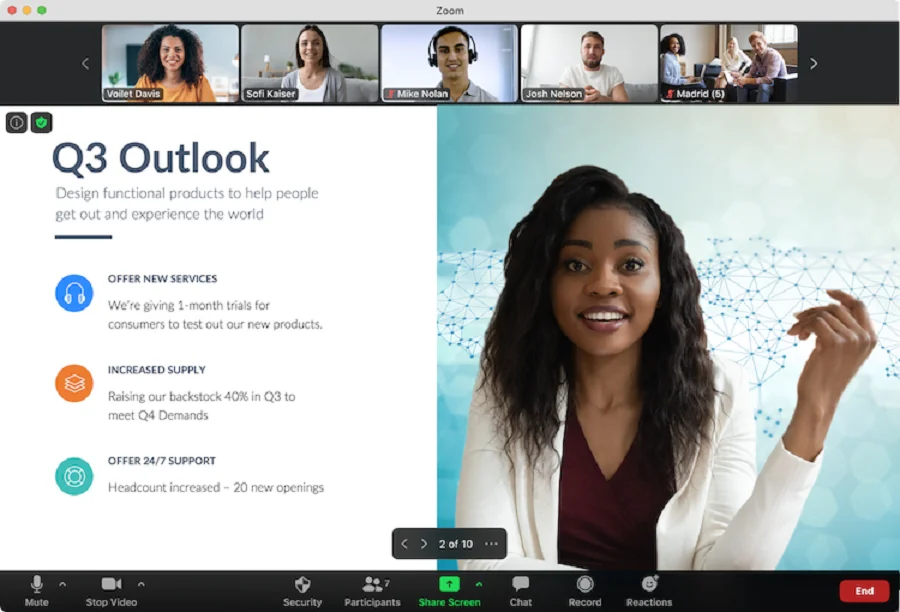 Established in: 2012
As one of the most popular video conferencing services, Zoom provides the maximum variety of features at the lowest cost. The application for desktop and mobile devices launches quickly. Video and voice transmission is optimized in real time to ensure good quality even with a poor Internet connection.
Zoom allows conferences with a maximum of 1000 participants, while the monitor can simultaneously display up to 49 other users' screens. You can save the history of video calls and chats on the cloud drive. Please note that even the free Zoom version has most of the capabilities, for example, video conferencing for 100 participants.
Key features:
Up to 300 conference participants, and up to 1000 — when connecting Large Meetings add-on;
Cloud disk for saving conference recordings;
Conference duration up to 30 hours;
Branded video as an option.
The free version of Zoom provides access to most of the features, with some limitations and only for an individual employee.
Price per month for 1 license: $14.99 (Pro), $19.99 (Business), $19.99 (Enterprise)
Price per license when billed annually: $149.90 (Pro), $199.90 (Business), $240 (Enterprise)
7. Wrike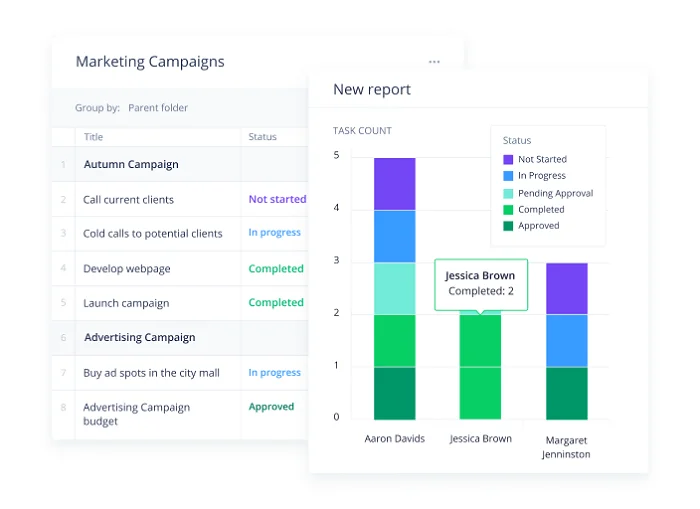 ДEstablished in: 2006
Wrike is one of the oldest and most popular project management services. According to official figures, more than 20,000 companies worldwide use Wrike. To meet customer expectations, the developers have made localizations for seven languages. In addition to the English version, the interface can be in French, Spanish, German, Portuguese, Italian, Japanese, and Russian.
Tasks in Wrike can be displayed as a list, on Kanban boards, on Gantt charts. The company offers templates for building workflows for various sectors: product developers, marketers, creative and IT companies, etc. Note that all main features of the service are available in the free Wrike version. For example, integration with virtual cloud drives (Google Drive, Dropbox, Box, MSFT Office 365, and OneDrive) and a 2-GB cloud drive inside the system.
Key features:
Lean interface that is easy to read in desktop and mobile applications;
Gantt interactive charts;
Sharing of documents and tasks;
Sending requests within the system.
In addition to the free version, Wrike offers trial periods on all plans.
Price per month for one user: $9.80 (Professional), $24.80 (Business)
8. Smartsheet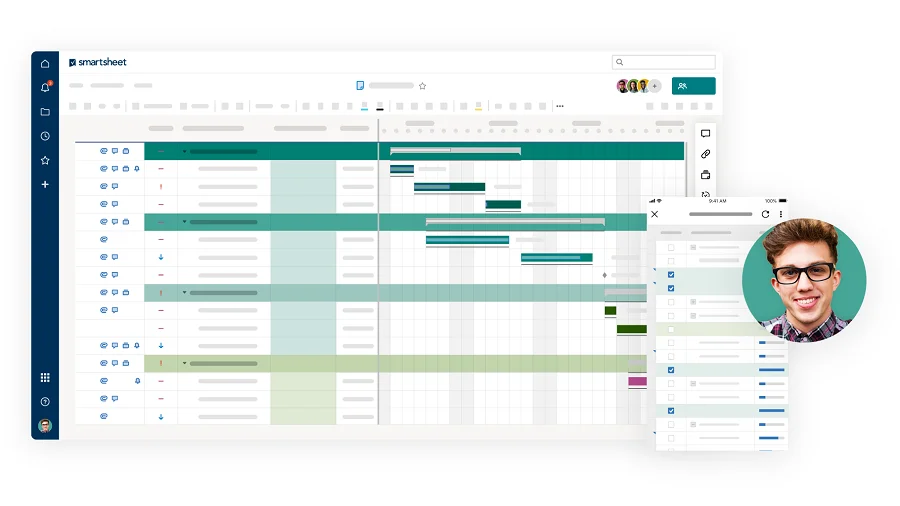 Established in: 2006
The market has known Smartsheet for a long time, so it's no surprise that this project management service is popular with leading global corporations. And it is natural that the web application currently provides dozens of integrations with other applications, including Salesforce Connector, Smartsheet for Adobe Creative Cloud, Slack, and Google Docs.
All Smartsheet plans are subject to payment, but the cheapest one offers all formats to display tasks: Grid, Gantt, Card, Calendar. Also, users have access to 250 automatic rules applied on schedule or depending on the stage of other issues and 20 GB of disk space.
Key features:
Customized templates for various business areas;
Automatic filling of cells as established by the rules;
Optional activity log;
Up to 1 TB of disk space.
There is no free version, but free trials are available on all tariff plans.
Price per month for 1 user: $9 (Pro), $32 (Business)
Price per user billed annually: $7 (Pro), $25 (Business)
9. Blink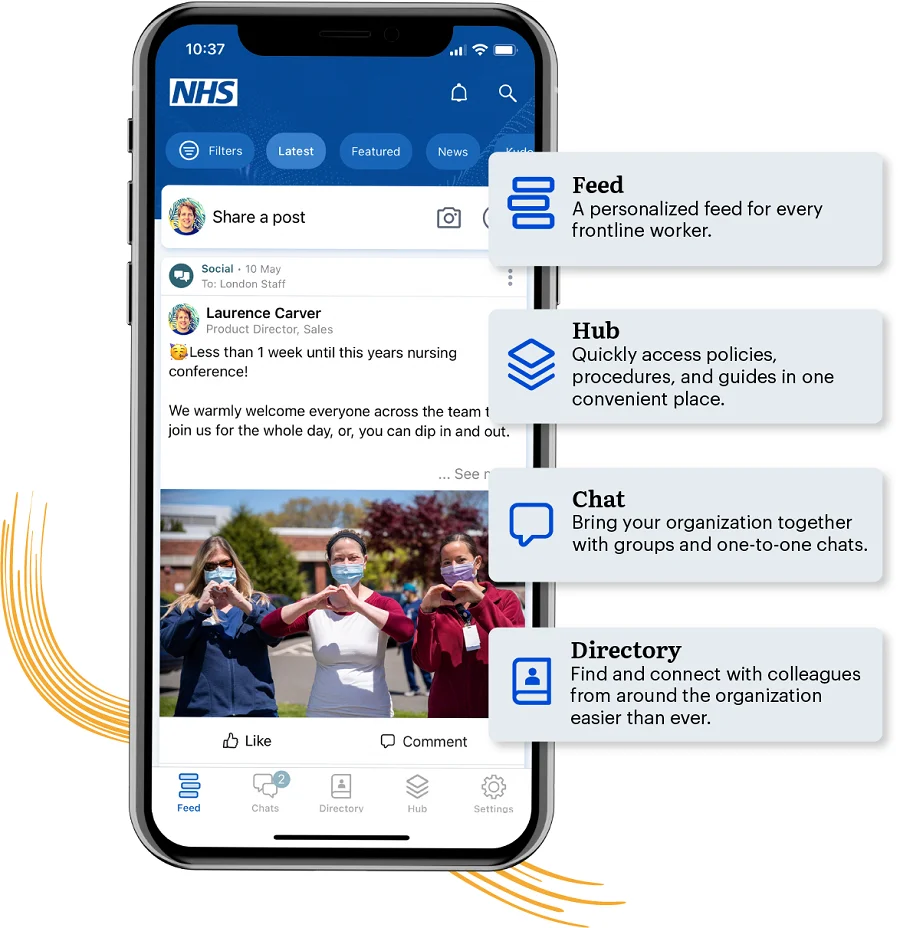 Дата основания: 2014
Established in: 2014
Blink is a modern intranet service for companies whose employees do home office. The service features are the most relevant for a mobile workforce since it provides instant communication — personally with each employee and with a group within the team.
The application implements a Feed that is personalized for each user. The news feed can display messages, documents, videos. The application supports chat between employees and an opportunity to create high-quality text documents.
By 2021, Blink has been available in 14 languages, and within the app, there is an online translation of content into different languages. Users can create polls, communicate in group chats, highlight and set reminders for important notifications. An important property is an indication of the mandatory reading for particular messages.
There is no free version of the service, but it is possible to request a trial.
Key features:
Corporate news feed;
Chats with an option to share images, videos, gif and pdf documents, tables, etc .;
Optional online content translation;
Optional integration via API.
There is no free version, but free trials are available on all tariff plans.
Monthly price per user: from $6.18 (Essential)
Price per user billed annually: from $3.40 (Essential)
10. Todoist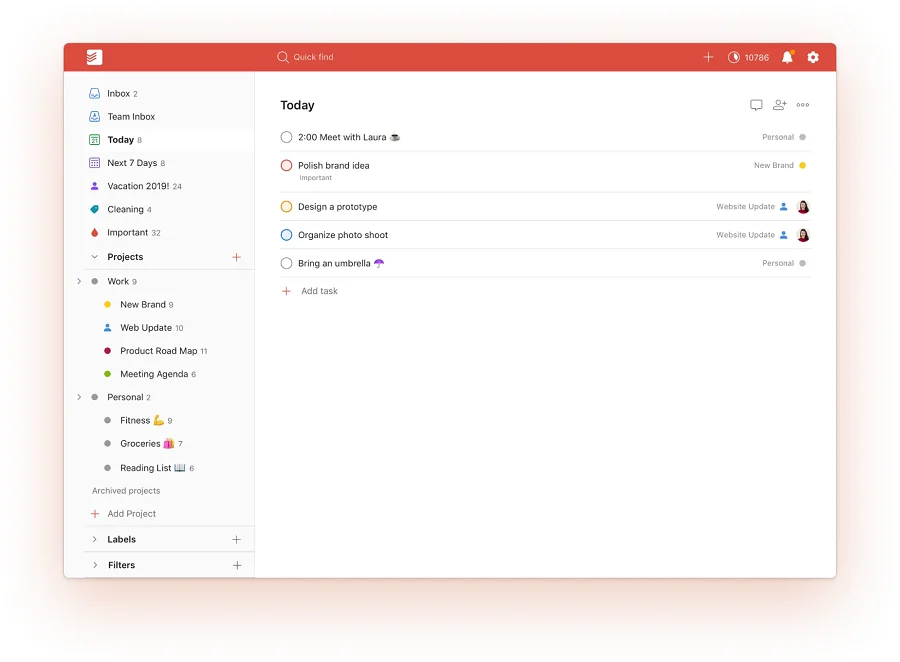 Established in: 2007
Todoist is a simple and easy-to-use task manager suitable for small businesses and individuals. The service offers the arrangement of all tasks in a simple list. At the same time, there are filters by projects, date, and priority. You can share tasks with other users.
To solve issues consistently, Todoist has several dozen default templates. E.g., marketing and sales-related, educational ones, and design and development.
The free version of Todoist contains almost all the features available in the service but as a limited version. For example, the activity history is displayed only for a week, and in paid plans, there is no limitation for record-keeping.
Key features:
Integration with web browsers, project management services, and communication services;
Files uploading;
Mobile apps for iOS and Android.
The completely free version exists with restrictions on up to 5 projects.
Cost per month for one user: $4 (Pro), $6 (Business)
Price per user billed annually: $3 (Pro), $5 (Business)
The choice of a suitable list of programs for communication within the company should base on two principles:
The main functionality of the program meets the needs of the company;
Service cost.
For example, if a small company regularly hosts video conferences, you do not have to purchase an expensive paid service — it is enough to use Zoom.
It is also necessary to be extremely careful about testing new services. It is better to evaluate the benefits of a new service on a limited scale, for example, within a single department. The transition to the use of the new service requires a certain period of adaptation, when employees will understand the program capabilities and, for example, import the necessary documentation into the new service. If the pros are controversial and it's better to return to the old system or try another one, you will waste a lot of time and effort.