Тwitch is a platform for streamers to share their content on various lifestyle topics live. Most users share video game gameplay and broadcasts of esports competitions. The platform also allows you to record streams.
Twitch doesn't display the number of subscribers; however, it does show the number of followers. There is a tool called TwitchTracker designed for this purpose. It provides two statistical lists by subscriber: Active Subs and All-time-Subs. While All-time-Subs features just a few scores for a streamer, Active Subs shows more detailed statistics such as the count of paid subscriptions and their type.
It should be noted that the tracker doesn't guarantee 100% accuracy for its figures. As of June 2, 2021, the leader of Active Subs is XQCOW, with ~82,000 subscriptions. Another streamer, Ludwig Ahgren(Ludwig), has dropped five positions after he became the leader in March, thanks to the Subathon stream. However, this hasn't prevented him from taking first place on the All-time-Subs list. Important notice: being the leader of Active Subs doesn't mean being the leader in all stats. For example, XQCOW has ~23,000 paid subscribers, while RANBOOLIVE, being the second in Active Subs, has ~45,000 paid subscribers. The current leader by follower numbers is NINJA, with 16.7 million of them.
Twitch Terms and Definitions
On Twitch, the fan community can watch and comment on a stream or chat with each other. Тhe users have developed a specific communication method based around various slang expressions and emoticons or emotes. Here are some of them:
Sub - Means a subscription to a streamer's channel through periodic donations. Аt the very beginning, there was one subscription fee, set at $4.99 (Tier 1) per month, but later subscriptions for $9.99 (Tier 2) and $24.99 (Tier 3) were added. It is also possible to renew a sub quarterly, every six months, once per year, or every two years. Each level of subscription adds an extra benefit. Since Amazon acquired Twitch in 2014, Amazon Prime users can subscribe to channels for free by linking their Amazon Prime account to their Twitch account.
MonkaS - An emote that users utilize to show that they are nervous or scared.
POG or PogU - POG/PogU are very popular emotes to express excitement.
Bits - A virtual currency used in chats to Cheer a streamer.
Top 15 Twitch Streamers by Subscriber Count (Leaderboard)
Below are the top 15 streamers by All-time Peak Active Subscriptions by June 2, 2021.
#1 ludwig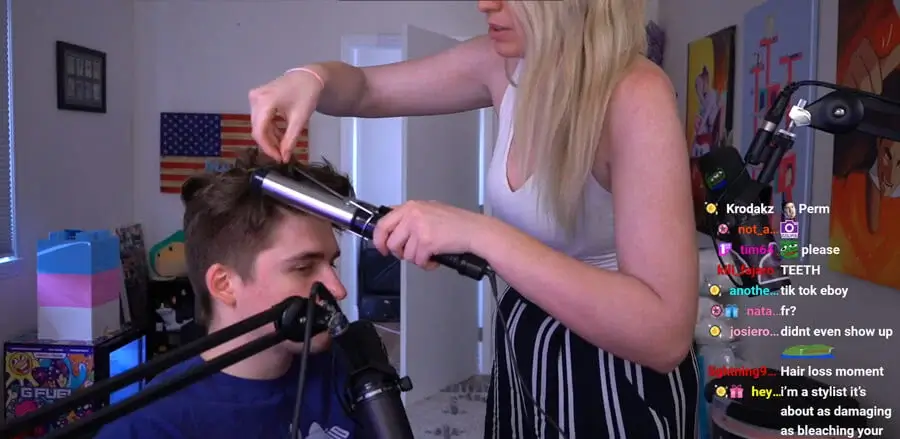 Peak Subscriptions - 283,066 
Followers – 2.8mln
Channel Description - Broadcasts video game-related content, game shows, contests, and gambling. The longest-streamed game is Just Chatting.
Additional Info - Ludwig started his streaming career in 2018 by playing Super Smash Bros and commentating on its Melee tournaments. The Pokemon Week held by ludwig and featuring other famous streamers played another incentive in gaining popularity.
He peaked his career in Twitch On April 13, 2021, when ludwig became the most subscribed streamer of all time thanks to his Subathon.
He promised that he would continue streaming during his live stream as long as viewers subscribe to his page. The duration of the stream was determined by every subscriber, adding 10 seconds to the stream. It started on March 14 and ended on April 13, lasting 31 days.
#2 Ninja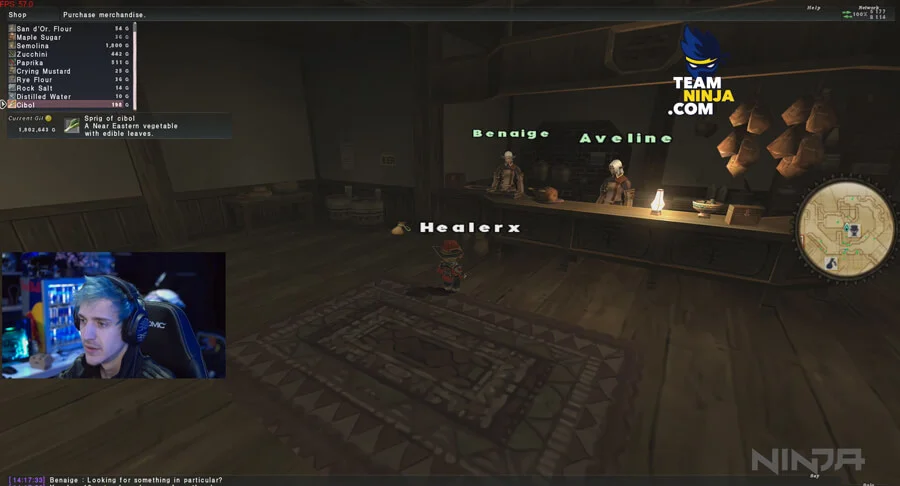 Peak Subscriptions - 269,154 
Followers - 16.7mln
Channel Description - Мakes streams on the topic of video games. His longest-streamed game is Fortnite, which brought him popularity. Besides Fortnite, he streams Final Fantasy XI Online and Final Fantasy X. Had broken Twitch records thanks to Fortnite gameplay together with Drake.
Additional Info - A professional eSports player since 2009, his second year of college. He started his professional career with Halo 3. Currently is a member of famous Luminosity Gaming, a professional eSports organization. A very experienced Fortnite player. Has organized a Fortnite tournament in Las Vegas, featuring other well-known top players, and won $50.000.
Ninja is very active on various social media. By June 2021, he had 24.2 followers on YouTube, 6.7mln on Twitter, and 1.1mln on Instagram.
Before Ludwig, he held the record for being the most subscribed streamer of all time. On his page on Twitch, you can find a link to an online store where fans can buy branded hoodies, t-shirts, and other clothing with his name on them.
#3 RanbooLive
Peak Subscriptions - 114,387 
Followers – 2.9mln
Channel Description - Ranboo is famous for comedic content and Minecraft streams. He began his streaming career on September 11, 2020.
Additional Info - He hides his personal life from the fans. There is even no reliable information about his age, but it is known that he graduated from high school this year. Ranboo constantly wears a mask covering the lower part of his face, so no one has seen his real face.
Ranboo is a member of Dream SMP, a Minecraft SMP server maintained by Dream Team. He gained popularity when he announced that he would run for president of L'Manberg, an independent nation-state within Minecraft. This is what led him to the Dream Team.
#4 shroud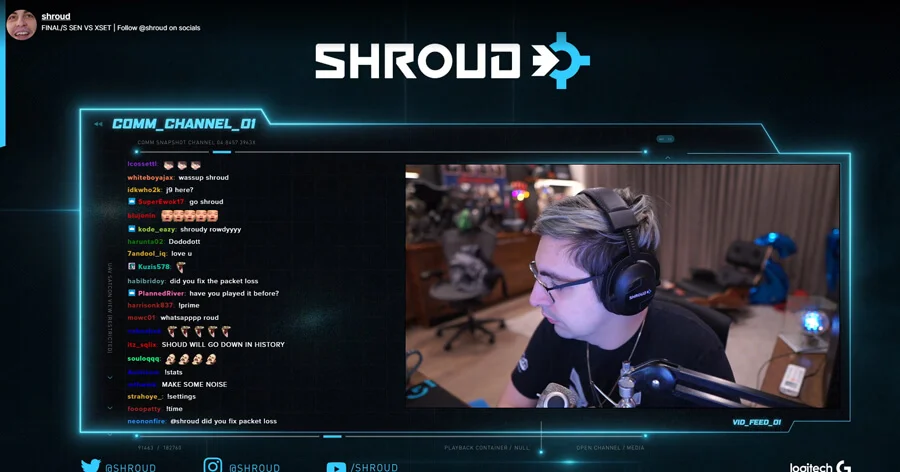 Peak Subscriptions - 101,588 
Followers - 9.3mln
Channel Description - Shroud is known for streaming FPS and Battle Royale games. The longest-streamed game is PLAYERUNKNOWN'S BATTLEGROUNDS. Also streams CS: GO, Apex Legends, Valorant, etc.
Additional Info - Started his professional esports gamer career in 2014, playing CS:GO, and soon signed a contract with Complexity Gaming (later with Cloud9, after Complexity being acquired by Cloud9). In April 2019, he retired from playing CS: GO.

In October 2019, he moved to another streaming platform, Mixer, but later returned to Twitch due to Mixer being shut down.

Logitech sells accessories with his name from its famous G series. The purchase link can be found on his Twitch page.
#5 summit1g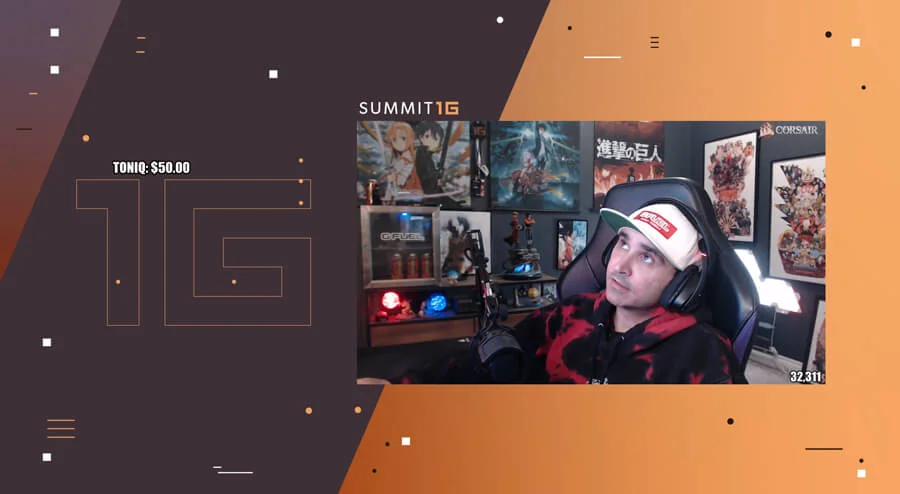 Peak Subscriptions - 94,941 
Followers - 5.9mln
Channel Description - Another retired professional CS: GO player who entered Twitch by streaming CS: GO and WarZ. His longest-streamed game is Grand Theft Auto V. Once received a $30.000 donation from a fan. summit1g considers himself a variety streamer.
Additional Info - A fan of FPS games. Competed in many eSports(CS: GO, PUBG, H1Z1) tournaments, including ESEA CS: GO tournament. Currently switched to full-time streaming and often stays online for more than 8-9 hours. He attracted the attention of the community when he beat another streamer Tom "Syndicate" Cassell by the number of followers on Twitch in 2017.

Organized and participated in many livestream charity tournaments featuring other top streamers.
#6 xQcOW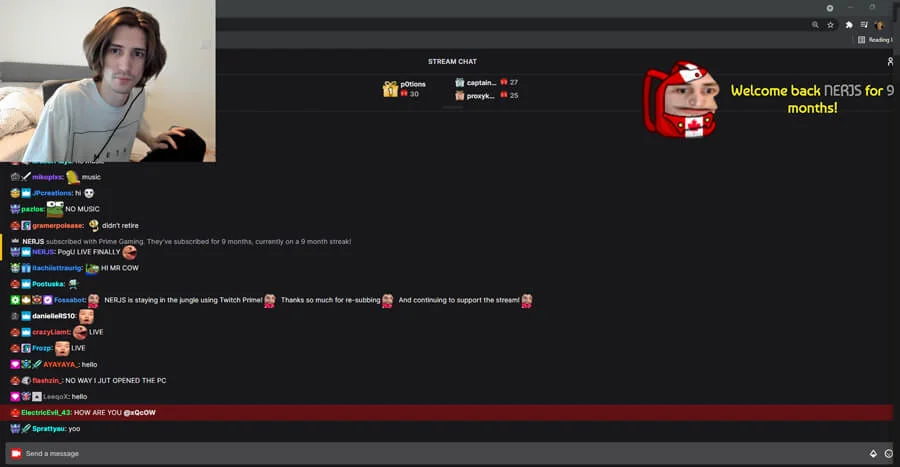 Peak Subscriptions - 81,171 
Followers - 5.8mln
Channel Description - A variety streamer for the Canadian eSports organization Luminosity Gaming. His longest-streamed game is Overwatch. He is known for being a strong critic of gambling but streamed on gambling topics in April 2021.
Additional Info - xQcOW or xQc(abbr. from FeliX Quebec Canada OverWatch) is a former professional Overwatch player, member of Dallas Fuel in the Overwatch League. He participated in the Overwatch World Cup for Team Canada and is known for his unbalanced nature, outbursts of rage during the game. His various accounts on media platforms have been suspended, including his Twitch account. He was also suspended from the Overwatch League for making homophobic statements about another participant.

G Fuel, a well-known energy drink for gamers, sells branded juice named "THE JUICE" with the xQc logo.
#7 NICKMERCS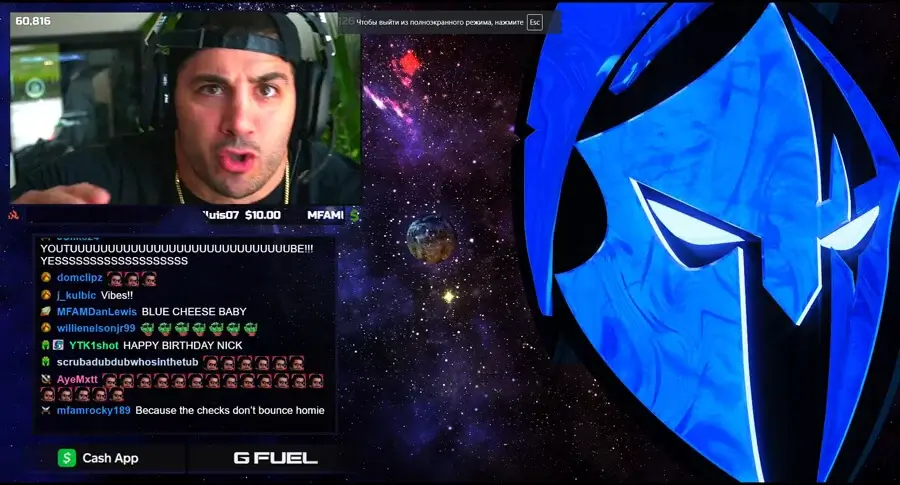 Peak Subscriptions - 80,402 
Followers - 5.7mln
Channel Description - Streams on video games topic, mainly plays Fortnite and COD: Warzone. His longest-streamed game is Fortnite.
Additional Info - This streamer is famous for his aggressive playstyle. He is a co-founder of the professional esports and entertainment organization FaZe Clan. He gained a world record for the most squad kills in Fortnite, with 55 kills, which was later beaten. He participated in many Fortnite tournaments such as Friday Fortnite and Fortnite Summer Skirmish.

NICKMERCS is known for his rivalry with Aydan, another player who uses an aggressive style whom he encountered several times during the Summer Skirmish. In the next tournament called Fall Skirmish, they partnered to play in duo mode against another pair of players. Before Fortnite, NICKMERCS used to play different versions of Call of Duty.
#8 Anomaly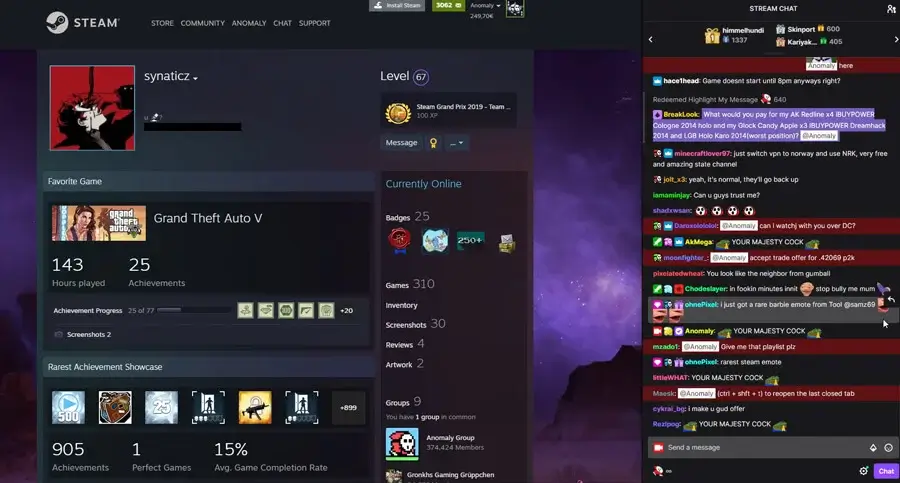 Peak Subscriptions - 70,420 
Followers - 2.6mln
Channel Description - One more video game streamer with a focus on CS: GO. His longest-streamed game is CS: GO. His longest-streamed game is CS: GO. In his streams, Anomaly wears a balaclava because he doesn't want to show his face.
Additional Info – Anomaly has joined Luminosity Gaming recently as a content creator, Valorant and CS: Go player. In the past, he was a member of an eSports organization named Enemy and participated in several CS: GO tournaments with their team. Also, he plays Minecraft. He has been once banned from Twitch for showing Minecraft skin for less than 2 seconds. He is distinguished by a specific style, often emitting hysterical screams while streaming.

Anomaly's father is also a streamer on Twitch - Anomaly and him even have a YouTube channel where they post joint videos.
#9 Trymacs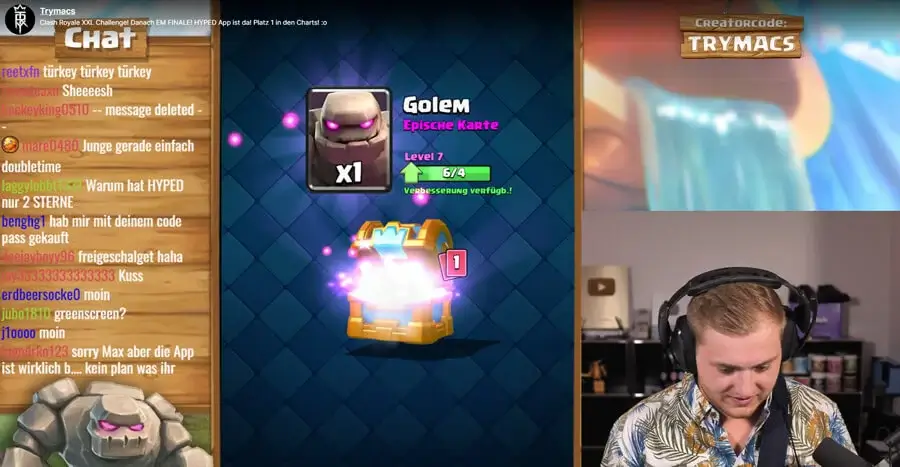 Peak Subscriptions - 70,196 
Followers - 2.5mln
Channel Description - A German video game streamer. He started his channel by streaming Clash Royale and Clash of Clans but later switched to Fortnite and other games famous among the younger generation, such as FIFA or Minecraft. His longest-streamed game is Fortnite.
Additional Info - Trymacs has gained popularity thanks to his expert-level skills in Clash Royale. His streams are in German because, in his opinion, there were no German-speaking players who helped the community by sharing tips. He uploads brief versions of his past streams with useful tips so that the users learn from them. Trymacs collaborates with Levlup, which produces energy drinks for gamers - even starred in several commercials for the brand.
#10 Tfue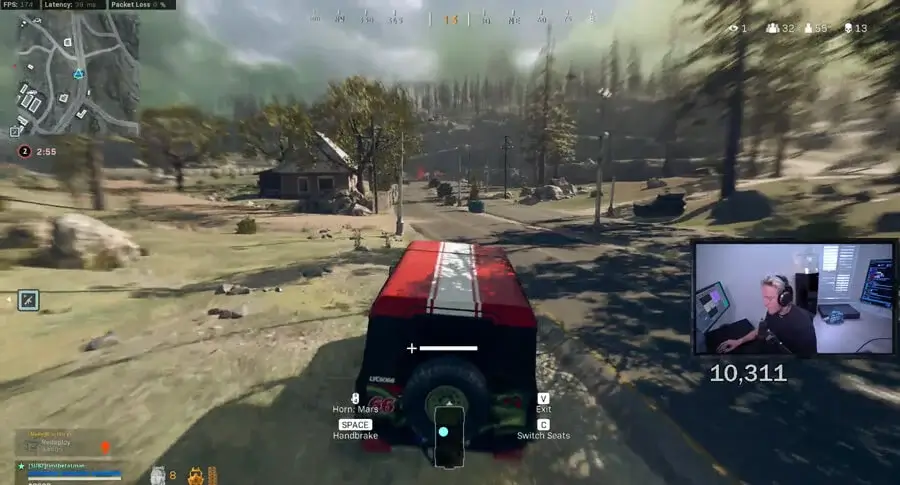 Peak Subscriptions - 69,586 
Followers - 10.4mln
Channel Description - A video game streamer, mainly battle royale games, gained success thanks to playing Fortnite but currently mainly streams Call of Duty. His longest-streamed game is Fortnite.
Additional Info - Tfue is the second streamer by the number of followers. He was a member of the FaZe Clan but left it because of disagreements with its members, although it was the collaboration with them that brought him popularity. He claimed that FaZe was taking most of his earnings and forcing him to do things he didn't want to do. FaZe later sued him for non-compliance with the contract clauses.
His accounts were banned multiple times on different platforms, and in August 2018, several of his social media accounts were hacked.
#11 AdinRoss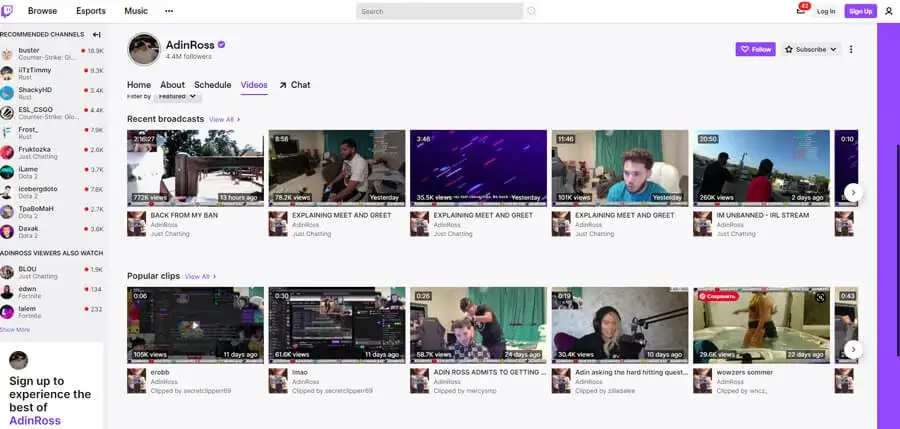 Peak Subscriptions - 62,843 
Followers - 4mln
Channel Description - This channel is famous for GTA5, NBA 2K, and real-life streams. The longest-streamed game is NBA 2K20. AdinRoss is famous for trolling celebrities during streams.
Additional Info - AdinRoss is a member of Æ Clan and NBA 2K clan, and through this, he met Bronnie James, the son of Lebron James. He often played NBA 2K with Bronnie, and once LeBron lit up in their stream and helped AdinRoss attract attention to himself. He created the GTA V server SSB Wrld, which he claims is the biggest GTA RP server of all time, where he began to invite various top streamers and celebrities.

In May 2021, he announced that 10% of his monthly Twitch revenue would be donated to charity.
#12 HasanAbi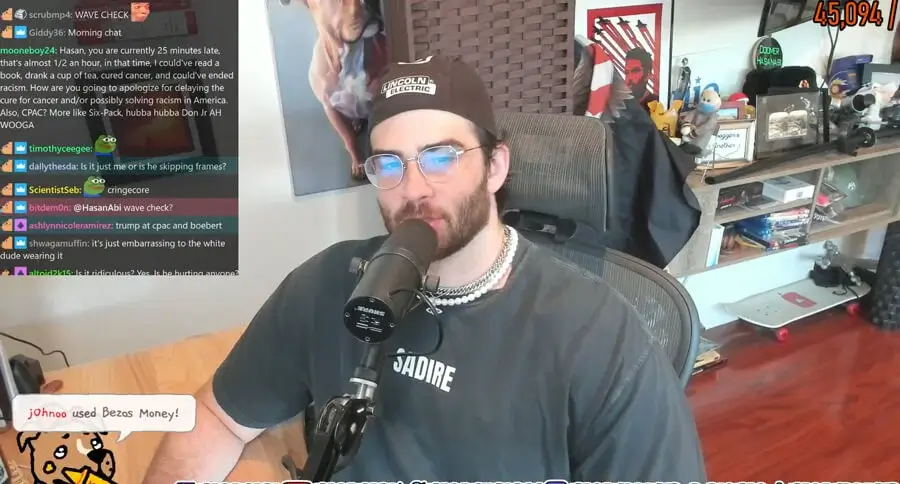 Peak Subscriptions - 60,579 
Followers - 1.2mln
Channel Description - His streams primarily cover political topics, but he also streams video games. His longest-streamed game is Just Chatting.
Additional Info - HasanAbi graduated from Rutgers University with a dual degree in political science and communication disciplines. He has worked as a broadcast journalist and producer at The Young Turks, co-founded by his uncle. His career there began with his university days, where he got a job as an intern.

Hasan later created the Facebook show The Breakdown and published articles in The Huffington Post. At the beginning of 2020, he left The Young Turks and focused on streaming. He is famous for his leftist views and has criticized the Turkish Democratic and Republican parties. In addition, during the stream, he said that the US deserved September 11 and was banned from Twitch for that.
#13 CriticalRole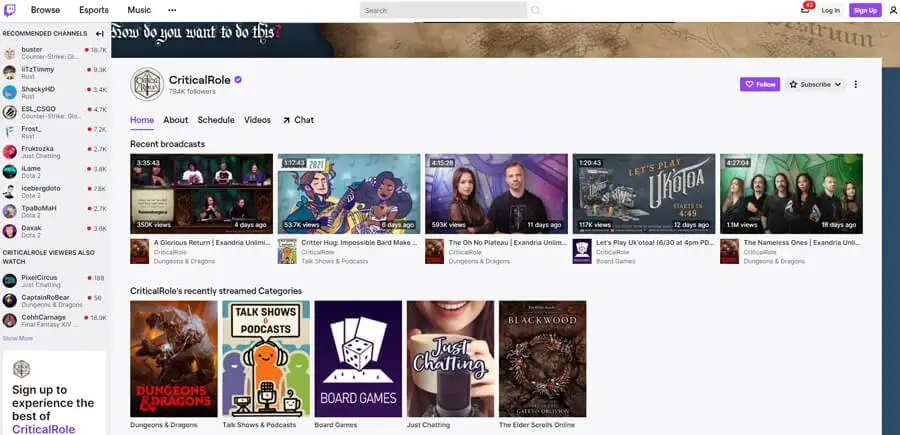 Peak Subscriptions - 57,765 
Followers - 741K
Channel Description - This channel is a long-running campaign where popular voice actors play Dungeons and Dragons. As you can guess, the longest-streamed game is Dungeons and Dragons.
Additional Info - Matthew Mercer writes campaigns for this channel, acting as a Dungeon Master. Matthew had been a Dungeon Master since the beginning of the Critical Role campaign in 2012. The original cast had been playing together for two years and then decided to let their game go public when Geek & Sundry offered to livestream it in 2015.

There have been two campaigns (seasons) so far: Vox Machine(first aired in March 2015) and The Mighty Nein(first aired in January 2016). Besides that, there are two limited series: One-shots and Exandra Unlimited.
#14 TimTheTatman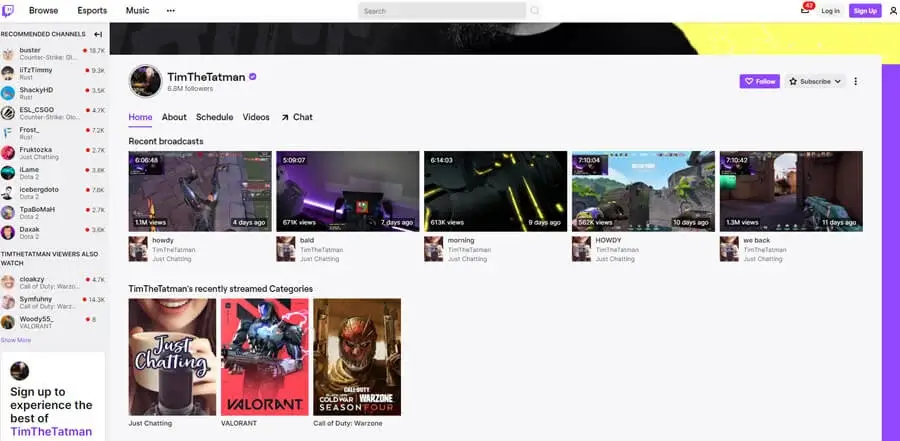 Peak Subscriptions - 56,915 
Followers - 6.6mln
Channel Description - Tim's channel covers video game streaming. He started from montages of COD: Black Ops 2 and CS: GO. The longest-streamed game is Fortnite.
Additional Info - TimTheTatman started streaming on Twitch in 2012. He was known as a CS: Go and later Overwatch player, but his frustration with the Overwatch made him focus on Fortnite. Like several other well-known streamers, the growth of his popularity was strongly influenced by the release of this game.

He has collaborated with many famous streamers such as Ninja, Tfue, NICKMERCS, summit1g, etc. Once working with other streamers, he organized a charity stream marathon and raised over $2.7mln.

He is one of the several eSports representatives sponsored by Monster Energy. Fans can purchase branded clothing from his official website.
#15 TheRealKnossi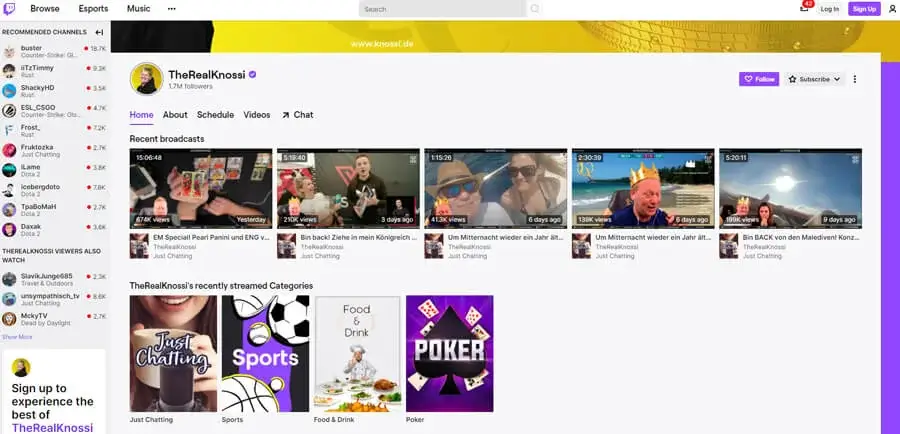 Peak Subscriptions - 55,842 
Followers - 1.7mln
Channel Description - The channel streams videos on gambling topics. The longest-streamed topic is Slots.
Additional Info - A German entertainer and moderator, participated in TV shows of various formats as a player or just a guest. TheRealKnossi has also been moderating many Poker tournaments.

He first appeared on TV as a participant in game shows such as WipeOut – Heul nicht, lauf! in 2008, Der Kreuzfahrtkönig in 2010, and 17 Meters in 2011. After that, he afeatured with small roles in various programs. In 2013 he finished 240th in the World Series of Poker. Partnering with another streamer Sido, he has organized a 3-day fishing camp that went live on Stream.
How to Check a Twitch Sub Count
As we have already mentioned, visitors can't see the sub count of your profile, but Twitch enables us to check the sub count of our channels. You can watch and download your subs list from your channel's Dashboard. Besides subscribers, you can get info about your revenue, average viewers, and many more statistics.