Blocking an account
There are two types of blocking an account: copyright infringement and other reasons. Unfortunately, in case if you violated copyrights, you would not be able to recover the account.
How do you find out for what exactly your account was banned?
Copyright infringement
Click the Learn More button — you will see a message explaining the reason for blocking. It will look like this "We have received a complaint from an individual or legal person that the published materials infringe copyrights." (this is an approximate wording).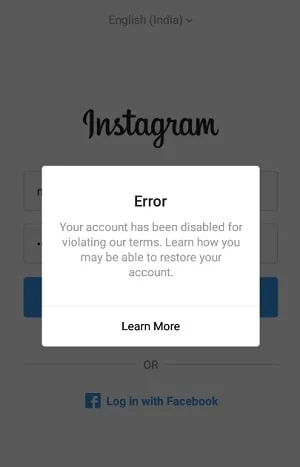 If your account gets blocked for this reason, then don't even waste your time to recover the account.
Other reasons
If there is another reason, then you must try to recover the account. You cannot be sure that your account will be recovered successfully because currently, the number of recovered accounts is decreasing more and more. But still, you can try.
Important!

Some people may offer you a brilliant solution to recover your account for some money. But such people do not have friends, agents, or contacts at the Instagram company. If they tell you they do — they are fraudsters.
How to recover your account
Recovery form
The account recovery form appears in 90% of cases.
If you think that your account got blocked by mistake, click the Report this button. You will see a bar with a question: "Is this account used to represent a business, product, or service?". Whether you have a business account or a personal one, you should press the No button.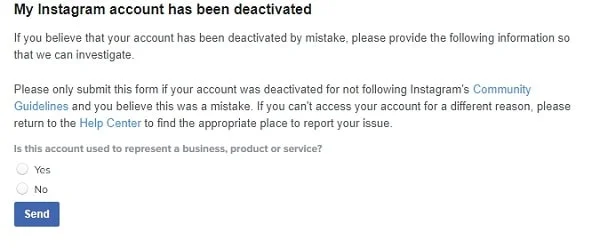 Fill in the form:
Full name;
Username;
Your Instagram nickname;
E-mail linked to your account;
Country you are currently living in.
After finishing, press the Send button.
A link to the recovery form
There is another recovery form. It is available only by clicking a direct link or a link provided by the support team. This form is different from the previous one. It has a blank field at the bottom, which you can use to describe the situation, explain what happened, and tell why you want your account to get recovered. So, it gives you the option of adding several sentences to convince the support team to restore your account.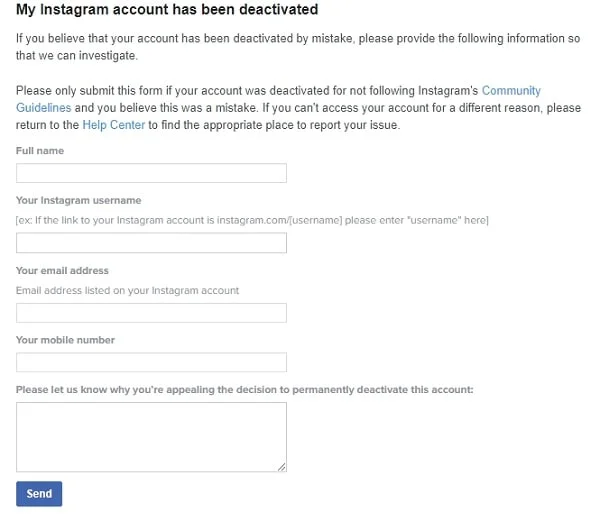 But there is a big trick here.
That is what happens in most cases when people try to get their accounts recovered. You tell the support team that you have not published naked photos, and your account got blocked by mistake. You apologize and ask to reconsider the decision. And they will reject your request 99 % and will not recover your account.
If your account does not get recovered on the first or second try, then your chances of successful recovery in the future are low. The support team sees the history of your requests, the reasons you gave, and that your requests got rejected. So, it would be better to do everything right on the first try.
So, what reason should you specify? Tell that your account got hacked it would be even better if you specify the date. Provide the date of your latest logging in to your account and losing access to it. Ask for help in getting your access back. If you appeal like this, you will increase your chances of a successful recovery.
The biggest mistake you can make is paying money to some person for going through the recovery instead of you. The most important thing is that there are no magical ways of restoring an account.
There are two principal recovery forms. If you failed to get your account recovered through them, then nobody succeeds.
Fraudsters also fill in those recovery forms and contact the Instagram support team. It is only a bit easier for them to do it because they often try to restore accounts.