An SMM specialist works with social networks. The main responsibility is to manage social media accounts to generate more sales and achieve client objectives. Generally, SMM specialists perform the following tasks.
Tasks of an SMM-specialist
As we have already mentioned, sales are crucial and social networks are good at generating them.
Repeated sales mean selling products or services to existing customers.
Loyalty and reputation management. Every company wants to highlight its advantages and have a good reputation for products/services.
Personal brand management. It can be a company owner, a manager, a pop artist, a politician, or an entrepreneur.
Working out the negative feedback: a company may have a tense negative environment and a lot of dissatisfied customers.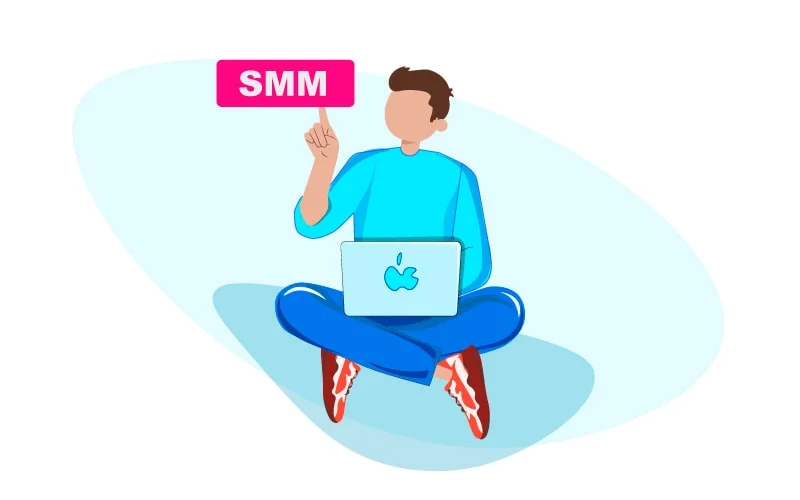 What should an SMM specialist do?
There are several types of professional tasks in SMM. First, complex SMM tasks, requiring several basic skills, should be performed. The second format is niche-oriented, involving a group of different specialists, such as targetologists, copywriters, content managers, story makers, analysts, and opinion leaders. We will get back to the first point later on.
Content management
Managing content means working with the materials published on social media. It includes writing posts, creating Stories, setting tasks for designers, videographers, photographers, arranging live broadcasts. In other words, social media content management is handled by an SMM specialist on a turnkey basis.
At the same time, the tasks of an SMM specialist don't necessarily require video filming and photography. You can ask an SMM specialist to take photos, but this is an additional job that isn't included in the direct responsibilities of an SMM specialist.
Working with content means creating ideas, developing content strategies, writing posts, preparing Stories – by yourself or via a story maker. In small and medium-sized businesses, SMM specialists usually don't do such things. Instead, they give tasks to other specialists: designers, videographers, photographers.
Targeted advertising
SMM specialists should have specific skills to set up targeted advertising knowing the basics of algorithms. Besides, they have to work with retargeting, similar audiences, and pixels. They should also know how to manage Facebook and Instagram. Other platforms, such as VKontakte, TikTok, or YouTube, are optional. However, the more platforms — the better.
Community management
An SMM specialist should work with the audience properly on all platforms — conduct various activities, contests, increase audience reach through social signals — it means any audience activity: likes, comments, reposts, saves, etc.
Working with the algorithms
Instagram algorithms determine the content shown to the users. It applies to publications, Stories, and broadcasts. An SMM specialist must understand how smart feed and top recommendations work and adapt all activities accordingly.
Analysis & Research
Finally, another important task is analytics. An SMM specialist has to analyze several aspects.
The first point is the impact of all this work on the client's business. There are special techniques to assess it — end-to-end analytics and ROI indices. They show what kind of return on investment each tool gives.
The second point is to assess the efficiency based on the audience dynamics: audience growth, whether the portrait of the target audience matches the audience's engagement. There is a concept of Engagement Rate. It shows what percentage of the audience takes part in the activity.
An SMM specialist should also work with standard analytical systems such as Google Analytics or Yandex.Metrica.
How to choose an SMM specialist?
Whether to hire just an SMM specialist or an SMM specialist, a targetologist, and a copywriter — depends on the number of tasks.
In the beginning, all tasks can be done by one specialist working in cooperation with the photographer. Gradually, as the accounts develop, provided the budget, a targetologist can be added. In case of further growth, it is better to hire a story maker, as well. Next comes a content manager. For small and medium-sized businesses, this is the most effective team.