You have set up your social media accounts, chosen a logo-based profile picture to use across all your channels and a fun cover photo that fits the photo dimensions unique to the platform. Your marketing team has a ream of pithy captions, photos, and graphics set up for in a cross-platform campaign and a cheat sheet for daily posting guidelines. Your team is ready to build your posting calendar.
While having your graphics in RGB and consistent use of the Oxford comma throughout your work, posting en masse at 8 am will ensure your work goes unnoticed. Before you start loading your content into your chosen social media management tool, there are recommended timeframes unique to each platform your team should adhere to when scheduling posts.
Timing is Everything
Much like the summer blockbuster, the time your peak audience is on a platform is critical to your work being seen in the endless timeline most platforms adopt. To establish your ROI, you should factor in:
Time people are at work/have lunch or a coffee break
Time people are winding down to engage online
Type of product you are selling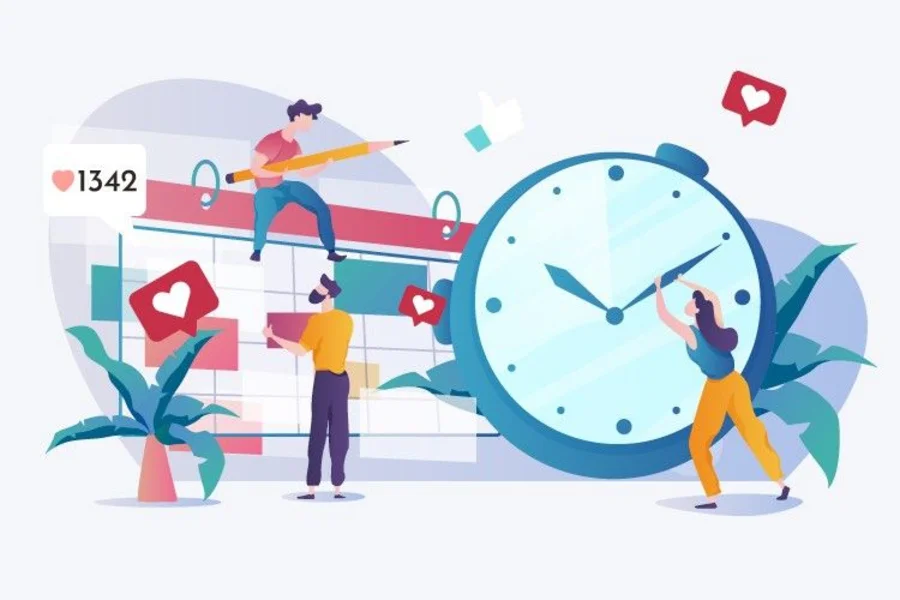 Below are the timeframes suggested by twelve of the largest social media networks. Keep in mind that:
These suggestions may not adhere to your audience.
Review your analytics to identify the optimal times for your audience as those metrics will provide a clearer window of when your audience is engaging with your content.
Consider playing with your posting frequency and types of posts you share on each platform.
Keep the same messaging across all platforms.
Vary in your graphics to give your audience a reason to follow you on more than one platform.
Keep Them Engaged/Keep Your Team InSync
You may find that fewer posts will work for your audience on some networks and more posts work better on others. Follow the golden rule of content- be consistent.
Do not promise an engagement pace your marketing team cannot maintain.
Establish who is allowed to add to the posting schedule to avoid conflicting messages.
Keep your lines of internal communication clear and, to adopt from the Apple business model, encourage all your employees to engage with your posts.
Facebook
11 am to 3 pm on Mondays and Thursdays to if you are promoting an event; after work hours (6 pm to 8 pm) if you sell a product.
Instagram
2 pm to 3 pm is considered the golden hour to post on Instagram.
Twitter
Schedule a series of tweets between 8 am to 4 pm Monday through Thursday.
Google My Business
At this time, optimal posting times are unique to the business's opening hours.
LinkedIn
8 am to 9 am, lunchtime (11 am to 12:30 pm) for optimal engagement. An alternative hour would be from 3 pm to 4 pm to engage the second shift audience.
YouTube
The best time to upload is from 2 pm to 4 pm EST or CST.
Telegram
Approach content on this platform like a text-based email list. Be consistent with your type of content posting. Mirror Facebook's time with information based posts from 11 am through 1 pm and entertaining/impulse buying postings between 6 pm through 9 pm.
Pinterest
Posting between 8 pm to 1 am or 2 pm to 4 pm when users have time to engage on the platform would provide the best ROI for your graphics.
Vkontakte
Fridays from 7 pm to 11 pm as the optimal times. 1 pm to 8 pm is ideal times for daily post schedules with Wednesdays gathering the peak interaction.
TikTok
Posting short-form videos around 5 pm, is the optimal time to garner an audience.
SnapChat
To reach a younger audience, posting between 10 pm to 1 am will offer the best ROI. We hope this knowledge helps as you traverse the digital gossip landscape. Keep us bookmarked for more updates as we cull through the internet noise that is the world wide web.
Have a social media platform that we missed? Let us know! Sharing is caring.
Happy scheduling!