The list of 'to do'-s for growing your professional Instagram account is endless, as you need to elaborate on the concept and business goals, make a content plan, create and post content, stay in touch with your followers, know your audience, and do analytics.
The visual appearance and aesthetics of your blog are yet another aspect that requires your attention. Instagram is absolutely about the visual effect — thus, it has to be in line with your corporate identity (for companies) and tell your look-and-feel concept (for bloggers).
Both bloggers and companies pay much attention to the visual appearance of their feeds. They choose appropriate colors corresponding to general concepts and styles and combine shots and series of photos to make the Feed look seamless and support the profile vibe.
Why do you need a visual strategy?
A visual strategy, same as a business card, makes you unique. Is it not simply about fonts, colors, and style of touch but about general consistency and structure?
The visual strategy helps promote your brand recognition. Your follower reads your visual style unconsciously and associates it with a specific brand.
Your stylistic vision defines the type of content that you post and the structure you use. Thus, your feed becomes attractive to your followers and newcomers who find themselves scrolling your feed for the first time.
Bloggers and companies can translate the mood, values, and image using a cohesive visual style. Profile elegant dressing, being a part of the general strategy, will help find new customers and advertisers.
Basics of a unified visual style:
3 main colors on your account feed. Coolors may be a handy tool to generate color combinations.
A checkerboard order of posts. Combine close-ups and portraits, plain photos and pictures with catching slogans.
Unique ideas. You might, for example, use unique fonts, emojis, and visual elements or simply post memes and collages.
6 Planners for Instagram visuals
Some social media planners specifically pay attention to an Instagram grid. We chose 6 platforms focused on tuning the visual effect of your feed.
Hopperhq
It is a visual planner for Instagram, TikTok, Twitter, Facebook, LinkedIn, and Pinterest feeds.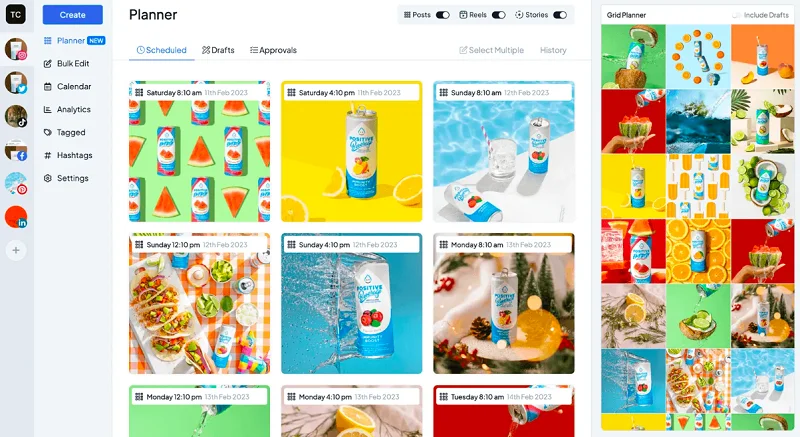 Grid planner. It is easy to plan and scroll through the feed. You can upload up to 50 images and videos from your PC or cloud storage. The drag-and-drop feature is available, and you can quickly change placing of the posts on your feed.
There is also an editor that can edit the pre-set sizing of the photo to adjust it to various social media standards — it can also put filters and frames and modify colors — all these features will help you make the content without switching apps and tabs.
Are there any other features? Yes, an analytical tool for analyzing the best time for postings and shared access for the team members with several accounts simultaneously are in place. The platform also allows you to raise your recognition using the most popular hashtags.
Price. The price depends on the number of accounts you would like to register and starts from $19 per month per user per one social media platform.
Onlypult
Onlypult is your helpmate for social media, making all the work easy for bloggers and companies.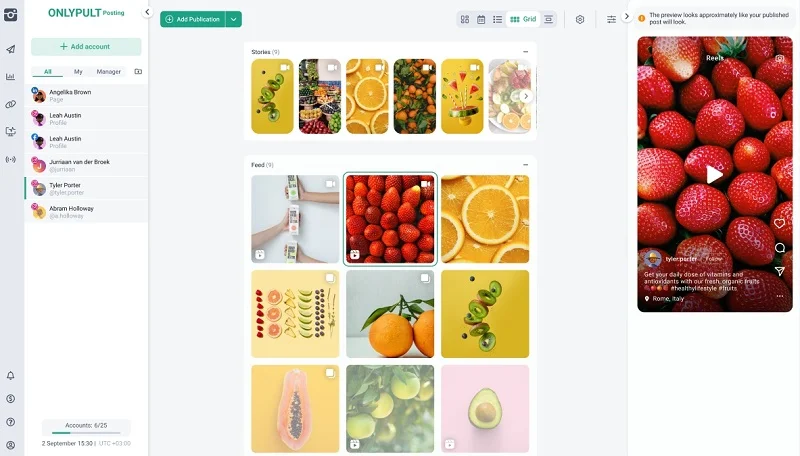 Grid planner. You can change the order and placement of the posts, choose the best visual solution, and automatically set the pre-planned time of posting. With the photo editing option, you can resize the photo, select filters, and add text or frame.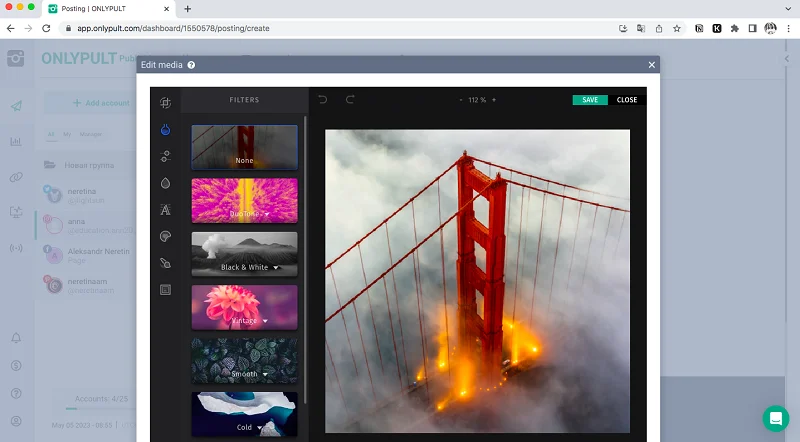 Pixaby is integrated into the library — thus, you get direct access to photos from photo-stock. This feature allows working in the same app without switching among dozens of browser tabs and saving you time for other business issues.
Are there any other features? Yes, you get a mini landing-page builder — use it to make your selling page quickly and put its URL to the bio of your account on Instagram. You don't need a separate website — you can give all the information on that landing page.
Analytics gives detailed information on each post. You can set your dashboard to your preference, choosing, for example, 'audience' or any other parameter that is interesting to a brand or an influencer.
Price. All the Onlypult plans have a 7-day free trial period. The basic plan costs $25 per month.
Later
Later is an Instagram app that helps create and edit media for your feed.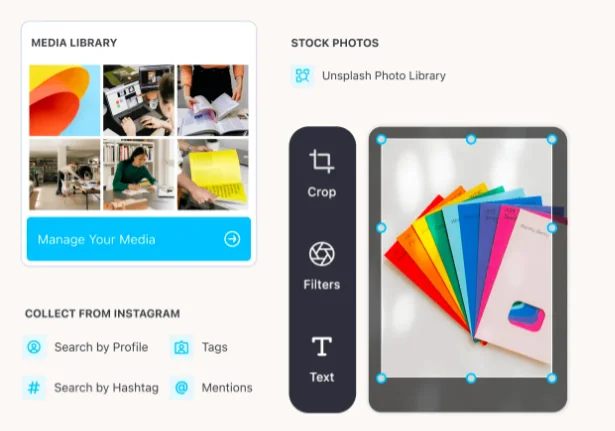 Grid planner. Visual Planner is a perfect tool for creating the perfect mood for your Instagram feed. You can create and review posts before planning and replacing the posts on the grid in a way you like in this app.
The app has unlimited storage for photos and videos and all the in-built instruments for editing media. Photos, videos, and other user content is uploaded to the media library and is accessible from any device.
Are there any other features? Yes, enjoy the Linkin.bio tool to create a fully adjustable web page where you can give all the URLs and convert traffic from Instagram and TikTok to your blog, regular website, YouTube channel, and online shop — make your followers your customers.
Price. The lowest price is $18 per month on a basic plan per one user per one social media platform. There is a 14-day trial period available.
Simplified
The free Forever plan gives access to several instruments for easy managing all your accounts on social media.

Grid planner. There is a big library of templates you can use as a basis for your postings, stories, and reels while Muses are silent.
Simplified eases your work on the Feed visual dressing. For example, an 'eraser' tool helps to edit the photo: to delete unwanted elements or to crop the shot. You can generate a color scheme for your postings and feed and be your web designer. You can also remove the background of the photo just by a click-of-a-mouse.
Are there any other features? Yes, there is a generator for Instagram texts that helps you save time on content-making. Simplified allows you to schedule all the content on Instagram weeks ahead and invest your time into more vital business development issues.
Price. Prices depend on the plan chosen and discounts available, but a team's access to the app and its advanced features starts at $24 a month.
PlannThat
PlannThat is an all-in-one planner, strategy manager, and web designer for content on Instagram, Pinterest, Facebook, TikTok, and LinkedIn.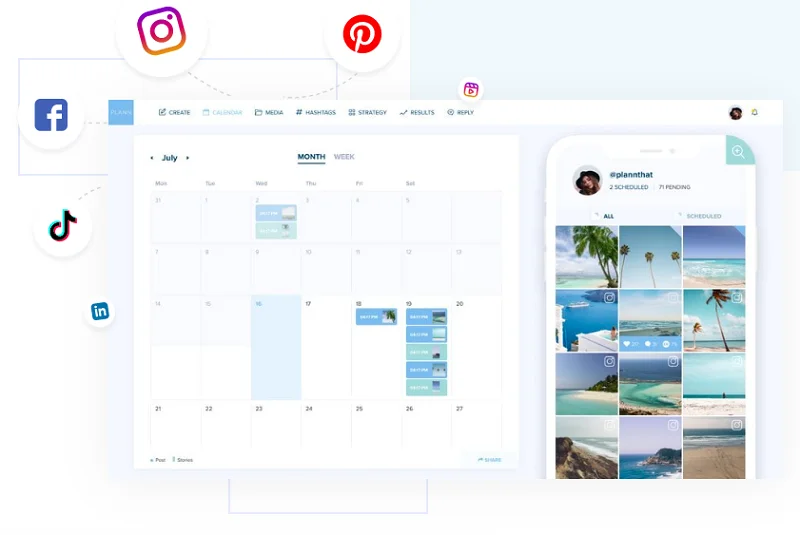 Grid planner. PlannThat helps organize, arrange, and post your content, boasting both the desktop version and mobile app with such functions as a user-friendly interface, drag n' drop option, and an interactive preview of the feed available.
Markers and labels are handy for content arranging — you can find the media needed in the visual library, holding media collections with photos, videos, drafts for posts, screenshots, colors gallery, themes for content, etc., and use it to the specific type of content you are looking for.
Are there any other features? Yes, the app is integrated with most social media services: Canva, CloudSpot, Pexels, Unsplash, and Pixabay. It also has an analytical tool for tracking key metrics that matter the most to business growth.
Price. A free subscription gives limited options for your feed planning. Prepaid plans start from $9 per month.
Planoly
It is the most minimalistic visual planner for Instagram, TikTok, and Pinterest feeds.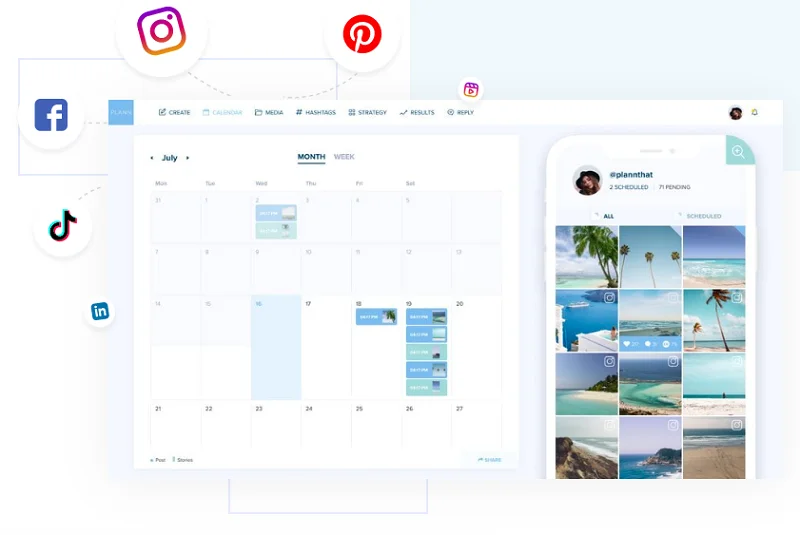 Grid planner. Social media managers can do visual planning and generate content easily. Once you log in to Planoly, you can download ready-made images straight from Canva.
You can also create content right in the app with the aid of tools for editing. Photographs from the free stock photo library are available for use.
Are there any other features? Planoly offers an analytical tool allowing you to learn what type of content your audience likes. Detailed information on your audience will give you a better image of your various target groups.
Comments manager tool allows to answer all the subscribers in one place. The Sellit option is available — use it for easy ordering and monetizing your Instagram attracting traffic from all over the net — share your link in Bio with the help of the Linkit option.
Price. Starts at as much as $13 per month and depends on the plan chosen.
Once you come to a point where you need to choose your visual planner, think of the list of options you need for the specific project: are there any inbuilt editors? Is the direct search across photo stocks available? Remember to check any additional features and the reply time of customer service. Onlypult will be the best choice to make if you want to save time and make your feed a nice-looking one.