Pinterest is called a network for American housewives with nice inspiring pictures. There is a wide-spread belief that this platform is not worth putting the team's efforts into developing its account.
It is not true — Pinterest is not a social network but a visual search engine. Its biggest advantage for business is that people visit it not after making a purchase, as it often happens on Instagram, but before making it.
The survey results confirmed that 83% of people use the platform to plan their future purchases. At the same time, Pinterest helps 58% of users to make a final purchase decision.
Personal stylists' clients visit Pinterest to create a mood board (a collection of inspiring pictures and photos as examples) of new season trends.
Some people plan their vacation or get inspired by the ideas for an upcoming kid festival or apartment renovation.
Brides look for wedding specialists. Daniel Martin, the makeup artist of Meghan Markle, Duchess of Sussex, said that she used Pinterest to create her wedding makeup.
According to Statista, in the second quarter of 2019, the Pinterest monthly active audience reached 300 000 000 users.
For big brands and medium-sized businesses, Pinterest is an opportunity to distinguish themselves from competitors. Investing money in developing visual content, you can integrate it into a new platform and increase your sales.
So, in this guide, we are going to tell you what specificities Pinterest has.
How to get started
It is better to register a business account from the very beginning. But if you are an active Pinterest user already, you can also switch from a personal account to a business one.
Adding your profile information
Upload your profile picture, choose a name for your account, and add a link to your website.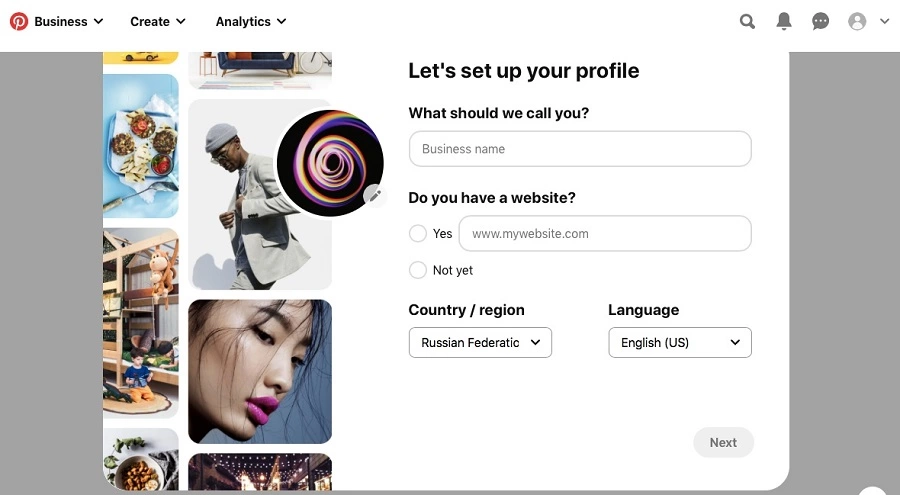 Choose the focus of your brand.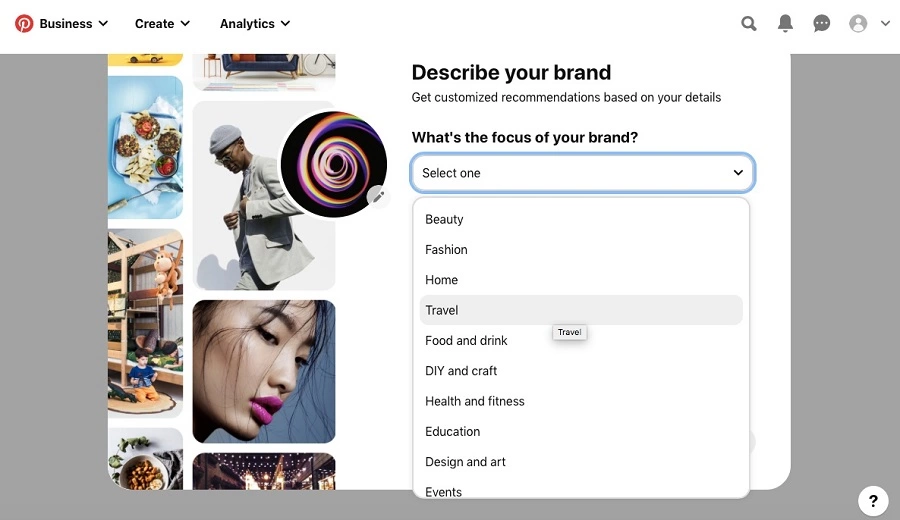 Describe your brand.
Decide if you are going to run ads on Pinterest or not.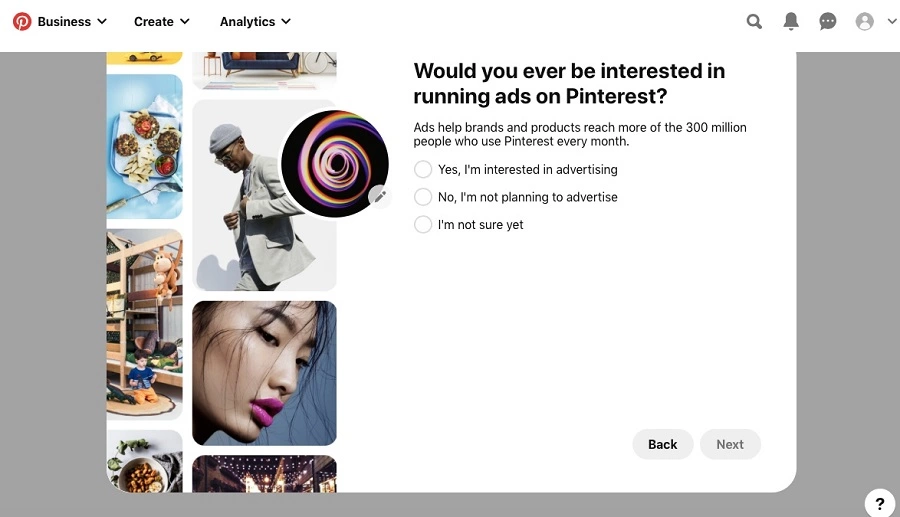 Choosing a business account
A business account allows you to use advanced analytics tools and run ads. Using a business account is free.
It has more options for creating visual content. For example, you can choose different types of content for your bio background — your latest pins or some boards of your choice.
| | | |
| --- | --- | --- |
| | Business account | Personal account |
| Rich pins | + | - |
| Different background styles | + | - |
| Analytics tools | + | - |
| Content ownership validation | + | - |
| Pin it! button | + | - |
Rich pins have more context and information. There are different types of rich pins:
1. Products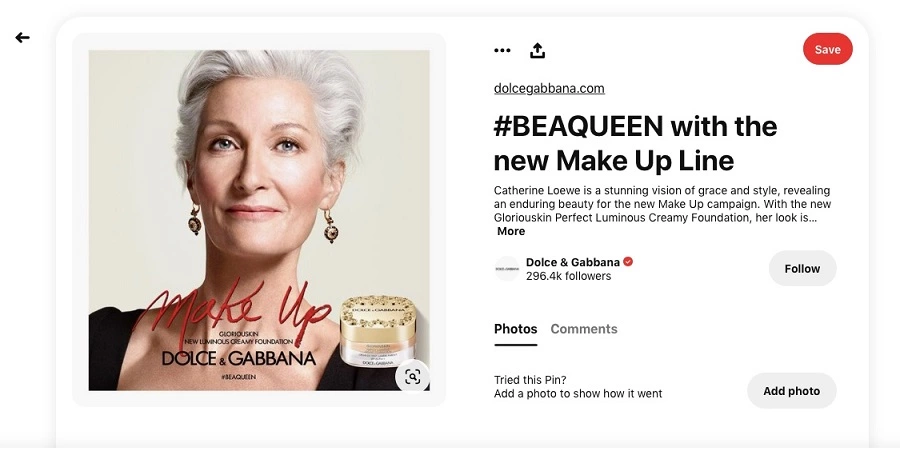 It works like a shop window. You can add some information about the product and a link to the payment page to the description field.
2. Recipes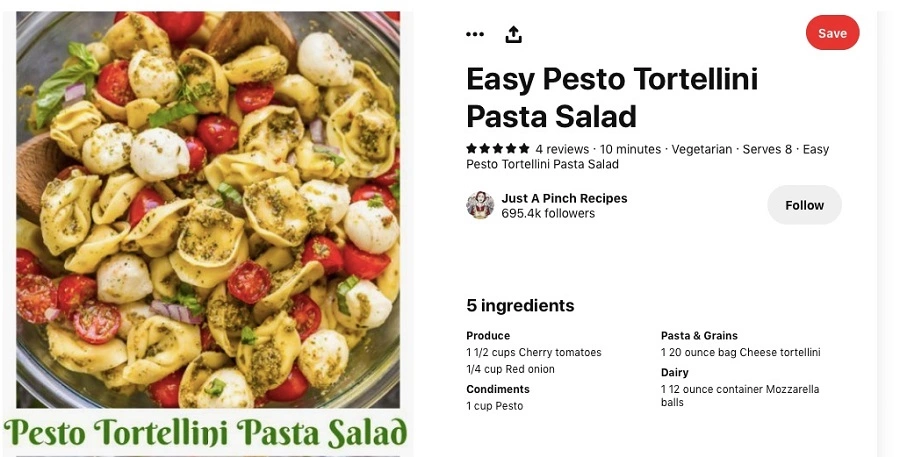 Pinterest has options to add the information about recipes in a format convenient for us.
3. Articles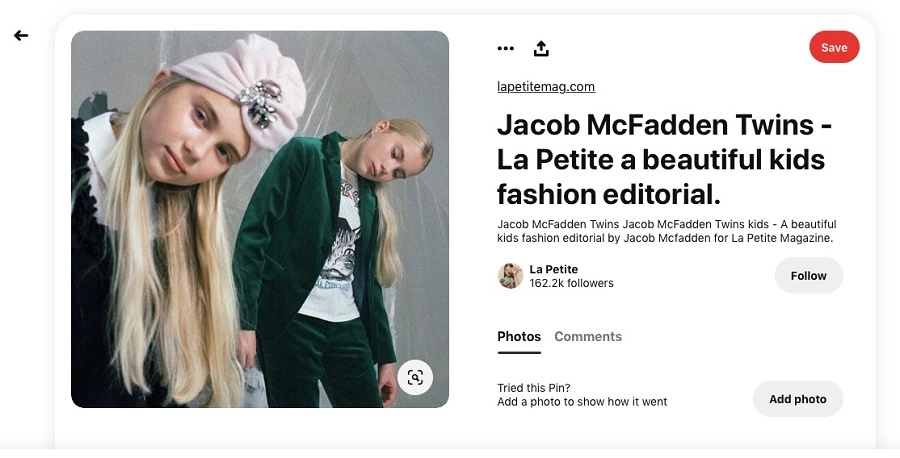 The main goal is to attract the attention of the user to the article with its title and teaser containing the main idea from the pin description.
4. Apps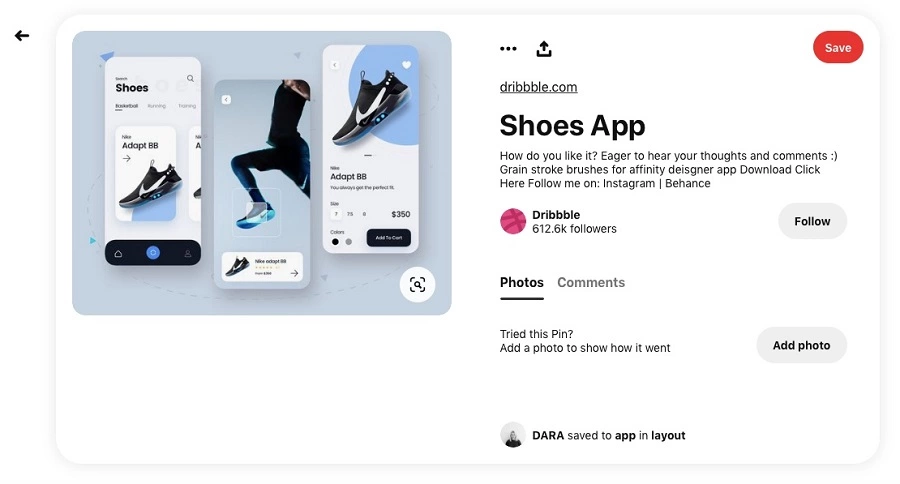 By clicking the link, users will get redirected to the application download page.
Top 5 topics on Pinterest
№1. Shops
IKEA USA
https://www.pinterest.ru/IKEAUSA/
IKEA uses Pinterest to introduce their new collections and create boards with different design tips: how to improve your home office or how to organize some space for sports activities at home.
The Shade Store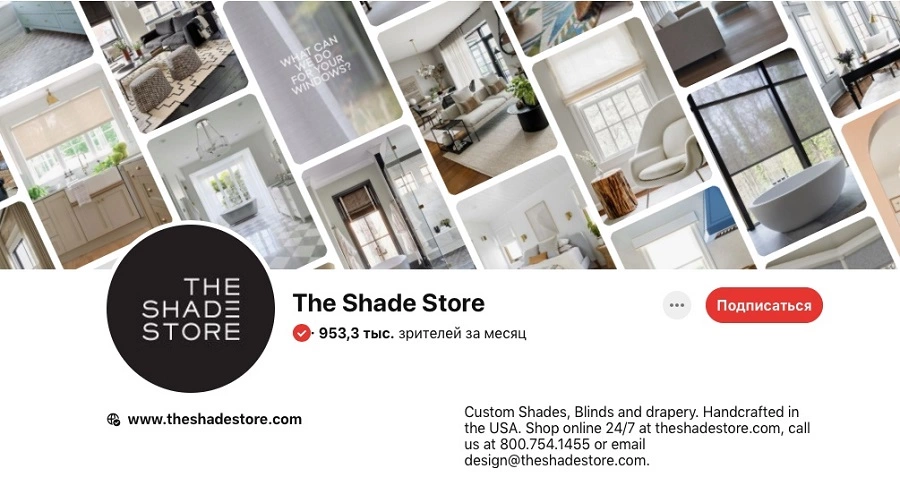 https://www.pinterest.com/theshadestore/
The shade and blind shop called The Shade Store use their Pinterest account to show people how their products fit into the interior and how they create a pleasant atmosphere for the whole apartment.
David Jones Store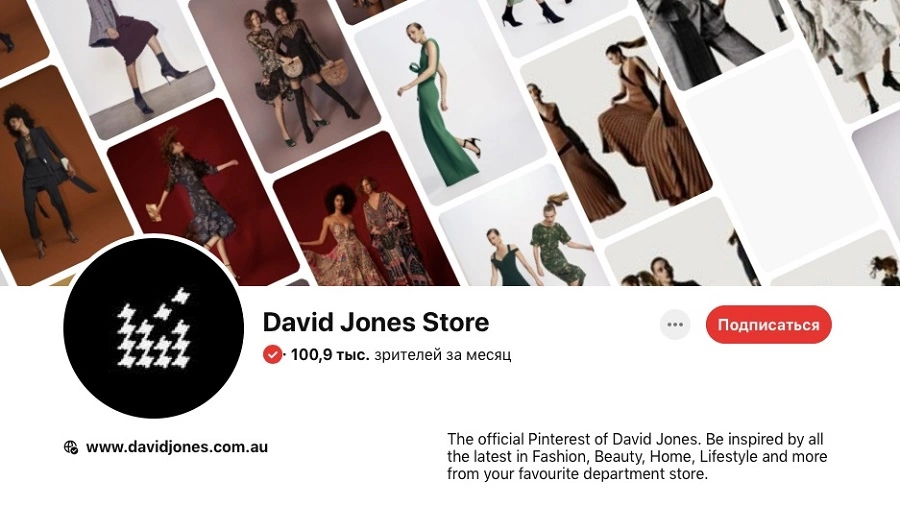 https://www.pinterest.com/davidjonesstore/
A trendy brand David Jones Store shares its look book photos—shots prepared for a month or season—with its followers.
№2. Fashion industry bloggers and brands
Fashion Jackson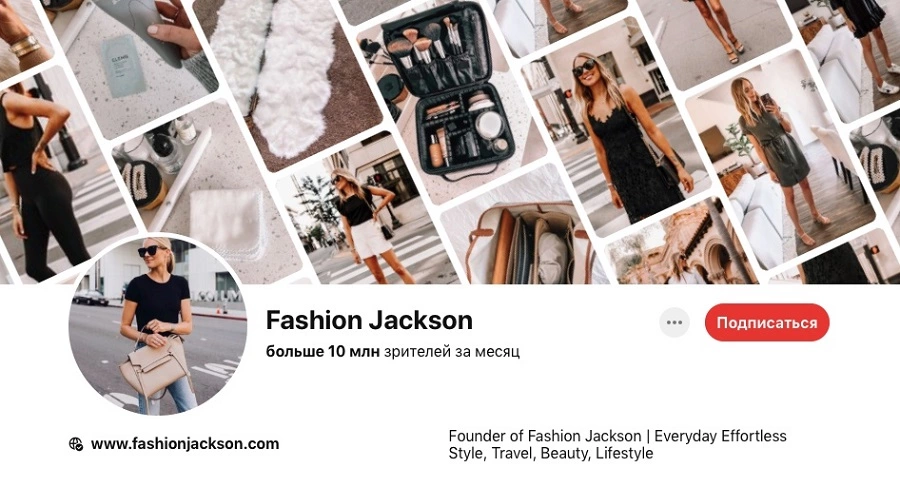 https://www.pinterest.com/fashion_jackson/
Lifestyle blogger Amy Jackson uses her blog and Pinterest account to attract people's attention to her clothing brand and shows different everyday and travel looks.
Katie Armour Taylor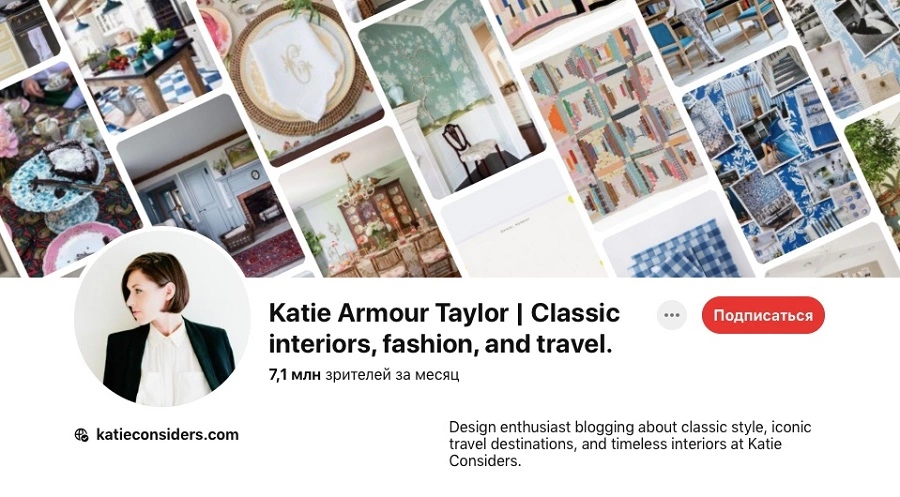 https://www.pinterest.com/katiearmour/
Katie Armour's blog is focused on classical interiors, fashion, and travels. On Pinterest, she creates a collection of pictures related to these topics to attract customers' attention to her shop.
Chelsea Olivia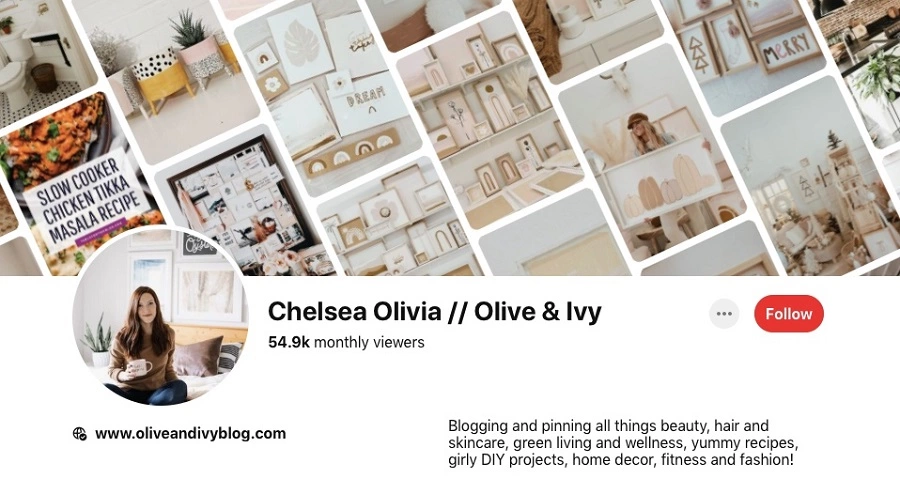 https://www.pinterest.com/chelseaoliviaxo/
Chelsea Olivia is a lifestyle blogger. She uses Pinterest to attract more traffic to her blog. She makes posts containing links to new posts and shares her photos.
№3. Online media
La Petite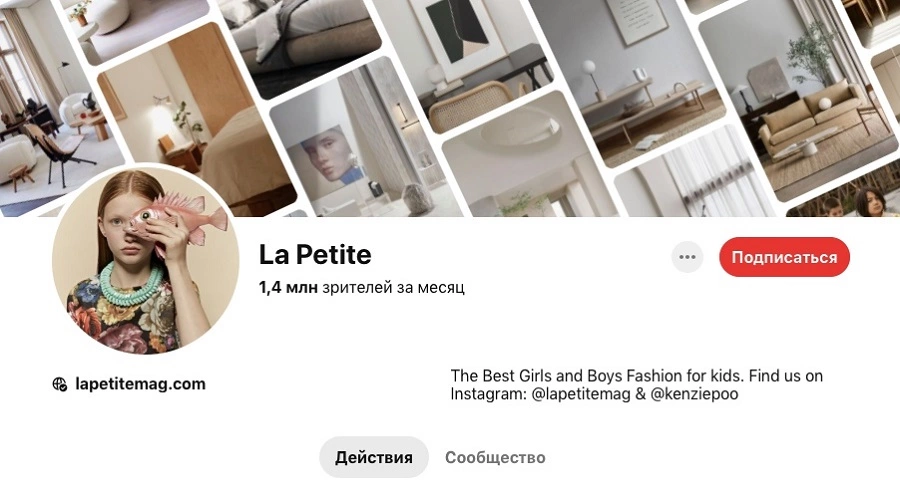 https://www.pinterest.com/Lapetitemag/
La Petite is a kid fashion magazine. They share links to articles and photo shoots.
The Wall Street Journal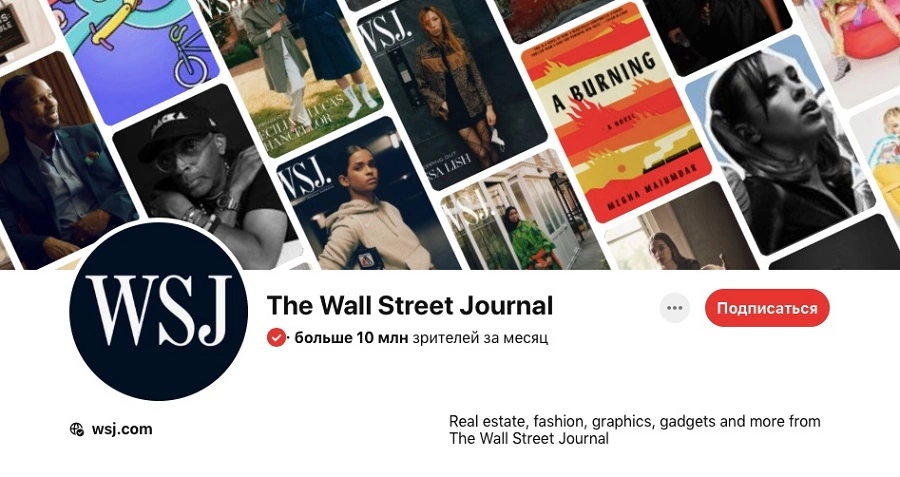 https://www.pinterest.com/wsj/
On The Wall Street Journal page, you can find links to interesting materials of the magazine and see its covers
The Minds Journal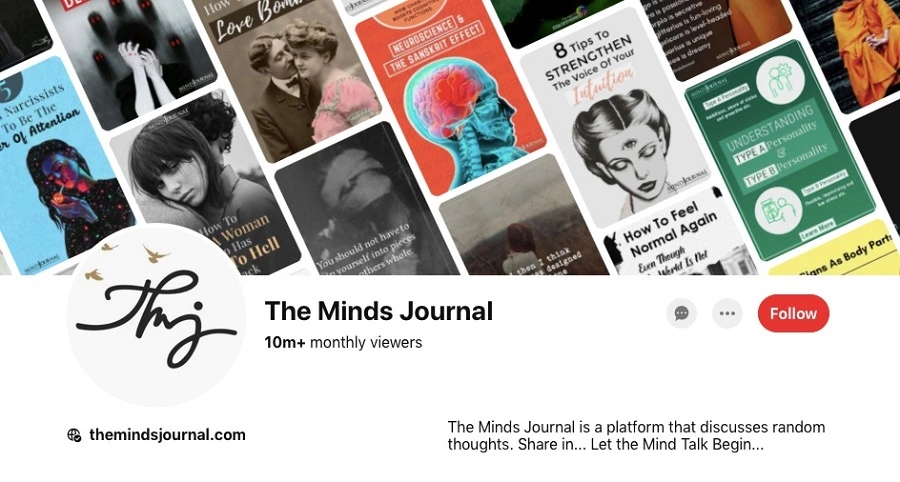 https://www.pinterest.com/themindsjournal/
The Minds Journal publishes not only photographs but also motivational quotes, infographics, and tip lists.
№4. Travelling
Jetsetter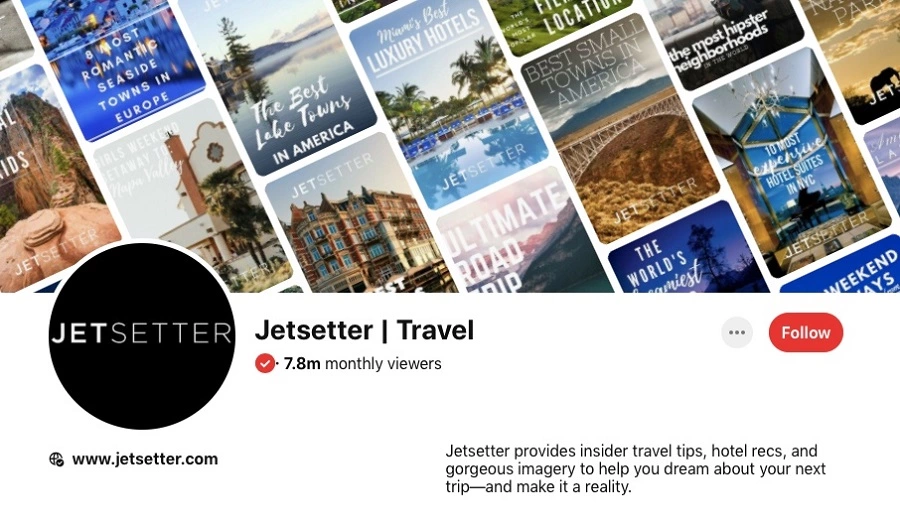 https://www.pinterest.com/jetsetterphoto/
Jetsetter is a boutique travel agency. They publish photo collections on relevant places to visit, travel tips, and links to the posts from their blog.
Hecktic Travels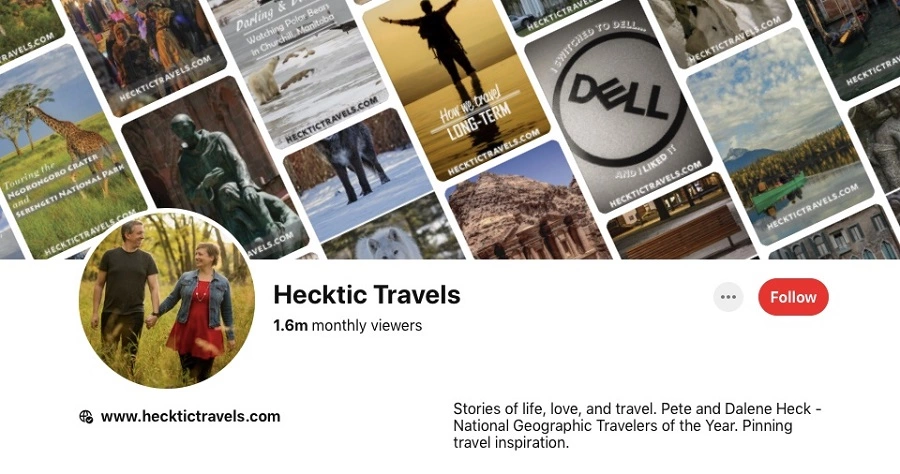 https://www.pinterest.com/hecktictravels/
Pete and Dalene Heck travel around the world. They share their experience on the blog and add pins with articles and links to their materials.
BBC Travel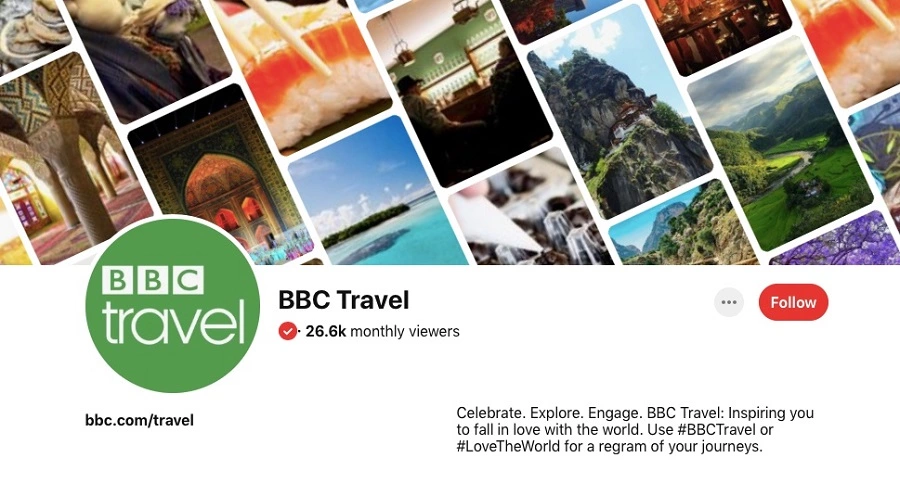 https://www.pinterest.com/bbctravel/
On its Pinterest account, BBC Travel publishes photos of different places in the world.
№5. Food and recipes
Ugly Duckling DIY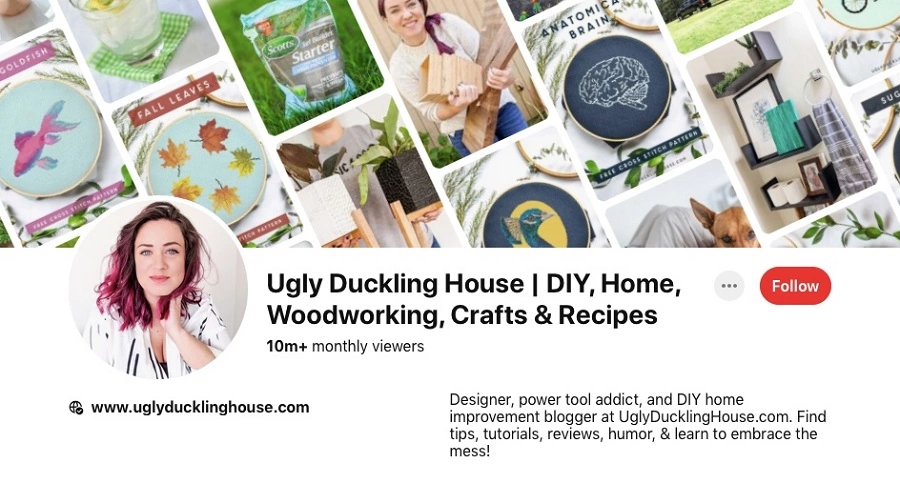 https://www.pinterest.com/uglyducklingdiy/
Sarah's blog is about DIY home improvement. Her pins contain links to posts from her blog.
Simply Recipes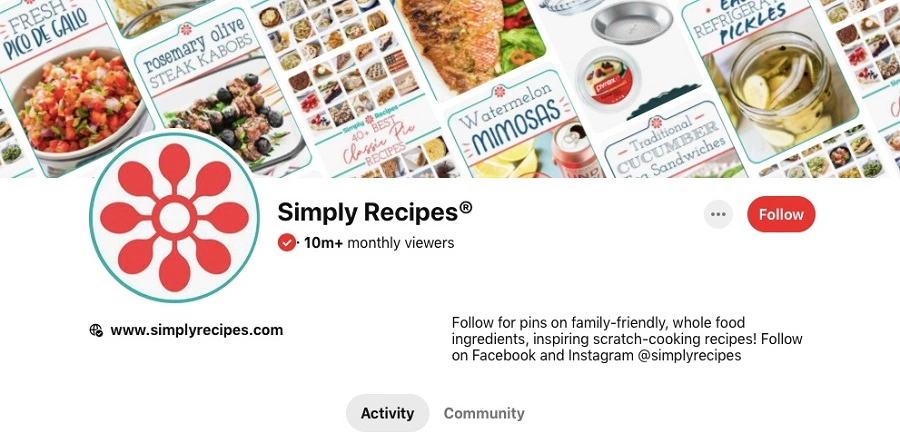 https://www.pinterest.com/simplyrecipes/
The name of the project – Simply Recipes – speaks for itself: on its Pinterest account, you can find recipes of different dishes.
Just A Pinch Recipes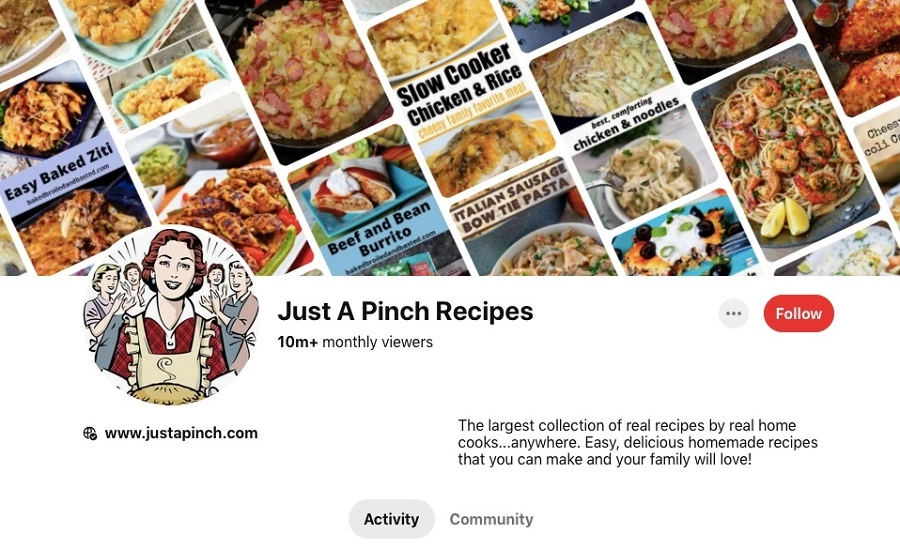 https://www.pinterest.com/justapinchcooks/
Pinterest has one of the biggest collections of real recipes and by domestic cooks.
Why businesses and bloggers need Pinterest
Content that works 24/7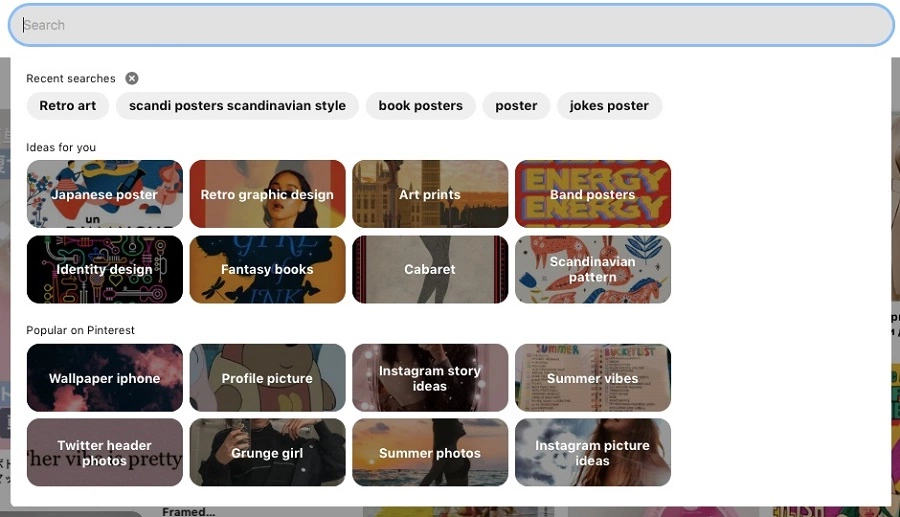 People search for recipes, home design ideas, and trendy fashion things every day. When you go to the search section, you can see categories that are popular on Pinterest now.
Any social network post "lives" no longer than a week. And that is provided that you purchase advertising and have real users that repost content and share it with friends.
A single picture with a link to the website will not give you much traffic. But every pin remains relevant for a long time. It will be useful for new customers that look for some information.
Search engine
And this is a reason why optimizing your content is vital. We will get back to this issue in the How to Develop Your Pinterest Account Section.
No permanent changes
Social networks do everything to make you stay on their platforms. Most platforms have the same strategy: customers should not leave the platform — they should keep using it.
Compared to other social networks, Pinterest does not have that many updates and new tools. So, you do not need to monitor new functions all the time.
All traffic you get from Pinterest redirects to your website because you can add a link to your web pages on every board.
No haters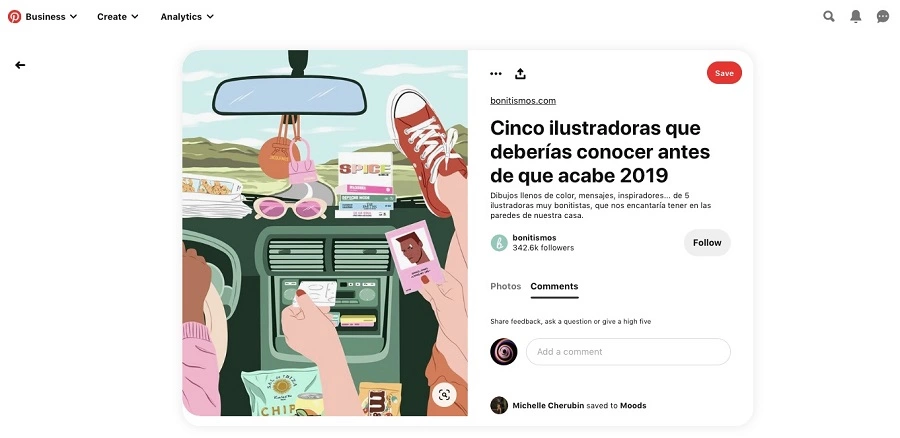 The more followers you get, the more energy you should spend on holding their interest.
Thus, you have to rely on hype posts because they give rise to controversial opinions. The more popular you become – the more hate you get.
On Pinterest, people almost never leave comments — so you will be protected from negative reactions.
Working with boards takes you very little time
When you set everything on your account, you will need about 30 minutes a day to work on Pinterest – it is enough to attract people.
Monitor statistics and ask your customers from what platform they come from. You will get surprised.
That means you will spend less effort but get more results.
There is only one disadvantage – you should spend a long time developing the account. Even if you add a few pins every day, there is no guarantee to get traffic quickly.
There are lots of courses but not many experts, so you should test everything by yourself. Rules are not clear, and no support can help you quickly. It might demotivate you, so you may feel that you do not want to keep working with the platform.
How to run your Pinterest account
Upload information to your profile
Use your brand logo as a profile picture. Add a description to the profile bio. It should comply with words used quite frequently (user search requests that get 100 to 1000 views) that should be important for your industry. The character limit is 160.
Design your boards
Boards represent the basic idea of your brand. Use them to make the first impression that motivates users to stay with you longer.

https://www.pinterest.com/byammarose/boards/
Amma Rose tells her audience how to sell things on Pinterest, so her boards are divided into special categories: tips for people who have accounts on Etsy, running an Instagram account for those who sell things on Etsy, etc.
You can create a board on a specific topic and make it private so that other users will not see it. You can make it public when you have enough photo content — is at least 25-30 pins.
Do not forget to choose the category for your board. You should also use keywords to describe it.

On the photographers' board, we can clearly see what content users will find here.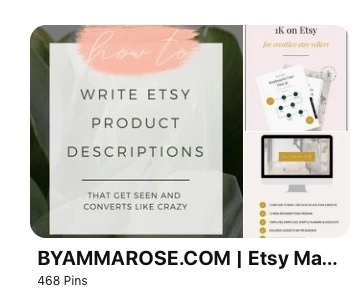 Go to Board Settings and choose a cover for each board. The picture is set automatically, but you can change it according to the board topic to attract more users.
Here there is a title that is convenient for users that search for content on a specific topic.
Find popular keywords
Originally, Pinterest is a search engine. You can enter your request and keywords in the search bar. Moreover, you can see most popular search requests of other users. Conveniently, you can also see boards and accounts here.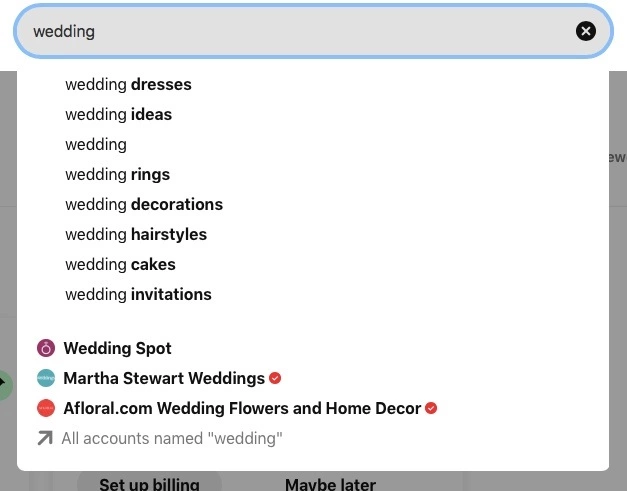 For example, here, we can see the most popular phrases and boards related to the word "wedding."
Add pins two or three times a day
For your convenience, you can set the time for publishing a pin in advance. This option is available on the platform.
Some experts' experiments on Pinterest prove that it is better for algorithms if you publish pins by yourself without using automatic posting tools.
How to add pins
1. Drag content to the pin adding field
The picture should be vertically oriented. Add a catchy title that reflects the basic idea of your post. Just add it to the photo.
If people can download any free materials through the link – do not forget to mention this in the description box.
Do not forget to add descriptions to the ALT and TITLE fields when uploading a photo to your blog or website.
The name of the picture should contain the basic idea of the content, keywords, a source (a blog or website), and the brand name. It is important not only for Pinterest but also for search optimization.
Example: onlypult-how-to-use-pinterest.jpg
2. Add a short picture description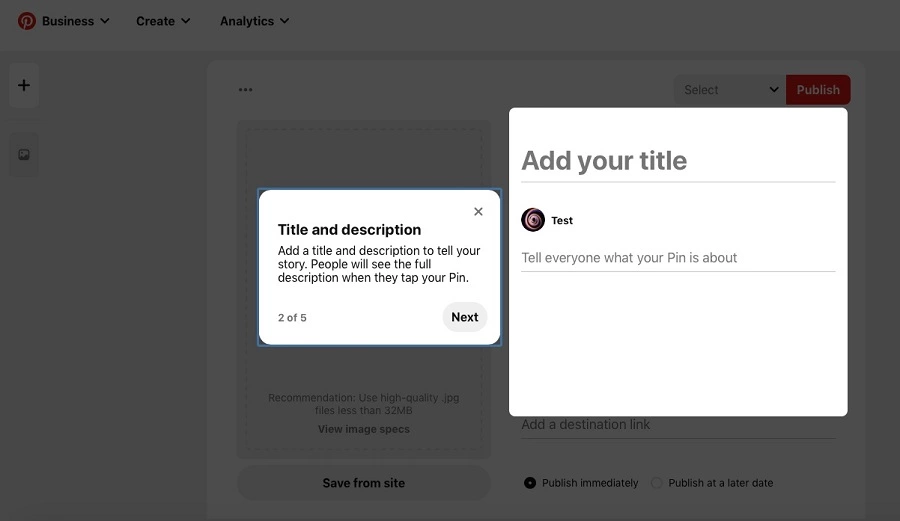 The title and description of content you publish can tell the whole story: users will see a detailed description on the website when they click and open your pin.
Remember that they should be informative: a keyword in the title and 3-4 clear sentences in the description box.
3. Add a link to the website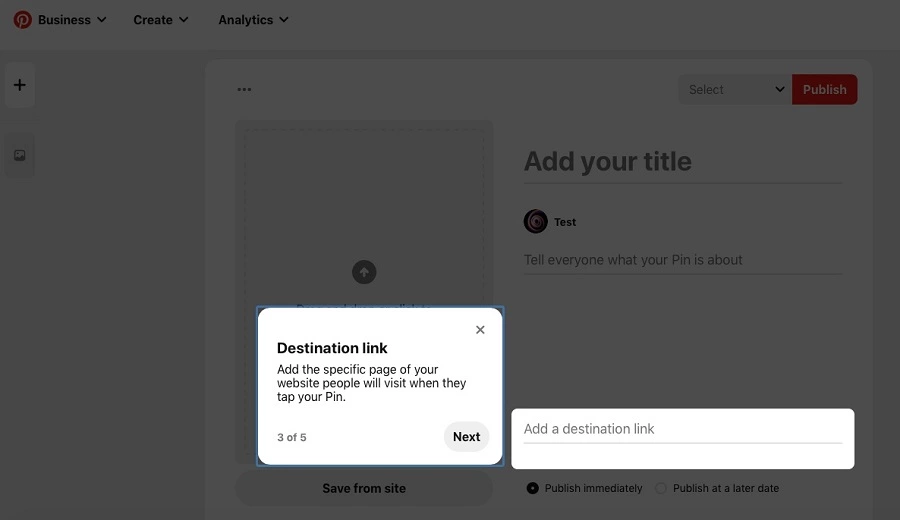 Add a relevant link to the website or a page that users should visit when they click on your pin. You can add a UTM tag to monitor traffic from Pinterest.
4. Add your pins to a board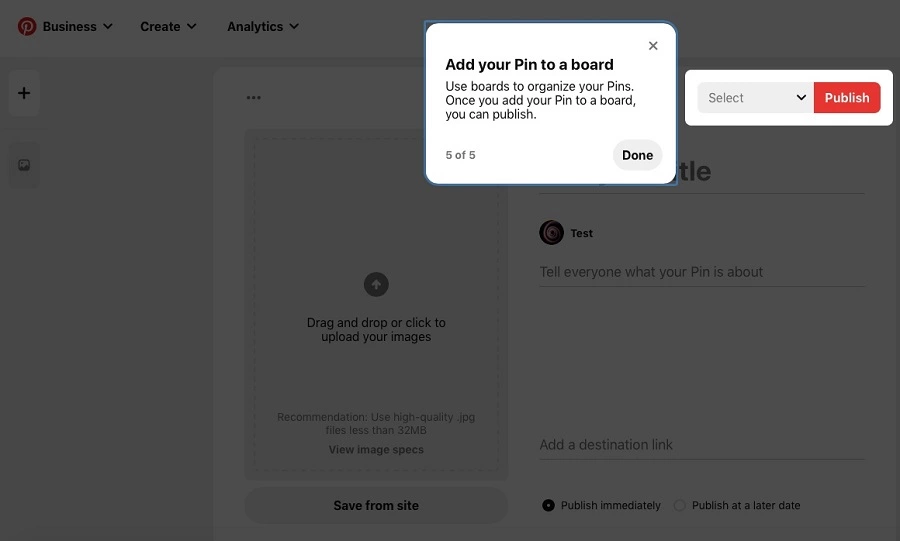 The structure of boards on Pinterest can be similar to the magazine list of heading — the main topics that you use for your board. It will be useful to add descriptions to each section.
For example, SMM specialists of a cosmetics brand Yves Rocher Deutschland created boards according to users' frequent requests and uploaded covers according to the corporate style.

https://www.pinterest.com/yvesrocherde/boards/
How to promote your Pinterest account
You need to tell about your Pinterest account on other social networks within the first week after its creation.
It is a way of promoting your account for free that can help get new people at the start. Besides, maybe some people would prefer to follow your brand on Pinterest.
If it is possible, try to use different ways of promotion.
1. Use tags
Add tags at the end of the description, do not paste them in the middle of the text: it can affect the search engine so that it will not find keywords. The upper limit is 20 words.
Users will be able to find your pin even if their search requests are not directly related to your brand.
For example, Whole Foods Market adds products from its product range to its recipes and uses the hashtag for the main ingredient.
Imagine that the brand has posted a recipe and added the #SweetPotatoes hashtag. In this case, users will find the pin if they search for recipes with this product.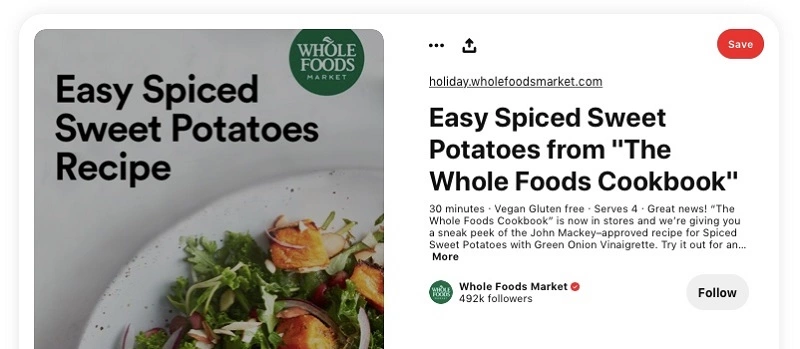 2. Try different types of adds
To use ad tools, go to the Audience Statistics section, then choose the All Pinterest Users tab, and click on the Create Campaign button.
Microsoft was one of the first to launch Black Friday promotion pins. Its target audience was people looking for Xbox products or gifts. According to the results, the company noted a significant increase in sales of the advertised products.
Pinterest provides 45% of the total traffic for Springlane, a German brand of kitchen stuff. They created an online platform for recipes and culinary tips, posted pins of detailed recipes on their Pinterest account, adding a link to their site.
Pins for promotion campaigns are branded, and the text on the image has a clear call to action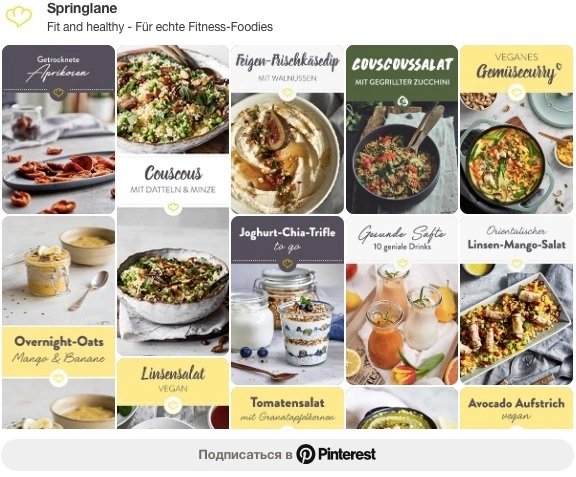 When users saw relevant content pins, they wanted to cook their favorite dishes according to those recipes themselves, and they bought products of the brand. According to the Springlane statistics, Pinterest brings as many buyers as all other social networks in total.
Besides, there is a special tab containing products from the online shop.

https://www.pinterest.com/springlanede/_shop/
3. Participate in creating group theme boards
Users add both their own and others' pins to one mutual board. There is a board owner who checks whether pins are suitable to the topic or not.
Community support attracts more users to the board. More target audiences will come — thus, there are more chances that more users will notice your content. That means people will not only save the pin but also, possibly, visit the author's account.
Here are some examples of the boards:
Blogging Tips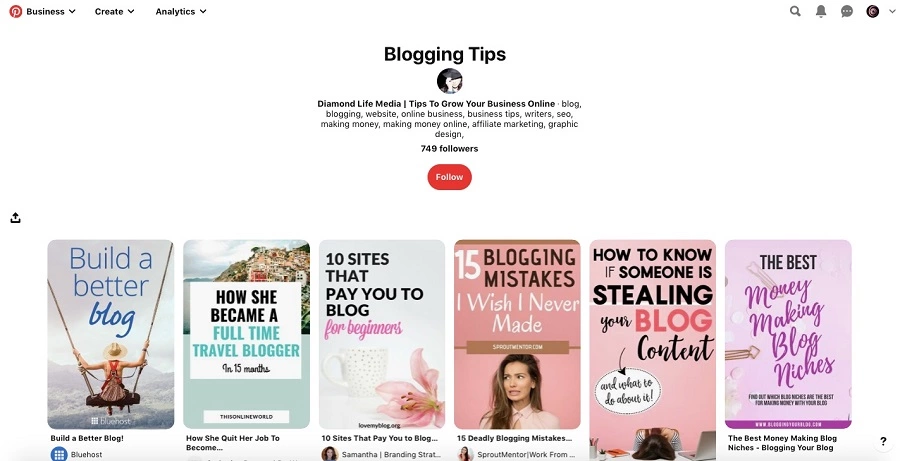 https://www.pinterest.com/koshin/blogging-tips/
Inspiring pins for food photographers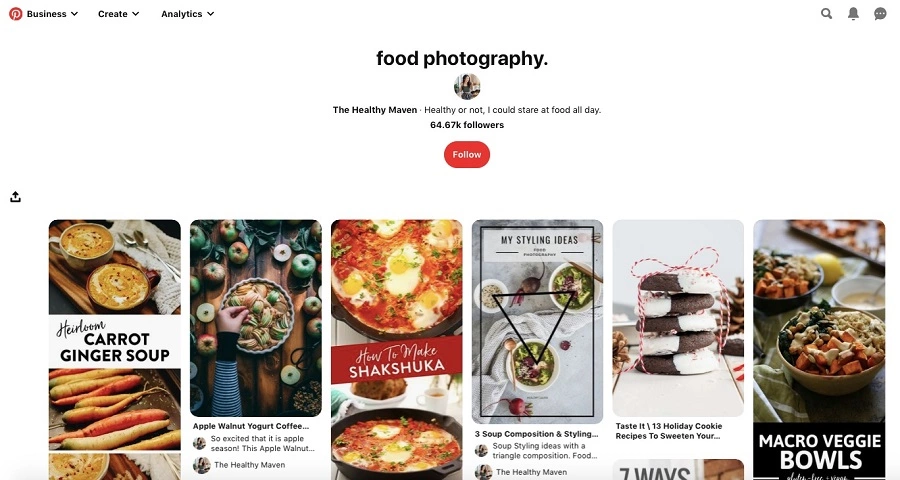 https://www.pinterest.com/TheHealthyMaven/food-photography/
Different book collections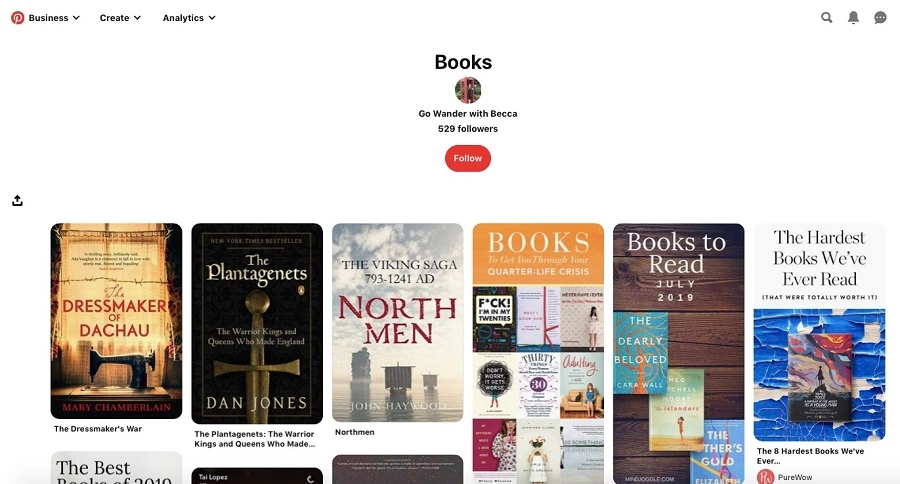 https://www.pinterest.com/gowanderwithbecca/books/
4. Add the Pin it! button to your website
If you post pictures on the website, everyone can share them on Pinterest. In this case, users see the image getting slightly darkened when hovering over it.
When the person saves an image, the system will suggest they should follow your Pinterest account.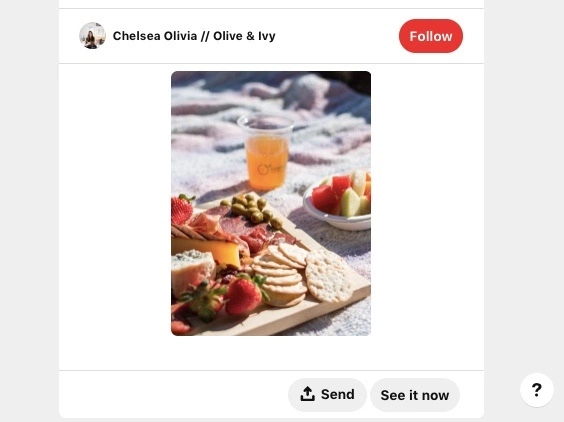 To make this tool work, submit an application for adding the button, and confirm the ownership of the website on your business account.
5. Analyze the audience
Analyze reach, countries, popular boards, and trending pins to figure out on what topics or categories to focus on.
On the analytics tab, you will find information on traffic from other channels — what content users are most willing to save.
The Audience Insights tool on your business account allows you to see the demographic data of your audience and shows you what topics users like best.
We recommend you to verify the website ownership. Even if someone else creates a pin using one of your websites, your name will be added to it.
For each of the published pins, you will see the following statistics: the total number of impressions, the engagement rate —zoom-ins, saves, clicks on the link, video views, and the average duration of its viewing.
Sources where you can learn
Working with any of the platforms requires non-stop learning. We have compiled blogs, channels, and courses that may be useful for you.
Pinterest official blog Recent news and updates are published on the company blog.
PinTalk A user's blog on how to run a Pinterest account.
Pinterest Marketing on Medium A Medium hashtag showing everyday updates.
TechCrunch » Pinterest A section on Pinterest on TechCrunch containing regular updates.
Simplepinmedia Useful materials provided by one of the most popular experts.