Christmas is a holiday cherished and anticipated by all ages and nationalities. The decorations and traditions reserve a special place in our hearts and Instagram feeds. All through December, business accounts and personal blogs have multiple opportunities for content creation. More emphasis is usually made on the photo, and yet, it's the captions that can play a crucial part in generating more follower feedback. To get the most out of each Christmas post, use the 200 ideas for captions gathered in this article.
Funny Christmas Instagram Captions
There are bound to be plenty of joyous moments leading up to December 25th, given all the festivities associated with the holiday. We have a whole section dedicated to Christmas puns a little further below, while these are just a little something to make your subscribers smile:
It's not Christmas without ugly sweaters.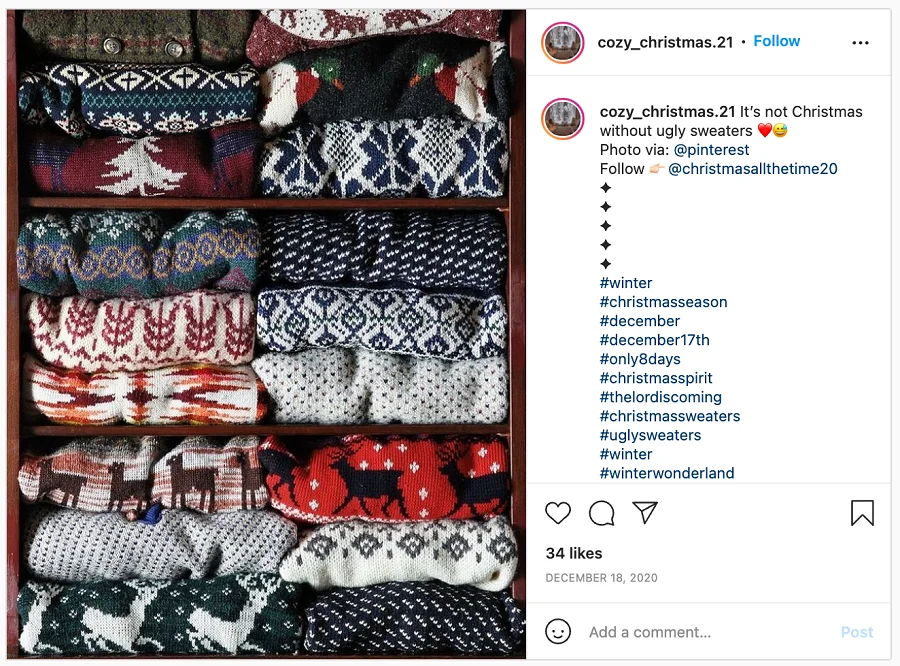 All I want for Christmas is you. And pizza. But you too.
Me: I can't stay. Bed: But baby, it's cold outside.
I'll be binge-watching holiday movies until further notice.
Don't be a grinch this Christmas.
If you want me to stop listening to Christmas music in November, all you have to do is ask. I'll say no.
Christmas calories don't count.
A snow joke.
Life is short. Eat the Christmas cookies.
The Grinch called, he wants his tree back.
I'm going to lie under the Christmas tree to remind everyone I'm a gift.
All I want for Christmas is my Hogwarts letter.
Going down a dark hole of binge-watching all the corny movies I can find.
Does anyone else listen to Christmas music and just feel instantly happy?
Dear Santa… Never mind, I'll buy my own stuff, as always.
Cute Christmas Instagram Captions
Christmas is a time we usually spend with our loved ones, whether it is baking cookies, decorating the Christmas tree, exchanging gifts, or sharing a festive meal. Spread the love a little further and pass it on to your Instagram feed, with the help of these cute captions:
Hallmark Christmas movies, hot cocoa, and chill.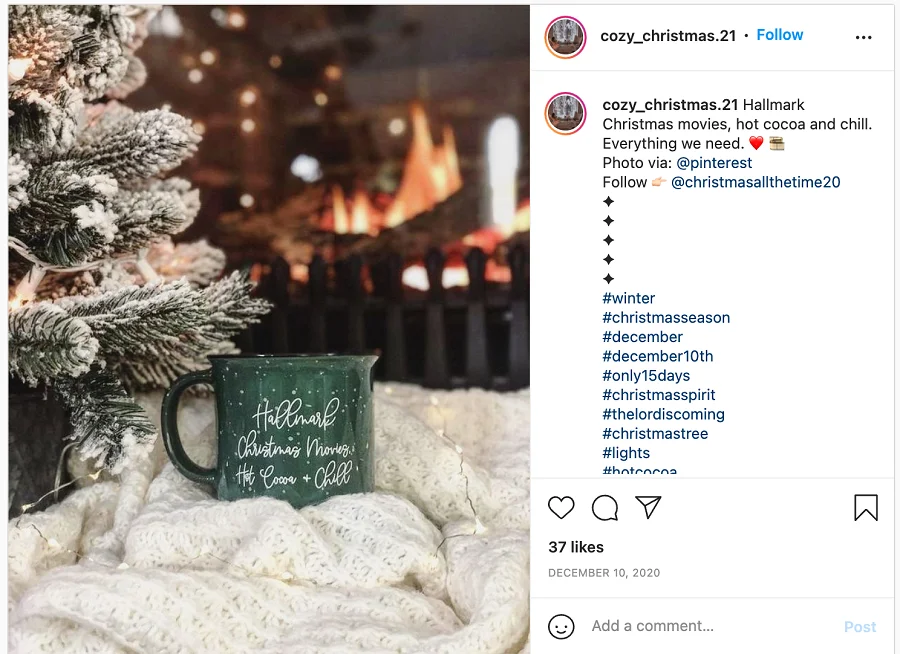 Christmas will be here before we know it!
Do you like Christmas eve or day more?
It's beginning to look like Christmas over at my house.
Winter wonderland.
A Christmas state of mind.
Christmas movie marathons: Hallmark, Netflix, the classics - all fair game!
Merry everything and a happy always.
Christmas nostalgia.
Have a little sparkle wherever you go.
In the mood for winter.
The magic of Christmas is in the air.
Oh Christmas, you really are my favorite.
Holiday mood: loading.
A trip to the Christmas market is next on my to-do list.
The holidays are coming, have you decorated already?
Christmas Instagram Captions Inspired by Movies
As the weather gets colder, staying at home and snuggling up on the couch for a Christmas movie sounds more and more tempting. Whether you prefer a tried-and-true classic or a Disney fantasy film, here are some inspiring quotes for suitable captions:
Rudolph, with your nose so bright, won't you guide my sleigh tonight? — Rudolph the Red-Nosed Reindeer (1964).
I thought maybe we could make gingerbread houses, and eat cookie dough, and go ice skating, and maybe even hold hands. — Elf (2003).
Oh, Christmas isn't just a day, it's a frame of mind. — Miracle On 34th Street (1947).
I will honor Christmas in my heart and try to keep it all the year. — A Christmas Carol (2009).
Maybe Christmas, he thought, doesn't come from a store. Maybe Christmas… perhaps means a little bit more! — How the Grinch Stole Christmas (1966).
Blast this Christmas music. It's joyful and triumphant. — How the Grinch Stole Christmas (2000).
It's Christmas Eve. A time of mystery, expectations, who knows what might happen. — The Nutcracker And The Four Realms (2018).
Just remember, the true spirit of Christmas lies in your heart. — The Polar Express (2004).
I like Christmas! I love Christmas! — A Christmas Carol (1938).
The best way to spread Christmas cheer is singing loud for all to hear. — Elf (2003).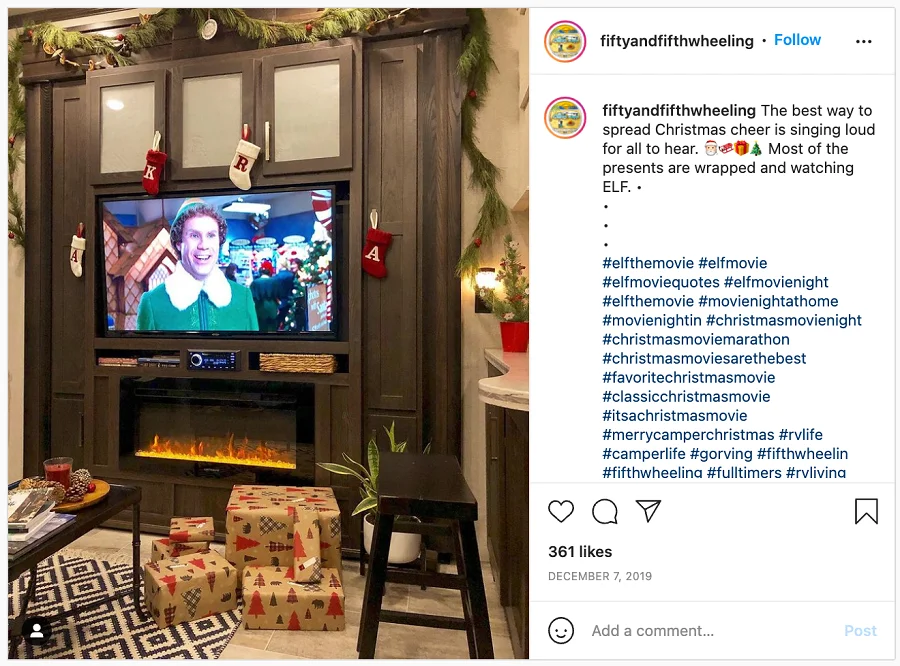 It's Christmas Eve and we are going to go celebrate being young and being alive. — The Holiday (2006).
This is Christmas. The season of perpetual hope. — Home Alone (1990).
It's Christmas Eve. It's the one night of the year when we all act a little nicer, we smile a little easier, we cheer a little more. — Scrooged (1988).
Christmas Instagram Captions Inspired by Songs
Starbucks starts playing Christmas songs as early as November - and you should join in on the fun because they have the power of lighting up the mood and giving more context to every activity-based tradition. Some of the all-time favorite quotes:
Simply havin' a wonderful Christmastime. — Paul McCartney.
It's the hap-happiest season of all. — Andy Williams.
Have yourself a merry little Christmas. — Frank Sinatra.
Christmas time is here, happiness and cheer. — Sarah McLachlan.
Santa Claus is comin' to town. — Frank Sinatra.
Throw your arms around the world at Christmas time. — Band Aid.
Make my wish come true. All I want for Christmas is you. — Mariah Carey.
Yes, it's Christmas. Thank God it's Christmas. — Queen.
Sleighbells ring, are you listening? In the lane, snow is glistening. — Winter Wonderland.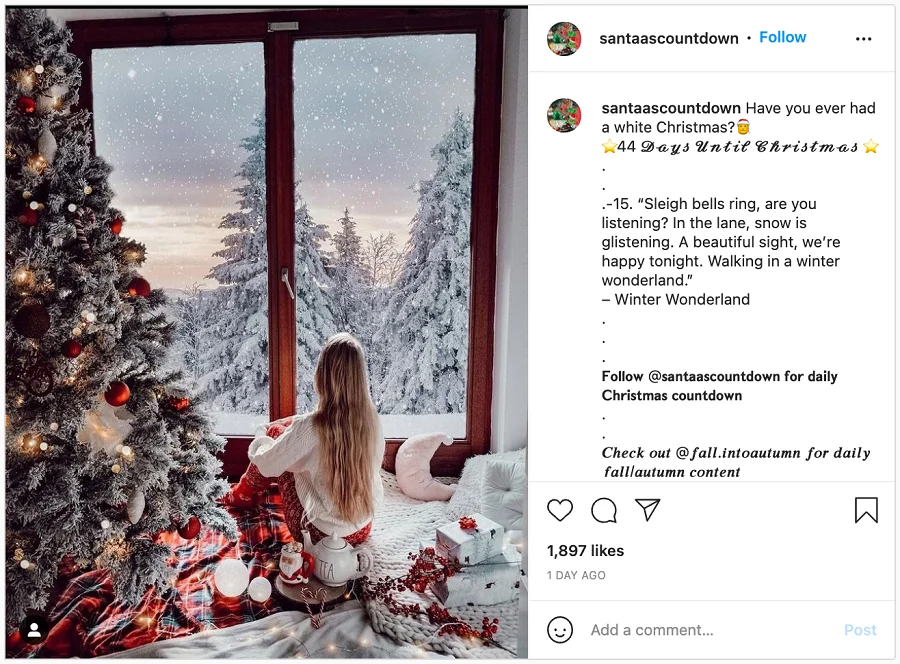 Have yourself a merry little Christmas. Let your heart be light. — Sam Smith.
Rocking around the Christmas tree, have a happy holiday. — Brenda Lee.
Joy to the world, the Lord is come, let earth receive her King.
Silent night, holy night. All is calm, all is bright.
Santa, tell me if you're really there. — Ariana Grande.
This Christmas will be a very special Christmas for me. — Chris Brown.
Christmas Instagram Captions Inspired by Literature
In the days leading up to Christmas, you can start a book club or ask your subscribers to share reading suggestions in the comments. There are plenty of tales and novels for children that are just as interesting to us adults. Leverage the inspiration you get from literature into your captions:
Christmas, my child, is love in action. — Dale Evans.
Gifts of time and love are surely the basic ingredients of a truly merry Christmas. — Peg Bracken.
I will honor Christmas in my heart, and try to keep it all the year. — Charles Dickens.
It is Christmas in the heart that puts Christmas in the air. — W.T. Ellis.
Remember, if Christmas isn't found in your heart, you won't find it under a tree. — Charlotte Carpenter.
Something about an old-fashioned Christmas is hard to forget. — Hugh Downs.
The perfect Christmas tree? All Christmas trees are perfect! — Charles N. Barnard.
At Christmas, everybody invites their friends about them, and people think little of even the worst weather. — Jane Austen.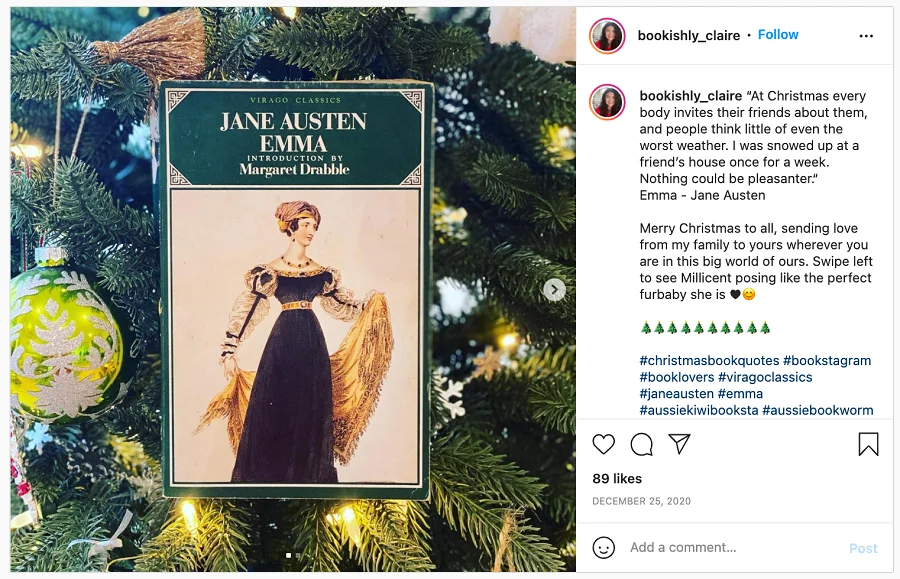 Like snowflakes, my Christmas memories gather and dance – each beautiful, unique, and gone too soon. — Deborah Whipp.
My idea of Christmas, whether old-fashioned or modern, is very simple: loving others. — Bob Hope.
Christmas waves a magic wand over this world, and behold, everything is softer and more beautiful. — Norman Vincent Peale.
Christmas means fellowship, feasting, giving and receiving, a time of good cheer, home. — W.J. Tucker.
Christmas is a piece of one's home that one carries in one's heart. — Freya Stark.
Christmas Emoji Instagram Captions
When you do not feel like starting a discussion or sharing anything personal, emoji captions are a good fit for your pictures that will lift their weight in covering up themed hashtags. Brighten up the feed with these symbol combinations:
??? days until Christmas.
Shopping ?? for the family.
Preparing for Christmas ✨?✨
Home alone ❄️ or ❄️❄️?
Cheers, it's Christmas time ???
Have you put out your ? yet?
Guess the Christmas song: ??❄️??❄️??❄️
It's nearly Christmas ??⛄️?
Let it ❄️
Jingle ?
? ing around the ?
? ? for ?
What are your fave Christmas and New Year's Eve emojis?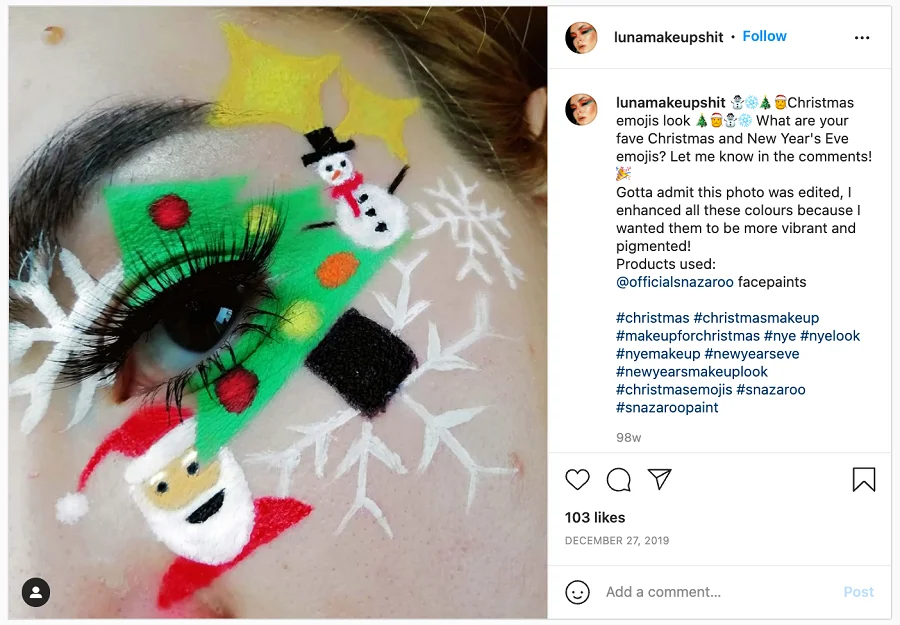 Been waiting for these Christmas emojis all year: ???????
These are my most used emojis during the holidays: ???⭐️
❄️ + ? + ☕️ = the perfect Christmas day.
?-mendously festive.
Naughty - ❌, Nice - ✔️
Wake up ☀️ Presents ? Nap ? Repeat ?
Punny Christmas Instagram Captions
Who doesn't love a good pun? This is your chance to show creativity and have some fun. If you are too drained from all the preparations and decorations to come with your own dad jokes, these silly puns are here to help you out:
The most punderful time of the year.
Do you like my elfie?
Ho-ho-holidays!
Merry Elfin' Christmas.
Sleigh what?
Our Christmas tree is looking pretty pine.
Cane you believe it? It's Christmas time again!
Sleigh my name, sleigh my name.
How did Rudolph survive his first trip with Santa? He held on for deer life!
Stocking up on puns for Christmas.
But first, let me take an elfie.
Are you at the North Pole? Cause you're sleighing it.
Gonna get noggy and nice.
You butter not pout.
Totally sleighed it.
What Christmas carol do parents love the most? Silent Night.
Hope yule have a great Christmas!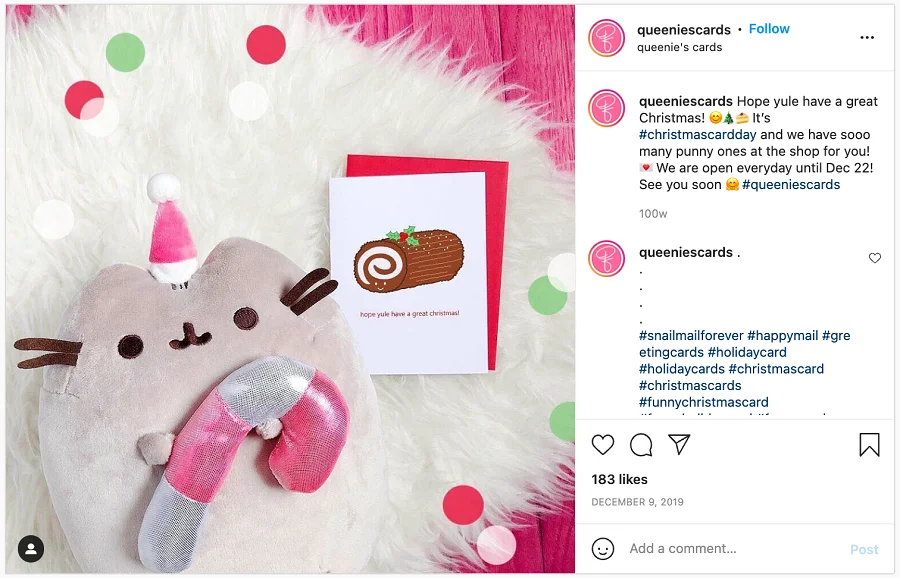 There's snow place like home.
Christmas Cookie Captions
The smell of ​​ginger and cinnamon spice coming from the freshly baked cookies is some of the coziest Christmas memories there could be. Share your mom's recipe or start a baking challenge. Serve with crunchy captions for the perfect holiday treat:
What's your favorite Christmas treat?
'Tis the season to bake gingerbread cookies.
There's something so magical about Christmas cookies, don't you think?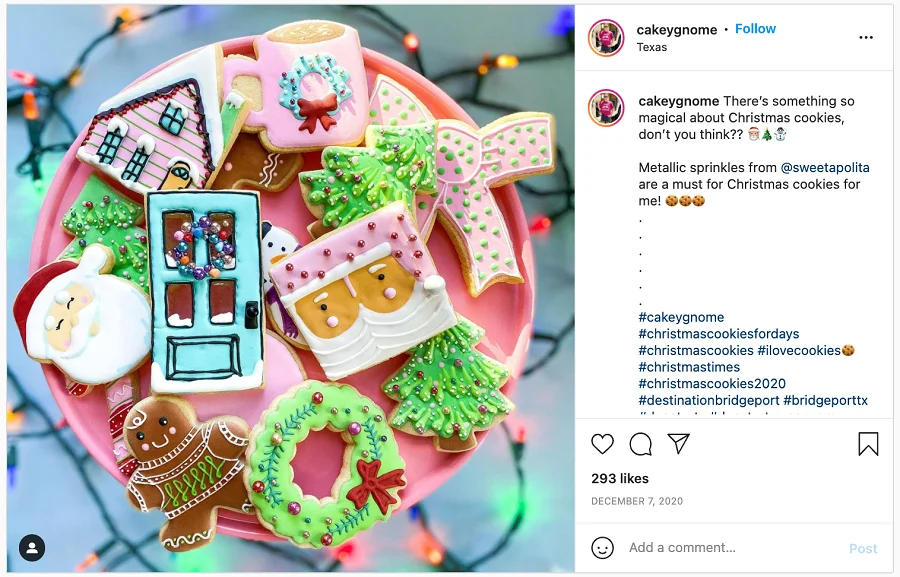 Are you even a blogger if you don't post a Christmas cookie recipe?
Christmas cookie baking is my all-time favorite holiday tradition.
Do you prefer sweet or spicy?
I wish I could bake cookies every day for the rest of my life.
My Christmas planning went as far as coming up with cookie shapes.
As a kid, I used to love decorating gingerbread houses.
Spoiling my loved ones this holiday season.
Milk and cookies are Santa's favorite.
Baking spirits bright.
It's not Christmas without cookies.
Christmas Tree Captions
When picking a tree, keep in mind that most artificial Christmas trees are not recyclable. Cutting them down is actually better for the environment as it leaves a lower footprint. However, you are free to choose whatever works for you. The Instagram caption for your decoration design does not have to get this serious, though:
The tree is up, now, Christmas can come.
Oh, Christmas tree.
It's never too early to start decorating for Christmas.
Finally getting excited for Christmas.
Decorating day!
Hand-made ornaments make all the difference.
A white and gold tree for a classic and cozy look.
If it were up to me, we would have a tree up year-round.
Christmas has arrived.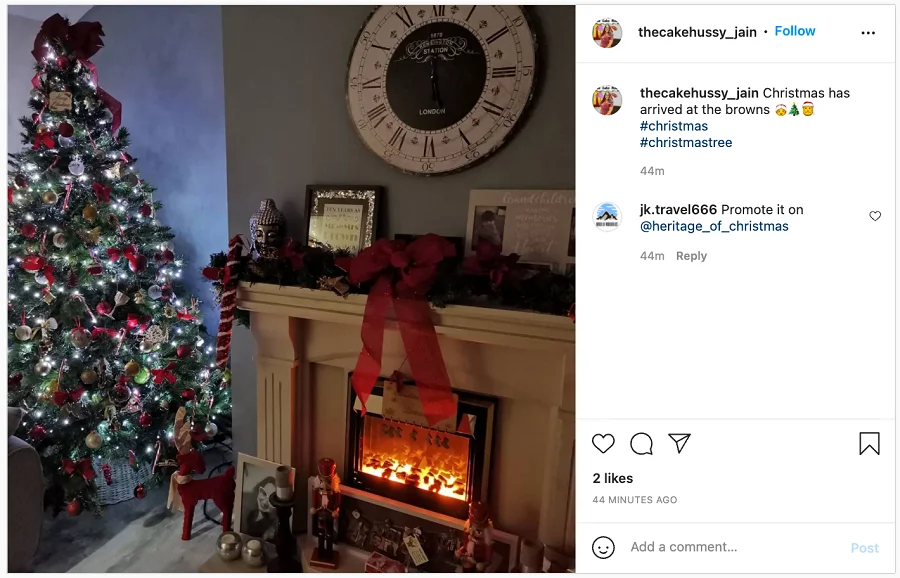 I don't care that it's only November, Christmas is a feeling and the tree is up.
Now that's something to rock around.
Christmas trees are overrated. Decorate plants!
It's a winter wonderland in our house.
And just like that, Christmas has made its first appearance.
Christmas Captions for Couples
Christmas is a great time for arranging romantic couple photoshoots or snapping cozy pictures of your matching pajamas during movie marathons. Share the precious moments and add more love to the post with these captions:
I want to share this special moment with you.
You make everything feel like it's Christmas.
Meet me under the mistletoe.
There is no greater joy than spending Christmas with the person you love most.
Kiss me on Christmas Eve.
Mr. and Ms. Claus.
This is our first Christmas together.
Nothing beats being together on a snowy day.
Christmas is our happy place.
Enjoy the festive season with your loved ones.
We officially declare this snuggle season.
You make the stars shine brighter and the winter days warmer just by being in my life.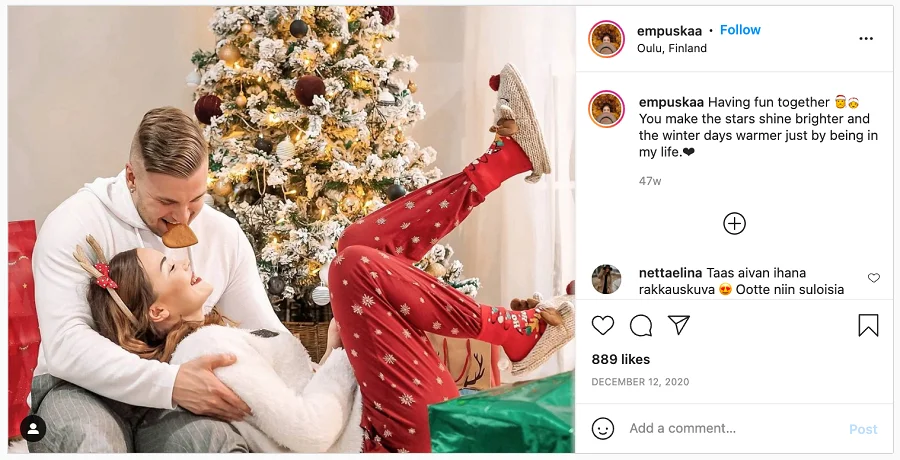 You're the best Christmas present ever.
Nothing beats being together on a snowy day.
All I want for Christmas is you.
A winter love story.
Christmas Captions for Friends
Christmas is a great time to get together with friends, take holiday card photos, make eggnog, bake cookies, go on snowy walks, or stay in and binge-watch Harry Potter. Don't forget to capture the fun on film and add a heart-warming caption:
Some of my favorite ornaments to hang with.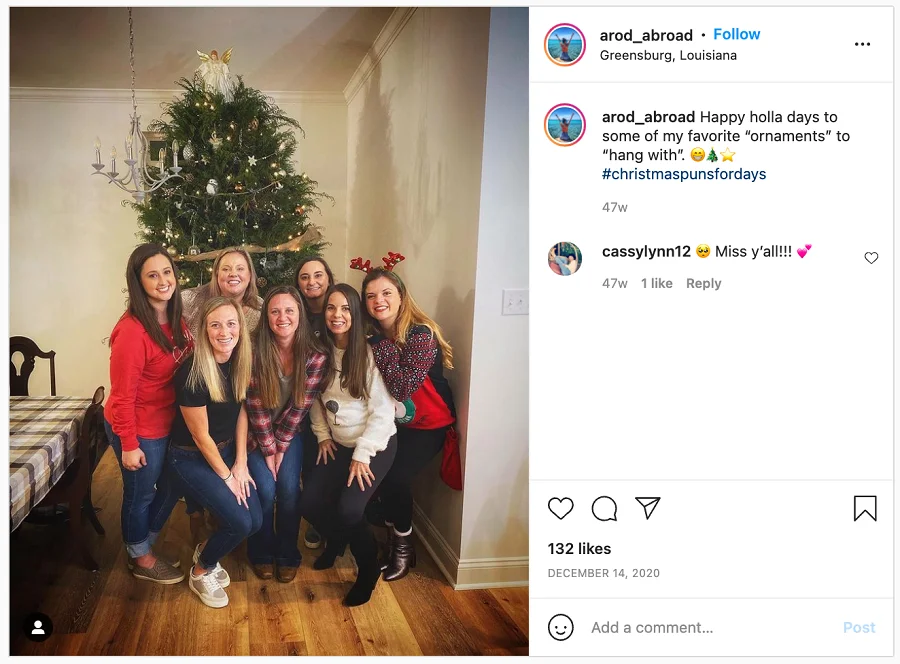 Chillin' with my snowmies.
Ready for a Secret Santa round.
Let's get lost in a world made of presents, hugs, and snowy days.
Bonding over cookie baking.
Chats, laughter, stories, Christmas lights, and beautiful connections.
If you need me, I'll be outside making snow angels with my friends.
We believe in Santa, but most importantly, we believe in each other.
Being with friends during the holidays helps to take the sadness away from not being at home.
Grab your closest friends, dress up in Christmas outfits, and embrace the winter magic.
A Christmas get-together.
Santa's crew.
Christmas Party Captions
Attending a church service hardly counts as a party, but pretty much anything else that has Christmas and friends in one sentence calls for a celebration. Go ice skating, wear your cheesiest sweaters, exchange gifts, and share party pictures. Don't forget captions:
Get your jingle on, it's a party!
Having friends over for some seasonal drinks.
The Christmas season is party season.
Are you going to any Christmas parties this year?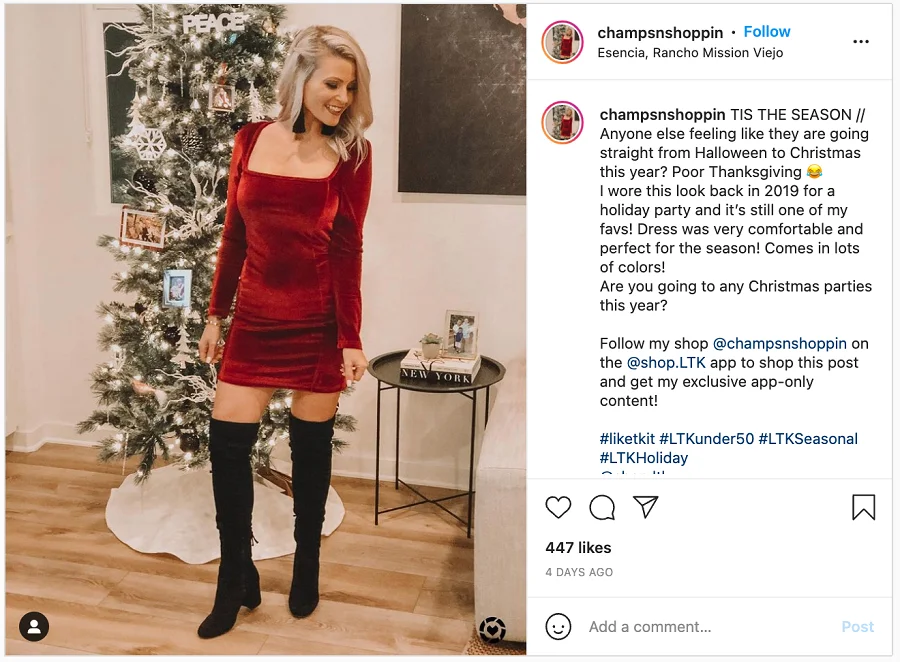 Meeting for a top-secret operation: the cookie exchange.
Did someone say Christmas party? 171.This year, we're going to party twice as hard to make up for last year.
Can't talk right now - too busy enjoying the highlight of winter.
Christmas with Santa Instagram Captions
The symbol of gift-giving and perhaps Christmas itself, Santa is well-loved by children and adults alike, even if they stop believing in magic at some point. To keep the fairytale alive a little longer, share your wishes for Santa with your followers, captions provided:
Dear Santa, it's a long story.
May Santa Claus bring everything you wished for.
Have you mailed your letters to Santa yet?
Dear Santa, please refer to my Pinterest boards.
Don't you just love writing letters to Santa?
Dear Santa, just leave your credit card under the tree.
Would you wait up all night for Santa?
Landed my dream job this year as one of Santa's helpers.
You're never too old to search the skies on Christmas Eve.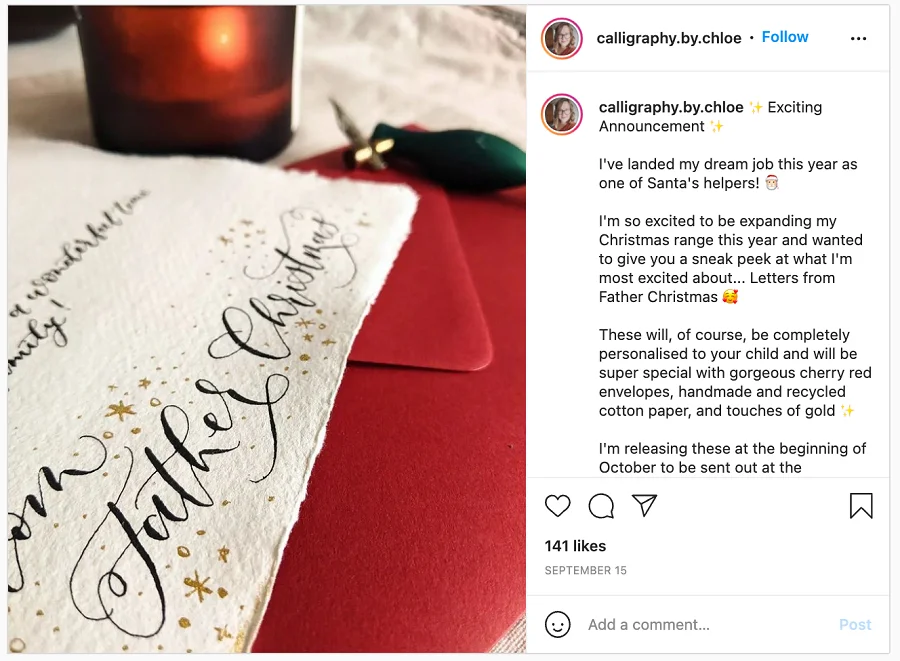 Snow Captions
Are you dreaming of a white Christmas? Snow is closely associated with the holiday, giving nature a radiant makeover. If you are lucky to get a snowy Christmas, be sure to make the most of it, and add suitable captions:
First winter snow reminds us to appreciate the beauty in small things.
A cold but lovely day.
The color of winter is in the imagination.
How about that snow, huh?
Woke up to snow this morning and I'm loving it.
Happy first snow.
A four-letter word everyone wants to hear? Snow.
Do you want to build a snowman?
All I wish for is a little bit of snow.
Snowy dreams.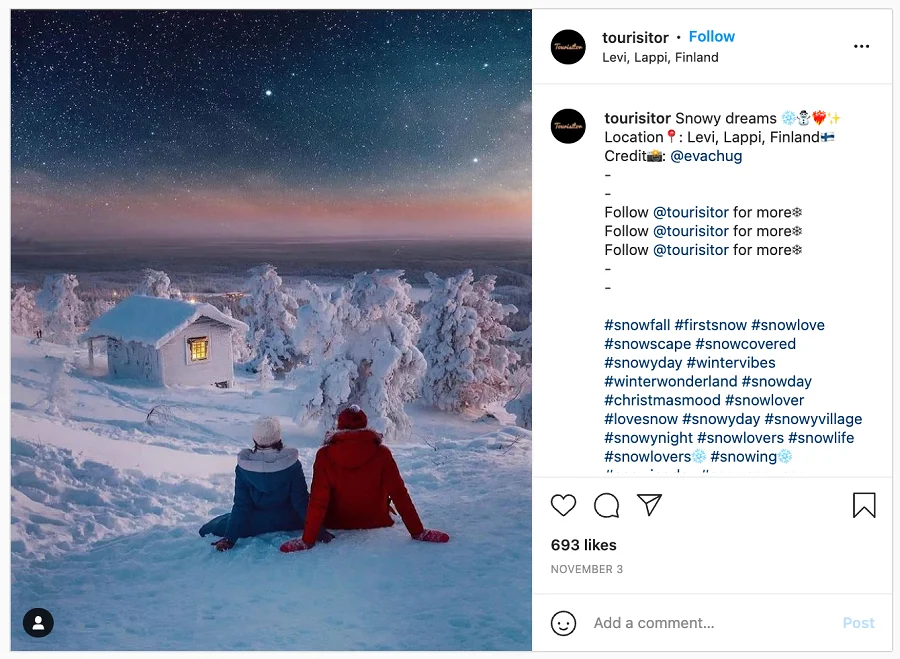 Skiing Captions
Where there are snow and mountains involved, skiing is one of the top activities for families and friends. Whether you are traveling to a resort or going to a local forest, bring hot cocoa, warm mittens, and a camera. We'll take care of the captions for your Instagram:
Anyone else ready for the ski/snowboarding season?
Put your skis to work.
Chilling in a ski town.
Skiing is not a lifestyle, it's life!
Nothing like the thrill of going downhill.
Skiing is about peace, tranquility, and stunning mountain views.
The next best thing to having wings.
Time to get our ski skills back.
Back in the ski game.
Summary
A holiday loved everywhere around the world, Christmas provides many opportunities for content creation. It's hard to tell what makes Christmas more special: the night itself or all the preparations that come with it. Brands and influencers that are looking to build their audience can leverage that anticipation for a series of December posts. With the right captions and hashtags, they are bound to attract a new international audience and receive a lot of engagement. And even if you run a personal blog with no intentions of gaining more visibility, you can use the caption examples to add a touch of magic to your feed.