During crises and times of instability, it is better to switch from traditional tools that you use for social media and to start building a tight community around your brand. A clear vision and strategy help focus on those efforts that help achieve the set goals and objectives.
In times of instability, social media should review their editorial practices depending on the content which is the most successful among the audiences. For example, even before the pandemic social media brought people from different countries together.
During crises, people tend to have a subconscious desire to belong to a tight-knit community, which also can be built around a brand or blogger. It is vital to strengthen ties with other people to be aware of social changes and feel support from like-minded community members. It inspires people for changes and increases trust.
Often people look for a platform that will show a big picture of the recent events. Users choose one media and follow the published content: an expert column and statistical data.
In our article, we have collected advice on running social media accounts. We hope our recommendations will help you to move forward and continue growing.
Follow the general rules of running social media during crises
Check facts. What topics to cover and what to avoid? Create a list, discuss it with your team and follow the decision. Use the journalist rule and verify facts: check at least three sources. At least, do not redirect a screenshot or audio file that people tend to share in messengers and do not refer to it as a reliable source of information. If you are a blogger, write about things you experience or think about.
Be in touch with your followers. Have a dialog with your audience. Ask how you can be helpful. You have a list of ideas for new posts and features and different media formats quite often after those posts. If you have created an educational product, share it for free. The requirement to self-isolate and crisis times brings more people to social media. Social media have become a place where people look for support and communication and get first-hand information. Answer the questions and comments and create closed groups and communities.
Interact with influencers. The catchier discussions you have — the easier it will be to attract new audiences, as people like to follow the discussions, share experiences, and form opinions. There are only three requirements for such speakers: be partial, have expert knowledge and be able to speak their mind.
Find out where your audiences are. Some people prefer to communicate on Telegram, for example. Others want to find out more information from experts: they watch live streams on Instagram or videos on YouTube. Some people scroll their feed out of FOMO: maybe it is time to start adding videos to TikTok. Different platforms attract different audiences. Check your insights – numbers will help you understand what social media to choose and what content to post.
Use hashtags and introduce rubricators. Think about how to structure the information to make it easier for users to find what they need. Rubricators will help your users find features that they like. Use relevant hashtags to make it easier for potential clients to find your goods and services.
Plan of actions in times of crisis: what to do first
Prior to creating a new content plan and adding a rubricator devoted to particular topics, it is vital to get updates on the status of things. It is a checkup that will prevent you from wasting your time and help you build a strategy for working on social media.
Review your customer persona
During crises, the hierarchy of needs might change. Economic instability forces the priorities of all customer groups to shift. It is time to review the research results of your target audience and understand how particular segments have changed: what are the new pain points, and what are their conscious and unconscious needs.
How to do the research. Use quantitative and qualitative methods. Among the first ones: polls in Stories or Google forms, votes. Among the qualitative:
User interviews to discover hidden needs;
Problem interviews that help to understand what line of products to launch or how to improve the existing line;
UX tests to find bugs in the existing product
Important. As a result of the research, you should find the answer to the question 'How do people want to feel?' That is why always ask about emotions. 'I want to eat healthily' is a generic phrase that does not mean much. 'I want to eat qualitative and healthy food — not to waste money on doctors and stay young and healthy as long as possible' is a more understandable motivation. It is easier to use for advertising purposes: it clarifies the campaign message.
Example. The content of the online shop Farfetch is in line with its audience's demands — bright, provocative, and on-trend.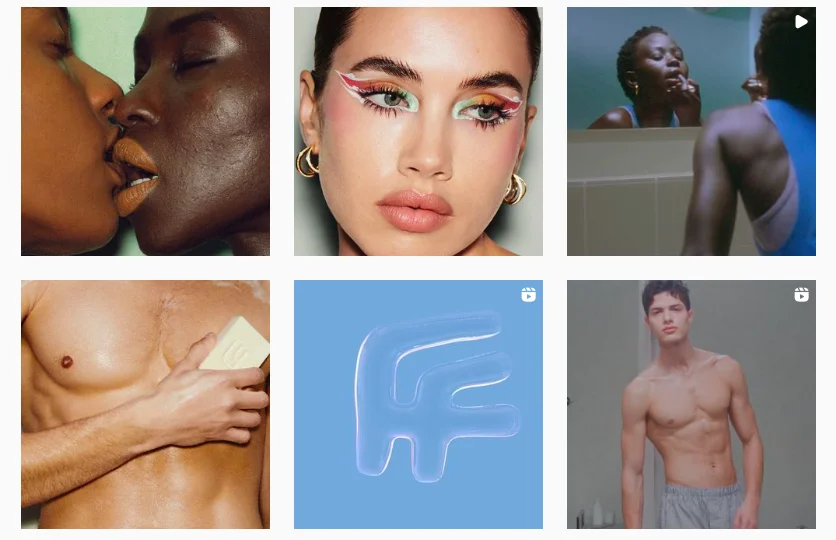 Instagram account of online retailer Farfetch. Source
Hysteric Glamour is an eccentric fashion brand. Its target audience likes to impress and appreciates quirky items that cannot be found in mass-market shops. This approach is represented in the content you can find on their account.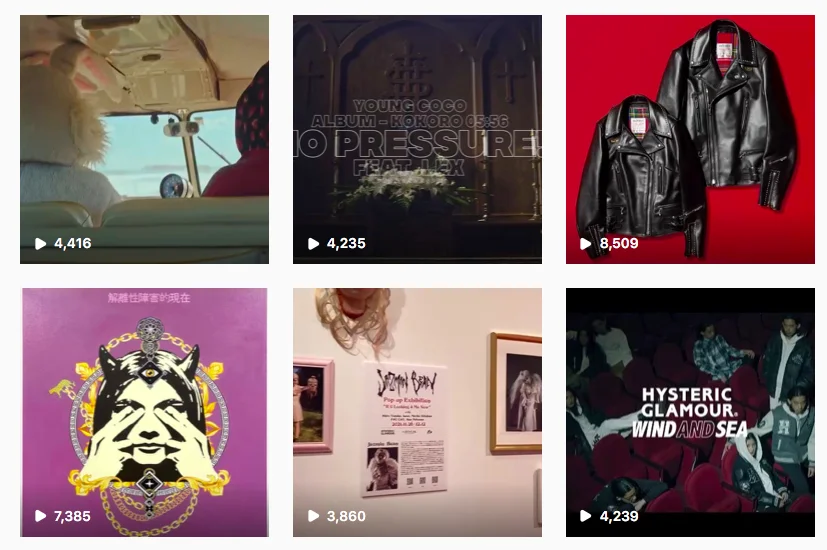 Instagram account by Hysteric Glamour. Source
Review your brand persona
A brand persona is a character who represents the tone of voice, principles, and aesthetics of the company. Brand persona can resemble a character or hold no similarities with the reality, if you choose to translate that character on your social media.
First of all, the character should represent the core brand values. For example, respect for the traditions and importance of family for a restaurant with a classical menu and reserved interior design. Or a bold temperamental character with a desire to only get the most exclusive experiences for a hipster coffee shop.
Brand persona portrait creating. Figure out what values you want to communicate through your company or personal brand. Describe briefly what feelings and emotions you evoke or would like to. Choose images, put together a presentation, anything that will help shape the overall vision for the entire team working on the project.
Important. Do not introduce a new topic if it does not fit your identity. It will not look good, and the fake is easy to see. The trend for everything eco-friendly is appropriate if the company produces ethical makeup. But it will look weird if, for example, a blogger buys coffee in a plastic cup every day, showing it on social networks.
Example. The cosmetic brand The Body Shop broadcasts the company values ​​in the header of the Instagram profile 'We believe self-love is our superpower.' They say that it has been on the market since 1976, which means that traditions are important. It also stands for environmental friendliness and ethical cosmetics. All these topics are reflected in the content.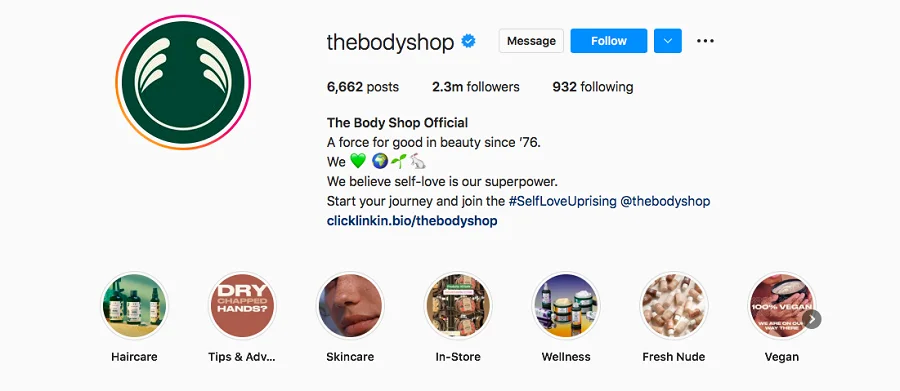 Instagram account of the cosmetic brand The Body Shop. Source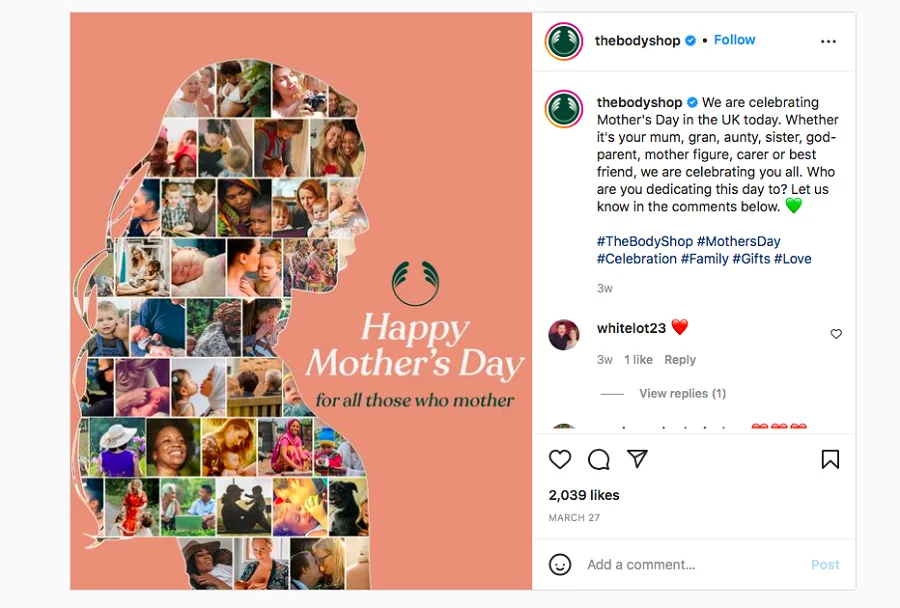 Mother's Day post on The Body Shop Instagram account. Source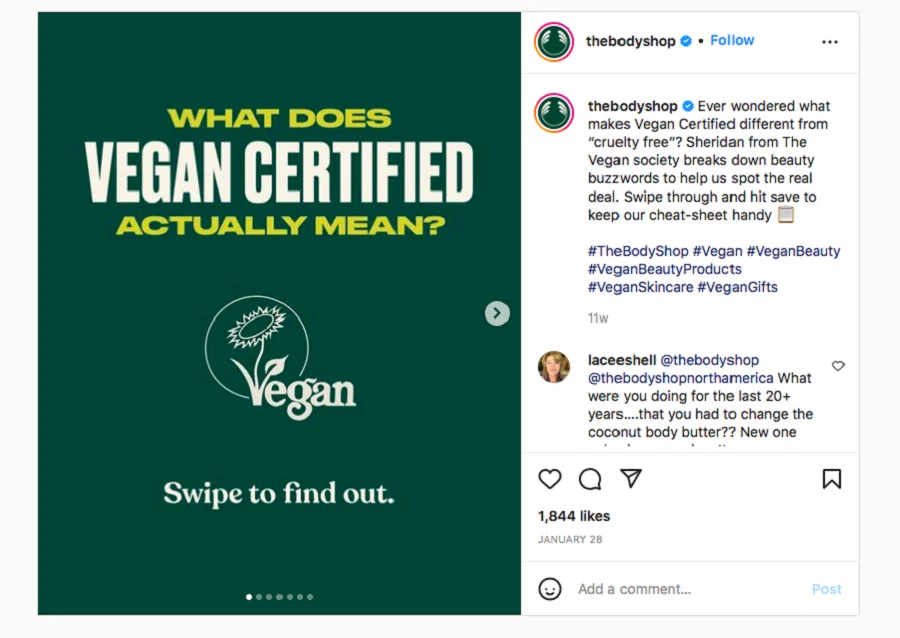 A post about certificates for cosmetics on The Body Shop Instagram account. Source
The Swedish bed linen brand is actively broadcasting family values, reflecting this in their content – daily household sketches.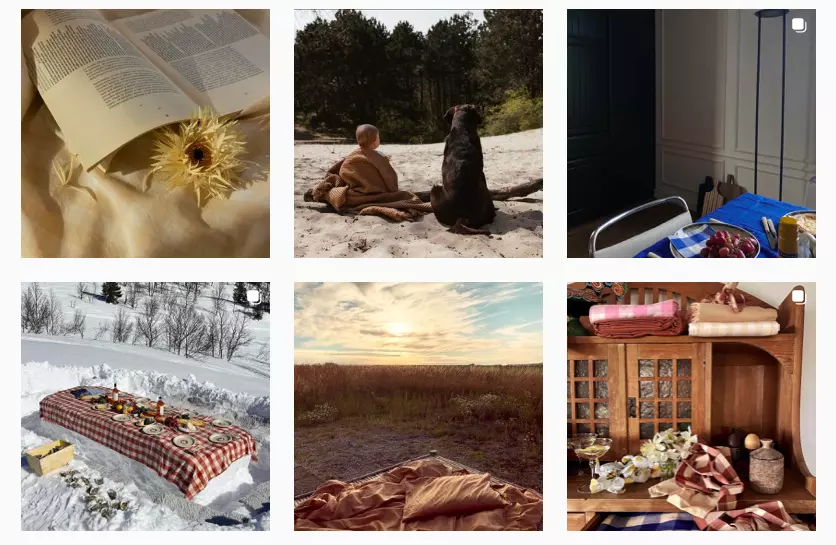 Account of Swedish bed linen Midnatt. Source
Decide on KPIs
The chosen social media strategy should be data-driven. Focus on vital metrics that align with your goals and objectives. The core indicators are as follows:
Reach. The number of unique users who saw the message. This indicator will help determine what part of the content really gets into followers' feeds.
Clicks. The number of clicks to the content or account. When launching ad campaigns, keep a close eye on statistics to understand what sparks curiosity.
Engagement. How actively the audience reacts to the content - likes, comments, reposts, replies. It shows how well the audience perceives the content and how ready — to interact.
The effectiveness of hashtags. What hashtags worked? What hashtags are most associated with your brand? It will help determine the direction of the content in the future.
Important. It is worth considering and analyzing both types of traffic — both 'organic' and 'paid.' This will help you plan the budgets for advertising campaigns and distribute them between platforms and formats.
Create a community
Build a community around a brand or personal blog. It meets the original purpose of social networks - communication with like-minded people on catchy topics.
Make the name of the group more social, as close as possible to the problems and tasks of the user. Compare X and Homeschooling in X. The clearer the community name where you propose to join is — the easier it is to attract a user.
Focus on the major market players: if they already cover topics that interest you — you are probably on the right track.
Aim to be on multiple platforms
Edit content for different social networks: live stream, a series of posts, several TikTok and Reels videos, an infographic, and a podcast. Pay attention to user-generated content: create a section or a separate specific project.
The Good Body beauty salon from California runs a more formal page on Instagram to share information about the latest trends in the beauty industry and talks about the salon work. There can be reposts of media reports and friendly communication with the audience on Twitter.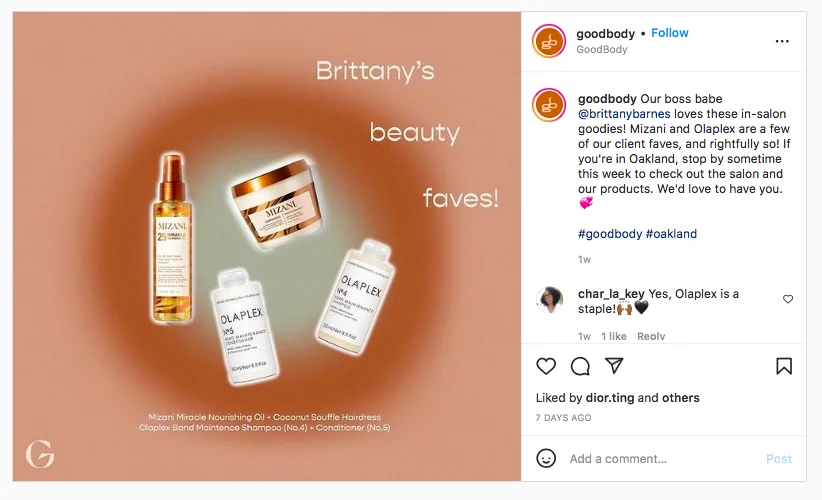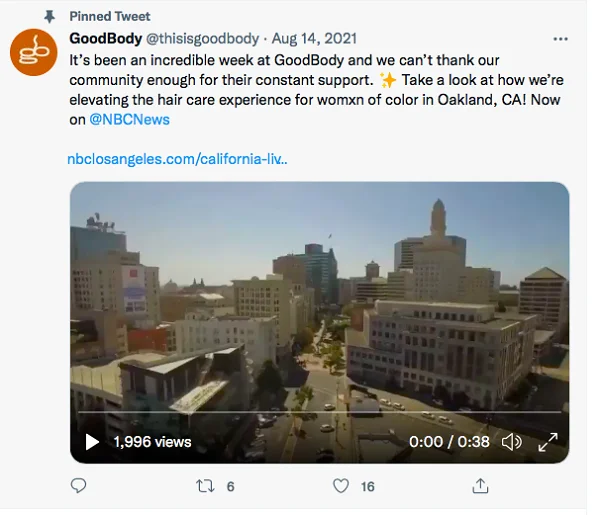 Determine what content resonates with your audience the most and posts published at what time get the best response from your followers. It is necessary to consider this factor when publishing different types of content on other platforms.
An important factor is a change in the reaction to the content or to the brand as a whole. Track what reviews you get under advertising posts and how people react to marketing campaigns. It will help you understand how followers and potential buyers feel when the brand gets mentioned. Consider this factor in your overall social media strategy.
What's next? Customer Service
Even the most ideally built social networks will not work if a blogger does not communicate with followers. So that the efforts spent on attracting followers do not get wasted, make sure to build customer service.
→ Answer customer questions as quickly as possible
It increases the level of brand loyalty seriously. If the user receives a response within 10-15 minutes, they will consider the brand the one of the best in the business. But the majority of shoppers who are used to shopping on social media note that brands must respond to a message within four hours.
→ Do not forget about the basic rules of communication
In social networks, you can win respect for the brand, among other things, through communication with the audience. That is why politeness, friendliness, and accuracy of answers are vital for brands that want to grow loyalty.
In today's social media, there are many interacting elements. As algorithms develop, it becomes harder and harder to promote organic content, and targeted work with the audience comes to the fore. If you follow the above tips, you can be far ahead of the competition.