The number of followers on Instagram is not just an arbitrary metric for vanity. More followers mean more reach, better opportunities to monetize content, and even an enhanced functionality of the app itself. For example, one of the key features of Instagram that bloggers use, the story Swipe Up, is only available to profiles with more than 10,000 followers.
Whether you are just starting out on Instagram or have already been building your audience for a while, getting to that number can seem challenging. There are different ways of attracting new followers, some of them fast and not very legitimate, promising Instagram followers in 5 minutes, and others tried and trusted to bring lasting results.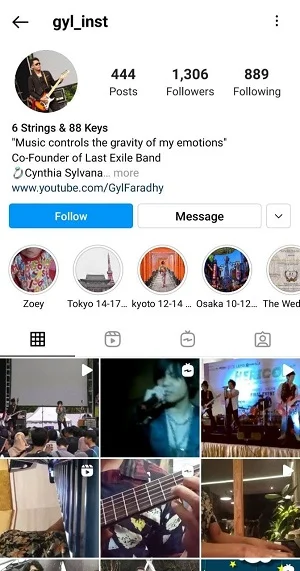 In this guide, we will dig deep into the methods of growing your online presence. This is essential for promoting a business or a brand, becoming an influencer, finding clients, or simply sharing your view of the world. Armed with the right tools and strategies, you will be able to achieve that 1k followers mark in a relatively short amount of time (although, preferably not in 5 minutes).
Different methods of getting 1k followers on Instagram
Before we dive into the methods of getting 1000 followers on Instagram, we need to acknowledge that there are different kinds of followers on the platform. First, there are authentic profiles with real people behind them. They leave likes and comments, watch stories and IGTV videos, and actively engage with the accounts they follow. "Get 1000 of these people" is the target you should be setting as they will be the ones buying the products you promote and supporting your views.
Yet, there are also fake accounts - computer-created bots that won't be effective in any campaign you plan to run as there is no one behind the profile. Yes, you can actually get them in 5 minutes, and yes, the number of followers will look inspiring at first, but bots won't make purchases or engage with your content. What is more, they can potentially get you in trouble with Instagram, and even lead to a permanent account ban.
Keeping this difference in followers in mind, we can now look at different services that offer Instagram growth and compare their value.
Buying Instant Followers
Buying instant followers may be the first answer to your Google query on how to get 1k followers on Instagram in 5 minutes, and seem like the easiest way to build up your account. However, you need to be very careful with this method as there is a risk of attracting bots. The algorithms on Instagram are constantly evolving to detect and deactivate fake accounts, so the number can go down as quickly as it increased.
And followers disappearing is not the worst-case scenario for your account. Bots can leave spam comments, negatively affecting your rankings on Instagram and causing shadowbans or permanent bans. Still, you can consider this option if you just want to check off that 1000 followers mark. Look for services that gradually drip new subscribers into your account and offer some kind of retention statistics.
Here are three popular websites with similar price ranges that made it into most of the reviews for instant follower services on Instagram in 2021.
GetViral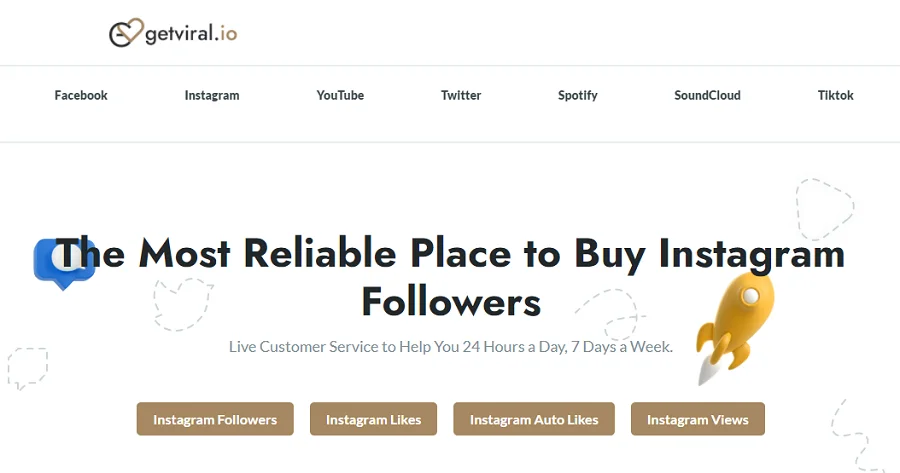 GetViral offers buying followers on most social media platforms - Instagram included. The pricing starts from $3.99 for 250 subscribers going up to $107.99 10,000 followers. You can also request a custom package. The listed benefits include an expanded reach and 24/7 customer service. Results are to be delivered in 0-8 hours.
FastLikes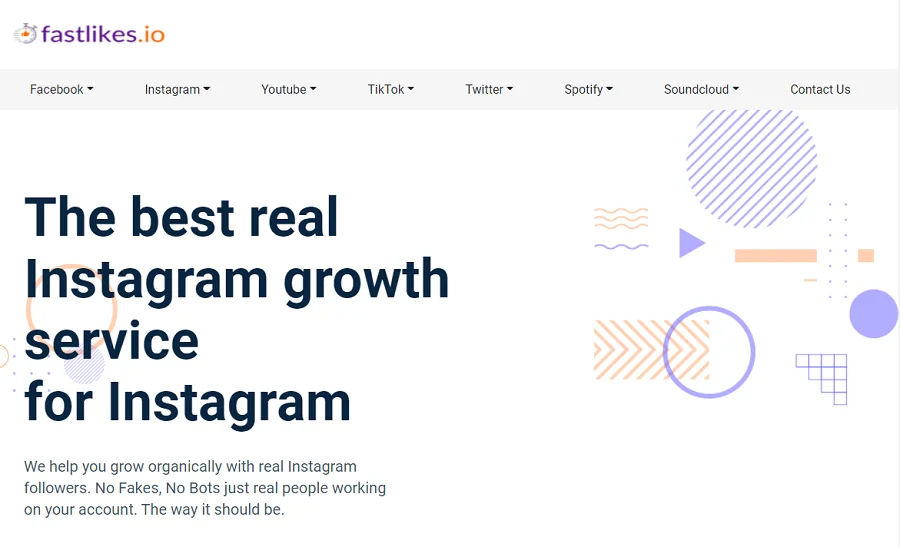 FastLikes also caters to all platforms, selling likes, comments, reels views, and followers on Instagram. To start the process, you need to pick one of the packages and enter your username. Passwords or other credentials are not required. Once you pay for the request, you should start seeing your follower count rise within the hour. With FastLikes, you can get 1k Instagram followers for $12.99.
Twicsy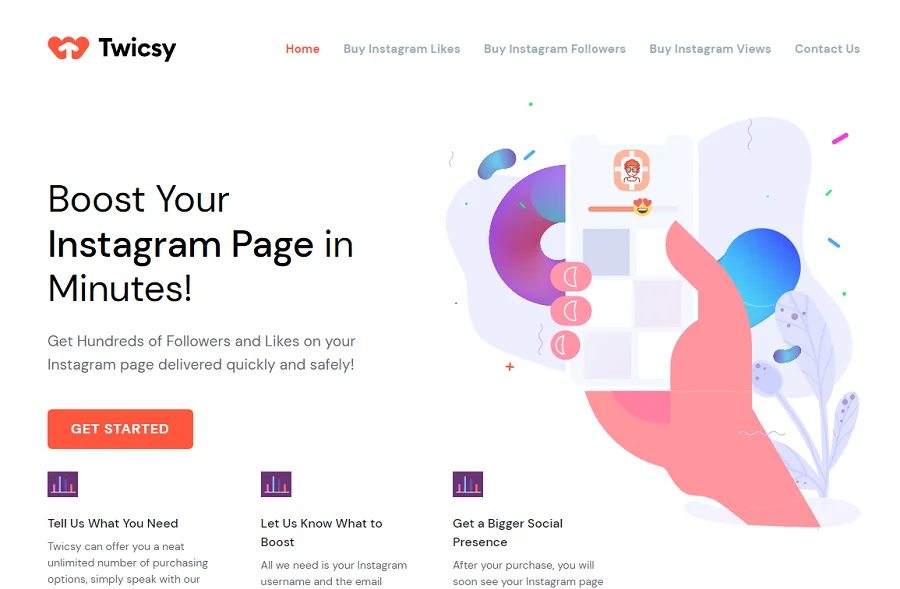 Twicsy can provide you with followers of two different kinds: high-quality and premium. With the second option, you get guaranteed results, 30-day refills, and active followers within 24 hours (usually 5 minutes). The service promises gradual delivery and low unfollow rates. 1000 followers will cost you $12.99.
Growth Services for Followers
A growth service is geared towards organically attracting new followers, putting quality over quantity. These agencies run tests to identify your target audience and use a set of techniques to gain their attention. The goal is to engage the audience in the most natural way but expand your reach with the help of automation. Some of the tactics include liking other people's photos, following them, leaving comments, and sending direct messages.
Smart services use special software to calculate the number of daily actions and that won't get you in trouble with Instagram's anti-spam filters. The same goes for comments and DMs as too many bot-like messages can provoke people to report your profile. These precautions can slow down the growth process but will protect the credibility of your account.
Here are two companies that offer Instagram growth services in 2021:
Kicksta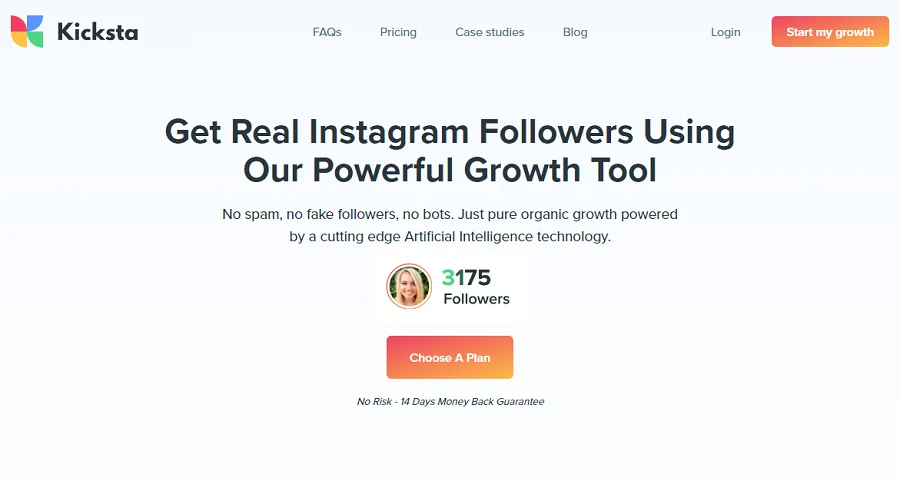 Once you register an account with Kicksta, you will get a personal dashboard to monitor followers, likes, and comments. After you provide a selection of accounts with followers you would like to target, the system will start engaging with their posts. This will prompt people to visit your page, and as they are initially warmer than random leads not familiar with your blog theme, they will most likely follow you back. Pricing is per month and starts with $49 for the standard package.
Combin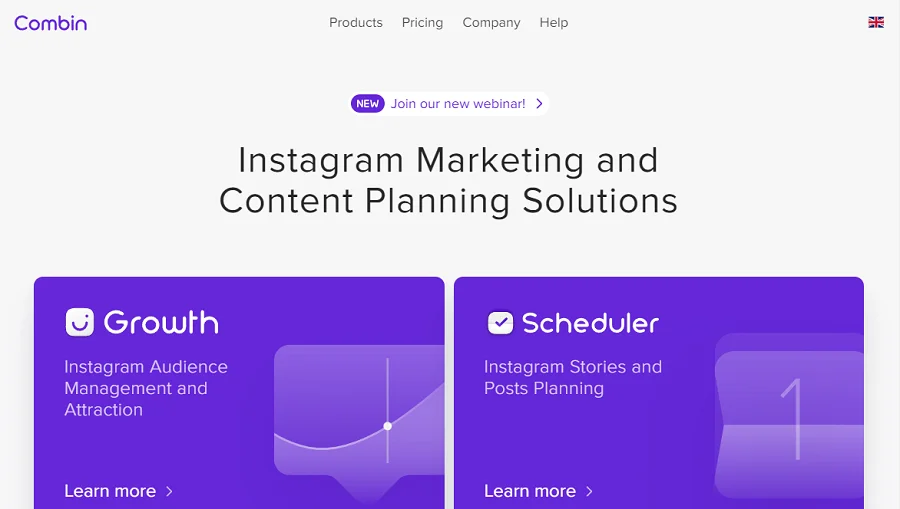 Combin is a desktop tool that helps you streamline part of your Instagram growth routine. You make a preliminary selection of profiles and posts that you wish to target using advanced filters for gender, language, or age. The system will focus on the most active accounts and engage with them: view stories, like and comment posts, subscribe, and unsubscribe. As for pricing, you can start with a free trial and commit to a plan for as little as $15 a month.
Instant Instagram Followers vs. Organic Instagram Growth
Now that we've covered the two essentially different approaches on how to get 1k followers on Instagram in detail, we can compare them for you to make an informed decision. First, let's consider the time needed for achieving the same number of followers. Buying them instantly is obviously very fast: from 5 minutes to 24 hours, whereas organically reaching the same number can take weeks or even several months.
Growth services will also require much more effort from your side. To buy followers on Instagram in 5 minutes, you need a few clicks and a valid credit card. To attract them organically, most agencies expect you to know your target audience and be able to provide their profile examples or will schedule a few consultations to better understand your brand. During the growth campaign, you will need to be engaged in monitoring statistics and implement new techniques in your account.
The price might be another factor that could influence your decision. Purchasing 1000 followers is generally cheaper than working with a growth agency, and the payment is one-time versus a monthly commitment. Yet, the second option means continuous support and guidance, while with the first one, you're left on your own. If you don't have a strategy prepared for future account development, the number alone won't do you much good.
Perhaps the most critical difference is the quality of subscribers you will be getting. Even though all instant services today claim that they do not use fake accounts or bots, the chance of encountering them is still higher than with the organic approach. The followers you get will most likely be randomly chosen, and might not even be interested in the content you make. Growing organically ensures an audience that is receptive to your blog theme and is likely to stay subscribed longer.
instant instagram followers

organic instagram growth

time needed

5 minutes - 24 hours

a few weeks - a couple of months

effort

little to no involvement

more involvement required

price

one-time payment




1k followers for ~$12.99

monthly commitment

starting from $15 per month




quality of subscribers

low

high
Benefits of real Instagram Followers
As mentioned above, fake followers are not only useless for product promotion and engagement statistics but can attract unnecessary problems with spam and bans. Getting more real accounts to subscribe to your profile, in turn, will get a positive response from Instagram's algorithms.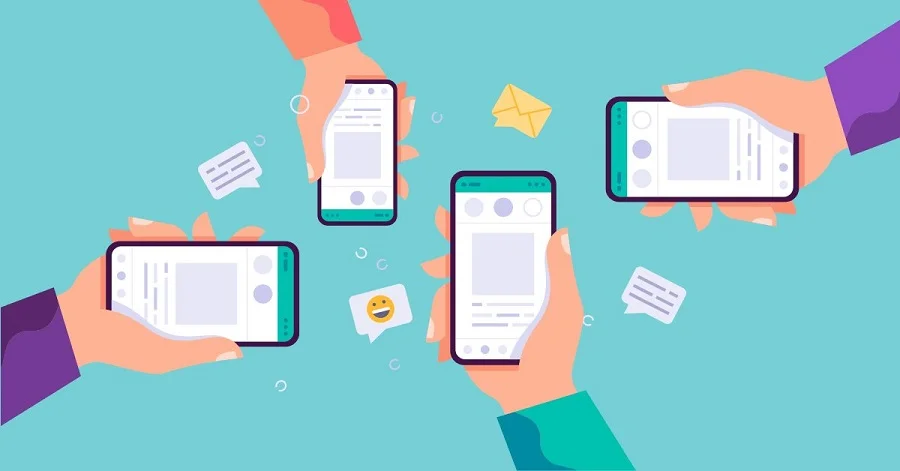 More Followers, More Engagement
Finding new followers actually gets easier over time because if people genuinely like your content, they will be inclined to share it on their page, via DMs or stories, and recommend your account to their friends. Companies looking to place ad campaigns will also want an influencer with a live audience and high engagement rates.
Why Is Engagement so Important?
Like most social media platforms, Instagram has internal algorithms to privilege content that gets more engagement. Posts that gain the most attention can get promoted to the Explore page, which is one of the best ways of getting new followers without spending any money.
Better Credibility and Reputation
Bots can discredit your credibility as they tend to leave annoying comments or even send direct messages to your real subscribers, which is a big turn-off. Your reputation among advertisers also depends on the active part of your community. Real followers are the only followers that matter.
Real Instagram Results
Instagram is meant for sharing your voice: advocating for a cause that you feel is important, raising awareness for your brand, or showing how an advertiser's product can make people's lives easier. Whatever the purpose of your account may be, it is always about the people behind those numbers that can help you reach your ultimate goals.
What You Need To Do
Getting to that desired follower count, either through an instant purchase or via a growth service, doesn't mean that the work stops there. To maintain and enhance that result, you need to regularly post quality content, use all the available methods of organic promotion, and keep your followers engaged.
The decision to subscribe is usually quick: a review of your content or a like-for-like can already prompt a person to hit that follow button. In the next few weeks, they will watch your stories and read your posts to see whether they feel a connection with your message. Unless you can get their attention and affection, the follower count can start to dwindle down.
Post Regularly
If your followers are used to a certain frequency of posts, they will be more inclined to turn on notifications or visit your profile on specific days. With the new Instagram algorithms changing the order of posts and displaying ads right in the user's feed, you have fewer chances to make it into the spotlight with chaotic posts than with regular ones.
Posts planned in advance will also look professional for advertisers looking to promote their products. If you need help keeping track of the posting schedule, use special services for Instagram. You can assemble and preview posts and feed ahead of time, be confident that they will go out, and review statistics afterward. Some of the services you can look up are Later, Sked Social, and Onlypult.
Produce Quality Content
Profiles that get the most views and engagement have original content. Try to avoid using stock images, low-resolution photos, inconsistent filters, and texts riddled with typos. This is all completely fine if you are using Instagram as a personal medium, but if you want to get 1k followers and start building a brand, make an emphasis on the quality of content.
Use Hashtags
Hashtags are a great way to get followers without spending any money. They help categorize content and make it more discoverable. Hashtags can be followed, and people will see your posts in their feed even if they don't follow you yet. You can add hashtags to the caption or comments of your posts, IGTV videos, and stories.
Tips on using hashtags
Don't use general hashtags
The most general hashtags are not necessarily the most effective. It's too easy to get lost in the abundance of posts under them. As the amount of hashtags you can use is limited (no more than 30 for posts and 10 for stories), why waste the potential of attracting new people on broad ones?
Niche hashtags have proven to work better than common ones. Same as for targeted ads or growth service techniques, you need exposure to an audience that is already interested in similar brands or concepts, fits your industry, or is a part of the same community.
A branded hashtag can help promote your business or campaign. You can encourage people to use that hashtag with a contest or a challenge to get user-generated content and increase your visibility.
Don't use too many hashtags
Most industry professionals suggest using 3 to 10 relevant, specific hashtags for each post. Too many of them will stand out in a bad way, overshadowing your content. It will also be hard to determine which ones are effective. You can look up hashtag performance on the Insights statistics page.
Timing is everything
The level of engagement can change dramatically depending on the time of day your posts go live. There are many general recommendations based on mass analysis of user behavior on Instagram, saying that Wednesday and Friday afternoons get the most views.
You can try these timings too, but don't rely too much on them. Try thinking of your audience instead: what is their daily routine? When are they using Instagram? During their commute, on weekends, or maybe in the evenings after work? Test different hypotheses and rely on statistics to figure out the best posting schedule for your brand.
Use Instagram Stories to Engage
Instagram Stories have become a huge hit, frequently gaining more attention than regular posts or videos. They play well on our fear of missing out because unless pinned, they disappear in 24 hours. Add intrigue and conflict to the plot of your stories, or share exclusive discounts and offers to keep your audience interested. You can get followers from Stories as well if you use location tags or hashtags.
Optimize your Bio
Your Instagram bio includes a profile picture, contact information, a website link, and a short description (no more than 150 characters). It is a self-presentation that can help people make up the first impression of your brand. The bio needs to convey what your account is about, what kind of content you focus on, and the value it can bring.
Use a branded profile picture
If you run a business account, the profile picture needs to match the tone and style of the brand. Do not change it frequently as people get used to seeing it in Stories and can have trouble recognizing new photos. Remember that the shape of the picture will be round, don't use small details, and center key elements.
Make Bio Text Descriptive

In the bio description, clearly state your brand, explain what kind of services you offer, or provide a short summary of your blog's content. This can captivate and inspire people, and influence the decision to follow you.
Summary
Hopefully, this research has answered your question on how to get 1k followers on Instagram in 5 minutes. Followers are the modern social currency, but the number of them alone won't get you far. Building an audience is a process where every aspect is important: the content itself, the profile description, the consistency of your posting schedule, timings, and hashtags.
Don't lose sight of what your competitors are doing but focus on creating something original and unique. Use paid or organic ways of gaining more subscribers and be ready to try different strategies based on the feedback you are getting. Share your voice with confidence, and the right audience will follow.