Nowadays, it is very hard, if not impossible, to find a person that doesn't have an account on Instagram. Soon enough, marketers understood that this is an incredibly powerful tool for the promotion of goods and services. The number of followers became a measurement of success – the more active users you have, the more goods or services you will be able to sell.
That has left the question of gaining followers wide open, so we decided to compose a simple guide on how can a company can get lots of Instagram followers: what strategies you should apply, what basic points you have to understand, and much more.
Prepare for Instagram Promotion
Before launching any type of Instagram campaign, one has to pay attention to some preliminary actions. There is no use in rushing into anything without having a proper plan and understanding of how things work.
Develop a Thoughtful Strategy
For example, the basis of absolutely every marketing campaign – is a strategy. You have to know from the very beginning what is the purpose of your Instagram account, and what are you trying to achieve by growing your audience?
Mostly, there are three main goals that any public account is aiming for: to increase sales, boost traffic, and to let more people know about you. They are all interconnected, as the more traffic you have, the more leads you have; more leads – more sales. More sales – increased brand awareness.
However, even before you launch your campaign, you need to know what strategy to draw interest to your company you should choose. Let's take these two strategies as examples.
Something Is Coming
The name speaks for itself. You need to make your profile literally shout that there is going to be something very exciting coming real soon! Create an informative and engaging bio, use your logo or your brand colors as the profile picture.
Any links that can show users more of you and your company are a must-have on this page. Accounts on other social media, e-mail, contact form, website – all of it can help your potential followers to remember you better.
By the way, even if you do not have a website just yet, you should still place a link to it. Showing people that you are serious about this, that you will create a website for them, is important. Place something funny on the home page – so people will know that something is coming soon and will have a fun moment looking at your page.
Speaking of an informative bio, be sure to mention every bit of info a user might want to know about you and your company. Of course, you have a limited amount of letters there, so think wise.
After you are all set with the profile, it is time to come up with the first post that will present your business to the public. This post will be your business card, so pay a lot of attention to it.
To gain new followers at this stage you may try looking for other business accounts that operate in the same field as you. Take a look at their followers, check if they are really your target audience and real people. Then start following them.
By doing so, you declare your existence to the people who are potentially interested in your services or goods. Engage them by giving away some bonuses or offering a discount for the first 10 people to subscribe. And that is the reason why all of these people might follow an "empty" account.
A Rising Star
This strategy works along with the previous one just fine. You still have to make the appearance of your profile appealing and informative. And the advice about following your target audience is still very useful. So what is the difference?
Unlike the previous one, your visitors won't join you because you have promised them a bonus or a discount. They will do so because they like your feed. What feed may you ask? The one you have been making before-hand!
Before you start reaching out to people, you have to create at least ten posts. Thus, people who land on your company account will have enough content to make their decision about whether or not they should follow you and use your services.
Post every couple of days to make it more natural, and don't you ever forget about hashtags! They are an extremely powerful tool for gaining Instagram followers. You can increase the number of followers just by using the right hashtags.
Define The Target Audience
It is absolutely crucial to identify your target audience correctly. If you do it wrong, you will just end up wasting money trying to attract people that do not care or do not need your services and products. There is a classic technique that will help you do this. You should be able to answer these questions:
What is their average age?
What is their location?
Do they have a job? What kind?
Are they active Instagram users?
How often do they use Instagram?
At what time of the day do they usually use Instagram?
What are they interested in and how to engage them?
How to Get Your First 100 Instagram Followers: Basic Optimization
Let's say that you have completed all the previous steps, and all the preliminary work is done. Now, it is time to carry on account optimization. Here are a few steps that will help you.
Fill in Bio & Profile
First things first – the "face" of your account. Your name, bio, links, and all the necessary information. Let's take a closer look at what you should have there.
Starting with the name of the account. It should be no longer than 30 characters and preferably have a keyword in it. Then your username. Better have the same one as you use on other social media, so your followers will not have any trouble finding your accounts.
Your bio, as mentioned before, should be as full and informative as 150 characters allow you. Any new visitor should be able to understand what's he dealing with in no time. And don't forget to include a link to the website!
Keep Content Consistent & Develop Your Own Instagram Style
The overall look of your account is quite vital too. There should be a noticeable brand style. All of your content has to be published in the same way, no standing out from the other posts. It's better to have a unique design that will make you stand out from other companies out there.
How to Get Your First 1,000 Instagram Followers: Content
The content is an extremely important part of your plan to get a lot of followers. Think for yourself – if the content of your account is not interesting or appealing to users, why would they follow you? We are going to look through the basic rules of content and make a few recommendations on how to optimize it.
Post at Right Time
You may have the most interesting posts and the most popular hashtags ever, but if you are posting at the wrong time, you will still lose a lot of potential views that may transform into leads or followers. How so? Let's elaborate.
The very goal of any social media is to bring together people from all around the world, and Instagram is no exception. Your followers do not always live in the same city, country, or even continent with you. Sometimes, when it is morning for you, it is a late-night for them. That is why it is essential to gather data on your audience first. You need to know where the majority of your audience is located and post at a time that is convenient for them, even if that means that your posts will be released at midnight for you.
Nevertheless, it's still not enough to just post when the people are not sleeping. In our previous article, we completed research that allowed us to indicate the perfect time to present your content to users. On the screen below, you can see the most lucrative hours for brands to post.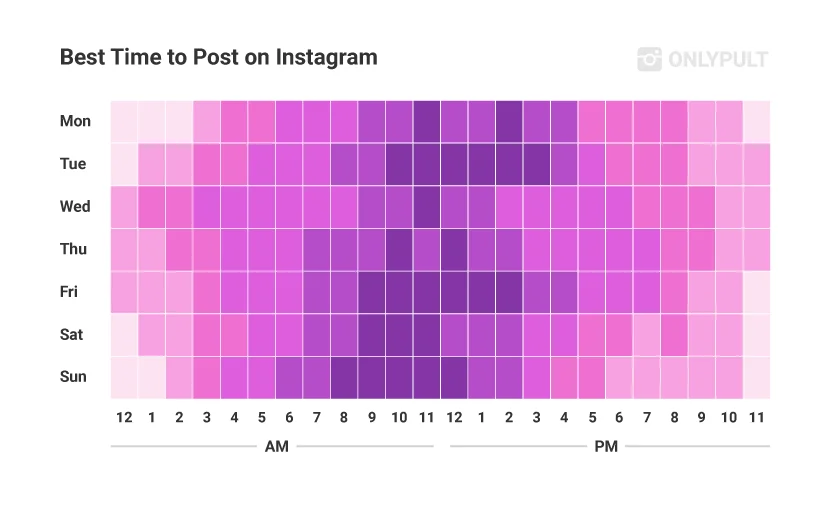 Schedule Instagram Posts
The most efficient way to produce content is to have a plan for it. What type of post are you going to present today and tomorrow, and when exactly? All of these things require a plan.
The content plan is an organizer for your posts. Generally, it looks like this: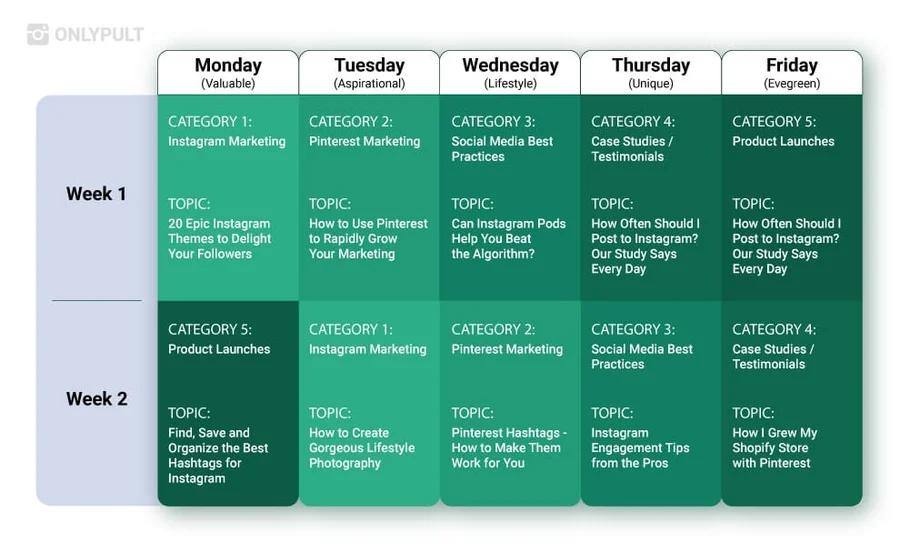 Do you see it? Each day of each week has its own theme. Post it at the right time and get the highest feedback. That is why you have to plan every publication – so you will always know what and when.
However, this task is quite hard for beginners and requires a lot of expertise and time in the field. Onlypult has both of them. We can help you set up a perfect content plan for your business and help you with publishing it when the time is right.
Share Images People Can Relate To
Please, check your Instagram and visit the profiles of the most hyped and famous people you follow. Most likely, the photos in their feed are very attractive and eye-catching. Well, that is your goal.
When people visit your company page on Instagram, the first thing they see is your bio and your feed. If the photos are beautiful, unique and there is a neat structure, the chances that the user will stay on the page are much higher!
Show them something they want to know about your business, like making of a video, guides, behind the scenes, and photos of your office and staff (maybe don't use the photos from the corporate party). This will help the user get to know you a little better. Who knows, maybe this will become a crucial factor.
For example, take a look at these two photos from the Instagram account NissanUSA: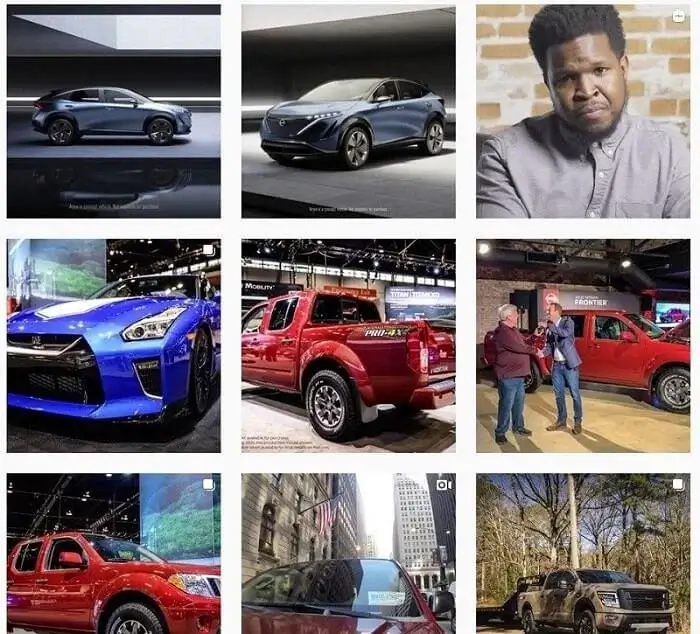 And IKEAUSA: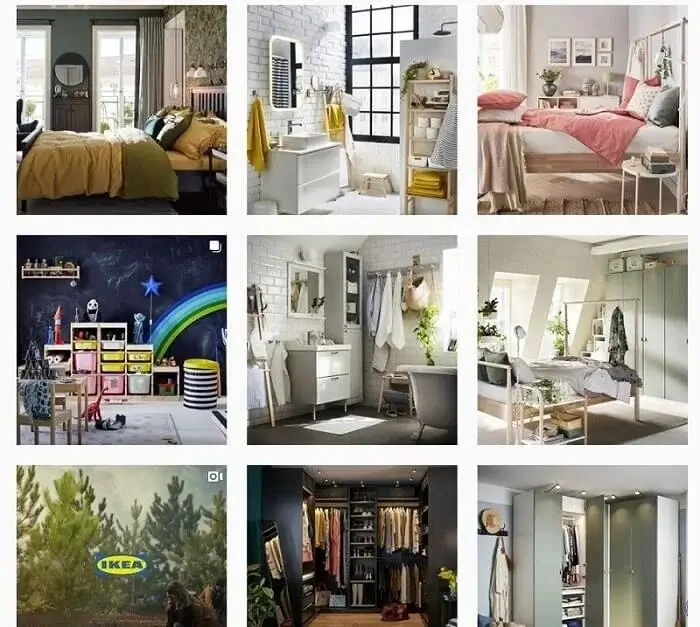 As you can see, the photos in both accounts are made in a certain unique style. Nissan does not post cars exclusively; there are people's stories, interviews, etc. IKEA does not just show you products from the catalog; there are completed rooms, different options for you, and information.
Write Longer Captions on Your Posts
The times when you can take a photo of yourself with a banana and add a caption "gonna eat this banana!" are long gone. Such photos and descriptions do not do any good today. In the caption, you should provide information to your followers according to your content plan. For example, tell your followers why your product is useful, and why they should buy it, like the company on the picture below did: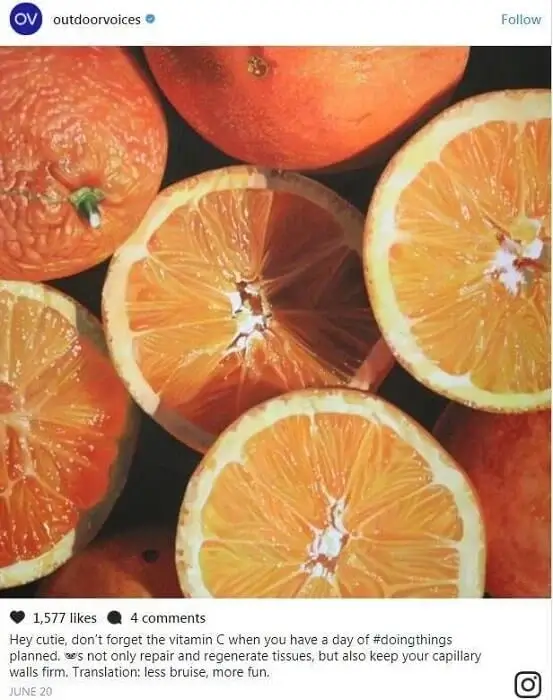 Or you can tell your followers about the possibility to win something if they follow simple steps: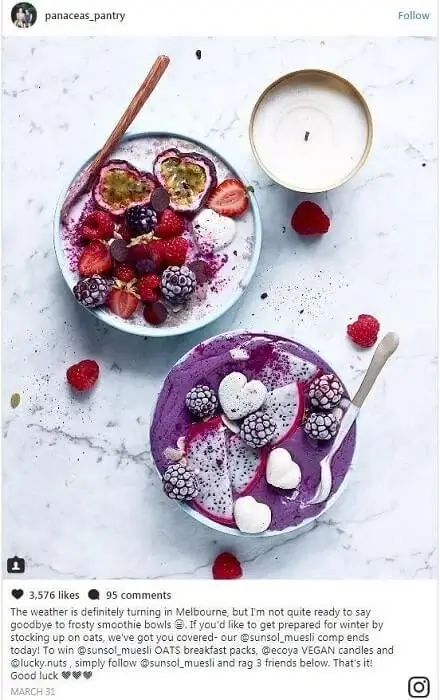 Post More Videos
Did you know that in just eight hours after Instagram has added a video onto the network, people have posted so many videos, that the overall length of all of these videos combined was more than one year? That is how much users love this type of content.
The popularity of videos on Instagram confirms the long-term trend of increasing the importance of visual content. Users have an opportunity to watch the video on Instagram on smartphone screens, which successfully "gets" into another trend: the growth of mobile traffic shared to the brand sites and social networks.
Share More Selfies
The important thing about getting close with your followers is for them to get to know you and to know the people behind the brand. Selfies are the best way to introduce your employees to each other.
This may seem hard for people who do not like to take photo or who don't feel confident in front of a camera; however, studies show that, first, selfies get 40% more likes, and secondly, being honest and even shy (at first) shows your followers that you are all real people. That makes it easier for users to connect with you.
Use Popular & Relevant Hashtags
Hashtags are vital to the promotion of your personal brand. They allow people who don't follow you yet to find you when they are looking for a particular niche or product. If this instrument is used correctly, it can result in a boost to your followers. Let's see how to do it:
First of all, you have to know which hashtags you can use, and which ones will bring the desired results. Find out which hashtags other companies in your field are using. You can evaluate the efficiency of the hashtags by using specific services, for example, Mention.com.
Next, it's time to create your very own hashtag. Using already existing ones can be quite risky. For instance, the hashtag "love" is extremely popular, and your post very likely will simply get lost. Your own hashtag should represent your company and make it easier for people to find your publications.
Please do not get too carried away with it, though. If you add a hundred hashtags to each and every post, it just seems wrong and not convincing at all. Even worse, it looks like spam. And you definitely don't want that.
Trying to fool everyone with cheat techniques, such as "like-for-like" or something like that, will eventually cause you problems. By using such hashtags, you will gain a certain amount of new users; however, they will not be interested in your services or your company. Their only goal is to get more likes and shares, that is all.
Last but not least – stories. Extremely powerful and trending, this instrument allows millions of people to watch the most personalized content. Hashtags work with it too. Add them to your stories, as well, in order not to lose even a single potential client.
Use a Branded Hashtag to Create an Instagram Community
Your own unique hashtag is a powerful tool. However, it is even more than that. You can form a community around your brand with these hashtags! People will be able to find exactly what they need, plus make contact with other users who are also interested in the topic.
For instance, all major events have their own hashtags, like #SuperBowl. This is a grand event, and people can find anything they want that is connected to it in no time!
Find Hashtags That Convert
However, the hashtag situation is not always the same. Like anything in our fast-developing world, hashtags can get old and out-of-date pretty quickly, or the people just stopped using it. All of this can happen, so a wise decision would be to monitor closely which hashtags are more popular, which gives you more likes and reposts.
Create a Custom Filter for Your Brand
Always keep your hand on the pulse of modern trends. Today, the big boom in Instagram are the filters. Yes, this funny thing with puppy ears has grown into something much bigger. Brands and influencers are creating their own unique filters, and this is a wonderful marketing opportunity.
If you have the possibility to hire a designer to develop your own filter – do it. If this thing goes viral, you will get thousands of new followers in no time.
Create Memes
Today, memes are a big part of Internet culture. Every social network has accounts that are dedicated exclusively to memes. Instagram is no exception. By taking popular memes and adapting them to your business, you can attract a lot of new users, and increase the number of likes and reposts.
Ask Questions in Photo Captions
The next method to increase the activity of your users, get more likes, and shares is to ask questions in the photo's caption. People will start commenting, and they will get engaged. You can also ask them to tag their friends who might be interested in your services. They will get to know about you, and if they are pleased with the content, they may become your followers.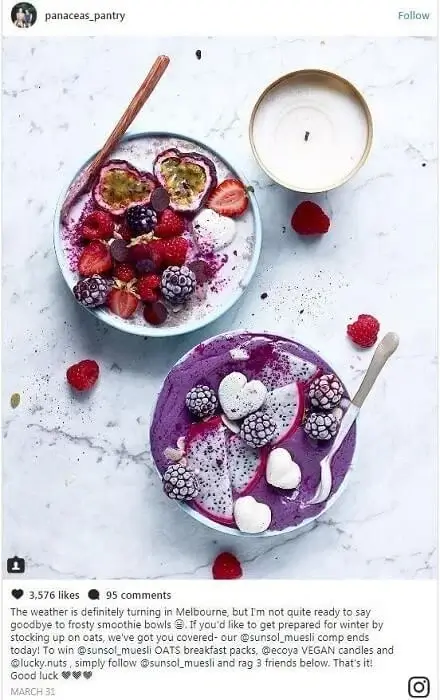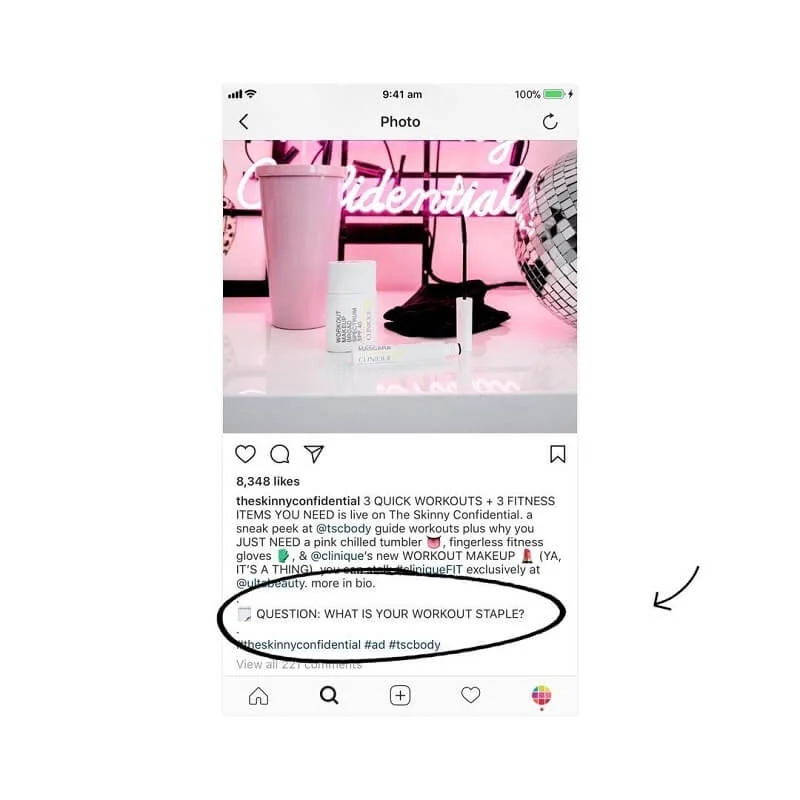 Use Instagram Analytics Tools to Gain More Instagram Followers
Everything you do on Instagram should be analyzed. You need to know whether you are getting enough likes and reposts and how many active users you have. Watch the growth of your audience. Instagram offers its own services for this. There are many tools you can use. For instance, Instagram Insights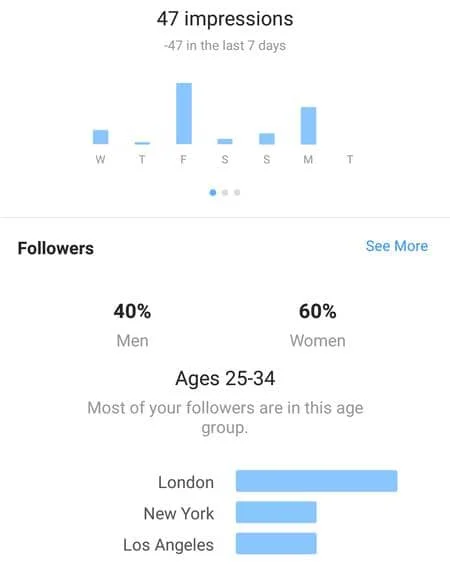 Or Sprout Social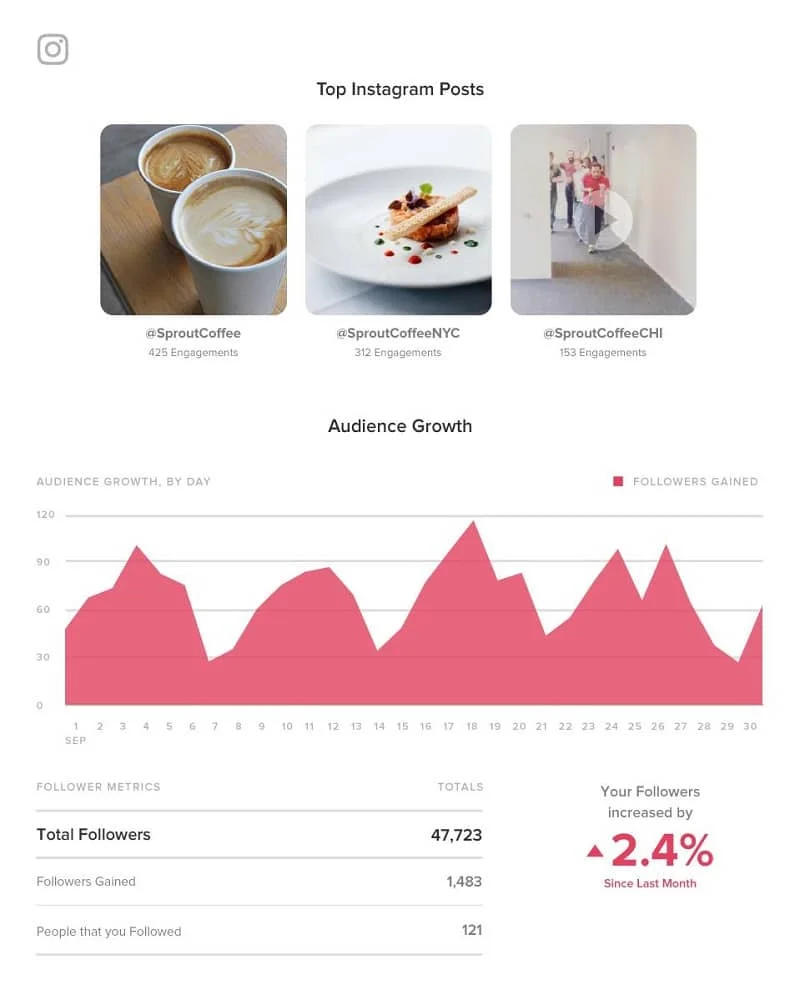 All of these tools (there are actually much more than that) help you to monitor your situation, correct the strategy, and provide you with the most useful information.
How to Get 10k Followers on Instagram: Promotion inside Instagram
We have now discussed the basic ways to promote your Instagram account. Now, let's proceed with more complicated approaches, though much more resultative.
Create an IGTV Series
When IGTV was first implemented, many people were quite skeptic about it. However, the time has shown us that this format is not only living, but it is also booming! Influencers and brands are using it for their profits very successfully. And what is more important – it is not an expensive tool at all! Even low budget IGTV series can bring you a lot of followers.
The thing with IGTV is that you need to develop your own style with it. Your series should be recognizable and authentic. Use brand colors or logos, or maybe start each video with push-up info about the employee that is in the video.
Choose your format according to your niche. If you have a beauty products firm, consider making some make-up tutorials on IGTV. There are a lot of variations you can use. Be informative, like Vox: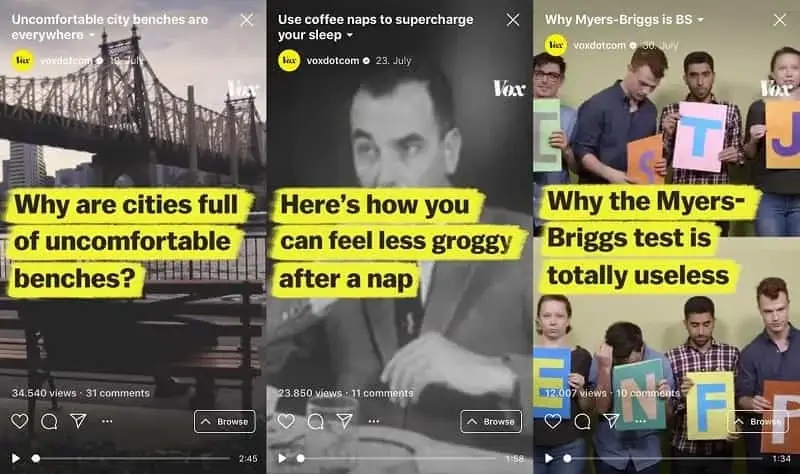 Or make it fun and get tons of views, like Netflix: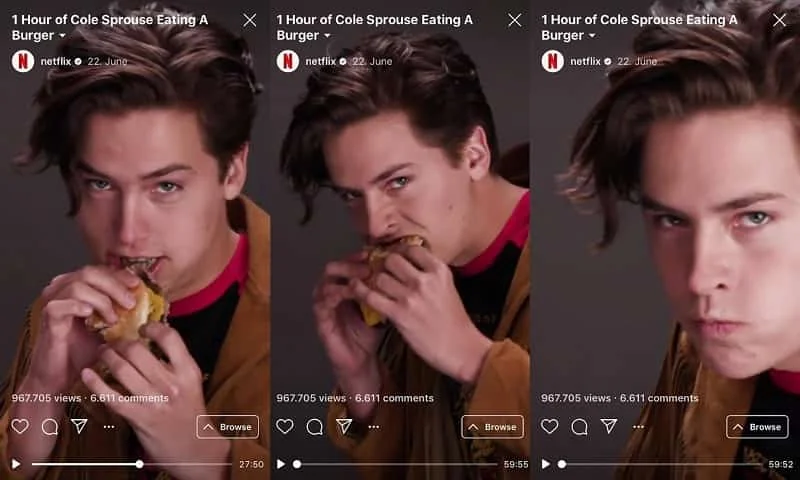 Work with Micro-Influencers
Like any big social network, Instagram has people who have an enormous number of followers. Such people are now called an influencer. Their marketing opportunity is limitless. Imagine your sales, if, say, Kim Kardashian would promote your goods? That's right.
However, it is unlikely that you will be able to fit Kim in your budget. But there is actually no need to worry about this, as Instagram is full of other influencers. Bloggers with 0-25k followers have the highest engagement rates. If you build a good and long-term partnership with them, their audience will trust you as well.
Moreover, you can always create some kind of special project with this influencer. It may be a clothing line or special offers. The main goal is to get the influencer's followers engaged with your account. For example, Uber Eats made this campaign involving famous Australian comedy duo Hamish & Andy.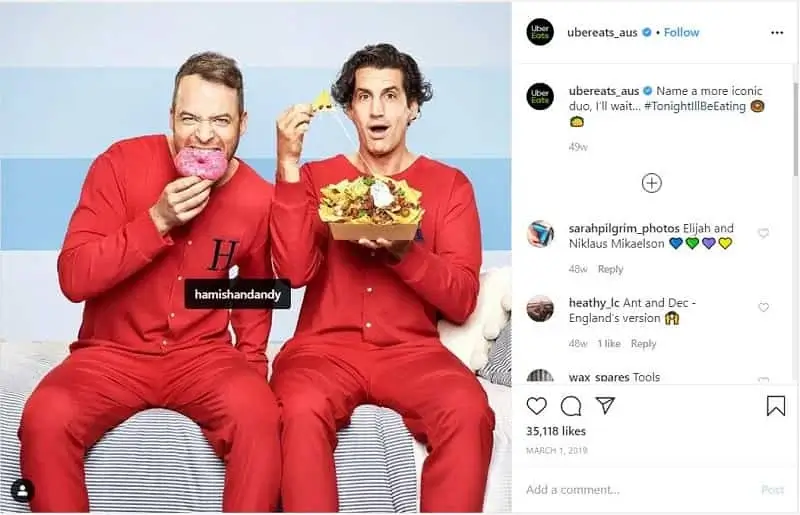 Appear in The Related Accounts Suggestions on Instagram
Instagram has one more extremely useful feature: suggestions. It appears when you visit someone's account. It is called "suggested for you." If you visit the page of IKEA USA, you will see that Instagram offers you accounts like H&M Home or HomeGoods.
The algorithm understands that all these companies work in the same industry and think that you might be interested in them as well. Appearing in the suggested section can bring you followers at no cost!
Unfortunately, there is no way to know how you can guarantee your presence there. There is no magic button for this. You have to set the keywords in your page name and bio correctly and somehow interact with the companies that have a similar business. The rest is up to the mighty Instagram.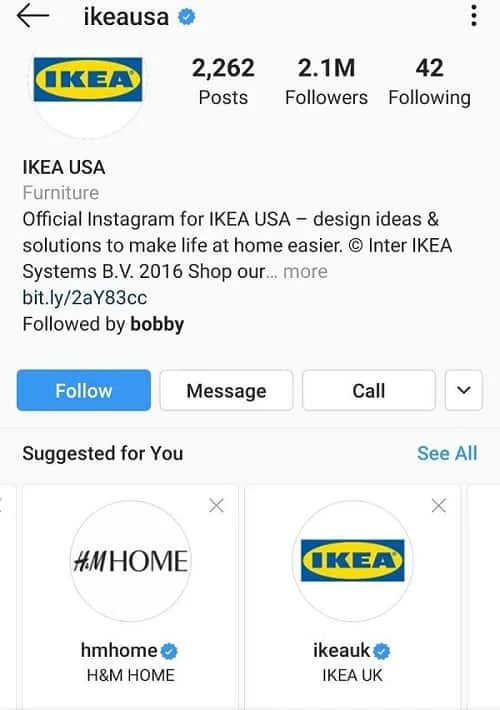 Treat your Instagram Profile Like a Homepage
If you want your Instagram profile to represent your company as good as a private account represents a person, then you have to treat it like one. People should see that a lot of energy, effort, and soul were invested in it.
The first thing to do is to make sure that your feed, your stories, your highlights, and bio are giving brand realness to the user. So your entire account image is telling your followers that this is your company's account. Brand colors, logos, correct name – every detail is important.
The feed should look neat and aesthetic, with no messy posts. Give proper design to your stories highlights and work on your IGTV style.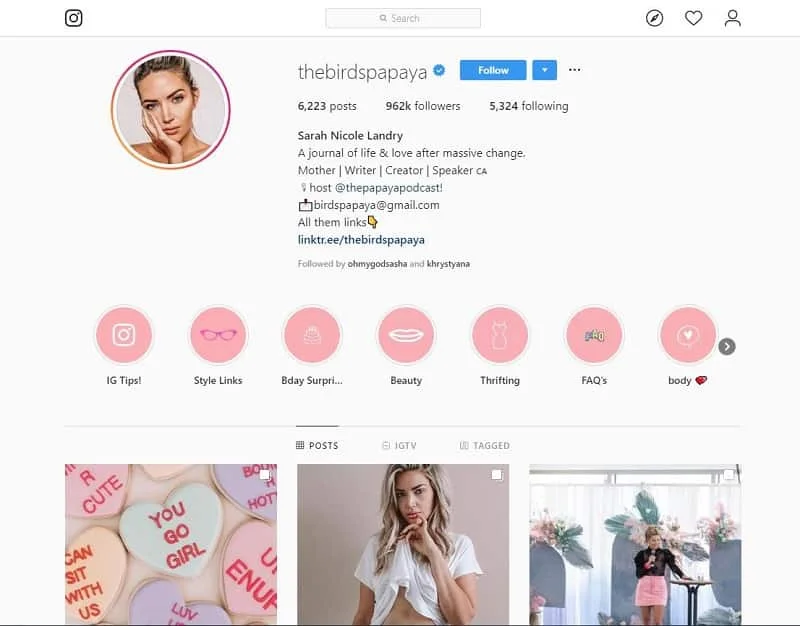 Grow Your Following by Partnering with Another Brand
Another good way to get new followers without any expenses is to partner with another brand. No need to work with your direct competition, you can choose someone who operates in the sphere that is close to you. This way, both of you can get new followers pretty easily!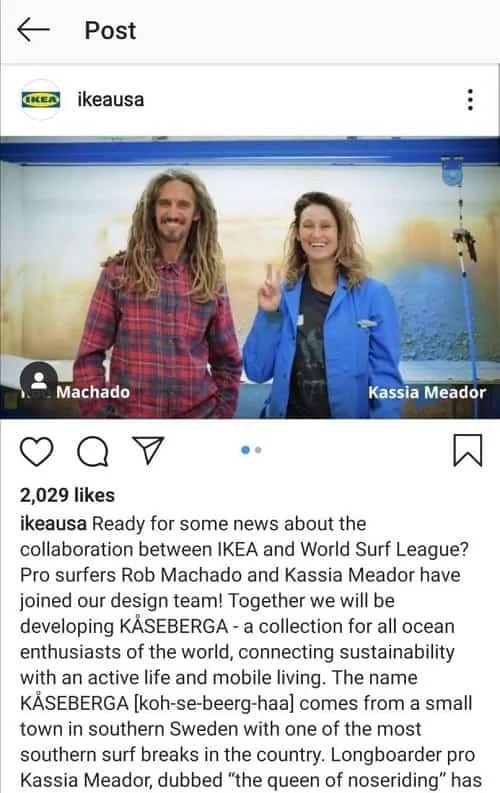 Participate in Massively Popular Conversations
New trends and hashtags are going viral every day. You have to monitor this and be ready to implement new hashtags or discuss something that everybody's talking about. By doing so, the account will have more chances to attract new followers.
Don't forget about the advice below-concerning memes. If you see that a meme goes viral, use it to your advantage. For example, tons of companies got new followers and led after they used #tossacointoyourwitcher. The TV show by Netflix had a huge public response and attracted an enormous amount of users. Why not use it?
Get Instagram Followers by Joining Instagram Engagement Groups
Okay, that sounds suspiciously easy, but it is working! There are lots of such groups for any niche. Join one and get new followers. Even though they might not be interested in buying your products or using your services, they will make your page look more credible.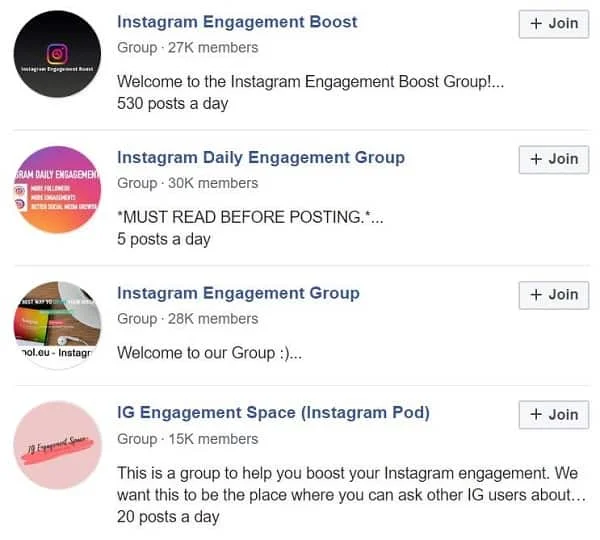 Repost Others' Content to Gain More Instagram Followers
Reposting what other accounts post is not always a bad thing! For example, if you repost something from your company-partner, both of you can win! More people will know about the company, and you will get content and likes! Obviously, there is no point in reposting something that is not bringing any likes or commentaries.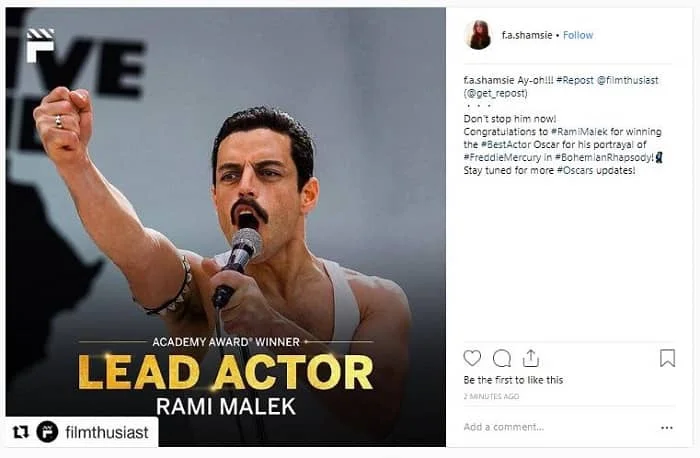 Ask Customers to Share Their Photos to Build Instagram Followers
Another way to increase the number of followers is to work with your customer's photos. For instance, if you ask a micro-influencer to take a photo in say, your clothes, and promote them, it will bring you lots of new users! Repost this photo to your feed and stories, be active in comments, and engage even more people!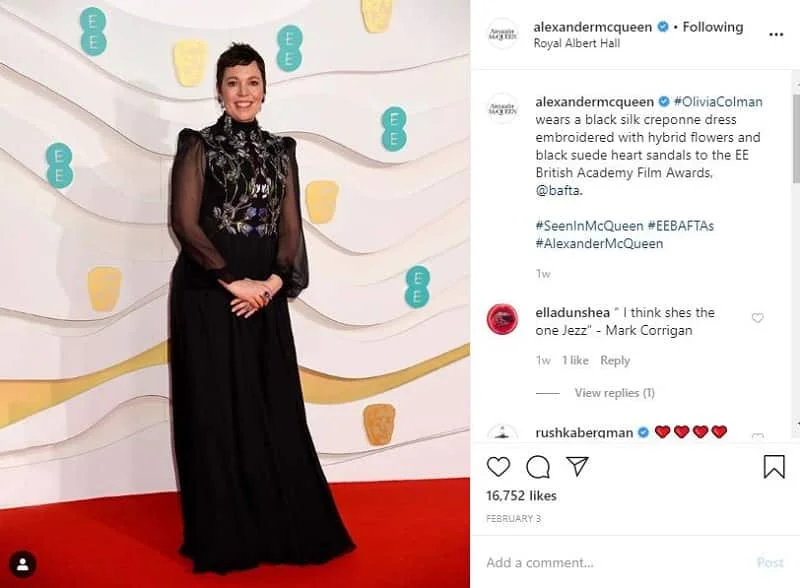 Follow People Who Like Competing Instagram Pages
Look for your competitors who have a lot of followers. These are all people who are potentially ready to be your clients as well. Check the comments and search for active users. You need to start interacting with them.
Do not get too carried away and do not try selling them your goods right there in the comments. Just provide answers to their questions, like their comments, and communicate. If you manage to get their attention, they will check out your page. Who knows, maybe they will become one of your loyal customers? 
Host Giveaways to Build Your Instagram Followers
A giveaway is a classic method of gaining new clients. There are many ways you can run it, but the one thing that remains unchanged – you will get new followers. People will start sharing with each other, and more users will be eager to participate in your event and possibly get something for free!
You can always set certain terms, like "subscribe to the account and repost our latest post to win a gift." Though it is important not to set terms that are too intimidating– people may decide that it is not worth it and leave.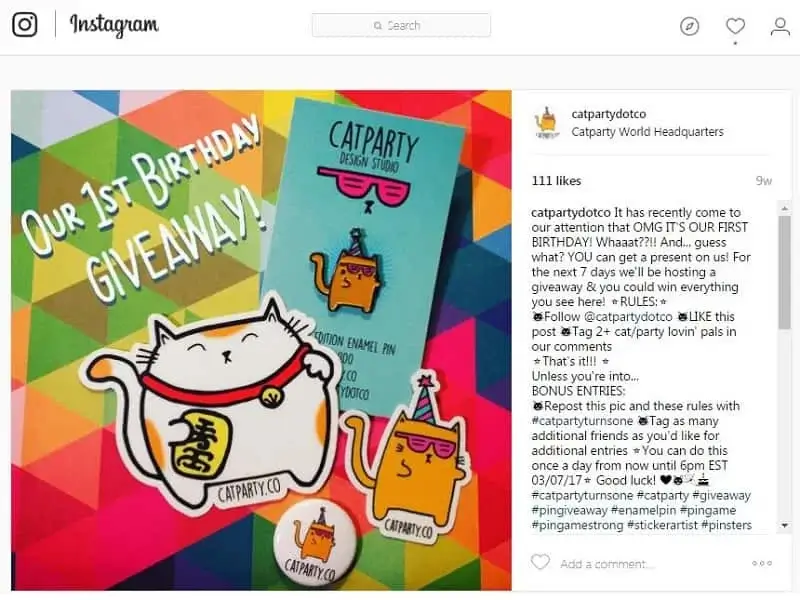 How to Get 20,000 Followers on Instagram: Account Promotion on Other Platforms
There is a certain limit for brands in gaining followers exclusively via Instagram. It would be enormously hard to exceed the figure of 20,000 followers. To do so, you have to promote your account on other networks too.
1. Answer relevant YouTube comments
YouTube is a mastodon of video content. Millions of people use this site every day. Find relevant channels, leave comments there, so your potential target audience will know about you.
2. Help people in relevant Reddit subreddits 
Reddit is also quite an important source. There are a lot of people all over the world. Find the relevant topics and enter the discussion from your business account.
3. Answer relevant Quora questions
Quora is one of the people's favorite sources of information. Once again, look for something that is connected to your business and participate in it.
4. Talk with people on relevant Facebook groups
Facebook itself is a great promotion tool. There are many groups dedicated to almost anything. You can always enter groups that are about your sphere of business.
5. Post content on relevant forums
Forums are still a force that needs to be acknowledged. Lots of people prefer communicating there, asking questions, and getting answers. Use that to your advantage.
6. Write articles for blogs that your audience might follow 
Sharing your expertise on your website in the format of the blog is a fine way to gain people's trust. They will also think of you as of expert (which is always good). Just don't forget to leave links to your Instagram account somewhere on there.
7. Get Promoted on Buzzfeed to Grow Your Instagram Followers
Buzzfeed is a world-famous portal with highly-developed social media. Everyone can post any content there (according to the rules, of course) and get it seen by millions! You got to use everything you can, right?