In 2020, YouTube became one of the most popular tools to replace in-person events and activities. Because of it, the popularity has absolutely skyrocketed.
But if you want to grow on this platform, you should know that it comes with a higher barrier to entry compared to other social media. Maintaining a channel can be a very heavy burden, especially when it comes to editing, equipment, and even subject matters. Not to mention, if you want to stay relevant, you need to constantly keep track of trends and changes in the algorithm.
Today we'll explore all the different ways to boost YouTube views. These tricks can be the difference between a video languishing at under 1,000 views and a video getting comments and views years after it was initially posted.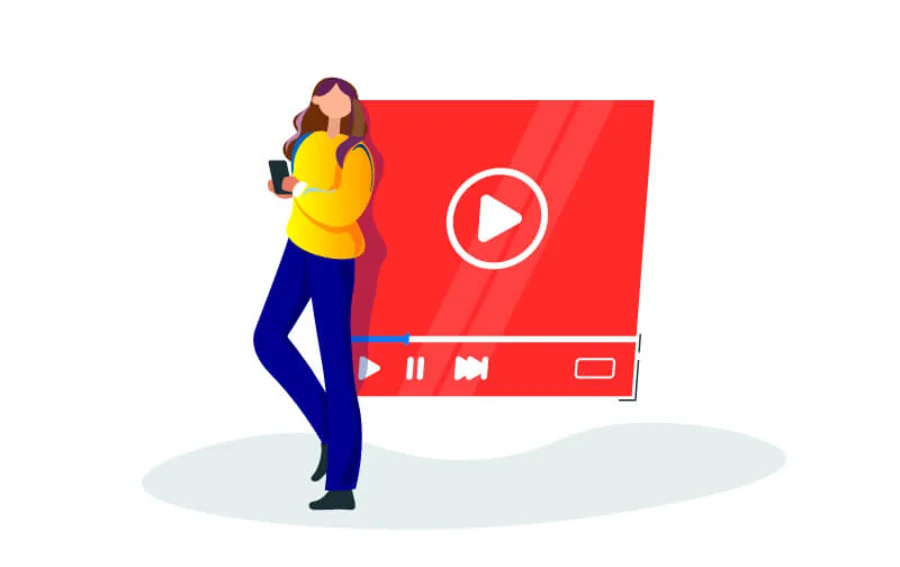 Start With Our YouTube Checklist
To get YouTube views, you need to have the right mindset as well as know a few technicalities that affect channel growth. We've looked at some of the most popular creators and brands to pinpoint what they did right.
Once you set up your channel, tick all the boxes in the following checklist - otherwise, you'll be setting yourself for failure.
Have a Clear Vision
There is a #1 rule that YouTube creators, audiences, and the platform itself recognize. It is to position yourself in a clear role - an expert, entertainer, or something in between. Before creating content, you need to pick a fundamental focus for your channel.
Make Sure Your Channel Is Specific
At this point, you're narrowing down what you plan on talking about on the channel. But these limits are for the greater good. By choosing a specific topic for your channel, you make your life easier in all regards:
You'll have less trouble coming up with YouTube video ideas;
It helps you get picked up by the algorithm and rank higher;
It allows you to build a more loyal community.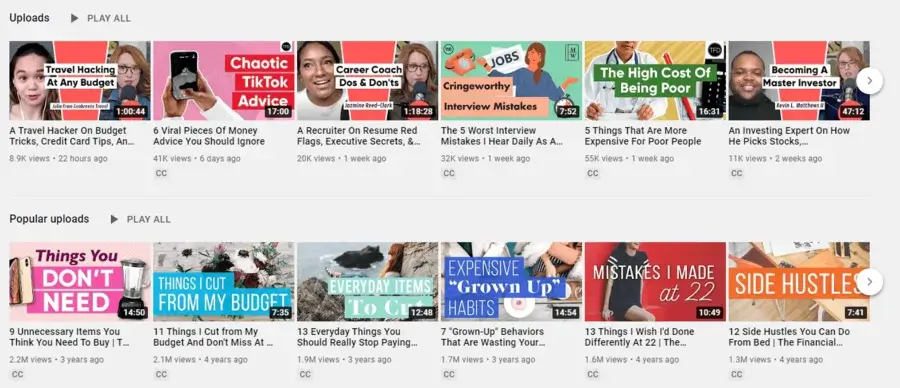 An example of a niche could be a personal finance channel called The Financial Diet. In fact, even personal finance is a broad topic. As you can see from the screenshot above, The Financial Diet found its niche in making lists - a collection of quick tips that are in tune with the fast-paced lifestyle.
Have a Clearly Defined Target Audience
Consider this:
| | | |
| --- | --- | --- |
| Keyword | No. of competing results on YouTube | Target audience |
| Weight loss | Over 5 million | Too broad |
| Weight loss tips | Over 1 million | Broad |
| Weight loss tips for women | Over 2 million | Broad |
| Weight loss tips for women at home | Over 500,000 | Decent and narrow |
Conduct marketing research, look at your analytics on other platforms, and conclude what kind of demographics might want to watch your channel.

Blogilates creates videos for women that are interested in home workouts and nutrition tips. Considering the medium intensity of the workout videos, we can assume that the target audience is women in their 20s and 30s. If this was a generic fitness channel for everybody, Blogilates would have a harder time.
Define Your Topics
After you establish a general idea of your channel and what audience you want to attract, it's time to pick several topics and formats in circulation. You should have at least 3-5 video formats to avoid feeding users the same type of content over and over again.

The screenshot is taken from the channel called The Take. Even the type of thumbnails suggests what the format of the video will be. This also helps users navigate the channel and pick videos they're likely to watch from beginning to end. Here is how they describe themselves.

The creators don't shy away from the fact that they have very specific types of videos. If a user prefers one over the other, they'll easily distinguish between videos.
Provide Information
If you have a basic channel with no new information, viewers are likely to click off of the page. YouTube viewers have seen too many channels created with a throwaway email address. So, they are somewhat conditioned to disregard channels with no info.
If you continue to provide information, it will give viewers a reason to stick around.
Contact Information
At this point, everyone has mentioned that including contact details on your website is a must. But what some people fail to realize is that contact information should be on every social network, YouTube included. If you're not directly selling products or services, it helps establish your online presence, multiple points of contact with users, and a line of communication with sponsors and collaborators.
For both personal brands and businesses, include your socials. For example, on YouTube, you can share your Facebook, Instagram, and Twitter, or any other platform where you're active. Businesses can also include their phone number and website.
All this information can be included in the about section as well as in the channel header.
Description
In one of the examples above, we've shown you what a description can look like. It resides in the About section and helps further inform potential subscribers and users what your channel focuses on.

The style of writing depends on the overall tone of your channel. Compare these:
Insider is great journalism about what passionate people actually want to know. That's everything from news to food, celebrity to science, politics to sports and all the rest.
Tiffany Ferguson, 25 years old, currently in NYC. Here on Tiffanyferg, my main series is called Internet Analysis, where I research and discuss topics related to social issues and media.
A 5 day a week, daily show where I talk about the news and pop culture that matters to me and should matter to you.
Just by reading the description, you can understand whether the channel is funny or serious, who is behind it - a company or an individual content creator, and sometimes, the frequency of uploads.
Verify Your Channel
Unverified accounts are limited in what they can do. But if you take the time to go through verification, you will be able to:
Upload videos longer than 15 minutes (essential)
Add custom thumbnails (also essential)
Live stream
Appeal Content ID claims
All you need to do is enter a phone number. You'll be sent a verification code by text or voice call to that phone number.
Check with Your Competitors
Your channel doesn't exist in a vacuum, and your users won't be subscribed to your channel alone. So, competitor analysis is necessary - just like in any area of business.
Competitors can take two forms:
Direct competitors - These are channels producing within your topic for your target audience. If you're a tech product reviewer, they're a tech product reviewer.
Indirect competitors - These channels don't offer the same topic but meet the same need in an alternative way. For example, if you're a tech product reviewer, they are the company announcing the release or photographers using the cameras you review in shoots.
Here are the questions you should ask:
How do they position themselves?
What are their strengths?
What are your weaknesses?
What do your competitors have that you don't have?
Branding
People enjoy consistency. And they are more likely to stay and be part of your little world on YouTube if you have consistently branded elements scattered around your channel.
Besides, branding helps separate you from the pack. You are basically you communicating your story and your niche through the copy, images, and artwork on your channel.
Unique, Recognizable Design
YouTube is considered a visual platform. And if you're trying to build a brand, it needs to be visually distinct. Consider the logo, fonts, color palette, and, most importantly, whether they form a cohesive image. Put yourself in the position of a first-time visitor - will they remember how your channel looked?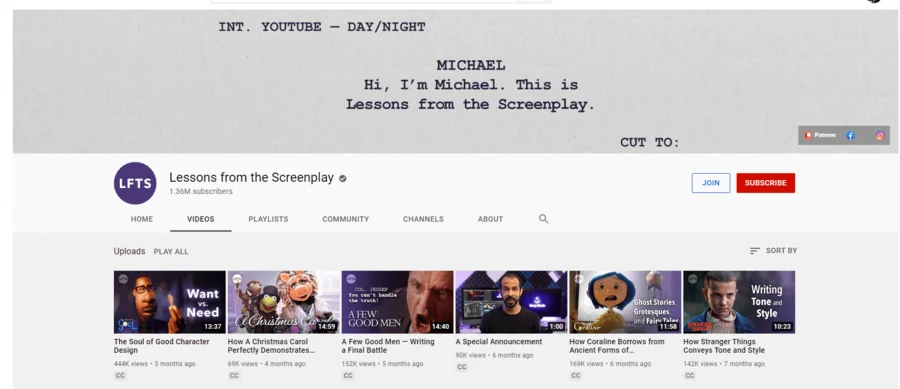 Take a look at Lessons from the Screenplay. It is an example of design continuity that is subtle and well-thought-out. The creator analyzes movies from the perspective of a screenplay - hence, the typing machine font that is in the header as well as in some thumbnails.
What he also did right is the color scheme. It is purple and gray, but the colors are not in-your-face. Even a one-off personal update is styled the same.
Separate Channel Only for Your Brand
The tendency for creating multiple channels started with lifestyle YouTubers a long time ago. At first, they had their usual sit-down channels that are relatively short and highly edited. Then, they added a second channel, where they posted content in a more relaxed way.
Here is how you can integrate this approach. If you have a personal brand and a business, post on two separate channels. You might be aiming for the same target audience, but these two branches require different video formats, topics, and styles of editing.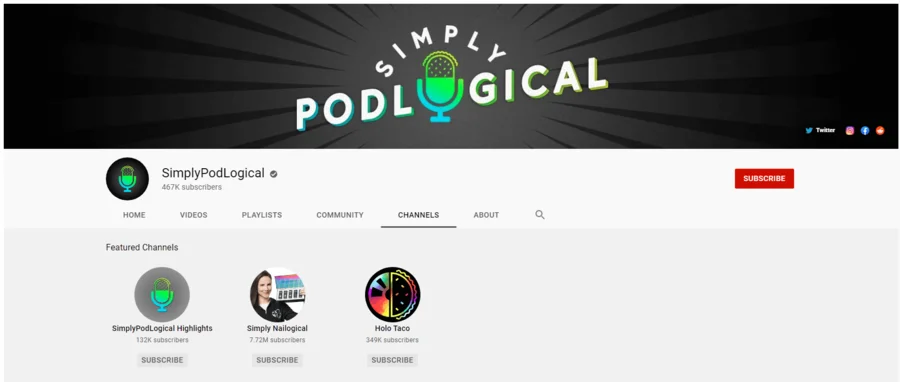 A podcast channel, SimplyPodLogical, has four featured channels:
SimplyPodlogicalHighlights - quick snappy videos
Simply Nailogical - a YouTube channel of one of the hosts
Holo Taco - a business launched by the two hosts
This eliminates the confusion of what each channel represents and what kind of videos people can expect.
Add Branded Elements
As a final distinguishing characteristic, you should include at least one branded element for each user interaction. It can be a visual, or it can be an intro song. Choose different elements that all communicate your brand identity.
Make sure you have custom branding in graphics. If you use free stock images, chances are no one will remember it. If you're on a tight budget, consider doing it yourself. As long as you have a vision of your brand and basic Photoshop skills, you can create branding at least while you're getting started.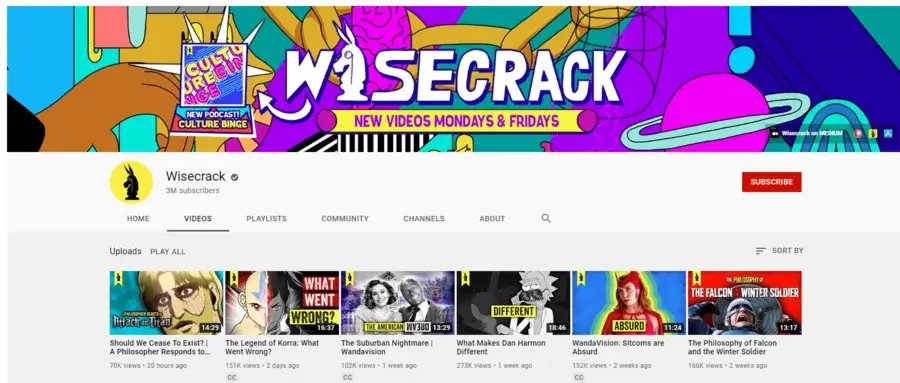 You can see that Wisecrack adds their logo to each thumbnail, but they also have it in the profile and header images and include it in their social media accounts.
15 Tactics to Get Youtube Views
After researching tons of successful channels, we compiled a list of simple, actionable tips to increase YouTube views. They are divided into 5 categories, with several recommendations in each.
One important note before we go on: to maximize the effect, combine multiple tactics at the same time. None of the tips are mutually exclusive. They all complement each other to create a robust YouTube strategy.
Build a Relationships With Your Audience
YouTube is a place of two-way interaction, and here is how you can nail it.
1. Focus on Your Ideal Target Audience
Do you know your audience?
What gender are they? How old are they? Where do they live? What career do they have? What income bracket do they fit into?
After you learn the answers to all of these questions, your positioning, content, and even ways of promoting start to align. When you know who you are speaking to, it gets easier to steer the conversation in the right direction.
2. Start Communicating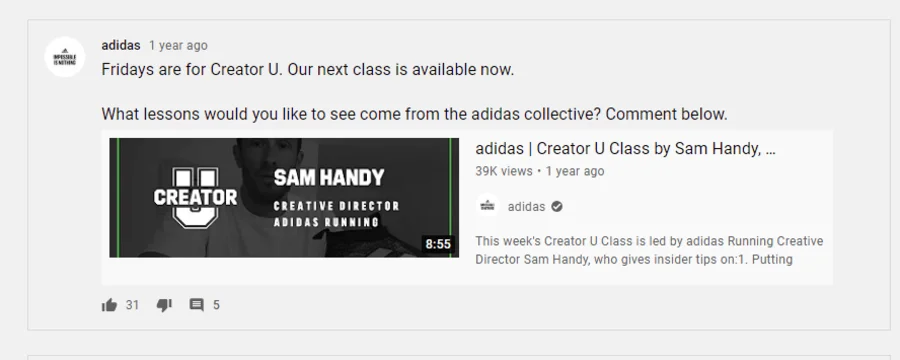 Take advantage of the community page. This is a feed where you can share announcements, give updates on one of the previous videos, and post additional content. This feature is similar to Twitter, which is arguably one of the most conversational types of social media.
But you can also communicate in a more traditional YouTube style. Imagine that you're creating content for a specific person (that conveniently fits your ideal viewer). Talk to them directly in the video or video description, post polls, respond to comments, etc.
3. Ask for Help and/or Advice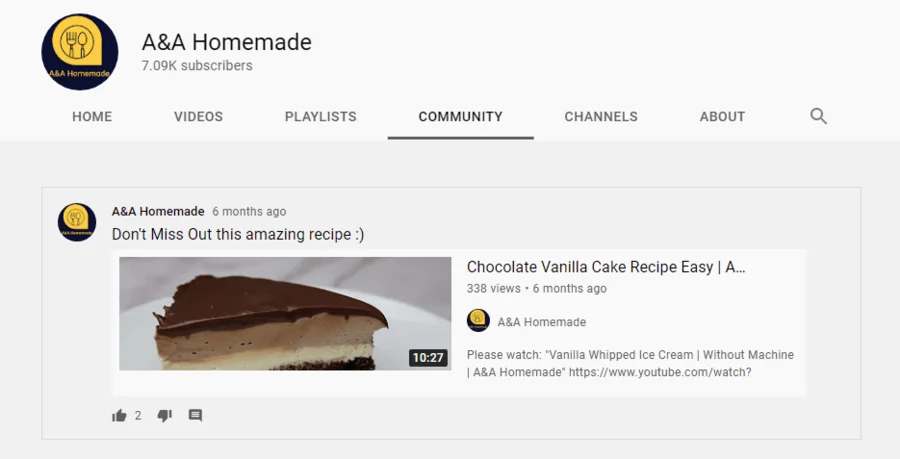 This trick serves multiple functions at once:
Communicates to your audience that their opinion matters to you;
Engages them and makes them more emotionally invested in future content;
Informs you what your audience likes to see and is willing to participate in;
Puts you on the right track with YouTube's algorithm - the more engagement in the comments, the better.
You can also ask for help or advice at the ends of the video, in the video description, and on other social media platforms.
4. Encourage Action

Every YouTuber knows the line: "Please like and subscribe to my channel, and click the 'bell' icon to get notified of new videos." Remind viewers to engage and share, especially when you don't get a lot of views.
But there is a line where calls-to-action get too much. Remember that many people started watching YouTube in the first place to escape never-ending TV ads.
To mix things up, encourage actions that aren't related to your channel, like signing a petition. This also helps build a relationship.
Upgrade Your YouTube Сhannel
It doesn't stop with the initial set-up of your channel. In fact, upgrading your channel should never stop.
5. Customize Your Thumbnails

There are a couple of reasons that custom thumbnails help you gain views:
It represents a more polished look that you have carefully selected and tweaked.
You give viewers a lot of information. This is especially helpful when they are deciding whether to click on your video from suggested videos.
Choose something that is actually in the video. Otherwise, people tend to get disappointed and irritated, which makes them less likely to return. Also, consider using a simple line of text containing just two or three words.
6. Create Playlists

Think of a YouTube channel as a store - if everything is organized, and each shelf has its own purpose, it's easier to navigate. Similarly, when a person visits your channel, playlists help them find your videos and sift through content.
The screenshot above is taken from Vox. They have a few different shows, and you can make a quick decision by looking at the playlist rather than scrolling down the featured feed.
Besides, playlists are set to autoplay by default. So, you can get extra views from one streak of videos.
7. Set Up and Track Metrics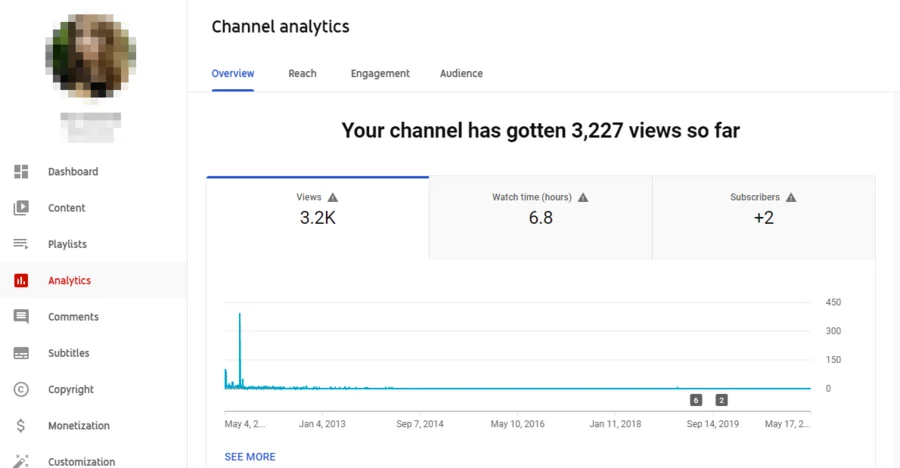 Go to YouTube Studio and select Analytics from the Dashboard. From here, you can see your channel metrics to assess its performance, spot average trends, and get a snapshot of what works well.
And it's not only about total views, here are other metrics to pay attention to:
Unique views
Subscribers
Top videos
Channel watch time
Impressions and CTR
Traffic sources
Make adjustments to your YouTube strategy and review your report after a while to see what changes.
Upload Consistently
Even YouTube Creator Academy says that continual uploads keep your audience engaged and give the impression that there is always something new going on.
8. Have a Schedule
Viewers appreciate knowing when to expect the next upload. Above all, it shows that you are serious about posting content on a regular basis and that there is a reason to subscribe.
You can divide the type of videos you post based on the day of the week. For example, on Tuesdays, you post a new edition of your running series, and on Friday, you post more conversational videos, like Q&A or Behind the scenes.
9. Post at Specific Times
The best time to post, in general, is at 5 p.m. The time zone depends on where the largest part of your audience lives. Although, you can still get success until 9 p.m. before you see serious diminishing returns.
10. Try Daily (or More Frequent) Uploads
If you need to grow a following fast and organically, daily uploads are known to boost views on YouTube. One content creator even ran an experiment and her views did go up.
Although, you might not be able to keep up with daily uploads. It ultimately depends on what type of content you produce.
Try Different Formats
Try different formats and observe what audiences like best. At the same time, find the sweet spot where viewers' interest connects with your passions.
11. Create a Persona and Create Content That Matches It

This point ties in with what we said about branding. While there are numerous types of videos that are popular online, not all of them will be fitting for your channel. Don't be afraid to try new things but make sure new additions don't go against everything you've posted before.
It may seem that this rule only applies to channels that are based around content creators and their identities, like Captain Disillusion. But even brand channels need to carefully select their formats. If National Geographic started to post comedy sketches, it wouldn't resonate well with the audience.
12. Balance Trending Content With Evergreen Videos
Upload a few timeless videos that your subscribers will return to again and again. This will create a constant stream of views years after you post it. Popular types of evergreen content include explainer videos, how-to's, tip roundups, and more.
Kurzgesagt puts an emphasis on evergreen content, but from time to time, there is a topical issue - like their video about coronavirus. It might also perform well after a while, but they clearly wanted to cover the topic everyone was researching a year ago.
Promote Your Channel
The views might not pick up if you don't give them a little push.
13. Cross-Promote on Other Social Media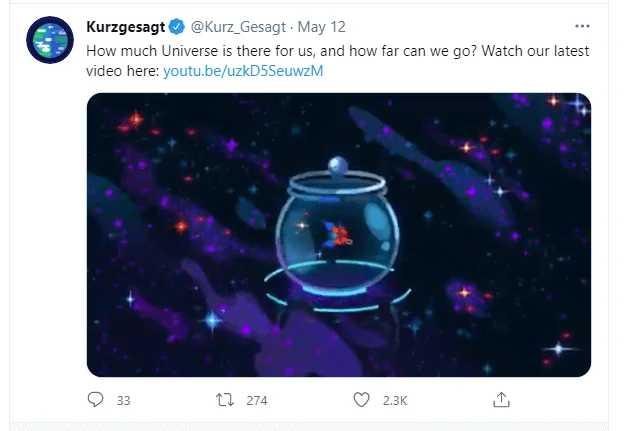 Your Instagram or Twitter audience may not even know you upload on YouTube. And since people use each social network for different purposes, try to tailor your social messages for each channel.
But don't just tell that there is a new video - use cards and description links to easily direct users from one platform to another.
14. Collaborate
Collaborations can be a powerful way to reach new viewers, and it has been used as a promotional tool for more than a decade. You don't need a collaborator with exactly the same type of videos. Instead, choose collaborators whose videos you enjoy and compliment your style and tone. It can be a content creator or a brand; it works well in either case.
15. Use YouTube API Services
This is a more advanced tip. YouTube APIs allow you to incorporate YouTube functionality into another application. And you don't need special approval to use it.
For example, if you have a website, you can integrate your YouTube videos into the layout, adding another source of views.
A Few Ideas to Inspire You
We'll analyze three examples of YouTube success stories which all happened for different reasons. You'll see that it's not about one-size-fits-all technique - sometimes, it's about a wildly original idea - sometimes, it's about knowing what the audience wants. These creators used the same techniques as described above and their unique spin on it.
Babish Culinary Universe: Combining Two Wildly Different Formats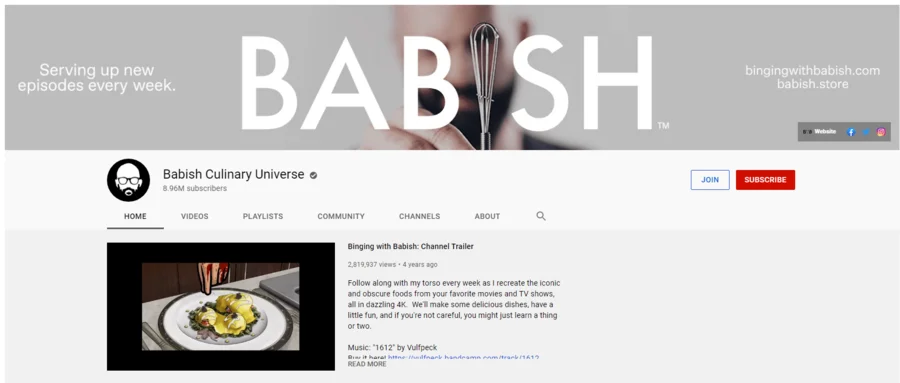 Previously called Binging with Babish, Babish Culinary Universe began as a simple exercise in recreating dishes from movies and television. Five years later, the channel has 8.81 million subscribers and over a billion total views.
Andrew Rea, the host of the show, is a cooking enthusiast (although not professionally trained) with a background in film production. This was a perfect recipe to start a show where his two main areas of interest intersect.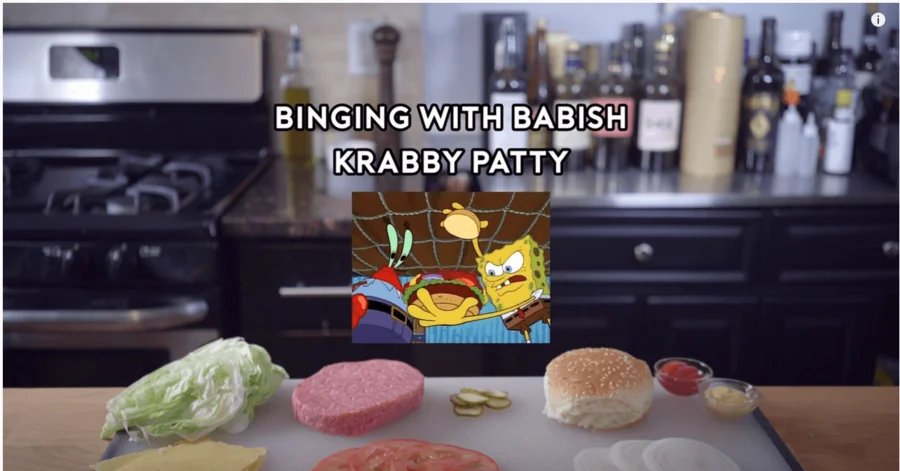 Some of the most viewed videos on Andrew's channel are:
You can tell that food from cartoons are very popular. It makes sense - viewers want to see what the deliciously drawn food would look and taste like in real life.
Since the beginning, the creator has channeled his curiosity to see whether the food presented on-screen actually tastes good. The first part of his videos usually involves him making one version of the dish. Afterward, he takes on a new task in the same video - make another version.
This tactic works really well. Every time a viewer clicks on a video, they expect a story line:
A clip from the movie or TV show with an image or even a recipe;
Andrew recreates the dish as instructed;
He makes a few suggestions on what will make the dish better;
And finally, he improves the recipe while also giving practical instructions.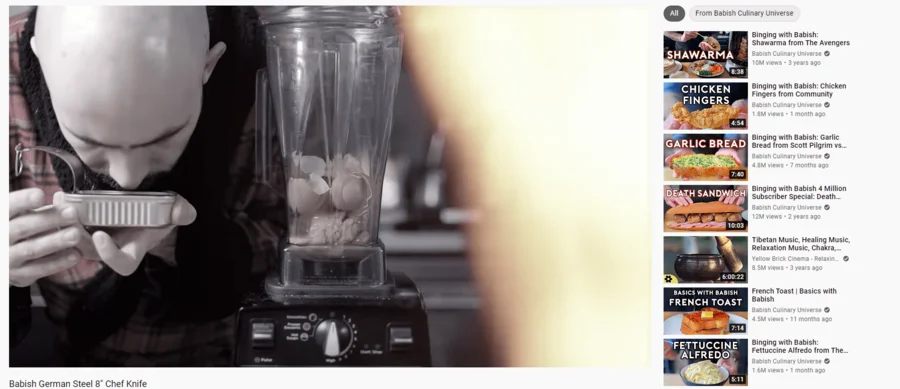 One of his latest ventures was Basics with Babish. In these videos, he teaches essential techniques and dishes that aren't daunting. This was a response to COVID-19 pandemic lockdowns happening all over the world. Since more people went online looking for simple recipes, these videos were quickly gaining YouTube views.
5-Minute Crafts: Ultimate Shareable Content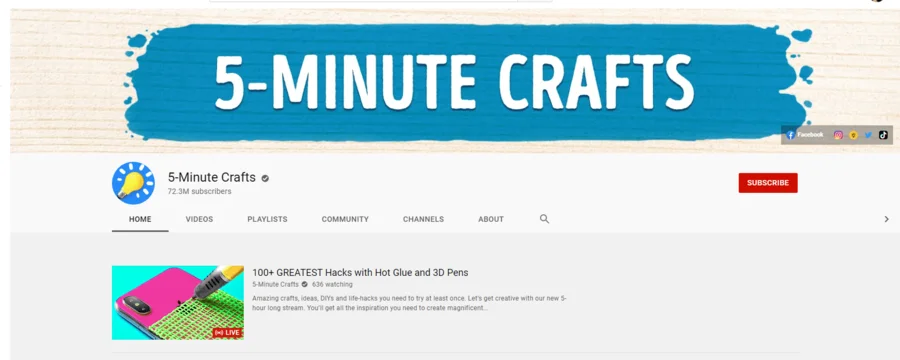 Channels like 5-Minute Crafts and Troom Troom have a questionable reputation, so we don't suggest copying their YouTube model. But for what it's worth, these are ridiculously popular channels, and there are a few lessons we can learn from them.
The niche of short-form video is more popular than ever. But it's not every video that resonates with the audience. According to TheSoul Publishing, it's all about really positive content that serves as a form of escapism and an easy-to-consume source of entertainment.
One of the most popular video formats currently on the channel is tips on how to sneak food and make-up into class in laughably arduous ways. The most viewed video - 281 million views at the time of writing - is a collection of 41 hacks to save money.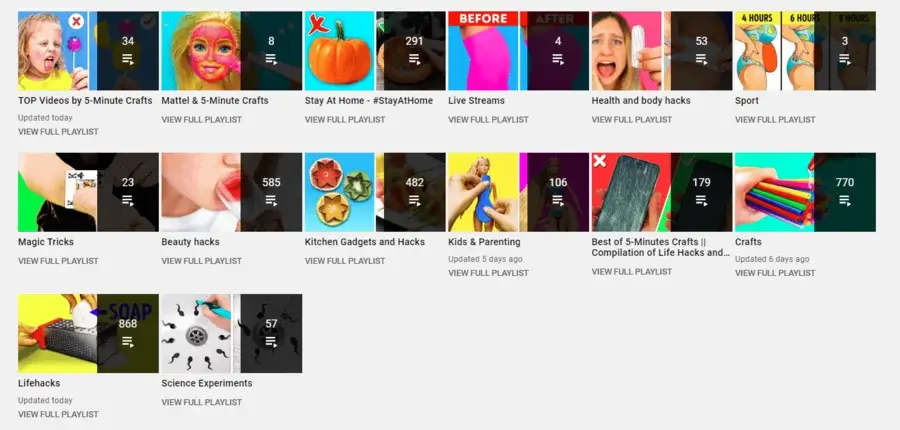 5-Minute Crafts takes cross-channel promotion very seriously. They produce content in 19 different languages and have over 72 million subscribers on YouTube, 104 million followers on Facebook, 44 million on Instagram, and already more than 8 million on each of their Snapchat and TikTok pages. And this is only for English-speaking audiences.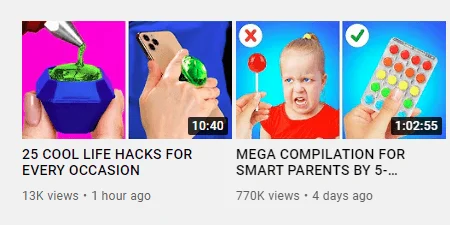 These clickbait titles and thumbnails catch users off guard but also make them click. If you value your reputation, you shouldn't overuse the trick. But you can also use these techniques in a more ethical way and still end up getting more views on YouTube. Clickbait is acceptable in moderation, especially in humorous content.
Veritasium: Answering Question No One Is Asking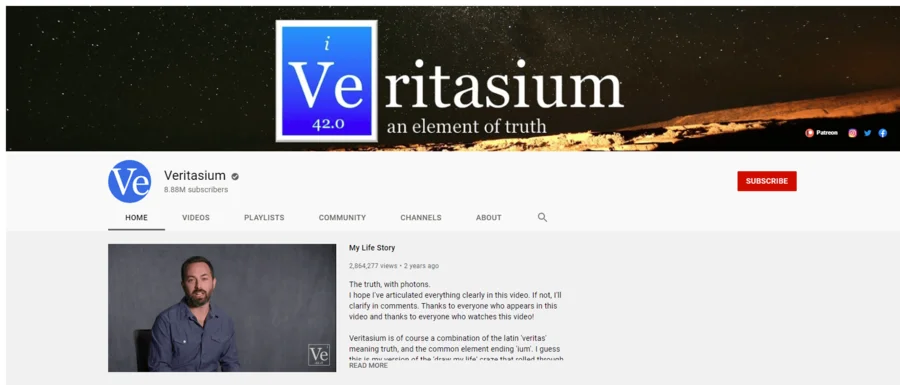 Veritasium is a drastically different example from 5-Minute Crafts. Use this as an illustration that both childish skits and carefully crafted science content can succeed.
Dr. Derek Muller, the creator of Veritasium, describes the channels as science and engineering videos featuring experiments, expert interviews, cool demos, and discussions with the public.
One of the most interesting things about this channel is the topics. Some of them are so unexpected that viewers may feel compelled to click. For example, regular people rarely think about robots in general - yet, the title, "Why Robots That Bend Are Better" seems very intriguing.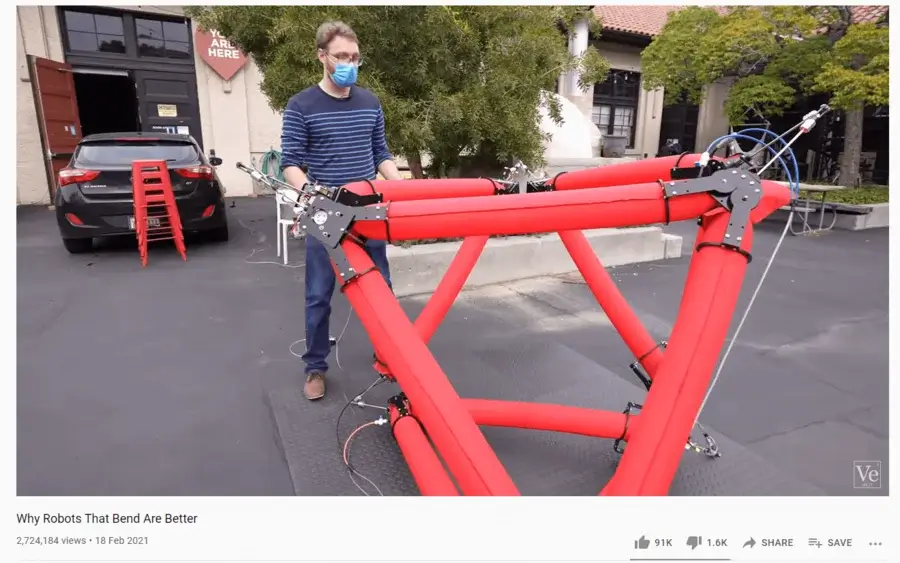 Despite the fun promotional tactics, the real reason this channel blew up is a combination of Derek's personality and the effort to create value. The truth is that he gained the audience's trust, and they watch anything he puts up.
Occasionally Veritasium's videos go viral, notably, on topics that no other creator would cover. Some of his most viewed videos are:
As one of YouTube's most influential science communicators, he covers topics that are rarely explained in an engaging way. It can be magnetic fields, a black hole, and even AI weapons. And we should also mention the growing production value - early efforts were unpolished, these days all videos are slick and neatly edited.