When the project is inspired by a great idea, there is no time to think: you should launch the project. But the reality is harsh; it is estimated that 70-90% of venture startups fail.
The number of failed startups is constantly replenished with products that the market doesn't need, and ideas that don't solve the real problems of real users. This applies to everything: from starting a business to launching a Telegram channel.
You should always consider the interests of your audience and the context. To make the portrait of your target audience, you should think of brand values ​​and talk to real people. Such research will help to understand what digital content will work on social media and decide which platforms to develop.
Unlike corporations and big brands, small and medium businesses don't have dedicated departments to collect user data. Moreover, bloggers don't have them either. Here are some tips on how to survive with modest budgets and a small team.
Why is it important to analyze your target audience in 2021?
The target audience portrait is necessary not only when starting a project from scratch, but also when working on a new product line or new services. You need to analyze both existing and potential audiences, keeping in mind product modernization and target market.
Let's imagine that you are launching a premium line of products or a product aimed at the third age group. Maybe your posts don't get enough likes, or there aren't enough customers to buy your products, so you are unable to set the desired price for your services.
It is believed that 1 out of 10 hypotheses works. Sometimes a hypothesis can be tested very quickly. For example, before developing Dropbox cloud storage, the founder of the service recorded a video about the product and posted it on The Hacker News. Visitors started personally texting him and leaving their contact details to receive more information. This way, the hypothesis was tested successfully. Plus, a loyal user base was established, consisting of early adopters indicating the kind of functionality they need.
Let's figure out how to make a target audience portrait.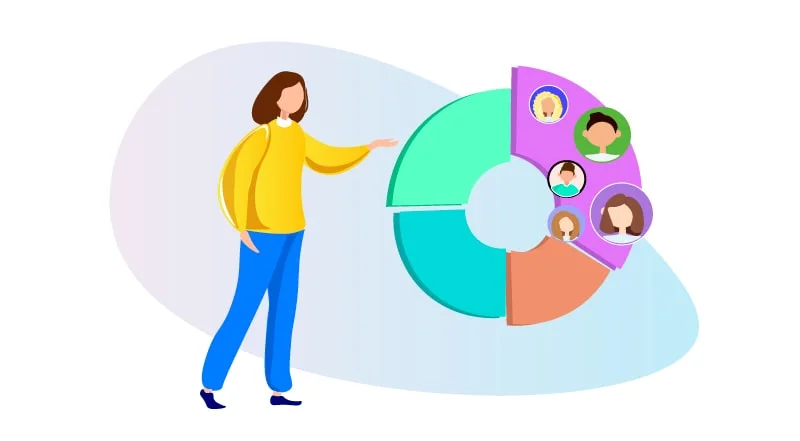 Explore open information sources
You need a lot of information to create a consumer profile. When collecting this data, you should take into account the corporate mission and values related to the goals of your brand.
Making a target audience portrait is similar to the 'Sims' game where you create a fictional character. For convenience, you can come up with a presentation or a collage helping you to visualize the portrait. You can also make private Instagram accounts for your ideal clients.
Target audience research methods
To start working with your target audience, you can use fundamental marketing concepts. All of them are based on one main rule: to give each of the target audience representatives a detailed description as if they were real customers.
User Personas
The persona method reminds us of filling out a profile on social networks. You should go through the key points that reveal the character's portrait and make an impromptu dossier.
Don't forget to include demography (age, gender, place of residence, marital status, profession); experience of using a similar product (for example, it could be a designer who downloads licensed software, but does not use additional applications and services because he doesn't like the subscription model); motivation (to earn more); barriers (paid services).
5W Sherrington Method
This method helps you to create a psychological portrait of your target audience by asking five questions:
What? It allows you to segment the target audience by the type of goods or services.
Who? It helps to understand who exactly purchases a product or service. You can define audience members' categories, taking into account gender, age, and other peculiarities needed for your analysis.
Why? This question is about motivation: why should the users buy your product or services? What problems do they solve?
When? Here, we look at demand: when and under what circumstances will the customers use your product or service?
Where? Brand touchpoints should be described: where do people decide to buy from you? Where do they buy your products/services? How can you influence their purchase decisions?
'JTBD' Concept
The philosophy behind the 'Jobs to Be Done' concept is to start with a problem, not a solution. The main task is to understand the motivation of the users, thereby thinking over the ways to attract them.
Clients don't buy an online library subscription; they look for self-development opportunities in different areas, and if you look deeper – they are looking for a better lifestyle. Ultimate motives are fundamental to work with.
To illustrate, the 'Jobs to be done' theory is about a person who is interested in a product/service trial period to see if they meet their needs; later on, they decide whether to continue using them.
For example, when bloggers buy a photo editing app, they want to edit their photos without hiring a specialist. And if you look at the demographic characteristics, you will see that they haven't influenced the fact of purchase. The users' 'Jobs to be done' is to edit the photo themselves using a template.
Where to get the information?
Sociological surveys. RCPR (All-Russian Center for Public Research), POM (Public Opinion Foundation) are the largest platforms.
Team interviews. Business owners are often well-versed in the market situation and can be a source of valuable information, which will significantly reduce the time for research.
Consulting market experts. A 1.5-hour session with a market leader will save time and provide many insights. If possible, use this option.
Instagram profile analysis. The task is to analyze the profiles of followers and the desired audience; the goal will be to find intersections: hobbies, interests, accounts followed by the users.
Competitor audience analysis. One of the long-standing tools is called a 'mystery customer'. You can use it to assess the quality of a competitor's service or product. This information will help to improve your product quality.
How to make the portrait of your target audience?
Let's give an example. Imagine that you're about to launch an online course for creative entrepreneurs. The goal is to show how to build a brand, what kind of people are associated with creative activities.
After analyzing the information from open sources and applying one of the methods, you can make one of the following portraits: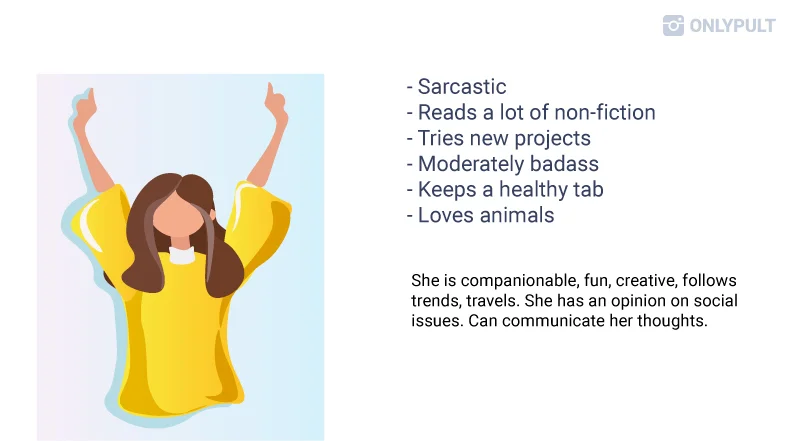 This is a young woman aged 25-30. She lives in a big city with over 1M population and works as a Product Manager. She wants to initiate her projects – a personal blog or a Telegram channel. She constantly follows various self-education courses, from public speaking skills to programming from scratch.
She reads modern literature, mostly by foreign authors. In general, she is guided by Western trends and plans to move to Europe. She enjoys trying everything new: when a coffee shop opens, she goes there to have brunch; when an influencer launches a new cosmetics line, this girl wants to use her products to form her own opinion.
She enjoys deeply understanding serious topics, analyzing global events, reading a lot of different books; for the most part, she reads what is recommended either by the bloggers she follows or her friends.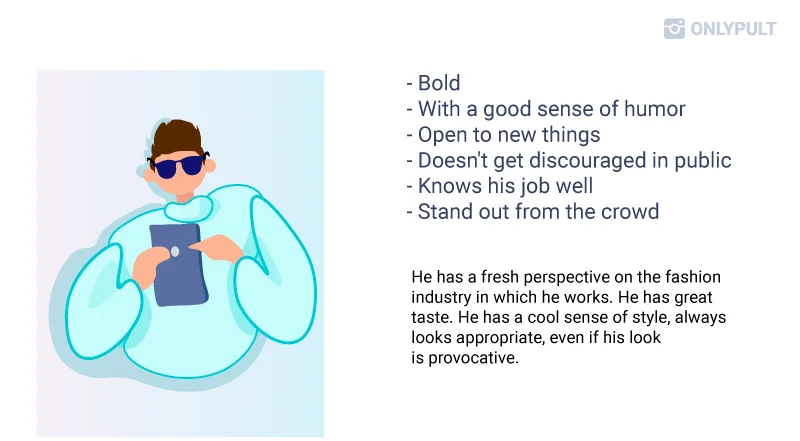 This is a young man aged 25-30. He lives in a big city with over 1M population and works as a stylist. He wants to launch an online course to help men who lack time to create stylish looks.
He follows all current trends, knows foreign languages, and publishes translated articles on his blog. He loves both democratic and eminent brands; knows how to mix and match. He is interested in transmitting his unique vision; he doesn't want to copy anyone.
He keeps up to date with fashion world events; he keeps in touch with stylists, models, fashion bloggers, makeup artists, photographers. He can see patterns, analyze them, learn new things.
How can this information help? The online education market is overwhelmed with generic courses. Focusing on a typical client, experts develop an average rate; similar to a mass-market brand that suits almost everyone. Knowing all target segments in-depth when launching a new product facilitates solving users' problems.
For a girl, the result of completing the course will be creating her blog, for a man – launching his course. Therefore, you can add a copywriting block to the main program, which will be opened to the girl, and a block with applied tips on how to launch an educational product for a man. At the same time, 80% of the content will be the same.
Why do you need this? Actually, to increase loyalty and engagement rate. If clients are happy to use your product that meets specific tasks, they will recommend it to other people.
Conduct an audit
Make it a rule to constantly research your current audience: you should analyze who is buying the most right now. Here are some questions to consider: Which customers are the most active? Who opens email newsletters, leaves comments on social networks? Who is an unofficial brand ambassador? What is an average check for regular customers? What is the number of purchases made by one customer?
It is more convenient to automate the audit process. It will allow you to track performance and analyze the segments with the most popular products.
Let's have a look at the following example. You are running an education center for children specialized in school subjects. You can conduct a quantitative survey among the clients. You can also send out a newsletter and set a task for managers: they should communicate with parents who are waiting for their children after school.
Once these steps are completed, you may see the following results: it turned out that the main core of the school consists of single moms or dads. Most of them complained that they didn't have enough time for kids' activities. So, they would like to have more time to do exercises together with their children and engage in creative hobbies. When new classes appeared in the center, your managers made a mailing list targeting potential clients who took part in the surveys, so they could sign up their children for these classes.
Another advantage is that such research helps to select clear marketing messages for advertising campaigns. You can use the information obtained when choosing bloggers to become ambassadors: for example, bloggers targeting single moms.
Audit tools
Polls via Google Forms. Create a newsletter with a request to participate in a survey and send it to those who have already ordered a service or bought a product. It helps attract the most loyal customers.
Built-in analytics. These can be stop lessons in an online product, a rating scale in the application, QR codes in the product instructions, a questionnaire 2 weeks after the consultation.
Engaging content on social media. When launching a new product line, you can launch a joke message; the answers received may help you conduct audience analysis.
Bonuses and loyalty programs. Private clubs or communities where you regularly conduct surveys among members.
CustDev. Qualitative audience research involving interviews with different audience segments. This research method is available to everyone, even micro-businesses.
How to conduct the CustDev
Creating a clear goal is half the battle. The situation is likely to become clearer after the interview is conducted, indicating the way your product needs to be improved. It is important not to strive to hear what you want to hear but to be open to everything the representatives of your chosen audience may say.
The results of this research usually provide several strong insights about the audience that will help your business. The main points clarified during such interviews are as follows:
| | |
| --- | --- |
| Points to find out | Why is it necessary? |
| Does the product/service meet the needs of real users? | You should design a product or service delivery algorithm. |
| What do people want? What "pains" are they struggling with? | You should identify the main purchase triggers and tweak the product features. |
| Where to promote your product/service? What communication channels to select? | You should find out what Telegram channels, blogs, mailing lists, etc. resonate with the target audience segments. |
| How do target audience members make a purchase decision? | You should select efficient and result-oriented ad campaigns. |
If you launch a new service or a landing page, you should perform UX testing. Connect a web designer using the screen-sharing function and go through the user path together: ask for comments on what is clear / not clear at each stage, what you liked/disliked.
Please mind:
The statement "Moscow-based women aged 25-35 who are interested in fashion" doesn't specify the target audience portrait; these are target settings. To create a product or a service that will enjoy high demand, you need to conduct in-depth research and interviews.
To make the target audience portrait, you should understand where a person lives, what goals he/she will achieve using a product/service, why he/she follows your social networks; besides, you should analyze their free time activities, hobbies, favorite bloggers – what celebrities are role models for this person. The more detailed the portrait turns out, the more accurate your communication with the user will be.
You need to analyze both the potential audience and the existing one. To do this, you should use different tools; the methods can be divided into quantitative (surveys of various types) and qualitative (interviews).