We are going to tell you how to make the company's profile stand out and why visual identity is important.
Company profile on Instagram
People subscribe to the official account of the company to:
check the address, phone number or other relevant information;
find out more about the brand, its DNA and history;
keep the track of recent events;
be the first to find out about new products and discounts;
find inspiration by looking at the qualitative photos and images.
To make your Instagram profile useful for the user, you need to add detailed information. Make sure to add your contact details, a link to your website and active buttons, also don't forget to describe your professional activities.
Business accounts allow placing action buttons. For example, "book a table" or "make an appointment". If you provide your phone number and email – the user will be able to see the "call" or "message" buttons respectively. It helps people to get in touch with you faster to get the required information. We have already written why it is important to create an Instagram business account.
Use our new tool Onlypult Builder to create a page with all necessary information with a possibility to add a link to your Instagram profile.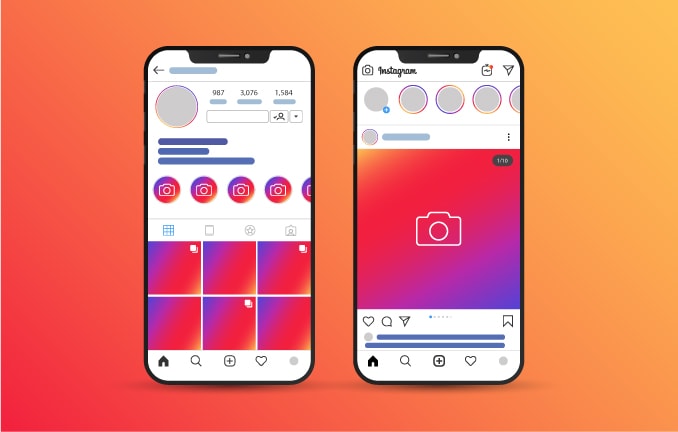 A few tips on how to fill your Instagram profile:
1. Introduce a simple user name
Let it be the name of your company. Don't use multiple underscores or other allowed symbols.
2. Upload your logo as a profile picture
It can be either an illustration or a text logo. But bear in mind that the profile picture frame is round and small, so don't use too many elements.
3. Be brief in the description
There is a limit of 150 symbols. Write only the most essential information; it is enough to tell about your company.
4. Don't overuse emojis
They are more likely to alienate the user.
5. Add keywords to the description
It will help people to find you in the search engine and will make it obvious what you do.
6. Add contact details
All the details that are required: your address, phone number, and your website.
7. Set action buttons
If they can be applied to your business.
8. Use highlights
Start saving useful stories according to the topics that are interesting for your followers.
Saved Stories or Highlights
Every story that you are uploading to your profile can be added to Highlights. They won't disappear in 24 hours and will be always available for all users.
Companies use saved stories differently. But they are needed so that the users could get the maximum of useful and relevant information about the brand.
In Highlights you can normally find:
FAQ (answers to frequently asked questions);
Menu (coffee shops, restaurants);
Special offers;
Collections (often by clothes and make-up brands);
An office or a working place (what is behind the scenes);
Employees;
Feedbacks;
Address (how to get to the place);
Other relevant information that corresponds to the theme of the account.
You can add up to 100 stories to one Highlight, the number of Highlights in one account is not limited. It is only important that the users don't get confused or lost in all the saved stories.
To add stories to Highlights just click the heart button in the right bottom corner and add stories to the appropriate group.
The icons are often designed according to the corporate style. For example: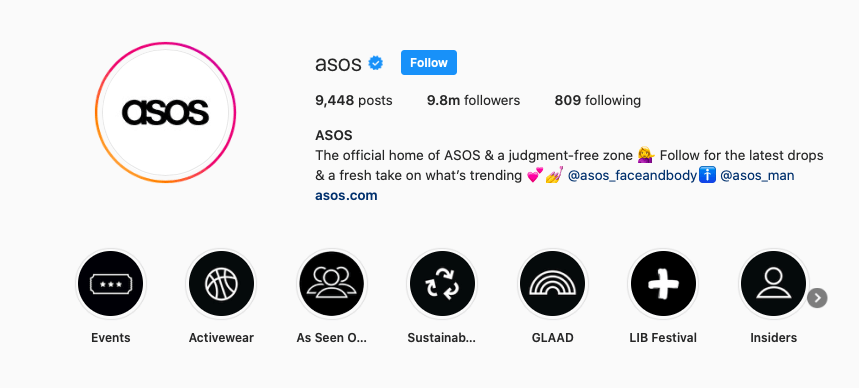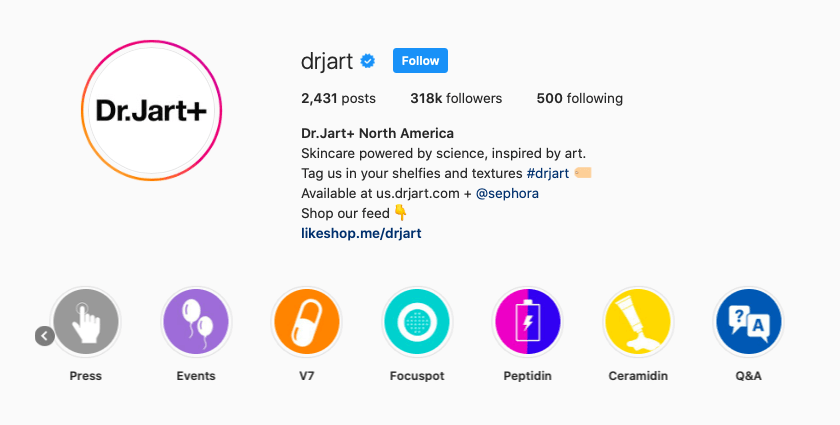 At the same time, other brands don't use a single theme for their saved stories and just use one of the pictures that were previously uploaded to the stories. It looks just as stylish. For example: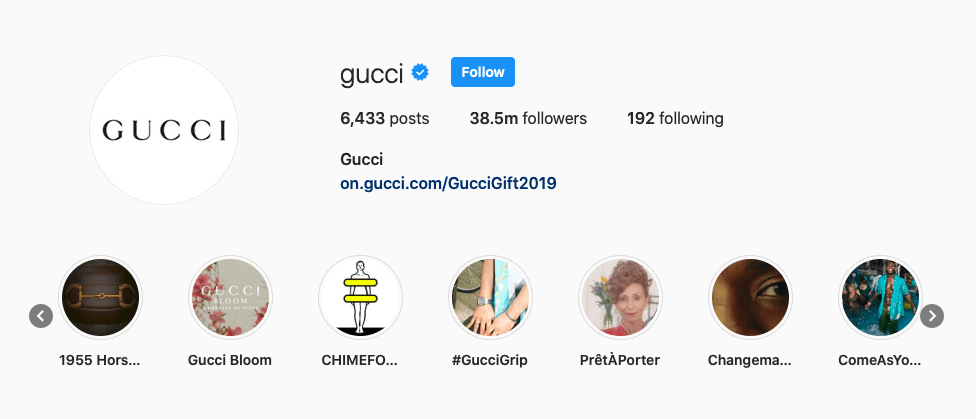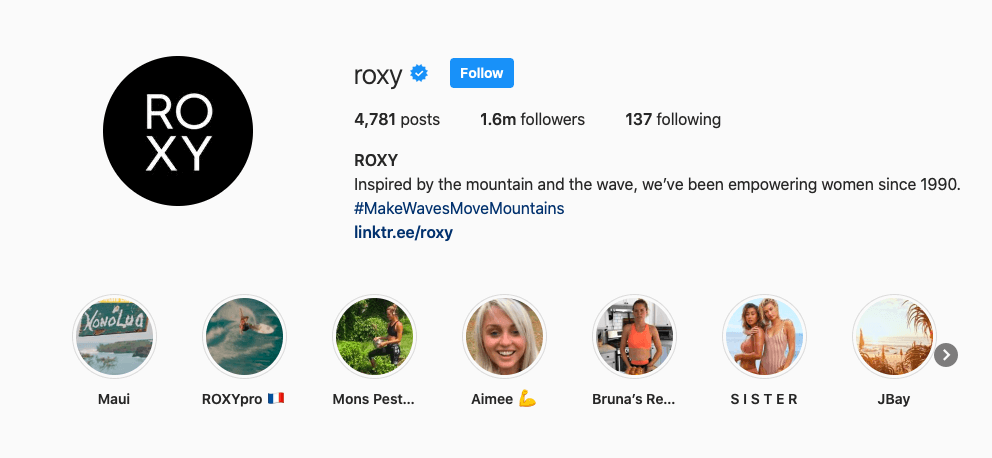 It is up to you to decide how you want to style your Highlights and what to add to them. It is only important to group them and make them interesting to watch.
How to add links to Instagram and what is their use?
Unlike other social networks, Instagram doesn't have the option of adding a single link to a post. The only active link that a business account can add to its profile is the website. Here you can add a link to a different social network, precise web page (a blog, webinar registration page, etc.) or micro landing.
Accounts with more than 10 000 followers have a feature that allows adding a link to any external resources to their stories. The benefit is that you can add a new link to every new story. It helps businesses not only to tell about the products but also stir users into a certain action.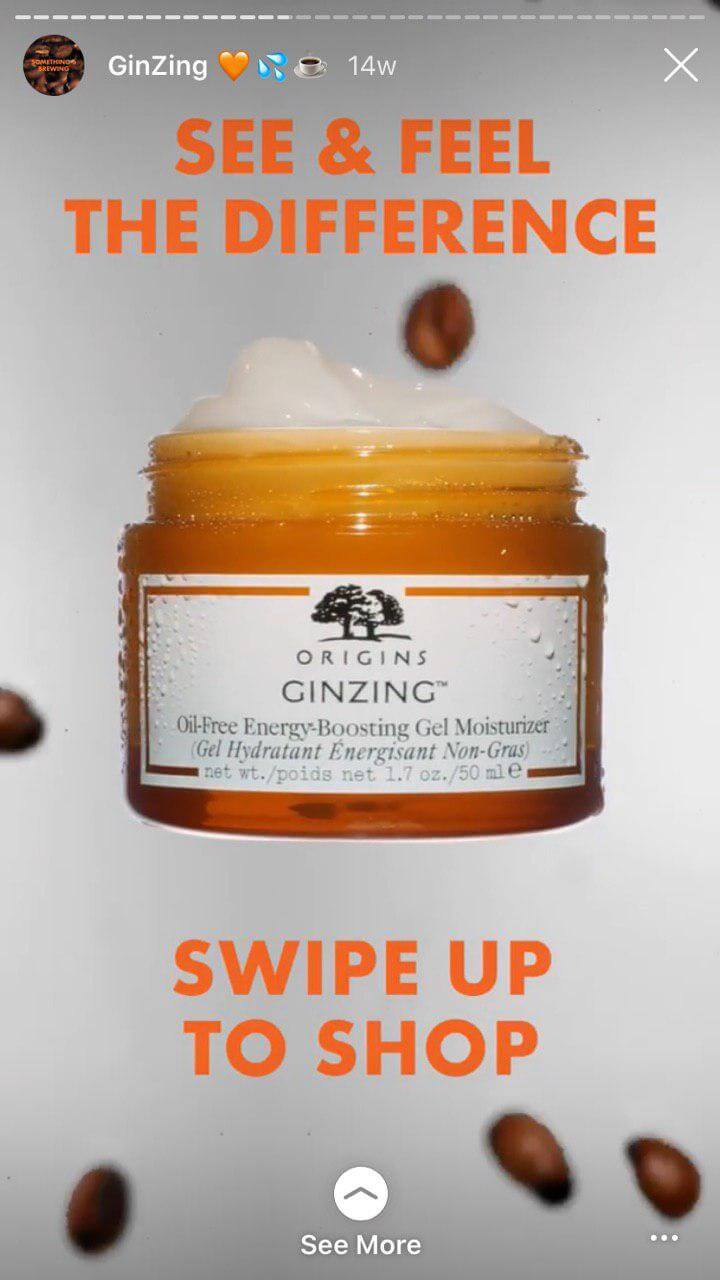 For example, you can redirect users to your website for a product purchase or a ticket purchase for a conference where you are speaking at, share an article about your company or an updated menu of your restaurant and other relevant materials.
Visual identity
Many companies on Instagram style their account using the colors of their visual identity. It is great if you already have one and can use the materials to adapt the visual content to the social network. It is not only about the logo, but also about recognizable fonts, graphic objects, and other elements.
The visual identity of the company can also be seen in Stories. As a rule, SMM-specialists together with the designers develop a trial layout for Instagram. It is done to catch users' attention when they are scrolling the feed so that they can immediately understand whose content they see.
But you don't need to add a logo to every picture. Using the identity colors is enough. It will look organic on the feed. Don't forget that when users view your profile, they see the last few posts. It is better if all of them match together.
On Onlypult you can schedule your posts and see how your profile is going to look like.
To get inspired we recommend looking through the profile of other companies on Instagram: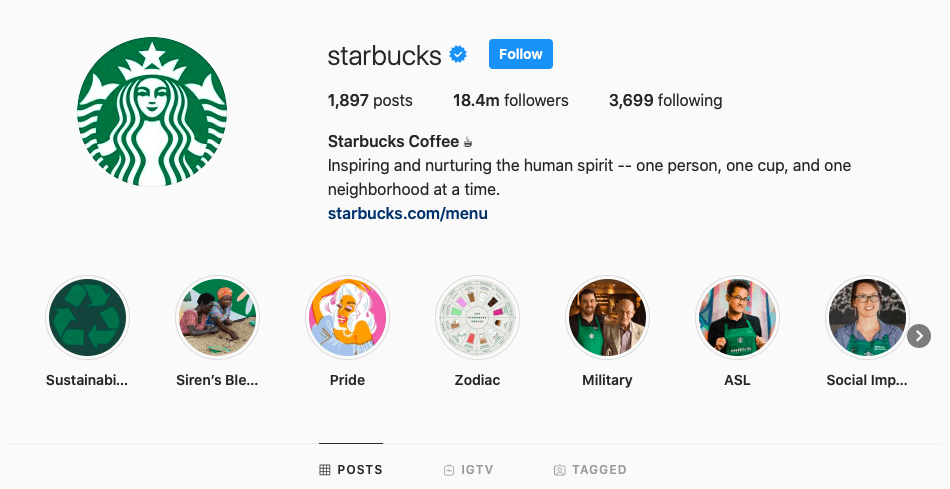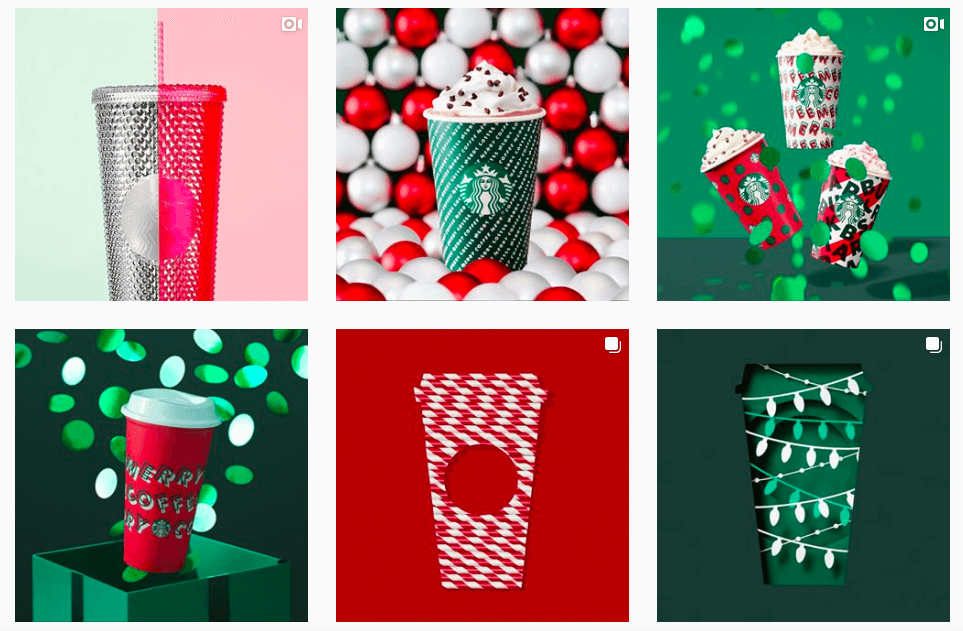 Starbucks uses its identical green color very efficiently, and almost every post has a recognizable image of their famous cup. The design of the feed changes depending on the season. Now their profile is all about Christmas.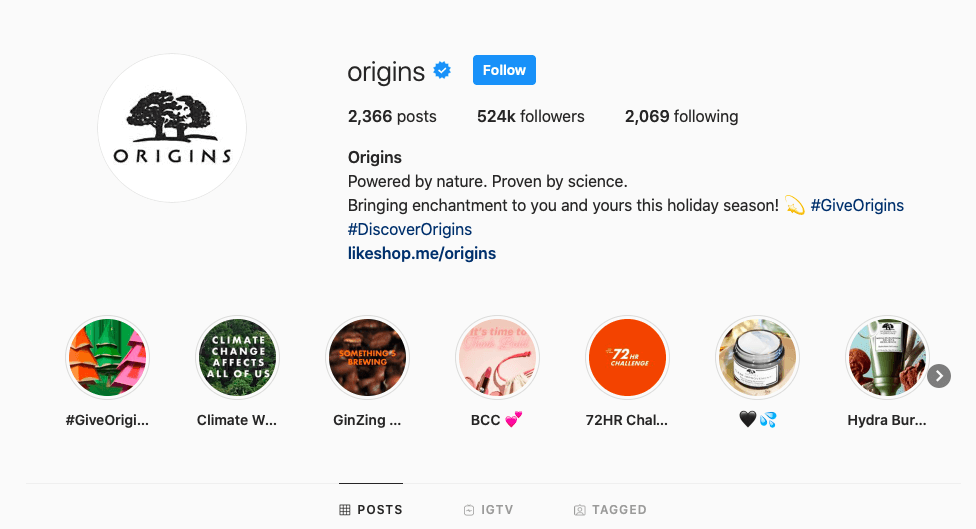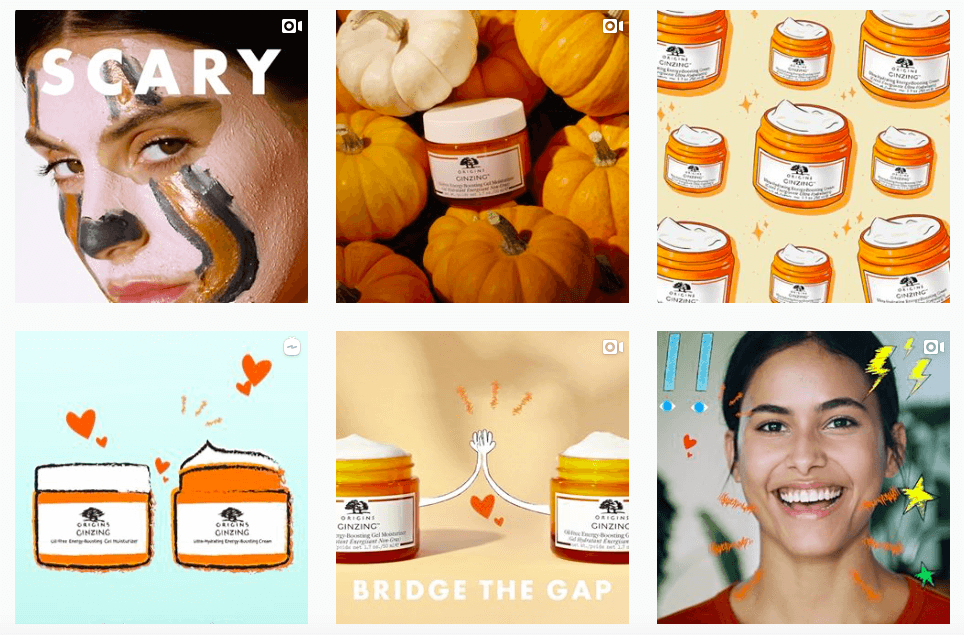 The cosmetics brand Origin post products on their feed that are colorfully styled with bright focal points and graphic elements.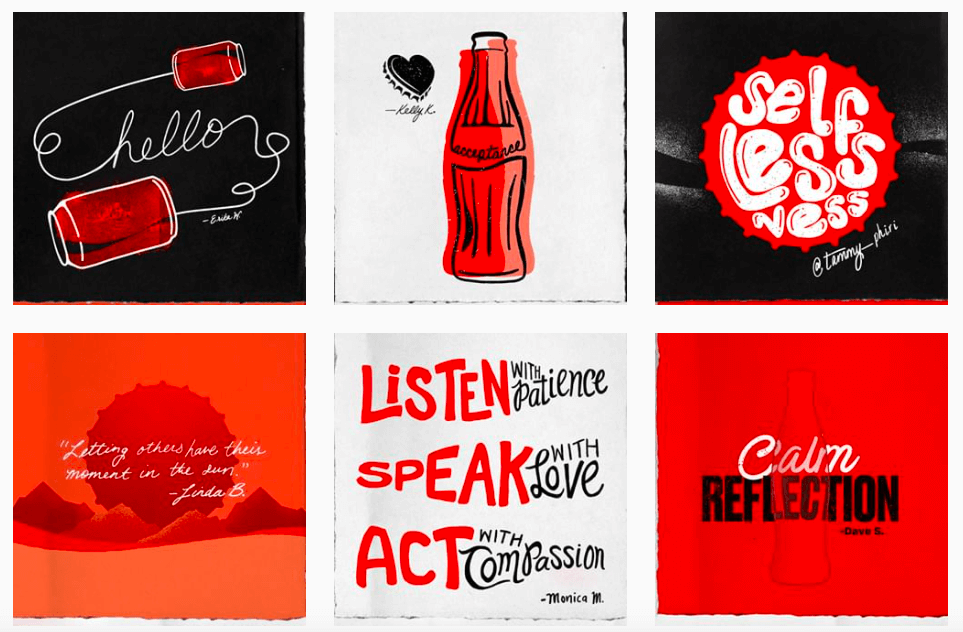 The style of the official Coca Cola Instagram page is a visually pleasing mix of widely recognized identity colors of black and red.
Generally speaking, it is totally up to the brand what design they want to use. The quality and the authenticity of the picture are just as important because the visual aspect always comes first on Instagram, and usefulness only comes second.
Summary
Make sure to add information to the company profile and add an active link.
Users should be able to find all the required information in your account. Use Onlypult Builder to create your page.
If you have more than 10 000 followers, add links to your stories.
Develop and apply your style when designing posts on Instagram. Your followers will easily recognize your posts on the feed.