When a social network becomes not just a place for socializing but also sometimes the core source of income, access restrictions to profile can spoil statistics seriously. Read our article if you want to learn if your account is shadowbanned and how to remove the ban without severe losses.
A shadowbanned Instagram account is like the life of Robinson Crusoe on a desert island: profile author posts content, but no one can see posts, stories, live broadcasts, and other activities. Only the most loyal fans who intentionally go to the profile to see what's new and why their favorite user is missing from the usual story circles can do it.
Shadowban happens to both personal and business accounts. A proper algorithm by which the profile gets shadowbanned (a series of warnings and then a ban) does not exist. But the curtain is gradually being pulled back on.
The most crucial problem in this situation for an active account is a drop in organic reach, which may affect further profile development. Thus, it leads to the loss of some subscribers.
How to know that an Instagram account has been banned
In mid-2021, the term "shadow banning" was mentioned in the official blog of the head of Instagram Adam Mosseri.
Mosseri deliberately enclosed it in quotation marks because he stated that users of the site often associate any decrease in activity in the profile (whether it is a drop in comments or a drop-in story views) with a ban or restrictions.
He also noted that the user does not always understand why some content got hidden or blocked, but the Instagram team is working on the feature. It is possible there will be more detailed information about shadow ban and blocking in the future.
The formal signs of the shadowban are as follows:
A profile is hidden on the Instagram explore page, it does not show up on the hashtag feeds, and the content does not appear on subscribers' feeds.

The activity has decreased. The number of interactions has noticeably decreased: fewer likes, comments, messages, and reactions in DM. There are no new subscribers, or their number is significantly less than before.
It is not so easy to check whether the account is banned or not. One of the methods is to add a new post with an unpopular tag and search for this hashtag from another account: if there is no image, the account has got banned.
Adding posts with questions like 'Can you see my stories? If yes — click the Like button' is another way to ensure the account is not shadowbanned.
How to avoid a shadowban
There is no official set of rules and the very concept of the shadowban. As a rule, you can be banned for spam if part of your promotion bases on mailout in DMs — it is worth considering more legal and, most importantly, more effective marketing options.
In addition, merchanting products from other companies and using someone else's photo and video content, logos, music, well, everything that is already a violation of the law violates the community rules.
But accounts that do not violate any of the above also get shadowbanned. Why is it possible? We recommend those who do not want to get shadowbanned paying attention to some Instagram peculiarities.
No. 1. Do not violate the platform rules
Only a few people carefully read the platform rules before registering on it. It is time to come back and get familiar with it. At least read the Community Guideline, the Terms of Use, and the 'How Meta ensures compliance with its rules' section — they explain all the points in detail.
By deleting a post, Instagram, as a social network, acts on the party of those who, presumably, can see it — not on the party of the content author, so there are no exceptions here.
One-time restrictions on one post will not affect either the statistics or the account. Nevertheless, the systematic violation of the rules and ignoring warnings increases the chances of getting shadowbanned.
No. 2. Be careful with topics on politics and health
The two most pressing topics are politics and information about vaccines — due to the pandemic, the growth of content devoted to this topic has increased and, as a result, the increase in fake news with unverified information and altered facts.
Be careful when posting any information on these topics. Check sources twice, find experts with multiple points of view, and refer to official studies to back up the materials with expert opinion.
No. 3. Be careful with hashtags
There is no list of prohibited hashtags in the Instagram Guideline. There are user-compiled lists, but they cover only a part of hashtags. For example, the hashtag #alone got banned once. So do not rely on intuition — check it. To find out if a hashtag is allowed, go to the search page and enter the word you are interested in. If nothing appears, the hashtag is prohibited.
Please note that a random set of letters in the hashtag will also not be displayed, but it is not prohibited either. At the same time, the use of a large number of incomprehensible and broken hashtags can be considered a violation of the community rules.
Therefore, be careful with hashtags, and double-check them. Use it appropriately: for example, to indicate a category.
No. 4. Do not support cyberbullying — even as self-irony
The topic of cyberbullying and harassment is relevant. The social media algorithms aim at tracking and deleting everything related to bullying in any form as quickly as possible. But artificial intelligence can also block those things that seem pretty harmless to you in the personal communication context.
It includes irony and sarcasm since algorithms cannot distinguish a joke from real bullying. The solution is simple: remember this rule and be critical of all statements that can get interpreted in this context.
No. 5. Follow the content posting plan
Posting more than three posts a day can be considered aggressive posting. The same applies to likes, subscriptions, and comments. If you use commenting as a promotion method, try to leave no more than a comment per minute.
Mass-following, mass-liking, and mass-commenting services are considered unofficial promotion methods. The algorithm determines the same type of mass mailings as an unlikely activity for an ordinary user. It means that they get regarded as suspicious activity.
Another way to get banned is to receive complaints about content. It can be both haters and competitors who use dishonest methods, but also just regular users — the content may have seemed inflammatory, offensive to users, or hurt feelings. The only right thing is to post content in accordance with the rules.
What are 'strikes'?
"Strikes" can now be viewed in the profile. To do this, go to your account, click the icon or on your profile photo, then select "Settings" ("gear" icon) and the "Help" tab.

Click on the profile photo and select the Settings option.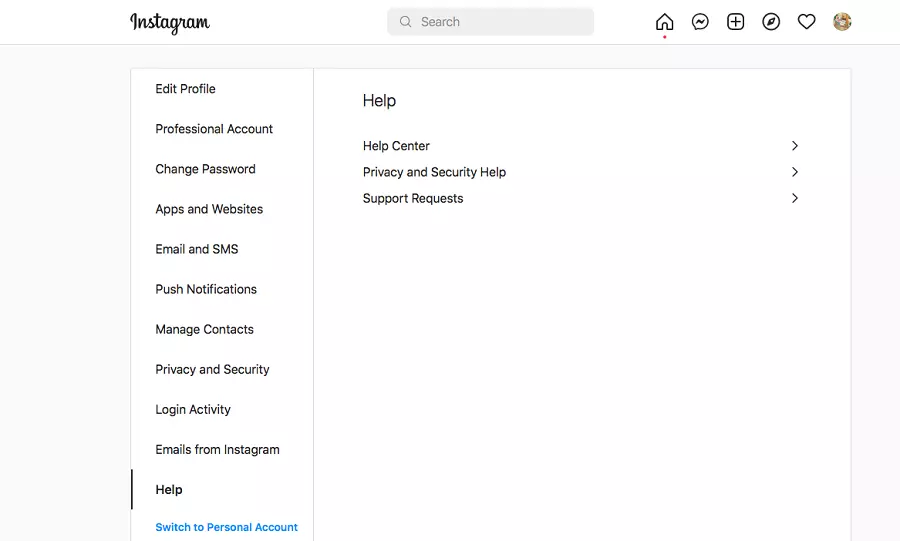 *Go to the Help tab. *
Then select the Support requests and Violations options. The Reports tab shows the history of all your spam reports and content that violates the community rules.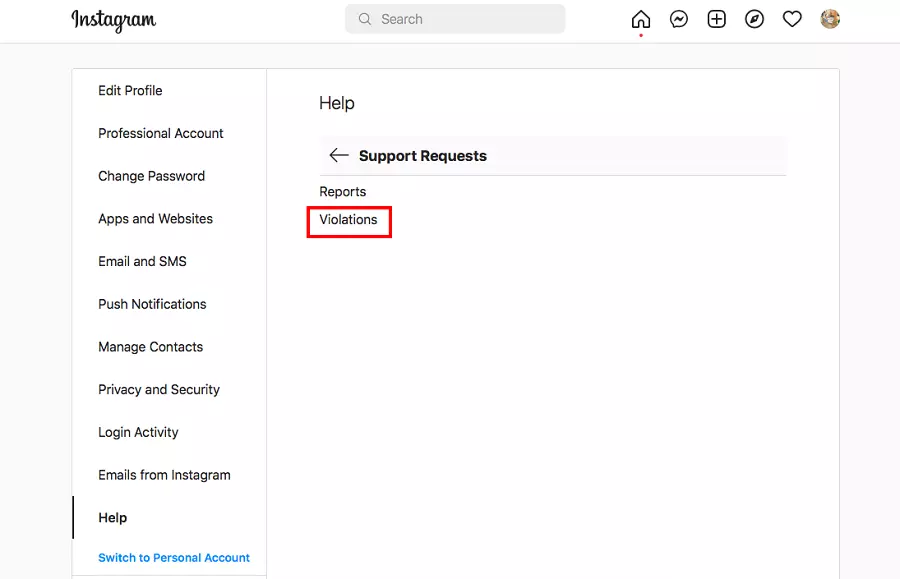 To see if there are any reports on the account, go to the Support Requests and Violations section.
If there are no violations, you will see an inscription and a link to the Instagram rules: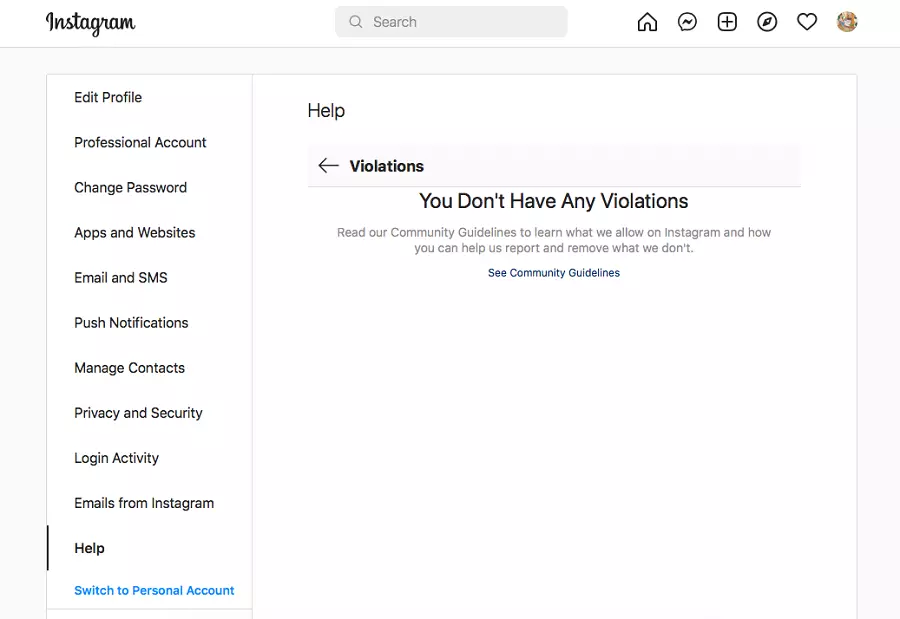 There is no official information about how many strikes you can get before the shadowban, but according to user experience, it is three strikes.
The Community Guideline says: 'If you have repeatedly posted the content that has subsequently been removed due to a violation of the Community Guidelines, your account will be disabled. In most cases, we send a warning before disabling the account.'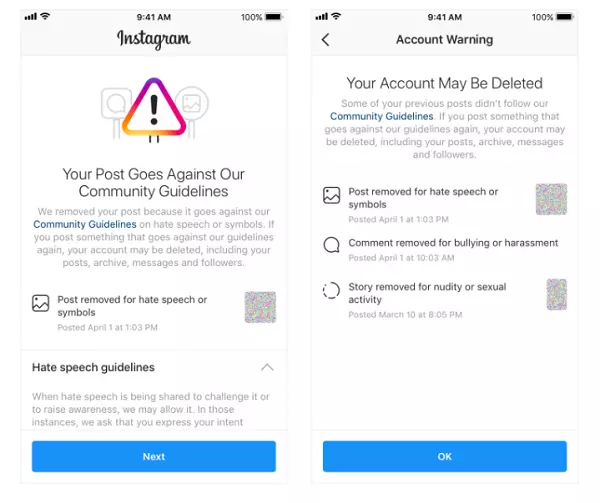 Warning about posting illegal content. Screenshot source.
If you think that the decision about deleted content needs to get reconsidered, you need to request a review. Go to the Settings section, click on the Account option and select the Account Status section. Select the content that has been deleted, and tap the Request a review option. Click on the Send request button and tap Done.
If you disagree with the decision after a repeated review, appeal on it to the Independent Oversight Board.
The account was shadowbanned — what should I do?
The way out of the shadowban t includes the two steps: the first is an emergency aid, and the second one is to work on the return of previous figures.
What you should do first:
Go to the Login Activity section to open the details of your latest active sessions. If there is something suspicious, we recommend changing the password.
Tell subscribers about the ban.
Post content from only one device.
Try switching from a business account to a personal one.
Check hashtags — if there are prohibited ones, delete all posts with them.
Remove all advertising and marketing activities for a couple of days.
How to increase reach
Getting shadowbanned reduced account activity. In order to increase reach and regain the previous level of engagement, we recommend you to:
Revise the content plan
Do not expect a surge of activity immediately after returning to posting. Do not get off the grid of subscribers and do not post non-stop — this will definitely not bring the reach back, but it will increase the risk of being banned again.
Focus on engaging content
Encourage subscribers to send reactions and write comments. Post content that fuels interest in following the account. Storytelling tools and an increase in the number of different formats will help. Never posted reels? It's time to start!
Do not contact blocking 'experts'
Such information gets shared through friends or posted as hidden advertising on Instagram accounts. Hundreds of unscrupulous specialists are speculating on shadowban. If you one promise you some unrealistic figures within a week — refuse to cooperate.
Launch targeted advertising
Lookalike audience will work — Instagram will show posts of an audience similar to your current one, so there are high chances that these users will find the content interesting and subscribe.
Plan collaborations with other accounts
Live broadcasts with experts in your field to engage current subscribers and attract new ones. Mutual PR and promotional integrations are another option to shake up the account. But don't do all the activities in a week: think out a plan for 2-3 months and rigorously follow it.