For companies, the main tool for promotion is their website. And bloggers grow their audience on Instagram and TikTok. But both businesses and influencers can effectively increase their audience through their YouTube channel. In this article, we will cover the advantages of YouTube and the usage of its features in 2021.
YouTube is a universal promotion channel
Unlike other social media, YouTube does not have a specific main audience. That means that any business and every blogger can find their target audience on this platform.
YouTube is the second-largest social media platform after Facebook in the world. YouTube has two billion monthly active users and 122 million active users daily. The popularity of YouTube is due to many reasons, and one of them is that YouTube is actually the second largest search engine after Google. Thus, new subscribers or clients can find your YouTube channel not only via the algorithm but also via the Google search query.
Speaking about the popularity of YouTube, it is crucial to note the global reach of the platform. The top 5 countries with the highest number of active users are as follows:
India(224 mln);
USA (197 mln);
Brazil (83 mln);
Japan (60 mln);
Russia (58 mln).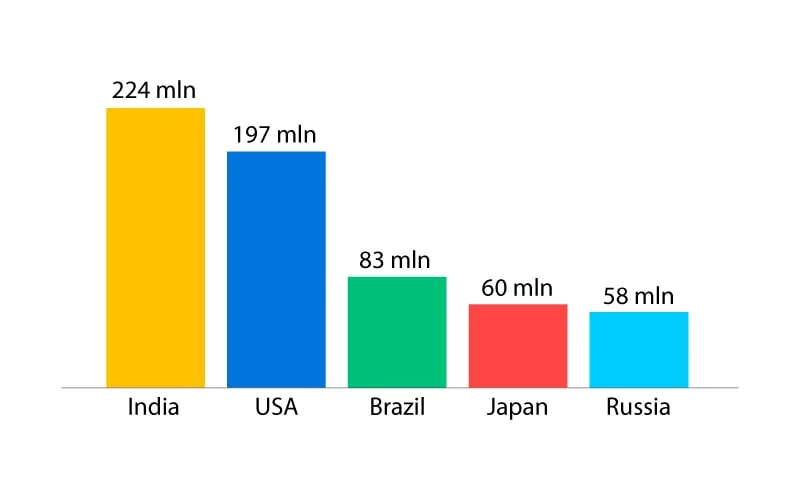 This is not only means that you can start your own YouTube channel in any country, but also that you can start a YouTube channel in a foreign language to promote your content to a foreign audience. An unexpected example of such promotion can be the English-language short animation "Masha and The Bear - Recipe for disaster", originally created by a Russian studio. This video for children is the most viewed non-music video on YouTube (4.4 billion).
Advantages of a YouTube channel for business development
For example, a small B2B company offers its customers a cloud service (SaaS). The primary promotion channel for such a business is its own website. As a rule, the monthly costs of the sales department are high. At the same time, many marketers and business owners do not consider starting a YouTube channel a prime objective. And this is the mistake.
Statistics show that 50,9% of B2B decision-makers use YouTube in the process of product analysis. That is a bit more compared to Facebook and one and a half times more when compared with LinkedIn statistics.
YouTube delivers the most visual content: it is much easier to understand the product benefits from videos than from photos or text. The format of the unlimited video size, adding to favorites, and a search engine makes YouTube much more convenient than TikTok and Instagram.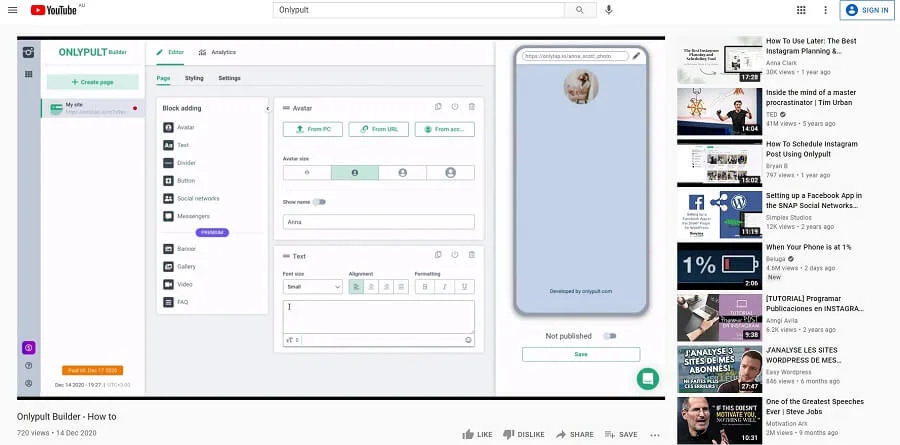 Onlypult video on the YouTube channel about how to work with the Builder
Another bonus that ensures the video posting is related to the video repost on your own blog. It is hard to keep the reader's attention, and many website visitors scroll through the article, catching only the crucial statements with their eyes. Posting a video from your YouTube channel as a part of an article or on a separate page increases the average time users spend on the page. The audience learns the information from the video more easily.
The importance of YouTube cannot be overestimated. Given that, on average, it takes 6 — 8 touches with the brand to get a lead. If a potential client visited the company's website, watched a video in a blog, and left the website, the algorithms of the social media will offer them other videos from the corporate YouTube channel. That is, a YouTube account affects potential leads even without paid promotion. The more of your videos from your channel is in the Recommended section, the higher the probability that the user will watch it — this will ensure conversion to a client.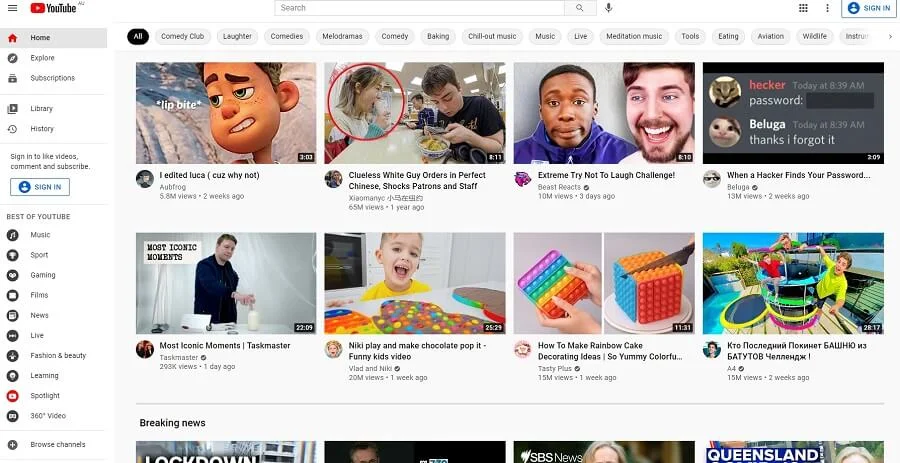 Initially, YouTube recommends the most-viewed videos, but then it tracks views and the recommendations on the main page change.
Creating high-quality video content requires the use of substantial resources. However, in the long term, the YouTube channel will begin to "independently" generate leads, that can accelerate business development.
Benefits of having a YouTube channel for bloggers
The advantages of having your own YouTube channel for bloggers, even for those who have Instagram and Tik-Tok, are undeniable: from audience growth to making money with ads. The main reason for starting your own YouTube channel remains unchanged: a numerous social network with a global reach allows you to spread your own vision to a large audience and attract new subscribers to the main blog. This way of interacting with the audience is particularly helpful if a blogger has a channel about creating something or shares their experience. In other words, everyone can use YouTube.
And since YouTube is a search engine, you can increase the number of subscribers thanks to a prepared audience interested in a particular topic. If Internet users enter "how to cook lasagna" or "what places to visit in Dubrovnik" in the search bar — relevant videos are shown in the top spots in the search results. Many users enter such search queries directly in the search bar on YouTube. If you have a cooking or travel blog on YouTube, the interested audience will be able to find your channel quickly. If you promote your other social media accounts on your YouTube channel, viewers will become new subscribers.
Of course, making video content is time-consuming, especially if you shoot and edit yourself. However, with an increase in the views number, the monetization of a channel from ads also increases. For example, Melissa Blevins, an author of the blog Perfection Hangover, earned $3,730 only from advertising on YouTube in 2020. Moreover, her YouTube channel has only 6,590 subscribers.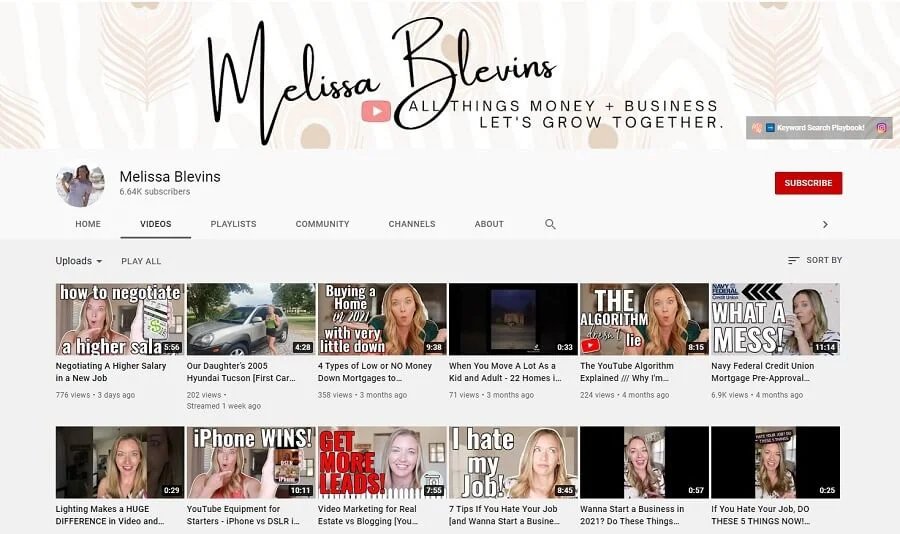 For bloggers, a vital advantage of YouTube compared to other social media is the effective ad placement in the videos. 29% of marketers believe that ads that you can skip before the video is the most effective marketing tool on YouTube. And the statistics of viewers confirm this. Users of all ages show interest in the product after viewing ads on YouTube. It is not a surprise because ads have been appearing in all videos since June 1, 2021. You can be sure that for a long period of time lots of displayed ads will certainly be converted into purchases.
Even millennials, who are generally considered immune to brand agitation, are influenced by video ads on YouTube. 62% of users under the age of 34 will respond to the ad they see. 47% will be especially attentive to ad with high-quality customization. Thus, the more videos and views are on the blogger's channel, the higher the earnings from YouTube.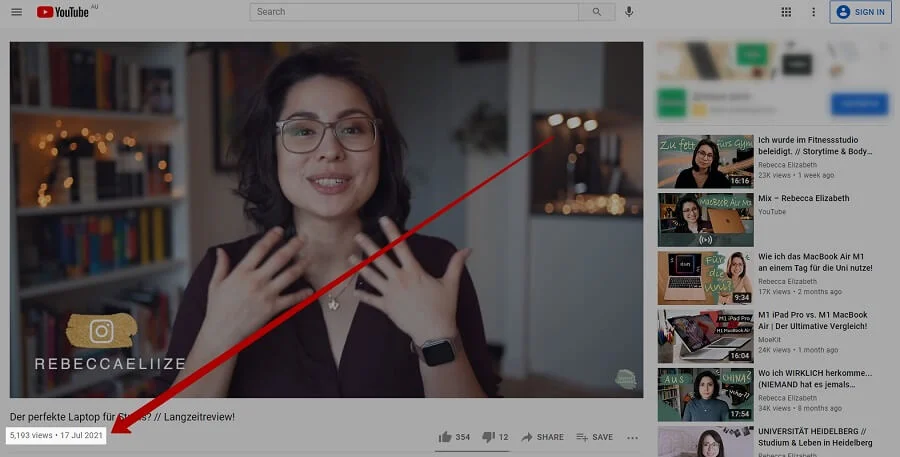 Bloggers should understand how high the competition between YouTube channels is in 2021, so it is too presumptuous to expect a fast growth of the audience. You need to build a community of loyal followers to whom you will be able to sell your own or partners' products directly then. Moreover, the number and geography of subscribers are not key indicators of success. The main thing is to choose the advertised products that meet the expectations of the public. For example, if you have a YouTube channel about 3D printing, the affiliate material from the 3D printer store will perfectly fit into the subject of the video.
It is just as reasonable to start a YouTube channel in 2021 as it was ten years ago. The competition between content creators is constantly growing. However, this should not be considered as an insuperable difficulty. This fact is a challenge that you need to deal with appropriately. If you create content regularly, a YouTube channel can generate profits as a lead generation tool or through bonuses for advertising.