The Facebook Company regularly updates its social networks and some other apps and messengers that are controlled by Facebook by making adjustments and adding other interesting functions. We have created a list of recent updates that are sure to be useful for you.
Instagram
Small business support
A new sticker labeled "Support small business" allows you to tag an account in your Stories that found itself in a tough financial position. The Stories will also appear on the official account of the social network and will be seen by many other users.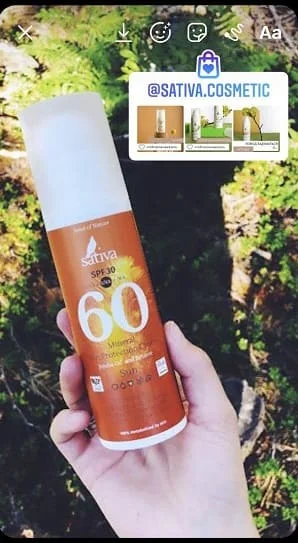 A brand, company, or online shop mentioned in a Story with a sticker will be able to repost it to their profile and send a message to the author. Moreover, the sticker can also be used by commercial accounts to show solidarity to other companies that found themselves cash-strapped.
This new feature is similar to advertising. Everybody can share their favorite shop or service company to let more people know about it. By spreading the information about small businesses, we help not only this particular company but the economy in general.
Live Donations
Now non-profit organizations can raise money during Live streams. To do so, you should tap Live on the bottom of the Instagram page and Donations — on the left.
When you go live, you will be able to see the number of people supporting your idea and the amount of money raised in real time. If you tap View, you can see how the contributions distribute. By tapping Wave, you can thank your donors.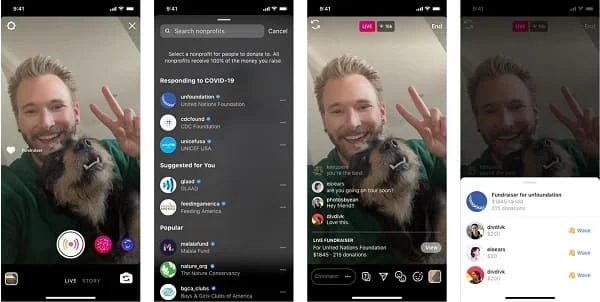 https://about.instagram.com/blog/
For this feature, a new sticker labeled "I donated" was created. Everyone who has donated any sum of money Live will have access to this sticker. Users' Stories with the sticker will also be added to the official Instagram page for a limited time.
The feature will allow supporting the users who lost their job because of quarantine and, as a consequence, lost their source of income. It is high time to join the effort and show that human kindness knows no bounds.
Support for restaurants
Instagram has added a new sticker labeled "Food Order". Users can tap the button in the company profile or add a sticker to their Stories, which will automatically redirect the user to the partners' website or to the website of the restaurant itself.
By doing so, Instagram wants to support small businesses and catering companies that have been particularly negatively affected by the epidemic.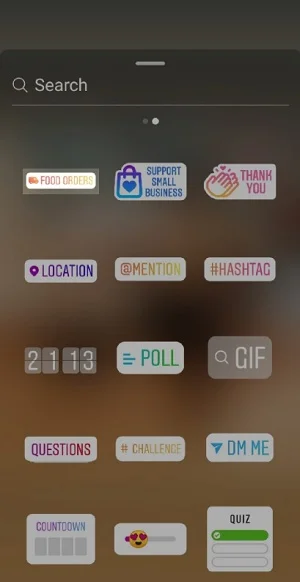 Challenges
Another new feature in Stories is the Challenge Sticker. If you tap it, you can tag friends you want to challenge and battle. The Instagram team got inspired by the "Duo" feature on TikTok.
The creators expect that such gamification will increase engagement and user activity.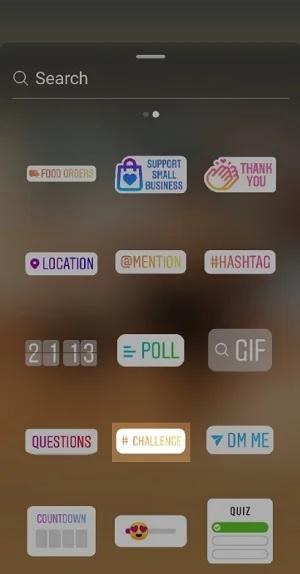 Communication is what we need
Another update in Stories is the new DM Me sticker. By adding the sticker, you let your followers and friends know that you are ready for communication and wouldn't mind a message from them. If you tap the sticker, you will get redirected to private messages, and you can start a private chat, instead of a group one (though such the feature is also available now).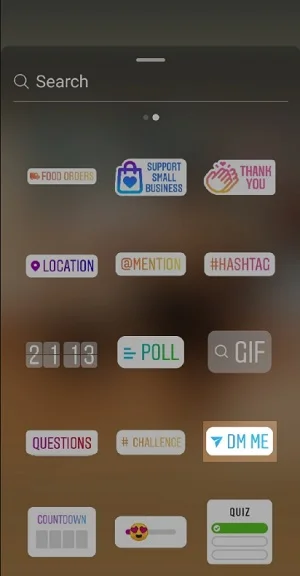 Facebook
Messenger Desktop – group video calls and chats
Now, there is a Messenger app for both Windows and macOS. Today you can easily reach your relatives and colleagues by starting a time-unlimited and free video chat. You can also organize group chats here.
When it is not possible to meet your relatives, friends, and colleagues in person, the internet is pretty much the only communication tool, apart from phone calls. And it is another platform for video conferences, group chats, and distance communication.
Messenger Rooms – virtual conference rooms
Messenger Rooms are conference rooms for video calls and group chats that can be created both on Facebook and Messenger. Besides, you can invite a person, who is not registered on Facebook, to a conference. One room can host approximately 50 people.
If you are invited, you can join the video call using your phone or computer, even if you don't have the app installed. If you have it, though, you can experiment with the effects of augmented reality and artificial intelligence tools. For example, you can try unusual backgrounds and masks.
The platform will help you to conveniently arrange a corporate meeting and work-related communication within a team in a specific chat.
Virtual workplace
Live Producer is a brand new work tool. By using it, you can arrange a Live stream, share a screen recording, or add a poll for other people to ask questions and express their opinion.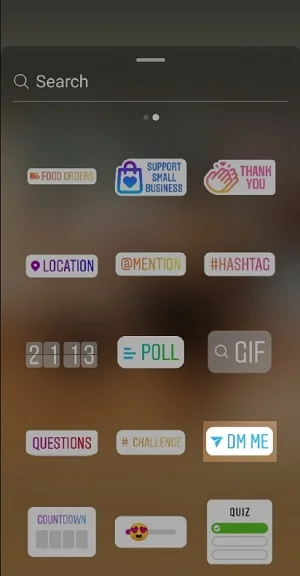 https://about.fb.com/news/
There is also an automated feature that allows you to set up subtitles with translation from 6 languages: English, French, Italian, Portuguese, German, and Spanish. It means that even your international colleague will be able to understand you. Before posting the video, you can edit it.
It is a perfect resource for remote work that allows you to be in touch and share your ideas and progress with your bosses and colleagues.
Video calls in full swing
The Facebook Company did their best and created perfect conditions. for video calls just at the time when they are in high demand. There is a smart camera, which blurs the background to put the focus on you, and improved Smart Sound that uses artificial intelligence.
Moreover, on Workplace Live you can open the second screen to see what you look like and to keep tracking what is going on, while you make notes on a computer.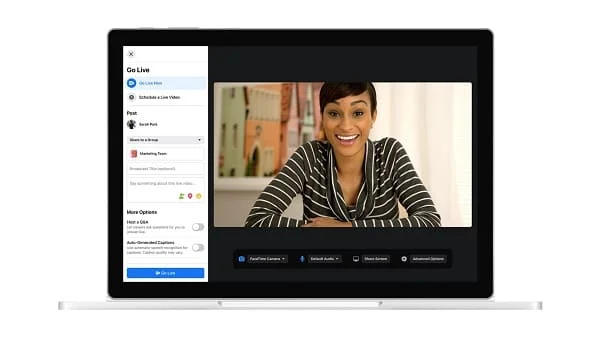 https://about.fb.com/news/
In addition to it, the company has created Portal TV — a big screen where you can display your live streams.
It was all done to make it more convenient to communicate with your relatives and colleagues in the most comfortable environment.
Virtual reality for business
Oculus for Business is a full-fledged virtual reality platform for companies and brands. It comprises software to set up, use, and control all additional devices. There is also an interface to control headsets, required apps, and support services.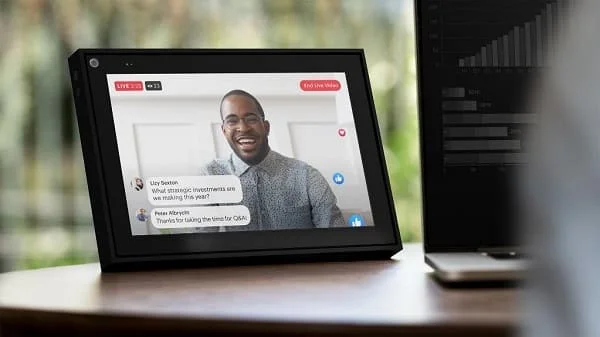 https://about.fb.com/news/
Shortly, all the required accessories and the headset will be released to make it possible for employees to remotely present their projects as if they were in the same room.
Online shops
If you are a registered user of Instagram and Facebook, you can easily set up your online shop on the platform. This feature is free. You need to add your products, choose a corporate color scheme, upload a cover, and get down to business.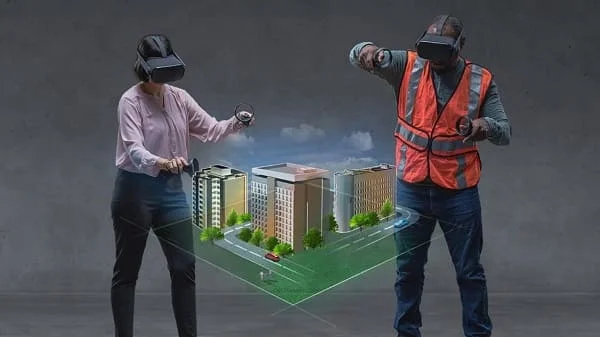 https://about.fb.com/news/
Your shop can be found both on Facebook and Instagram. Also, it can be promoted in Stories and through targeted advertising. Your customers can track their purchase, enquire about product availability, ask questions, and place orders through WhatsApp, Instagram Direct, and Messenger.
Such a novelty on Facebook will allow small businesses to establish their presence on the internet and look for online customers when traditional shops are on the decline.
GIPHY is now a part of Facebook
A popular service of animated images, GIPHY, has been bought by Facebook and now is a part of Instagram. It means users will have more choice of GIFs that can be added to messages in Direct and Stories. The plan is to invest more money in the development of the service to improve the technologies and content.
They decided so because approximately 50% of all GIPHY traffic comes from Facebook and 25% — from Instagram.
In any case, it is good news for ordinary users of social networks and WhatsApp messenger, because the whole database of animated files and stickers will be integrated with these platforms. It means that there will be more great GIFs to use.
Dark Mode
Dark Mode is another novelty on Facebook. Lower brightness and higher contrast in dark mode will make it possible to use the social network even in low light. The mode is aimed to improve users' comfort and convenience.
You activate the new mode in the settings of the mobile app and desktop version. It will help you use Facebook in different circumstances without straining your eyes.
WhatsApp
Dark Mode
Now you can also use WhatsApp in a dark room without putting a strain on your eyes thanks to the dark mode. The company took care of text readability and layout design (color highlights and design solutions to attract users' attention to important things).
Dark Mode will be activated automatically on the iOS 13 and Android 10 operating systems if you enable it in the phone settings. The user of older system versions should enable the feature manually in the Chat section of WhatsApp settings.
Eight people video calls
The popularity of video calls has significantly increased. According to the messenger statistics, the total length of calls is much higher compared to last year. That is why they decided to improve the video call quality and maintenance.
Now the maximum number of conference users is not 4, as before, but 8.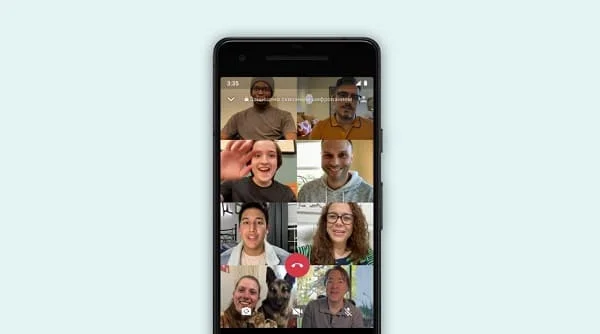 https://blog.whatsapp.com/
To try the new update, you only need to install the latest version of the app. After that, you can start a video chat with all your relatives and colleagues from different countries and cities.


These are the main new features on social networks and messengers that Facebook has prepared so far. Soon we will find out what else they can come up with. But for now, we can only wait and see.